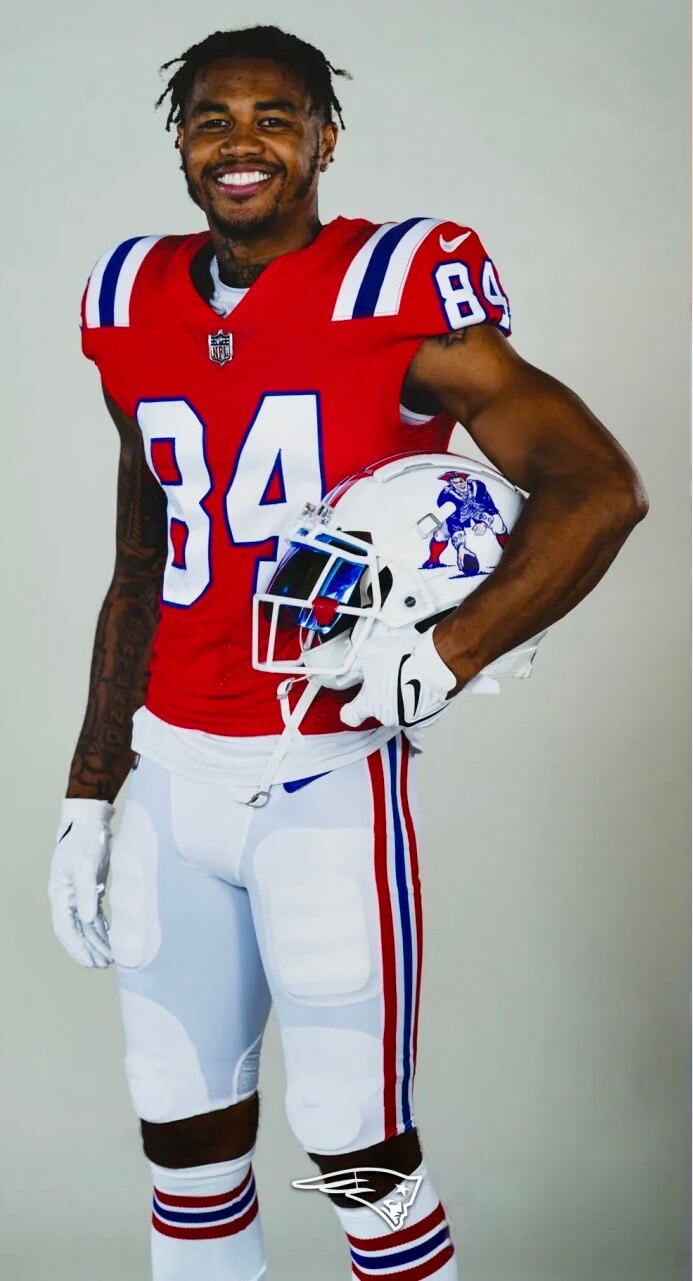 Click to enlarge
The Patriots made it official yesterday and officially announced that they're bringing back the Pat Patriot throwbacks for this season. The Patriots Hall of Fame had already spilled the beans on this development way back in December, so the announcement isn't exactly a surprise, but at least now we know the plans haven't been scuttled by supply-chain issues or anything like that.
Some notes and thoughts:
• No word yet on which game(s) will feature this uniform.
• Pat Patriot first appeared on the Pats' helmets in 1961 — the franchise's second season — and remained as the team's headwear logo until 1993, when it was replaced by Flying Elvis.
• Pat's first appearance as a throwback came as part of the NFL's 75th-anniversary throwback program in 1994 (but with the white jersey):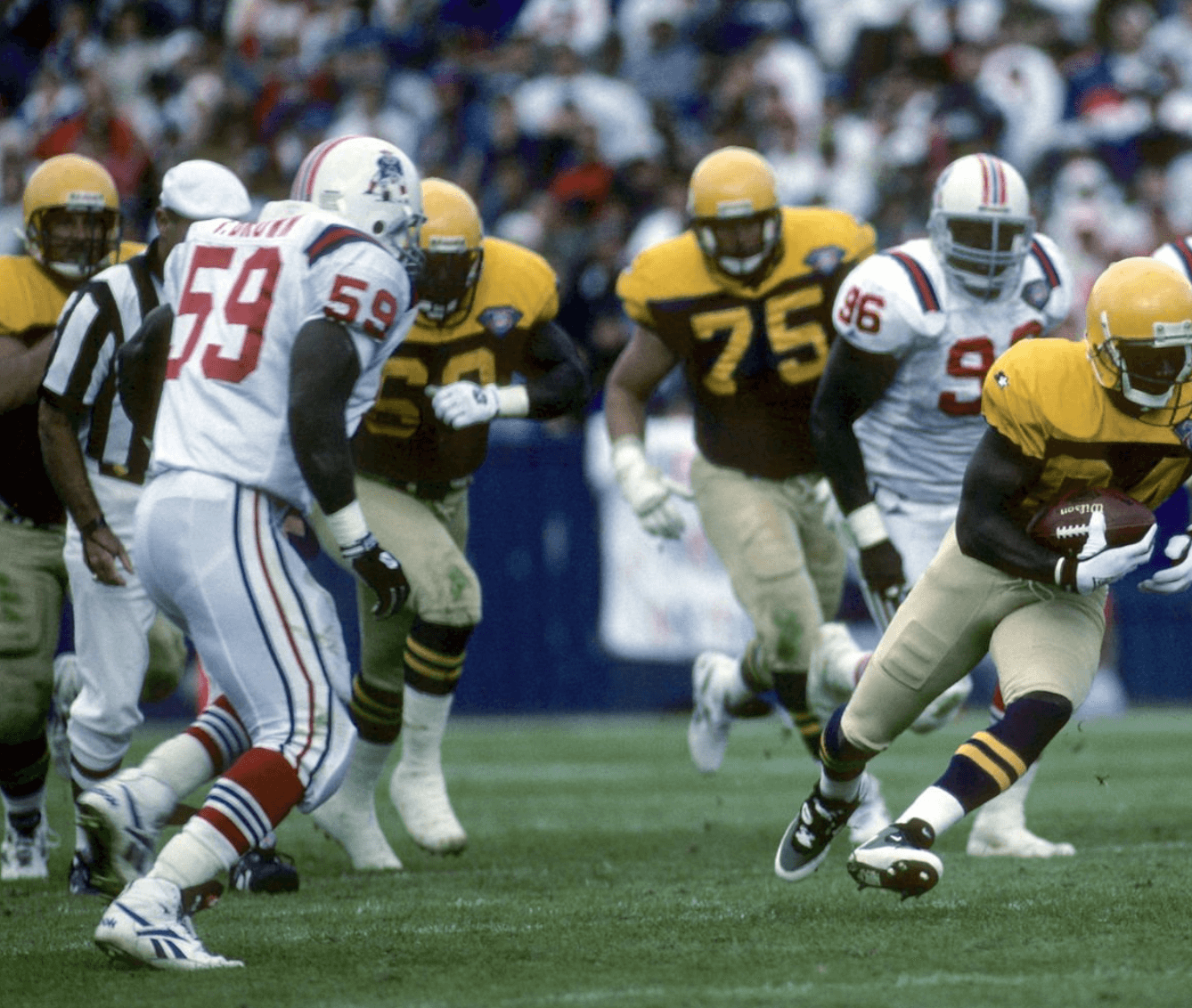 The red jersey's first throwback appearance came during a Thanksgiving Day game against the Lions in 2002: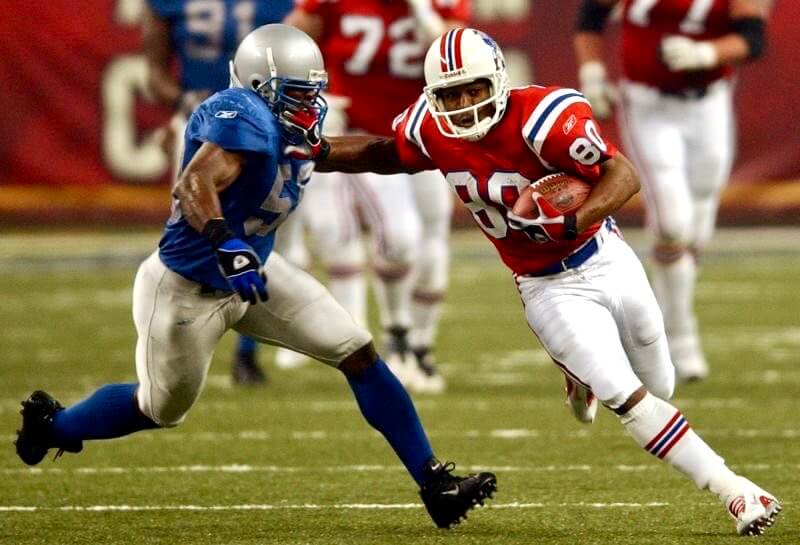 • The throwback uni didn't appear again until 2009, when the Pats wore both home and road versions of the design as part of the AFL 50th-anniversary program: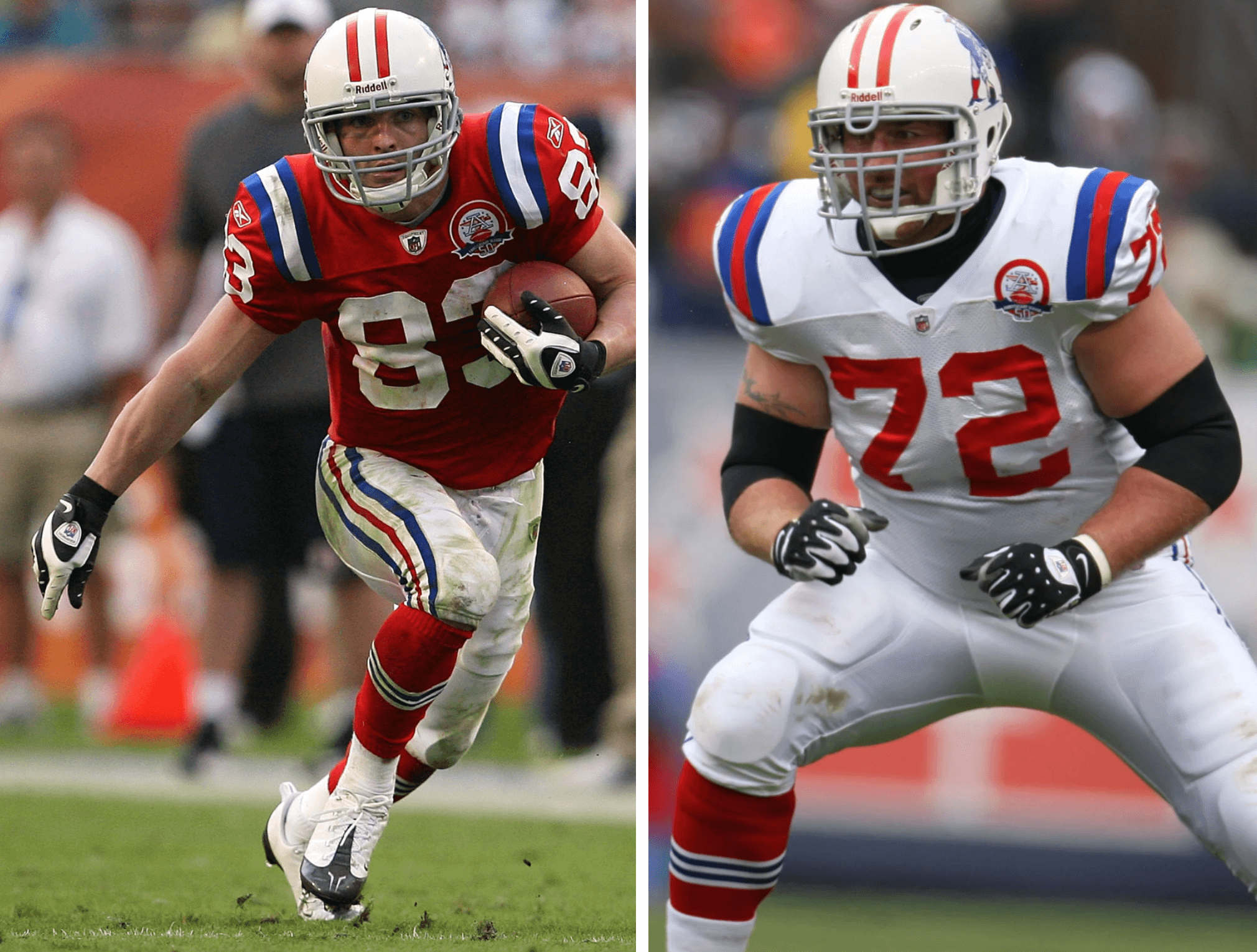 • The red throwback reappeared in 2010, 2011, and 2012 before falling victim to the NFL's one-shell rule.
• If you look at those photos, you can see that they paired the red jersey with white socks every year except 2009, when they wore red. Which is more historically accurate? It depends on which era you're trying to simulate, because the Pats originally paired the red jersey with red hose but changed to white in 1984. (The new throwbacks have white socks.)
• Another detail about the 2009 throwbacks: The UCLA striping on the jersey was blue-white-blue, while all the other throwbacks (including the new ones) have white-blue-white. Different helmet striping, too. Again, that's because the striping changed on the original jerseys and helmets back in the day, so the throwback striping reflects the specific era being simulated.
• Another thing you can see in the photos is that the throwback helmet has consistently been slightly off-white — a very light cream. It's hard to be 100% certain from the promo pics they released yesterday, but the shell looks like more of a true white to me.
• Speaking of the promo pics, they released a fun shot of center David Andrews posing like Pat Patriot: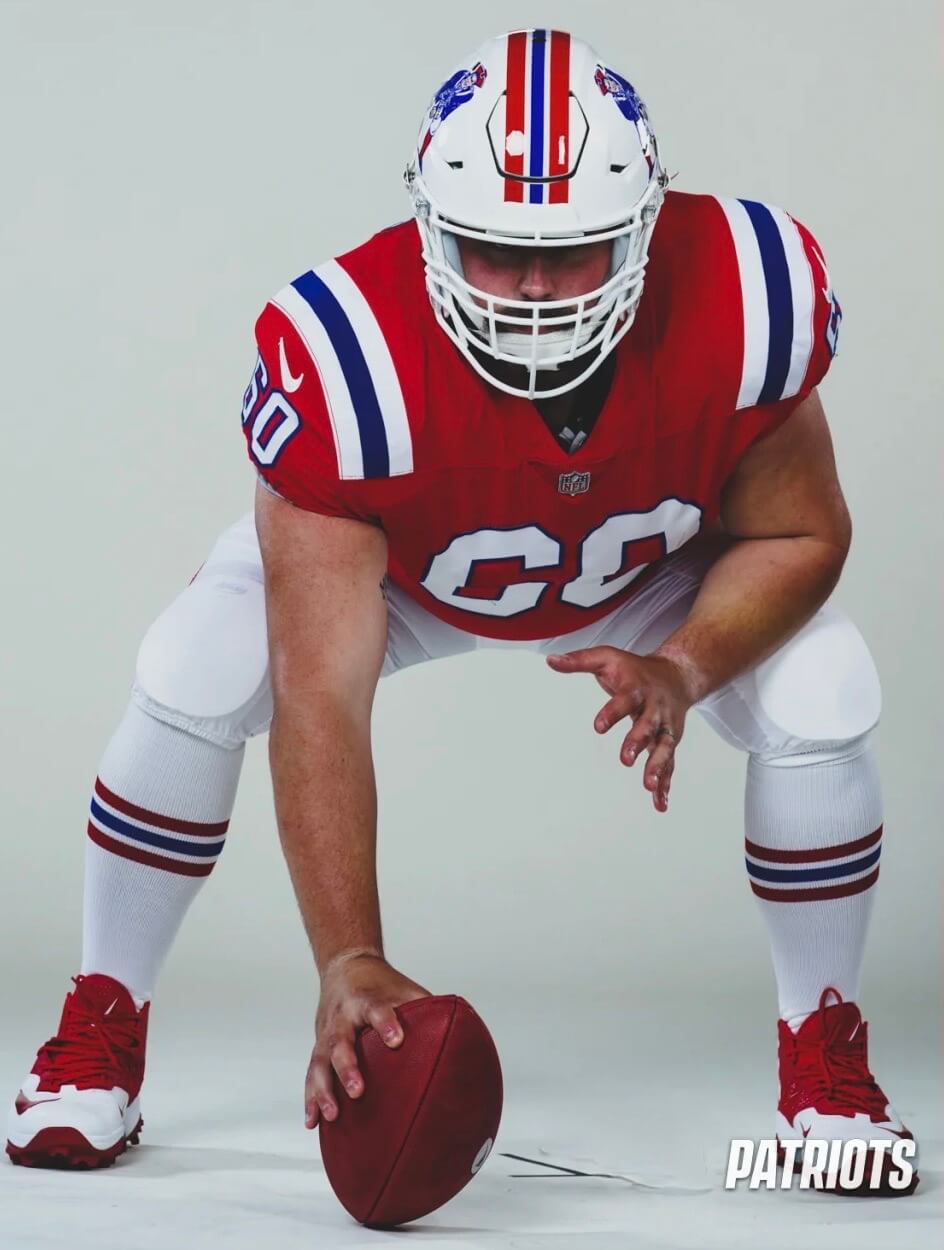 • According to this article, the Pats were lobbying for years to get the one-shell rule lifted so they could revive this throwback.
• That article also says they considered going with a red facemask (which the team wore in 1991 and '92 but has never been used in a throwback capacity) but ultimately opted to stick with white.
• The one turd in the punchbowl: those truncated UCLA stripes. If Nike can fix this for the Panthers, why not for the Pats?
———
One final thought: I know everyone loves Pat Patriot — so do I! — but I'd also love to see the team use the (off-)white shell color to bring back the tricorn hat logo that they wore in 1960: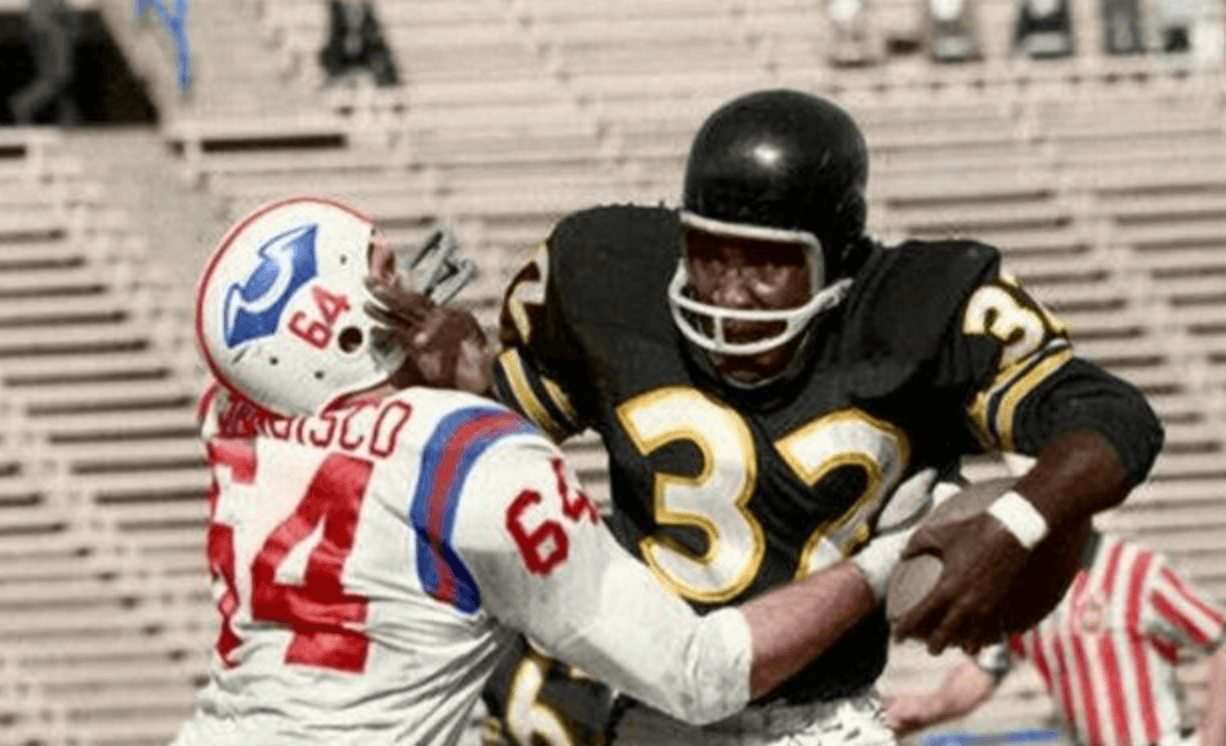 That design has never been worn as a throwback, and it would be great to bring it back for a game at some point. I know everyone's excited about Pat, so let's enjoy his return for a season or two. But after that, how about a tricorn cameo? Here's hoping!
• • • • •
• • • • •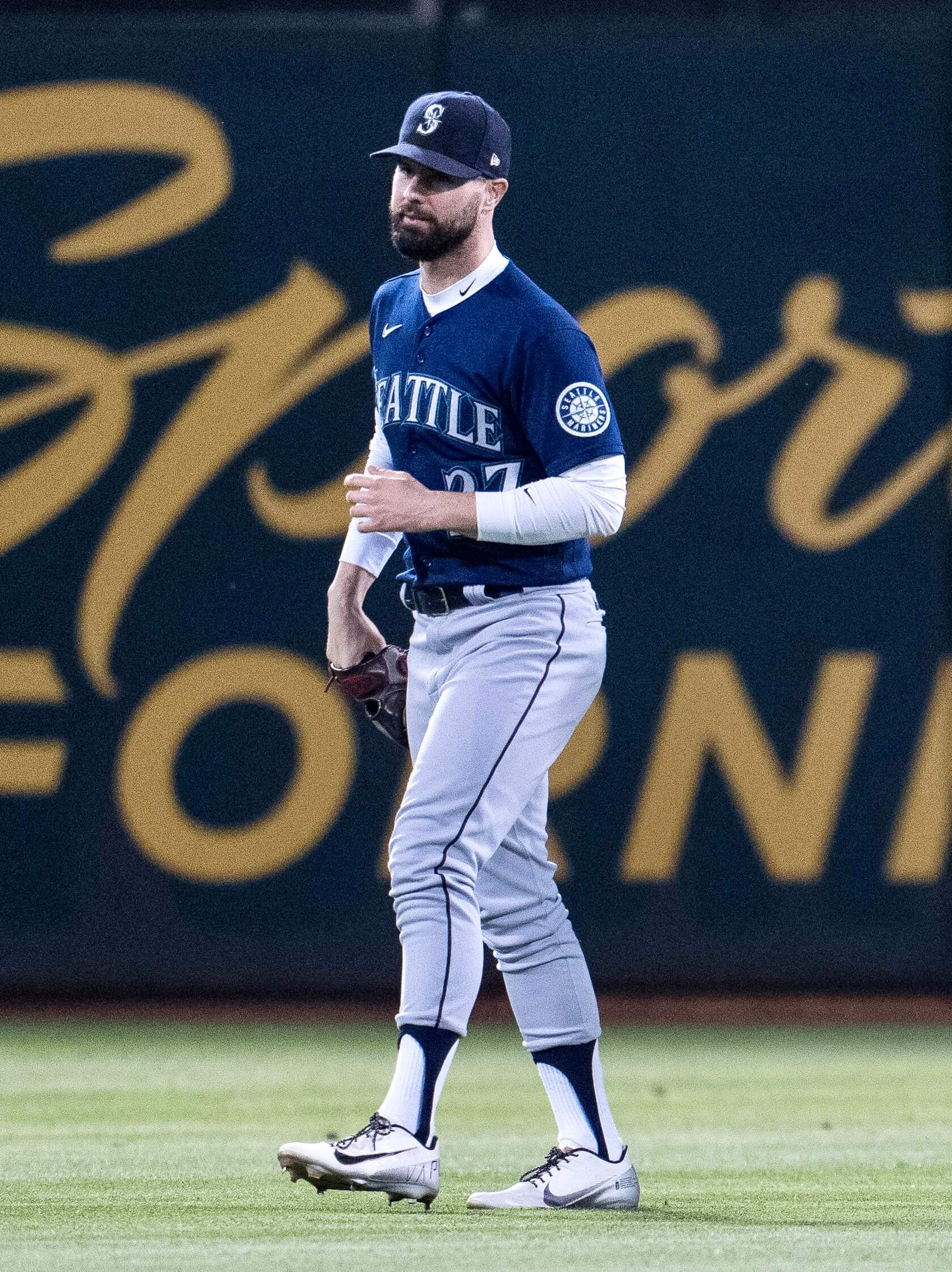 Photo by Neville E. Guard, USA Today Sports, click to enlarge
Blast from a different past: Mariners outfielder Jesse Winker last night wore a pants/stirrups style rarely seen nowadays, reminiscent of the mid-'70s or early '80s. Not my favorite look, but interesting to see someone reviving that mid-shin pant length!
Here's a close-up, showing that he was clearly wearing tube socks, not traditional thin sanitaries: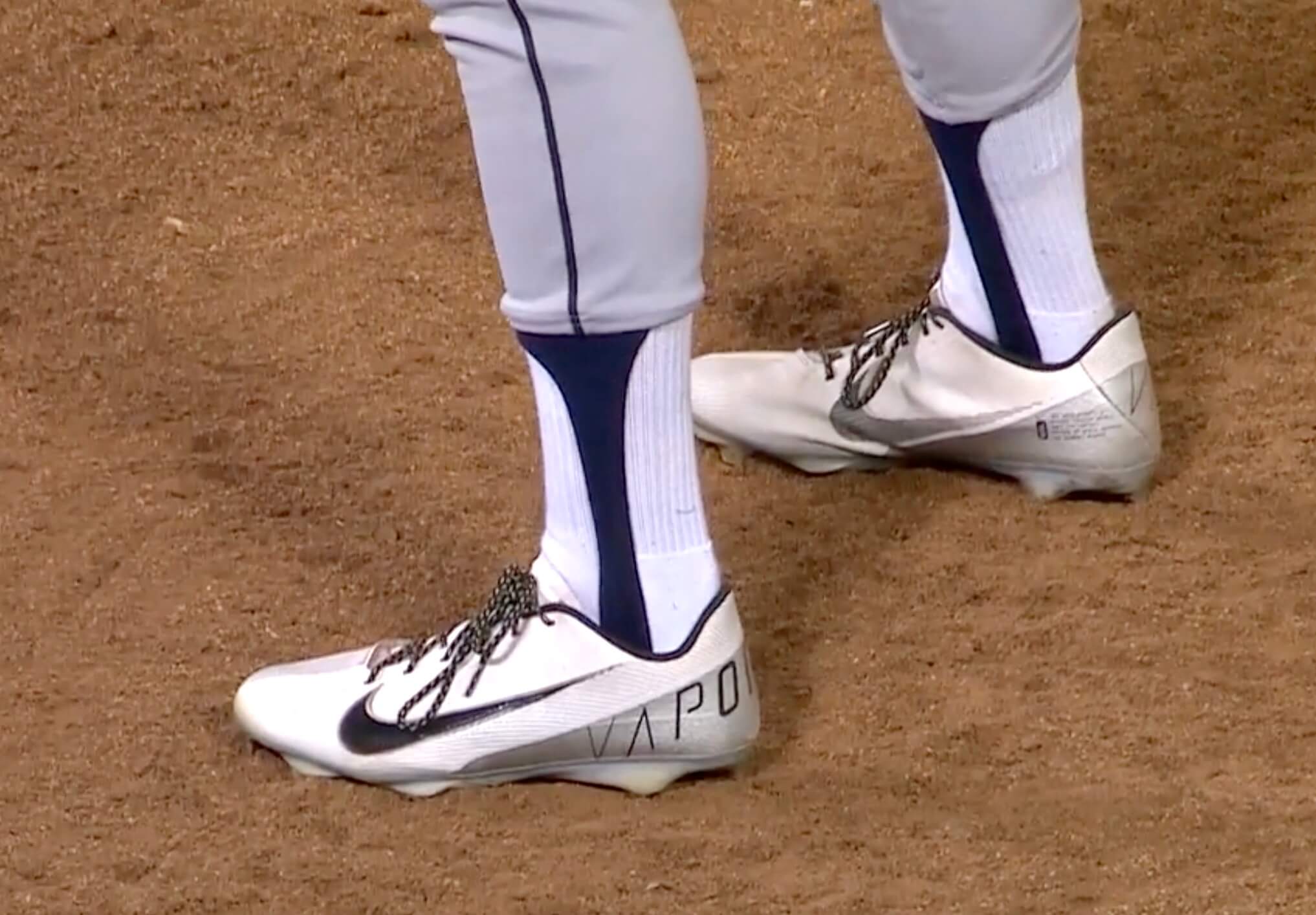 (My thanks to Bo Baize for alerting me to this one.)
• • • • •
• • • • •
Click to enlarge
Does Bruce Bochy know about this? Following up on yesterday's item about the giant caps at Angel Stadium, reader Benji Boyter reports that the caps have giant size tags on the inside. That's pretty cool!
As an aside: Ballparks named after teams usually have the team name in the singular — Yankee Stadium, Dodger Stadium, Oriole Park at Camden Yards, Angel Stadium (and the now-defunct Tiger Stadium). The one exception is Nationals Park. Personally, I've always thought Angels Stadium would sound better (even with the double-s sound) — it just feels more natural to me. Can't explain why. But I'm okay with the other singular constructions — again, can't really explain why. It's an interesting sub-topic!
• • • • •
• • • • •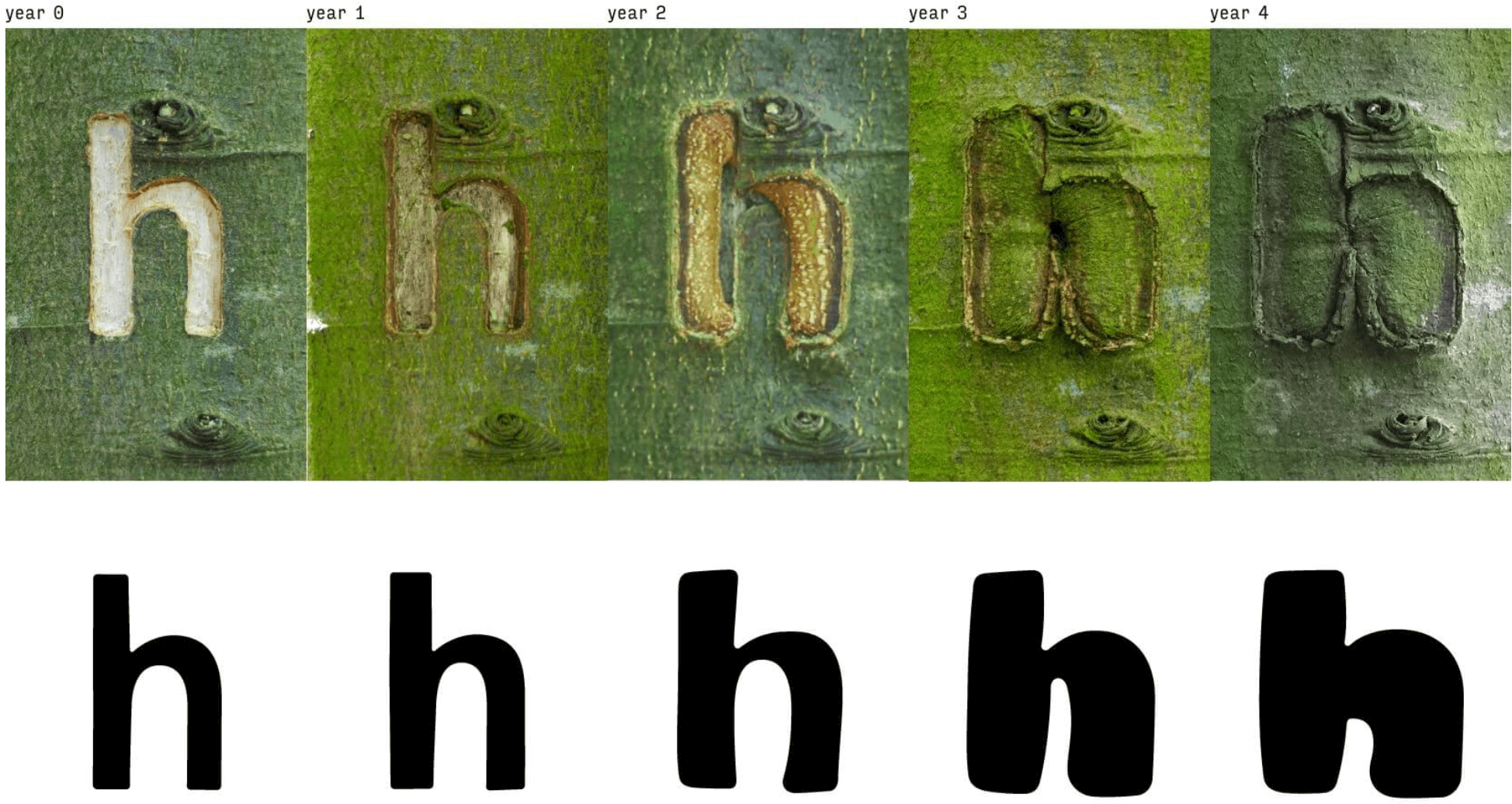 Click to enlarge
Too good for the Ticker: A Dutch artist came up with a genius creative project: He carved a full alphabet into the bark of a tree, documented how the letterforms morphed from year to year as the bark healed and regrew, and created digital fonts based on the progressions. So the fonts were essentially designed by the tree:
How cool is that? Fascinating additional details here.
(Mega-thanks to Michael Hochman for this one.)
• • • • •
• • • • •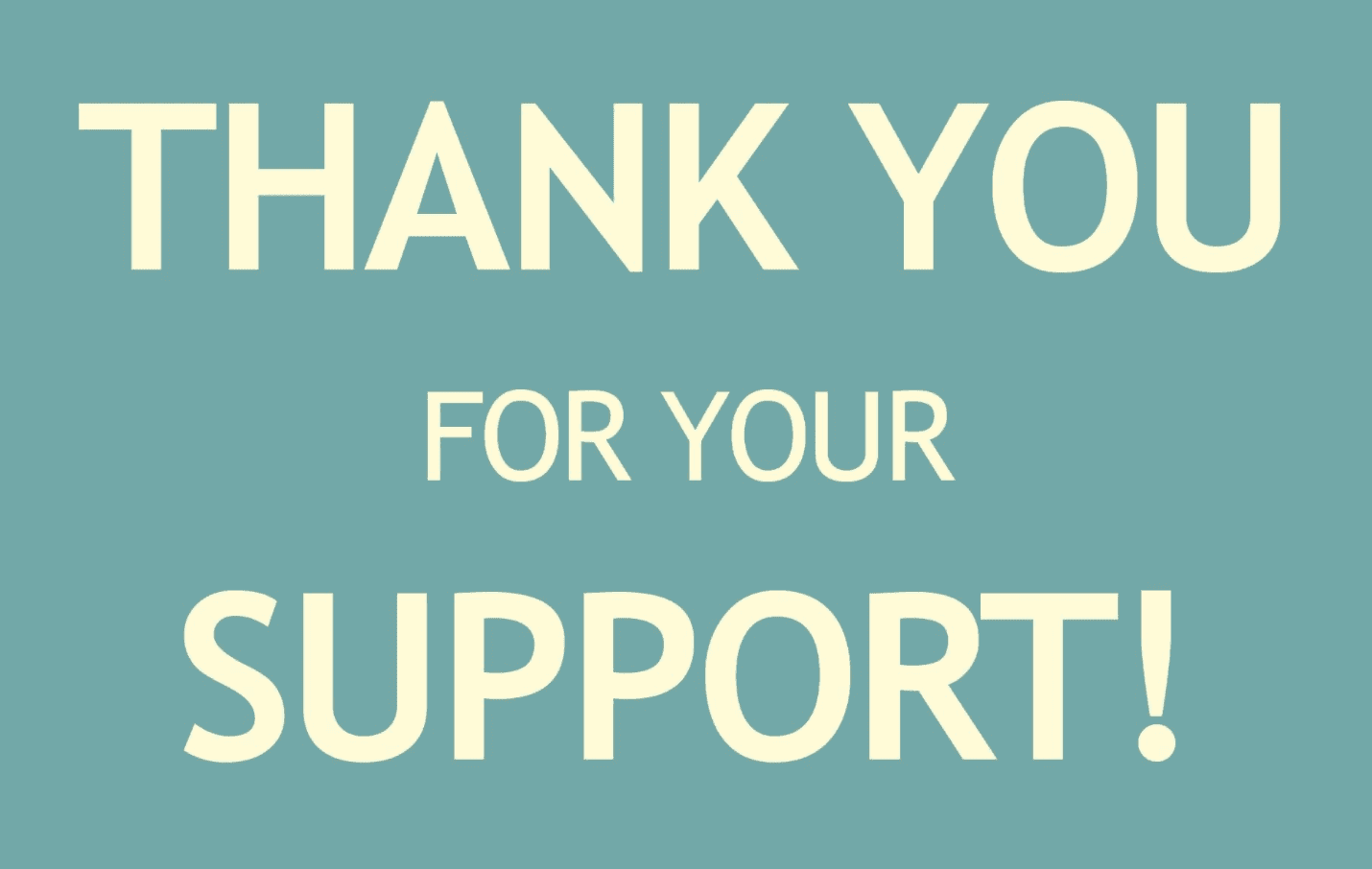 Thank you: Yesterday I mentioned that I'm staring down the barrel of an insane health insurance premium increase and asked that those of you who haven't previously supported Uni Watch please consider either making a donation or purchasing a Bulletin subscription (if you want to do it without Facebook, email me), a membership card, or some of our fine products.
The initial response was very promising. Thanks so much to all of you who pitched in, and doubleplusthanks to two readers who were particularly generous (they know who they are) — you're all aces.
• • • • •
• • • • •
The Ticker
By Paul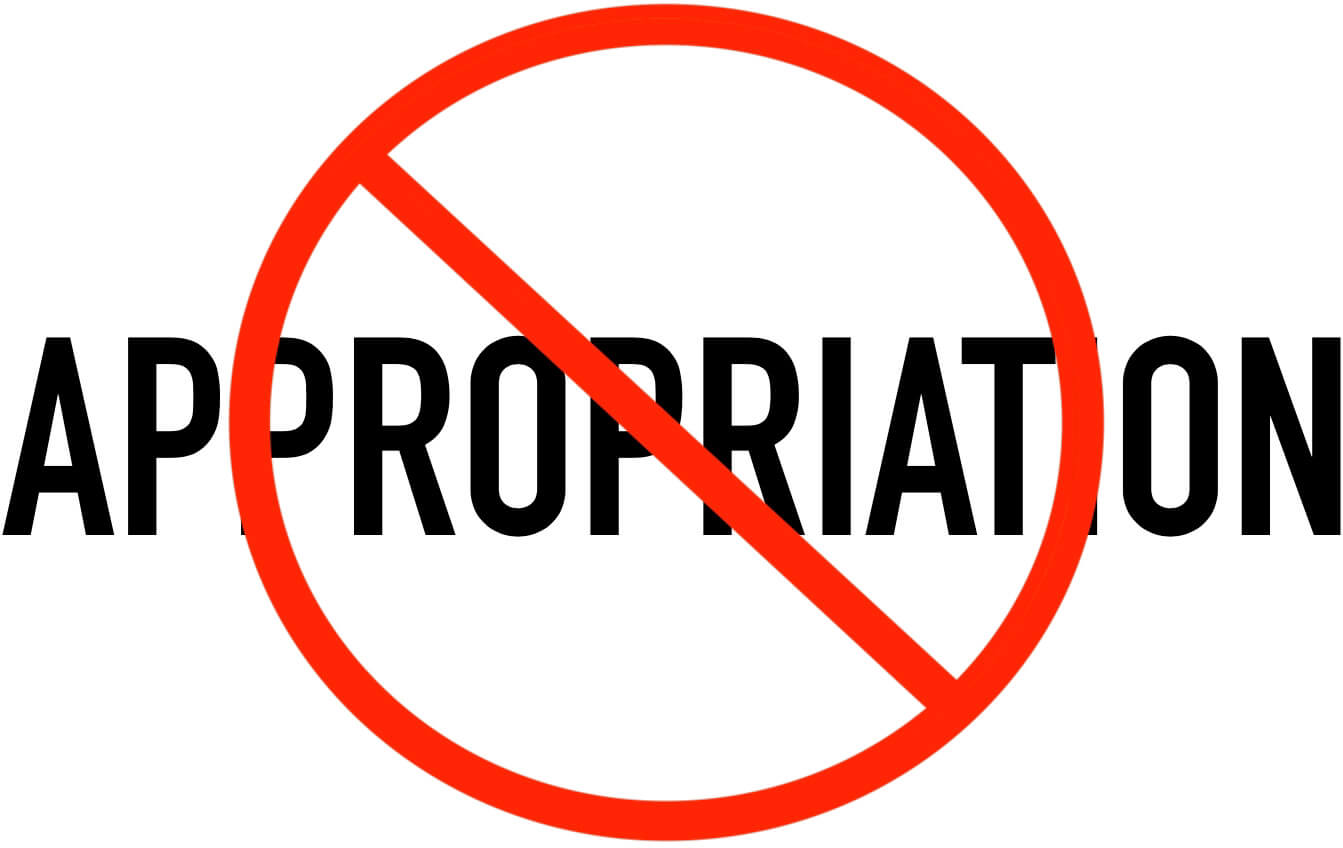 Indigenous Appropriation News: Chamberlain High School in Tampa, Fla., will no longer call its teams the Chiefs (from Kary Klismet). … Also from Kary: The Saint Regis Mohawk Tribe is publicly backing legislation to prohibit Native-themed team names and imagery for schools in New York state.

Baseball News: The Angels added cap patches last night to mark the 20th anniversary of their 2002 World Series title (from Jorge Cruz). … Here's how Mets P Max Scherzer looked in his Binghamton Rumble Ponies uniform for a recent rehab start. … Unusual Orioles logo on this cap, which was apparently for a team-sanctioned kids' fan club. Fun variation on the MLB logo on the back, too (from Greg Bensinger). … The new team in the Prospect League will be called the Jackson Rockabillys (from Phil Santos). … The Red Sox gave away Hebrew-lettered jerseys last night (from Jeff Israel). … Guardians 3B Jose Ramirez has a necklace pendant with a picture of himself holding said necklace (from Mike Chamernik). … Pretty funny story about how MLB really botched an ad featuring the NYC subway (from Gabriel Luis Manga).

College Football News: Boise State is asking fans to wear specific colors for certain games (from Kary Klismet). … Ole Miss coach Lane Kiffin may have accidentally leaked his team's latest camouflage uniform (thanks, Phil).

Basketball News: Here are the uni numbers for Virginia men's new players (thanks, Jamie). … Española Valley High School in New Mexico has unveiled a new court design (from Kary Klismet).

Soccer News: New away kit for Belgian side Club Brugge (from Ed Zelaski). … Also from Ed: New kits for fourth-tier English side Carlisle United. … New home kit for Scottish club Dunfermline Athletic (thanks, Jamie). … The rest of these are all from Kary Klismet: New men's national team home kits for Papua New Guinea and Cambodia. … New home kits for Atlético Madrid. … New logo for Pau FC of France's Ligue 2. … New kits for 2. Bundesliga sides FC Heidenheim and Hannover. … New home kits for Birmingham City of the English Football League Championship. … New uniforms for the Offenbacher Kickers of Germany's fourth-tier Regionalliga Südwest. … New home kits for Leyton Orient of England's League Two:

Grab Bag: I feel like we may have had this before, but just in case: New logos for Brown University athletics (from Joel Mathwig). … Here's something I've never seen before: The equipment staff at Prairie View A&M — that's an HBCU in Texas — is going on strike, citing being "overworked and underappreciated" (from Ben Whitehead). … Here's one writer's pick for the worst uniforms in Denver sports history. … Here's an interesting thread on why it took so long for Ohio State to successfully trademark the word "The" (from James Gilbert). … New package design and brand name tweak for Kraft Mac & Cheese (thanks, Brinke). … A dentist combined Nike's slogan and one of those floss pick thingies to create a really funny dental hygiene reminder (from Mike Chamernik). … Interesting article about how Title IX has affected the design of women's sports uniforms over the past 50 years. … Seattle is the latest city where police officers can march in the local Pride parade but not in uniform. … Here's a very entertaining thread in which the text of various familiar brand logos is changed to match the imagery. … DC Comics has a new Batman logo. … New 50th-anniversary logo for Atari.
• • • • •
• • • • •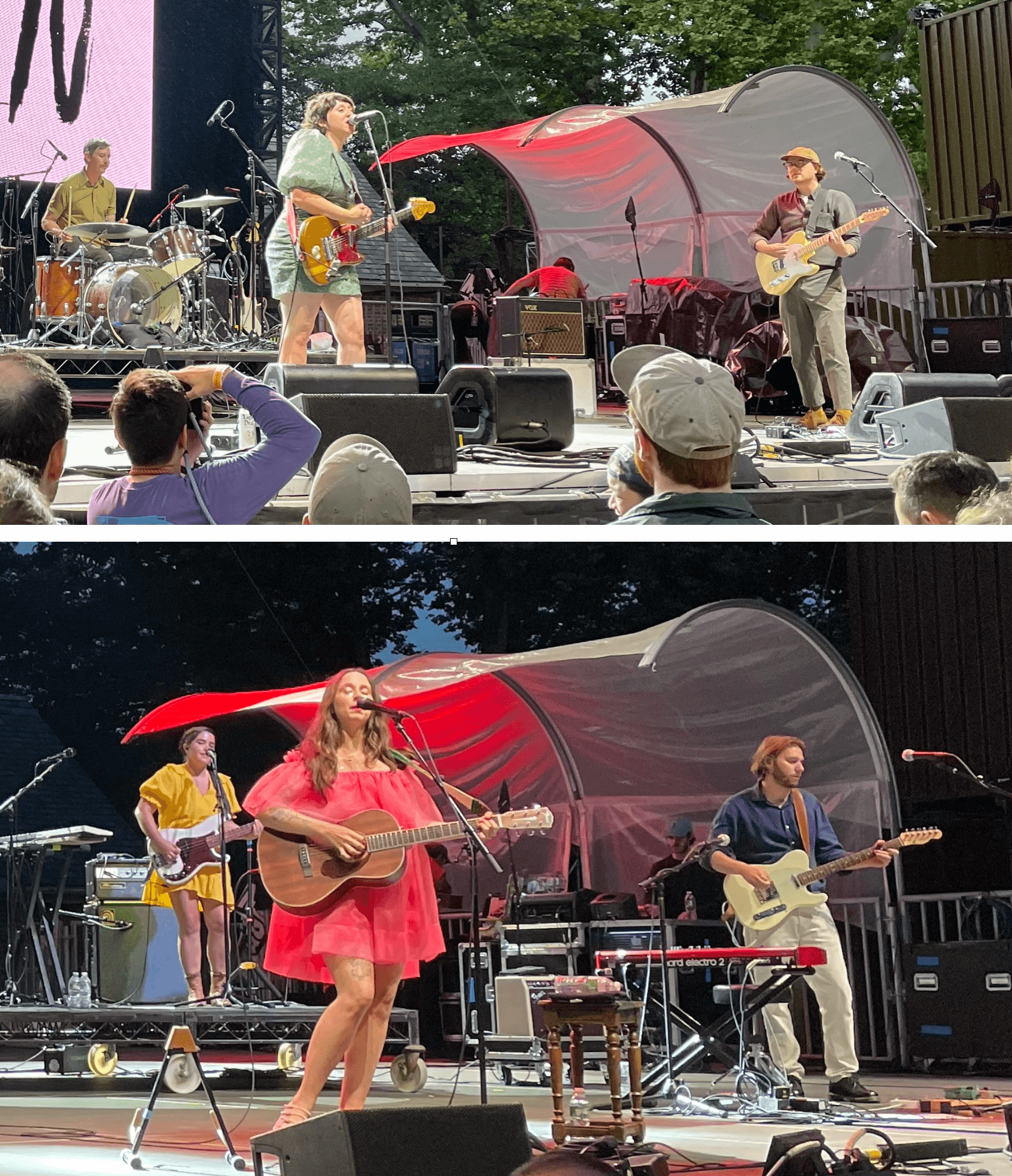 Click to enlarge

What Paul did last night: Really fun indie-rock family-affair double bill last night, as Swearin' (fronted by Allison Crutchfield, top photo) opened for Waxahatchee (fronted by Allison's twin sister, Katie Crutchfield) as part of Central Park's free summer concert series. Waxahatchee has gotten more press and has a bigger following, but Swearin' was by far the better band last night. Killer tunes, righteous energy.
Big shout-out to reader Rick, who recognized me during the show and said hi. Good meeting you, buddy — thanks for the kind words!