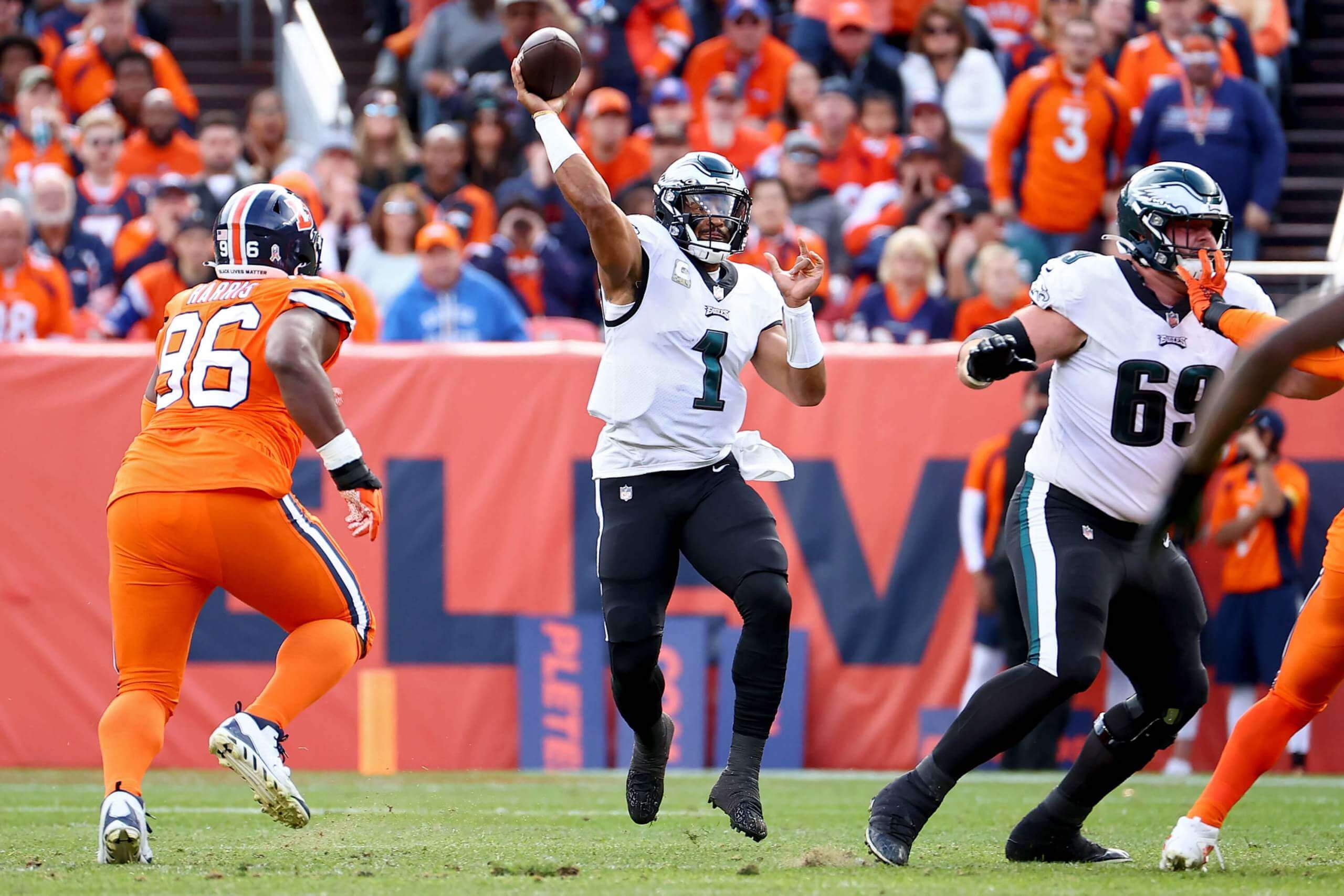 Photo by Jamie Schwaberow/Stringer; click to enlarge
Good morning! Greetings from North Carolina, where I enjoyed a really sensational weekend. I'm flying back home this afternoon, and I'll have more details about my trip (including the very excellent Uni Watch party we had on Saturday) over the next couple of days.
Now then: Highly uni-notable game yesterday in Denver, as the Broncos wore their mono-orange Color Rash uniforms and the Eagles, for the first time ever, wore black pants with their white jerseys (apparently at the urging of quarterback Jalen Hurts). Lots of additional photos here and here.
Here's how it looked in action:
Best. Birthday. Ever.@DeVontaSmith_6 | #PHIvsDEN pic.twitter.com/hNARtH1y24

— Philadelphia Eagles (@Eagles) November 14, 2021
In other news from around the league yesterday:
• The Titans wore navy over sky blue: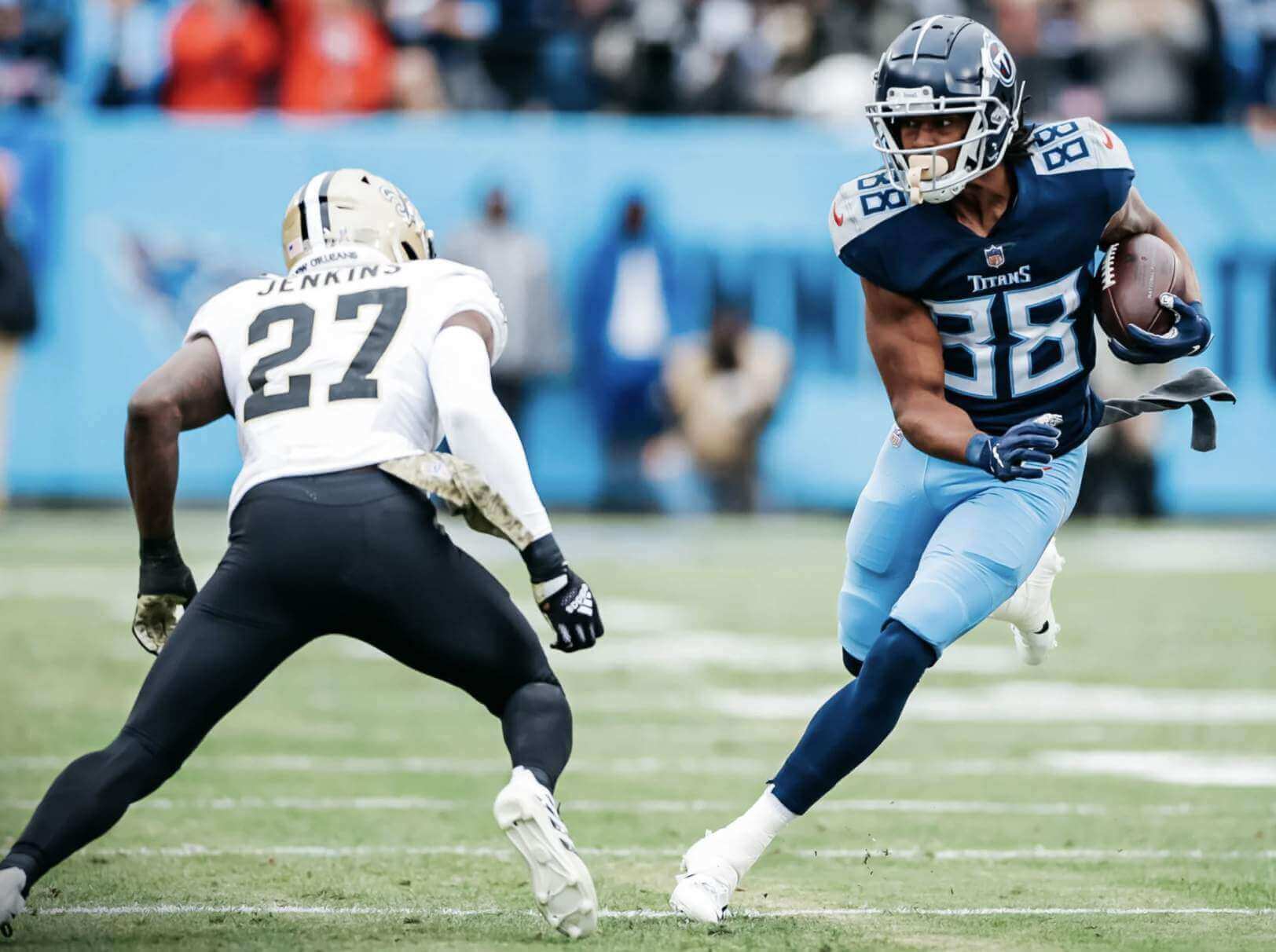 According to the Gridiron Uniform Database, this was the first time they'd worn that uni combo since the final game of the 2018 season.
• In another development that hadn't happened since 2018, KC wore mono-white: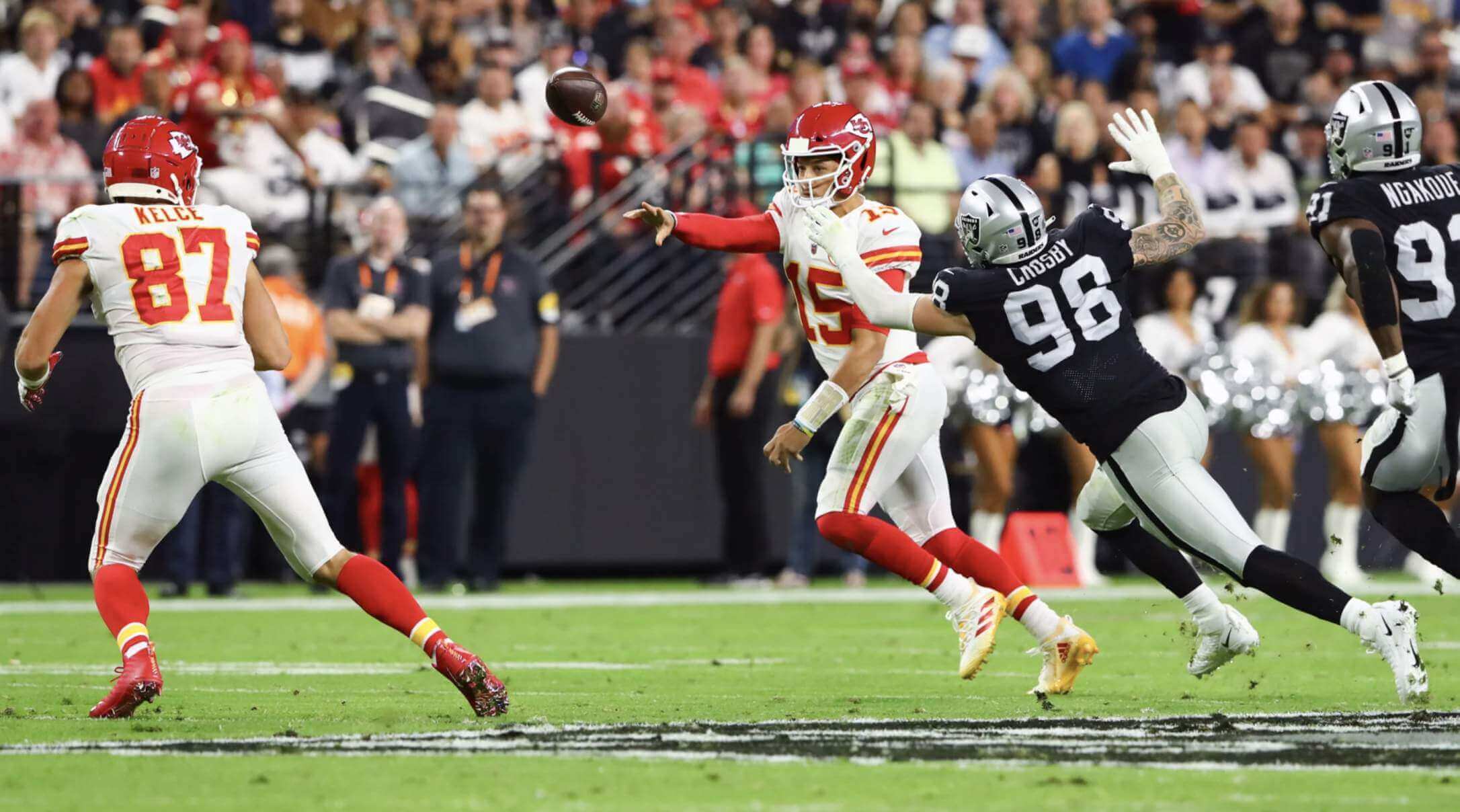 • Very colorful game in L.A., as the Chargers went powder blue over yellow and the Vikings went white over purple:
Right up the middle!! @cambeezy_

📺: @NFLonFOX pic.twitter.com/mxY8ykNLDC

— Minnesota Vikings (@Vikings) November 14, 2021
• Brutal-looking game in Arizona, as the Panthers and Cardinals competed for the "Worst Pants in the League" award (among other unsightly details):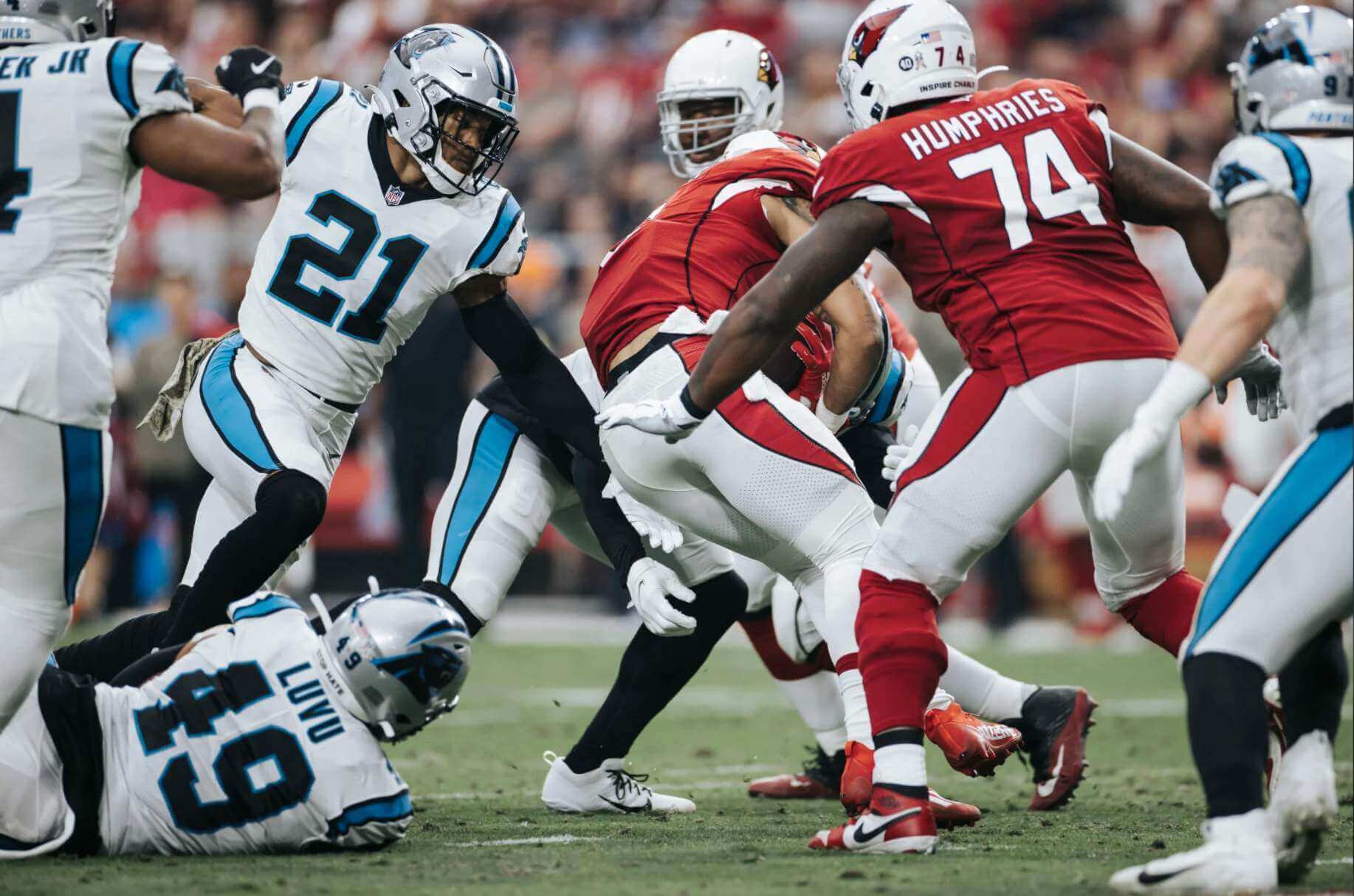 • Patriots quarterback Mac Jones was missing the star on his right-sleeve Pats logo patch: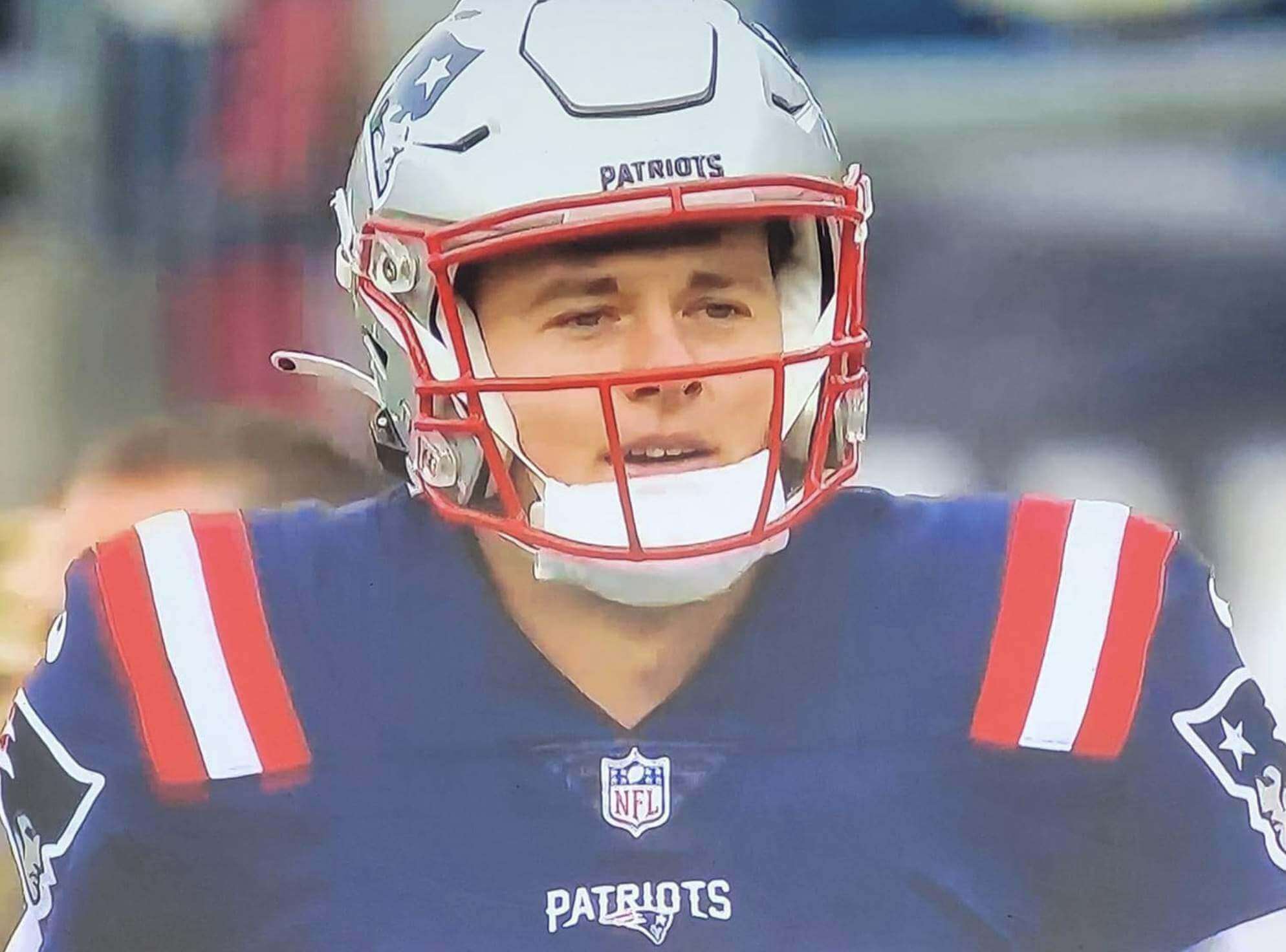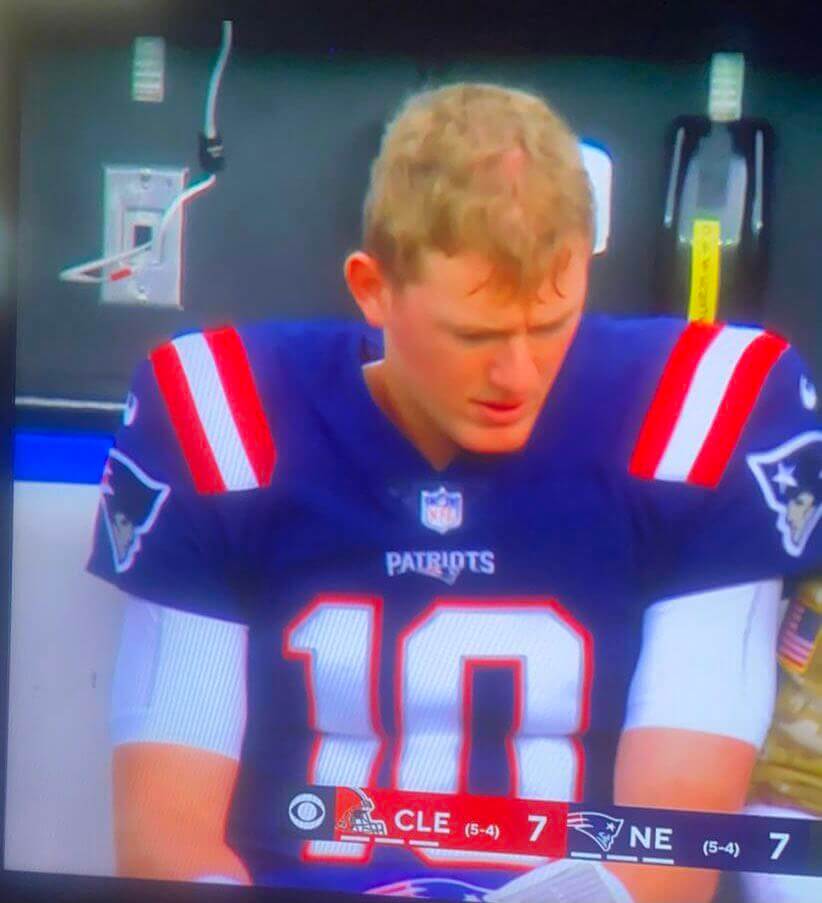 This isn't unprecedented. The same thing happened to linebacker Dont'a Hightower in 2016.
• In that same game, Browns wideout JoJo Natson doubled up on his sock stripes: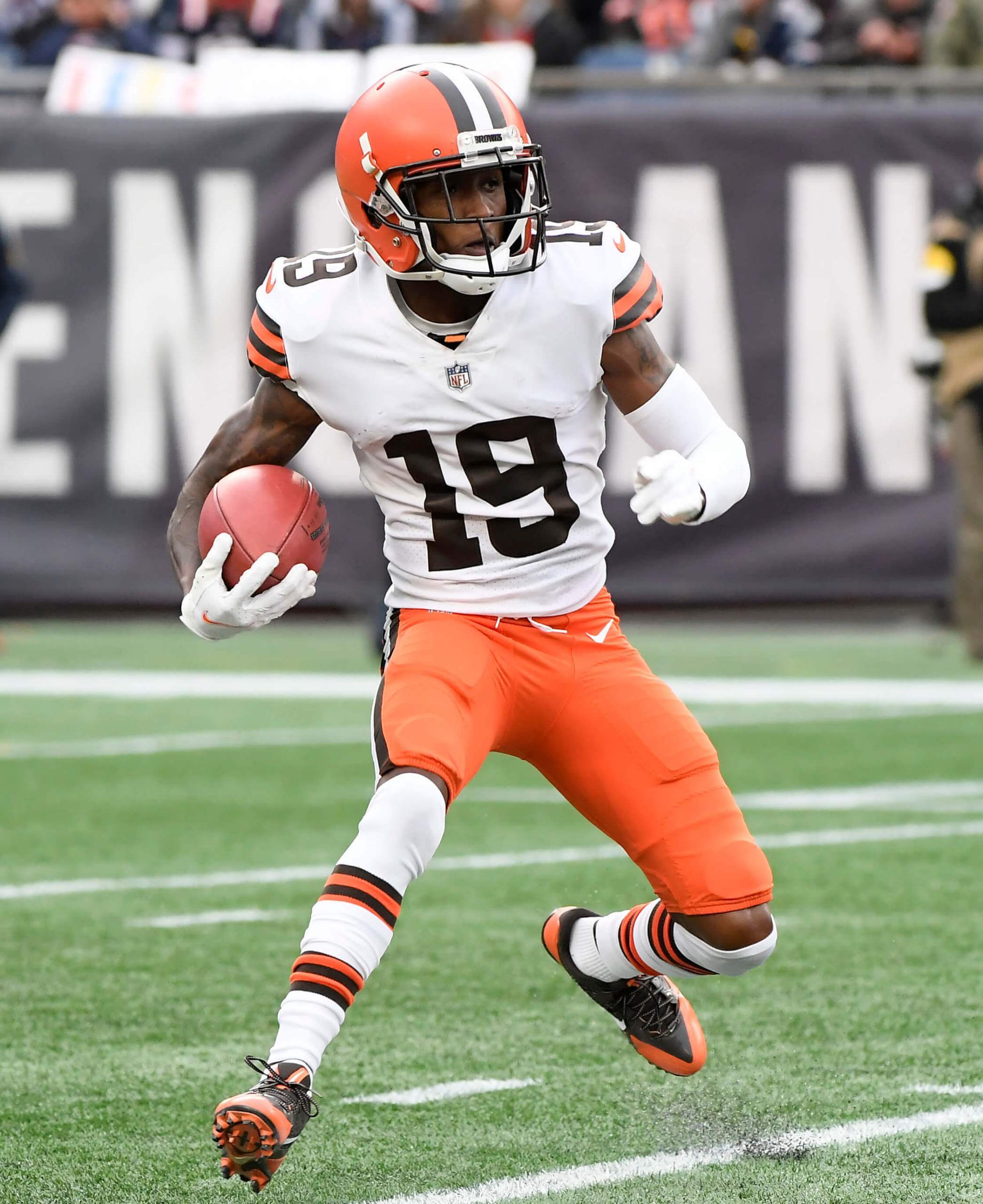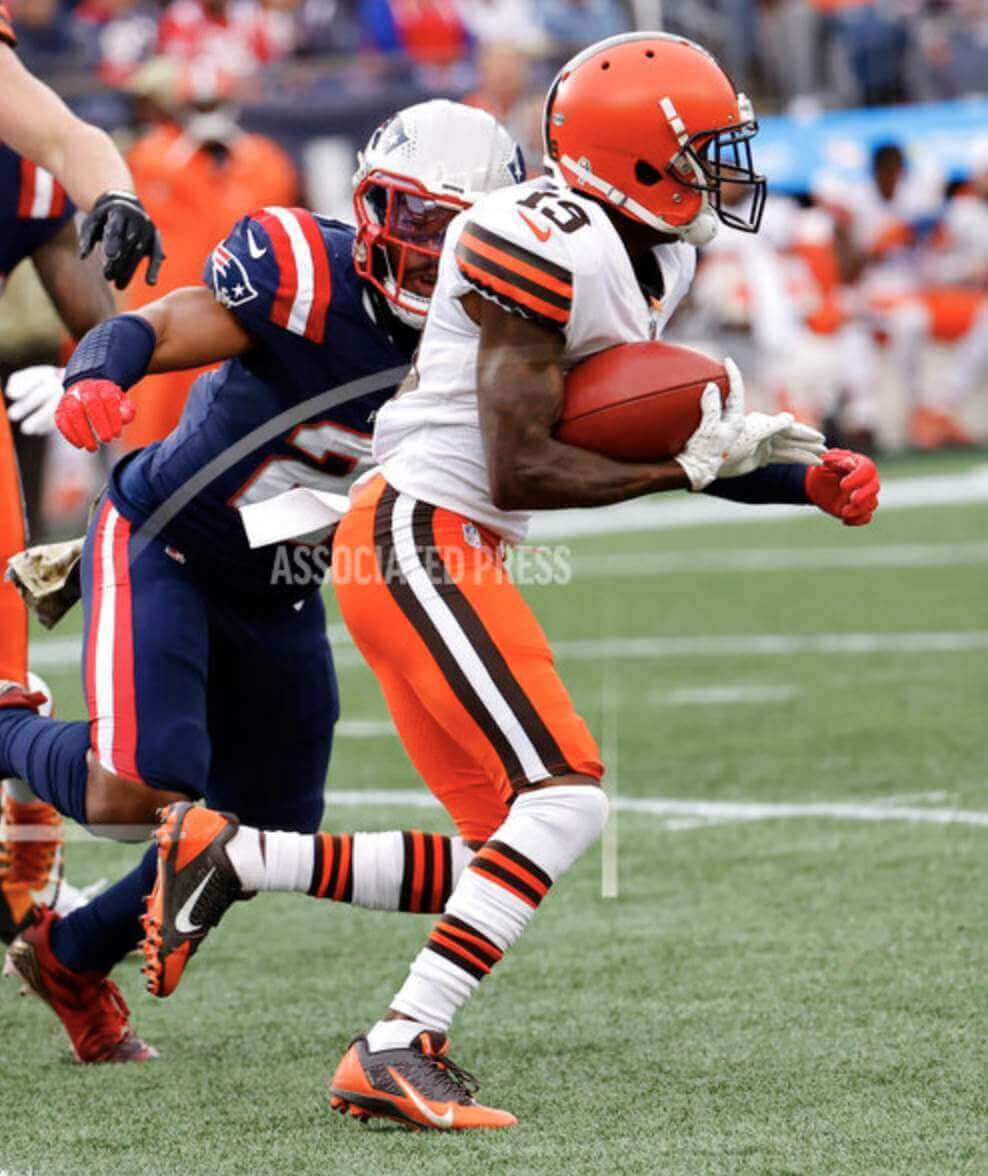 • Also from that game, Pats coach Bill Belichick, as per his annual custom, declined to participate in the G.I. Joke cosplay routine (here's why):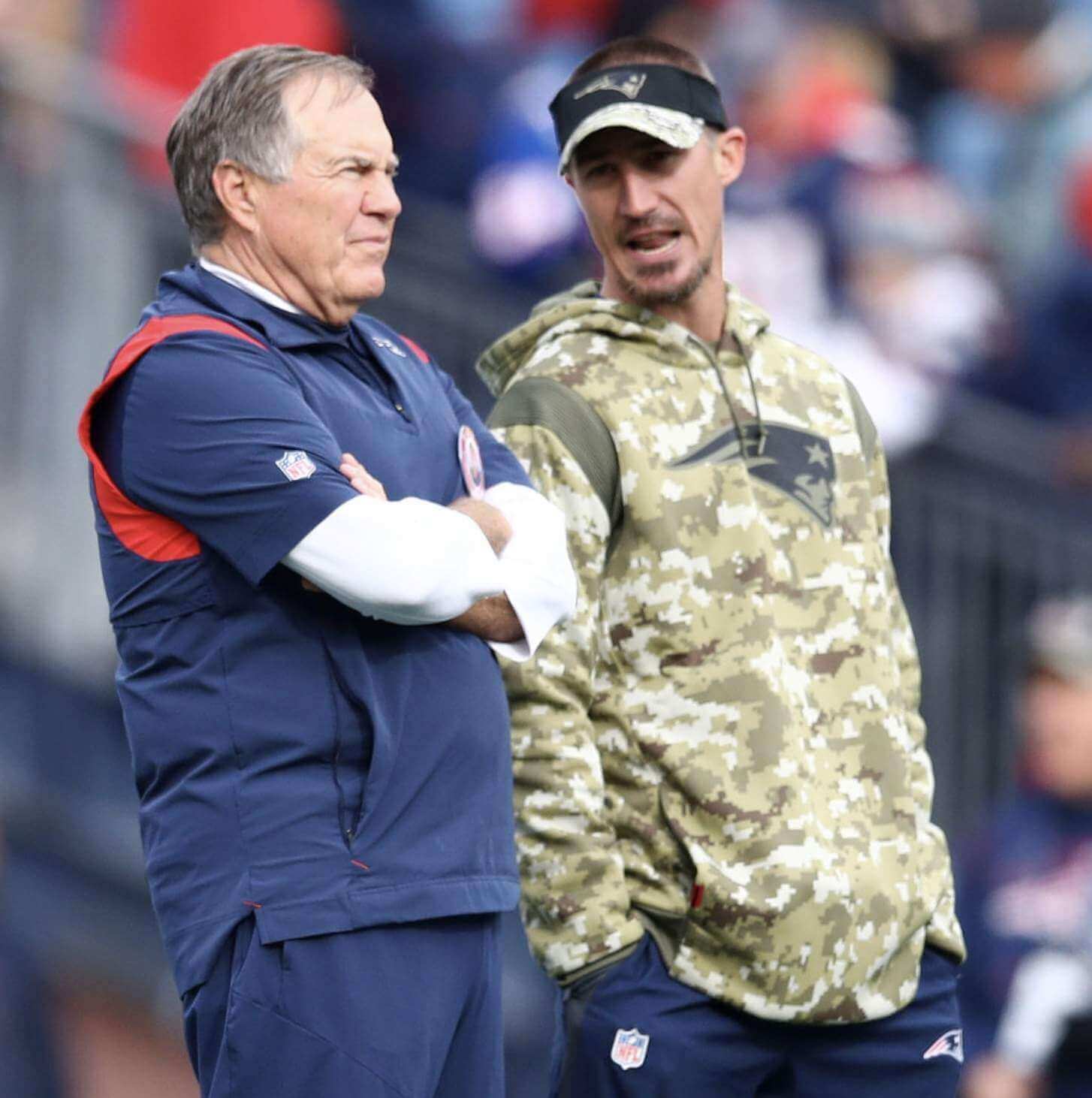 • Speaking of coaches, here's something I haven't seen before: a KC coach — I'm not sure which one — had a pouch sewn into his pullover top for his play-calling cards.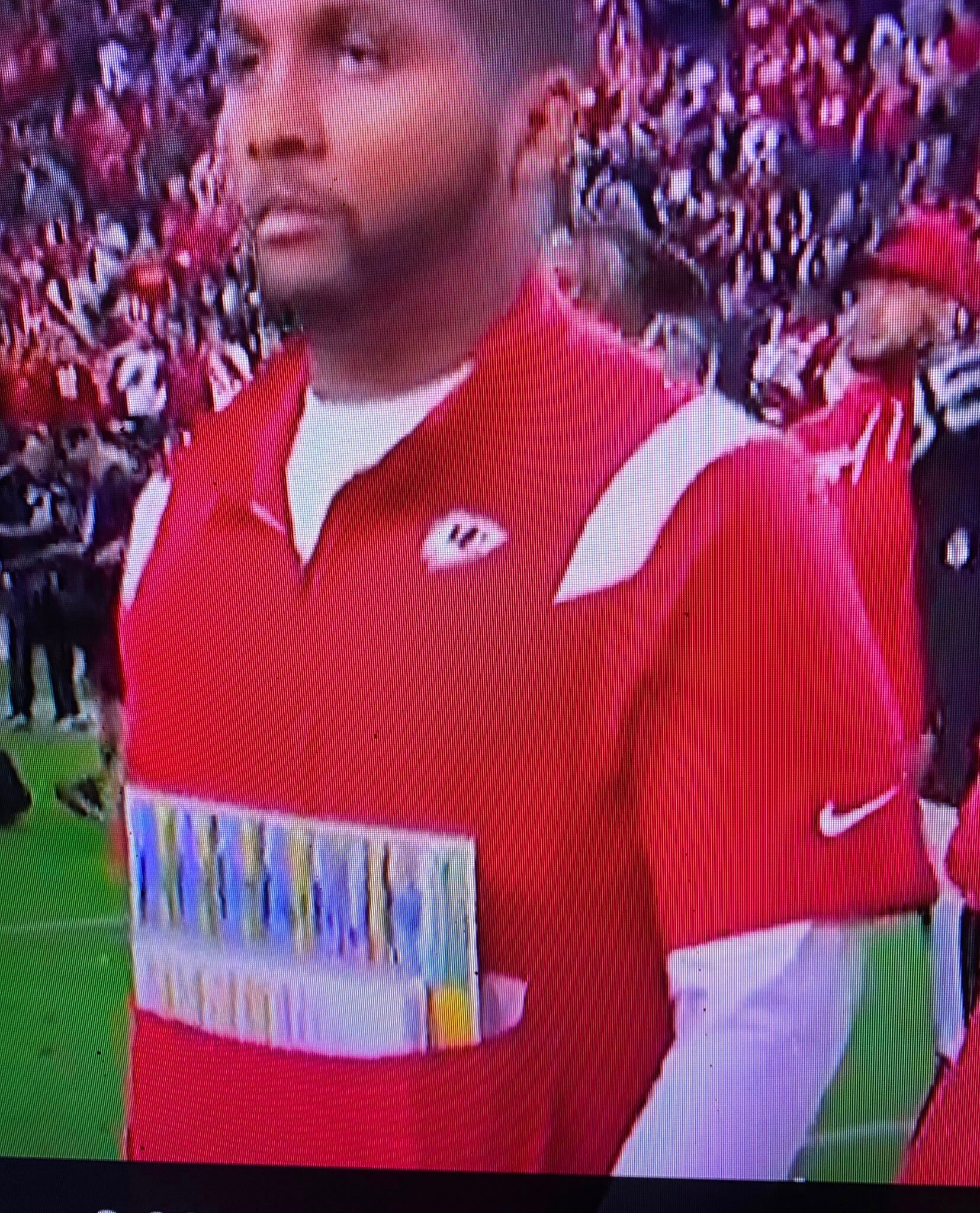 • Washington has had the NFL logo at midfield since changing the team's name last season, but yesterday they had a team logo:
Read it like a 📖

📺 » FOX | #TBvsWAS pic.twitter.com/d19JtjwwrY

— Washington Football Team (@WashingtonNFL) November 14, 2021
• Only one team wore white at home: the Cowboys, of course.
Looking ahead, tonight's game will feature the 49ers' throwbacks against the Rams' white alternates.
(My thanks to all contributors, including Elias Betancourt, Dylan Boulanger, Matt Cimetti, K.C. Kless, Brandon Pinon, @Tileeom, and our own Jamie Rathjen.)
• • • • •
• • • • •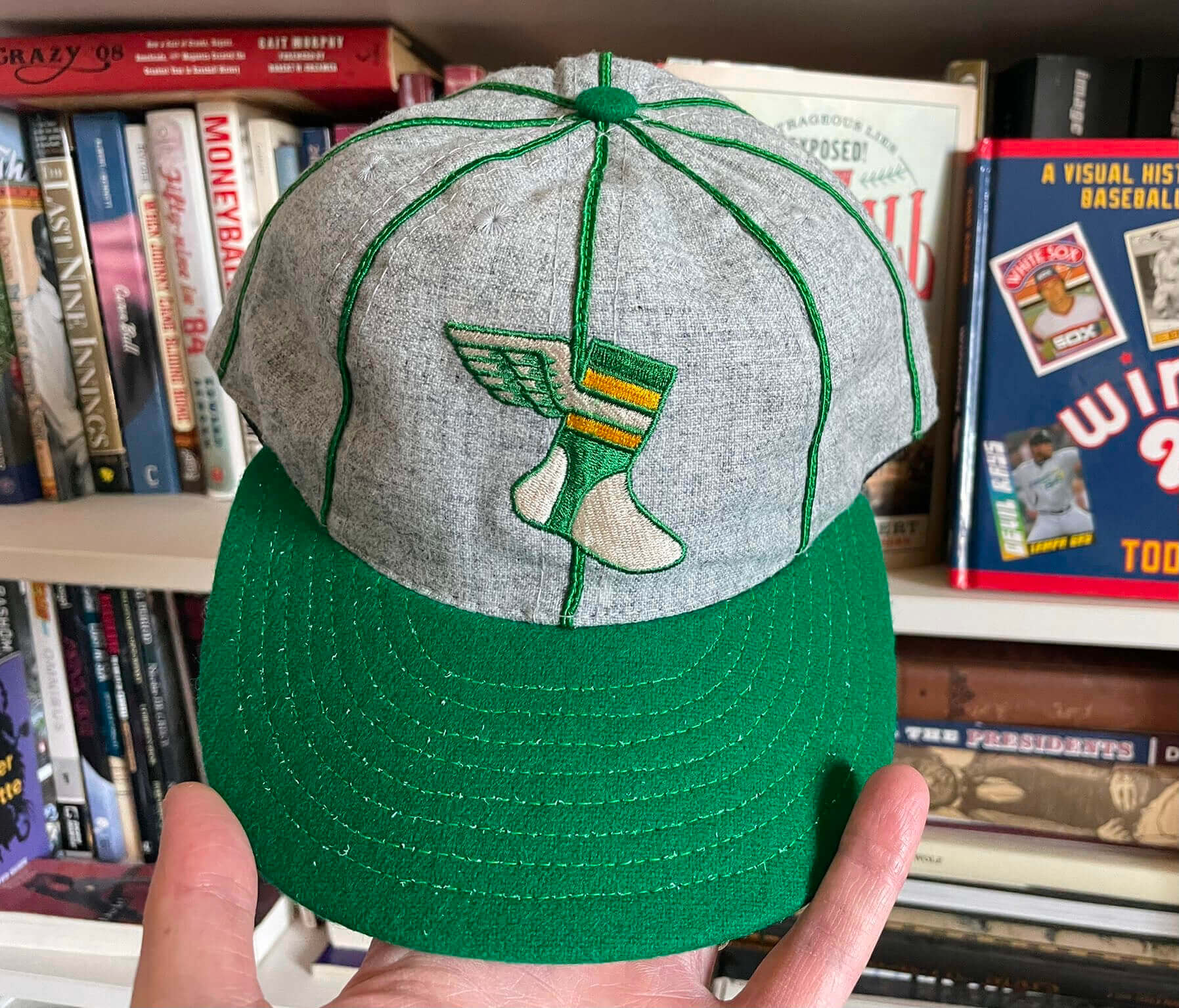 Photo by R. Scott Rogers; click to enlarge
Cap inventory update: Supplies of the Uni Watch Alternate cap continue to dwindle. Here's what we have left:
7: Sold out
7-1/8: 1
7-1/4: 1
7-3/8: 1
7-1/2: Sold out
7-5/8: 4
7-3/4: 2
7-7/8: 2
8: Sold out
The hat is available here while supplies last.
• • • • •
• • • • •
The Ticker
By Jamie Rathjen

Softball News: Texas softball retired No. 8 at Saturday's football game for former U.S. national team pitcher Cat Osterman.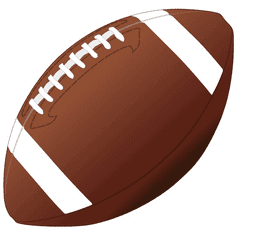 Football News: New Rams WR Odell Beckham Jr. had slight problems with potential numbers he wanted before signing, as some of them are taken this season or will be next season (thanks, Phil). … Sky Sports, which shows some NFL games in the U.K., mistakenly called the Titans the "Tigers" yesterday (from Patrick Williams). … Reader Wade Heidt has Canadian college uni tracking in yesterday's comments.

Hockey News: The Capitals wore Hockey Fights Cancer warm-up jerseys last night. … RDS, the French version of Canada's TSN, was still using the old color scheme of the AHL's Utica Comets in its scorebug on Saturday (from James Beattie). … The rest of these are from Wade Heidt: Jets G Connor Hellebuyck had a Canadian Armed Forces Night-themed mask on Saturday. … The WHL's Medicine Hat Tigers and Moose Jaw wore their winners of the CHL's Leave Your Mark Design a Jersey contest. … The OHL's Saginaw Spirit wore alternates for a military appreciation night.

Basketball News: Oklahoma State's men's team wore their turquoise alternates yesterday, creating color-vs.-color with Prairie View A&M (from @GeoPokes). … The Spurs will need a new advertised name for their arena next season.

Soccer News: The U.K. countries' men's national teams all wore poppy armbands this weekend, which is the compromise to get around the poppy being considered a political symbol at the national team level. France's men's team wore bluet armbands. … Wales winger Gareth Bale got a commemorative shirt for 100 apperances. … Wales also wore warm-up shirts supporting Bournemouth winger David Brooks and Livingston goalie Dan Barden, who have played for the senior and under-21 men's teams before, respectively, and were both recently diagnosed with different cancers. … The YouTube channel AwayDays helped put together a video on the top 10 shirts in Japan's J.League (from Jeremy Brahm). … A match in England's FA Trophy between two clubs in the men's eighth tier, Marine and Dunston UTS, saw the stadium lights fail. As everyone has other jobs at that level one of the Dunston players happened to be an electrician and fixed the problem in full uniform (from my brother Nate Rathjen).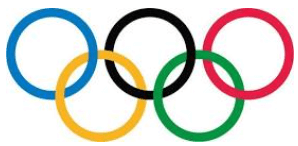 Olympics News: Finland's jerseys for presumably both ice hockey tournaments in Beijing were released (from @Yff26).


Grab Bag: The U.K. countries' men's and women's rugby union teams wore poppies on their sleeves this weekend. … Syracuse is another school with a 50th-anniversary logo for women's athletics. … Jess Jonassen, one of the players on Australian cricket's Women's Big Bash League's Brisbane Heat, got a commemorative shirt for 100 appearances. She's the first WBBL player to reach the milestone, and she's played in every possible Heat game since the competition started in 2015. … The Heat also have an extra video on their shirt design for this weekend's WBBL Indigenous round. … "Toyota introduced their new Supra funny car [drag racing] body on Saturday," says David Firestone. … French President Emmanuel Macron switched the shade of blue used on the French flag back to a darker shade. There are darker and lighter versions that already coexist, but the lighter version was only introduced in 1976 (from Kenneth Traisman). … Movie details: Marvel's Shang-Chi and the Legend of the Ten Rings contains a reference to the Tiananmen Square protests on a bus driver's uniform (from @Minor_Leaguer).