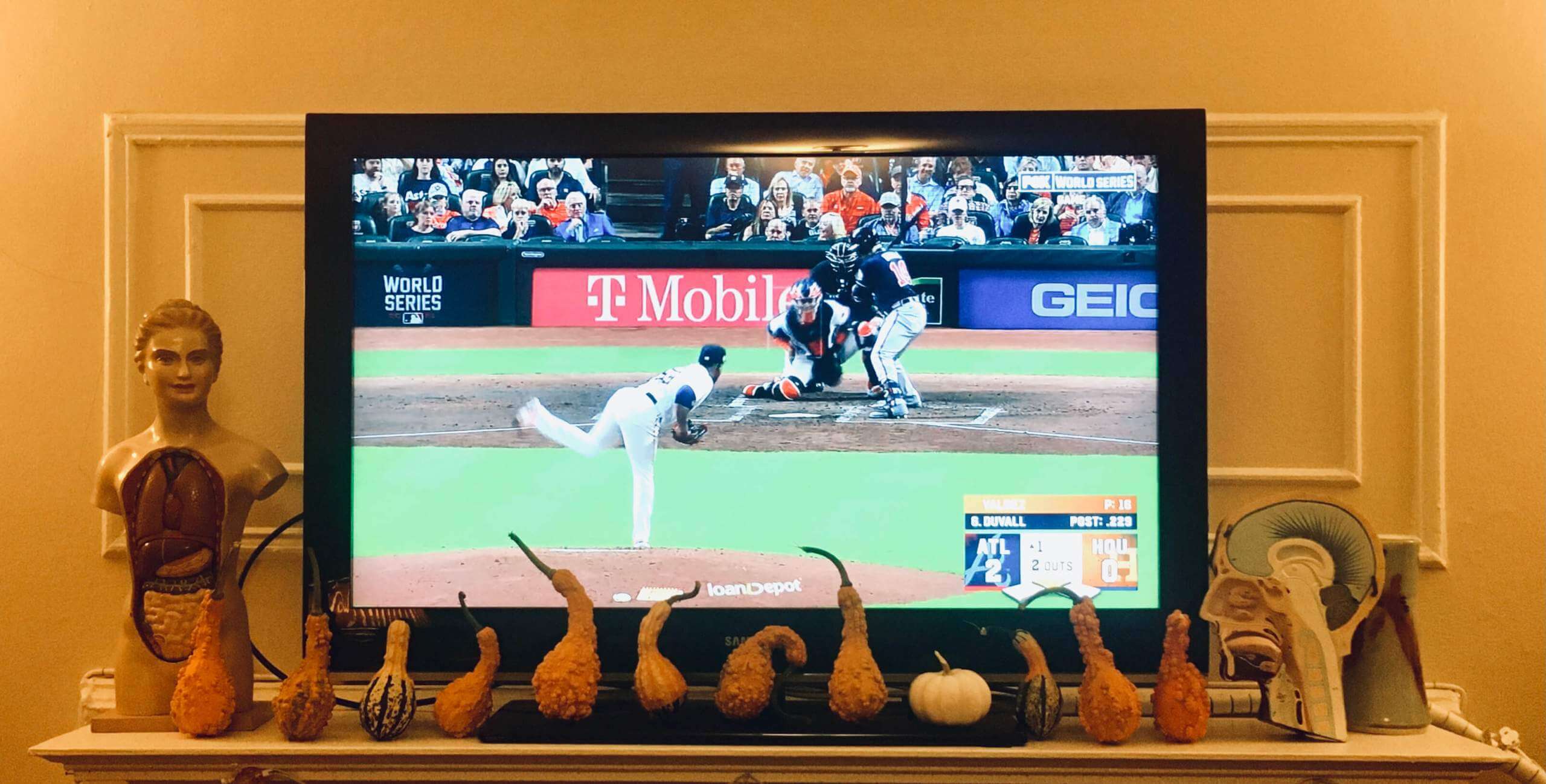 For all photos, click to enlarge
This was the scene last night at Uni Watch HQ — the Fall Classic with fall decorative gourds. Felt appropriately festive, because I love the World Series, even when I don't care about either of the participating teams (as is the case this year). My favorite sport plus my favorite season of the year equals a smile on my face.
Last night's Series opener wasn't much of a game from a competitive standpoint, and it lasted a ridiculous 4:06 (I went to bed in the top of the seventh), but there were still plenty of uni-notable details. Here's a rundown:
• In a disappointing development, Atlanta opted to wear their navy alternate jerseys. I realize we can't have white vs. grey for every game, but maybe just for Game One of the World freakin' Series — is that too much to ask?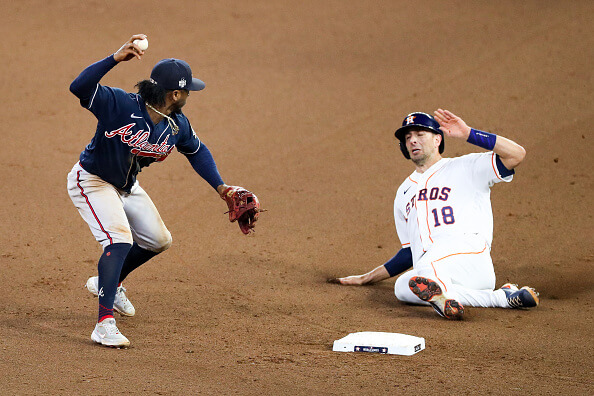 • As had previously been reported, there were no World Series sleeve patches due to supply-chain issues. They did have cap patches (probably my least-favorite thing about any World Series), but they used a generic logo without a year identifier, instead of the actual 2021 World Series logo: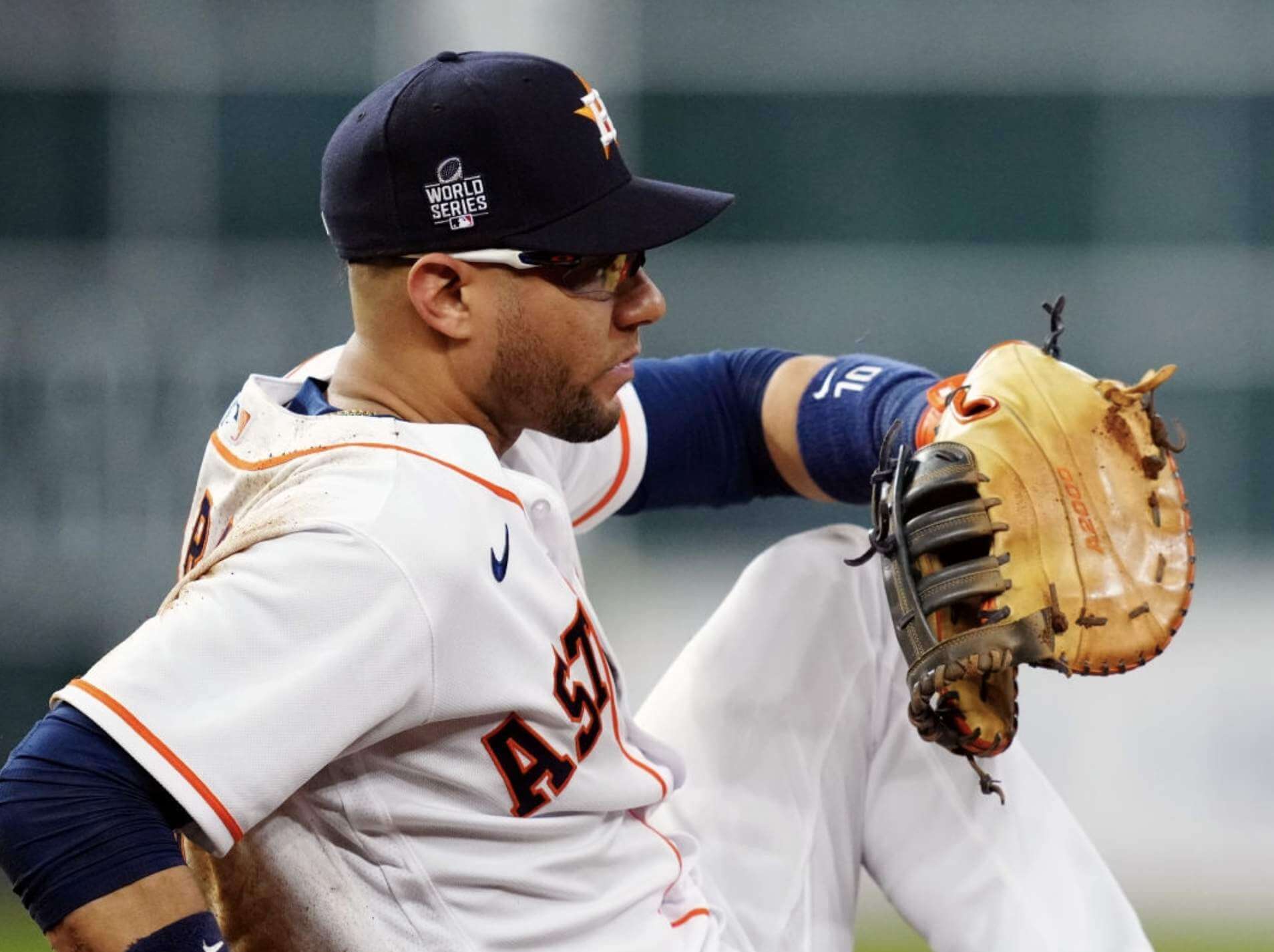 The last Fall Classic without Series sleeve patches? That would be 1997, when the Marlins wore the Jackie Robinson 50th-anniversary patch and Cleveland wore the Jackie patch at home and the All-Star patch on the road.
And the last Series with a blank right sleeve? I'm pretty sure that would be 1987, when the Cardinals wore a Series patch (the first one ever!) but the Twins did not.
• The umps wore the same generic cap patch logo as the players: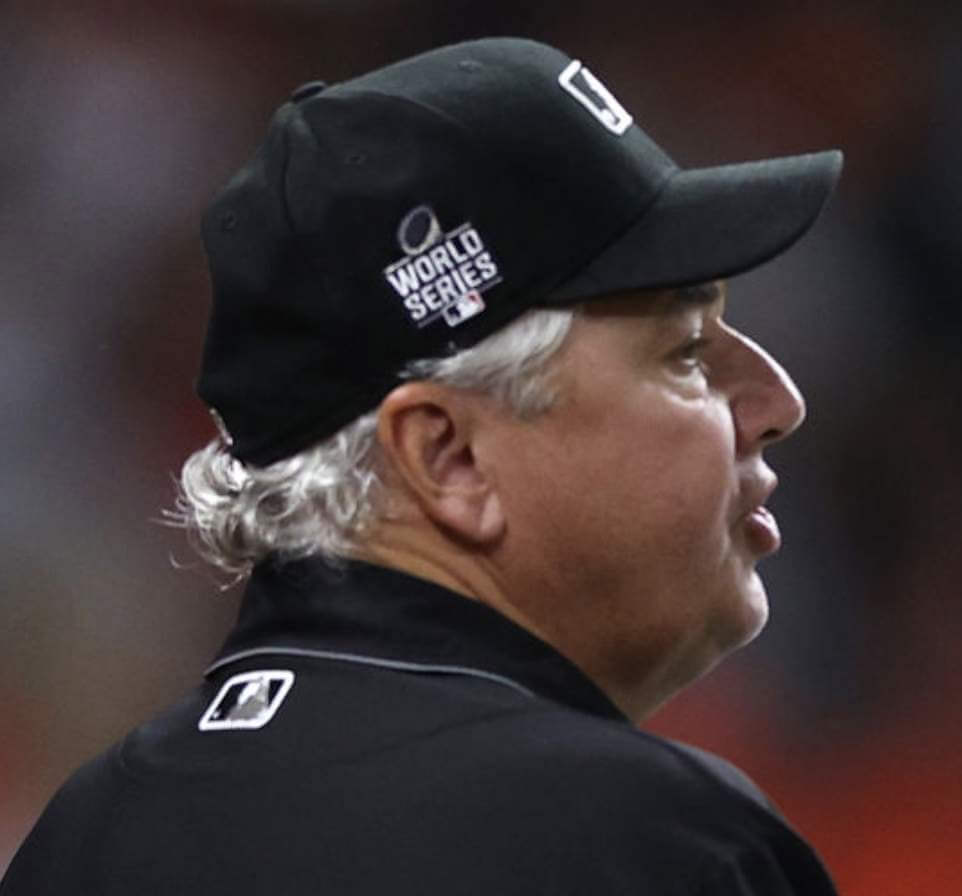 • The game balls, however, had the proper 2021 World Series logo: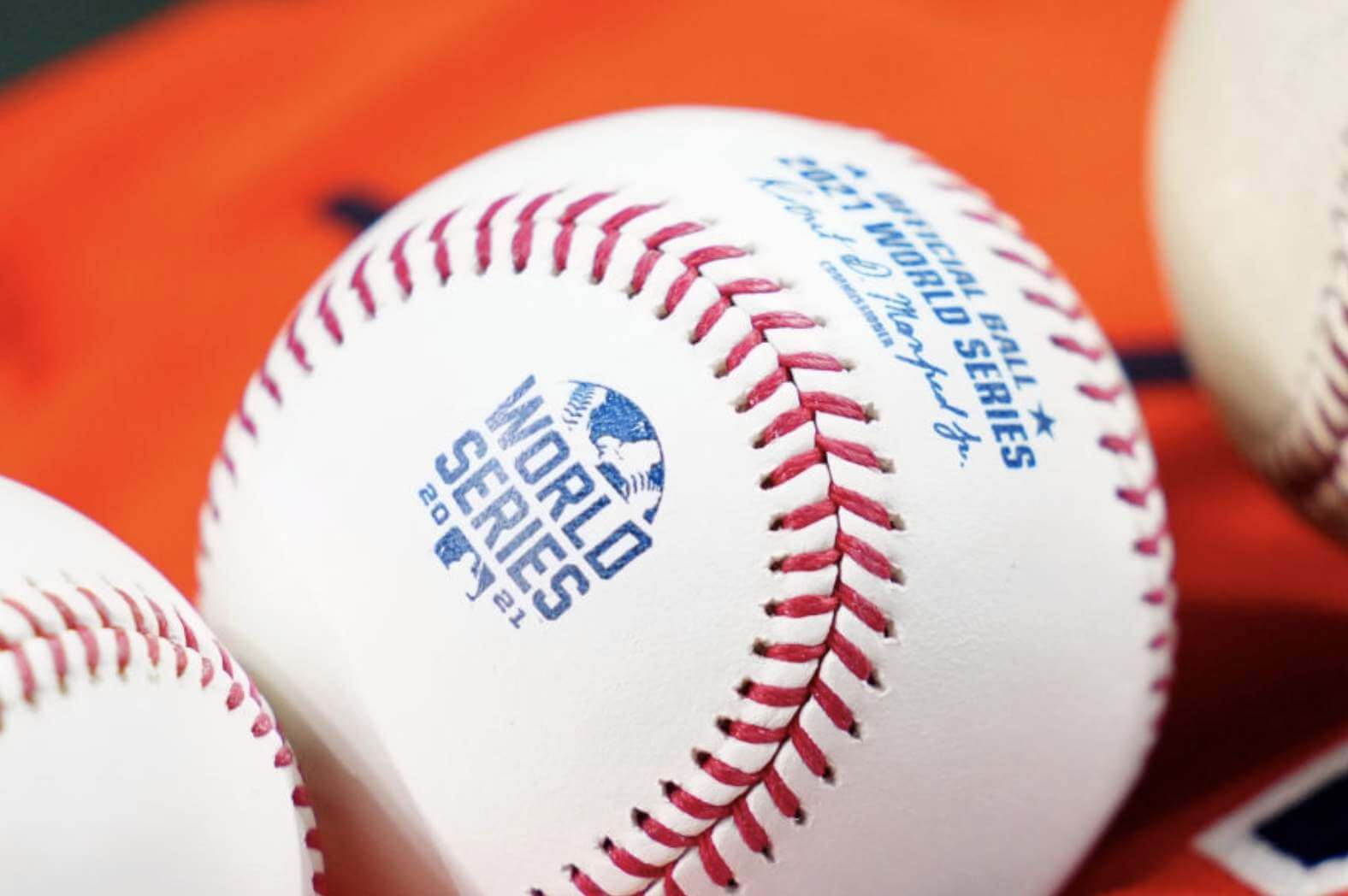 • It's a little hard to see in this next photo, but Atlanta starter Charlie Morton's cap logo was noticeably yellowed. I assume he's a superstitious type who's been wearing the same cap for a while: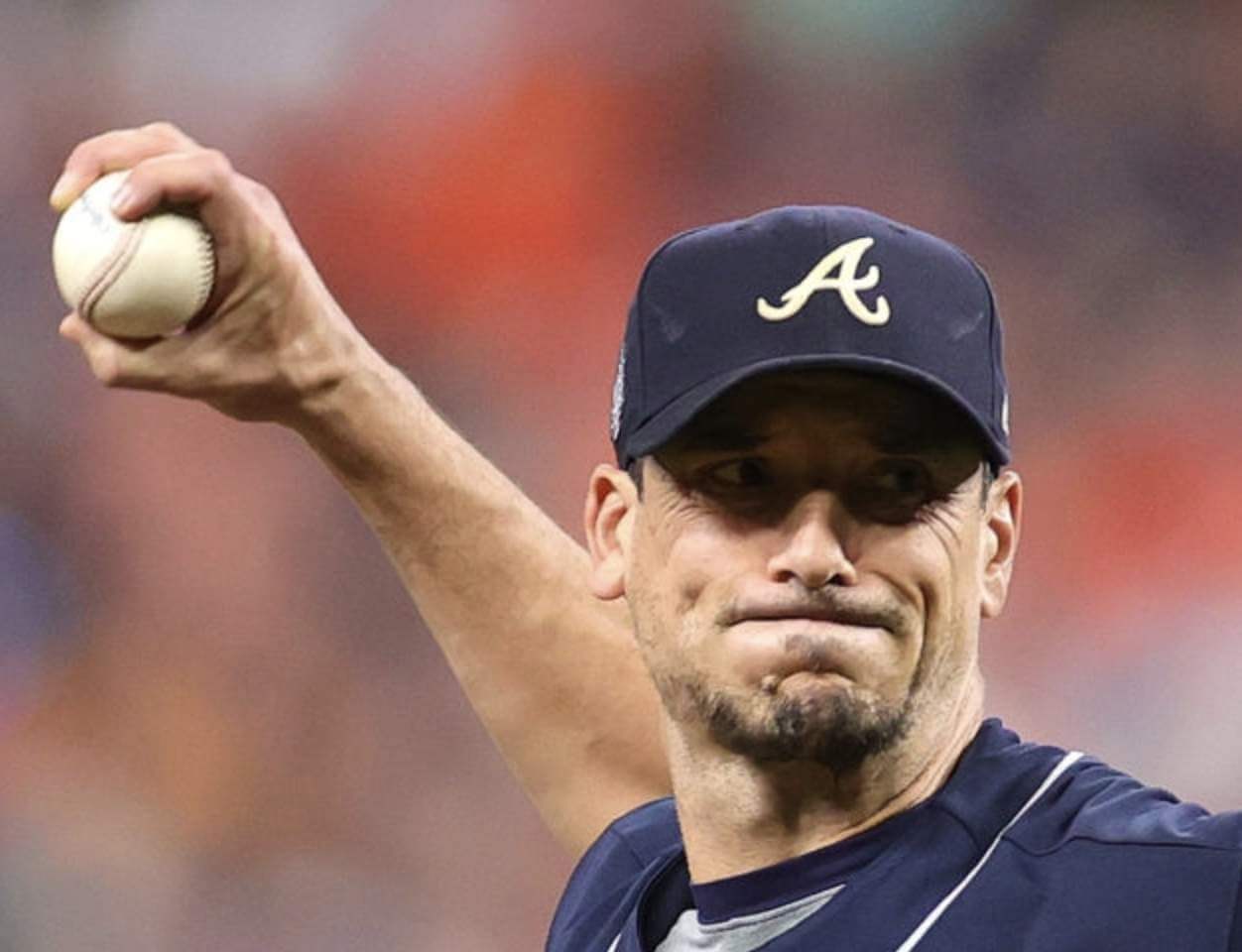 • I don't have independent confirmation on this, but I'm gonna go out on a limb and say that Atlanta oufielder Joc Pederson became the first player in World Series history to wear a pearl necklace: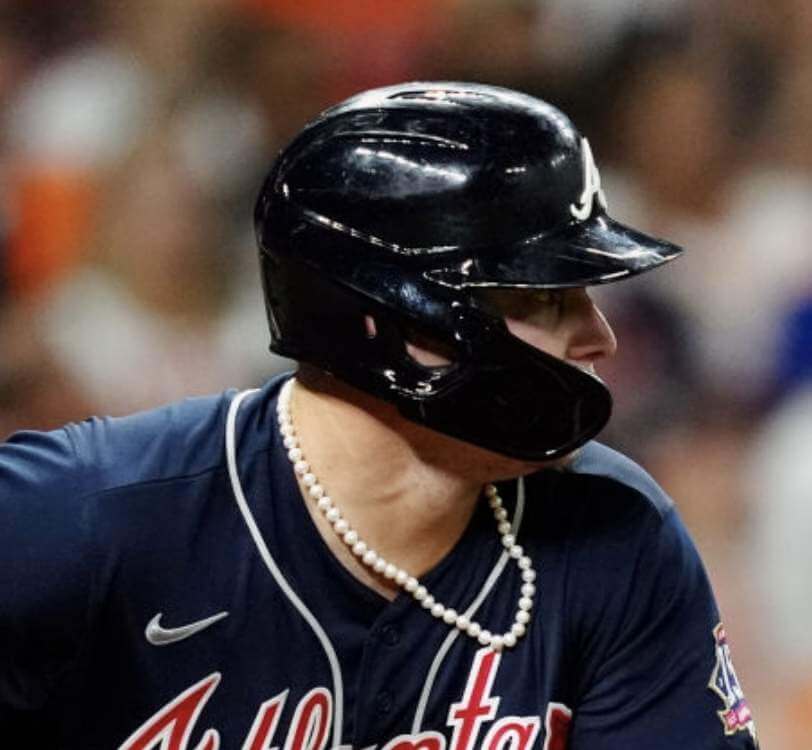 • Astros skipper Dusty Baker wore a really nice mask design, although it's too bad about the maker's mark: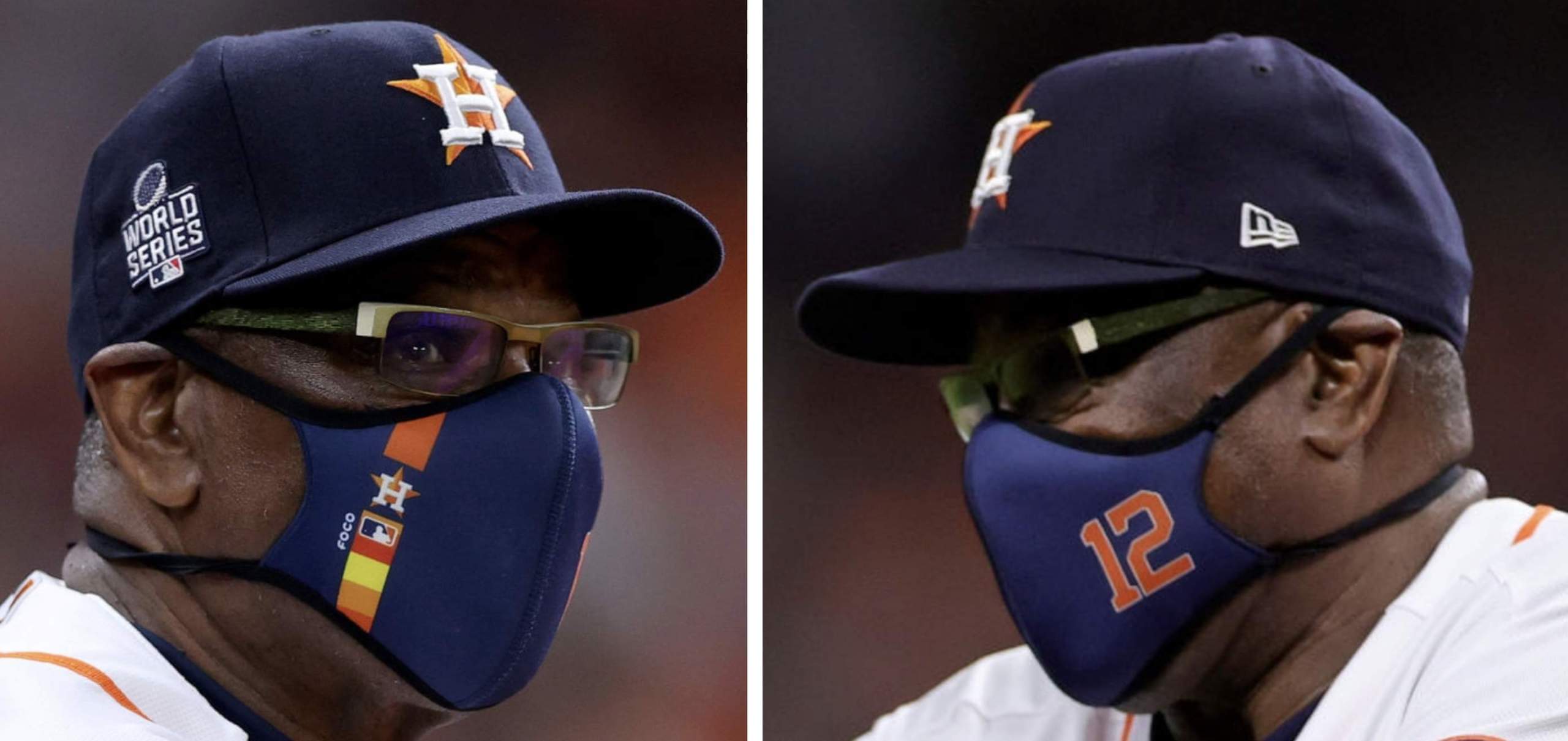 Later on, he had his signature toothpick, which is probably my single favorite accessory of this World Series: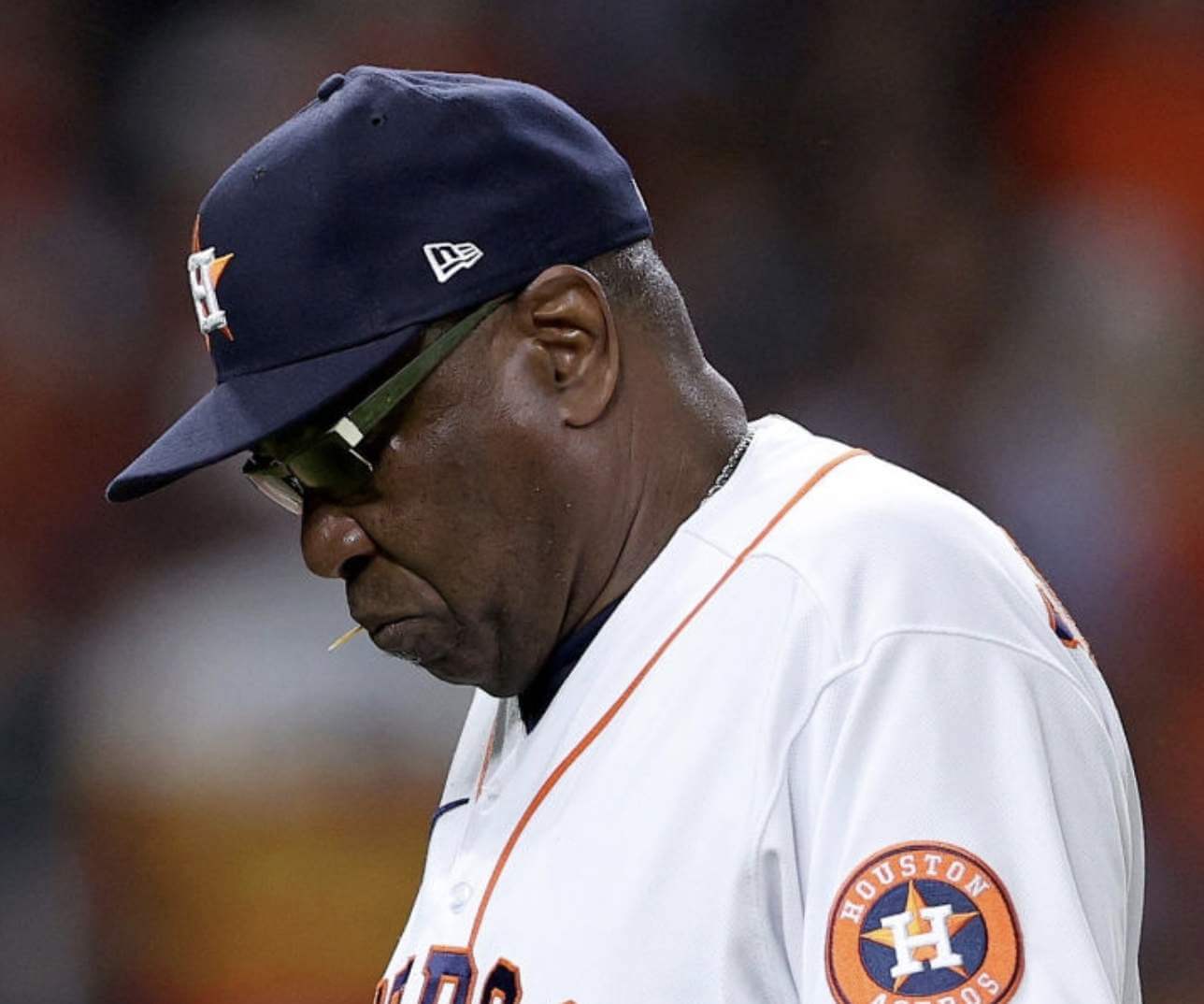 • The first pitch was thrown out by former Astro Craig Biggio, who for some reason wore an orange jersey instead of the white one that the 'Stros wore last night. Even stranger, Biggio's jersey included a 2021 World Series sleeve patch — which the players themselves are not wearing this year: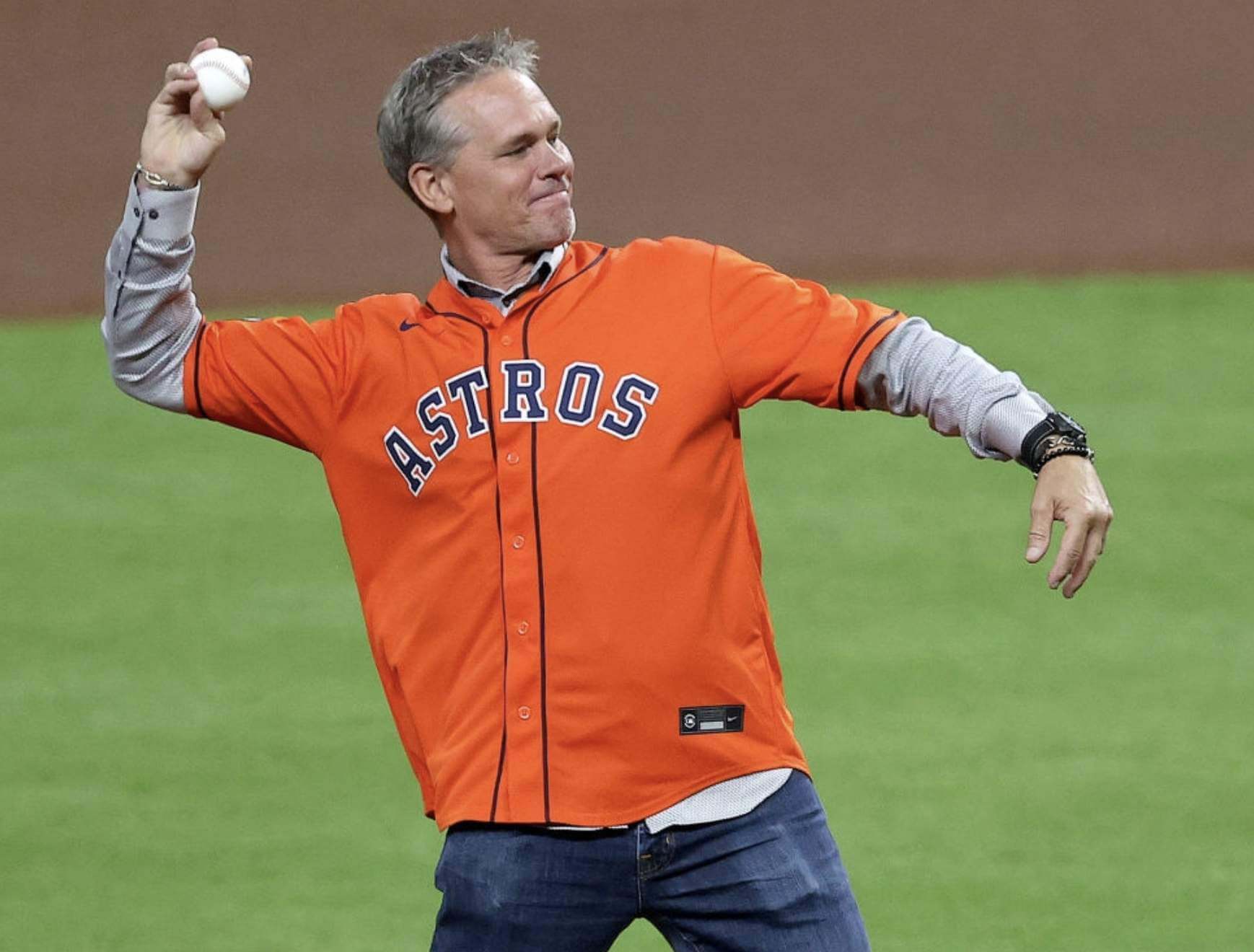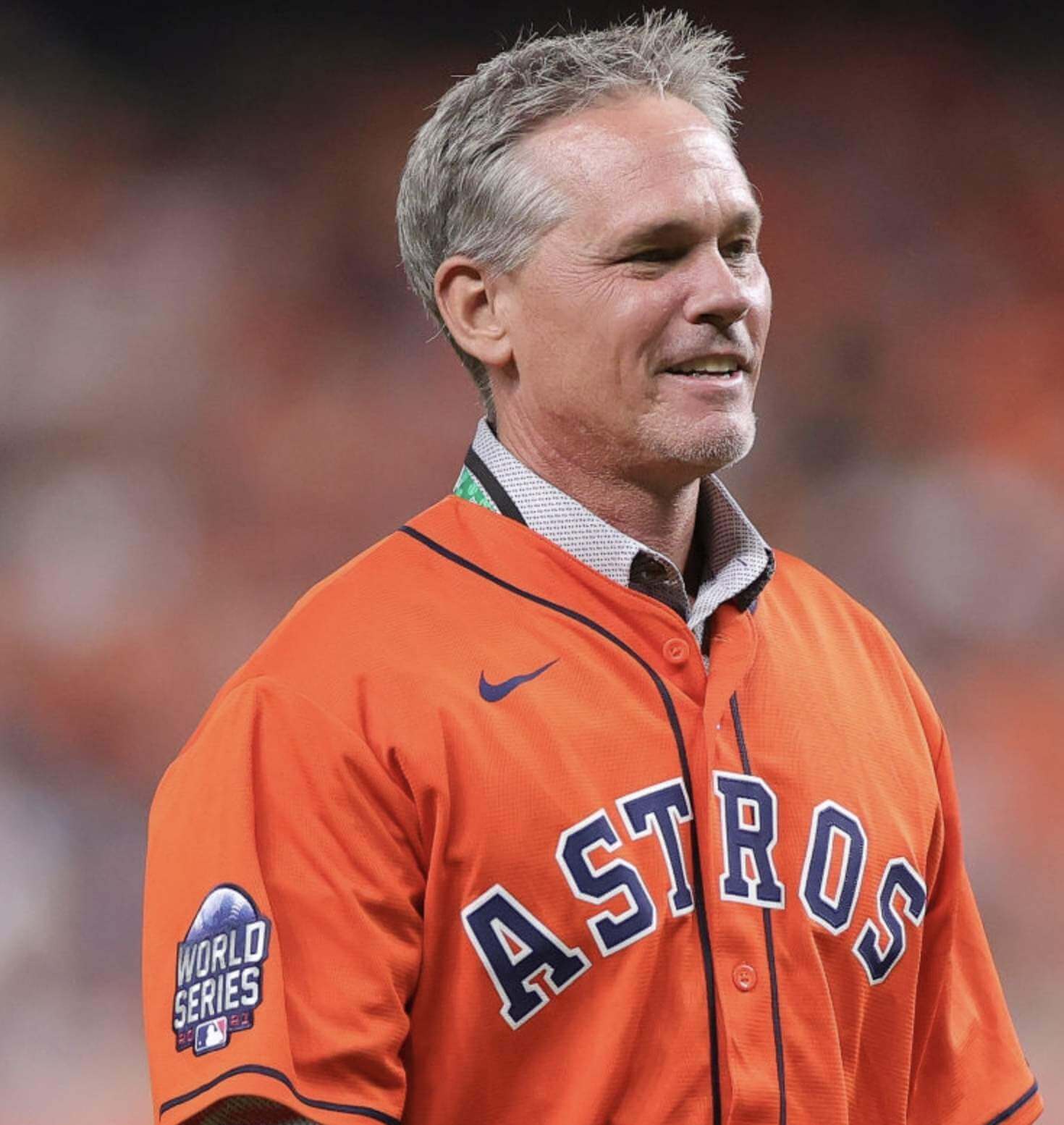 • I got a kick out of these Astros fans and their tequila sunrise sportsjackets: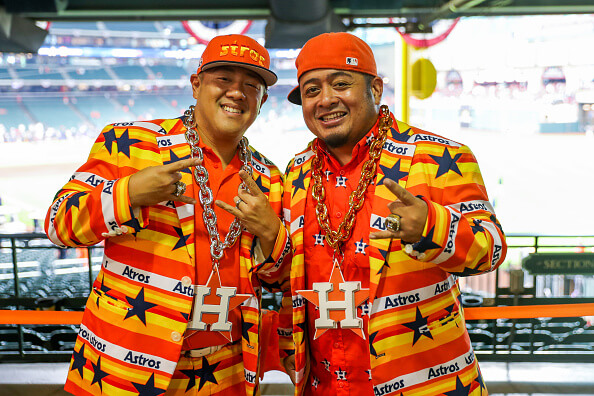 • A few other fans dressed up in space suits (although the fabric wasn't as "futuristic" as the fabric used by the Astrodome groundskeepers back in the day):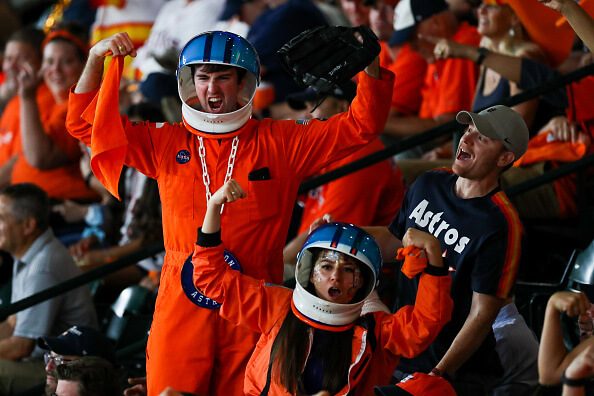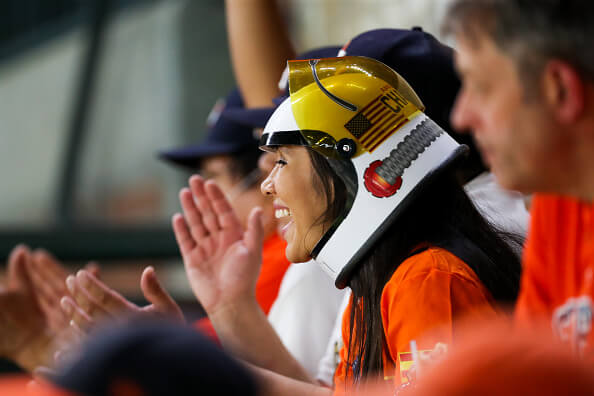 • At one point Fox showed a graphic that included an accent over the second "e" in "résumé," but not over the first one: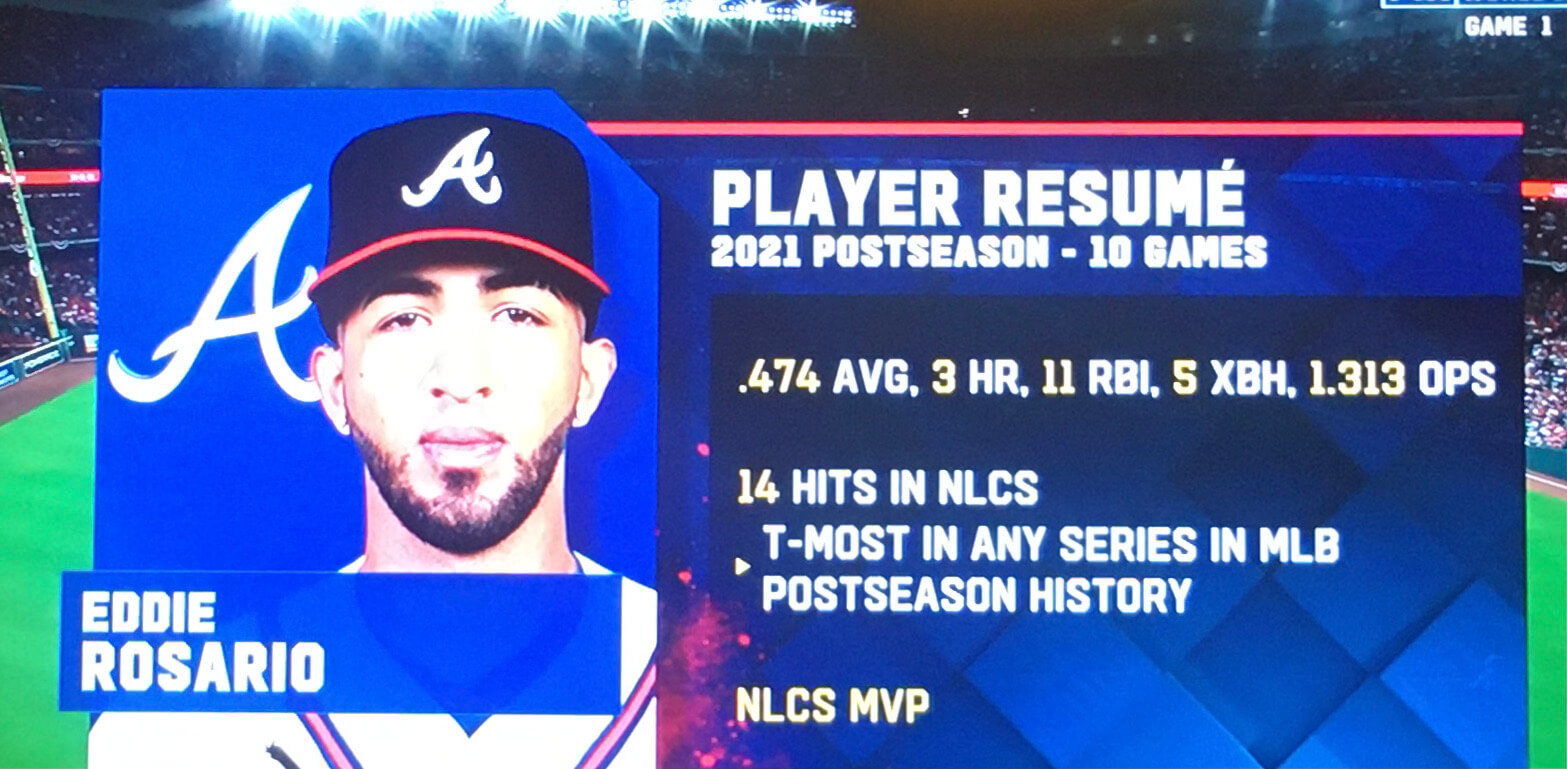 • Prior to the game, commish Rob Manfred presented Angels pitcher/DH Shohei Ohtani with something called called the Commissioner's Historic Achievement Award, which I'd never heard of before, although it's been around since 1998. Here's a look at the trophy (photo by Bob Levey/Getty Images):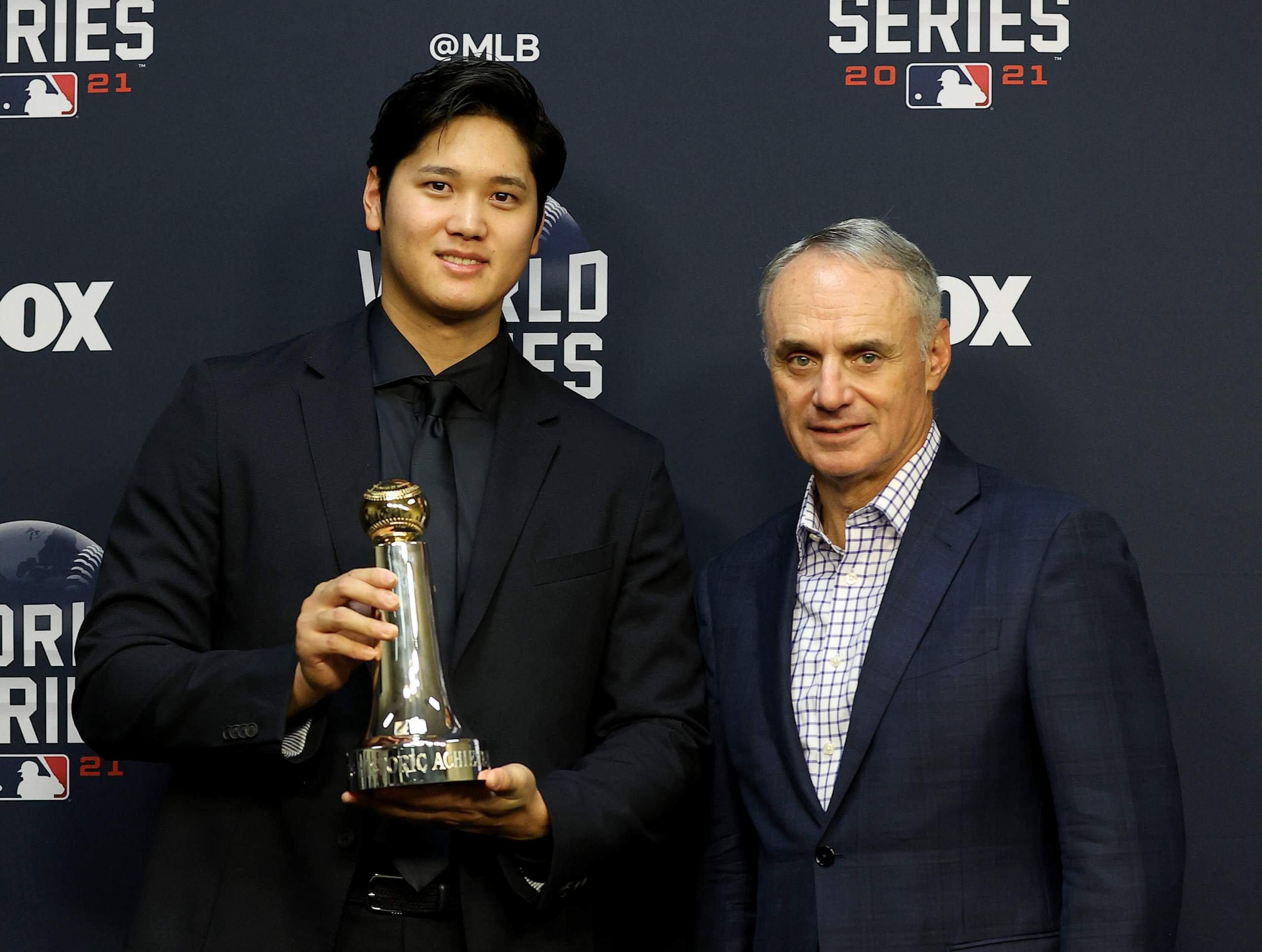 Game Two is tonight.
(My thanks to Michael Walker and Trevor Williams for their contributions.)
• • • • •
• • • • •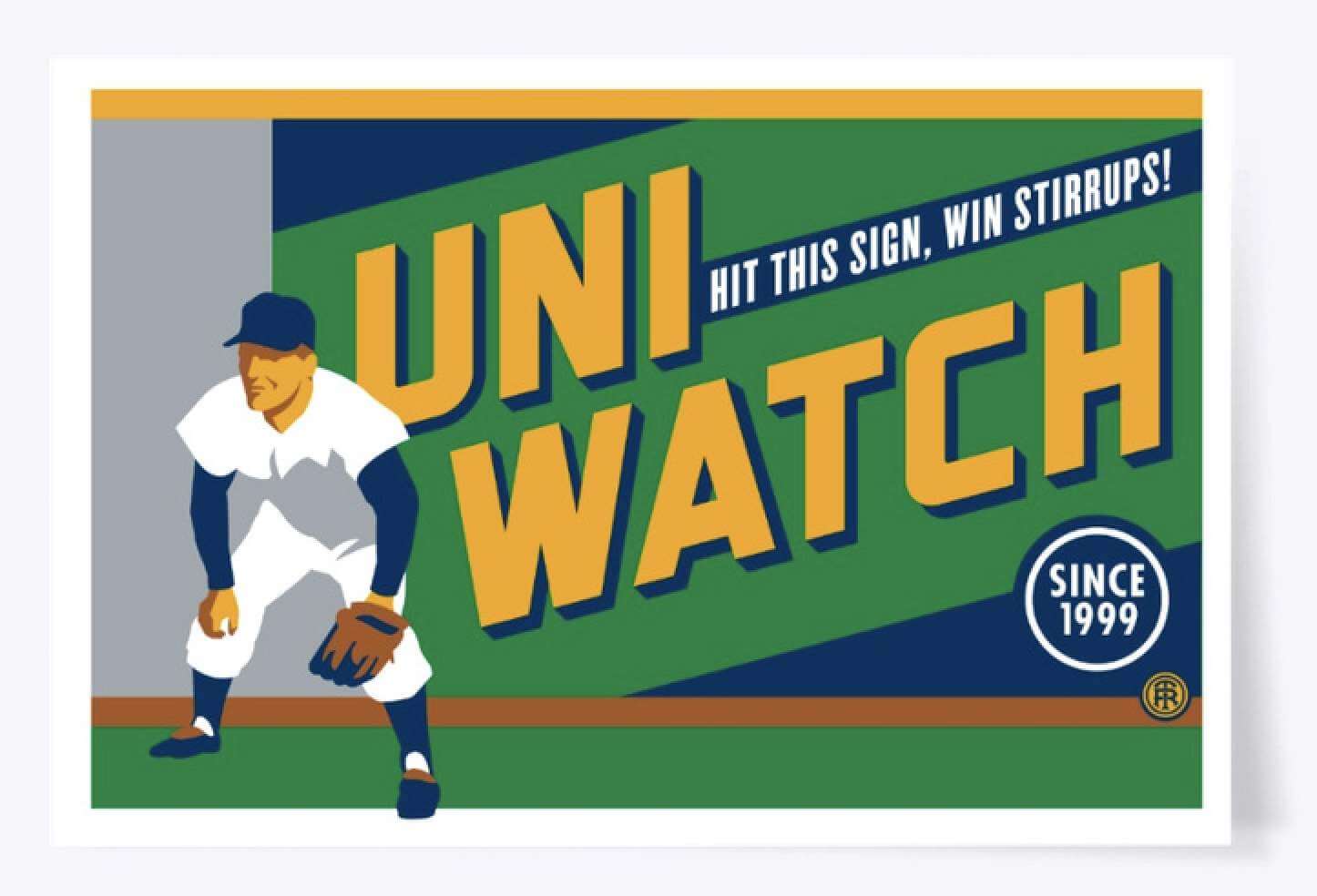 ITEM! The first-ever Uni Watch poster: Reader Tim Walsh recently suggested to me that our "Hit Sign, Win Stirrups!" graphic, designed by Todd Radom, would look great as a poster. As it turns out, Teespring now offers posters, so I had Todd make a few tweaks to the design (the poster is 24″ x 36″, which is a slightly different aspect ratio than the original T-shirt graphic), and voilà — Uni Watch's first poster is now available! (Are there any other Uni Watch graphics that you'd like to see in poster form? Let me know.)
As you're probably sick of hearing about well aware of by now, this design is also available on T-shirts and hoodies.
And if you prefer the classic green/yellow Uni Watch color scheme, our striped toque is now available as well.
My thanks, as always, for considering our products.
• • • • •
• • • • •
The Ticker
By Lloyd Alaban

Baseball News: Fans are picking on Yankees OF Joey Gallo because he has an unusual way of suiting up on game day. … A non-binding vote is allowing the A's proposed new stadium project to move forward, at least for now (from our own Brinke Guthrie).

NFL/CFL News: The Bengals will go mono-white on Sunday (from our own Phil Hecken). … Rams QB Matthew Stafford played his former team, the Lions, last Sunday. Stafford said it was "humbling" to see Lions fans still wearing his jersey. … The Hamilton Tiger-Cats of the CFL wear different pants in practice than their regular game pants (from Jeff Ingalls). … Here's how the Panthers' stadium looks when it's set up for a soccer game (from James Gilbert).

College/High School Football News: Mono-red for Ohio State this Saturday (from our own Phil Hecken). … Also from Phil: Utah will retire No. 22 to honor late CB Aaron Lowe and late RB Ty Jordan. … Mono-black for Houston this Saturday (from Ignacio Salazar). … Mississippi State will wear a helmet with its interlocking "MS" logo this week (from @stadium_fire). … Mono-black vs. mono-white for Coastal Carolina and Troy, respectively, this week (from @BenOnSports). … Georgia Tech and Virginia Tech will face off Saturday. Three Griffin brothers will play in that game: Georgia Tech RB Jamious and DL Ja'Quon and Virginia Tech DL Jaylen. Their father, Tyrone Griffin, had 80 custom jackets made displaying the names of all three sons (from multiple readers). … We talked about BYU's royal blue helmets yesterday. What wasn't clear from the initial video: chrome facemasks (from Blaise D'Sylva). … Compton High School in California has a very unusual diamond-themed uni number design on their jerseys (from Brad, who didn't give his last name).

Hockey News: The Kraken revealed a banner honoring the PCHA's Seattle Metropolitans' 1917 Stanley Cup championship last night (from multiple readers). … The new AHL team in Coachella Valley will reveal its name, colors, and uniform on Nov. 5. … Here's a really cool 1977 Japanese poster that advertised a four-game exhibition series between the WHA's Winnipeg Jets and the Soviet Union national hockey team. The games were played in December 1977 and January 1978 (from Darren Landers). … Here's a really great photo of comedian Chris Farley playing hockey in his teens (from Lance Hudgens).

NBA News: The latest City Edition leaks are for the Nets and the Mavericks. … New jerseys for the Grand Rapids Gold, the D League affiliate of the Nuggets.

Soccer News: USWNT MF Carli Lloyd played her last national team game last night, so as with other USWNT players who reach milestones, she was captain for the match and wore a commemorative armband. Lloyd was subbed off after 65 minutes and took off her shirt to reveal another one with "Hollins," which is her married name, as her NOB (from our own Jamie Rathjen). … Also from Jamie: Kansas City NWSL is going to build its own stadium, which would be an NWSL first. … Cross-listed from the football section: Here's the NFL's Carolina Panthers' stadium set up for a soccer game (from James Gilbert). … Here's what Akron's men's team wore for their final home game of the season last night (from Jacob Farrar). … Italian side S.S. Lazio is letting fans vote on the color of the team's shirt ad (from Trevor Williams). … Starting next year, USL players can have pronouns included in their uni numbers (from Caleb Mezzy).

Grab Bag: Lululemon is now outfitting the Canadian Olympic team (from multiple readers). … Former NASCAR crew chief Larry McReynolds (left) and former NASCAR driver Clint Bowyer (right) wore their old uniforms during a test of NASCAR's new NextGen car at Bowman Gray Stadium. McReynolds' shirt is from the 1990s while Bowyer wore the firesuit in 2020 (from Trevor Williams). … Also from Trevor: NASCAR driver Bubba Wallace talked about how ads and endorsements can affect how he interacts with fans. … Airman 1st Class Nicolas Baron, who helped with Afghan evacuations, donated the uniform blouse from the iconic photo it was pictured in (from Timmy Donahue). … Also from Timmy: New flag for Colfax, Iowa. … One more from Timmy: The Coast Guard is relaxing its tattoo policy for heads and fingers.