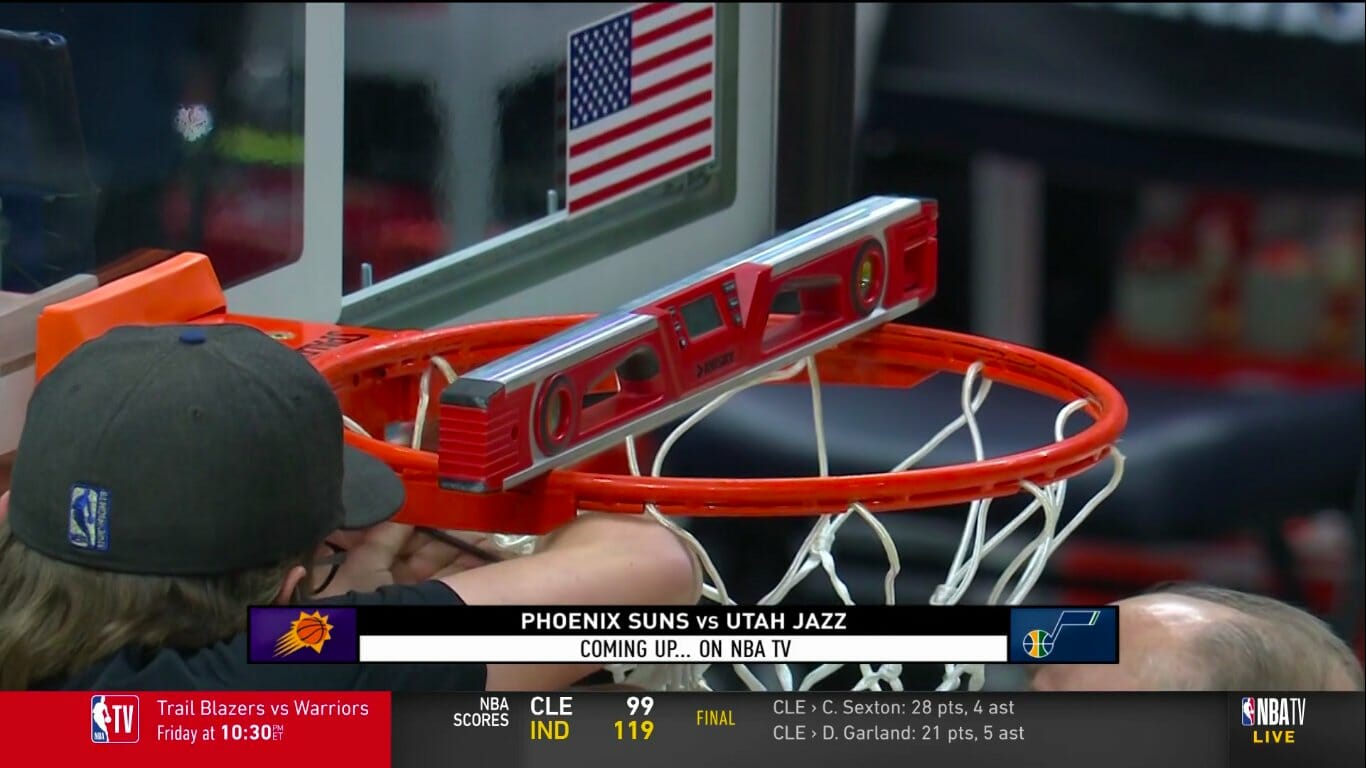 Click to enlarge
Happy New Year! Greetings from Uni Watch HQ, where we're all happy to have turned the page on the calendar.
But before the ball dropped at midnight, 2020 still had one little bit of sand to throw in our gears, as the start of last night's Suns/Jazz game in Utah was delayed because — get this — one of the rims wasn't quite level.
A quick bit of research reveals that something similar happened during a Clippers/Rockets game almost exactly a year ago, and also during a Nets/Raptors game in the spring of 2018, so this isn't unprecedented. Still, something about it seems v-e-r-y 2020, no?
On the plus side, I love just about anything that calls for the use of a level, and I love even more that they have levels on hand at NBA games for just this type of situation.
Update: Just learned that the reason the rim had to be checked was that there was a broken cable on the backboard, so there was even more weirdness than I realized! Here:
Welp, the cable is broken on a backboard. So we wait… pic.twitter.com/O0udbIRQwd

— FOX Sports Arizona (@FOXSPORTSAZ) January 1, 2021
(My thanks to Mike Chamernik for letting me know about this one.)
• • • • •
• • • • •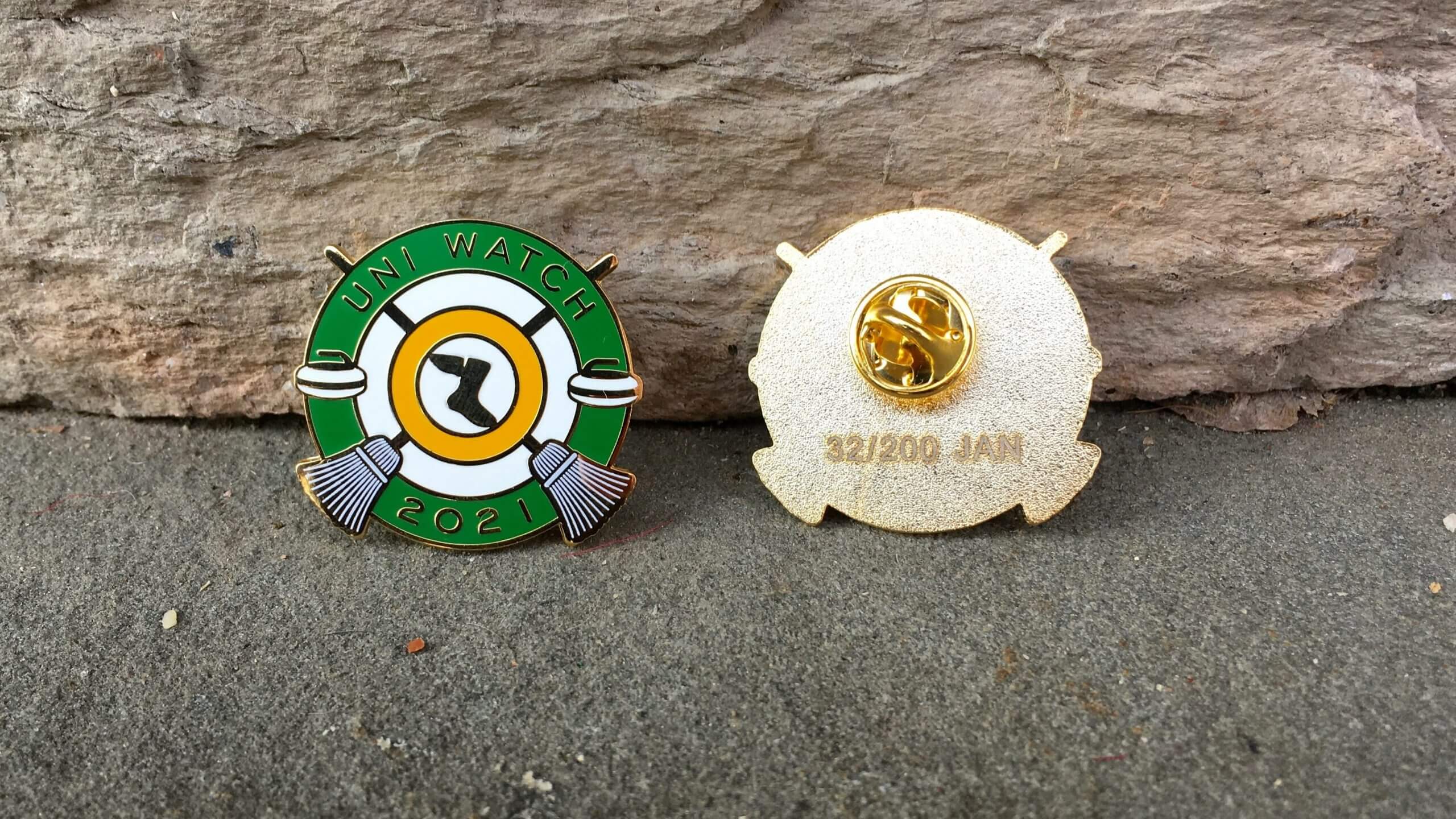 Click to enlarge
January Pin Club launch: The first day of the new year means it's time for the Uni Watch Pin Club's first pin of 2021. We're going with a curling theme this time around — highly appropriate, since curling has a rich history of decorative pins.
Also: As you can see in the photo above, this pin includes the words "Uni Watch," but not "Pin Club." That's a change that designer Todd Radom and I have made for this year — all pins will include "Uni Watch" and the year on the front, with the month continuing to appear on the back. "Pin Club" will no longer be included.
This is a numbered edition of 200 pins. You can order yours here.
Just like last year, we will have some sort of bonus prize for people who collect 'em all. (Speaking of which: If you collected 'em all in 2020, you'll be receiving your bonus pin later this month.)
Finally: As of today, all of our remaining 2020 pins have been reduced in price from $13.99 to $9.99. Here they are: January, February, March, May, June (about 35 left), July (about 25 left), August, September, October (about 40 left), November (about a dozen left), December (about 20 left), and the 2020 Press Pin (about five left). Sorry, April is sold out!
Thanks so much for your support of this project — it's been very creatively satisfying for both Todd and myself!
• • • • •
• • • • •
The Ticker
By Anthony Emerson

College Football News: Tulsa wore a stars-and-stripes helmet decal for yesterday's Armed Forces Brawl Bowl (from Blaise D'Sylva). … During the Liberty Bowl against Army, West Virginia wore a flag-desecration helmet logo, except for LB Josh Chandler-Semedo, who had the team's normal logo (from multiple readers). … The Northwestern coaching staff will wear shorts during today's Citrus Bowl (from James Gilbert). … Here's what Oregon will wear for the Fiesta Bowl.

Hockey News: Unique Sharks logo on D Erik Karlsson during his press conference. Never seen that before (from @DoubleA_Ron_Yo). … New Avalanche D Devon Toews will wear No. 7. … Gotta love the maple leaf-themed socks that Canada is wearing at the World Juniors (from Doug Kalemba). … The Senators have restored their old 2D logo to center ice (from Wade Heidt).

NBA News: The NBA is requiring players to wear contact sensors during practice and team travel. The sensors will make a sound when players are within six feet of each other. … During a first-season episode of The Office, Dwight Schrute (played by Rainn Wilson) wore a plastic face mask during a company basketball game. The Office Ladies, a podcast covering the show hosted by Office actresses Angela Kinsey and Jenna Fischer, says that writer Greg Daniels had Schrute wear a face mask due to Daniels's fandom of Allen Iverson, who once had to wear a plastic mask during games after a broken nose. Check the 40-minute mark of this episode for details (from Todd Usher). … The Rockets debuted their "H-Town" City alternates and matching court last night.

Soccer News: Atalanta winger Amad Diallo is joining Manchester United this month, and his new boots match United's third kit.
• • • • •
• • • • •
Click to enlarge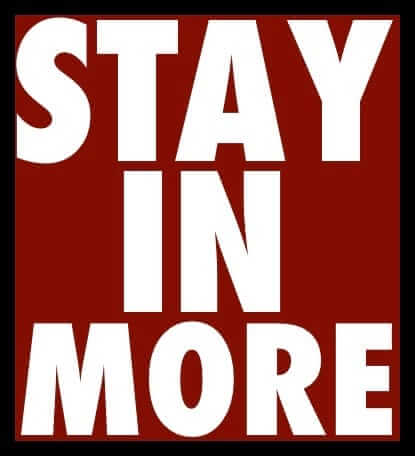 What Paul did last night: Since it was New Year's Eve, we popped the cork on a bit of the bubbly for yesterday's porch session. Some friends joined us a few minutes after I took this photo, so we had a nice little socially distanced party.
As always, you can see the full set of daily Pandemic Porch Cocktails™ photos — now 290 of them — here.