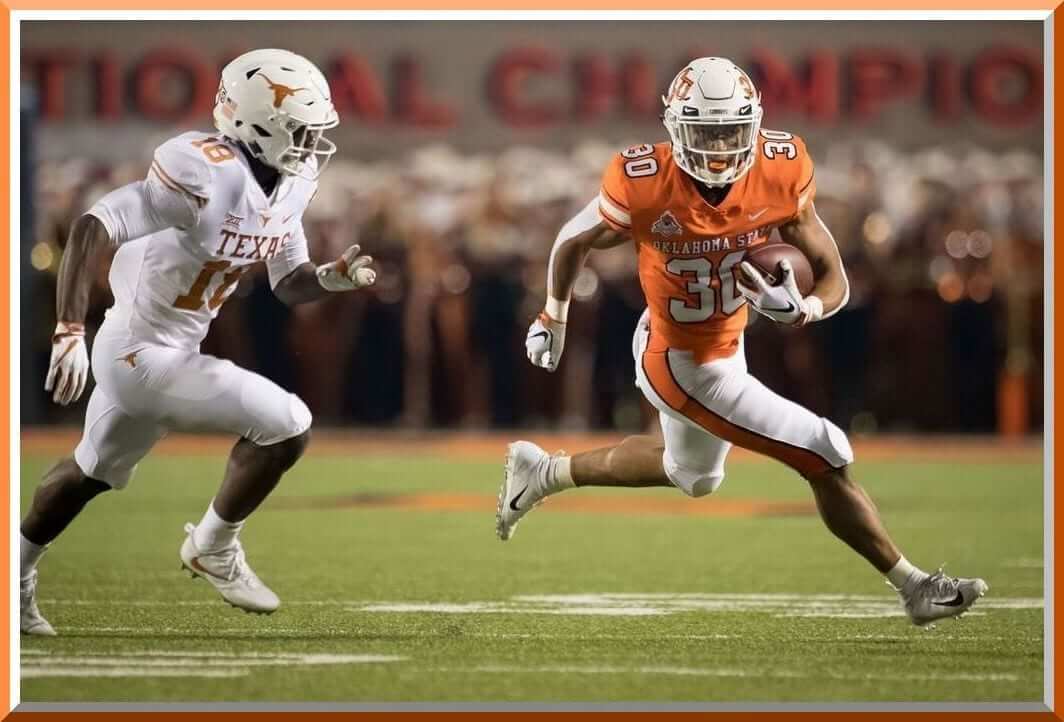 By Phil Hecken and the SMUW Crew
Follow @PhilHecken

It didn't make Joe's 5 & 1, but if you asked me, yesterdays Texas/Oklahoma State tilt was one of the best looking games of the year. Now, I'm sure most of you probably don't find games where both teams were two of the same elements (both wore white helmets and pants) a good matchup, but I found this one gorgeous. But I really really loved the beautiful throwbacks being sported by the Oklahoma State Cowboys. In the words of my buddy Jason Bernard, "Predictably Gorgeous."
What was the occasion? Well, it was the 30th Anniversary of Barry Sanders' 1988 season. The Heisman Trophy winner that year posted 2,850 yards and 44 touchdowns in just 12 games (including OSU's Holiday Bowl appearance against Wyoming). The team added a special Barry Sanders patch: (here's another look and here's a closeup — I was kind of hoping for a bit of infinite regression, but the patch was a little too intricate for that). The helmet was really nice, and featured giant TV numbers on the back. You can see lots of additional photos here.
And now for the rest of your SMUW, here's Terry and the boys, beginning with TJ and your…
• • •
Sunday Morning Uni Watch
By Terry Duroncelet, Jr.
Much like the tastiest piece of gum you've ever chewed before the flavor disappears into the void, Week 9's uni action was short, but fun.
From Thursday:
• Is it just me, or do Georgia Southern's numbers look really, REALLY small? Kind of reminds me of this.
• Nothing head-flipping in this rather TECHnical competition between Georgia Tech and Virginia Tech, but I noticed the effect that the big orange 'V' around the collar region has when you get any sort of straight-ahead view of the player's shoulders from the shoulders-down. I still can't help but to think of these as spiritual successors of the Steelers' old Batman uniforms.
From Friday:
• Utah wore decals in honor of Lauren McCluskey, a student of the university who was killed earlier in the week. They also wore it on their sideline apparel.
• Boston College wore Red Bandanna accessories (a pair of articles for those who are unaware of the annual tradition) in their game against Miami (FL).
• Minnesota did not wear uniforms that said 'MINNESOTA' on the back of the jerseys like they did last week, but instead, they wore GFGS uniforms that said 'GOLDEN GOPHERS' on the back of said jerseys. That, in and of itself, is the most ironic thing, because despite that yes, it IS their team name, there was hardly a spec of gold to be had! The only major flaunting of gold is in the helmet, and this mostly has to do with the lighting, but with the combination of the stadium's maroon hues, lights, and it being a nighttime game, in certain shots, some of the helmets look like they take on a rose gold tint. Crap, In think I just gave someone an idea for the GOTA.
From Saturday:
• …Alright Duke, this look wasn't too bad.
• Akron wore "Hometown Heroes" decals on their helmets against Central Michigan (closer look).
• Florida wore all-white against Georgia, and one of the Albino Gators was actually called for a biker shorts violation.
• Arizona State wasn't looking golden in the Golden State, but they were definitely feeling golden after their 38-35 win against USC.
• Appropriate (h/t to Colin Faulkner). Also note the Bucks and Browns logos on the cards in the background.
• UNC vs Virginia was perhaps my favorite-looking game from Week 9.
• Jon Muir writes: "Not the first time I've noticed Mississippi State's inconsistent maroons in their uniform and helmet. Seeing them against Texas A&M, and their correct maroons, shows how bad MSST botched things. It's even more stunning since both are adidas schools."
• Washington wore purple chrome helmets on the road against Cal. They did the same thing last year at home.
• The Syracuse Orange became the Syracuse Navy in yesterday's game against NC State, as they wore… well, you know the drill by now.
• As beautiful as Boise State's look was on the road against Air Force, it's weird seeing the Broncos in their lucky blue/white/orange look outside of a major bowl game. Also, Air Force wore blue helmets.
• "Mine's bigger than yous." "No, MINE is!" "No, MINE!" (h/t to Alex Solot)
• Loved Western Kentucky's helmets that they wore against FIU.
• Oklahoma State wore 1988 throwbacks against Texas. Why? Oh, no reason. They just look nice. Chris Salove noticed the mismatched OSU logos.
• • •
Thanks, TJ!
[adrotate group="2″]
Joe Ringham's 5 & 1
Following in the footsteps of the original "5 & 1," Jim Vilk, and Catherine Ryan after him, Joe Ringham returns for 2018 to make his "5 & 1" (five good looking and one stinker) uni-vs-uni matchups. Sometimes he'll have some "honorable mentions" and sometimes there will be more than one "bad" game. You may agree and you may disagree — these are, after all, just opinions and everyone has one. Feel free to let him know what you think in the comments section.
Here's Joe:
. . .
Hey there, everyone! The final weekend in October means we are about to hit the stretch run for the season. So, without delay, let's get right to the list for the week.
5) Massachusetts at Connecticut — Starting under-the-radar this week. Loved how the maroon/white/maroon of UMass matched up quite nicely against the white/navy/white UConn went with at home. Really made for a fine-looking game, from a uniform standpoint.
4) North Carolina at Virginia — I've been hoping to put Carolina in here all season, and finally they give me a good-looking game to do it. Really dug the white/white/Carolina blue they went with on the road in Charlottesville. UVA didn't disappoint either, contrasting well in their navy/orange/navy home set.
3) Southern Mississippi at Charlotte — Another from the off-the-radar list that I had a good feeling about when looking at the schedule for the day. Great contrast here between the black/white/gold of Southern Miss against the black/green/black of the 49ers.
2) Wake Forest at Louisville — Caught a glimpse of this game while browsing some games online and immediately tagged this one for the list. Wake looked tremendous going gold/white/gold on the road, really matching up well against the white/cardinal/white of the home Cardinals.
1) Iowa at Penn State — Some may call this too plain and boring-looking. I call it the best looking game of the week.
And, finally…
+1) Coastal Carolina at Georgia State — Any team wearing teal (especially teal pants) against a team wearing mono-blue = one ugly looking game, uni-wise.
That does it for me for the week. I'll see you all next Sunday!
• • •
Thanks Joe! You can follow Joe on the Twitter and let him know what you think of his choices or make a 5 & 1 suggestion of your own!
[adrotate group="2″]
NCAA Uni Tracking
Uni Watch will again track the uniform combinations worn by the "Power 5" conferences. All of the 2017 trackers are back!
We've got Rex Henry (tracking the ACC), Dennis Bolt (tracking the PAC-12), Kyle Acker (tracking the Big XII), and Ethan Dimitroff (tracking the B1G AND the SEC). Rex, Dennis, and Kyle and are all returning from 2015, and Ethan is back after joining the NCAA Uni Tracking a couple seasons ago. Ethan continues his dual role of tracking both the B1G and the SEC.
Here are the Uni Trackers for the Power 5 Conferences:
+ + + + + + + + + +
Rex is up first today (ACC):
• • •
ACC

More Here.
Follow Rex on Twitter here.
• • •
And now, here's Dennis with the PAC-12:
PAC-12

More here.
Follow Dennis on Twitter here.
• • •
And here is Ethan, with the SEC:
SEC

And be sure to check out Ethan's WVU Mountaineer Tracker.
Follow Ethan on Twitter here.
• • •
And here is Kyle with the Big XII:
Big XII

Follow Kyle on Twitter here.
• • •
And here's Ethan with the B1G:
B1G

[adrotate group="2″]
Welcome to the 2018 Oregon Ducks Uni Tracker. This little project was originally begun way back in 2008-09 by Michael Princip, who retired after several seasons, whereupon the project was continued by Tim E. O'Brien. He, too, retired from the tracking, but the project has been ably kept up by the man who also tracks the Pac12, Dennis Bolt.
Here's this week's Uniform Combo for the Ducks (you can click to enlarge):
You can read about this uniform, and MUCH MORE, by checking out the Duck Tracker here!
Thanks Dennis!
[adrotate group="2″]
Uni Watch News Ticker
By Phil

Baseball News: I think we all agree this is "gross," but our own Alex Hider said it first: Budweiser branded champagne bottles which will (I assume) be in the locker room of the Commissioner's Trophy winner. FFS. … This comes from Friday night's game: "This probably isn't uni related, but is Mary Hart mocking Red Sox reliever Craig Kimbrel?" asks Kurt Rozek. "She was doing this the entire 10th inning." If you weren't aware, Kimbrel basically sets like this while getting the sign from the catcher on basically every pitch. … Mainstreaming: Here's a retail Rawlings helmet with integrated #CFlap in left and right hand batting designs (from Craig Bates). … Here's a neat touch from the tail end of the Astros tequila sunrise (shoulder stripe) days: the team replicated the uni pants stripe on the trainers' pants (good spot by ATX Progress). … Trivia time from Steve Sher, who asks "Bootleg t-shirts gone wrong. Spotted this at a swap meet in Arizona today. Who can spot the error?" … Heads up: you should never post photos of modern event tickets online. A Boston Red Sox baseball fan just learned this lesson the hard way (from Mike Chamernik).

NFL News: Do you want to have your say on which NFL team has the best uniforms? USA Today's "experts" have made their selections, but #FanIndex voters will make the difference. As of yesterday afternoon, the New Orleans Saints have the early lead in voting, but the polls won't close until Tuesday. … Good news, everyone! The New Orleans Saints announced Saturday morning that they will be wearing their awesome Color Rush variant uniforms on Sunday Night Football against the Minnesota Vikings. … Brinke was shopping in Hobby Lobby and noticed this NFL logo display. Looks like at least one of those is out of date (although they do have the Rams with white horns). … After yesterday's horrific synagogue shooting, this "Stronger Than Hate" Pittsburgh Steelers-esque logo has been appearing on Facebook and other social media (from John). … Are the Eagles breaking out a brand new jersey combination against the Jaguars in London? … "I wrote a letter to New York Giants co-owner John Mara last week concerning the state of the team and how bad it's been the last two seasons," writes Jeff Drumheller. "I read that Mr. Mara reads all correspondence, but I was surprised to receive a reply so soon. There's three emails, this one has the envelope's return address. I think it's so cool it's printed "New York Football Giants." One contains his personal letter head and the third is the letter itself." … Remember when the Saints wore gold jerseys and played a color vs. color game against the Vikings? (from Blake Rios).

College Football News: Hallowe'en isn't until this Wednesday, but that didn't mean College Game Day couldn't help but rank Goldy the Gopher's best Hallowe'en costumes.

Hockey News: This is kinda funny: "Interesting children's book at the library sale," says Eric VanKirk. "Kid gets a leafs sweater and is banished from town." … There were two more Pink in the Rink games in the QMJHL on Friday night (from Wade Heidt): The Rimouski Oceanic with a pretty busy set (which had strong pink accents) and the Cape Breton Screaming Eagles (who just said "F-it", we're pinking everything). … Are these possibly the best Hallowe'en costumes a hockey team has ever worn? Those are the Orlando Solar Bears and those aren't the only outrageous kits they've ever worn. … I'm not sure this is all that uncommon, but Larry Brunt noticed the Portland Winterhawks (WHL), who played in Spokane Friday night, and their goalie Dante Giannuzzi, had on a jersey with significantly wider black shoulder stripes than the rest of his teammates.

NBA News: The Dallas Mavericks' DeAndre Jordan showed up to Raptors game wearing his brothers CFL jersey (from Mike Chamernik). … Also from Mike Chamernik, the Lakers Kyle Kuzma's sneakers last night honored slain Utah track and field Star Lauren McCluskey. "I just wanted to give a tribute," Kuzma told me. "I write messages on my shoes from time to time. Usually about Flint (Mich.). I'm thinking about doing it a lot more, with more social issues," said Kuzma. … Still more from Mike: LeBron James was sporting a Beto O'Rourke hat in San Antonio last night. Beto is running for the Senate seat in Texas that Ted Cruz holds right now. … Pretty brutal uniform matchup last night in Memphis (from Chris Dougherty).

College Hoops News: The Nevada Wolfpack will have a new throwback uniform this season (via Paul). … The far side of University of Houston's Fertitta Center court will be named Howie Lorch & Elvin Hayes Courtside (from Ignacio Salazar).

Soccer News: Major League Soccer this week announced whose players' jerseys sold best this year so far, publishing a list of the 25 Best-Selling Kits in 2018 (from Josh Hinton). … Yesterday, the 2019 Women's World Cup away jersey was leaked.

Grab Bag: Check out this article, "Kind of blue: science of colour" sent in by Cort McMurray, who says "Why so much violet, Paul? As with so many things, we can blame the French." … Sign #3,209 of the Apocalypse: "Oh ugh," says BryanWDC"On screen ads take over unis on screen 'An advertising mishap turned rugby players into walking green screens'."
[adrotate group="2″]