For all photos in this section, click to enlarge
Last week I wrote about the vintage mail chute that the Tugboat Captain and I recently acquired and displayed in our apartment after seeing it at a local furniture maker's studio. But as I mentioned in that piece, the mail chute was a throw-in, a bonus — the real reason we were at that furniture guy's studio was buy something much bigger for our home.
Here's the deal: The Captain and I both work out on a regular basis — I bike in Prospect Park and she attends a local exercise class — so we both end up with a lot of sweaty workout clothes. Before I moved in with her, we both tended to just hang that sweaty gear somewhat randomly in the bedrooms of our respective apartments. But once I moved in, it became apparent that we needed a better system.
I joked that it would be fun to have a pair of gym lockers — an idea that the Captain liked, and not as a joke. It turns out that vintage lockers show up semi-regularly on Craigslist, so we started keeping an eye out for them. Most of the ones we saw weren't quite right, or they cost too much, or there was only one locker instead of two, or there were four lockers, or the seller was too far away.
And then we saw a listing for this:
It was really interesting! Two lockers on the left side, just like we wanted, plus a big planked-out display area with two big shelves and three little shelves. And the shelves had been made from locker doors:
I asked the guy selling it, whose name was Joe, if he had made the piece himself, and he said yes. He explained that he salvaged the lockers from a commercial factory in the same building as his studio. It had originally been a five-locker unit, but he ripped out three of the doors, installed reclaimed wood to create a nice interior for the door-less area, and then repurposed the removed doors to create the shelving. He sent me a few photos that he'd taken during the build:
Joe explained that he'd made the piece for himself a few years ago (he used it for storing tools and such), but now he was moving to a smaller studio and wouldn't have room for it, so he'd decided to sell it. He didn't have a set price in mind. "Make me an offer," he said.
Before we could do that, we wanted to see the unit in person, so we made arrangements to visit Joe in his studio. We really liked the lockers, and Joe turned out to be basically the Nicest Guy Ever (he encouraged us to take the mail chutes for free even before we'd decided to buy the lockers), so we agreed on a fair price and shook hands — done.

Well, almost done. We still had to get the thing transported to our house. It's a big piece — 61″ wide, 79″ high, 17″ deep — and all that wood makes it plenty heavy, so it would require professional movers. And it had to happen fast, because Joe was about to get kicked out of his studio.
After an abortive attempt that turned out to be an utter fiasco (the movers I called assured me that the piece would fit in their van, but it didn't), we finally got the piece to our house, where it just barely fit in the door. Joe had removed all the hooks that had originally been in the lockers, so we got ourselves some magnetic hooks — bingo, we're all set with our gym/workout lockers:
I need to get some vintage pin-up pics and maybe a little mirror to put on the inside of the door, but I haven't had time for that yet.
As for the display area, that's still a work in progress. Here's how it looks at the moment, although most of the displayed items are just placeholders for now:
The one thing that will definitely be staying there is the excellent double-Brannock Device thingie that longtime Uni Watch reader/pal Ben Traxel recently picked up for me at an antiques shop in Missouri. I originally had it displayed in the bedroom, but it looks perfect against the wood of the display area:
Above the Brannock device is the original artwork for an illustration that ran with this New York Times piece that I wrote in 2006:
I liked the illo so much that I asked the artist, Michael Klein, if I could buy the original from him. I'm not sure we'll keep it in the locker display area, but it looks fine there for now.
I also like the sock monkey perched on one of the smaller shelves. That's actually a catnip toy that the Captain made for Uni Watch mascots Tucker (RIP, sniff) and Caitlin. Caitlin's kinda lost interest in it, so we might leave it up there on the shelf. I like how it juxtaposes with the industrial feel of the locker elements:
It's hard to see in that last photo, but the locker number plates are all stamped with the name of the manufacturer — the Narragansett Machine Co. of Providence:
NMCo is no longer in biz, alas (it appears to have gone belly-up in the 1930s or '40s, so our lockers are at least that old), but there are lots of references to it on the web. According to this short historical account, the company began in 1882 by manufacturing foot-power lathes but later shifted to "light machinery, gymnastic equipment, lockers [!], and bowling alleys [!!]." Sure enough, this 1921 NMCo ad refers to "steel lockers," and this 1905 NMCo catalog even has a page showing the company's then-current lockers (although they're not the same as the ones we just acquired, which presumably don't date back quite that far). Isn't it fun when old objects have stories to tell?
Speaking of which: I asked Joe for a bit more info about the mail chutes. He said they were salvaged from a Dumpster after the building where he has his day job was undergoing renovations. The address, he said, is 34 West 27th Street in Manhattan (which does indeed match up with the zip code that's shown on the little placard on the chute). If you use your cursor to tilt that street-view image, you can see that the building appears to have 12 floors. That's a lot of chute-age!
And to think we got all of this fun stuff and these good stories (and two Uni Watch entries) by stumbling across Joe's ad on Craigslist. So lucky!
Finally, speaking of Joe, he makes cool furniture. If you like how the lockers turned out, you might want to check out his other work. Here's his website.
• • • • •
[adrotate group="2″]
• • • • •
Another one bites the dust: The Suns yesterday became the latest NBA team to announce a corporate sponsorship advertising patch. In keeping with Uni Watch policy, I will neither show the patch nor name the advertiser, but I will definitely show you that an ad patch on a Suns jersey looks like shit, which is the only thing that really matters here from a Uni Watch perspective (click to enlarge):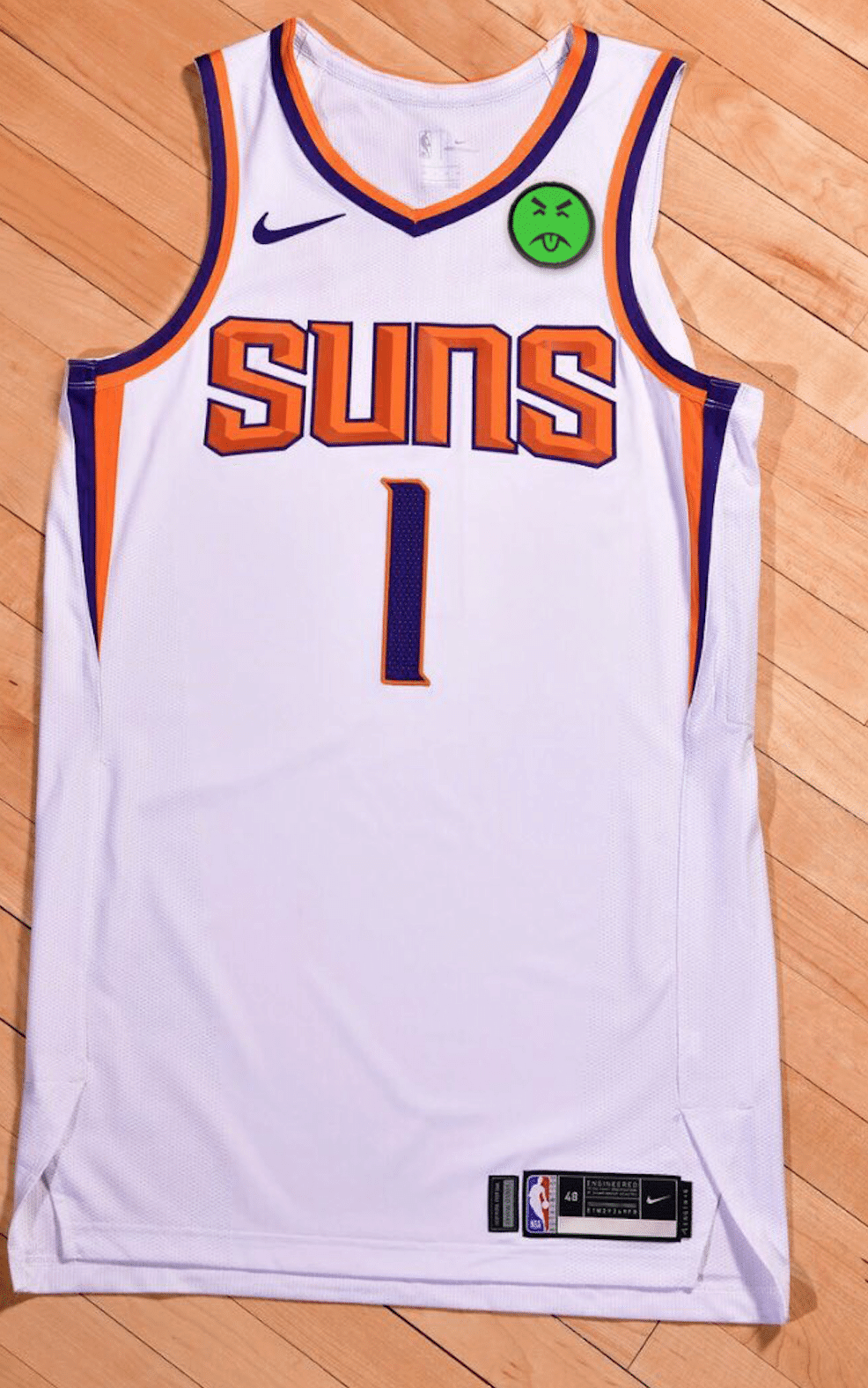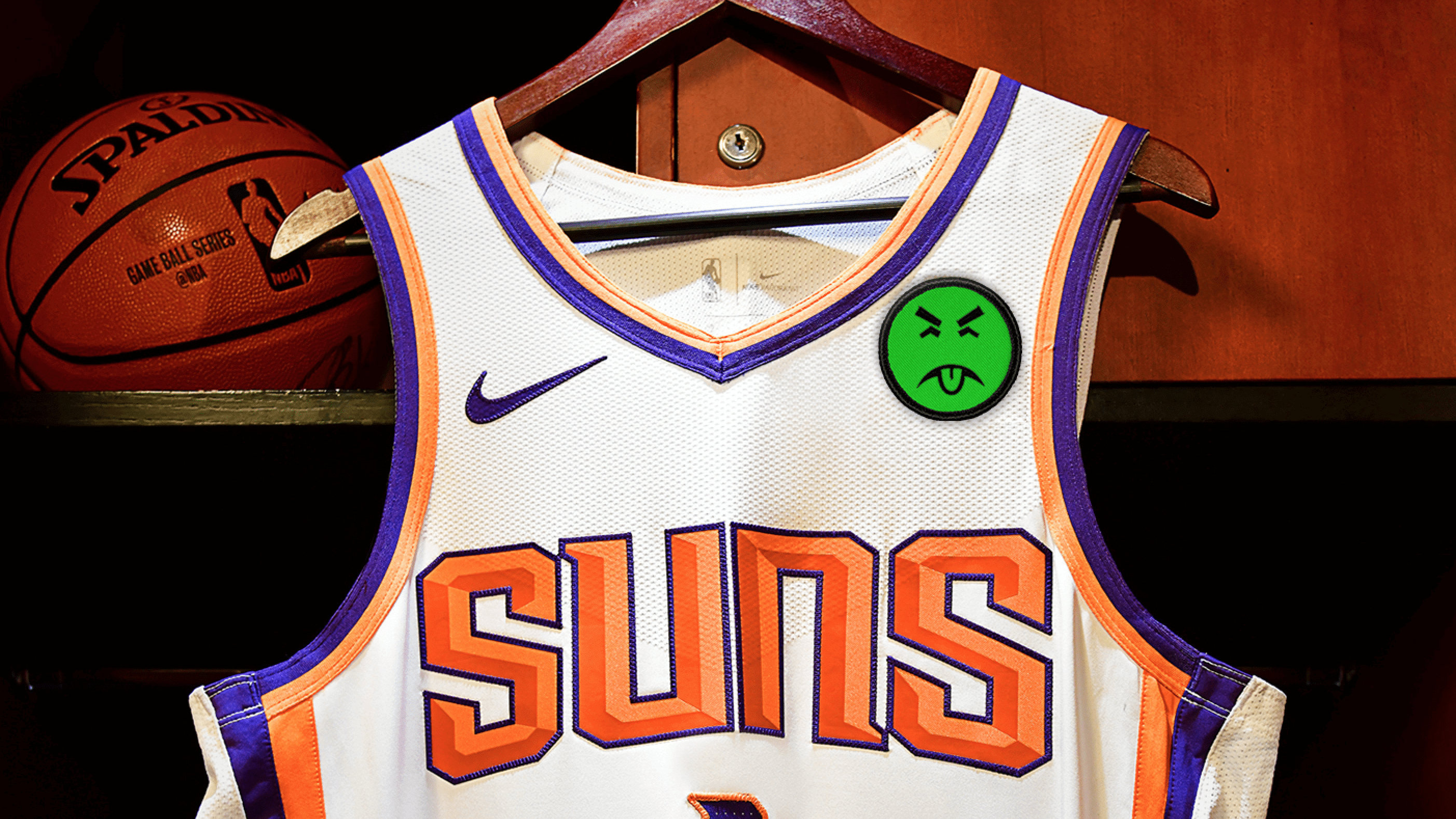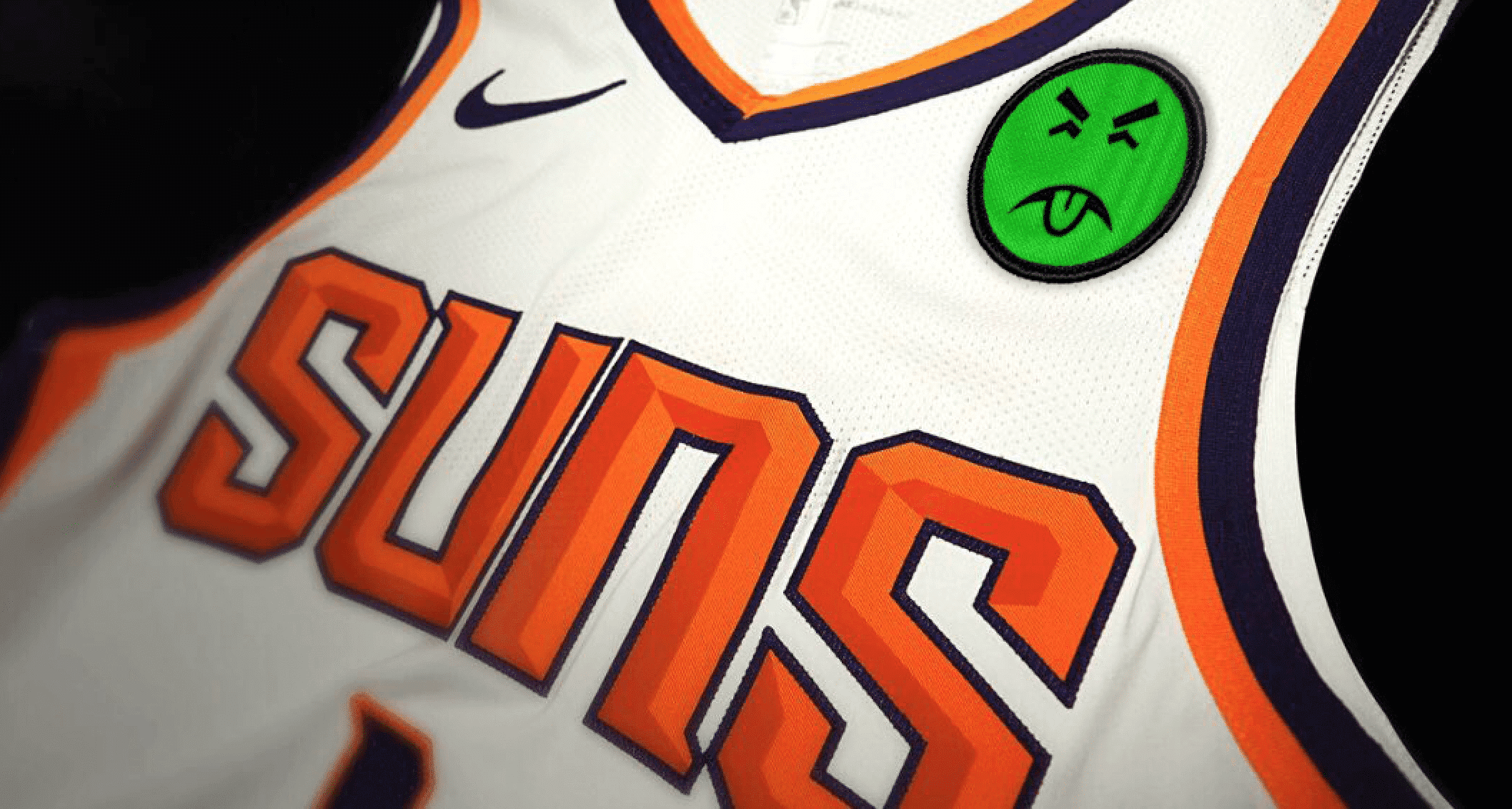 The Suns are the fourth NBA team to announce a new ad patch in the past two months. There are now 25 ad-clad teams and five remaining ad-free teams — the Bulls, Pacers, Rockets, Thunder, and Wizards.
(My continued thanks to Nic Schultz for his Photoshoppery.)
• • • • •
[adrotate group="2″]
• • • • •
Click to enlarge
Classes on gases: As most of you have probably discerned from my travelogues, I love neon signs. So does the Tugboat Captain, so a while back I gave her a couple of neon sign-making classes as an Xmas present. After learning how to bend glass tubing and work with various gases, she produced the abstract squiggle that you see above. I loved it from the moment I saw it, but she didn't get around to mounting it on the wall until a few days ago. Here's how it looks when it's illuminated — daytime on the left, nighttime on the right (click to enlarge):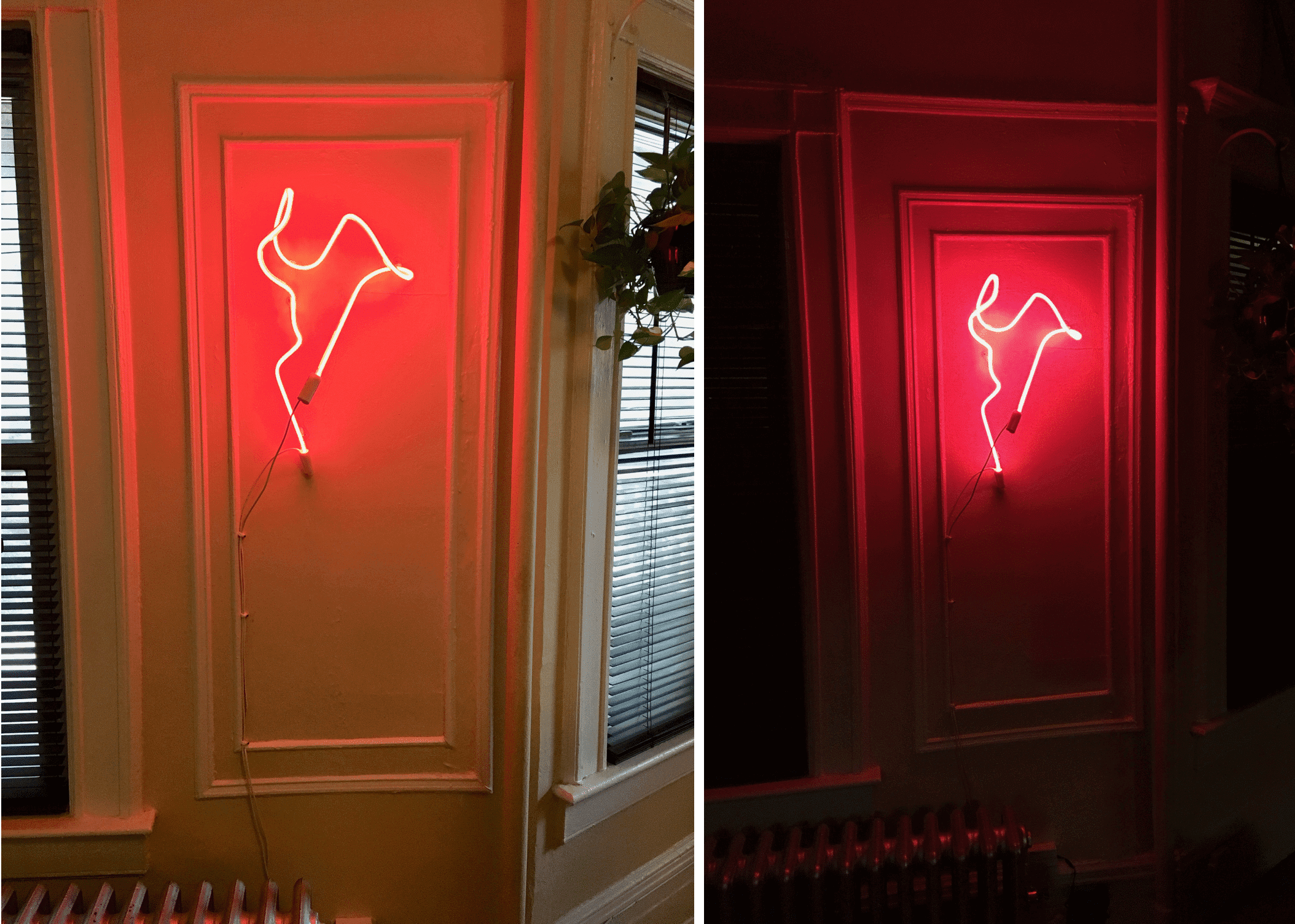 So cool! I've never had a neon sign in my house before (or lived with a sign maker, for that matter).
• • • • •
[adrotate group="2″]
• • • • •
The Ticker
By Lloyd Alaban

Baseball News: The Rockies went with their purple alternates for last night's NL Wild Card Game against the Cubs. Including last night's victory, Colorado is now 32-21 this season in purple (from Tyler Kepner). … Speaking of the Rockies: The combination of the MLB postseason patch and the team's 25th-anniversary patch looked brutal last night. … More Rockies stuff: UW reader Bo Baize went to a Colorado game last week and found catcher's gear from Mother's Day and Father's Day on display. … Cubs 1B Anthony Rizzo appears to have an LSU and an old school Miami Dolphins helmet in his locker (from Paul Quirk). … Here's a neat infographic from MLB Jersey Numbers showing clubs that issued the same number to at least three players this season. … Looks like Clemson baseball has adopted a new number font for their unis (from Justin Price).

NFL News: Missed this from Sunday: Bears DL Akiem Hicks was ejected during the first half of Sunday's home game against the Bucs. Hicks tossed his jersey with his shoulder pads into the crowd. According to WGN reporter Adam Hoge, Bears staff got the pads back but allowed the fan to keep the jersey. As for Hicks, he received a $33,000 fine and a possible suspension, according to Chicago Tribune reporter Rich Campbell (from Mike Chamernik). … Also from Mike: Buccaneers QB Ryan Fitzpatrick's jersey from his record-breaking game in Week Three has arrived at the Pro Football Hall of Fame. On Sept. 16, Fitzpatrick became the first QB in NFL history to throw for 400 yards in three consecutive games. … Patriots QB Tom Brady, who is endorsed by Under Armour, tried to hide the Nike logo on his sweatshirt by turning it inside-out at a Monday presser. It didn't go very well for him (from our own Brinke Guthrie). … According to the Panthers' official website, new S Eric Reid will be wearing No. 25 with the club. His previous number, 35, is currently taken by CB Corn Elder (from Daniel Tarrant). … Cross-listed from the baseball section: Cubs 1B Anthony Rizzo appears to have an LSU and an old school Miami Dolphins helmet in his locker (from Paul Quirk). … A Cincinnati-area grocery store created this Bengals logo out of soda boxes (from Brian Spiess). … Reader Adam Foxman created this UW-inspired fantasy football logo. Looks like he Gets It™.

College and High School Football News: Florida State will return to their traditional away uniforms when they suit up against Miami on Saturday (from Phil). … Also from Phil: Colorado is going mono-black against Arizona State, and Texas is going mono-white against Oklahoma. … The University of Houston will wear neon green ribbon decals for Thursday's game against Tulsa in support of the American Athletic Conference Student Athlete-Advisory Committee's Pow6rful Minds Campaign and Mental Health Awareness Week. (from @igTexSalazar). … This University of Florida promotional poster show the Jordan logo on the uniform's pants but not on the jersey (from Moe Khan). … Is Notre Dame going less yellow and more old gold with their pants, or is it just the studio lighting? (From @footballfuntime.) … Dylan Thomas, a high school football player from Pike High School in Zebulon, Ga. died Sunday after taking a hit during a game last Friday. Part of the investigation has focused on how safe his helmet was. Thomas was wearing a Riddell SpeedFlex — a popular choice among NFL and college players — when he took the hit. According to a 2018 study by the NFLPA, the SpeedFlex ranked 18th out of 34 helmets tested.

Hockey News: NHL execs unanimously recommended yesterday that Seattle's expansion bid go forward to a December vote. The decision to bring the NHL to the Pacific Northwest now lies with the NHL's board of governors. … Sharks C Joe Thornton said bye to his beard on Tuesday. … A Capitals fan sketched up a concept featuring the club's "Weagle" logo (from Tim Klapac). … A Coyotes fan proposed that the team's old crescent moon logo should serve as the captain's "C" (from @Pappy_Hour). … New sweaters for the University of Minnesota men's program (from Erik S.).

NBA News: Unconfirmed leak of the Heat's new Miami Vice-themed court, pink jersey, and black jersey (from multiple readers). … Hornets G Malik Monk forgot to wear his jersey in last night's preseason matchup against the Heat (from multiple readers). … New baseline design for the Nets (from Raymond Cardenas). … Speaking of the Nets, a reader noticed a strange little black "T" in the middle of the Brooklyn's away jersey collars on media day. Anyone know what that might be for? (From Luigi M..) … Here's (according to this sportswriter) a list of 10 alternate NBA jerseys that should make a comeback, and 10 that should stay mothballed (from Phil). … Also from Phil: A Salt Lake writer ranked every era of Jazz uniforms.

College Hoops News: New unis for the Butler men's team. Reader Jarrod Campbell thinks the jersey numbers look a bit large. Anyone agree? … Arizona men's basketball is tweaking their neck collar for a more traditional look. Old collar here, and new collar here. … New set for Arkansas men's basketball (from Tom Dobbins).

Grab Bag: Indiana Athletics recently unveiled its first style guide. It includes 37 uses of the word "story" (from Todd Usher). … If today's social media and tech companies were born in the 1980s, then they might look like this, according to a Reddit user (from Jon Stiffler). … According to a Cleveland writer, here are the 25 greatest logos in Cleveland sports history (from Jason Hillyer).