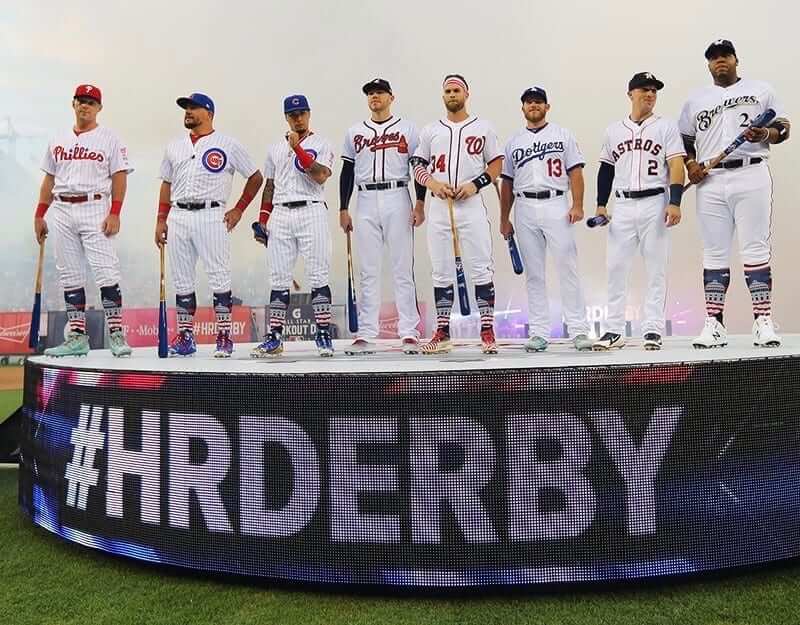 Click to enlarge
I don't care even one teeny bit about the Home Run Derby, but it is kinda interesting that they had the participants wear their regular team jerseys instead of the All-Star BP jerseys last night — a major departure from the longstanding protocol, and apparently the first time the Derby has featured standard team jerseys since 1996. (I also don't care even one teeny bit about All-Star BP jerseys, so I fully approve of this move.)
I have no idea why they chose to do it this way. Maybe they sold out of retail BP jerseys and didn't have to push the product..?
Also of interest: Seven of this year's eight Derby dudes — all except Houston's Alex Bregman — were from National League teams, but all eight of them, including Bregman, wore their home whites. Just to confuse the issue a bit more, the American League is the designated home team in this year's All-Star Game, even though the game is being played at Nationals Park. So I guess you could say Bregman was actually the only player wearing a league-appropriate uni. (Or then again, maybe not — I'll have more to say about this in a minute.)
Other Derby data:
•  As you can see in the photo at the top of today's page, five of the eight contestants — all except Bregman, Atlanta's Freddie Freeman and Max Muncy of the Dodgers — went high-cuffed, exposing the rather ridiculous sock design.
• Left-sleeve patches (and Rhys Hoskins's left-sleeve TV number) were removed to make room for a Home Run Derby patch — which, unfortunately, included a corporate advertisement (click to enlarge):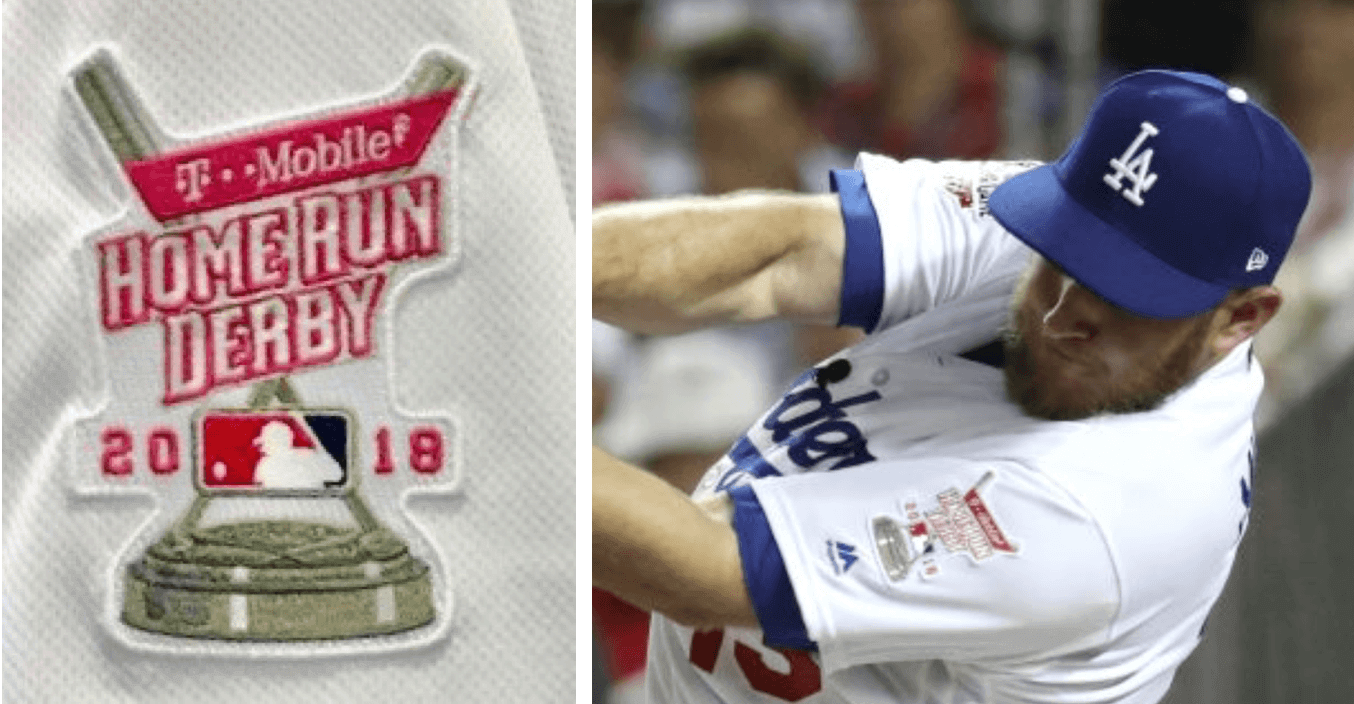 • Speaking of Hoskins, I was kinda hoping he'd wear a helmet with C-Flap — or maybe even his awesome double-C-Flap — but he just wore a cap like everyone else.
• Actually, one player didn't wear a cap: Bryce Harper, who wore a headband. At first glance, it looked like your basic American flag-patterned accessory (especially since he was wearing so much other stars/stripes bling). But upon closer inspection, it was actually based on the DC flag (click to enlarge):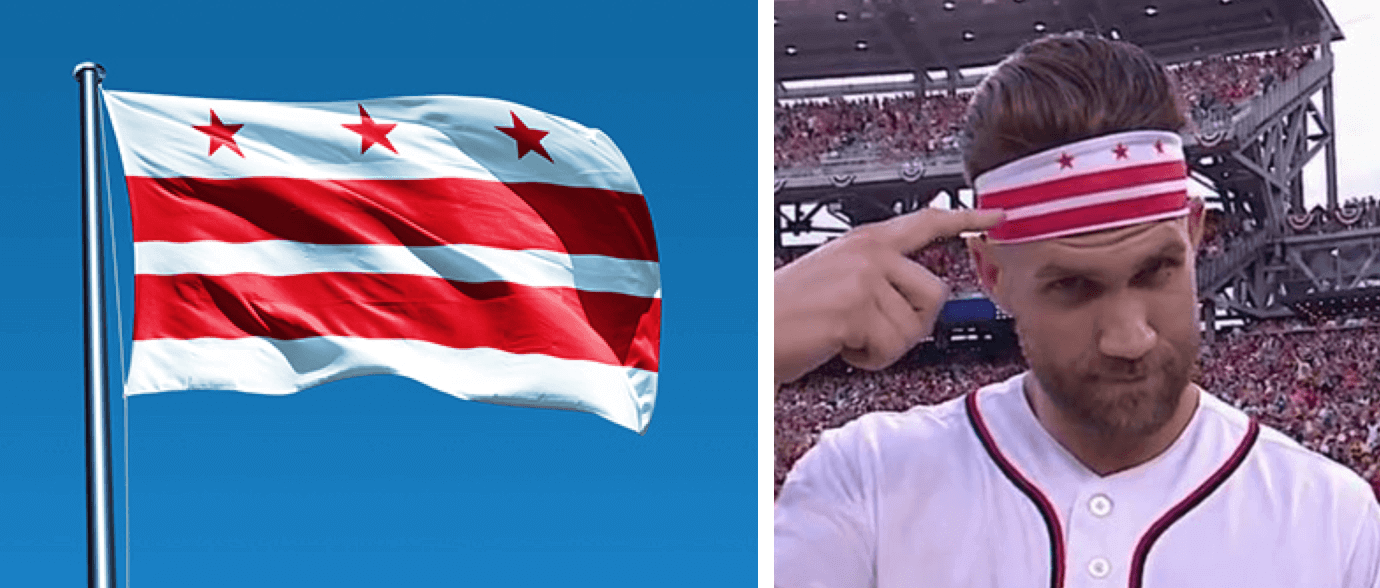 Okay, now let's get back to the issue of home and road uniforms. As I mentioned earlier, the AL is the designated home team for tonight's game, even though the game is taking place at an NL ballpark. That's because there's been a run of All-Star Games at NL stadiums but they alternate the home and road designations every year, regardless of the location. As you may recall, they did the same thing two years ago, when the AL was the designated home team even though the game was played in San Diego.
But here's the thing: At yesterday's Media Day gathering, NL players wore their home whites and AL players wore their road greys: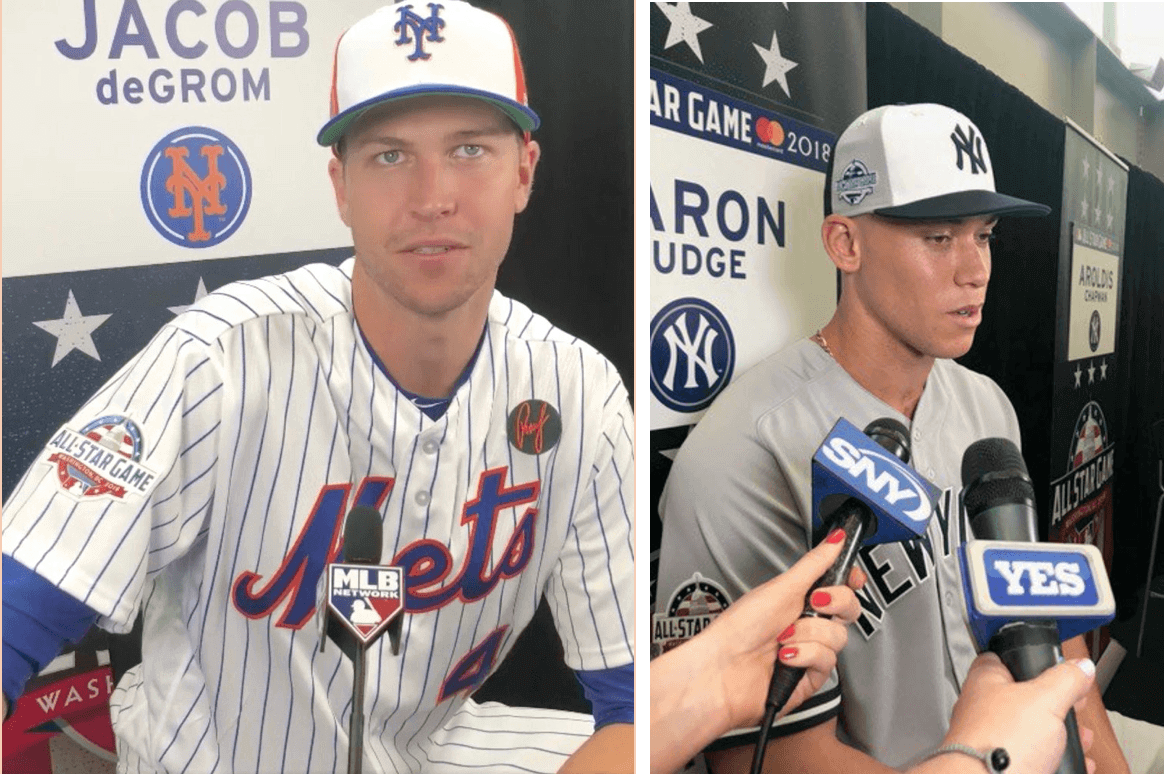 So the NL will apparently be wearing white tonight, even though they're the road team, and vicey-versey for the AL. (And as you can also see, the Mets' Rusty Staub memorial patch, which normally appears on the right sleeve, has been moved to the upper chest of Jacob deGrom's jersey to make room for the All-Star Game patch.)
Looking back at the 2016 All-Star Game — the one where the AL was the home team even though the game was in San Diego — the AL wore white and the NL wore grey. In other words, the uniforms matched the home/road designations but did not match the stadium location. This time they're apparently doing it the other way around. Weird!
Update: Upon further review, I'm not sure the AL is the home team tonight. I've actually seen conflicting indicators on this, but I'm now inclined to believe that the NL is the home team, so the Media Day uniforms make sense (but it's still odd that Bregman wore his home uni in the Derby).
• • • • •
[adrotate group="2″]
• • • • •
Posting up: Yesterday's entry about a 1970 Bears/Eagles game with two sets of goalposts in each end zone prompted a note from reader Keith Grinde, who said he recalled seeing a photo of Kezar Stadium — former home to the NFL's San Francisco 49ers, the NCAA's San Francisco Dons, and, briefly, the AFL's Oakland Raiders — with two sets of goalposts.
A quick Google image search revealed that he was correct (click to enlarge):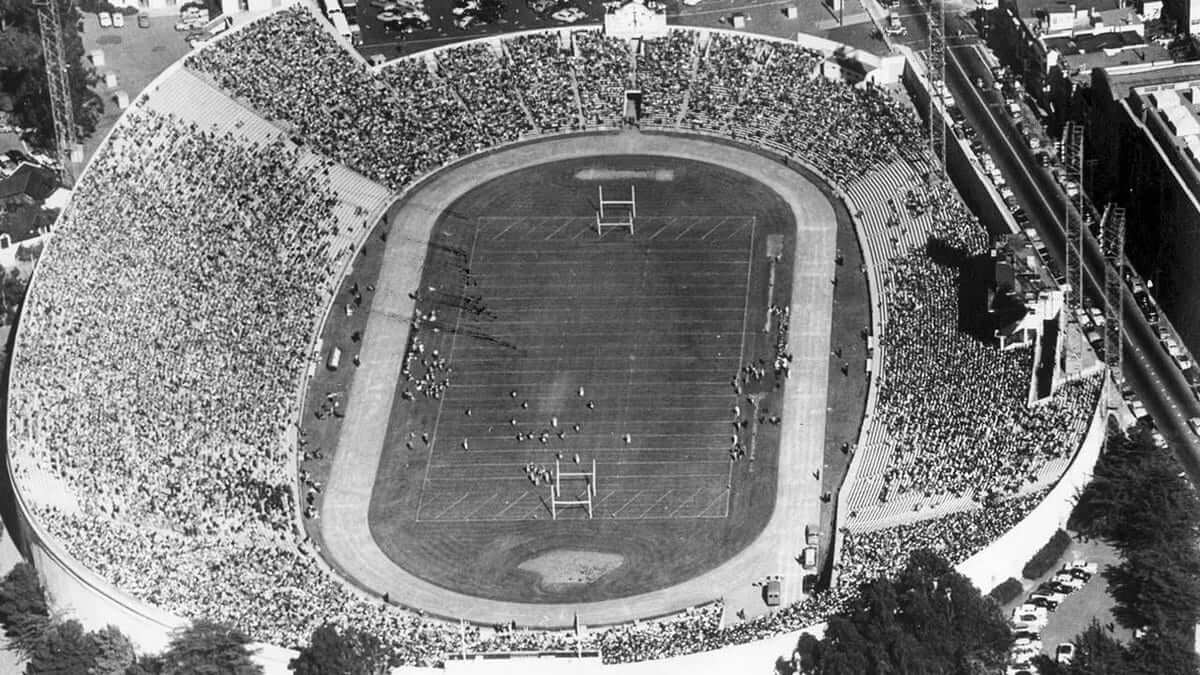 The date of the photo is uncertain, but it's obviously from the era when pro and college football were both using the old-style "H"-shaped goalposts. It's also not clear whether the game in progress is a pro or college game, although the wider-set hashmarks would seem to indicate the latter.
Did any other stadiums ever have two sets of goalposts?
• • • • •
[adrotate group="2″]
• • • • •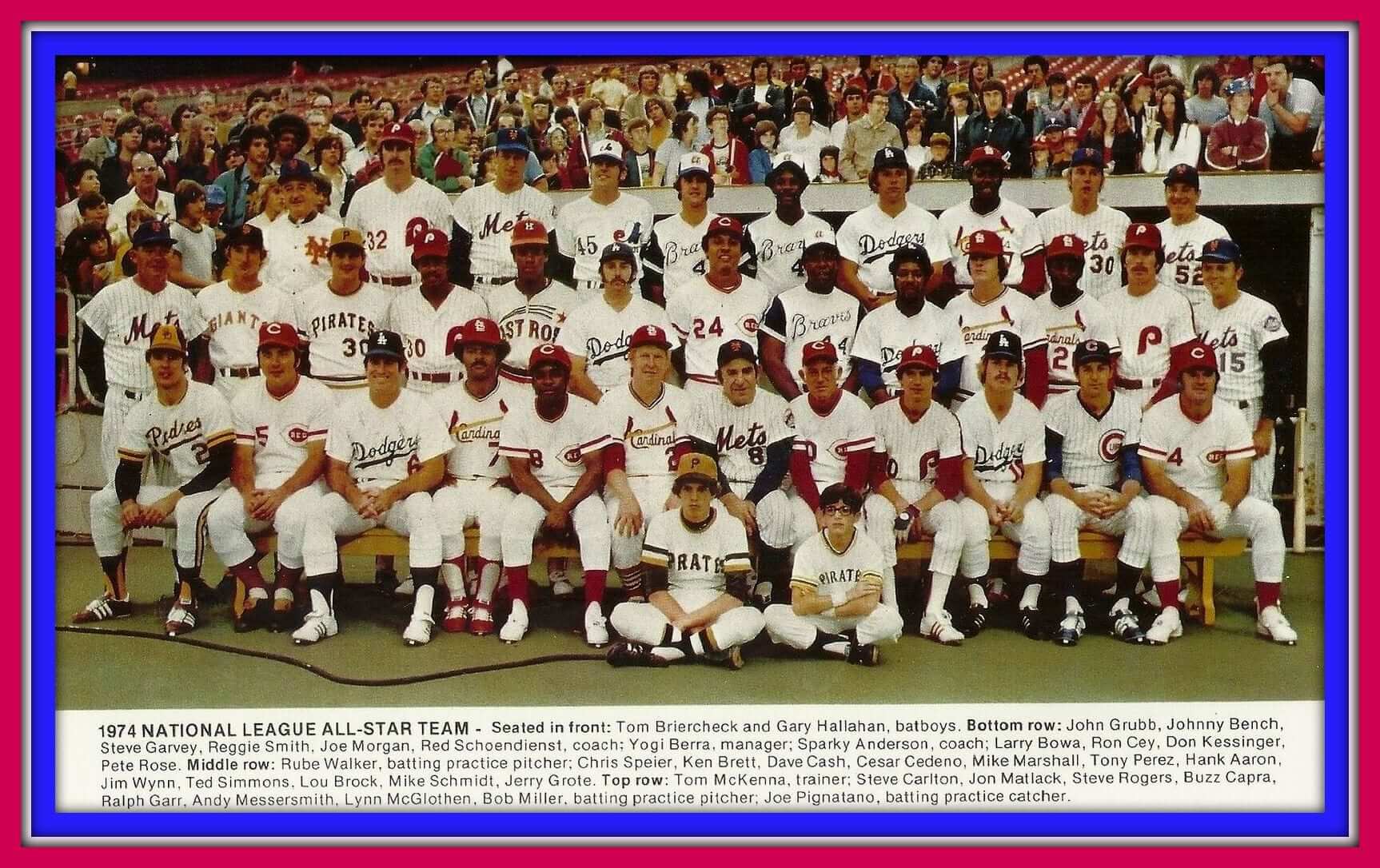 Click to enlarge
Collector's Corner

By Brinke Guthrie
Tonight's the night for the annual MLB All-Star Game, so in honor of that, may we present your 1974 National League All Stars. Take a look at the white cleats on the Reds! (Except for Johnny Bench.) This auction is for the team photo and a game DVD.
Now for the rest of this week's picks:
• Kids, back in the day, this is how we used to vote for the All-Star players in the pre-internet era: You'd get a ballot at your local MLB ballpark (and I think, at Gillette POP retail outlets, right?), punch out the holes, and put your 6¢ stamp on it. This one is for the 1970 All-Star Game, which was played at the then-new Riverfront Stadium in Cincinnati. (The stadium opened on June 30 and the game was on July 14. That's cutting it close!)
• Staying with Cincinnati in 1970, here's a CD called The Big Red Machine, a narration of their NL-pennant winning 1970 season. Though it was introduced in 1969, the name "Big Red Machine" became popular with the 1970 season. They did a New Red Machine album two years later, and I wore that baby out.
• Had one of these Atlanta Braves batting helmets in the 1970s. Even though I was in Cincinnati, I just loved the Braves' lowercase-a logo. Even then, I Got It™ .
• Check out the artwork on the cover of this 1943 New York Rangers game program.
• Now, who here doesn't love them some 1980s Mariners trident-M logo, as seen on this Majestic pullover?
• Stars like Griese, Butkus, Podolak, Namath, Jerrel Wilson, and Floyd Little all easily identifiable on this 1970s Mead NFL school folder, though they are missing the team logos. I am positive I would have toted this around Mariemont Middle School.
• How about this 1970s KC Chiefs sideline jacket?
• This "Nolan Ryan" rain jacket looks like some type of giveaway at the stadium. Just the MLB logo, though — no team mark.
• This is a very nice-looking Tony Gwynn-era San Diego Padres sweater from Starter.
Seen an item on eBay that would be good for Collector's Corner? Send any submissions here.
• • • • •
[adrotate group="2″]
• • • • •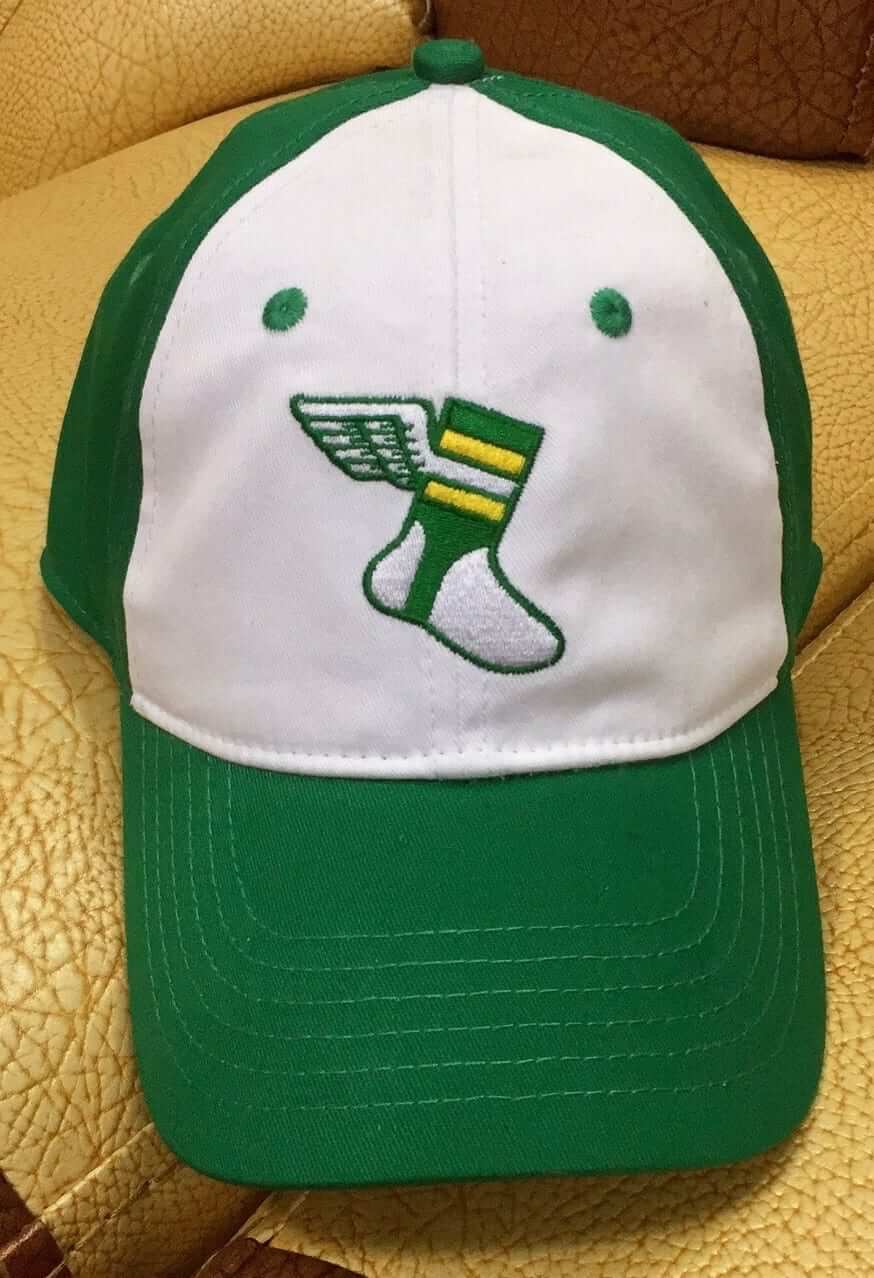 Assorted reminders: In case you missed it yesterday, we're now accepting pre-orders for the XXL size of the upcoming Uni Watch "alternate" cap, which is shown at right. If we get enough XXL pre-orders, we'll go ahead and have the cap made in that size (in addition to the S/M and L/XL sizes, which should be in stock and available for purchase in about 10 days). Full details here.
In addition:
• Fitted sizes of the Uni Watch "classic" cap, available exclusively from Ebbets Field Flannels, are back in stock (although some of the sizes have already sold out again). Order yours here.
• My epic stoop/open-house sale, which will feature a ton of uni-related books, dozens of pairs of stirrups, and more cool collectibles than you can shake a C-Flap at, will take place this Saturday. Full details here.
• • • • •
[adrotate group="2″]
• • • • •
Let's see those Norwegians beat this: Me, I only curl during the late fall and winter. But plenty of other people — people who are more dedicated than I am — curl all year long. One such person is Uni Watch deputy editor Phil Hecken, who had his regular Monday-night curling session yesterday. His curling club had a baseball theme going on, so check out how Phil dressed for the occasion (click to enlarge):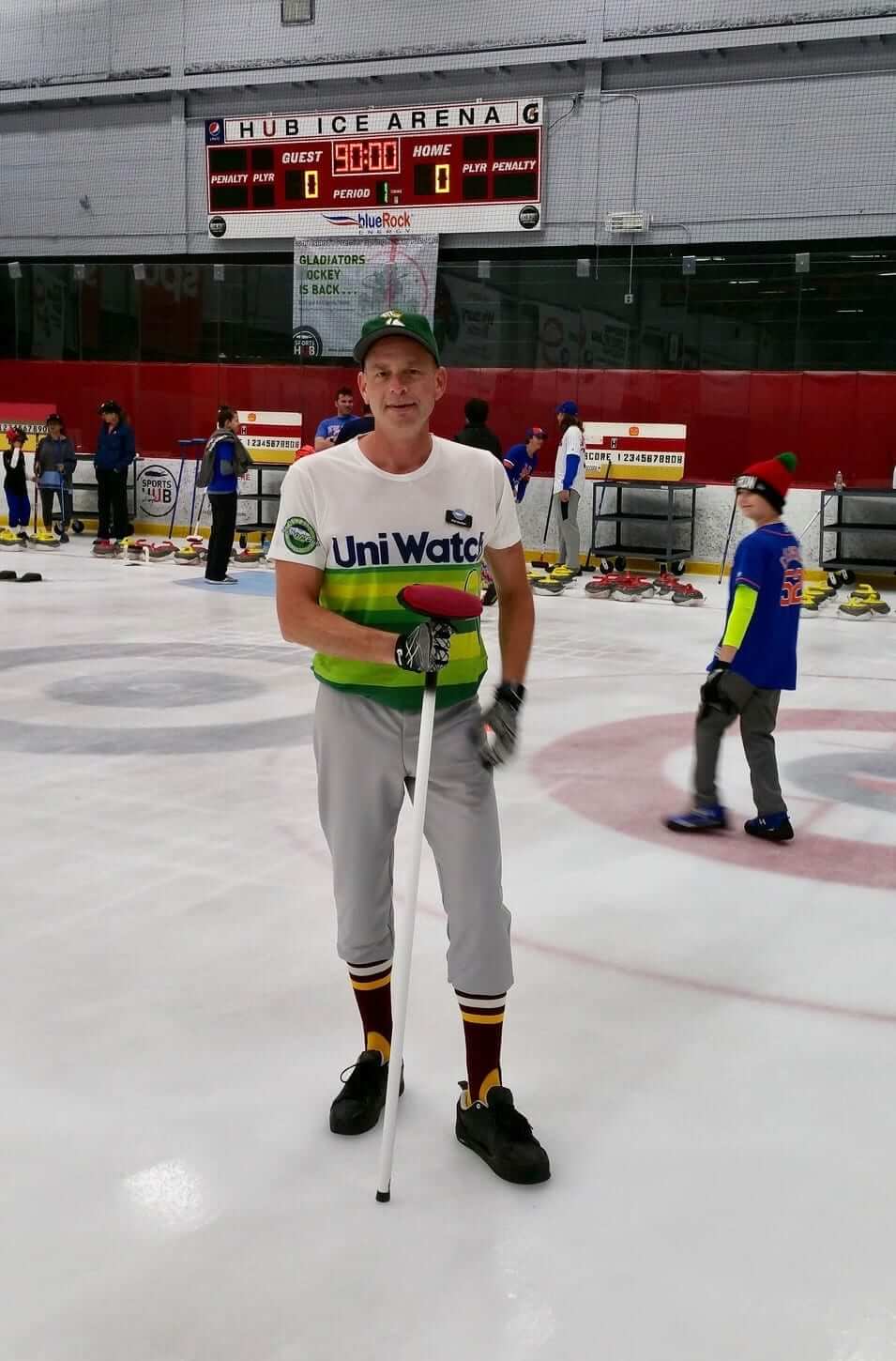 That is one gloriously mismatched outfit — I like! And bonus points for the kid in the background in the Céspedes getup, complete with neon compression sleeve (which is closer to game action than the real Céspedes has been in the last few months).
• • • • •
[adrotate group="2″]
• • • • •
The Ticker
By Alex Hider

Baseball News: Good news, Padres fans — it sounds like the team could be on track to bring back brown in 2020. According to this podcast with broadcaster Jesse Agler and Padres executive chairman Ron Fowler, the team is running market tests this summer, and Fowler expects brown to win out. … This may have been Ticked last week, but just in case: In honor of the All-Star Game, The Washington Post has a baseball card interactive (WaPo link) that includes some awesome artwork (from Ted). … Whoops: The Nats fired manager Dusty Baker in the offseason, but his banner still hangs near Nationals Park (from John). … Phillies P Pat Neshek is the first player ever to wear No. 93. Rhys Hoskins had taken No. 17, his old number, so he decided to take the "weirdest number possible." Former Phils manager Charlie Manuel did wear No. 93 when he was a special assistant with during spring training in 2004 — and, as you can see there, liked his jersey tailored extra-long (from Scott). … Coors Field has a corporate-branded bar that's apparently a challenge for the team's sign-makers to spell (from Kary Klismet). … Rockies manager Bud Black was wearing a No. 19 jersey — the number worn by CF Charlie Blackmon — in a photo with Blackmon yesterday. Black usually wears No. 10 (from Adrian Marquez). … MLP spotted this commemorative bat with the Astros' old tequila sunrise prototype logo at a pop-up shop in DC yesterday. … The Charleston RiverDogs will wear "Boiled Peanuts" jerseys and caps on July 28 (from Taylor Wall). … The Vermont Lake Monsters will wear "Maple Kings" jerseys and caps on Aug. 4. … The Greensboro Grasshoppers, the Class-A affiliate of the Marlins, wore "Hound Dog" jerseys yesterday in honor of $1 hot dog night (from Scott M. Trembly). … The Jacksonville Jumbo Shrimp wore Scrabble jerseys and caps last weekend (from John McMunn). … The Iowa Cubs took the field in Iowa Oaks throwback uniforms on Saturday to mark 50 years of AAA baseball in Des Moines (from Jordan Oster). … The Somerset Patriots of the Atlantic League of Professional Baseball will wear Star Wars jerseys on Aug. 6 (from John Cerone). … Blake Pass found this Chattahoochee Valley Community College jersey at a thrift store in Georgia. Anyone know which season it might be from? … In 1867, Detroit hosted the World Base Ball Tournament. The club wearing the "finest uniform" was presented with a set of red silk field flags (from Ryan Paquin). … Cardinals C Yadier Molina will be wearing a gold chest protector and mustard shinguards in tonight's All-Star Game.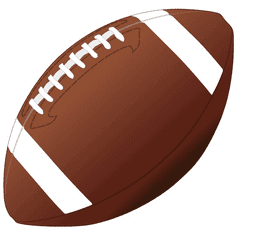 Football News: School Field in South Bend, Indiana has hosted South Bend public school football games since 1928. Yesterday, the South Bend Community School Corporation board sold naming rights to the stadium to a local credit union (from Tony Miller).

NFL News: Artist Nate James broke down which NFL teams need uni makeovers (from Phil). … Speaking of teams that need a makeover, the Bucs' SB Nation blog wants fans to vote what needs to be changed about their current set (also from Phil). … NASCAR driver Alex Bowman will sport an Eagles paint scheme at Gander Outdoors 400 at Pocono Raceway on July 29 (from Chris H.). … Per yesterday's post, Jace D. McKeighan noticed that 1970 Cowboys flanker Lance Rentzel (No. 19) appears to have a white facemask in the video Paul linked to yesterday. … Players on both the Browns and Giants wore sneakers during an especially cold playoff game in 1950 (from Pro Football Journal).

College Football News: Indiana unveiled its new red uniforms yesterday. Notable changes include changing the wordmark from "Hoosiers" to "Indiana" and removing pants stripes. … Iowa State's old jerseys were on display at Big XII media days yesterday (from @notthefakeCasey).

Hockey News: Blackhawks players at development camp wore "30" helmet decals in memory of former G Ray Emery, who died yesterday (from Griffin Smith). … Martin Hick drew a good-looking concept for the Anaheim Ducks.

Basketball News: Hall of Famer Oscar Robertson is auctioning off a ton of memorabilia, including jerseys, warmup tops, and championship rings. … The Hardin County (Tennessee) Sports Hall of Fame had a lot of classic memorabilia on display at its induction ceremony last night, including this 1967 basketball uniform.

Soccer News: Bleacher Report published a video that shows how to repurpose a Cristiano Ronaldo Real Madrid jersey into a new Juventus jersey, though you could probably skip the corporate logos (from Hit The Glass). … We've got some links from reader Josh Hinton: New Jordan-branded third and fourth alts for PSG; look at all of Liverpool's away and third kits from over the past few years; new away and third kits for Hoffenheim; and the Kaizer Chiefs' new home and away jerseys. … New uniforms for Pumas of Mexico's Liga MX (from Ed Zelaski). … In this graphic France's Antoine Griezmann (top left) appears to be already wearing a jersey with two stars representing France's two World Cup wins. Everyone else in the photo appears to be wearing one-star jerseys (from @True2Atlanta). … Kosovo's soccer federation is a member of FIFA, but its flag was banned from flying at the World Cup. … MLS's Portland Timbers have partnered with a Portland boot company to create Timbers-branded hiking boots.

Grab Bag: Uniqlo is now taking preorders for the apparel Roger Federer wore during this year's Wimbledon tournament (from Brinke). … Clint Richardson put together a side-by-side comparison of Auburn uniforms from 1998 and 2018 over at this Auburn Uniform Database. … Cleanup at the Tulsa convention center found dozens of interesting files, including a reported bomb threat against the Jackson 5 and the riders for bands like Kansas and Meatloaf (from Ryan Atkinson).
• • • • •
For those who've been asking or wondering, my mom is due to leave the hospital today after a nine-day stay. She has a lot of physical therapy ahead of her — no fun for anyone, much less for a 94-year-old — but we seem to have gotten through this crisis, or at least this phase of it. Major thanks to the many, many Uni Watch readers who expressed kind and supportive thoughts over the past week — means a lot, really. — Paul