That was a pretty uni-uneventful Super Bowl, eh? The primary exception was when Pats tight end Rob Gronkowski caught a touchdown pass and emerged with a big blue splotch on the crown of his helmet. That was paint from the end zone, as he had taken a header as he caught the pass.
Twelve of the previous 13 Super Bowl winners had worn white. The Eagles' victory bucks that trend and starts a new one: The only two non-white-clad Supe winners in the past 15 years — Green Bay and now Philly — have worn green.
Congrats to the Eagles and their fans. I figured they deserved to win once they successfully pulled off that trick play on fourth and goal — very cool.
That wraps up Monday Morning Uni Watch for this season. MMUW will resume in September, when the 2018 NFL season gets under way.
• • • • •
NBA Uni Tracking
By Collin Wright
This past week was the first time all season that traditional white-vs.-color matchups, with the home team wearing white, were the least common across the league. Take a look (click to enlarge):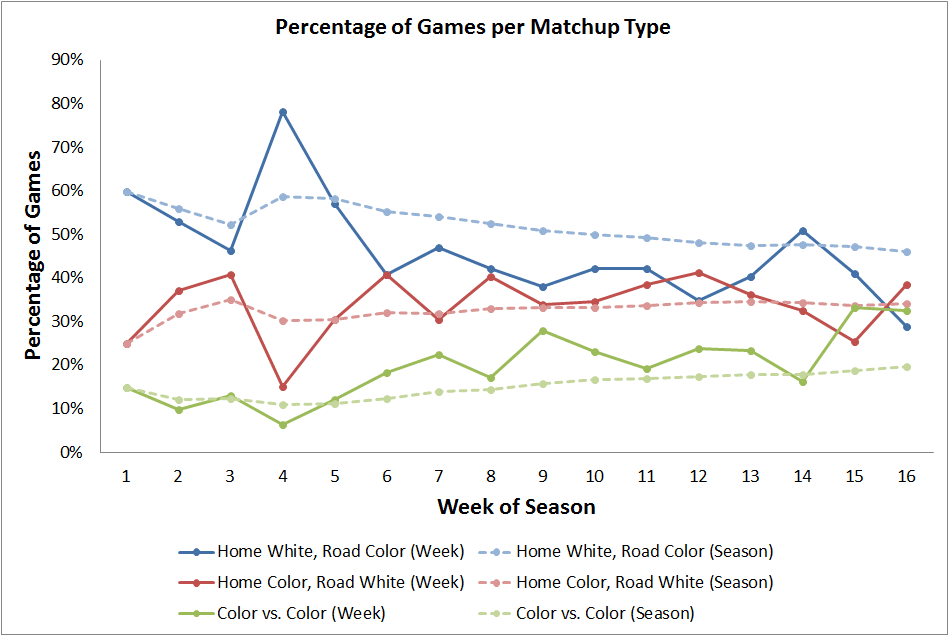 Some observations for the week:
• The Knicks wore a non-white uniform at home for the first time all season on Jan. 30 against the Nets (and did it again last night against Atlanta, which was also just the Knicks' second color-vs.-color game of the season).
• Twelve more teams had an on-court debut for their fourth uniform design. All of those were at home, and 24 of the 27 that have been worn made their first appearance in a home game. The only teams yet to wear their fourth set are the Celtics, Rockets, and Clippers.
• The Cavaliers wore contrasting leg tights for the first time all season on Jan. 30 (and did in each of their next two games after that as well). They had worn the unitard look for each of their first 48 games.
• On Saturday the Bucks won while wearing their black uniform for the first time since Nov. 30. It was their first win of the season wearing that uniform with matching black accessories.
• For the entire month of January, 42% of games were traditional uniform match-ups. 34% were inverse and 24% were color vs. color.
• The Rockets have played the most colors-vs.-color games (19), followed by the Celtics and Bulls with 17 each.
• Here's a look at how frequently each uniform "edition" has been worn so far this season (click to enlarge):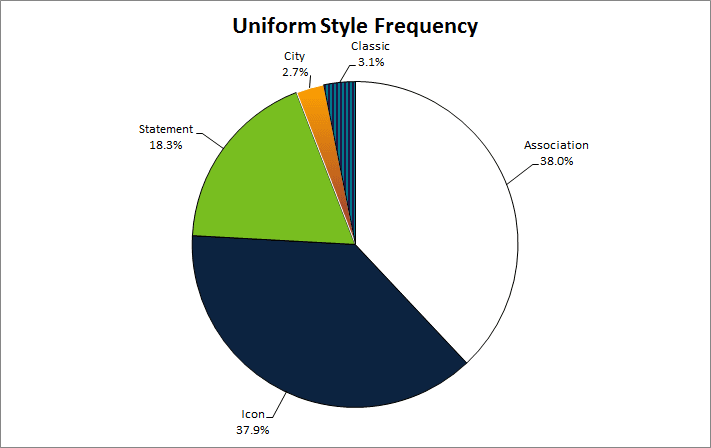 • • • • •
ESPN reminders: On Saturday I had a new ESPN piece about some old letters from Denver Broncos season ticketholders who wrote to the team to request tickets for Super Bowl I. Really fun stuff — check it out here.
Also, in case you missed it late last week, I have a piece about an extraordinary memo that was issued by the NFL commissioner's office in 1966. Its subject: "Some Thoughts on the NFL and Negro Players." This is one of the most powerful and interesting stories I've ever worked on, and I've received a flood of positive feedback about it. If you haven't already seen it, please check it out here. Thanks.
• • • • •
Naming Wrongs update: We now have a bunch of shirts available for the L.A. Coliseum. Check it out (click to enlarge):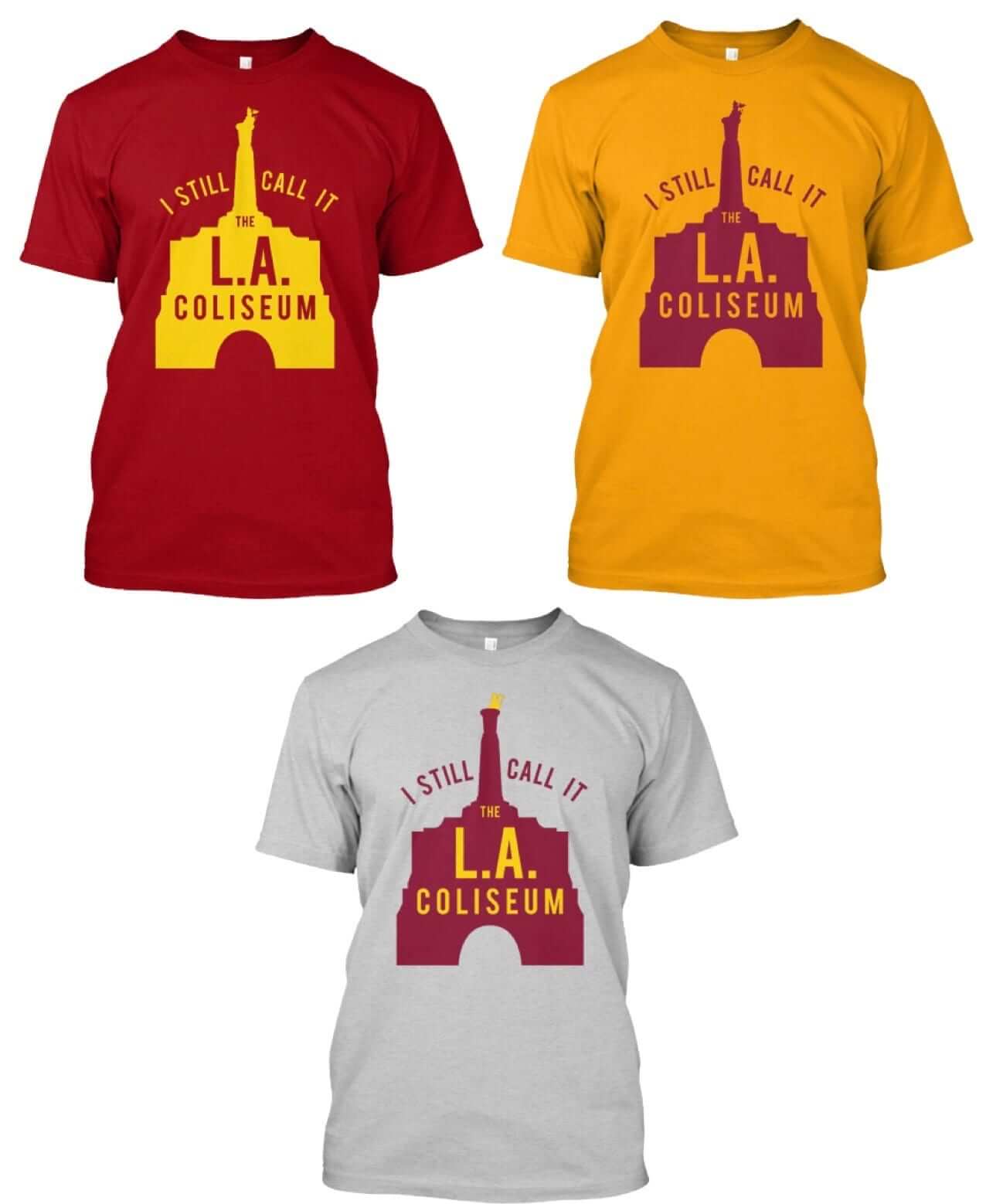 Great job by Scott M.X. Turner with these designs!
All of these designs are now available in the Naming Wrongs shop. They're also cross-listed in the Uni Watch shop, where card-carrying members can get 15% off. (If you're a member and need the discount code, send me a note and I'll hook you up.) My thanks, as always, for your consideration.
• • • • •
The Ticker
By Jamie Rathjen

Baseball News: In a Giants/Padres game in 1990, Padres catcher Benito Santiago's NOB was misspelled (from David Flynn). … A pitcher for Águilas Cibaeñas, the Dominican team at the Caribbean Series, still had the sticker on his hat (from Nathan Larsen). … Louisville manager Dan McDonnell has had an inconsistent McNOB style in the past (from Joseph Matlock. … Pro golfer Chez Reavie had the Diamondbacks' logo on the side of his hat this weekend (from Zachary Loesl). … Northern Virginia's Wakefield High School uses the Nats' curly W logo (from William F. Yurasko).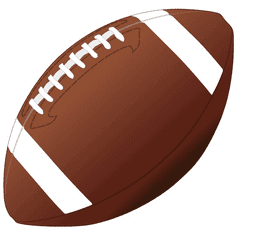 Football News: Reader Corey Burnett sent us his collection of NFL mini pennants from ca. the late '70s-early '80s, he says. Every team from the period except the Seahawks and Broncos is represented here, and some of the duplicates are older.

Hockey News: NCAA Division III Elmira (N.Y.) College wore jerseys featuring the names of every men's ice hockey alumnus on Saturday (from @DEFpgh). … The Laval Voisins, the 1979-85 incarnation of the city's QMJHL team, had a sideways 3-D letter L as a chest logo, modeled here by Mario Lemieux (from Jeff Flynn).

Basketball News: On Saturday, Washington wore black at home against Arizona (from James Gilbert). … Maryland wore red at home against Wisconsin (from Josh Claywell). … The lining of Xavier coach Chris Mack's suit features the logo of his foundation, the Mack Family Foundation (from Andrew Robbins).

Soccer News: The NWSL's Orlando Pride introduced USWNT striker Sydney Leroux with a shirt that may just be a unique mashup of 2017's shirt and a 2018 edition. It's a 2017 shirt, but the team's advertiser has changed its logo since the end of the season. No 2018 NWSL kits have been released yet. … The 2018 MLS kits released so far include socks cut off below the ankle, which some players prefer (from Jim Shemaria). … Several Premier League referees were wearing black armbands this weekend, including Jon Moss in Liverpool/Tottenham Hotspur, Paul Tierney in Bournemouth/Stoke City, and Martin Atkinson in Burnley/Manchester City. The black bands were for Paul Alcock, a former Premier League referee, passed away last week due to cancer. … At the Asian futsal championship (one kind of indoor soccer), Myanmar have two players with the exact same name, Pyae Phyo Maung, so their NOBs are differentiated with "(2)" and "(3)." … Here's a look at the 150th anniversary kit for Scottish team Queen's Park. The club supplied the entire first Scotland team in 1872, and the kit represents what they wore, including a white ribbon on each player's arm.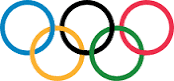 Olympics News: The unified Korean women's hockey team played its first game yesterday, an exhibition against Sweden. Besides the chest logo, the uniforms are essentially the same as those otherwise worn by the South.

Grab Bag: Cross-listed from the baseball section: Golfer Chez Reavie had the Arizona Diamondbacks' logo on the side of his hat this weekend (from Zachary Loesl). … There were at least two examples in rugby union's Six Nations of Ireland and Wales embroidering a player's name and number of caps next to the usual match info. That would be the only place the player's name appears on the shirt, because every team in the competition wears NNOB. … An Iroquois Confederacy flag can be seen next to one of the scoreboards in the upper corner of Syracuse's Carrier Dome. This appears to be new-ish, because the earliest example I can find of it is this YouTube video from Nov. 2016. The Iroquois national lacrosse team partially hosted the 2015 indoor world championship in the arena. … Here's an early look at the Team USA Ryder Cup uniforms (from Geoffrey Hawkins).
• • • • •

What Paul did last night over the past few days: It's been a very busy period around here, including back-to-back beefsteaks on Thursday and Friday nights (don't try this at home, kids). For the sake of efficiency, I'm just going to do some Facebook embeds instead of giving you the usual rundown here in the text. Thanks for understanding.