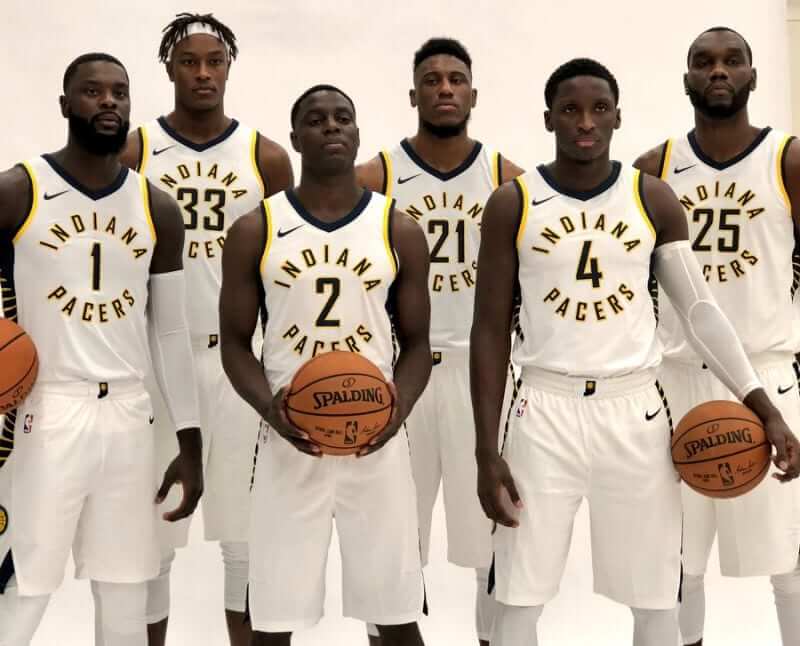 Click to enlarge
The NBA season tips off next Tuesday. That means it's time for my annual Uni Watch NBA Season Preview, which covers all the new uniforms (including the Pacers' new look, shown above). It's one of the largest columns I've ever done, especially for a pro league. Check it out here.
• • • • •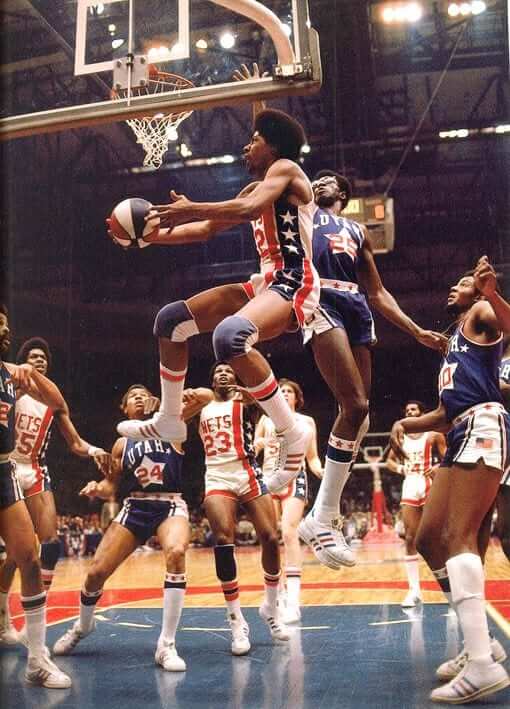 Fifty years ago today: I wouldn't have known this on my own, but reader Paul Bailey informs me that today is the 50th anniversary of the first ABA game, as the Oakland Oaks beat the Anaheim Amigos, 134-129, on Oct. 13, 1967.
Neither of those franchises retained those identities very long (the Oaks became the Washington Caps and then the Virginia Squires, while the Amigos became the L.A. Stars and then the Utah Stars), but that was part of the fun of the ABA, which always seemed to be in a state of flux. Along the way, the league gave us some of the best and most interesting uniform designs in pro basketball history (like the Nets and Stars unis shown above).
If you want to learn more about ABA uniforms, the excellent Remember the ABA site is always worth a look. And as mentioned in yesterday's Ticker, longtime Uni Watch pal/ally Todd Radom just did a blog entry about the league's visual legacy.
• • • • •
The Ticker
By Kris Gross

Baseball News: Astros SS Carlos Correa wore his home white jersey instead of his BP top like all his teammates during yesterday's practice (from Chris Mycoskie). … Former Mets C Todd Pratt did a Q&A on the Mets Twitter account yesterday. He was asked about his favorite uni combo and said he preferred black jersey, white pants, and no stirrups. Like this (from Guy Fawkes). … David Sonny came across this 1940 Reds World Series ticket (although the term "World Series" doesn't actually appear on it — it says "World's Championship" instead). "I love the sales tax breakdown" he adds. … New caps and helmets for South Carolina (from @willchitty4). … Here is a really cool list of all the team names in baseball and how they fit in different categories (from Mike Styczen). … Given the possibility that the Yankees might make it to the World Series, the New York City FC/Columbus Crew SC match on Oct. 22 has been moved from Yankee Stadium to Citi Field. … Nats P Oliver Pérez wears No. 46, but he appeared to be wearing No. 47 cleats last night. Pérez has never worn 47 in his MLB career, but 47 is worn by his teammate Gio Gonzalez. Could he have been borrowing Gonzalez's cleats? (From Alec Blomquist.)

NFL News: Here is your Color Rash matchup from last night, between the Eagles and Panthers. … As Aaron Pinto pointed out, the Eagles went back to regular captain's patches, while the Panthers still had Crucial Catch patches. … Titans WR Rishard Matthews said he would quit if forced to stand during national anthem. … With the disaster that is the Rams road unis, Rick Deemer passed along a possible fix from the Highlands Golden Rams (Natrona Heights, PA). … Seguin High School in Texas is celebrating Pinktober.

College Football News: UCF is going with a space-themed uniform this Saturday, including a constellation-packed helmet stripe, moonscape-patterned helmet lettering, and a NASA-style jersey patch. Additional info here. … We have uniform combos for Duke, North Carolina, Eastern Michigan, Middle Tennessee State, and Liberty (from @UniWatchFansAdm). … When we initially saw Florida's gator-print uniforms earlier this week, we only saw one side of the helmet, with the gator-head logo. Looks the other side will have TV numbers (from Brock Brames). … Speaking of those hideous unis, Florida punter Johnny Townsend wore the new jersey to pass out student tickets. Poor guy (from JJ Sledge). … CIA Director Mike Pompeo spoke at UT yesterday, and received his own Longhorns jersey. As pointed out by Zane Goggans, the jersey is not a Nike template, and "numbers are not the right style either." … The Syracuse mascot, Otto the Orange, revealed what he (it?) will be wearing on the sidelines tonight (from Nick Impson). … The latest group to kneel during the national anthem: Howard University's cheerleaders.

Hockey News: Predators defenseman and Switzerland native Roman Josi is the face of the Swiss edition of the NHL 18 video game. As our own Alex Hider adds, he's wearing an old jersey. … Charles Noerenberg points out the similarities between the Devils' and Lightning's 25th-anniversary logo' are almost identical. … The CHL unveiled their 100th-anniversary national championship logo (from Wade Heidt). … An interesting find from Kyle Martinek, who stumbled upon the movie Ice Guardians on Netflix. "The preview showed a still of two NHL players, minus their logos. But once the movie started, the logos were back."

NBA News: The NBA store in New York City now sells the new Nike jerseys, minus the ad patch (from Chris Rhode). … The Grizzlies announced they will eventually retire Tony Allen's No. 9. Allen left Memphis this summer (from Mike Chamernik). … Here's a look at the new Cavs court design.

College Hoops News: In case you don't follow Paul on Twitter, he's been posting lots of new uniforms. For all of these, the old version is on the left, new version on the right: Washington State, Oregon State, Princeton, George Mason, Florida Atlantic, IUPUI, Alcorn State, Bucknell, Belmont, Fort Wayne, Denver, UMass Lowell, Western Illinois, Troy, Nicholls State, Citadel, UT Martin, UMKC, and South Dakota State. … New home and road unis for Chattanooga. … Adding to the list of teams with new uniforms, is Iowa State. Here's a look at the changes. … Butler is scrapping their alternate greys. … Saint Mary's College has new uniforms for the upcoming season. Here is the new and the old (from Mark Chiarucci). … New alternates for North Dakota State and Illinois-Chicago. … Purdue will wear a 50th-anniversay patch for Mackey Arena. … New court designs for Creighton, Furman, Chattanooga, and Penn. … Last season, Wisconsin dedicated their court to former player Ab Nicholas. His signature is now part of the court (from Jared Linden). … South Carolina Upstate will wear a 50th-anniversary logo on their shorts this year. … Conference USA unveiled their new conference tournament logo (from Ted Chastain).

Soccer News: Cross-listed from the baseball section: The New York City FC/Columbus Crew SC match on Oct. 22 has been moved to Citi Field in the possibility that the Yankees make the World Series.

Grab Bag: New uniforms for North Carolina track and field (from James Gilbert). … New crosswalks on Youngstown State's campus feature the school's logo (from Robert Hayes). … It's Pinktober for the Los Angeles Police Department too (from Andy Garms).