Hello there! Welcome to the 2017 edition of Uni Watch's Purple Amnesty Day — or as I now like to call it, the Purp Walk. Today is the 11th anniversary of the first entry ever posted on this site, which by longstanding tradition is the one day of the year when I grudgingly acknowledge the world's most accursed color.
People sometimes say I have "purplephobia." But as I always explain, that's not the case, because "phobia" means fear. I don't fear purple; I loathe purple. If anything, purple should fear me.
What makes me hate purple so much? Short answer: a near-bottomless reservoir of good taste. Longer answer: I actually think purple in nature is quite nice "" violets, plums, eggplants. But purple as a human-imposed design element has always struck me as tasteless and tacky. It's the diva of colors, the Celine Dion of colors "" loud, grandiose, never content to do just enough when it can do way too much.
And I'm not alone. As a culture, or even as a species, we seem to understand purple's tackiness. Not a single U.S. state uses purple as one of its official colors, and neither does any sovereign country (at least according to this listing). It's no accident that we rarely see a purple house or a purple car. Now if we could just eradicate purple clothing, accessories, and yoga mats too.
But do I think teams like the Vikings, Rockies, and LSU should stop wearing purple? Honestly, no. They chose their colors and now they're stuck with them that's part of who they are. Today — and only today — I salute those teams and their fans.
Purple Amnesty Day has three components:
1. Obviously, the site looks a bit different today, and so does my Twitter page and the Uni Watch Facebook page. I find all of this more than a little distressing (imagine your eyeballs being gouged with salt-encrusted razor blades), but I'm trying to tell myself that it's therapeutic or something like that. Assuming I don't slit my wrists in desperation at some point today, everything will revert back to normal at midnight. And not a moment too soon.
2. As always, this is the one day of the year when I'll accept Uni Watch membership card orders with purple-inclusive designs. So if you've been waiting for the opportunity to order a card with a Ravens, Northwestern, or Lakers motif, now's your chance. At midnight Eastern time tonight, the door will slam shut and you'll have to wait until next year's Purp Walk.
3. For the third consecutive year, we're doing a one-day T-shirt offering. This one, like the last two, was designed by the great Bryan Molloy. Check it out (for all of these photos, you can click to enlarge):
Nice, right? There are a lot of elements to this one, people, so bear with me here. One thing at a time:
•  The shirt, as you can see, is a raglan-sleeved baseball shirt. The torso color is a light heather grey, not white.
•  The logo on the shirt was inspired by the New York Athletic Club logo, but with purple lilacs instead of laurel wreath:
•  The shirt itself is super-duper-soft. Seriously, it's about the softest cotton shirt I've ever felt. I'd love to wear it 24/7 except for, well, you know.
•  Unlike our other shirts, this one is not being sold via Teespring. Bryan is selling it on his own website. That's because…
•  Each shirt includes a hang tag, which will be attached to the shirt with a loop of purple-striped baker's twine. Bryan designed the hang tag and will be personally hole-punching all of them, threading the string through the holes, and attaching the strings to the shirts with little safety pins. Here's a closer look at the front and back:
•  Each order will also come with a Purp Walk sticker (quarter shown for scale):
Unfortunately, we cannot send more than one sticker per shirt, nor can we sell the stickers separately. The only way to get the sticker is to buy the shirt.
•  Bryan will be personally packing each shirt in a purple bubble mailer with a purple Uni Watch sticker on the outside:
•  Because of all the extra bells and whistles, the price point is a bit higher than on most of our other shirts: $29.99 (plus an extra $2 for 2XL and 3XL — sorry, but it was unavoidable for this project). I realize that probably seems like a lot, but it actually leaves less of a profit than we make on most of our other merchandise. Basically, we really wanted to create a fun project (ideally one that's fun for you, not just for us), and extra fun sometimes costs a bit more.
•  Speaking of the price: Because this shirt is not being sold on Teespring, it does not qualify for the 15% discount that card-carrying Uni Watch members can get on our Teespring product. HOWEVER, we are offering a 10% membership discount on this shirt, but only for people who have purple membership cards. That applies to anyone who's ordered a purple card on any past Purple Amnesty Day, and it'll also be good for anyone who orders a purple card today. (In other words, you can order your purple card, then I'll send you the discount code, and then you can use the code to order your shirt.)
If you already have a purple card and want to order this shirt, send me a note (if you can include a photo of your purple card so I don't have to look up your original membership order from years ago, even better) and I'll send you the discount code.
• Important: This shirt is limited to 48 orders. Once we go through that many sales, that's it. As it happens, that's about how many shirts we sold for the 2015 and '16 Purp Walks. But get your orders in early, just in case. Update: Whoa — sales have turned out to be a lot brisker than we anticipated. We had two dozen orders in the first hour. As of 7:30am, we've almost sold through the 48 shirts we had allotted. (Additional update: 48th shirt just sold at 7:47am.)
After consulting with Bryan, we've decided to lift the 48-order cap. There is now no limit — we'll let it ride. If you ordered by about 7:47am, your shirt will mail out soon, probably next week. If you order later in the day, your shirt will take a bit longer to mail out (probably an extra week to 10 days), because Bryan will have to order more hang tags and stickers.
We didn't see this coming, because the 2015 and '16 Purp Walk shirts both had about 45 orders, so we figured things would be similar this time around. Thanks for proving us wrong — it's exciting to see the response, and it's a great validation of all the bonus elements that Bryan put into this year's shirt.
•  As usual, the shirt will only be available for 24 hours, ending at midnight Eastern tonight. No exceptions!
One more time, the shirt is available here.
And hey, look — even the Empire State Building was getting in the spirit of Purple Amnesty Day last night:
One final note: I'll be off the grid for much of the late afternoon because I'm getting my head scanned for a custom-fitted football helmet (more on that later), so there will be a gap when I won't be able to acknowledge new membership orders or send out discount codes for the shirt. I'll do my best to catch up as soon as I'm able.
(Big thanks to Bryan for doing such a great job with this year's shirt. Thanks also to membership card designer Scott M.X. Turner, who came up with the term "Purp Walk" back in 2015, and to reader Tim Cox, who came up with the whole idea of Purple Amnesty Day back in 2010. Thanks also to Brinke Guthrie purple-izing our Facebook page.)
•  •  •  •  •

And speaking of discounts: In case you missed it last week, all Uni Watch membership cardholders are now entitled to a 15% discount on any of the merchandise listed in our Teespring store.
The discount code will be provided to new enrollees when they place their card orders. Existing enrollees can obtain the discount code by contacting me. Once I confirm that you are indeed a card-carrying Uni Watch member, I'll email the discount code to you. (If you want to include a photo or screen shot of your card, that would be helpful, but it's not required. I can look you up in my records.)
As always, you can sign up for your own custom-designed membership card (purple or otherwise) here, you can see all the designs we've done so far here, and you can see how we produce the cards here.
• •  •  •  •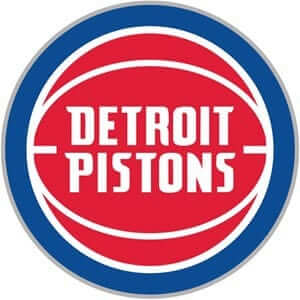 New Pistons logo: As had long been expected, the Pistons finally made it official yesterday by unveiling their new logo (shown at right), which is an updated version of their 1979-96 logo. Evidence of this move has been floating around for at least a year now (designer/sleuth Conrad Burry has been particularly good at documenting all the clues), so it's not exactly earthshaking news, but at least now we can stop wondering when they'll finally go public with it.
As per the NBA's standard procedure, there's a very nice interactive page breaking down every aspect of the makeover. I'm on record as loving these NBA pages (here's hoping all teams/leagues start doing something similar), but it's worth noting that this Pistons page includes a serious eye-roller: a diagram boasting that the new logo includes "anatomically-correct basketball groove lines." Thank the lordy for modern sports marketing, or else we never would have known that a basketball had its own anatomy.
•  •  •  •  •
ESPN reminder: In case you missed it on Tuesday afternoon, ESPN is doing a bunch of NBA top-10 lists. My contribution is, of course, a list of the top 10 uniforms in NBA history (one of which is shown above). Check it out here.
(Footnote: The Hornets weren't happy about not being included. Can't please everyone!)
•  •  •  •  •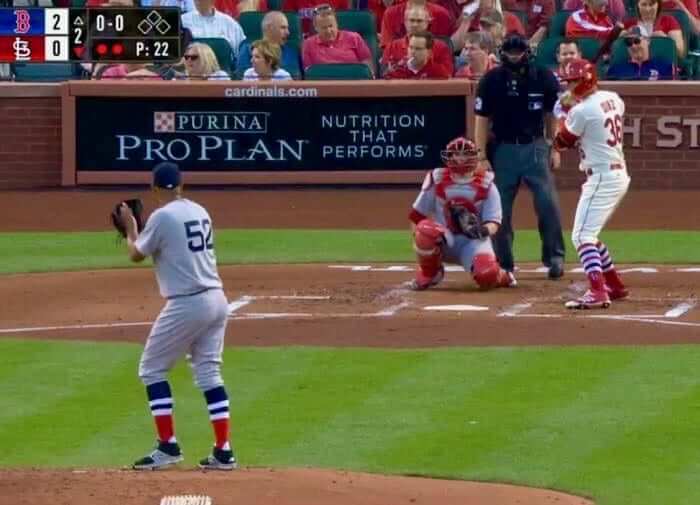 1967 revisited: The Cardinals celebrated the 50th anniversary of their 1967 championship season last night by wearing '67 throwbacks, and the visiting Red Sox — who lost to the Cards in the '67 World Series — wore throwbacks as well.
There was one very nice detail about the Cardinals' jerseys. Back in '67, the Cards had really short sleeves (click to enlarge):
I also like the stencil font for their helmet numbers! But I digress. Last night the Cards mimicked those old short sleeves. The fabrics are different than the ones from 50 years ago, so the sleeves didn't drape the same way, but I do appreciate the effort (click to enlarge):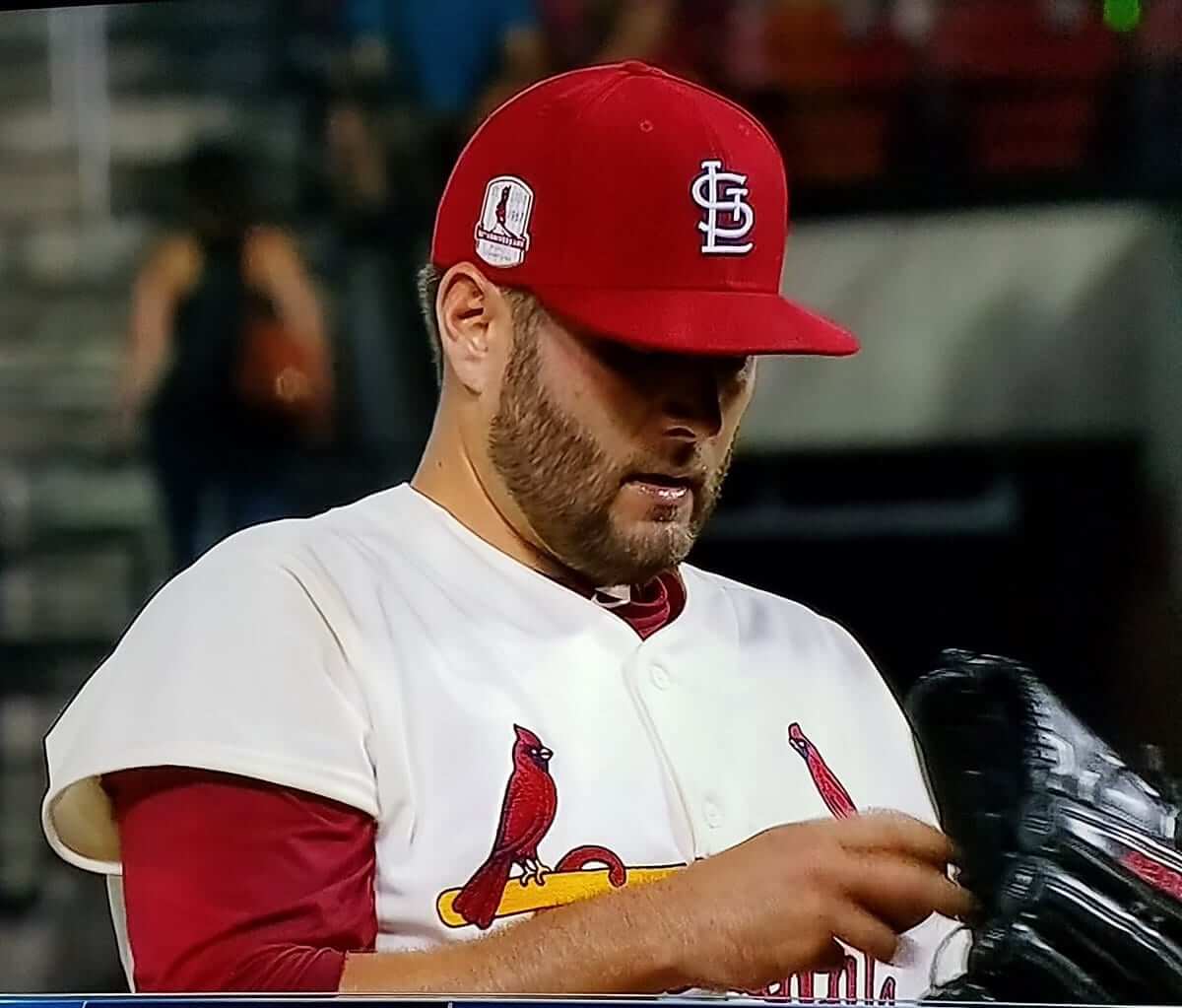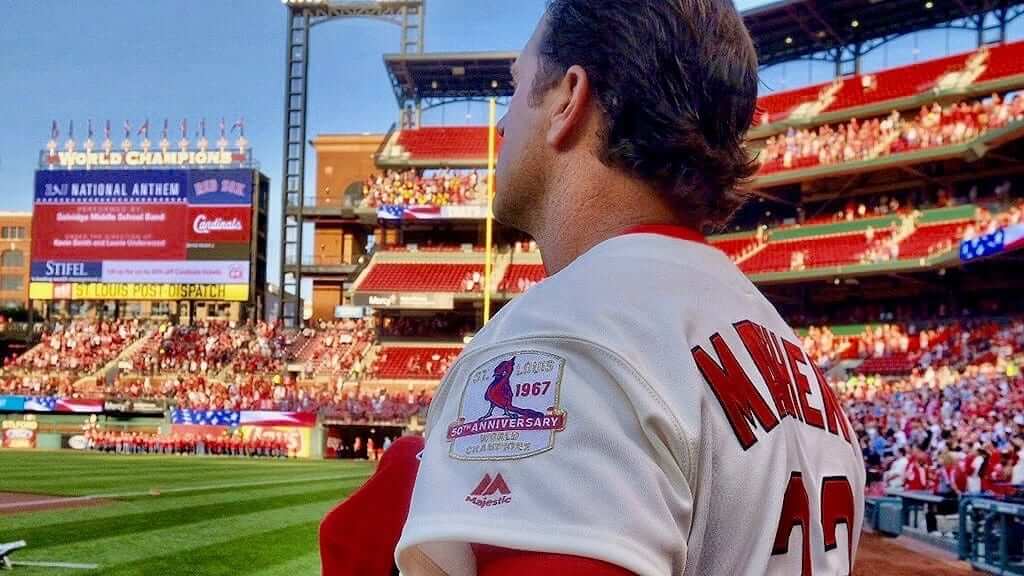 And here's how the Red Sox looked (click to enlarge):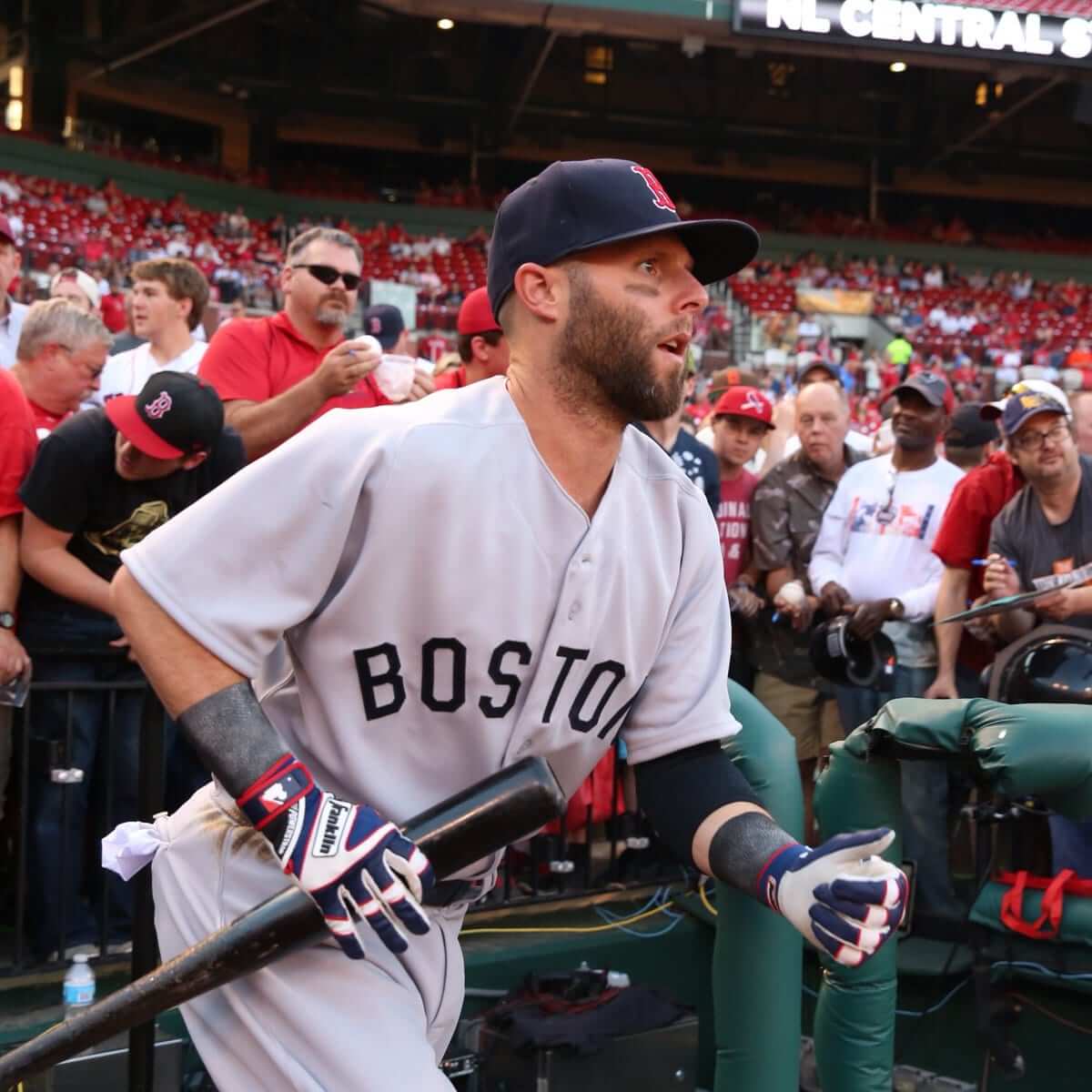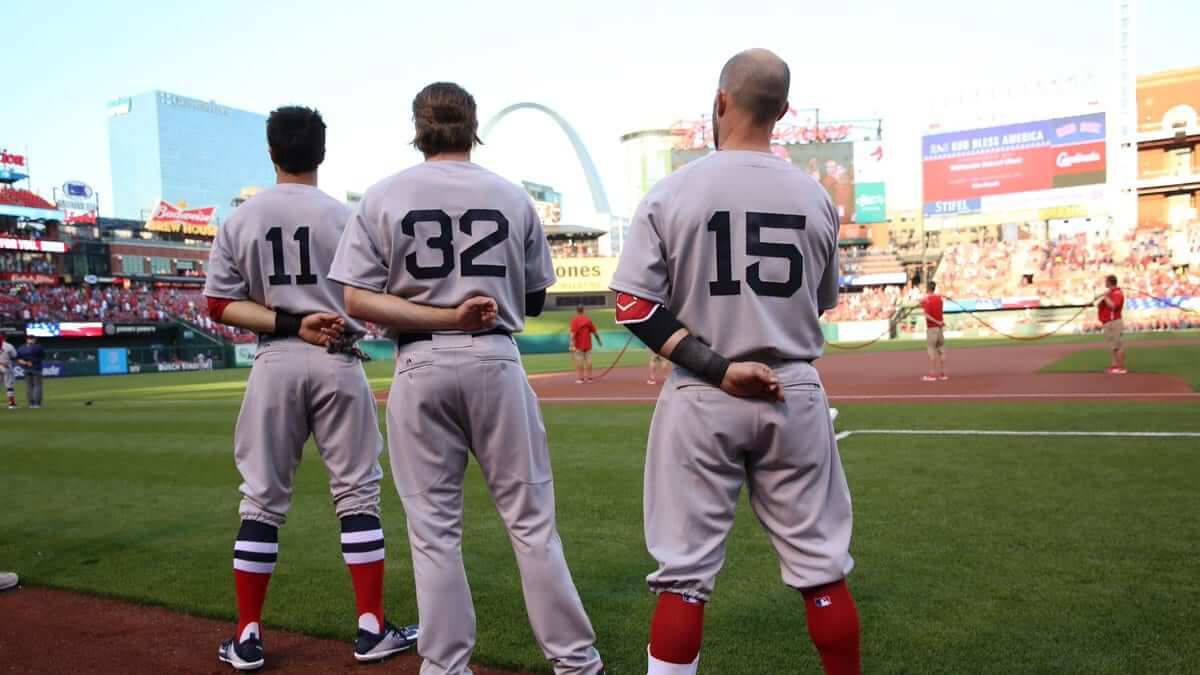 •  •  •  •  •
The Ticker
By Alex Hider

Baseball News:  The Orioles will  wear Maryland flag-themed jerseys and caps  on Saturday for "Celebrate Maryland Day" (from Mike Anderson). … The Indians and Rays went navy-on-navy yesterday in Cleveland (from Trent Parker). …  What's more Seattle than a flannel shirt giveaway? That's what the Mariners did last night. … The Kannapolis Intimidators, a Class-A affiliate of the White Sox, have camo and stars-and-stripes uniforms  (from Mike Anderson). … Indiana wore throwbacks last night "" and the umpires played along!  …  LSU gave away these pins of their throwback jerseys at their game last night (from Ernie Ballard). …  Chris  was watching the B1G Network and reports that half the Rutgers players he spotted wearing stirrups were wearing them  backwards. …  Crawfordsville High School in Indiana has some nice  tequila sunrise jerseys and stirrups (from  Derek Linn). … Astros INF Jose Altuve had problems with his pink shoes, which were making his feet fall asleep. He's in better shape now that he's back to wearing shoes that fit (from Jerry Wolper).

NFL News:  The  Falcons will use Nike's new jersey template next season. They had been using the old Reebok template, even after Nike took over the league's uniform contract in 2012. … This photo seems to indicate that the Panthers will not be adopting Nike's new template next season (from Broc). … Does anyone know the story behind what appears to be Trent Dilfer wearing an old Dungard two-bar facemask for the Bucs? (From  Spence).

College Football News: Utah's new jerseys  are pretty slick, but the pants have some weird striping (from  Brandon Gutierrez). …  The Utes dropping their mountain-pattern sleeves is a perfect example of how college football uniforms appear to be  regressing back to the mean of "normalcy." …  New uniforms for Southern Mississippi (from  Mike Anderson).

Soccer News:  Stoke City has sold its first-ever sleeve-based advertising patch (from Ed Zelaski). …  New away kits for Ajax (also from  Ed Zelaski). … New kits and advertiser for Everton (from  Jason Hicks).

Grab Bag:   One company is trying to make dressing like a giant toddler fashionable. … We've seen this before, but once more won't hurt: The Postal Service will soon be issuing a series of sports-themed stamps (from Tommy Turner). …  From USA Today: Five sports logos that would look so much better with one simple fix (from  Keyvon). … New helmets for University of Albany lacrosse (from  Mike Anderson). … The principal of a new high school in Utah wants to the school's colors to include black so uniform design will be easier (from Sean L).
•  •  •  •  •
Amidst all the purple silliness, it's worth remembering that Purple Amnesty Day is the site's anniversary. Eleven years of daily posts is pretty amazing. Couldn't have done it without all of you, so please accept my thanks. This anniversary belongs to all of us — enjoy it!