Click to enlarge
Joe Garagiola passed away yesterday at the age of 90. If you had asked me which team he played for, I would have immediately said the Cardinals. But his nine-year career also included stints with the Pirates, Cubs, and Giants, which I probably knew at some point but had forgotten somewhere along the way. Here he is wearing those teams' uniforms (if you can't see the slideshow below, click here):
Of course, Garagiola was more famous as a broadcaster than as a player. I was just the right age to grow up listening to him, as he and Tony Kubek were NBC's main broadcasting team for Saturday games of the week and lots of postseason action in the 1970s and early '80s. He always came across as warm, smart, witty, just charismatic enough, and self-effacing without ever resorting to what we now call the humble brag. His voice was a very good instrument, too — I loved listening to him. He wasn't as analytic or detail-driven as today's broadcasters (that style hadn't been invented yet), and he was rarely if ever critical of anyone in uniform (ditto), but I felt like I learned plenty about the sport from him.
Garagiola had a knack for tossing off memorable lines, too. One that I always liked was about a player (I no longer recall who it was) who'd gone 0-for-5 — taking the collar, as they said in those days — which prompted Garagiola to quip, "Yeah, that's an uncomfortable collar when they slap that size five on you." He tossed off that line with this easy grace that made it sound like some bit of worldly wisdom from your cool uncle. I was probably about 12 years old when I heard him say it, and I can still hear him saying it today.
Garagiola did broadcasting for the Diamondbacks (where his son Joe Jr. worked as general manager) from 1998 through 2012, and they've already said they may add a memorial patch for him. RIP.
• • • • •
Click to enlarge
Lions-redesign contest results: My thanks to all of you who submitted entries for my recent challenge to redesign the Detroit Lions. The best designs (including Travis Bergeman's, shown above) are featured in my latest ESPN column, which is available here — enjoy.
• • • • •
Destiny's child: NBA commish Adam "It's Inevitable" Silver hit a new low yesterday while discussing the topic of jersey advertising during an ESPN interview. The good news is that for the first time in recent memory Silver did not describe uniform ads as "inevitable" (although ESPN did use that word in an on-screen graphic); the bad news is that he instead used about the worst metaphor imaginable. Dig:
That's right — the commissioner of a major American sports league grinned and chuckled while describing the spread of uniform ads (and all other forms of sports commercialism) as "Manifest Destiny." For those who don't recall their junior high social studies, Manifest Destiny was the small matter of certain people in the 1800s believing that America literally had the divine right, messianic duty, and predetermined fate to occupy and settle the entire continent, which among other things led to the Mexican-American War and the near-extermination of Native Americans. It's not really the kind of thing anyone brings up nowadays in a positive context (except, apparently, Adam Silver), and it's hard to imagine any business executive referencing it in an affirmative manner (ditto). Saying uniform ads are akin to Manifest Destiny is basically saying, "Get the fuck out of the way because this shit is going down whether you like it or not, and we don't really care about the collateral damage" — which, when you think about it, is just a more honest way of saying "inevitable," so I can at least give Silver props for providing us with a more unvarnished view of how his mind works.
Leaving aside the unfortunate choice of words, Silver's underlying point about sports commercialism is both repugnant and cowardly. He's basically saying that greed is our natural state of being (that's the repugnant part), which conveniently means that none of us — least of all him — has any agency or responsibility in the matter (that's the cowardly part). "Hey, this stuff wants to happen, it's natural for it to happen, it's bound to happen, it's gonna happen. Whaddaya gonna do?" It's a breathtakingly cynical position.
There was one other thing worth noting in that interview segment, but I'm going to save that for another day. For now, let's hear it for Adam Silver, the only executive in America (I hope) who smilingly describes his business plan as Manifest Destiny. #NoUniAds
•  •  •  •  •
Ask and ye shall … be sold something: When I recently ran that entry featuring Larry Torrez's caricatures of me, lots of you said there was one design in particular that you'd like to see on a T-shirt — this one (for all of these images, you can click to enlarge):
I wasn't looking to turn this into another product, but the demand was definitely there, and I'm sort of amused by the idea of my face (or at least a cartoon version of it) appearing on a shirt, so I discussed it with Larry and he agreed to go ahead with it. We'll split any profits 50/50.
Larry's original illustration had some airbrush-style gradations and other elements that wouldn't translate well to a T-shirt format. Even after eliminating the gradations, we were left with a nine-color design, which is way too many colors, so I worked with Larry to simplify the illustration. We eventually arrived at this seven-color design, which we're both really happy with: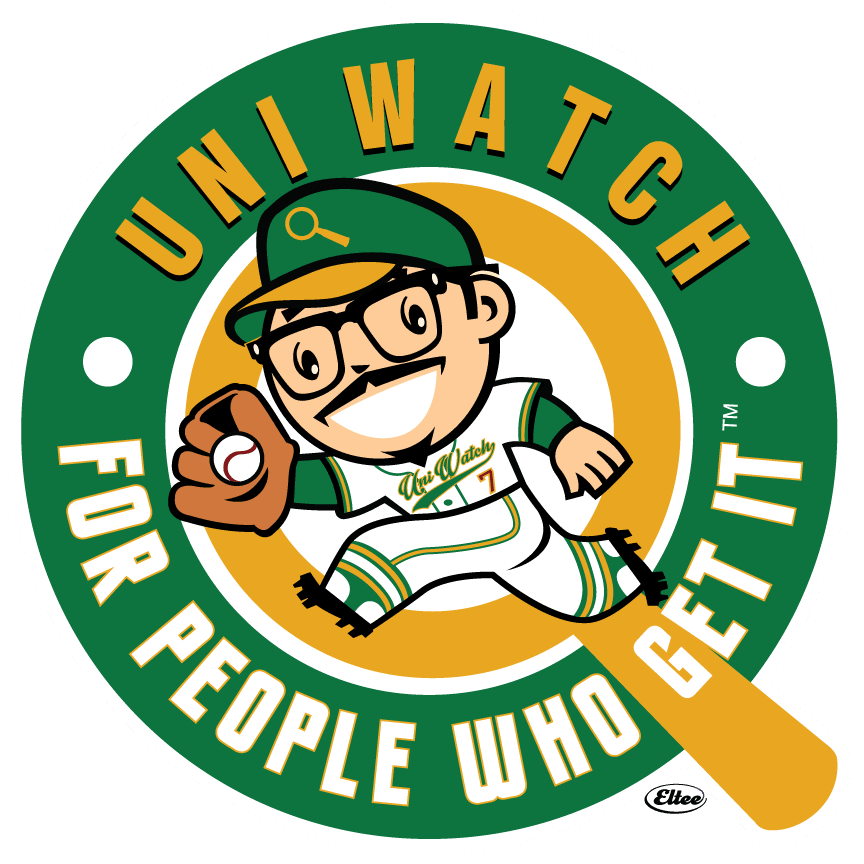 The next question is which color(s) the shirt(s) should be. The obvious options would be white, black, or grey, so we mocked them up, like so: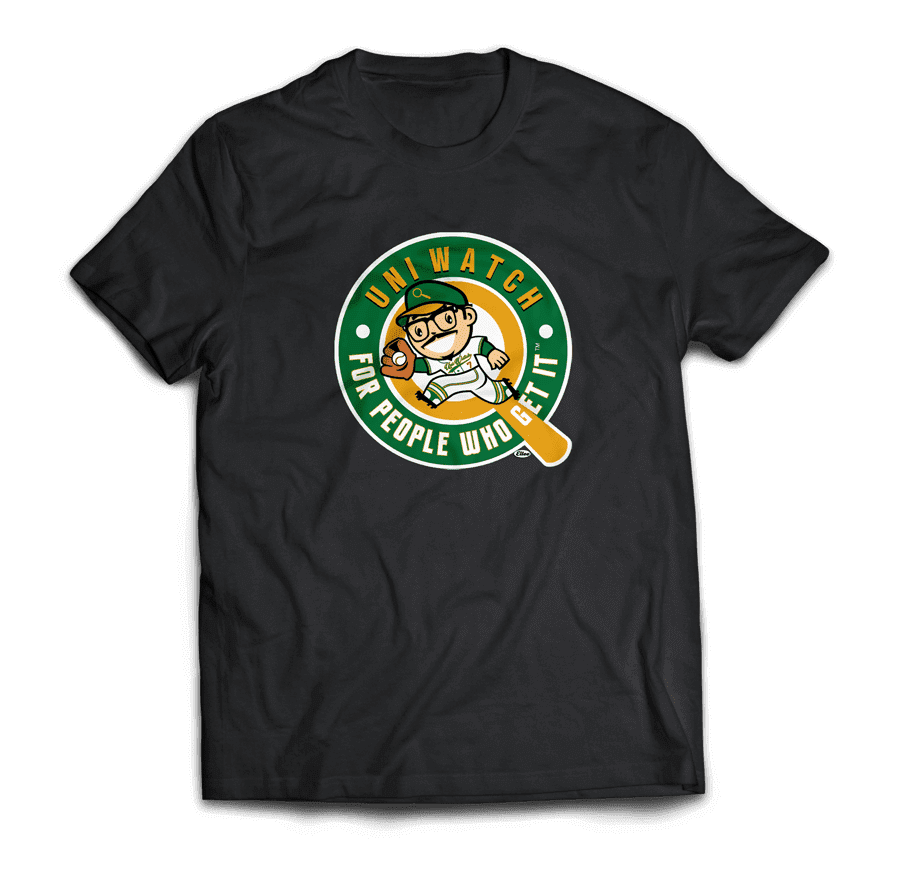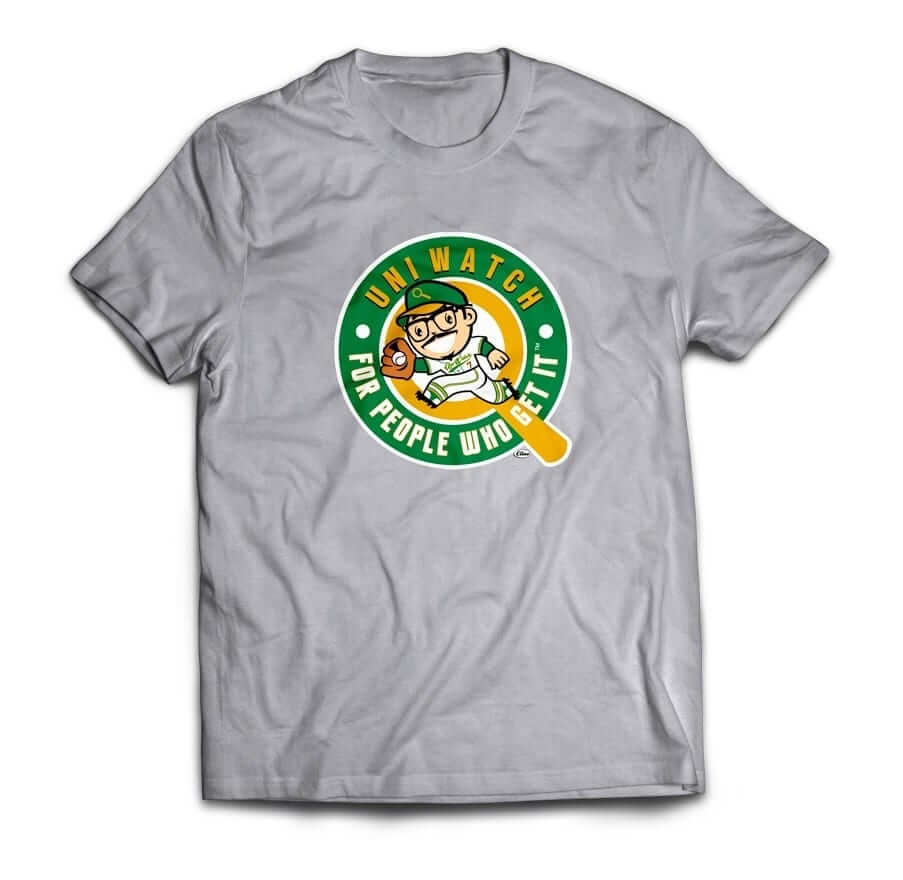 Not bad, right? We know which option we like best, but we'd like to hear what you think. If you're interested in potentially purchasing this shirt design, let us know which color(s) you like best (you can vote for more than one):
Thanks for your feedback. If we go ahead with this shirt, it will not be part of the Uni Watch T-Shirt Club and will not be a required purchase for this year's "Collect 'Em All" eligibility. It'll just be a fun one-off. (And speaking of the T-Shirt Club, the next design will be hockey-themed, and I think you'll really like what we have planned. I hope to be able to show you something early next week.)
•  •  •  •  •
KRC update: The latest installment of my new Key Ring Chronicles column is now up. This entry (as will be the case with all subsequent entries) was written by an outside contributor, not by me. This time around it was Jeff Funcke, who happens to be a Uni Watch reader, and who's given us the excellent story of the fire extinguisher pin that he keeps on his key ring. Check it out here.
Do you have an object on your key ring whose story you'd like to share? Send photos (preferably showing the entire key ring with everything on it, like in the photo shown above) and descriptions (ideally limited to 350ish words) here.
• • • • •
Sock discount: Our friends at American Trench, who've been advertising their excellent socks in our right-hand sidebar for quite a while now, have a new discount offer for Uni Watch readers: If you order some of their rugby-striped socks (shown at right) and use the code unirugby at checkout, you'll get a 15% discount.
As I've said many times before, American Trench socks are superb. They look good, they wear well, they stay up, and they're made in the USA. Free shipping, too! I'm proud to have them as an advertiser on the site, and I hope you'll consider them for your sock needs. Thanks.
• • • • •
The Ticker
By Mike Chamernik

Baseball News: New unis for the Chattanooga Lookouts. Paul is particularly happy about the 'Nooga alternate because they got the apostrophe facing the right way. … Although we haven't yet seen the Yankees wearing one of the new Flexbase jerseys with the buttflap and the side panels, they're selling one (from Daniel Knag). … Louisville wore very dark-grey "heritage" uniforms last night. … Waterloo (Ill.) High School has tequila sunrise jerseys (from Ethan May). … Two trends in one: Indiana wore pink camouflage yesterday (from ChrisF3105). … The Fukuoka SoftBank Hawks of the NPB will wear "Hawks Festival" Champion Blue jerseys this year (from Jeremy Brahm). … Also from Jeremy: Fans can vote on the CPBL All-Star Game logo. … A bunch of minimalist mascot posters are for sale. … The Nats' racing mascots will participate in a shootout during a D.C. United game on Saturday (from Tommy Turner). … I don't think we knew this about the Spring Training hats: The caps' interior lining — at least for the Nats — has a the same sublimated pattern used on the jersey numbers (from Chris Patton). … Two Missouri JuCos — Three Rivers College and Mineral Area College — went mono-black vs. mono-black last week (from Ben Traxel). … Here's a really good Royals soda display.

NFL News: The Saskatchewan Roughriders updated their logo for the first time since 1985. SportsLogos.net breaks down the tweaks. … We've seen this before, but just because '90s kids like me love it: Randy Moss and Kevin Garnett swapped jerseys for a photo shoot (from Ben Marciniak). … A little late for Paul's recent redesign contest, but Tyler Bearde made some L.A. Rams helmets with metallic horns.

College Football News: Rutgers fans got excited when coach Chris Ash discussed the team's uniform plans at a recent meeting (from Sam Hellman). … Lots of people got very excited yesterday when one of Michigan's new Nike jerseys appeared to be visible in the background of a photo (from Peter Kuzal).

NBA News: The Bulls and Knicks went red-vs.-blue in Chicago last night — or maybe that should be rojo a azul, because both teams were wearing Noche Latina jerseys (Los Bulls and Nueva York). … The Spurs wore sleeved camo alts at home against the Heat, who wore white alts on the road. … Prior to that Spurs/Heat game, the Spurs gave a sleeved camo jersey with No. 100 to Dick Cole, a 100-year-old veteran (from Patrick Costello). … The Cavs wore blue alts at home against the Bucks, who wore white on the road (from @ZJL00). … Nike really blew it with Stephen Curry, who is currently the face of Under Armour. Curry was originally with Nike but left in part because Nike execs mispronounced his name as "Steph-on" during a meeting and gave a PowerPoint presentation that was originally meant for Kevin Durant (they forgot to swap out the names on the slides). Also, Curry didn't want to be on the second tier behind Durant, LeBron, and Kobe. … Hawks G Dennis Schröder had his jersey number dyed into his hair — with the European-style cross on the 7! — last night. … The Timberwolves will have a new center-hung video board next year, the largest one "in the upper midwest." … A message board user is selling a few of Cavs owner Dan Gilbert's sport coats. … Check out this spectacular Globetrotters/Lakers photo from 1950 (from Jimmy Lonetti). … The Suns wore their purple "Los Suns" jerseys at home, with the Lakers wearing their gold home unis on the road (from Zach). … Warriors F Draymond Green didn't have the little gold championship tab on the back of his jersey last night (from Michael Cross).

College Hoops News: Here are the uniforms for this year's McDonald's All-American Game. They look similar to last year's set, but much different than 2013 and 2012 (from Phil). … Here's the story on how Rameses, North Carolina's ram mascot, came to be (from James Gilbert). … Andrew Cosentino sends in this 1980s Virginia Tech hoops photo. He likes the socks and floor logo; I'm fixated on the maker's mark on both the uniform and basketball. First, does anyone remember Metro? Second, what font is the Metro wordmark in? … Alabama was wearing something similar to Adidas's current "cummerbund"-style shorts way back in 1972 (from Rod James). … Here's a list of the five worst uniforms in March Madness history (from Phil).

Soccer News: Canada unveiled new jerseys. … New kits for Algeria. … New uniforms for the Carolina RailHawks of the NASL. Aaron Huber isn't a fan of the mono-color crests. … New uniforms for the Tulsa Roughnecks of the USL (from Dylan Goforth). … Good look at how the U.S. jersey and crest have evolved since 1916 (from Phil). … New uniforms for Korea.

Grab Bag: NHL players are still getting boosts from smelling salts. … The mayor of Whiting, Ind., is pushing to build the National Mascot Hall of Fame. … The Sharks, a South African team in the Super Rugby league, award Tour de France-themed practice jerseys after each match. "Polka-Dot: Player with the most spirit during the week," explains Dan Forti. "Yellow: Man of the Match. Pink: Defensive player of the match. Green: Work Rate of the match." … NHRA driver Courtney Force changed her driver suit sleeve colors from red last year to blue this year (from David Firestone). … Also from David: a gallery of Sprint Cup pit crew fire suits. … Citizens of New Zealand have voted to keep their current national flag design (from Ed Hahn). … These Ted Cruz football jerseys have shown up in the Ticker before, but it turns out that there are also versions for Donald Trump and Ronald Reagan, which people are wearing to campaign events (from Phil). … Here's a look at poorly dressed sportscasters through the years (from Jason Hillyer).