Photo by Mary Bakija
Back in October I was once again lucky enough to attend the taping of the Puppy Bowl (the latest edition of which will air, as usual, on Super Bowl Sunday), and I managed to get a few minutes with Dan Schachner, the Puppy Bowl referee. As you'd expect, we mostly talked about uniforms. Here's how it went:
Uni Watch: How many years have you been the Puppy Bowl referee?
Dan Schachner: This is my fifth year. So that's, what, about 35 in dog years.
UW: Let's talk about your uniform. Do you get it at a standard sporting goods store?
DS: You know what? I don't know where they get them.
UW: Oh, you don't get them yourself?
DS: No. [Turns to an Animal Planet publicist.] Do you know where they get them?
Publicist: It's all from Modell's. We use Nike baseball pants from Model's, and we get the ref jerseys on Amazon.
UW: NFL and college refs these days wear the black slacks, and even a lot of high school refs now go with the slacks as well. But you're still wearing the white knickers.
DS: That's true. They all wear caps, too.
UW: Oh, right, you don't wear a cap on the set. Did you ever wear a cap, when you were starting out?
DS: No. The ref prior to me wore a cap, but I purposely don't wear one, and I purposely hike my pants up, because I find it makes me more effective on the field. The cap's visor would sometimes affect my view or my peripheral vision. Also, a real football ref is often looking parallel, from side to side, but I'm usually looking down, so the brim isn't as TV-friendly in that regard, because it would block my face.
UW: And what about the pants? Why do you go with the knickers instead of the slacks?
DS: Wearing the pants up actually protects the pants when the puppies are running around and doing other business. See, socks are much easier to replace than pants. Frankly, I'd wear rain boots if I could.
UW: Yesterday there was a mini-crisis on the set, because you had a stain on your sleeve. They were eventually able to get it out, but I saw that they also dispatched someone to bring a back-up jersey, just in case you needed it. I was impressed that you had more than one jersey on hand [click below to enlarge].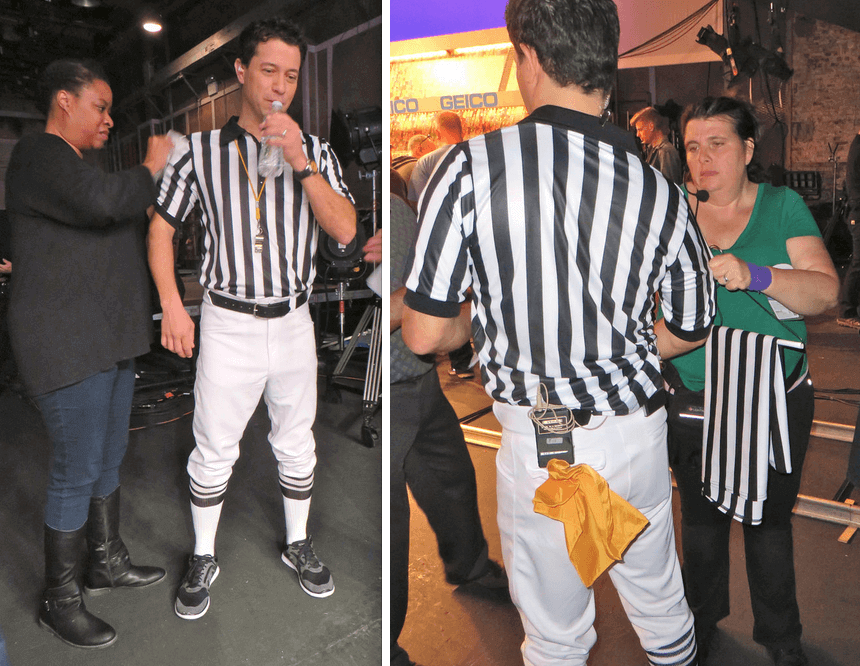 DS: No joke, we have four uniforms in reserve.
UW: Because Puppy Bowling can be a little messy?
DS: Puppy Bowling can be very messy. This is a three-day shoot, and it's a miracle if we can make it through Day Two without having to go to the back-ups. Even if you get out the turf stains and things like that, I hold the dogs a lot, and that usually leads to some residual [slight pause] surprises.
UW: I hear you have an assistant this year — a skunk, I guess to keep with the black-and-white motif.
DS: Yes, this job's gotten too big for one person. Excuse me, one individual. So we have Stanley the Skunk, who's a terrific skunk.
UW: As skunks go.
DS: As skunks go, yes.
UW: Was this your first time working with an assistant?
DS: Yes. They gave me a choice between a skunk and a zebra, and I thought the skunk would be more manageable.
UW [chuckling]: How many times have you delivered these lines during interviews?
DS: This is the first time! You are getting the first zebra joke.
UW: Seriously, you've been doing this for five years now. I know you have a few well-established jokes and routines you do, but how do you keep it fresh and interesting every year — not just for yourself, but for the audience?
DS: Remember, we tape this thing months in advance. So by the time it airs and I can watch it like everyone else, I'm watching it with fresh eyes. So as I watch it, I make little notes to myself — "Oh, I'm relying too much on this move" or "That's a missed opportunity there." Basically, I go to the tape, just like a pro.
UW: So you critique your own performance.
DS: Yes, exactly. Also we've changed some of the penalty terms. For example, we used to have an infraction called "Wallflowering," for the pups that didn't really do anything. Now we're going to call it "Illegal Lounging," so it sounds a bit more official. I just called it for the first time today, in fact. And we now have "Excessive Barking," which used to be "Howling."
UW: Anything else that's new?
DS: We have a streaker this year. It's a tortoise. I don't even know how that's going to work — we're shooting that part tomorrow.
(Puppy Bowl XII will debut on Feb. 7 at 3pm Eastern.)
•  •  •  •  •
Reminder No. 1: I'm currently accepting entries for an ESPN contest to redesign the Rams. Full details here.
Reminder No. 2: In case you missed it last week, all of the Uni Watch T-Shirt Club's 2015 designs are available from now through the middle of next week at our Second Chance Shop. Further details here.
• • • • •
The Ticker
By Paul

Baseball News: When the Reds retire Pete Rose's number on June 24, they'll wear 1976 throwbacks (from Patrick O'Neill). … Key passage in this Wikipedia entry about a WWII grenade: "The concept for the BEANO hand grenade was that a spherical grenade the size and weight of a common baseball would be effective in the hands of American troops. The designers believed that by emulating a baseball, any American young man should be able to properly throw the grenade with both accuracy and distance." No word on how Steve Blass did with it (from Aaron Husul). "¦ We're used to seeing the Cardinals' birds on the bat facing each other. But here's a youth league Cardinals design that shows the two birds both facing the same way. "¦ New caps for Texas-Rio Grande Valley. "¦ New on-field logo for Maryland (from Mark Johnson). … Here's .38 Special's drummer wearing a Braves jersey — No. 38, of course.

Pro Football News: With Supe50 fast approaching, Nike is beginning to roll out the retail slop (from Tommy Turner). … Some arena league team that nobody gives a shit about has some pretty crazy uniforms. … The Bills have hired the NFL's first full-time female coach, which at the very least will require Nike to come up with female tailoring patterns for its coaching attire. … Here's a great slideshow showing the Raiders playing in various home stadiums other than the Oakland Coliseum, including Kezar Stadium, Candlestick, Youll Field, and Cal's Memorial Stadium (big thanks to Jeff Anderson).

College Football News: Virginia Tech is making some upgrades to the Merryman Center. "Not to be ignored in the photos: the new font," notes Andrew Cosentino. "Could be a sign of things to come." "¦ Iowa State's tight ends coach is hinting at some truly dreadful new helmets (from Derek Lilleskov). "¦ Wyoming is issuing teasers for its new jerseys. Too bad about all the apostrophe catastrophes.

Hockey News: What if every NHL team had a flag? They might look like this (from Josh Coles). "¦ A bunch of UFC fighters visited the Devils yesterday, so the team prepared jerseys for them (from Lee Wilds).

NBA News: The Bulls celebrated the 50th anniversary of their admission into the NBA with baked goods. "¦ Speaking of the Bulls, they wore their red script "Chicago" throwbacks at home last night, creating a very nice color on color game against the Warriors. "¦ Oooh, check out this gorgeous warm-up jacket. That's from the Boston Whirlwhinds, a team that played in the old American Basketball League (from Brian Codagnone).

College Hoops News: New logo for March Madness. The little brackets are a nice touch (from Lee Wilds). "¦ New black alts last night for Missouri. … Good observation by Evan Dammarell, who writes: "I noticed that every member of Akron's women's team is wearing Derrick Rose's shoes, while the Akron men's team always wears a variation of LeBron's shoes (he paid for a lot of the equipment and donates a lot to both teams).

Soccer News: The New England Revolution will unveil new jerseys on Feb. 11 (from Robert Caplette). … New jerseys for Real Madrid, Milan, Union Berlin, Pumas, and Club America.

Grab Bag: "My knee replacement has forced me to give up refereeing rugby," says Eric Bangman, "so I'm going to be coaching a new Chicago youth rugby club, the Northwest Side Narwhals. Here's our logo, designed by one of our assistant coaches." "¦ A British school is scrapping its uniform rules to accommodate transgender students. "¦ In a related item, here's a look at New Zealand school uniforms through the years. … New logo design contest for Tech High School in St. Cloud, Minn. "¦ New logo for the Virginia Association of Surveyors. "¦ Love this curling license plate (from Kevin Brewer). "¦ "I'm a buyer in the golf business," says Benji Boyter. "I just met with our Nike rep and looked at the Fall 2016 line, and for the first time since late 1996, Nike will not be making a Tiger Woods signature golf shoe. Part of this is because of his injury and unknown playing status for 2016, and part of this is because he never ended up wearing the shoe Nike developed for him in 2015. His instructor Chris Como didn't feel it provided enough stability, so he went back to the 2011 version of his shoe, leaving Nike with a TW shoe that TW himself never wore. The 2016 shoe was going to be very similar to the 2015 shoe but since he didn't wear it they are releasing it under the name of 'FI Premiere.'" "¦ Looks like Oregon track and field has been influenced by Gromm•It! "¦ The U.S. Olympic team now has its own official "U! S! A!" kinesiology tape, wheee (from Nile Smith.) "¦ New logo apparently in the works for Texas-San Antonio. … Here's more about Glenn Frey's — and the rest of the Eagles' — penchant for team apparel. … The pink uni/costume thing has even trickled down to Marvel superheroes.