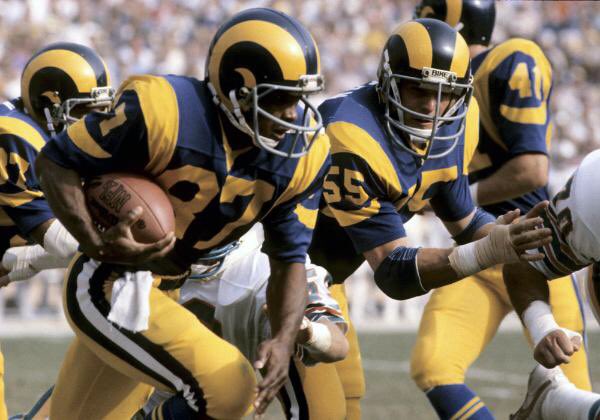 As you've probably heard by now, the Rams are moving back to L.A. for 2016. The Chargers may be joining them; if not, the Raiders would have the option to join them in 2017.
Everyone wants to know if the Rams will get new uniforms, if they'll go back to their old L.A.-era uniforms, blah-blah-blah. I got, like, a bizillion emails and tweets about this last night. A few thoughts:
• It's interesting to me that everyone associates a relocation with a redesign. It's worth noting that the Rams have moved twice before — from Cleveland to L.A. in 1946, and from L.A. to St. Louis in 1995 — and didn't change their uniforms in conjunction with either move. (For that matter, the Raiders and Chargers have moved three times between them, and those moves didn't bring any redesigns either.) Obviously, the uni-verse is very different now than it was in 1946, or even in 1995, so I'm not suggesting that past is necessarily prologue here. But it's almost like people are looking at the relocation as an excuse for a uniform change. I'm not sure what to think about that.
• As we all know, it takes about two years to get a uniform redesign in the pipeline these days due to all the logistical hurdles posed by the uniform-industrial complex. So I don't think the Rams can pull the trigger on a new uniform set today and have it ready for the 2016 season. However"¦
• There was already talk that ownership had a new look — or at least a new throwback — in the works (perhaps in anticipation of a move back to L.A., perhaps not). It wasn't clear if that new look was slated for 2016 or for sometime later down the road. But if it's ready to go, the relocation could turn out to be a case of perfect timing. However-er…
•  The new stadium will open in 2019 (they'll be playing in a temporary home, probably the Coliseum, until then). Combine that with the logistical issues and maybe that makes more sense for when they'll introduce new uniforms.
• In the past year or two I've seen a surprising groundswell of support for a return to the old blue/white design. (I say "surprising" only because I thought more fans would have favored the royal/yellow design because (a) more fans lived through that era and (b) it's more colorful.) Comments from team management indicate that the blue/white design will be revived soon, at least as a throwback. Will it be for 2016? More than just a throwback? We'll see. Reader Gene Sanny points out that the mock-up of the new stadium shows blue/white end zones — foreshadowing? Eh, maybe, but they also used that same color scheme in St. Looie.
• Whatever else they end up doing, can they please get rid of that fucking neck roll? Such an embarrassment.
• Want to take your own crack at deciding how the Rams should look? I'm running a "Redesign the Rams!" contest over at ESPN. Full details here.
As for the Chargers (or the Raiders, if it comes to that), we can discuss their situation if and when they join the Rams in L.A. For now, though, let's stick to the Rams.
• • • • •
Click to enlarge
On a serious note: One of the nicest, smartest, and most entertaining members of the Uni Watch community is longtime reader/pal Terence Kearns (shown above flashing his Mets road insignia tattoo during a visit to Uni Watch HQ a few years ago). I'm sorry to report that Terence and his partner, Cynthia Soto, fell victim to a house fire two days ago. The good news is that they're fine and that their cats are recovering; the bad news is that they lost everything else in the fire.
Terence is a stand-up guy, a devoted uni-watcher, and a good friend. A relief fund has been set up for him and Cynthia — I see that some readers have already contributed to it, as I have. I ask that all of you please consider donating what you can. Think of it this way: It's a way better use of your money than a Powerball ticket. Thanks.
• • • • •
PermaRec update: Today we have another intriguing letter from the files of the Hoge Brush Company. Get the full scoop over on Permanent Record.
•  •  •  •  •
The Ticker
By Paul

Baseball News: The Cardinals are installing a new high-def video board at Busch Stadium. "¦ The Birmingham Barons have six different options for their 2016 Star Wars jersey and are letting their fans vote. The Barons are also going with Brooklyn Dodgers-styled jerseys for Jackie Robinson Day (both of those from Dustin Semore). "¦ Love this shot, probably from the late 1960s, of MLB players dressed up in basketball uniforms — including stirrups! — as part of Art Baumgarten's MLB All-Stars (big thanks to Bruce Menard). "¦ In response to Monte Irvin's passing yesterday, the Giants changed their Twitter avatar to a "20" memorial icon. "¦ The Braves have released their 2016 promotional schedule. Among other notable items, they'll be celebrating Jackie Robinson Day on April 20, because they're scheduled to be on the road on April 15. Wish MLB wouldn't do it that way. If you're home on Jackie Day, great; if not, wait until next year. "¦ Who's that kid in the Mets jersey? None other than a very young Karl Anthony Towns of the Timberwolves. The photo is from 2009 (from Topher Davis).

NFL News: As you may have heard, the NFL Network will be showing some "lost" footage from Super Bowl I on Friday night. Further info here. "¦ One way to style a McNOB is to go all-caps and leave a space between the "MC" and the rest of the surname. But Browns RB Hugh McKinnis had, like, a really big space. That shot's from 1975. Love the striped socks, natch (great find by Bill Kellick).

College and High School Football News: A new study indicates that high school football could be safer if the teams practiced without helmets. "¦ A Seattle-based company has designed a new football helmet that can "absorb hits like a car bumper." "¦ Did you know UNC used to wear a Rams-like helmet, complete with ram horns? It's true! Explanation here (good one from James Gilbert).

Hockey News: Here's an article arguing that college hockey teams should wear colors at home (from Jerry Nitzh). "¦ DIY genius Wafflebored's latest project is — get this — a series of wooden goalie masks! "¦ This is the 20th-anniversary season of the Bruins' "Pooh Bear" jersey, and there's a growing movement for fans to wear that jersey for the team's game against Anaheim on Jan. 26. It's not clear how fans who don't spend their money on overpriced polyester shirts will be able to participate.

NBA News: Bucks and Bulls went color vs. color last night in Milwaukee. "¦ In that same game, Jimmy Butler of the Bulls wore Marquette-themed sneakers (thanks, Mike). "¦ Knicks C Robin Lopez lost his shoe during last night's game. "When a ball boy went to hand him a shoe during a dead ball, Celtics C Amir Johnson slapped it away — just a bit of gamesmanship," says Mike.

College and High School Hoops News: "It appears that the Midland (Iowa) Eagles boys' team raided the 1980s uniform closet last Friday night," says Aaron Telecky. "Unfortunately, I couldn't get a good shot of the kid who was wearing authentic '80s-era tube socks with the gold-black-gold stripe pattern." "¦ Buried within this story about Louisiana-Lafayette coach Bob Marlin is the following: "He's willing to do anything to spark his shooters. He even said they would make the perimeter players wear their gameday red jerseys in practice, to carry the mojo over." "¦ New logo for the 2017 Atlantic 10 championship. "¦ The Holcomb (Kansas) High School Longhorns wear their school name and team name on their jerseys (from Tanner Liby). "¦ Michigan went solid-white last night. Nothing wrong with that, but they also had white NOBs against the white background — what the fuck? (From Phil and Sam Franklin.) "¦ In a related item, Miami wore BFBS jerseys with black NOB lettering for last night's game against Virginia (from Rob Monroe).

Grab Bag: Lots of very entertaining old print ads featuring athletes here (thanks, Brinke). "¦ Lots of very smart, very interesting things have been written about David Bowie this week. This is not one of them (from James Gilbert). "¦ New 20th-anniversary logo for Pokemon, because, you know, why the fuck not? "¦ New design for NASCAR's Ford Fusion car (from David Firestone). "¦ New college lacrosse helmets for Salisbury (from Gary Simpson). "¦ Doctors say you should wear a helmet while sledding. Fortunately, I can ignore that advice because it looks like it may never snow here in NYC ever again. "¦ Graphic designers in Canada are hopping mad because the Canadian government used a free typeface for a graphics package celebrating the country's sesquicentennial, instead of paying for a commercially available font or commissioning a new one. The Toronto Star came up with a really good headline for its coverage of that story (from @GKG_77).