We've been wondering when we'd finally see color-on-color for the NFL's Thursday-night games. Turns out it's coming soon — but not in the way we expected.
It was announced last night that four upcoming Thursday games will be color-on-color. But the teams won't be wearing their regular colored jerseys — instead they'll be wearing new "Color Rush" jerseys (which may be paired with matching colored pants to create a mono effect, although that's not yet clear). In some cases, teams will be wearing colors they've never worn before. Here are the dates, the teams, and the colors they'll be wearing:
Nov. 12 (Week 10): Bills (red) at Jets (kelly green)
Nov. 19 (Week 11): Titans (blue) at Jaguars (gold)
Nov. 26 (Week 12): Panthers (blue) at Cowboys (white)
Dec. 17 (Week 15): Buccaneers (red) at Rams (yellow)
Each team's full uniform will be shown during the Thursday game the week before, but glimpses of the jerseys were provided in this teaser video. In some cases, the jerseys look very similar to the teams' current alternate jerseys, but some of the other designs are clearly new. Here are some screen shots that give a hint of what's in store, beginning with the Jags:
Next up is the Rams: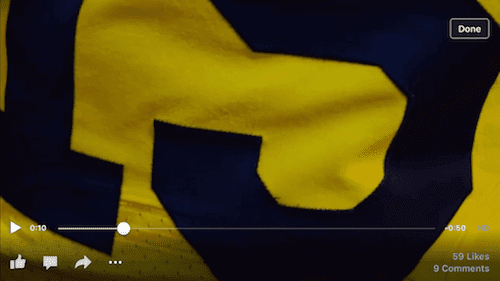 And then the Cowboys: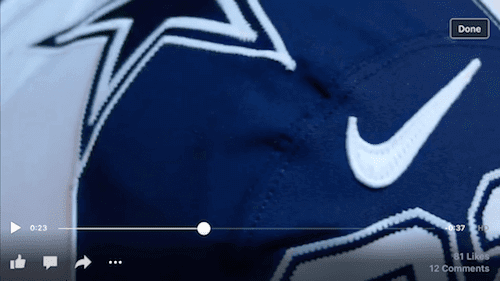 And now the Bills:
And the Buccaneers:
The Titans:
The Panthers:
And, finally, the Jets:
I'm assuming there will also be new pants, and the Jets' website says their uniform will also include "tweaks to the helmet." Not sure if that will also be the case for the other teams.
My initial reactions: I hate the idea of the Bills wearing red, and I like the look of the Jags' uni. But really, even if they showed us the full jerseys, it's impossible to assess any of this until we see the complete uniforms. I'll reserve judgment until then.
(Big thanks to Tom Roddy, Alex Lawler, Johnny Bruno, Joe Pitzonka, and Phil for their contributions.)
•  •  •  •  •
Click to enlarge
Friday Flashback "" The NHL's Class of '95: Two Fridays ago I took a look at the crazy uniforms from the NBA's 1995-96 season. But it turns out that 1995-96 was also a crazy year for hockey uniforms (including but definitely not limited to those shown above), so that's the subject of my Friday Flashback today on ESPN — check it out here.
• • • • •
Waving the bloody flag, NBA hosiery edition:
Veteran's Day is approaching, which means it's Silly Season for teams, leagues, and outfitters. Remember the keruffle over
Northwestern's "bloody flag" uniforms
two years ago? The NBA and Stance apparently don't, because they're using a very similar motif for these socks, which all NBA teams will be wearing for Veteran's Day (click to enlarge):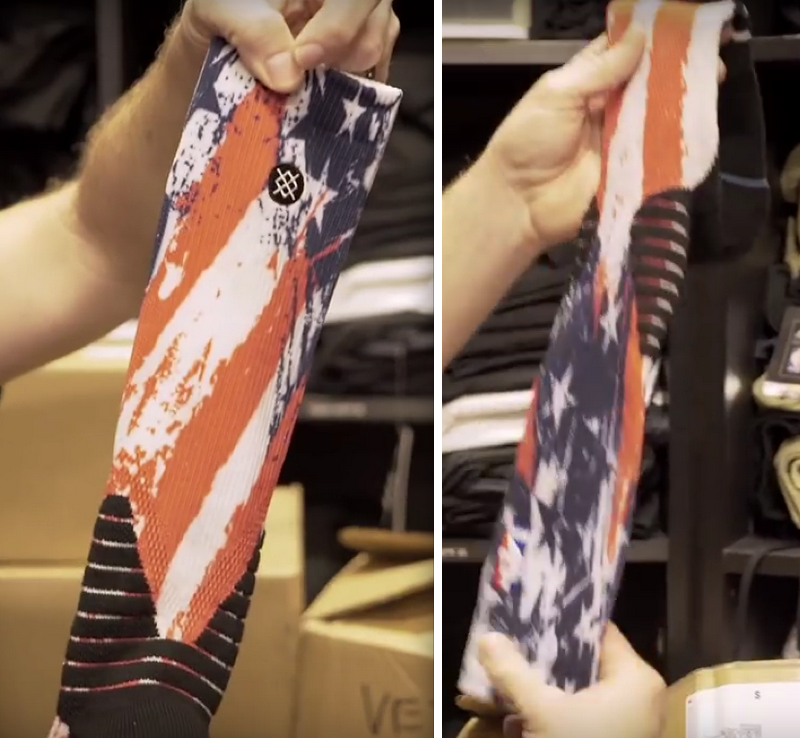 Those screen shots come from
this video feature
on Sun equipment manager Jay Gaspar, which was posted on Monday. At about the 12:50 mark he shows the socks and says all NBA teams will be wearing them.
To all you veterans out there: I'm genuinely sorry that this is how the NBA chooses to "honor" you. You deserve better.
Meanwhile, teams in the Commonwealth countries will be wearing poppies. Sigh.
(Big thanks to reader Will Marshall for alerting me to the sock segment of the video.)
• • • • •
The Ticker
By Paul

'Skins Watch: Good article on the NBA's old Sheboygan Red Skins. "¦ The teams at Susquehanna University will no longer be called the Crusaders, a name that had been criticized as being at odds with the school's increasing diversity (from Harry Michelson). "¦ A small-town Manitoba hockey team called the Redskins has been asked to change its name (from Jim Wooley). "¦ The NHL's Winnipeg Jets will no longer allow fans to wear native headdresses when the Blackhawks come to town (from Ben Gorbaty). "¦ A Connecticut high school will no longer call its teams the Indians after school leaders and alumni concluded that the name "was both insensitive and not representative of Northwest Catholic's core values" (from John Dankosky).

Baseball News: My ESPN.com colleague Johnette Howard has written a good piece on why the home run apple is the perfect symbol for the Mets. "¦ Remember the modernized Mets logo that Todd Radom designed? It somehow found its way onto the official @WorldSeries Twitter page header. As of this morning, it's still there (from Steven Hom).

NFL News: The Browns' orange alts will make their on-field debut this weekend. And as Brian Spiess points out, that's a new uni-preview tweet format for the Browns. The previous format, as I pointed out a few times, gave an inaccurate and misleading portrayal of the pants (the lettering is actually much bigger and stripe barely exists at all). Of course, the new format barely shows the pants at all, so the one thing that's consistent is that they're trying to hide the ugly reality of that pant-leg wordmark. "¦ Interesting that the Titans apparently have their players wear the powder blue jerseys — now relegated to alternate status — for public appearances. After I tweeted that item, several people said the Panthers also have players wear alts for public appearances (from Eric Wright). "¦ Also from Eric: Two ESPN writers tried to combine the Texans and the Titans, complete with a mash-up helmet. "¦ Here's a design project featuring NFL teams reimagined as LP covers (from Chris Flinn).

College and High School Football News: The Sam Houston High School Hurricanes in Texas put an unusual spin on Miami's "U" logo. Interesting NOB, too (from Brett Baker). "¦ Oklahoma State is adding a memorial decal for the recent parade victims. "¦ Arizona State wore Pat Tillman tribute jerseys, complete with Sparky on the helmets and "Tillman" NOBs, for last night's game against Oregon. Further info here. "¦ Absurd GFGS tire-tread costumes for NC State. "¦ Here's a look at Texas A&M's field logos painted in black. "¦ Washington State will go mono-red on Saturday. "¦ Pitt had a Pinktober-ized helmet script and midfield script last night (from James Gilbert). "¦ Here's this weekend's uni combo for App State.

Hockey News: A Swedish hockey team has unveiled a pretty out-there Movember jersey (from Chris Bisbee). "¦ The Toledo Walleye and Ft. Wayne Komets have new jerseys for an upcoming "8 Bit Night" (from Sam Posey).

NBA News: The Sixers have added a memorial patch for two recently fallen players and a team stats guru, and it has a clever design. Well done. "¦ The Suns will wear Steve Nash's likeness on their socks tonight. Yikes (blame Phil). "¦ Here are the dates when Golden State will be wearing "The City" throwbacks (from Michael Marconi). "¦ The Pistons plan to retire Chauncey Billups's and Ben Wallace's numbers (thanks, Phil).

College Hoops News: New uniforms for Arkansas-Little Rock (from Kody Kroll). "¦ New throwbacks for San Francisco. Naturally, I approve of the color scheme (from Ethan Kassel).

Grab Bag: Went down for my usual blood-donation appointment yesterday, but they wouldn't let me donate because my broken arm is still in a cast — even though the cast is due to come off on Monday. "You need all of your blood to help with the healing," the blood center's manager told me. Then I walked around the corner for an appointment with my doctor, who told me that was hooey. She had no compunctions about giving me a flu shot or taking some blood from me for a lab test (a lot less than I woud have donated, but still). I'm trying to remember if I donated blood when I broke my other arm three years ago, but I can't recall (which I guess proves that broken arms have an adverse effect on memory). "¦ A month ago I linked to a tour de force from my man Hamilton Nolan about the public's trust in the media, and vice-versa. He had a follow-up piece yesterday that's essential reading. Best cultural critic currently working, hands down. "¦ Good piece on the science of modern jersey design (from Caleb Borchers). "¦ David Firestone has written a piece about auto racing parachute design. "¦ Good article about the branding of a Bronx brewery (from Terence Kearns). "¦ A growing number of people, including women with breast cancer, are questioning the value of pinkwashing. Recommended reading (from Todd Radom).