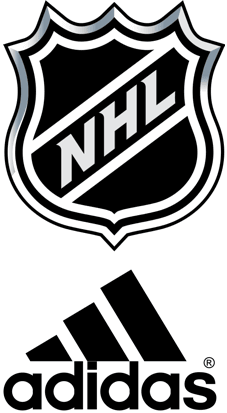 The NHL held a conference call yesterday to officially announce that Adidas will be taking over as the league's uniform outfitter starting with the 2017-18 season and will also be outfitting the 2016 World Cup of Hockey. None of that is news, because the story was broken by TSN a month ago, but the conference call nonetheless produced a lot of interesting information. Here are the highlights:
1. NHL commissioner Gary Bettman was asked if the Adidas deal would lead to advertising on uniforms. This was his response:
We are not currently considering putting advertising on NHL jerseys. There have been no discussions, formally or informally, with anyone about doing that. With respect to the World Cup, we've had some discussions about it, but there's nothing imminent about it.
Later on, Bettman was asked whether NHL owners might be champing at the bit for some of that uni-advertising revenue, especially given the current weakness of the Canadian dollar vs. the American dollar. His response:
Our owners are always interested in new revenue opportunities. [But] I don't think there are people out there saying that because the Canadian dollar has declined against the U.S. dollar, we should go out and license uniforms [for advertising]. It goes to the respect we have for the history and tradition of our game, the reverence that fans have for our sweaters and our game, and our sweaters, among all the sports, are iconic.

That's why previously I've been quoted as saying we certainly won't be the first [to do uniform advertising], you'd probably have to drag me kicking and screaming, it would take a lot — a lot, a lot — of money, and it's something we're not considering right now.

Whether we choose to experiment with it for the World Cup may be something else, but I think the view that I've just articulated is consistent, overwhelmingly, with how most of our owners feel.
Later on, as part of the same discussion, one of the Adidas execs basically said (I'm paraphrasing here), "We didn't get into this deal to share brand exposure with outside advertisers. We got into it to have exclusive exposure."
I'm sure some of you are skeptical about this, but believe me when I say that the tone and message on this topic were very different than the ones used by the NBA and Adam "It's Inevitable" Silver. Silver keeps playing the self-fulfilling prophecy game, insisting that jersey advertising is pretty much a done deal (even though he's been saying that for years and it hasn't happened yet), while Bettman is insisting that it's not a done deal, at least not for him or his league. In a rather revealing development, some of the other journalists asking questions yesterday seemed disappointed that Bettman didn't give them a juicier storyline (one guy followed up on Bettman's remarks by asking him, "So what you're saying is that you're not ruling it out, right?," which is technically accurate but badly mischaracterizes the spirit of what Bettman had just said), which I guess shows that maintaining the status quo doesn't sell newspapers or generate clicks. All of that aside, my takeaway from yesterday's discussion is that we won't see advertising on NHL jerseys anytime soon.
2. I asked if the Adidas logo would appear on jerseys in the same spot where the Reebok logo currently appears, and if any other Adidas branding, like three-stripe patterns, would be also appearing on the uniforms. The response was (I'm paraphrasing), "No final decision has been made regarding any of that, but we have plenty of time to figure out the best solution before the deal kicks in." Now that I'm skeptical of — frankly, it's just not credible. You can be sure they know exactly what they'll be doing in this regard. The fact that they don't want to discuss it yet means it's probably going to be pretty bad. I'm bracing myself for lots of Adidas striping.
3. An interesting bit of news: Although the deal doesn't kick in until 2017-18, Bettman said they might actually change the maker's marks from Reebok to Adidas in 2016 — a year early. (Reebok and Adidas have the same corporate ownership, so this would be fine from their perspective.) He said it would have to do with retail inventory issues and other factors "that I don't want to bore you with."
4. When asked about technological innovations that Adidas might bring to NHL uniforms, an Adidas exec made a point of referring to the Techfit fabrications that the company currently uses for football. "That's probably the first thing we would look at," he said, because the fabric is lighter. I wanted to ask him if that meant tire-tread patterns might be coming to NHL jerseys but didn't get the opportunity to do so.
5. My ESPN.com colleague Darren Rovell asked if Adidas might make major changes to the league's jersey template. In response, one of the Adidas execs responded like so:
If the NHL is going to look at reinventing the jersey, there are all sorts of places it could end up. But that would completely change the look at the hockey player. There are all sorts of things we could explore, but I think that would be led by the NHL, not by us.
And there you have it. These conference calls can sometimes be excruciating exercises in corporate-speak, but this one was actually pretty lively — good stuff.
•  •  •  •  •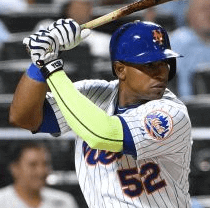 Meanwhile, over on ESPN: I have a new ESPN column slated for today. It uses Mets outfielder Yoenis Cespedes's neon compression sleeve as the jumping-off point for a look at other recent/current neon-clad athletes and teams. It's mostly stuff we've seen and discussed before, but the cumulative impact of all the neon-centric photos is pretty powerful. Check it out here.
•  •  •  •  •
Rocket to Nowhere: Lots of news out of Houston last night, as the Rockets unveiled not one, not two, but three new alternate uniforms, one of which won't even be worn until the next season (click to enlarge):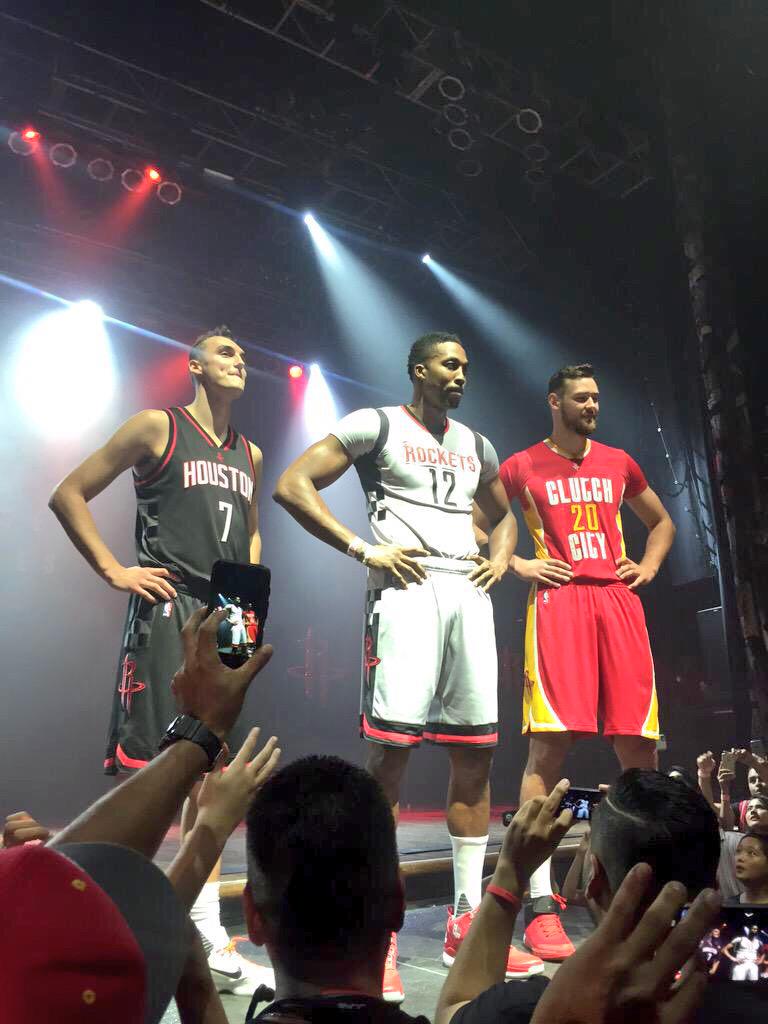 You know things are rough when the BFBS design is the best of the bunch. That's also the one that won't make its on-court debut until next season.
The Rockets say the sleeved design in the center is "silver," but of course that's bullshit — it's just GFGS. The checkerboard pattern on the side is meant to mimic the design of the old 1960s Gemini Rockets, which is a textbook example of how so much sports design now emphasizes "story" at the expense of aesthetics. Is it a cool idea to tie the uni design to the Gemini? Yeah, it is — in fact, it's a really cool idea. The problem is that at the end of the process you're still stuck with a sleeved GFGS uni that looks like crap. It'll make its on-court debut on Nov. 25th, and I'm sure the fact that that coincides with the start of the Christmas shopping season is almost completely a coincidence.
And then there's the sleeved "Clutch City" design, which is just embarrassing. It replaces this design and will make its on-court debut on Nov. 14, and that's really all the energy I want to waste on it.
Incidentally, if you're wondering about the "Rocket to Nowhere" header on this section, it was mainly an excuse to embed this classic nugget of proto-punk, which is certainly a better piece of creative work than any of Houston's newly unveiled uniforms. It would be great if the Rockets adopted it as their theme song, but I'm not holding my breath, so go ahead and play it while reading the next section of today's entry:
• • • • •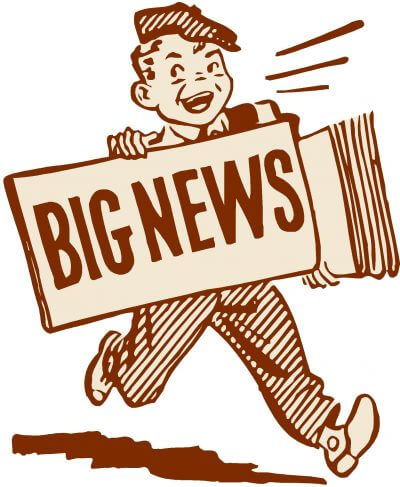 New ESPN project: In a few weeks I'm going to debut a new weekly feature on ESPN. It's such a no-brainer of a concept, I can't believe we didn't come up with it sooner: "Uni Watch Throwback Thursdays" (or maybe "Throwback Thursdays with Uni Watch," or something like that — we haven't settled on the final name yet). It'll be pretty much what it sounds like: Each Thursday I'll take a look at a uniform that's no longer being used — sometimes from the recent past, sometimes from the distant past — and discuss its design, its origins, how it fits into its team's history, and so on.
This should be a lot of fun. As we all know, new uniforms often inspire rancorous debate (hi, Browns fans!), but just about everyone likes looking at old uniforms. The good ones get us feeling nostalgic and the bad ones usually seem like amusing novelties in retrospect.
I'm not sure exactly when Throwback Thursdays will debut, but I plan to start working on it after I get back from a short road-trip vacation that I'm about to embark upon with my friend Aimee (leaving tomorrow morning, returning next Tuesday night; Phil will have the conn while I'm away). It should be a cool project, and I hope you folks enjoy it as much as I expect to. Okay? Okay!
• • • • •
The Ticker
By Paul

'Skins Watch: Running 'Skins Watch early this week, because I'm about to leave town for a bit. "¦ Faaaascinating article about the 2000+ high schools that still use Native American-related team names and imagery (from @PleatedFront). … Someone has come up with a really good 'Skins T-shirt (thanks, Phil). "¦ UND's search for a new team name to replace "Fighting Sioux" has been complicated by the former mayor of Bismarck, who wanted the old name retained and is now trying to mess with the name-selection process by trademarking some of the more likely choices (from Jody Michael).

Baseball News: Ooooh, look at these gorgeous All-American Girls Professional Baseball throwback replicas. Very nice! … Check out this A's team portrait — players in gold and coaches/staff in white. Not sure I've seen that before (from Dan Wohl). "¦ Great shot of Rogers Hornsby schooling some Des Moines minor leaguers. That's Ron Santo on the left (from Chris Williams).

NFL News: Reader Bill Kellick took his son to the local Punt, Pass & Kick competition last weekend and was surprised to see that the PP&K signage had the old NFL logo. "¦ As if the Giants didn't have enough problems, a bunch of their players are trying to convince people that mandals with socks are a good idea. Further details on that trend (not just in the Giants' locker room) here (thanks, Brinke). "¦ Depressing tweet of the day: Someone out there likes the Niners' BFBS alts in part because the Nike logo really "popped." Sigh. … Odd logo creep placement on Packers coach Edgar Bennett's cap (from Evan Kenney). "¦ The 49ers' new BFBS alts made The New York Daily News's list of all-time ugliest uniforms (from David Feigenbaum). "¦ In a related item, Mets color commentator Keith Hernandez, who's originally from the Bay Area, described the Niners' BFBS alts as "hideous" during last night's broadcast. No word on what he thinks of the Browns. "¦ Looks like Giants DL Jason Pierre-Paul's specialized glove will have to be even more specialized than we originally thought.

College Football News: Here's a good video about how Florida State applies the tomahawk merit decals to players' helmets each week (from Mike Weston). … There's been chatter about of the U. of Akron possibly changing its name to Ohio Tech. The football team is apparently preparing for that possibility with some new uniform concepts (from long-lost Vince Grzegorek). "¦ New whiteout uniforms this weekend for Texas State. "¦ 3D team-logo thigh pads this weekend for some Penn State players.

Hockey News: The Islanders had originally planned to unveil their new black/white alternate uniform next Monday, but now they've moved it up to today. Expect them to appear sometime around 10am Eastern. Here it is. "¦ A Virginia club hockey goalie was ejected for chugging beer during a game (from Tommy Turner). "¦ Goaltender Ray Emery wore his Flyers gear for a tryout with the Lightning (from Jason Yeckley). "¦ New jerseys for the Wilkes-Barre/Scranton Penguins. "¦ New theme jerseys for the Huntsville Havoc. "¦ Throwbacks on tap for the Sioux City Musketeers (from @OneTimeStein).

NBA News: The Pelicans have scheduled a "special unveiling event" (as opposed to, you know, all those ordinary unveiling events) for Thursday, 2pm Eastern. I'm assuming they'll be revealing the "NOLA" design that was first leaked back in July. "¦ Lots of photos of Moses Malone are currently circulating, including this one showing him with a different "2" than his teammate is wearing.

College Hoops News: New uniforms for Duke. "It appears to have elements from each of the three styles of jerseys they wore last year," says Jeff Cox. … New uniforms for UNC as well, with the new "Carolina Bold" font (from James Gilbert). … And also for Syracuse.

Soccer News: Interesting story about how L.A.'s new MLS franchise is marketing to millennials (from Andrew Rader). "¦ "Tottenham Hotspur seemed to be having some trouble with the fabric on their purple third kit during their away game at Sunderland this past Sunday," says Adam Herges. "In the first few minutes, Kyle Walker had a tear on the side of his shirt, and Harry Kane later had a similar problem with the back of his. Both players were summoned to the touchline and were given a new shirt by the kit man, printed with the correct name and number. Which begs the question: how many backup shirts do they bring to away games for each player?"

Grab Bag: Logo unveiling in the works for a new Pakistani cricket league. "¦ San Antonio firefighters have been asked not to wear their uniforms while off-duty, even while commuting to/from work, because command worries that first responders in the area are being targeted. "¦ Here's an article about Reddit's alien logo character. "¦ It's spreading: The new logo for the chamber of commerce in Fayetteville, N.C., "features four stars in a salute to the military." "¦ Adrian Frutiger, one of the greatest typographers you've never heard of, even though you've seen his work a million times, has passed away. R.I.P.
•  •  •  •  •
Mañana: As I mentioned a few hundred words ago, I'm leaving on a short vacation tomorrow, but I'll put tomorrow's entry together and post it before I leave. Phil will be in charge while I'm away, and I'll be back in the saddle next Wednesday. See you then.