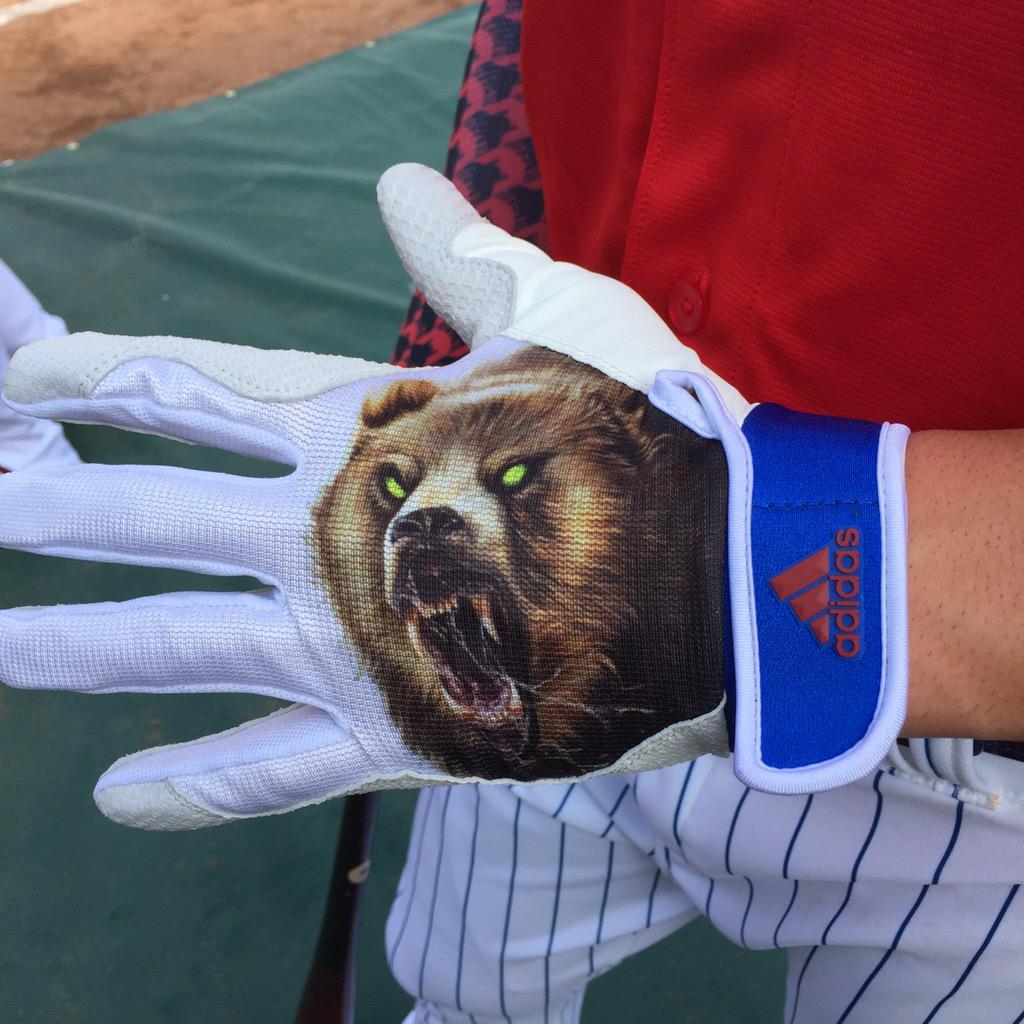 Click to enlarge
As you know, cubs are ferocious, rabid beasts that snarl like the demon hellspawn they are. They stalk the landscape in zombie-like packs, striking fear into the hearts of all who are unlucky enough to cross their path and laying waste to those foolish enough to oppose them.
They also have neon-green eyes.
So of course that's what Cubs phenom Kris Bryant wore on his batting gloves for last night's home run derby. He wore the same depiction on his shoes, but there must have been a manufacturing error on those, because the eyes were red instead of neon. Fail!
Fortunately, there was plenty of neon to be found in many of the other players' gloves and shoes, as you can see in this shot of Bryant's teammate Anthony Rizzo: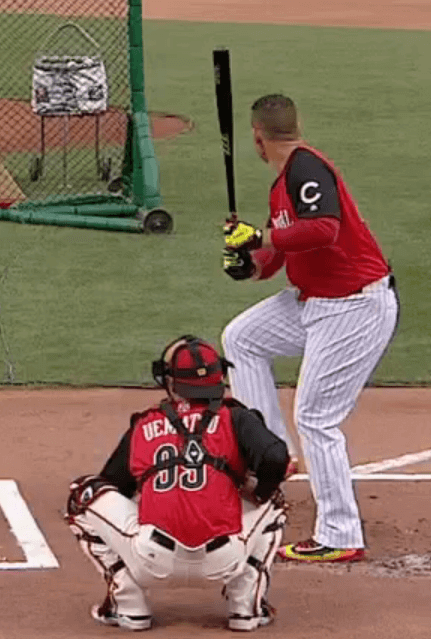 Meanwhile, during yesterday's all-star batting practice, Royals teammates Alcides Escobar and Salvador Perez were wearing arm sleeves patterned after the flag of their native Venezuela (whose national colors inexplicably do not include neon, what a loser country):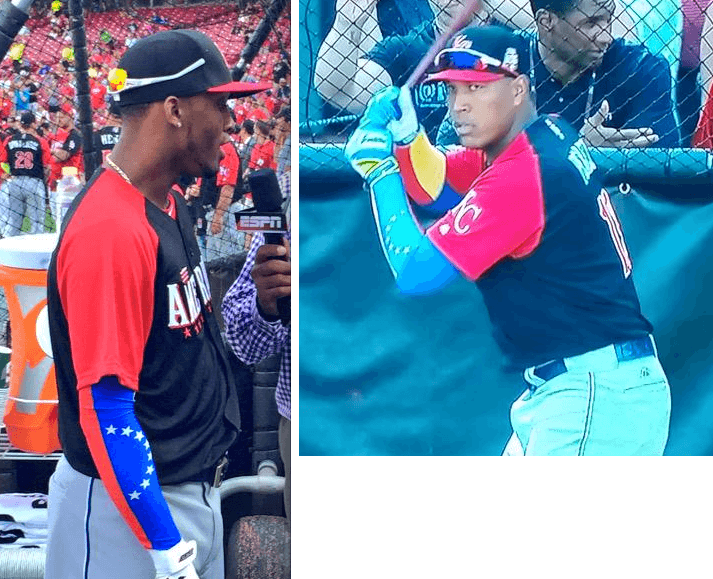 We'll presumably see lots of additional custom accessories during tonight's All-Star Game. Full coverage here on Uni Watch tomorrow.
• • • • •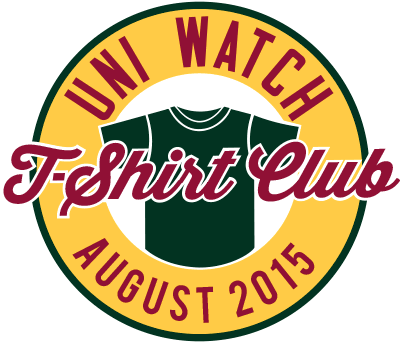 T-Shirt Club launch: It's time for the launch of the Uni Watch T-Shirt Club's August design. After all the back and forth over the "Pandering" design last month, this one is much more straightforward. As I showed you last week, it's the green alternate design (click to enlarge):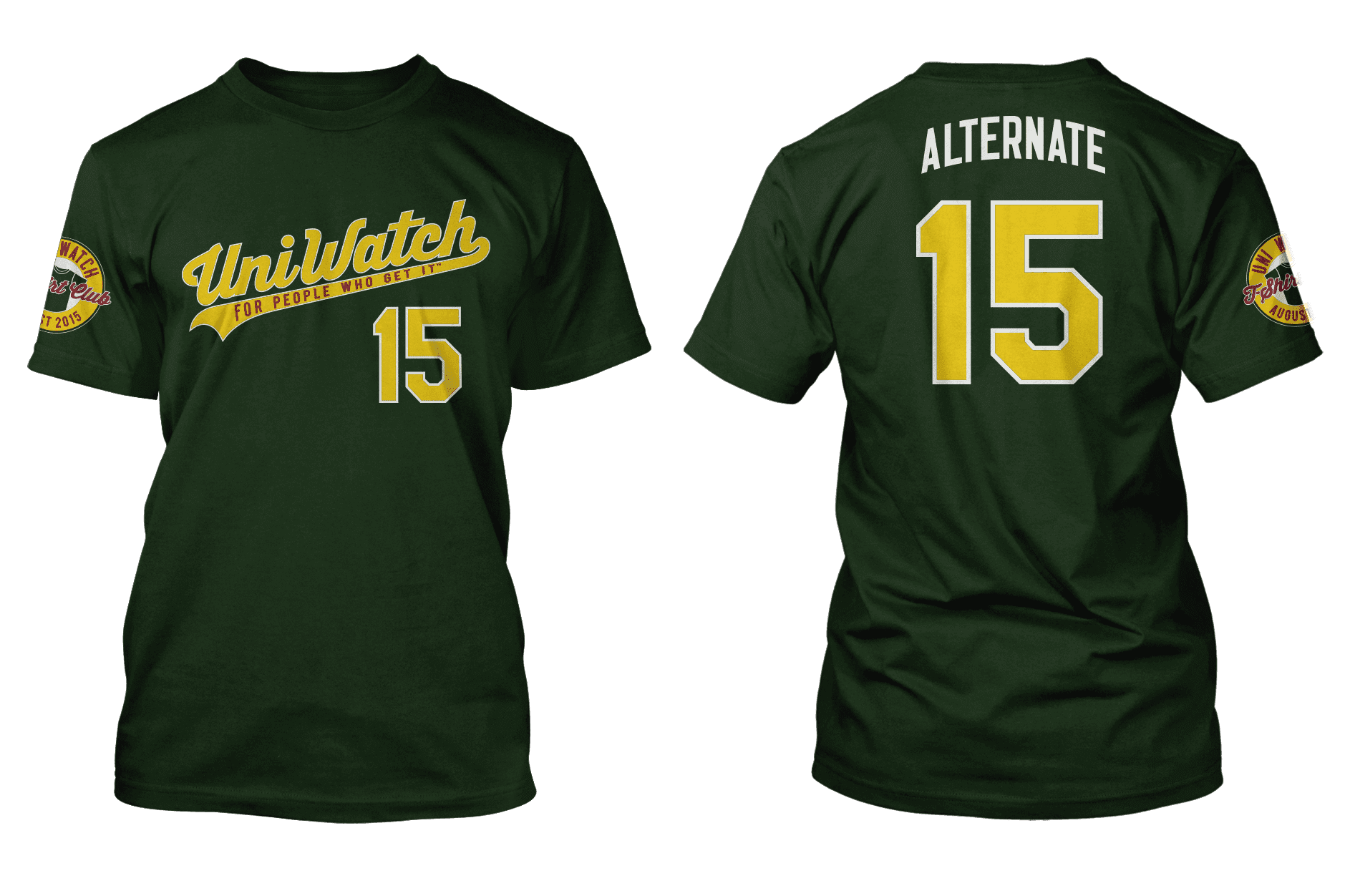 Here's everything you need to know about the shirt and how to order it:
• You can order the August shirt on this page.
• The shirt will only be available through next Monday, July 20, 11pm Eastern. After that date, the shirt will not be offered for sale. All shirts ordered by then should be delivered by the first week of August.
• There will be four more designs — one for each remaining month of the year. One of those designs will be the grey road shirt, although we haven't yet decided which month that design will be featured. You can probably guess what some of the other designs will be, although I think a few of them may surprise you. In each case, we'll update the "sleeve patch" to reflect the appropriate month.
I think that's it. Again, you can order the August shirt on this page. If you have any questions, give a holler. Thanks.
(Special thanks to Teespring designer Bryan Malloy for all his great work with the T-Shirt Club designs.)
• • • • •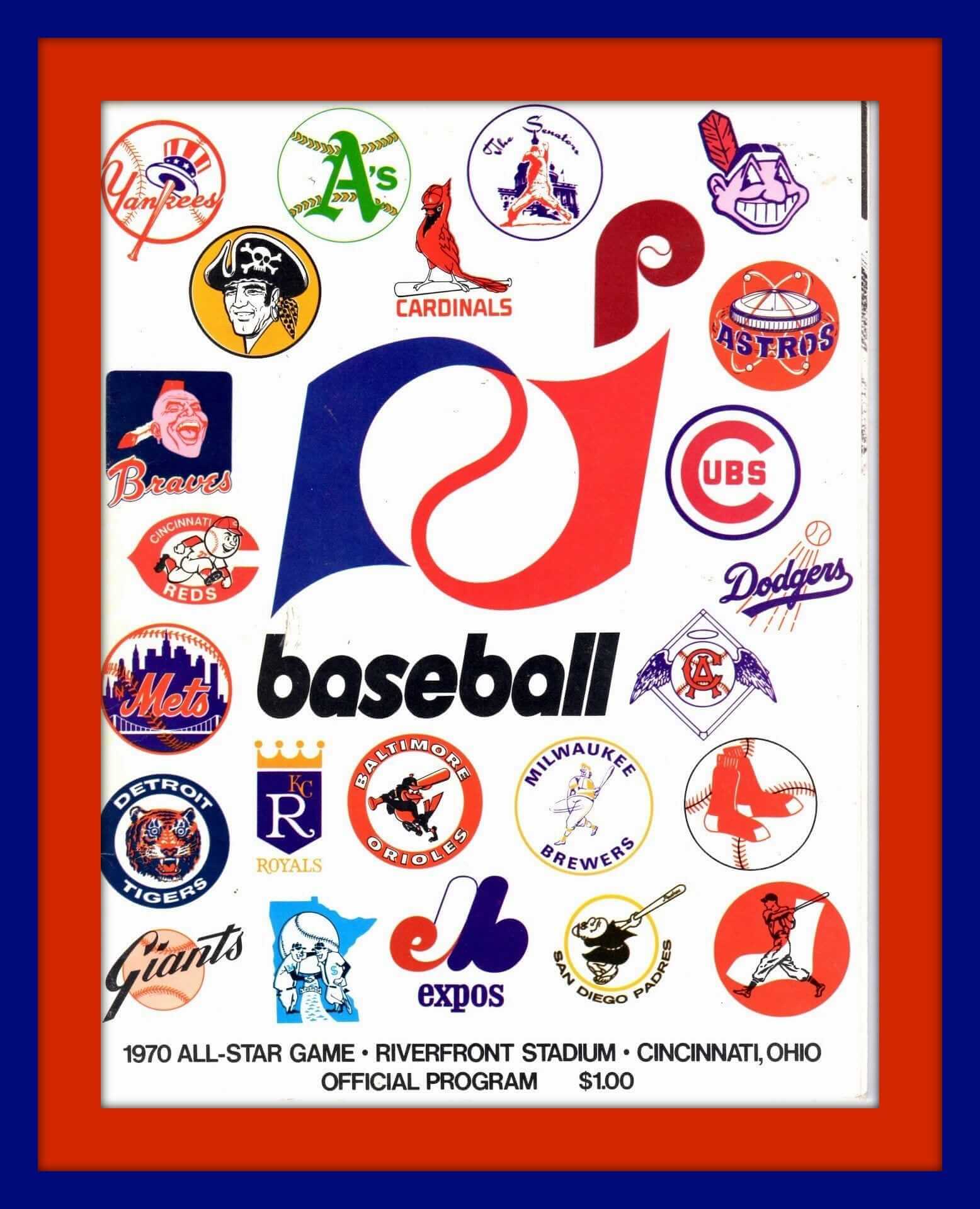 Click to enlarge
Collector's Corner
By Brinke Guthrie
Midsummer classic tonight in Cincinnati. It's the fifth time for the Queen City, and the third different stadium: Crosley Field in 1938 and 1953, Riverfront in 1970 and 1988 (when I flew directly over the stadium in a hot air balloon), and now Great American Ballpark. Here's a program from the 1970 game, and another one from 1988.
Here are the rest of this week's eBay picks:
• Will you check out this early-1970s KC Chiefs sweater. (Says late 1960s, but AFC didn't begin 'til the 1970 season.) How about that design on the chest — and I remember Varsity House, Inc. on a number of my NFL items from the period!
• Look at this early-1970s (judging from the helmet scheme) Philadelphia Eagles desk set. Looks like they just stuck a helmet bank on there.
• Never seen this one before: a double sided pennant. Astros on one side, Colt .45s on the other.
• This Domino Sugar ad says you can get your official Major League Baseball sweatshirt for just $1.95! (Plus proof of purchase required.) Gotta be 1969 for this one, as it includes a Pilots logo.
• Speaking of Seattle, love this 1970s Mariners tee with three-quarter-length sleeves. Another version here.
• That same seller also has vintage tees for the St. Louis baseball Cardinals and the Phillies.
• Dave Boss alert! A rare poster from my standpoint — don't see the Detroit Lions design offered very often.
• I'd bet Mike Curtis was the model for this 1969 Baltimore Colts poster. And while you're at it, cheer on your (Baltimore) Colts with this vintage 1960s megaphone.
• At one point, Joe Willie had his very own electric football game. Did all his teammates end up in one corner of the end zone, too?
• The 1970s NFL Pro Bowl had its very own stationery. Blue for NFC, red for AFC?
Follow Brinke on Twitter: @brinkeguthrie
• • • • •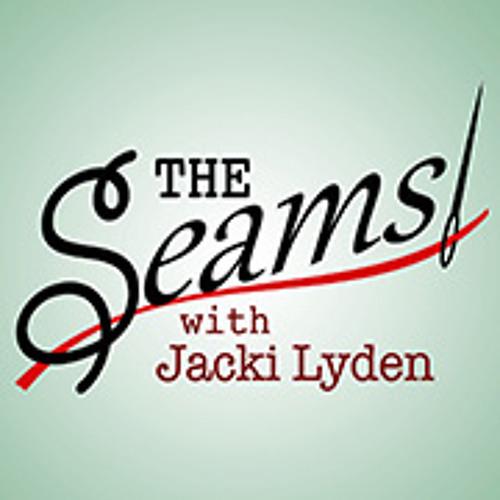 Podcast appearance: There's a new-ish podcast called The Seams, which is all about clothing. They recently interviewed me on the subject of baseball uniforms, and the results are available in in this episode. My segment starts at the two-minute mark and runs about seven minutes.
They were very happy with how this segment went, so they may be having me back on a semi-regular basis. Further details when I know more.
• • • • •
Raffle reminder: Today's the last day to get in on the raffle for this pair of Mizuno MLB All-Star Game cleats, Size 10. To enter, send an email with your name and shipping info to the raffle address by 7pm tonight. One entry per person. I'll announce the winner tomorrow.
• • • • •
The Ticker
By Mike Chamernik

Baseball News: Both the National League and American League wore great stirrups in the 1969 All-Star Game (from Phil). … Braves OF Ralph Garr wore white spikes in the 1974 All-Star Game (from Phil). … Russ Havens compiled a nice collection of All-Star Game ticket stubs. … Several minor league teams are running Christmas in July promotions (from Phil). … The Binghamton Mets will wear camo jerseys on Aug. 24 (from Phil). … Here's a good breakdown of what types of gear catchers like to wear (from Nolan Jones). … Here's a graphic that shows the longest home runs hit at every ballpark this season (from Tom Heppard). … I know we've seen this statue on Uni Watch before (because I have a photo of it saved to my computer), but Jonathan Daniel found a great vintage Blatz Beer baseball display. He also found a Reds clock that's from the 1940s. … MLB Network showed last year's Futures Game logos in a graphic the other night. This year's version looked like this. … Weird dark-grey uniforms last night for the Sugar Land Skeeters (from Paul Braverman). "¦ At the Legends Softball Game, the fence included an old-timey Reds baseball illustration that had obviously been inverted, because the "C" logo on the chest was backwards (from Don Schauf).

College Football News: Miami will unveil its new uniforms at a party on Saturday night (from Phil). … The design of the new Joe Paterno beer has been revealed (from Brinke). … College logo haircuts are gaining popularity. … Here's a look at Notre Dame's new shoes and special teams cleats (from Warren Junium). "¦ Looks like some uni changes for UMass, including a GFGS alternate (from @zachisgod).

Hockey News: New logo and jerseys coming Wednesday for the Milwaukee Admirals. This might be an unpopular opinion, but I like the team's skeleton logo and black-and-baby-blue color scheme (from Brian Kerhin). … The NHL and the players' union figure that they can rake in $8 million dollars with uniform advertisements at the World Cup of Hockey (from Chris Bisbee). … Jay Danborn remembers that a team in Saskatchewan, the Assiniboia Southern Rebels, used to have a modified Confederate battle flag logo as recently as 2002. Here's what the team's jerseys looked like. "¦ The LA Kings are sponsoring a high school hockey league. Here are the eight jerseys that will be worn (from @thezambonis).

Soccer News: The MLS all-star jerseys have been officially revealed (from Mark Grainda). "¦ Here's a look at Manchester United's new home kit, and how it differs from the previous set (from Chris Taylor). … Also, in case we haven't seen it here, new away kit for Aston Villa. The club switched from white to yellow and black (from Randy Williams). … El Salvador didn't wear a logo on its chest during the 1982 World Cup; instead, the team wore shirts with "ES" on the left breast (from Graham Clayton). … New kits for Real Betis (from James Welham). … New jerseys for FC Rubin Kazan, Shakhtar Donetsk, FK Sarajevo, Ural, Krasnodar, CSKA, and Anzhi (all of those from @espitt). "¦ New home kit for Napoli (from Yusuke Toyoda).

NBA News: Nike was fined for dressing a French statue of Winston Churchill in a basketball jersey (from Phil). … This gallery contains some rare and interesting NBA photos, including a Kevin Garnett and Randy Moss Minnesota jersey swap.

Grab Bag: I never really noticed, but Jerry Seinfeld wore an extensive amount of athletic footwear in his television show (from Chris LaHaye). … If you scroll through this pro wrestling message board, you'll find scans from a classic wrestling gear catalog. I dig the old lucha libre mask (from Rick Hodge). … I got a note that Howard University's athletics dept. will unveil a new logo on Thursday. … An eyeglass company is playfully suggesting that Republican presidential candidate Scott Walker stole their logo. … The Pac 12 has updated its logos (from JB). … Invisibility cloaks are in the early stages of reality (from John Dankosky). … HBO's John Oliver did a bit during a segment on pro sports stadiums where he gave a pep talk to fans wearing various sports uniforms (from Richard Paloma). … A few NHRA notes from this weekend from David Firestone: JR Todd's car had a "transparent" paint scheme; dragsters' tires really change shapes during a race; Cruz Pedregon had a paint scheme for the 95th Anniversary of Snap On Tools.