So it's actually gonna look like a football game.
That was the surprise news yesterday, as word came down that Oregon would be wearing a fairly sedate, normal-looking uniform for next Monday night's national championship game. (Ohio State will be wearing a conventional design as well, but there had never been any doubt about that.)
I'll have more to say about these uniforms in an ESPN column later this week, but here are some initial thoughts:
• Everyone wants to know why Oregon, the higher seed, is wearing white. I tried to find out yesterday but couldn't get an answer. Lots of people claim to have it all figured out — "It's so Nike can sell more jerseys" or "It's because they're playing at the Cowboys' home stadium, where the home team always wears white," etc. — but all of those people are talking out of their asses. The fact of the matter is that no reason has yet been given, the end. (The funniest explanation I heard yesterday is that it's because Nike used up all their green fabric when they finally got around to making the Eagles' home jerseys.)
• Is it odd for Oregon not to be wearing either of their team colors? Yes. Is it also odd for them to be wearing a lot of grey, which is one of OSU's colors? Also yes.
• Interestingly, the Oregon design is superficially similar to the one they wore four years ago when they lost the title game to Auburn.
• The OSU uni is basically the same one we saw a month ago, when we all said, "Why is Nike showing them in red? They're the fourth seed, there's no way for them to wear red in this tournament!" Shows what we knew.
• It's a little hard to see, but the Oregon uni has "Fighting Ducks" on both pant legs. That's really the only place where this design crosses over from uniform to costume. Aside from that, it's a perfectly nice look (although not a very Oregon-y look).
• If you scroll back up to the top of the page, you'll see that Nike didn't use any embossed swooshes or other symbols in the knee or thigh pads. They're really playing this one pretty straight. Good for them.
• I don't usually get too excited about footwear, but those Ohio State shoes are really nice.
That's all for now, except for this: Should be a good-looking game. More on ESPN in a day or two.
•  •  •  •  •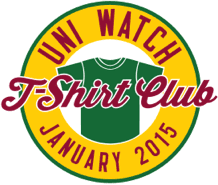 T-Shirt Club Is Open for Business: I mentioned several times over the past few weeks that I was working on a new project with the T-shirt site Teespring, and today I'm happy to announce that it's up and running. Welcome to the Uni Watch T-Shirt Club, which will feature 12 limited-edition uni-themed shirt designs, one for each month of the year. I've always wanted to have a project that allowed me to say, "Collect 'em all!," and now I do.
Each design will be based on a jersey that a team could have in its wardrobe, and we're kicking things off in January with the design that should be the starting point for any uniform program — the home jersey (click to enlarge):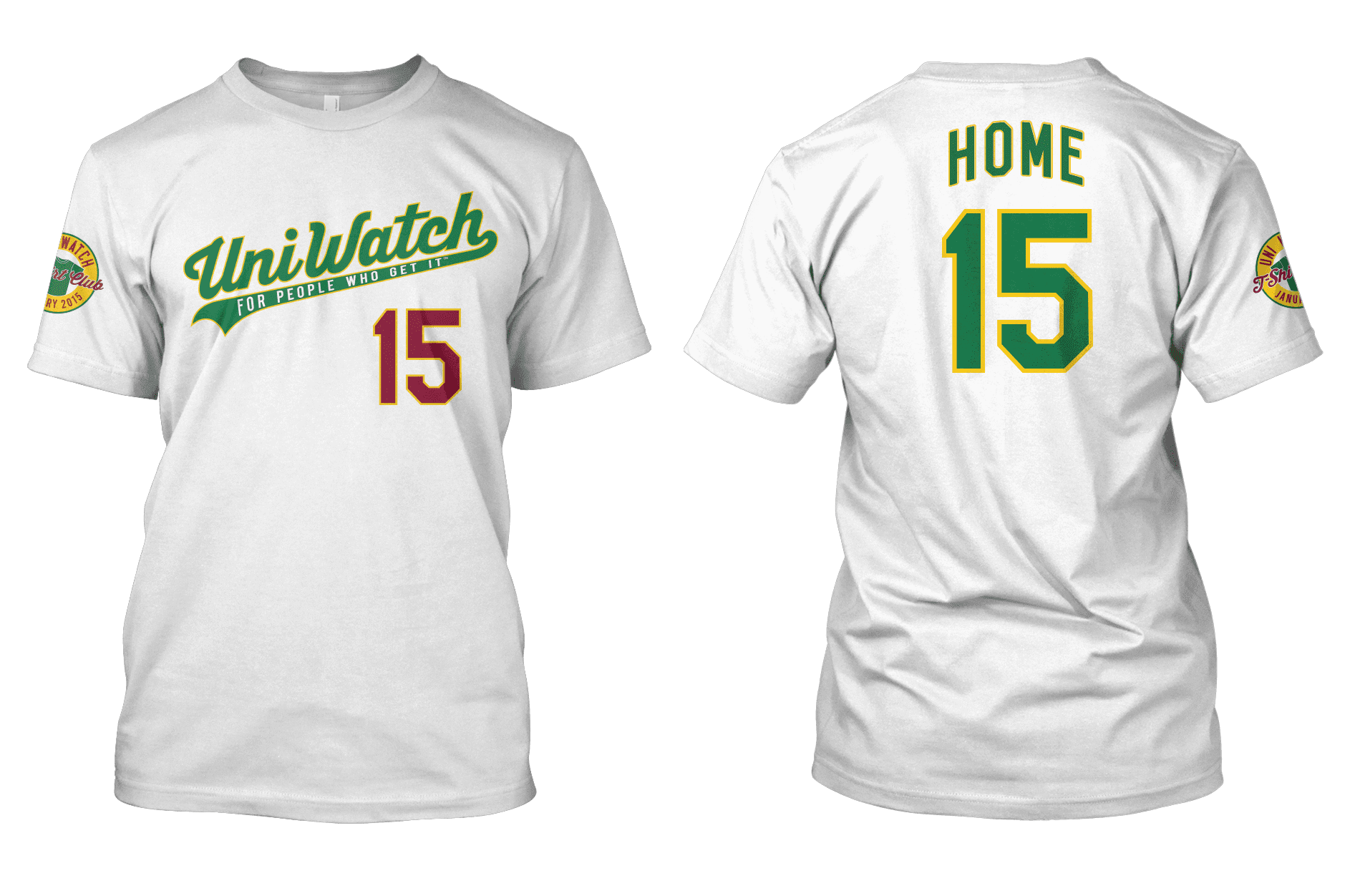 Here's everything you need to know about purchasing the shirt and how the rest of the program will unfold:
1. You can purchase the shirt on this page. As you'll see, you'll have a choice of Hanes ($22) or American Apparel ($24). Their sizes are slightly different, so use the "View Sizing Chart" link to be sure you get the shirt that's best for you. Domestic shipping is $3.85 for the first shirt, $1 for each additional shirt. Don't worry about the "Help us reach our goal" notice — that's a Teespring thing for groups that are doing fundraising, and it won't affect us. (And no, you can't customize the NOB or number. The NOB on each shirt will pertain to its design — like "Home" for the home design — and we'll use 15 as our number for the entire year, because this is 2015.)
2. This shirt will only be available through the end of next Monday, Jan. 12. All shirts ordered by then should be delivered by Jan. 26.
3. There will be 11 more designs — one for each remaining month of the year. Three of those designs are shown here, but those three will not necessarily be the designs that we roll out for February, March, and April. In fact, they almost certainly won't be. You'll see the rest of the designs as they become available for sale. You can probably guess what some of them will be, although I think a few of them may surprise you. In each case, we'll update the "sleeve patch" to reflect the appropriate month.
4. We got a late start with the January shirt. For the remaining 11 designs, each shirt will be made available on the third Tuesday of each month. So the February design will go on sale on Jan. 20 (yes, that's two weeks from today); the March design will go on sale on Feb. 17; and so on. I'll reveal each new design at some point during the week before it goes on sale.
5. Each shirt, including the January design that's now available, will be available for purchase for only one week (that's how Teespring works — each shirt is a limited edition), from the Tuesday when it goes on sale through the following Monday. Once a shirt's one-week window closes, it will no longer be available for purchase.
6. Except for the January shirt, which as I mentioned will deliver to customers by Jan. 26, each month's shirt should deliver within the first 10 days of that month.
7. People who purchase all 12 shirts (collect 'em all!) will be eligible for a bonus prize at the end of the year. I haven't yet decided what this prize will be, although I have some ideas. It may depend somewhat on how many people stay on board for all 12 shirts, and we won't have a sense of how many people that might be until the summer, so I'll likely wait a while before settling on the prize. But I assure you it'll be something good.
8. I have lots of additional design ideas. So if the response is strong, it's definitely possible that this project could be extended into 2016.
I think that's it. Again, the shirt can be purchased here. If you have any questions, give a holler. Thanks for listening.
•  •  •  •  •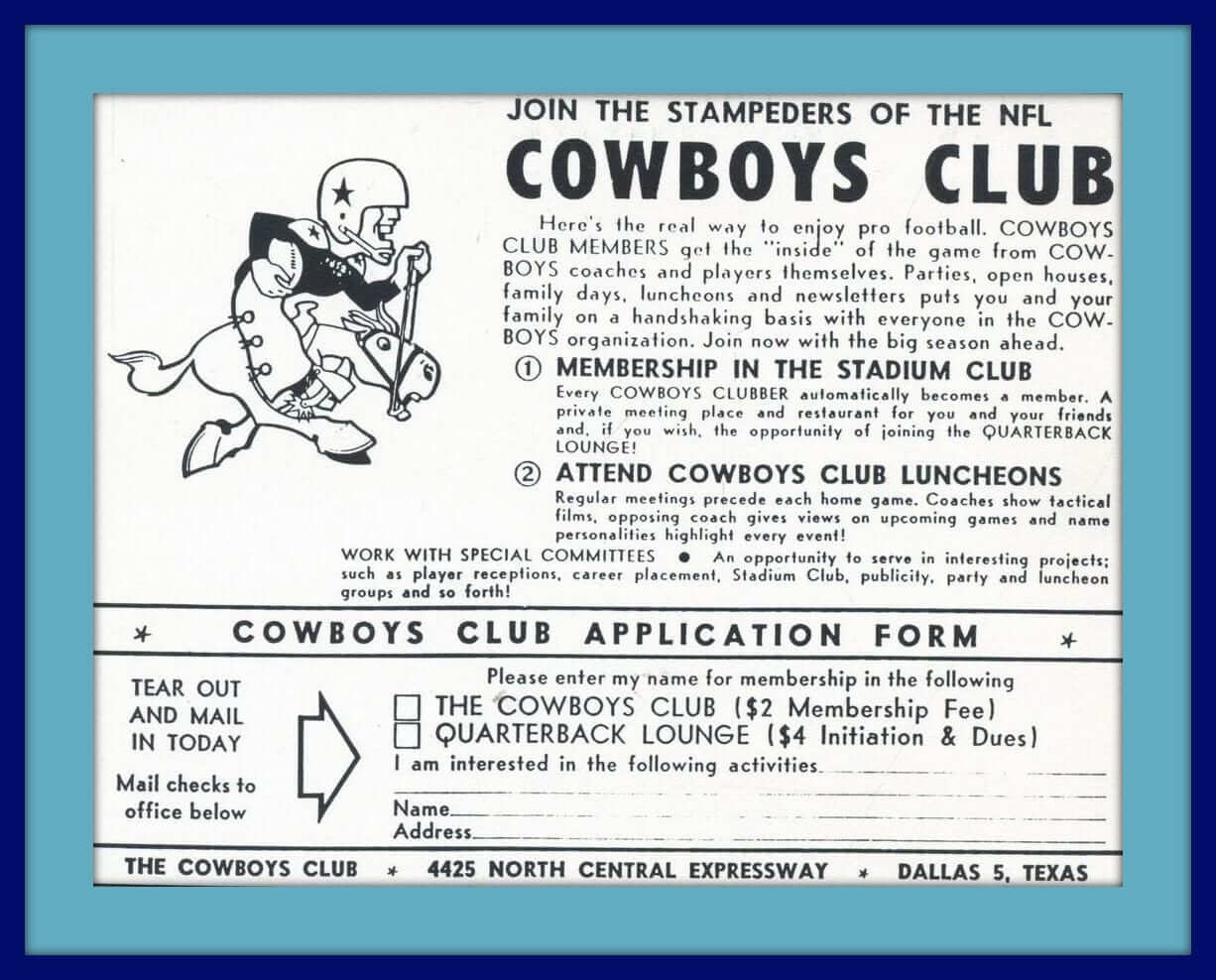 Click to enlarge
Collector's Corner
By Brinke Guthrie
Well now, pardner, you wanna join up with the Cowboys Club? Just a $2 membership fee, or $4 if you want to be a part of the "Quarterback Lounge." Heck, y'all get to be on a "handshake basis" with every member of the Cowboys organization, attend special luncheons, "and so forth." How 'bout dem Cowboys!
Ya say yer not a Cowboys type of feller? Okay, then here some other stuff that should strike your fancy:
• Here's a new one, at least to me: a "Pro Sports Magnetic Note Holder." This one includes 17 NHL magnets.
• Nice cover artwork on this set of four hockey paperbacks. You get two novels and two non-fiction books — a well-rounded reading diet.
• Look at this 1960s San Francisco Warriors pennant. Think they'll scrap the "Golden State" moniker and go back to "San Francisco" once the new arena opens in the fall of 2018? I'd say without a doubt.
• Here's a 1970s Atlanta Braves sticker with a weird-looking facial design. "Braves baseball is more…" More what? [He looks kinda queasy, like he's about to vomit, no? "" PL]
• A lot of seven 1970s NFL helmet buggys! You get the Pats, Oilers, Jets, Bengals, Colts, Steelers, and Brownies. Yes, please.
• Remember the big ol' brass-looking belt buckles from the 1970s? I had a "USA" one myself, but here's one for the Mets.
• Look at this — a 1970s Denver Broncos helmet that lights up! Ready to hang in your room of choice.
• Now you can prepare dinner the 49ers way with this Niners recipe book. Includes player favorites like "Stouffer's Frozen Lasagna: 1. Open package and remove cover from lasagna. 2. Prepare as per the directions on the back of the package."
• Staying with the Niners, check out this nice-looking early-1970s varsity jacket from the maker "Sir Jac." Looks straight outta Sears to me!
• Here's a retail display board with a set of 28 NFL helmet pencil sharpeners. Never seen the blue Chargers helmet with yellow facemask before. It would date from at least 1976 due to the Seahawks and Bucs, but that Cowboys helmet was available in the 1960s — no blue outline around the star, as also seen here on this playing card.
•  •  •  •  •
Uni Watch News Ticker
By Garrett McGrath

NFL News: "I just ran across this photo of Vince Lombardi as a player, showing off the Lombardi dive," says Leo Strawn, Jr. "Not sure about when the photo was taken, so it could be from his playing days with the Fordham Rams, or the American Association's Brooklyn Eagles. Very odd to see him as a player." … Yesterday, Paul posted how the Cowboys' blue Nikelace has reached epidemic proportions. Reader Don Schafer sent in a screenshot from Dec. 21 showing how the problem afflicts some jerseys but not others.

College Football News: It had been rumored for a few weeks and now it's official: Adidas has outbid competitors to become the new outfitter at the University of Miami, ending the school's pioneering partnership with Nike. "¦ Amid all of the Oregon Ducks uniform hoopla, Larry Bodnovich sent in this photo from the 1941 university yearbook. [Hey, at least they wore school colors for that shot. "" PL]

Hockey News: Elvis is in the Building Barn! The Mississippi RiverKings had "Elvis Night" complete with the King's face on the front of their jerseys. The team is based in Southaven, Mississippi — a suburb of Memphis (from Dustin Semore).

Soccer News: Accrington Stanley, a fourth-tier team in English soccer, is selling tickets to a game that will never happen. Accrington would have played Manchester United in the third round of the FA Cup but they lost the replay of their second-round match, which was played after the draw was announced (from Yusuke Toyoda). … For their FA Cup tie against Arsenal, Hull City wore the kit they wore during their unsuccessful Europa League qualification campaign (plain amber backs instead of stripes, custom shirt numbers instead of the regular Premier League ones, and no Umbro branding on the sleeves). These shirts saw domestic action earlier this season as well, in the Tigers' League Cup loss to West Brom (from Callum Johnston).

College Hoops News: UNC wore "Stu" patches last night in memory of ESPN broadcaster Stuart Scott, who was a UNC alum. "¦ Temple debuted new white uniforms on Sunday (from Clifford Blake).

Grab Bag: An infographic of famous logo redesigns of 2014 (thanks, Brinke). … Also from Brinke: LG updated its logo without telling anyone. "¦ Changing the University of North Dakota's nickname is costing more than had been expected (thanks, Phil).