It is a strange and wondrous world we live in, my friends. A world where you can think to yourself, "You know what I'd really like to see right now? I'd like to see an NHL player bite an opposing player's jersey for no particular reason. In fact, I'd like to see it over and over again on an endless loop." Even better, it's a world where you can think such a thing and then it actually happens! Is that a great fucking world or what?
This isn't the first time we've seen an athlete bite a jersey. It also isn't the first time we've seen an athlete bite an opponent. But it might be the first time we've seen an athlete bite an opponent's jersey. Or hey, maybe it's not. Anyone..?
For all of these athletes inclined toward uniforma dentata, I have a suggestion: There's a baseball team in Australia that's right up your alley. Maybe you should sign on with them.
(Big thanks to Phil for bringing last night's jersey bite to my attention.)
•  •  •  •  •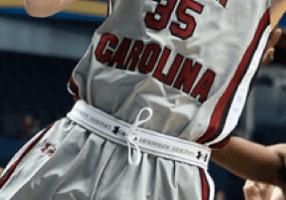 ESPN reminder: In case you missed it yesterday, my latest ESPN column is about the growing trend of basketball players rolling up the waistbands of their shorts. Check it out here.
The column has prompted a lot of emails, many of them from high school coaches who say their kids are band-rolling too, which suggests that this trend may get a lot bigger as those kids enter the college ranks. Duke Barrier, who coaches at a high school in Houston, said, "I haven't thought to ask them why [they do it], but I have noticed it. I just assumed swag or length, and knew I wouldn't understand their explanation anyway."
But reader Ryan Timmerman mentioned something I should have remembered, which is that band-rolling briefly became popular in the NBA about nine years ago, when the league decreed that shorts had to be at least one inch above the knee. Many players' shorts were too long to meet that standard, so they began band-rolling to make them shorter. This article from December of 2005 includes the following quote from Pistons then-president Joe Dumars: "That's why I've got some players rolling up their waistbands, to make themselves legal. We were just warned about it. But I don't think it looks very good when guys are playing with their waistbands turned inside-out." Today's young players apparently feel differently.
• • • • •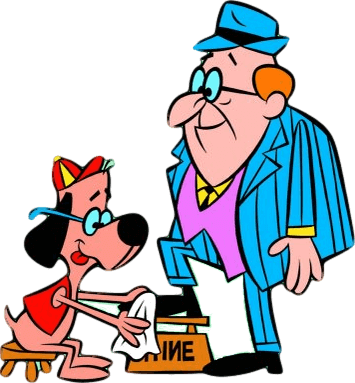 "You're humble and loveable": Big ups to Uni Watch intern Garrett McGrath, who's written an excellent article about New York City's shoe-shine workforce. Check it out here.
• • • • •
Raffle reminder: The annual Uni Watch year-end raffle is now underway. Get the full scoop here.
•  •  •  •  •

'Skins Watch: Native American groups are planning a protest at FedEx Field prior to the season-ending 'Skins/Cowboys game (thanks, Phil). "¦ The BBC has done 27-minute podcast on the 'Skins name controversy. To access it, go here and scroll down to the Dec. 11 entry (from Brick Barrientos). "¦ An Oklahoma City school board member has provided more details about why the board recently chose to ban "Redskins" as a team name (from Yusuke Toyoda). … The FCC has rejected a motion to ban the use of the 'Skins name on the public broadcast airwaves (thanks, Phil).

Baseball News: Here's a good piece about how the number on the jersey that you pose with at your introductory presser isn't necessarily the number you actually end up wearing (thanks, Phil). … I mentioned in Monday's Ticker that Sy Berger, the father of the modern baseball card, had passed away. Now longtime Uni Watch pal Tyler Kepner has written a really nice salute to Berger — recommended reading. "¦ Check it out: AT&T Park made out of gingerbread (thanks, Brinke). "¦ With the USA-Cuba news this week, the Rochester Democrat and Chronicle ran this story about how the Rochester Red Wings used to play in Cuba, before the embargo. One year they were playing late on the night of July 25. As the clock passed midnight, the date became July 26 — the anniversary of the start of the Cuban revolution. There were celebratory rockets and gunfire and, according to the article, "One stray bullet struck Red Wing infielder Frank Verdi in the head while he was warming up between innings. Fortunately for him, he was wearing a plastic helmet liner inside of his cap, otherwise he might have been killed" (big thanks to Tyler Maun).

NFL News: The Jags helmet is so awful that WR Allen Hurns's logo decal was trying to escape last night (screen shot by Matthew Solly). … By now you probably know that Microsoft Surface Pro tablets are used on NFL sidelines. But did you know that Microsoft actually redesigned the product for NFL use? It's true (thanks, Brinke). … The Nationwide commercial where Peyton Manning eats the chicken parmigiana hero has spawned a T-shirt and slider giveaway. … Speaking of Manning, I was listening to a sports call-in show the other day and someone had the following query: "How come Manning does all these ads but you never see Tom Brady in a commercial?" It's a good question — any takers? Sorry, answers that include the word "Gisele" are not eligible.

College Football News: Virginia Tech is adding captaincy designations for its bowl game (from Andrew Cosentino). … Here are the bowl game jerseys, complete with patches, for Nebraska, Florida State, Mississippi State, Rice, and Cincinnati, the latter of which will also be wearing lots of military helmet decals (thanks, Phil). … Also from Phil: Orange uniforms in the works for Syracuse. "¦ When Baylor and Michigan State face off for their New Year's Day bowl game, it will mark only the second time the two teams have ever met. The sole previous time was in 1968, and I think it's a safe bet that the program cover for their upcoming game won't be anywhere near as good as the one from that 1968 tilt (thanks, Phil).

Hockey News: The ECHL's Quad City Mallards recently conducted a fan jersey design contest, and have now announced the winner — who, it turns out, is from Australia (thanks, Phil). … The Penguins wore their throwbacks last night. … The Canadiens honored Saku Koivu prior to last night's game and presented him with a painting of career highlights>

NBA News: At least one observer thinks the NBA needs to stop already with the Xmas Day jerseys. … The D-League's Austin Spurs are adding the Central Texas Pain Center's logo to their jerseys. … Man, sure didn't take long for Rajon Rondo jerseys to show up for sale in Dallas (although Darren Rovell says something is fishy there). "¦ Harrison Barnes of the Warriors has updated his mask.

College and High School Hoops News: New shoes for Maryland. … Glennbrook North High School in Illinois is retiring two basketball players' numbers. … Throwbacks last night for Duke.

Soccer News: "Kolo Toure, who is sponsored by Warrior (also the kit manufacture for Liverpool), wore New Balance boots/cleats during Wednesday's match vs. Bournemouth," says Nile Smith. "New Balance, the parent company of Warrior, is stopping all soccer-related activity for Warrior. So it looks like Kolo is making the switch to New Balance early. Liverpool's new kits will be New Balance next year." "¦ Chelsea's new uni set has leaked. … These last three are all from Yusuke Toyoda: The Guardian has launched a cool new feature that shows then-and-now photos of soccer stadiums. First up: Chelsea's Stamford Bridge. "¦ Germany and Britain's army played a soccer match to commemorate the 100th anniversary of the Christmas Truce. Germany played in the traditional white and black, but there's no British national team so they wore red and white. "¦ You know those kids at soccer matches who walk out with players wearing the team's uniform? That experience can cost almost $1000 at Premier League matches.

Grab Bag: New uniforms for the Seattle police. … New logo for Gerald R. Ford International Airport in Michigan. "¦ Some high-end fashion designers have re-imagined Santa's wardrobe (thanks, Brinke). "¦ NASA has a style guide — and it allows Comic Sans! (From Jeremy Baker.) "¦ In a vaguely related item, check out these fascinating patch designs from U.S. spy satellite launches (from Tom Shieber). "¦ Aussie football item: The goal squares at Football Park for the 1980 SANFL Grand Final between Norwood and PortAdelaide were painted in a Union Jack pattern (from Graham Clayton).
• • • • •

What Paul did last night: Back on Labor Day, I held a party in my backyard. As often happens at such affairs, there was too much food, and one of the "too much" items this time around was a two-pound top sirloin steak that never made it onto the grill. So I wrapped it up and put it in the freezer.
Over the ensuing three months, I'd see the steak every time I poked around in the freezer, and each time I'd think, "Mmmm, that's gonna be really good whenever I get around to making it." I didn't give much thought as to when that would be — there was no rush. But it was nice to know that I had a really nice hunk of beef tucked away in the deep freeze.
Two nights ago, flush with the spirit of the holiday season (read: feeling a serious meat craving), I decided that the time had come, so I took the steak out of the freezer and began thawing it. Last night I seasoned it with a lot of salt and pepper, cooked it with some salted butter in a cast iron skillet (first over moderate heat on the stove and then in a 350 º oven to finish it off), and sliced it up. As you can see here, it came out Just Right (click to enlarge):
I'm happy to report that it tasted as good as it looked. Plenty left over for tonight, too.
It was tempting to spend the rest of the night sitting there on the sofa with one hand down my pants like Al Bundy, content in my own full-bellied steakification. But instead I went out and saw this really great film about the 1992 Ruby Ridge siege by journalist/filmmaker Jon Ronson, who was on hand for a post-screening Q&A session. I've been a big fan of Ronson's work for some time (he wrote The Men Who Stare at Goats, which was the basis for the Geoge Clooney film of the same name, and has done lots of really good stories for This American Life) but had never met him before, so it was a privilege to say hi and shake his hand. Really nice, humble fellow, as it turns out. It's so nice when your heroes live up to your hopes of what they'll be like.