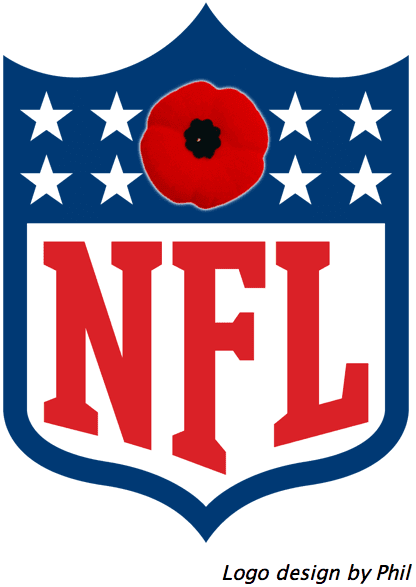 The NFL, continuing its efforts to foist football on the Brits, has two more games slated to take place in London this season, one of which will take place on Nov. 9, when the Cowboys and Jaguars face off at Wembley Stadium. That date happens to be Remembrance Sunday, a UK holiday that's typically commemorated with lots of poppies. So in a first, the Cowboys and Jags will wear poppies for the occasion. (Don't know the backstory on poppies, Armistice Day, and that whole bit? Here — get your learn on.)
Every news account of this story has said that the teams will wear poppies on their "uniforms and helmets." I was a bit surprised by this — a patch and a decal? The Jags are already wearing two patches this season, so where would they even put another one?
Hoping for some clarification, I contacted both teams. The Cowboys' PR office said they were definitely wearing a helmet decal and that any talk of a patch was still in development. A Jags spokesman told me it was his understanding that the team would only be wearing a helmet decal, not a patch (he's double-checking and will get back to me). Sounds like the the "uniforms and helmets" line was just careless wording that got parroted from one news outlet to another.
Anyway: On the one hand, the NFL has never met a military-associated occasion it didn't like, so in that respect this move is fairly predictable. On the other hand, the poppy is a way better signifier than camouflage (although it's rather controversial in Ireland), and the acknowledgment of another culture's ritual and symbolism is a welcome counterpoint to the usual "U! S! A!" jingoism. Best of all, there's something very appealing about the rough, tough, macho NFL embracing a flower. All in all, I like.
•  •  •  •  •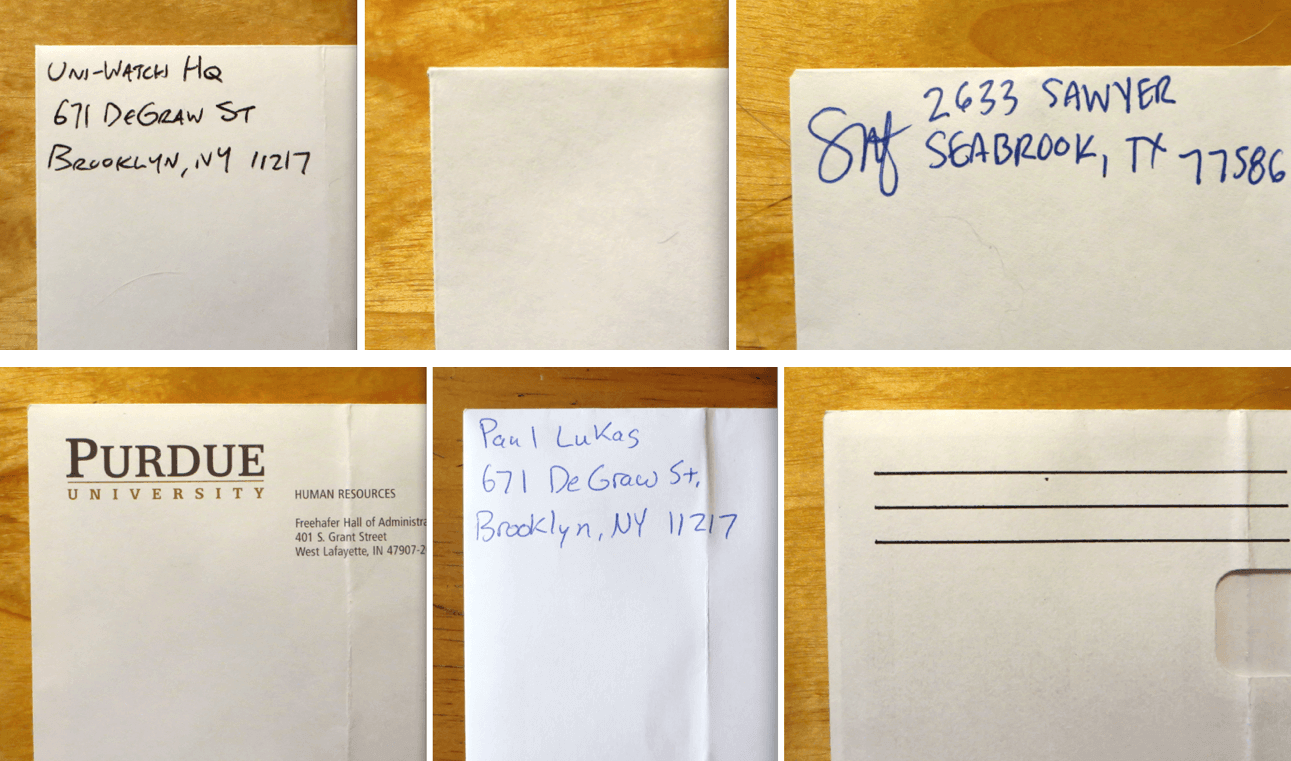 Click to enlarge
Postal fun: As most of you know, I'm currently selling Uni Watch 15th-anniversary stickers. I'm only accepting payment via snail-mail, and you have to enclose a self-addressed stamped envelope along with your check or well-concealed cash. Some folks have asked why I'm doing it this way, instead of just accepting electronic payments.
Part of the reason is that it doesn't make sense to have Amazon Payments skimming their cut from only a $2 or $3 payment. But more to the point, it's fun to get letters in the mail, and even more fun when the letters include a few bucks — reminds me of my old zine days.
But the best part, as you can see above, is is seeing how people handle the return address on their self-addressed envelopes. Some folks write in my address — sometimes with my full name, sometimes just my last name, sometimes just the address with no name, and in one instance "Uni Watch HQ." Some people write in their own address, so the main and return addresses are the same. Some people use envelopes from their work, with their employers' return address already printed. And lots of people simply leave the return address blank.
Also: Some people fold an envelope that's the same size as the one in which they're mailing it to me; others use a smaller envelope, so they don't have to fold it. Some people's self-addressed envelopes have a stamp; others were run through a postage meter (probably at work, tsk-tsk) or were purchased pre-postaged. Plus one reader forgot to include postage, but I let it slide and comped him a stamp.
I love seeing all the different approaches. If you'd like to contribute to the variety, order your stickers now, before they run out.
• • • • •
NFL Superhero Project
By Thomas Correia
Last week some folks asked if these NFL Superhero logos will ever be shown on their own, sans Underoos. I'm happy to report that I have plans to show all 32 logos on a large-scale image in Week 17. This final image will be made available on Uni Watch and hopefully on a personal site in the near future.
In the meantime, here's the Underoos design for tonight's Thursday Night Football match-up between the Vikings and Packers [click to enlarge]:
The Vikings' hero was a no-brainer, since Vikings are Norsemen and Thor is the most famous Norse god. Perfect, right? The helmet is based on the one worn by Chris Hemsworth in the Thor films. I loved all the detail in it. Add Thor's beard, long hair and chest disc; and this logo easily became one of my favorites.
On the other hand, I had struggled quite a bit with which hero to use for the Packers, but eventually decided on the Green Arrow. I tried to find a suitable balance between the white "G" and an actual "green arrow" hidden within it. Many attempts were made to make it work, which evolved into what you see here.
Next week: Colts vs. Texans. Who will those heroes be?
• • • • •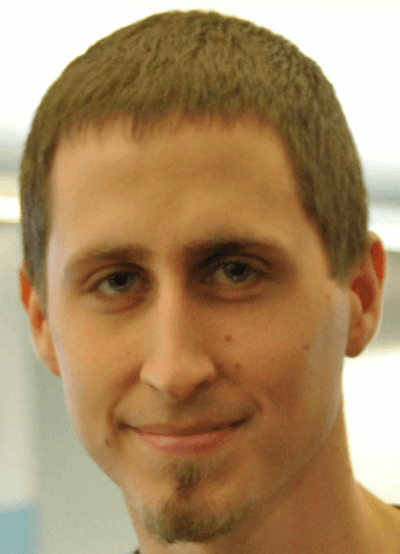 Mike's Question of the Week
By Mike Chamernik
I was a sports nut — and, really, a uniform nut — even as a seven-year-old. Not only did I own a ton of Champion-branded NBA replica jerseys (those are only the ones I still have, I probably had five times as many jerseys), but I also drew sports scenes. I didn't focus so much on whatever the players were doing; I was mainly concerned about drawing the logos the best I could. Check out that Brewers logo I did. That's dynamite.
So: When did you become interested in uniforms, what got you into uniforms, and what is your earliest uniform-related memory? Do you have any uni-related stories from your youth (or from when you started to become interested in uniforms)? Post your responses in today's comments.
• • • • •
Uni Watch News Ticker
By Mike Chamernik

Baseball News: Royals' bench coach Don Wakamatsu, who makes out the lineup cards that are posted in the dugout, has beautiful handwriting (from M. Skuz). … Last night, the Pirates wore their postseason patches above their Ralph Kiner memorial patch (from Phil). … When it comes to their fans, the Nats are simultaneously tuned in and clueless (from Tommy Turner). … Whoa! A California high school baseball coach in the 1960s invented something called a screwbat to help train players to not roll their wrists when they swing. … A reader named Matt Gamba is searching for a minor league cap he once saw. "It was a black with an orange brim and the logo was of a flame guy — I forget if he was batting or pitching," he says. Anyone know which team's cap this might be?

NFL News: The Allgau Comets of the German Football League have a Titans-esque logo (from GP). … Justin Barrientos bought a Houston Lady Oilers jersey from eBay. The Lady Oilers play in the Women's Arena Football League. "I have looked for pictures of the team wearing this style of jersey, but have not had any luck," he says. "From what I have found, they usually wear much less in that league! So, I'm wondering if this is something else. Any idea?" … Nike still has a few Johnny Manziel jerseys in circulation that have the bygone Al Lerner memorial on the sleeve, which was removed from the Browns' jerseys before Manziel was drafted (from Kevin Bresnahan). … Here's a look at some of the helmets in the Fall Experimental Football League that's set to debut next week (from Eric Wright). … "I noticed on Monday's game that Tom Brady was sitting in front of trunk that clearly had something duct-taped out on its lid," said Jon Solomonson. "I wonder what it said before being taped over." … Vikings WR Jarius Wright's alma mater, Arkansas, is proud of him, but they recolored the Vikings' logo (from John Follett). "¦ How 'bout them Cowboys! Got that pencil topper from a gumball machine last night. The machine had helmets of all 32 teams. Quick tangent, how useless is a pencil topper? Not only does it get in the way of the eraser, but it gives a weird balance to the pencil when you write. Double tangent: Every time I get something from a sports trinket machine, I always get a Cowboys or Red Sox item. It's like the cosmos think I'm a bandwagon fan.

College Football News: Orange jerseys for Colorado State Saturday. … Red-and-white is the most popular color combination in college football. The always good-looking green-and-yellow is pretty rare (from Marc Burgess). … Brown wore throwbacks (fauxbacks?) against Harvard on Saturday (from Joel Mathwig). … Here's why Tennessee has checkerboard end zones (from Chris Howell). … Air Force will have new helmets against Navy. … Here's a really cool interactive guide to Oregon's unis from over the years (from John Gurnick). … Arizona State is going black-white-black against USC (from Phil). … Maryland will wear hand-painted helmets Saturday (from Phil). … Western Michigan is bringing back its gold helmets (from Phil). … I love YouTube mashups, so here's Project Runway critiquing Nebraska's new unis (from Greg Aquino). … Syracuse might not have its orange unis ready for Friday's game against Louisville (from Phil). … Here's a look at Oklahoma's uniforms throughout the ages (from Phil). … Alabama is cracking down on club teams that use its logo. That is, the school is cracking down on University of Alabama club teams who use the logo (from Dustin Kline). … New uniforms for Florida Tech (from proud alum John Follett).

Hockey News: The German team Red Bull Munich had some great Oktoberfest-themed uniforms last week (from Jonathan Fox). … The Dallas Stars have been trolling opposing fans at Stars games by mocking them on the scoreboard.

NBA News: Here's a better look at the Cavs' new court. … Jonathan Dodd says the Mavs have added a small star to the waist of their shorts. "This is the first time I have noticed this," he says. "Not the best pic, but you can get the idea that the star is the same one they have on the upper back." … Related to the drawings I did when I was a kid, during my freshman year in high school I made a manga-style comic book art project on a Blazers-Bucks game I attended. Check it out. By the way, it was an absolutely bananas game.

Grab Bag: Helmets will be required in high school girls' lacrosse in Florida next year (from Scott Jamison). … Here are six of the biggest stadium design flaws in pro sports (from Brinke).