As you know, many MLB teams let the starting pitcher choose the jersey for each game. That includes the Braves, at least for their road games. (Their jersey choices for home games are scripted — whites on weekdays, creams on weekends, red flag-descrations on five designated dates.)
That has prompted reader Robert Kittle to do a bit of numerical analysis:
After tossing out two road games from last season that featured non-conventional jerseys (throwbacks in one case, camo lettering in the other), I looked at the remaining 79 road games and found that the Braves wore the navy jerseys in 33 of them, or 42% of the time.

When breaking it down by pitcher, I discovered that Tim Hudson and Kris Medlen were the only pitchers who clearly favored the gray jersey over the blues. Medlen never wore the blue jersey, and Hudson wore it only once out of 11 road starts.

With Hudson now in San Francisco and Medlen out for the year, use of the gray jersey will likely decline this season. This is already showing up in the numbers: Leaving out Jackie Robinson Day (because I don't think the pitcher got to choose the jersey for that game), they've already worn blue five times out of seven games. It's also worth noting that newly acquired starter Ervin Santana chose navy for his one road start, so he may be a blue partisan. Looks like we're going to see a significant spike in blue this year.

I'm hoping this isn't the case, because the Braves' classic grays are such a great uniform, but it's beginning to look like they won't be seen much this season.
Good stuff, Robert — thanks for crunching the numbers.
This brings up something worth discussing: I've always felt a little uneasy about having the starting pitcher choose the jersey. For one thing, it carries an element of letting the inmates run the asylum, which I don't care for. But hey, if you're going to go that route, shouldn't every inmate get an equal shot at it? I realize the starting pitcher is arguably the most important player on the team each day, but he's not the only player. And most of the time he doesn't even finish the game! Why shouldn't a relief pitcher get to pick the jersey once in a while? Or the shortstop? Or the back-up catcher? (And yes, we all know there's an easy solution: Just have one home jersey and one road jersey, like the Yankees do. But that's not the reality most teams live in.)
Personally, I'd rather have the equipment manager make the decision and leave it at that. But if you're going to bring players into the equation, I think they should all get a crack at it. What do you folks think?
Update: One of today's first comments was a link to this 2013 article about uniform selection, which includes the following:
Just because pitchers have the option of choosing doesn't mean they spend a lot of time thinking about it. Braves pitcher Tim Hudson says he always chooses the gray jersey on the road because he's a traditionalist. Occasionally, if he's lost a game or two in gray, he'll switch to blue, but it's not something he thinks about a lot.

"Our game is hard enough as it is," Hudson said. "If a guy thinks too much about what they're going to wear, then they're probably in the wrong business."
+ + + + +
Unmasking the Commenters: I recently invited the site's commenters to tell us a bit more about themselves and give us a peek at what they look like, just because I thought it would be fun to pull back the internet's curtain of anonymity. I'll keep showcasing you folks as long as you keep sending in your photos and quick bios.
Today we're spotlighting Anthony Nuccio, who submitted a photo of himself with a famous sports guy (click to enlarge):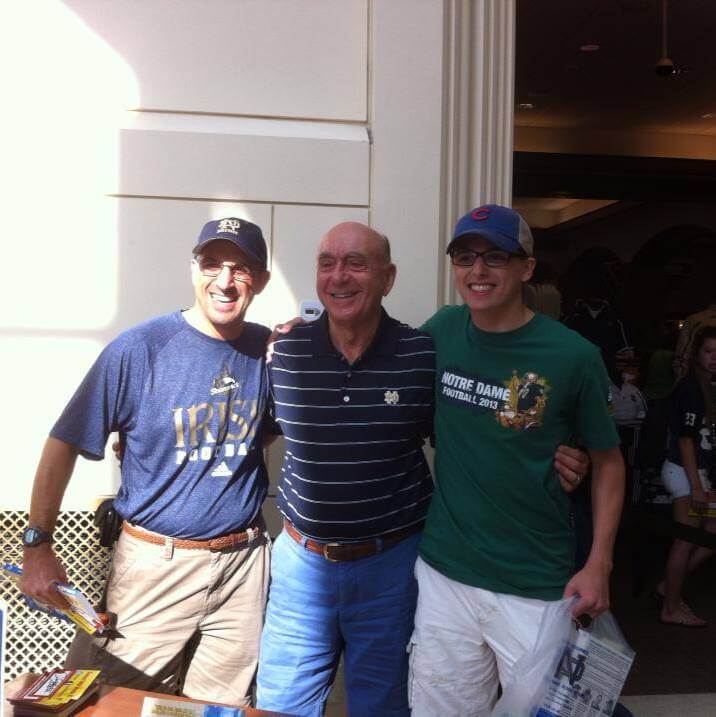 That's me on Dick Vitale's left, and my father is on his right. I'm a junior at North Central College in Naperville, Illinois, where I major in religious studies and minor in writing. When I'm not in school, I spend the other three months of the year in Lake Zurich, Illinois.

I was born and raised as a Bears, Blackhawks, Bulls, and Cubs fan. My father instilled in me a great love for Notre Dame athletics, and we were finally able to go to South Bend for Notre Dame's home opener against Temple this past season. I've played a wide variety of sports in my lifetime, including soccer, hockey, cross country, and track and field. Some of my non-athletic interests include collecting baseball cards and patches, reading, and being outdoors. I am also a second-generation Eagle Scout.
Thanks, Anthony, and thanks for your contributions to the site — you help make Uni Watch a better place!
+ + + + +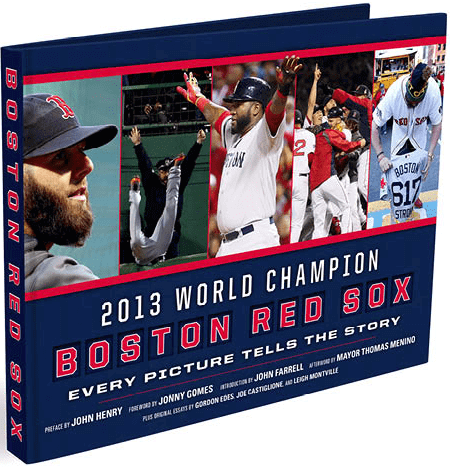 Yo, Red Sox fans: In case you missed it earlier this week, Uni Watch readers are being offered a special deal on 2013 World Champion Boston Red Sox: Every Picture Tells a Story, a gorgeously produced coffee table-style book (not an e-book) that chronicles the 2013 Bosox season. It features over 200 photos (some of which you can see here), along with essays by team owner John Henry, outfielder Jonny Gomes, manager John Farrell, Boston broadcaster Joe Castiglione, former mayor Thomas Menino, journalists Gordon Edes and Leigh Montville, and more.
The book lists for $40, and Amazon has it for $27.33. But if you go here and use the checkout code RSX131, you can get it for $24.95 — definitely the lowest price you're gonna find. You know what to do.
+ + + + +

'Skins Watch: A new study indicates that teams using Native American mascots and imagery are paying a financial price, to the tune of a few million dollars per year. Additional info from the study itself is available here. "¦ Students at a New Hamshire high school are trying to change the school's "Red Raiders" mascot (from Tom Mulgrew). "¦ Portland-area readers may want to check out this panel discussion on Native American mascots that's taking place at Reed College next Thursday (from David Landesberg).

Baseball News: The Marlins will wear Miami Sun Sox throwbacks on June 8. Further details on the Sun Sox here (thanks, Phil). "¦ Cardinals 2B Kolten Wong changed things up by going high-cuffed with stirrups last night, but the real news, as several readers reported, was that he wore gray sannies! Never seen that before. On the one hand, it's nice that the gray matches his gray road uni and the gray trim on his cleats. But it still doesn't feel right — white would be better. Interesting move, though. "¦ For the first game of Wednesday's Cubs/Yanks doubleheader, the Cubbies wore their alternate gray pants with their blue jersey. "Cubs TV announcer Len Kasper mentioned that this was the first time the Cubs have worn this combination," says Michael Schweda. "¦ Brennan Boesch, called up by the Angels in time for Wednesday's game, is wearing No. 00. He wore 26 with the Tigers. I'll try to find out what's up with the double zeroes (from Brett Crane). "¦ Here's some home movie footage from a 1967 Mets/Phils game at Shea that shows glimpses of the green outfield wall that was used for the first month or so of that season (from Chris Rocco). "¦ For a while now I've been responding to the camouflage jersey phenomenon by saying, "Not all soldiers are heroes, not all heroes are soldiers." The second part of that line has now been addressed by the Lehigh Valley IronPigs and Pawtucket Red Sox, who'll be wearing police- and firefighter-themed jerseys on April 26. Nice idea, although the jerseys "feel more like a disaster than a tribute," as Ben Wideman puts it. "¦ In 1994, the Giants wore radially arched NOBs. But Bobby Bonds, who was the team's first base coach at the time, was wearing a '93 jersey with vertically arched lettering. "Seems to have been an issue all season," says David Shank. "¦ Pirates pitcher Wandy Rodriguez has been going double-flapped (from Johnny Bruno). "¦ During yesterday's CSN/MLBN broadcast of the Braves/Phils game, they still had some Braves players listed as wearing No. 42 (screen shots by Tom Marshall). "¦ It had previously been reported that the Red Sox will wearing the white "Boston" jerseys for the Patriots Day game next Monday morning. They've now issued a press release describing this move as "inaugurating a new tradition," which means the white "Boston" jersey will become an annual thing for the Patriots Day game. "¦ When the Orioles and Rays did the all-42 thing on Wednesday (delayed a day due to a rainout), the stadium announcer and scoreboard operator got a bit confused during a late-inning substitution. "¦ Yesterday's Ticker included a link to the D-backs' Federal League throwbacks, which they'll be wearing on April 23 against the Cubs. Turns out that a few of the uni elements in that photo were wrong, so the team has issued a corrected version (note the different cap, belt, and sock colors), along with a mock-up showing the front and rear views. I asked team designer Brian Gundell about the D-Backs sleeve patch, and he responded, "The Cubs wanted to re-create the exact match-up that took place on April 23, 1914, between Kansas City and Chicago of the Federal League. We happened to be their opponent that day, and we agreed to participate, but we also requested that our logo be present, since there's no direct connection between us and the old KC team." Brian's a good guy, but man — that sleeve patch is such a mistake. The veritable turd in the punchbowl. "¦ Oh, I also asked Brian if the D-Backs would be wearing throwback batting helmets. Response: "We're pretty sure the batting helmets will be blank navy. The Cubs are providing a set of helmets that will be used for each of the teams that participate in their throwback games." "¦ Wes Reichart notes that low-crown MLB 5950s are now available on MLB.com. He says this is the first time these caps have been available to consumers — is that really true? "¦ I just scored this totally boss vintage jersey. More photos/details after I receive it from the seller. "¦ It's very sutble, but it's true: Yankees pitcher Dellin Betances was wearing an upside-down "8" last night (genius spot by Brian Cheung).

NFL News: Reader Ryan Becerra was watching footage from a Bears/Cardinals game from Oct. 29, 1972, and noticed that the Bears' players were wearing two different jersey designs — some with the classic rounded numerals and some with block numerals.

College Football News: The Washington Huskies will release new uniforms today. "¦ Remember those "flame" helmets that Arizona State wore against Notre Dame last year? They'll be wearing them again in 2014. "¦ Louisville has extended its deal with Adidas. Key quote: "Included in the contract, per U of L's news release, are five football jersey choices, allowing dozens of combinations when combined with helmets." Further info here (thanks, Phil).

Hockey News: New uni set for the Butte Cobras of the WHL (thanks, Phil). "¦ The NHL is promoting the postseason by installing a FanFest exhibit outside of Madison Square Garden. "They have a great display from the Hall of Fame, including Wayne Gretzky's baby skates," says Alan Kreit, who took these photos.

NBA News: Lots to like in this old NBA photo, including a Bucks-branded ice bag, Pistons socks, and first names on the Pistons' warm-up jackets (from John Romero).

Grab Bag: A West Virginia midget football league is suing Riddell over the company's concussion-related claims. "¦ There are 29 professional sports teams in Chicago, and David Ridderhoff has ranked all of them. "¦ In a related item, here's a video interview with the guy who runs the Chicago Sports Museum (from Marc-Louis Paprzyca). "¦ New logo for the Minnesota Lottery. "¦ A 15-year-old in Illinois has been making custom-painted sneakers in team-themed designs. Further info here (from Luke Resnick). "¦ Here's something you don't often see: a blue shamrock logo. That's NASCAR driver Cole Whitt (from Tom Mulgrew). "¦ "Covered a high school softball game last night, and both teams wore all-black unis," says Josh Claywell. "Only differences were cleat color, number font/color, the splash of white on the sides of one team's jersey, and a stripe on that team's pants. Drove me nuts, but none of the fans seemed to give a shit." "¦ Notre Dame lacrosse will be wearing a "Shamrock Series" uniform this weekend (from Jared Buccola). "¦ Didn't realize until now — but am not really surprised — that there's a blog devoted to Craig Sager's suits (from Warren Junium).