Masahiro Tanaka, the Yanks' new Japanese import, made his MLB debut on Friday. And as you can see in the two shots above, he was pulling the old Barry Bonds move of keeping his pant legs anchored to his shoes with straps that went under the soles. The strap was supposedly banned years ago, along with a bunch of other anchoring moves, but you still see it from time to time. It appears to be one of those things that's tolerated unless someone complains ("someone" meaning the opposing team, not me).
The strap is common in Japan, and it looks like Tanaka frequently used it while pitching over there. But here's the weird thing: He apparently didn't use the strap during spring training. Dig: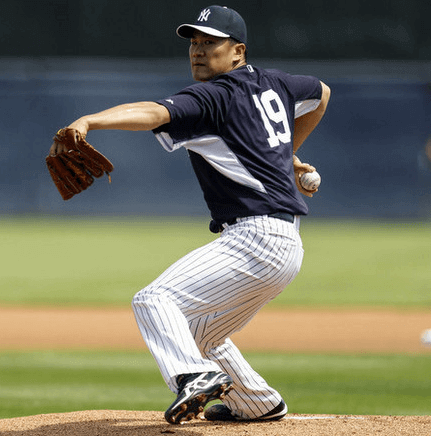 Those are just two photos, obviously, but I looked at several dozen spring training photos of Tanaka, and they all showed the same thing: no strap. So the Yanks apparently added the straps to his pants specifically for his big league debut.
The real problem with the strap, and with all the other pant leg-anchoring maneuvers (the heel-spike impalement, the shoelace tie-down, the Velcro strips, etc.), is that they're tools of the pajamist, and pajamism is evil. If you need any additional evidence of that, look no further than this shot of Tanaka. Woof!
+ + + + +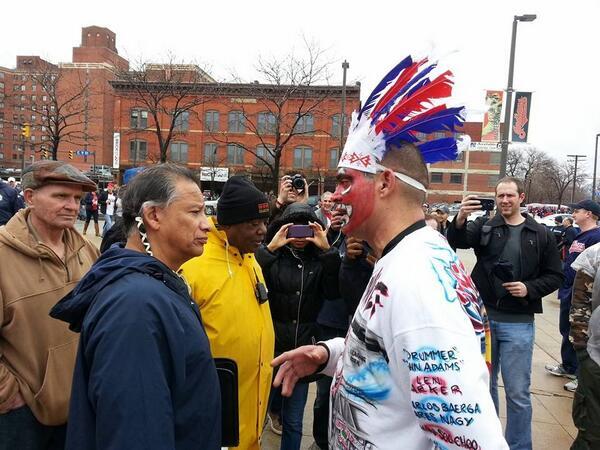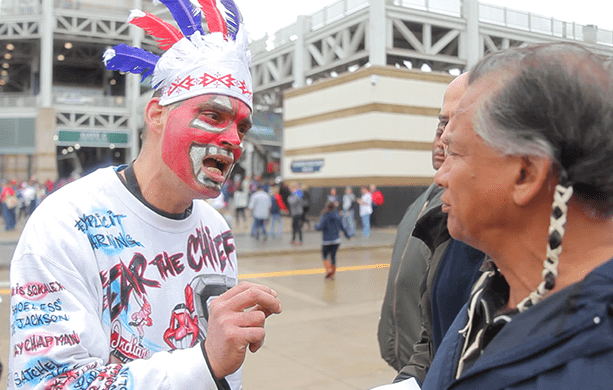 "But dude, I'm honoring you!": As you may have heard, there was a particularly surreal encounter at the Indians' home opener on Friday, as several photographers captured this jaw-dropping encounter between Robert Roche, a Chiricahua Apache tribal member and executive director of the American Indian Education Center in Cleveland, and an Indians fan named Pedro Rodriguez. The top photo, showing the two men in profile, quickly went viral on Friday afternoon (including on my own Twitter feed, where it was retweeted over 400 times) and prompted lots of media attention.
Several people have asked me about the photos' backstory. Here it is: Roche was part of a group of protesters who'd turned out to call for Wahoo's retirement. Cleveland Frowns blogger Peter Pattakos was on hand with a cameraman to shoot some footage of the protest, and they spotted Rodriguez, who agreed to appear on camera. Pattakos asked him about his costume, and Rodriguez responded with some rather unsympathetic comments about Native Americans who have any issues with Chief Wahoo. Pattakos asked him if he'd be willing to say those same things to an actual Native American, and Rodriguez said yes, so Pattakos brought him over to the protesters, where Roche and Rodriguez had their encounter. Pattakos has provided a more detailed account on his site (he's also working on a video, which he tells me will be ready in a few days), and there's another good overview, along with a slideshow, here.
Even the pro-Wahoo people seem to recognize how bad this looks, and I suspect they realize Rodriguez may have unwittingly hastened Wahoo's ultimate demise. Just yesterday I phone-interviewed a pro-Wahoo fan who'd gotten in touch with me last Thursday to offer an equal-time rebuttal to my recent ESPN column on de-Chiefing. He's still pro-Wahoo, but he said the Roche/Rodriguez incident had shaken his faith somewhat and that he's now wavering.
The best the pro-Wahoo people can do now is say, "This guy, he's just one asshole. Most of us pro-Wahoo fans would never do anything like that." That's true, of course. But it's also true that this isn't the first time Indians fans have gone the minstrelsy route. More importantly, keeping Wahoo on the active roster gives license and encouragement to this type of behavior. Like, if the Chief is an official team logo, why shouldn't fans be painting their face with his likeness? That's what fans do, right? As long as the Indians keep Wahoo around, they can't credibly disavow this kind of stuff.
+ + + + +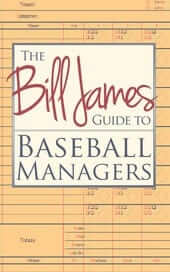 Book deal reminder: In case you missed it last week, our friends at Diversion Books have another exclusive offer for Uni Watch readers: The Bill James Guide to Baseball Managers, which is the definitive text on MLB skippers. It's a great book (I first read it about 10 years ago), and Uni Watch readers can now download the e-version for only $2.99 — that's 50% off the regular price.
+ + + + +

'Skins Watch: Here's how SI.com described a story they ran on Friday: "We set out to gauge the real sentiment regarding the name "˜Redskins' among Native American leaders and in grass-roots tribal communities around the country. The short answer: It's complicated." That's a very good summary of their excellent article, which explores the complexities of the situation and quotes strong, well-reasoned voices from both sides of the debate. Probably the single best thing that's been written about this issue — highly recommended. "¦ My old high school pal Michael Grimm, who I haven't seen in 30 years but still keep in touch with — and who lived in Cleveland for a spell in the 1990s, during which time he became an Indians fan — is the latest to de-Chief his Indians jersey.

Baseball News: Contrary to what I had hinted at last week, the Dodgers did not come out with a memorial patch for Dr. Frank Jobe on Friday. My source turned out to be wrong on that one. … Oh baby, this might be the best Sox in shorts photo ever (spectacular find by Comrade Robert Marshall). … A guy in Pittsburgh was doing some work on his old house when he found a bunch of old T-206 baseball cards — but not a Honus Wagner, alas — in the rafters (from Bryan Justman). "¦ Cubs pitcher Jeff Samardzija wasn't wearing the Wrigley Field centennial cap patch on Saturday (from David Taub). … The gold-trimmed championship jersey has spread to the minor leagues (from Peter Wallace). "¦ Several of the Pirates wore old-school mustard stirrups with yesterday's throwbacks. Some problems there — the extra white stripe, the inconsistent sannies, etc. — but it's still better than pajamism (thanks, Phil). "¦ Very, um, interesting uni for Notre Dame baseball. Here's the rear view (from Warren Junium). "¦ Ken Levin's mother-in-law, Nina Elsohn, knitted him this amazing Orioles cardigan. "She couldn't find any published patterns for this style of sweater, so she made it up on her own," he says. "My contribution was the oriole patch, which is the hat logo the International League Orioles wore in 1921 and seemed stylistically appropriate." "¦ David Firestone has done some more analysis on the Washington Senators' old 3-D numbers. "¦ Hmmm, is this a photo from an intrasquad game? Nope — that's Jacksonville State (on the left) and New Mexico, who wore extremely similar uniforms the other day (from Frank Frank Mercogliano). "¦ Never seen this before: an old girls' softball jersey with a "Pigtail League" sleeve patch. Here's the full jersey. "¦ Twins skipper Ron Gardenhire notched his 1,000th win the other day. After the game, his players saluted him with this rather amusing T-shirt (from Charley Collier). "¦ Kansas State went G.I. Joe the other day. "What's troubling to me as a K-State alumnus is the pitcher's raggedy left undersleeve," says Ray Schaefer.

College Football News: A professional illustrator has serious issues with the new Florida State logo (from Paul Leone). "¦ NCAA honcho Mark Emmert says the Northwestern football team's upcoming vote on unionization could set in motion a series of events that "would blow up everything about the collegiate model of athletics." Gee, that would be a pity.

Soccer News: Three LigaMx teams this past week wore green jerseys, white shorts, and red socks, instead of their regular colors, as a gesture of support to the Mexican national team that will be competing in the World Cup. The three teams were Atlas, America, and Tijuana (from Omar Jalife). "¦ New home kit for the Carolina RailHawks (from Andy Dunbar). "¦ Good article on the growing debate regarding concussions in European soccer and rugby. "¦ New home and road kits for the NASL's Ft. Lauderdale Strikers (from Paul Mordente).

Pro and College Basketball News: NBA courts are currently emblazoned with the "NBA Green" logo (screen shot by Charley Collier). … Reprinted from Friday's comments: Love this old photo showing the uniforms worn by the Nashville Women's College squad (from Lee Wilds). "¦ Killer UNLV jacket for Killers frontman Brandon Flowers the other day (from Douglas Ford).

Grab Bag: I don't know why Robert Griffin III — or any athlete, for that matter — needs his own logo, but he now has one (from Alan Tompas). … I'm quoted in this article about the implications of advertising on uniforms. "¦ "Jersey sponsorship has been a part of rugby for years, but the Western Force (the Super Rugby team from Perth, Australia) has a new twist," writes James Vetter. "Each of the 15 starters wears the logo of a sponsor assigned to his jersey number. There's more information here." "¦ More rugby news: The Springbok jersey that Albie Malan wore against Australia in 1963 was personally returned to South Africa after being discovered in the cupboard of the house belonging to former Wallaby Jim Miller (from Graham Clayton). "¦ Latest team to defile the flag: Johns Hopkins lacrosse (from Jared Buccola). "¦ What's with the No. 18 on this guy's back? That's a photo from a 1950s shoeshine competition, which used to be a big deal in Wilson, North Carolina. Details and additional photos here (big thanks to Chap Godbey).
+ + + + +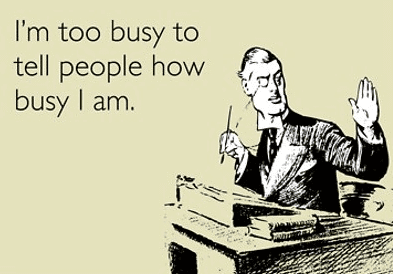 Looking ahead: I'm going to be off the grid today from about 11:30am until at least the late afternoon, maybe longer. That's the start of what's going to be a very busy three-week period for me. My datebook over the 20 days is pockmarked with all sorts of appointments and obligations — personal and professional, day and night, mundane (my annual tax appointment with my accountant) and special (my Mom's 90th birthday). This will seriously disrupt my usual routines, which is a bit of a stressgasm, because I'm a pretty routinized fella.
So what does this mean for you? A few things:
•  There's a decent chance we'll have a snow day (i.e., a day when the site is closed) at least once in the next three weeks, although I'd say that's unlikely for this week.
•  For the days that I'm on Ticker duty (as opposed to the days when Mike, Garrett, and Phil are on Ticker duty), I'll likely be imposing a higher standard of Ticker-worthiness for the submissions that come in. My apologies in advance to those of you who send in things that end up not being used.
•  I get a lot of reader queries pretty much every day ("Do the Pirates have a system that determines when they wear their throwbacks, or is it just whenever they feel like it?"). I usually try to respond to all of them, but I may be ignoring most or even all of them over the next three weeks. Sorry about that — nothing personal, just a matter of time-management. You might be better off posting queries in the comments, where other readers may be able to answer them.
•  Speaking of the comments, I'll likely be participating a bit less in some of the discussions there. (Yes, I realize many of you probably view that as a plus.)
•  If you're a member of the media looking to get a quote from me or have me on your radio show, or if you're a student looking to pick my brain for a class project, I'm sorry but this is not a good time. Please check back with me at the end of the month Thanks.