Yesterday was Opening Day — the real Opening Day — which among other things meant that longtime Uni Watch reader/baker Elena Elms upheld her annual tradition of making baseball-themed cookies for her office. I can think of no better harbinger of spring that that!
Here's a roundup of uni-notable happenings from each one of yesterday's games:
• Cubs/Pirates: Lots of uni-related interest here, as the Cubs wore their new gray alts and the Pirates wore their black softball tops. Terrible move by the Buccos — that's no way to open the season in your home park. As for the Cubbies, the front uni numbers on that jersey sure look small, no? Additional photos here.
Also of note: Prior to the game, Pirates outfielder Andrew McCutchen received his MVP and Silver Slugger trophies.
• Phillies/Rangers: The Phillies debuted a "CB" memorial patch for former owner Claire Betz. (This was apparently announced last Thursday, but I missed it — mea culpa.) At first I thought the lettering on the patch was gray, not white, but then I saw this shot, in which the lettering does indeed appear to be white. Interesting that the Phils keep using the over-the-heart placement, which I believe they've done for all their memorial patches since the Harry Kalas patch in 2009. They've kinda painted themselves into a corner — if they ever wear a memorial patch on the sleeve, instead of on the chest, it'll be viewed as a lesser honor, a lower status. (Update: Turns out they used a sleeve patch for Robin Roberts in 2010, so I stand corrected on that.)
Meanwhile, the Rangers are another team that doesn't know how to dress on Opening Day. That shot does provide a good view of their red jersey's new non-beveled lettering, however. Also, in recent weeks I had reported that longtime double-flapper Shin-Soo Choo had been experimenting with single-flapped helmets, but he was back to his familiar double-flapped style yesterday. (Also note that, as a doube-flapper, Choo is allowed to keep wearing the CoolFlo helmet, while single-flappers are all required to wear the S100 Pro Comp. Choo's fellow double-flapper Bryan Peña, now with the Reds, was also wearing a CoolFlo yesterday.)
• Royals/Tigers: It was a little chilly in Detroit, so several Royals wore ski caps for pregame warm-ups. Meanwhile, the Tigers unveiled their division championship banner just prior to the game. (As an aside, looks like the Royals have nary a high-cuffer on the roster.)
• Braves/Brewers: Milwaukee wore white but Atlanta wore blue (and what was Carlos Gomez wearing on his wrist in that photo?). This game also provided our first in-game look at Atlanta's Hank Aaron home run patch. And as I suggested last week, Jason Heyward wore his facemask into a second consecutive season.
• Nats/Mets: Mets reliever Jose Valverde was wearing blue/orange camouflage undersleeves during pregame introductions. I was wondering if he'd try to wear those in the game, and if he'd be allowed to do so (remember, the umps wouldn't let pitchers wear the old Nike-pox sleeves back in 2006). When he entered the game in the bottom of the 7th, he was bare-armed — hmmm, had he been told to remove the sleeves? A little photo research reveals that he almost always pitches bare-armed, so I suspect the camo sleeves were just a pregame thing.
• Red Sox/Orioles: We finally got to see the Orioles' memorial patch for former team part-owner Tom Clancy, which had been announced last week but wasn't shown until yesterday. Wow, they really knocked themselves out on that one, eh? We also got our first in-game look at Boston's new road uni, which is pretty much the same as what they wore from 1990 through 2008. Looked terrific then, looks terrific now.
• Jays/Rays: Tampa wore white but Toronto wore blue. Also, Rays reliever Heath Bell appeared to have a really oversized cap during pregame introductions.
• Twins/White Sox: Chicago wore white pins but Minnesota wore navy.
• Cardinals/Reds: Now that's how Opening Day's supposed to look.
• Rockies/Marlins: Probably the most garish Opening Day in MLB history — here, see for yourself. Hey, if you're gonna flout tradition, why not go all the way? Such an epic eyesore for the ages that it kinda achieves "so bad it's good" status, or at least earns a bemused chuckle. Bonus points for Giancarlo Stanton, who added a blue arm sleeve into the mix.
• Mariners/Angels: Nothing unusual here — home team in white, road team in gray. Shocker! (One side note: At one point Albert Pujols pulled up a pant leg and revealed that he uses an EvoShield elbow guard on his shin.)
• Giants/Diamondbacks: Egad, yet another case of the home team in white and the road team in gray. What a concept.
• Indians/A's: Oakland wore gold and Cleveland wore gray.
So out of yesterday's 13 home teams, nine of them wore white (and among the four outliers, we'll give a mulligan to Oakland, since they've been existing in their own aesthetic universe for nearly half a century now). Similarly, nine of the 13 road teams wore gray. But because of the way those teams were spread out in the various games, only six of the 13 games were white vs. gray. Not quite how I would've drawn it up
But it could've been worse. And hey, it's baseball season! That makes everything better — even baseball.
(My thanks to all contributors, including Brandon Creeger, Andrew Domingo, Derek Furuichi, Jeff Lantz, and of course Phil.)
+ + + + +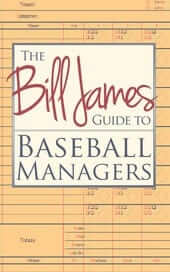 New book deal: Just in time for the start of the MLB season, our friends at Diversion Books have another exclusive offer for Uni Watch readers: The Bill James Guide to Baseball Managers, which is the definitive text on MLB skippers. It's a great book (I first read it about 10 years ago), and as of right now Uni Watch is the only place you can get it. Even better, Uni Watch readers can now download the e-version for only $2.99 — that's 50% off the price at which the book will eventually be offered elsewhere.
Meanwhile, the e-version of Mike Shropshire's hilarious Seasons in Hell is still available for only $1.99. Quite a few of you got in touch to say how much you liked that deal, and I hope you'll dig this new Bill James offer as well. If sales are good, Diversion will continue to make these discounted downloads available exclusively to Uni Watch readers, so you know what to do.
+ + + + +
Collector's Corner
By Brinke Guthrie
Opening Week in MLB, so we're loaded with baseball today, beginning with this Reds jacket that, according to the seller was worn by Sparky Anderson. I'll never forget coming back to my Miami U. dorm in November of 1978 and seeing the news on TV about Dick Wagner firing Spark.
But let's not belabor such unpleasantness — it's the start of the baseball season! Here are some items to get you in the mood:
• This 1940s-1950s Red Sox pennant still has some life left in it!
• Here's a 1970s-1980s KC Royals three-quarter-sleeve henley from Champion. Would you judge the Royals logo to be a classic? It's never changed, and I've always thought it's a perfectly balanced look.
• These Russell Athletic turtlenecks are outstanding quality. I had a Reds one.
• Let's check out these great 1971 posters for the Angels, Dodgers, and Giants.
• Mets stuff: a classic-looking bobblehead and a press pass, both from the 1960s.
• Had this Texas Rangers sticker! Always liked how they put the little sheriff's badge at the bottom of the "R" in Rangers.
• Uni Watch's recent entry about old Cubs and Cardinals scorecards reminded me of this Cubs cover. I remember going to a Wrigley game that year and buying this Braves helmet, strictly because I liked the look. (I bought a Padres cap for the same reason.) A Reds fan at a Cubs game wearing a Braves helmet!
• Why don't they make stuff like The Great NFL Fun Book anymore? Because the NFL is all Nike-corporate now, blah-blah-blah, that's why. Seriously, this book looks like ten tons of fun, with a section devoted to all 28 teams helmets and uniforms, no less. Dirt cheap, too — what are you waiting for?
• A St. Louis (Football) Cardinals Action Puppet — really?
• This 1970s Sears Atlanta Falcons helmet plaque looks to be in excellent condition.
• Gadzooks, this is a great San Francisco 49ers DeLong varsity jacket.
•  From reader Bruce Menard, check out this All-Madden Team BBQ set!
Seen something on eBay or Etsy that you think would make good Collector's Corner fodder? Send your submissions here.
+ + + + +
Unmasking the Commenters: I recently invited the site's commenters to tell us a bit more about themselves and give us a peek at what they look like, just because I thought it would be fun to pull back the internet's curtain of anonymity. I'll keep showcasing you folks as long as you keep sending in your photos and quick bios.
Today's commenter is David G. Firestone, who generally comments under his own name (and has also guest-written some entries):
I live in Evanston, Illinois, where I write The Driver Suit Blog and Vintage Item Spotlight and produce Introduction to Sports Memorabilia. When I am not obsessing over uniforms and auto racing, I can be found playing with my cat, Alejandro, and my dog, Lucy. In addition to sports stuff, I also collect pens used by Presidents to sign bills, Beavis and Butt-head animation cels, and things that interest me.
Thanks, David. I appreciate your contributions to the site. You help make Uni Watch a better place!
Do you want to be featured in "Unmasking the Commenters"? If so, send me a photo and a quick paragraph about yourself. You don't have to reveal your real name, and the photo doesn't have to show your face, but you must include a photo to be considered. Send everything this-a-way.
+ + + + +
Tick-Tock: Today's Ticker was compiled and written by Garrett McGrath.

Baseball News: Very cool photo find of the elusive Padres bullpen cart (from Brady Phelps). … Popping the Question: Now you know how much it costs to propose at every MLB stadium. The Mets don't allow proposals because they are allergic to extra revenue. … Our own Brinke Guthrie has written a piece about the Brewers' new mascot. … The Atlanta Crackers players in this photo posed at Ponce de Leon Park in Atlanta, Georgia in 1950. They were told by the press that they taking headshots so they didn't wear pants (from Mark Smith). … Good article and photos about the famous House of David baseball team (from Rick Whittaker). … "The box art for the DVD release of the Highway to Heaven television series has a flopped photo, so the logo on Victor French's A's cap is backwards," notes Chuck Miller. "¦ … Reprinted from yesterday's comments: good article about MLB uniform rendering in video games (from Stephen Rains).

Football News: The new grass turf surface is ready to be installed at the new San Francisco 49ers stadium (thanks, Brinke). … Hmmm, is that a new Rams logo? (From Daniel Etna.) … The University of Akron has released a peek at their new helmets (thanks, Phil).

Soccer News: England will be wearing armor-inspired V-neck jerseys at the World Cup (thanks, Phil). The Guardian poked fun at the Nike corporate-speak (and the high prices) of the new kits (from Yusuke Toyoda). … MLS players wore black armbands in tribute to former DC United player Shawn Kuyendall, who passed away two weeks ago (also from Yusuke Toyoda). … The rest of these items are from Trevor Williams: "Arsenal switched from Nike to Puma for more money and as Gunner fans feared, Puma added superfluous streaks and stripes all over the shirt." … To celebrate the 90-year anniversary of Atlético Paranaense, a limited-edition third Kit was released. … From Brazil, Botafogo had their third kit leaked. … From Argentina, San Lorenzo had their home kit leaked.

Grab Bag: "I was at a local watering hole Saturday night and saw this beautiful letter sweater from Sellersville-Perkasie High School in Pennsylvania, circa 1942," says Steve Cook. Wow — what a beauty! … Legendary graphic designer Milton Glaser, creator of, among other things, the "I (Heart) NY" logo, critiqued a bunch of craft beer bottle labels (from Yusuke Toyoda). "¦ "In early 1972 an American speedway motorcycle team toured Australia, competing against local teams," says Graham Clayton. They sure had great uniforms! … Here's an article on the symbolism behind the logos of most car companies (from Adam Herbst). … "I've seen green-on-green, and blue-on-blue before, but this is the first cricket match I've ever seen that is orange-on-orange," says Richard Hunter. "That's England vs. The Netherlands at the World Twenty20 Championships on Sunday. England normally wears either a handsome royal blue or an adidas all-red affair, but their kit for this tournament was some sort of fluorescent red that appeared orange."