By now you've no doubt heard about yesterday's regional NLRB ruling that Northwestern football players can form a union. There's a big uni-related component to this story because the ruling, if it's upheld on appeal, will likely allow the players to profit off of their names and likenesses. This means the people who are willing to pay $200 for a polyester shirt will now be able to have a college athlete's name on the back of that shirt. (It may also mean that EA Sports will be able to revive its college football video game, which it discontinued in the wake of a class-action lawsuit filed by players who argued, successfully, that their likenesses were being exploited by the company without their consent.)
I'm also wondering if this development, if it's upheld, might also make college sports the most likely frontier for uniform advertising. The pretense of big-time college football and basketball being "amateur" athletics (which we all know has been a sham anyway) would be dispelled, schools would probably claim the need for more revenue to pay the players, and the rejiggered financial landscape would invite new sponsorship schemes, all of which might combine to open the door to jersey ads. Or maybe not. Just something that occurred to me.
As for the non-uni implications, I see some good and some bad. The good is that the ruling (if it's upheld, which I keep mentioning because that's a big if) would likely alter the way huge amounts of cash are distributed in college athletics, and the current way that cash is distributed is clearly corrupt. I'm not sure the new way will be any better, but it will at least shake up a system that deserves to be shaken up.
Also, I have never — never — understood the point of athletic scholarships. Why exactly should someone get a subsidized education just because he or she is a fast runner, or a good swimmer, or anything else that has nothing to do with a university's mission? If this ruling (if it's upheld) ends up changing the athletic scholarship system, I'm all in favor of that. Save the scholarships for academics.
The bad part is that the professionalizing of college sports will likely have a trickle-down effect on high school and AAU-level sports, which will now be one step closer to where the big money is. This means those sports will likely become even more infected than they already are with sponsorship influence, shady boosters, shady quasi-agents, and all the other crap that now afflicts college sports. And as big money gets one level closer to the level of child athletes, a new generation of Super-Annoying Parentsâ"¢ will become even more annoying, which will be awful for everyone they come into contact with and even worse for their kids.
As for what else the ruling may or may not mean, start with my ESPN.com colleague Lester Munson and then check out this piece on SI.com, both of which offer good, level-headed analysis. And that's what I'd like to stick to today — level-headed discussion. If you want to partake in all the other overheated, emotional chatter currently taking place about this ruling (unions are awesome vs. unions suck, spoiled college kids, don't you dare ruin my college football, Title IX, now they'll have to pay taxes on their income, blah-blah-fucking-blah), there are lots of other websites out there that should be able to meet your needs. But none of that here, please. Thanks.
+ + + + +
Membership update: Several new designs have been added to the membership card gallery (including Frank Serpas III's card, shown at right, which is based on Herbie the Love Bug's hood design — an inspired request that we were happy to grant). The printed/laminated versions of these cards should mail out by the end of the week.
As always, you can sign up for your own membership card here, you can see all the cards we've designed so far here, and see how we make the cards here.
+ + + + +
Unmasking the Commenters: I recently invited the site's commenters to tell us a bit more about themselves and give us a peek at what they look like, just because I thought it would be fun to pull back the internet's curtain of anonymity. I'll keep showcasing you folks as long as you keep sending in your photos and quick bios.
Today's commenter is longtime reader/contributor Ronnie Poore:
I'm 56 years old and a commercial/promo producer at a TV station in Greenville, South Carolina. My wife, Lisa, and I have been married for 27 years. We have a son, 24, and a daughter, 21. In my spare time I enjoy playing guitar. I am a graduate of the University of South Carolina and avidly follow the Gamecocks. My favorite pro teams are the Raiders (since 1966) and Panthers in the NFL, Braves baseball, and the Lakers in the NBA. In my youth I played basketball (see photo on right).
Thanks, Ronnie — I've enjoyed your many comments and Ticker contributions over the years. Thanks for helping to make Uni Watch a better place!
Do you want to be featured in "Unmasking the Commenters"? If so, send me a photo and a quick paragraph about yourself. You don't have to reveal your real name, and the photo doesn't have to show your face, but you must include a photo to be considered. Send everything this-a-way.
+ + + + +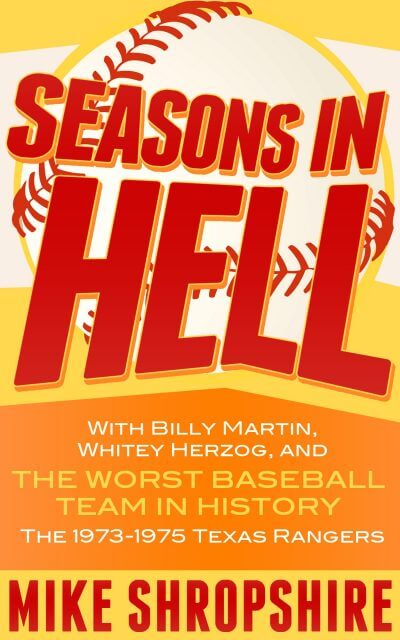 Book deal reminder: In case you missed it earlier this week, our friends at Diversion Books are offering an exclusive deal to Uni Watch readers this week: The e-version of Mike Shropshire's awesome book Seasons in Hell is now available to you for only $1.99 — a 60% discount off the regular price. Snap it up while it lasts, people.
ESPN reminder: In case you missed it yesterday, my latest ESPN column is the annual MLB season-preview edition. Enjoy.
And here's a late-breaking tidbit (courtesy of reader Steven Zerhusen): The Orioles announced late yesterday afternoon that they'll be wearing a memorial patch for team investor Tom Clancy. No visuals yet. This patch is in addition to the previously announced 60th-annivsary patch.
+ + + + +
Tick-Tock: Today's Ticker was compiled and written by Mike Chamernik, except for 'Skins Watch, which was handled by Paul.

'Skins Watch: Looks like Dan Snyder's newly formed foundation to assist Native American tribes isn't going to satisfy critics of his team's name — and that includes critics who happen to be Native Americans. Here are some further thoughts on that Washington Post columnist Mike Wise and from the Post's editorial board (all three of those links from Tommy Turner). … An even better analysis of this week's developments — easily the best I've seen so far — comes from, of all places, GQ magazine. Highly recommended reading (from Joshua Paster). … But Snyder still has one friend in a very high place: Roger Goodell (Tommy Turner again). "¦ Meanwhile, some Canadian junior hockey teams and First Nations activists are close to solving a recent controversy over Native team logos (thanks, Phil).

Baseball News: An anonymous submitter (I'll call him Joey Joe Joe Junior Shabadoo) says that Vestavia Hills High School in Alabama wears Kansas City Monarchs-inspired uniforms. "Interestingly enough they play on a solid artificial turf field," Joey Joe Joe Junior says. "¦ Century-old tobacco baseball cards and baseballs signed by Hall of Famers are going up for auction. The items were confiscated because they were used in a money laundering scheme back in 2007 (from Dave Rakowski). "¦ Bill Mazeroski's bat and uniform from Game 7 of the 1960 World Series are on display in Pittsburgh (from Phil). "¦ Arkansas Travelers fans don't care for the team's two new mascots, Ace and Otey (from Michael Cossey). … The Travelers also have new batting practice caps (from Phil). "¦ Normally the Dodgers' script logo has a swoop underline from the ending "s." But for the new clock signage at Dodger Stadium, the swoop comes from the "r" (from Aaron Wiens). "¦ The Yankees are introducing nacho helmets and the White Sox will sell full-size batting helmet banana splits (from Phil). "¦ Vanderbilt will wear flag-desecration caps Sunday. "¦ Speaking of flag desecration, Jonny Gomes bought his Red Sox teammates American flag sport coats (from David Greene). "¦ MLB is limiting players' at-bat walk-up music to 15 seconds. Now I'm curious: What would be your walk-up song if you were an MLB player? Specify, if you want, which 15 seconds of the song you would use. Also, share what you think would be the worst or funniest song for a player's at-bat. My walk-up song would be "Fire On High" by ELO, and the worst song would be "Young Girl" by Gary Puckett & The Union Gap. ♫♫ Young girl, get out of my mind / My love for you is way out of line / Better run girl / You're much too young girl ♫♫

NFL and College Football News: The Lions didn't wear throwbacks last year but they might this year (from Phil). "¦ For the cross-section of Uni Watch readers who enjoy Volkswagens and the Titans, here's your perfect window decal (from Aaron McHargue). "¦ Oklahoma is letting fans vote on the endzone and midfield designs for the Spring Game (from Jordan Sogn).

Hockey News: An artist paints baby head-shaping helmets with creative designs, including one in Los Angeles Kings colors. But really, the best two are the "Starry Night" and "A Sunday Afternoon on the Island of La Grande Jatte" helmets (from Jonathan Daniel).

Soccer News: Nike released the Netherlands World Cup away kit (from Phil). "¦ The Guardian fielded some questions about football kits (from Gareth Hammond).

NBA News: The AP made an unfortunate uni-related typo — or maybe just a Freudian slip — the other day. "¦ The D-League's Tulsa 66ers will wear Higher Education Scholarship jerseys on March 29.

College Hoops News: While in Memphis for the Sweet 16, Dayton is superstitiously using the same bus driver and same purple bus the team used while in Buffalo for the first two rounds (from Patrick O'Neill). "¦ The NCAA Store is selling a women's Sweet 16 shirt with five incorrect teams on it. It has Duke, Iowa, Purdue, Texas and Nebraska instead of DePaul, Louisville, Oklahoma State, Maryland and BYU (from Chris Lewis). "¦ Stephen F. Austin cancelled its logo unveiling (from Phil).

Grab Bag: Reprinted from yesterday's comments: All these template uniforms are just too much. "¦ An 18-year-old Virginia man was indicted for killing a Virginia Union student over a pair of sneakers (from Tommy Turner). "¦ SI.com compiled the fashion hits and misses from the Sony Open (from Brinke). "¦ Here's a site where you can purchase (or just look at) boating blazers and rowing caps, and here's how those blazers are made (from Gretchen Mittelstaedt). "¦ Pro bowlers used to be rock stars, but now the pro game is on the decline (from Adam Herbst). "¦ The Kansas softball team now has sunrise jerseys (from Jeff Braun). "¦ A short color film about Chicago from the mid-1940s was recently found at an estate sale. The video includes shots of the Cubs and Wrigley Field at the 24:10 mark. Great stuff, recommended if you have any sort of Chicago connection (thanks, Brian Boyle). "Earlier this week Newcastle player Alex McKinnon had his neck broken in a tackle against the Melbourne Storm, so his rugby career is over," says Graham Clayton. "His teammates will honor him for the rest of the season feature on their jumpers for the rest of the season by wearing his name and debut club number."