I was recently contacted by the folks behind the Qalo ring, which is pitched as a soft, flexible wedding band "for the active lifestyle." I was curious about their product, because I'm fascinated by athletes who wear their wedding bands on the field, court, or ice (I wrote an ESPN column on that topic three years ago).
After some email back-and-forths with the Qalo folks, they agreed to set me up for an interview with Bears backup quarterback Jordan Palmer, who wears the Qalo on the field, as you can see in the photo at right. They also took out an ad on the site, with a 15% discount for Uni Watch readers. (If you don't see it at the top of the page, just refresh your browser window once or twice — it should be there 50% of the time.) None of this was a quid pro quo. It was just a good working relationship that came together easily.
Jordan Palmer turned out to be a really good interview — smart guy, articulate guy. Here's how our conversation went:
Uni Watch: So you're married, obviously.
Jordan Palmer: Yes, for three years now.
UW: Once you got married and started wearing a wedding ring, did you talk with your wife about whether you'd wear your ring on the field?
JP: No, I didn't. I got a tungsten ring — I got it for $39. My in-laws were in the jewelry business, and they said, "Don't spend $400 on that." My brother, Carson, had lost four or five weddings rings — you misplace them, you take them off for work every day, you have a ton of stuff in your locker, and you're like, "Shoot, where is it? I guess I'll find it tomorrow." And then you never do. And he told me, "Dude, just buy three of 'em." So that's what I did, actually — I got three wedding rings, for 39 bucks apiece. Tungsten. So there wasn't much sentimental value there.
I surf every day when I'm home, and I lost all three rings surfing. After I lost the third one, it was right around then that I was introduced to Qalo, so it was good timing. I wear the gunmetal-silver one, and it looks just like my own ring, but now I don't have to take it off. And that's great, because I was taking it off for football, I was taking it off to go surfing, I was taking it off for when I do some coaching with kids — now I don't have to worry about that.
UW: So before you discovered the Qalo, you weren't wearing your tungsten ring on the field?
JP: No. I was always worried about jamming a finger or something like that, because apparently they can't cut a tungsten ring off of you.
UW: And how did you come across the Qalo?
JP: A buddy of mine told me about it. He was making fun of me for losing my rings, and he said, "Hey, check this out." He had friends who wore it — a surfer, a guy in the military, and a guy in construction — and they all liked it. It really resonated with me right away.
UW: I had figured you normally wore your real wedding ring when you weren't playing football, and then you swapped it out for the Qalo when you went on the field. But if I'm understanding you properly, you actually wear the Qalo 24/7 — is that right?
JP: Yes, that's right. I don't own a regular ring anymore. I don't intend on getting another one.
UW: So the Qalo is your wedding ring now.
JP: Yes.
UW: Are you superstitious or sentimental about a particular Qalo ring, or even a certain color?
JP: No, I like swapping them out, changing them up.
UW: And what does your wife think about all this?
JP: She likes it, she thinks it's really cool. It's different, you know? How many guys do you know who talk about their rings? Guys don't normally do that. But my ring is an absolute conversation piece, and I like that, because I end up talking about my marriage and my wife — I love it. It's a good conversation to have, talking about the person I love the most.
UW: Is your wife an athlete too?
JP: She was — she was a soccer player, and now she's a Pilates teacher, and she wears the Qalo when teaching and working out.
UW: But not 24/7 like you.
JP: No. She has a little sentimental value in the real ring. But for a guy, unless you melt down your granddad's ring, there are very few guys who feel sentimental about their wedding rings. If were getting married now, knowing what I know now, I'd just use a Qalo at the wedding ceremony and have her put that on my hand. Like I said, it's cool and I end up talking more about my wife and my marriage that way.
UW: There are some players who do wear their real rings on the field, and I always imagine what would happen if their hand gets stepped on or something like that. Like the metal edge of the ring could cut into their finger. But the Qalo is flexible, so you don't have that problem.
JP: Yeah. And it's so easy to break or jam a finger. In any given NFL game, I'd bet there are at least five players who are injuring their hand in some manner.
UW: So with that in mind, have you been telling your teammates about the Qalo?
JP: Yeah, Brandon Marshall wears it every day now, Matt Forté, all these guys.
UW: Do you have any teammates — or have you previously had teammates — who wore their regular metal rings on the field?
JP: Yeah, some kickers.
UW: What about players from opposing teams? Have any of them noticed your ring and asked you about it?
JP: Yeah. A few weeks ago we were playing Detroit, and Matt Stafford asked me about it. And one of my former teammates, Andy Dalton, he wears the Qalo. They actually made a big deal about it in Hard Knocks.
UW: It's funny that you mention Stafford and Dalton, because they're both quarterbacks, same as you. I know of at least two other NFL quarterbacks who wear their real wedding rings on the field: Ben Roethlisberger, who puts tape over his, and Ryan Fitzpatrick, who leaves his right out in the open. Have you ever discussed this with either of them?
JP: I haven't. I played with Ryan my rookie year, and he's a really good friend of mine, and I've known Ben for years. I told the Qalo guys that we need to convert them.
———
Based on the interviews I did with Roethlisberger and Fitzpatrick three years ago, I have a feeling they won't be trading in their wedding rings for Qalos anytime soon. Still, I can see how the Qalo makes sense for an athlete. The company sent me some samples, one of which I wore for a few days — plenty comfortable, although not as materially satisfying as a metal ring. (Also: Tucker and Caitlin officially endorse the Qalo as a first-rate cat toy, although the same can be said for almost anything that falls on the floor at my house.)
Big thanks to Jordan and the Qalo crew for setting this up — interesting stuff.
+ + + + +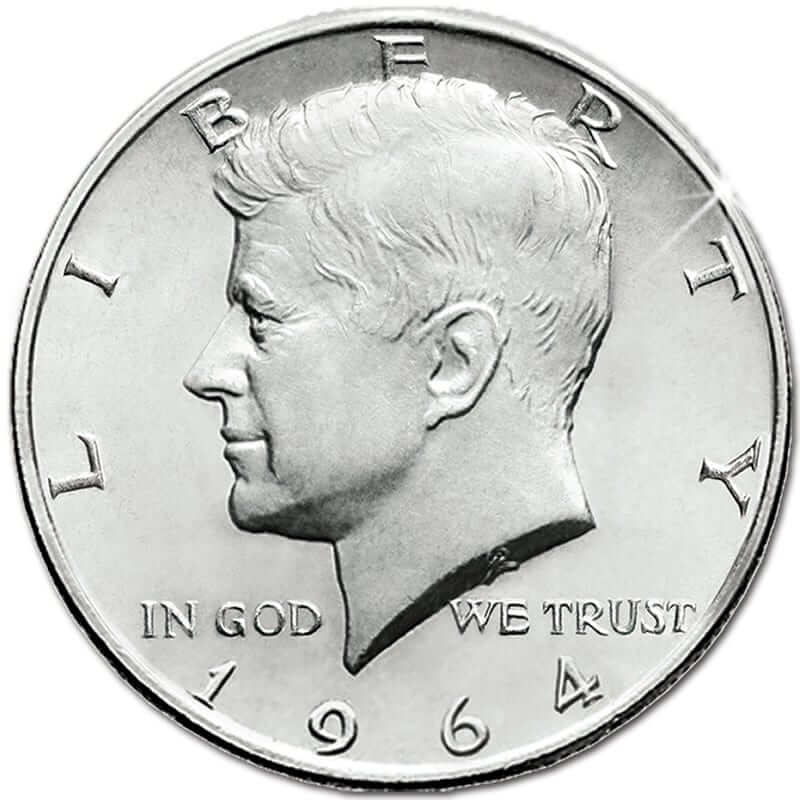 50 Years, 50 Cents: Unless you've been under a very large rock, you're probably aware that today is the 50th anniversary of Jack Kennedy's assassination in 1963. One of the lesser-noted ramifications of JFK's murder was that Congress rushed to place his likeness on the 50-cent piece (replacing Benjamin Franklin, who had been on the half-dollar since 1948). Within two months of the shooting, the U.S. Mint was producing JFK half-dollars — the fastest turnaround ever from a person's death to his commemoration on an American coin.
Fifty years later, almost nobody uses the JFK half-dollar. In fact, almost nobody has ever used the JFK half-dollar. By any functional measure, it has been a spectacular failure — a pity, since it's also our most beautiful coin.
Why has the JFK coin been such a flop? I explored that question, and got some really interesting answers, in a 1997 piece I wrote for Spin magazine, of all places. It's not available online, but I've reproduced it here. I think you'll find it interesting.
+ + + + +

'Skins Watch: A school district in California has decided to stop calling its teams the Apaches (from Brian Thrall). … Another high school team called the Indians has been taunted by a "Trail of Tears" banner. You see, Native American team names bring out the best in everyone! … Yesterday I linked to a 1994 article that listed three newspapers that were boycotting the 'Skins name at that time, and I wondered what those three papers' current policies were. I could have asked those papers myself, but I was too fucking lazy that sounded like a better job for media watchdog Jim Romenesko, so I forwarded the 1994 link to him and invited him to follow up. Here's his report.

Baseball News: Although the Mets are planning to wear their new GI Joe jerseys only on "Military Mondays," that isn't stopping them from trotting out the new jerseys for other promotional occasions. Please make it stop already. … Ebbets Field Flannels just acquired a knitting machine, which means they should be offering wool stirrups soon (from Rand Martin). … Lorde's hit song "Royals" was apparently inspired by George Brett's jersey (from Scott Novosel).

NFL News: Saints TE Jimmy Graham dunked the football after scoring a TD last night and made the goalposts crooked. Well done! (Big thanks, Phil.) … Man, I miss mud games. That's from the 1965 NFL Championship Game. "¦ I'm not sure why anyone would want to look at a year-by-year comparison of Tom Brady's and Peyton Manning's hairstyles, but here it is anyway (from Samuel Selker). … Pearl Jam used Chargers-themed T-shirts and tickets for last night's show in San Diego (welcome back, Jimbo Huening). … Cardinals will be blood-clotting this Sunday. This team looks awful now matter what they wear, so why not? … Funny to see two different Broncos collar styles in the same TV shot. "I think I'd prefer an all orange collar instead of either one of these messes," says Mike Mongada. Agreed. "¦ Target has partnered with a bunch of NFL players to create a new line of T-shirts, some of which are pretty good (from Willard Kovacs).

College Football News: Here's UNC's costume for tomorrow. … David Hamenrecently had a chance to walk around Kent State's football stadium. "On the north wall, they celebrate their bowl games, and I found this logo of an old-school football player running out of a fridge for the 1954 Refrigerator Bowl." Awesome! … Here are the top five "gear walls" in college football (thanks, Phil). … Eastern Washington is going GI Joevember this weekend. … Here's what Missouri will be wearing tomorrow. … "A local car dealership here in central Indiana is using the Old Oaken Bucket game for some advertising," says Derek Linn. Unfortunately, they have the 'P' on the Purdue helmet backwards. I think it exemplifies how Purdue's football season has gone this year [audible sigh]." … Rutgers and UCF wore identical templates without much contrast last night.

Hockey News: The Sabres have released the schedule for their third jersey, which will be worn for the first time this Sunday. … There's lots of new Stadium Series merch, and it may provide clues regarding what the jerseys will look like (from Alan Kreit). … New Winterfest jersey for the Toledo Walleye (thanks, Phil). … W. Daley notes that Kings goalie Ben Scrivens has separate masks for home and away.

Soccer News: Here's an explainer on how FIFA rules have affected the World Cup kits, although it doesn't seem to address how France isn't wearing a mono-color kit (from Danny Wittels).

NBA News: Good article on the NBA's move toward sleeved jerseys. The interesting thing here is that everyone quoted in the piece is surprisingly straightforward about the sleeved jerseys being nothing more than a retailing/merchandising move (from Chris Weber).

College Hoops News: "I went to the Purdue/E.Illinois game Wednesday night," says Matt Wade. "During the player introductions, one of the refs called Purdue starter Kendall Stephens over and told him to remove his arm sleeve because it was half-white, half-black. So Stephens started the game with no sleeve, then after he checked out, returned with a solid-white one. An EIU player had a black sleeve on." Hmmm, wasn't aware of a rule requiring solid-colored sleeves, but there you go. … Nevada will wear turquoise for today's game (thanks, Phil).

Grab Bag: This is awesome — a uni-centric Superman comic book cover! (Great find by Shannon Shark.) … As a longtime fan of the tomboy aesthetic, I love this gallery of women wearing men's clothing way before that was socially acceptable (thanks, Kirsten). … My man Hamilton Nolan has taken a break from his usual obsessions to weigh in on the contentious topic of sportsjackets paired with jeans. … The fashion world is apparently awash in logos again (from Samuel Selker). … "Major League Lacrosse has just announced a sudden shift, terminating the Hamilton Nationals from Canada and moving the players to a newly formed team, the Florida Launch," says John Sheehan. … New cycling kit for team Omega Pharma-Quickstep. "Like previous kit, the new one features riders' Twitter handles on the back of the jerseys," says Sean Clancy. … Good article on beer can design (from Josh Wren). … Here's a weird design-related story: The city of Vancouver has banned doorknobs. No, really!
+ + + + +

What Paul did last night Wednesday night: On Wednesday evening I went to Manhattan and attended a party to celebrate the new issue of Victory Journal, the very cool publication put out by our friends at No Mas. Had a beer, gave a hug to No Mas honcho Chris Isenberg, yakked with a few other people, etc. Your basic promotional shindig.
On the way home, I was feeling a bit peckish (there was no food at the party), so I stopped at a pizza joint for a slice. It cost $2.50, so I gave the guy three bucks and got back two quarters — one of which, I realized the next morning, was minted in 1943, when quarters were still made of silver:
It had been a while since I'd gotten a silver quarter, so I went to this site and learned that the quarter's "melt value," based on the current price of silver, is $3.58 — more than enough to buy another slice of pizza (maybe with pepperoni this time!).
Conclusion: As long as I keep getting pre-1965 quarters in my change, I've created a pizza perpetual-motion machine.
(And yes, it's odd that I talked about half-dollars and quarters on the same day, but life is full of coincidences.)