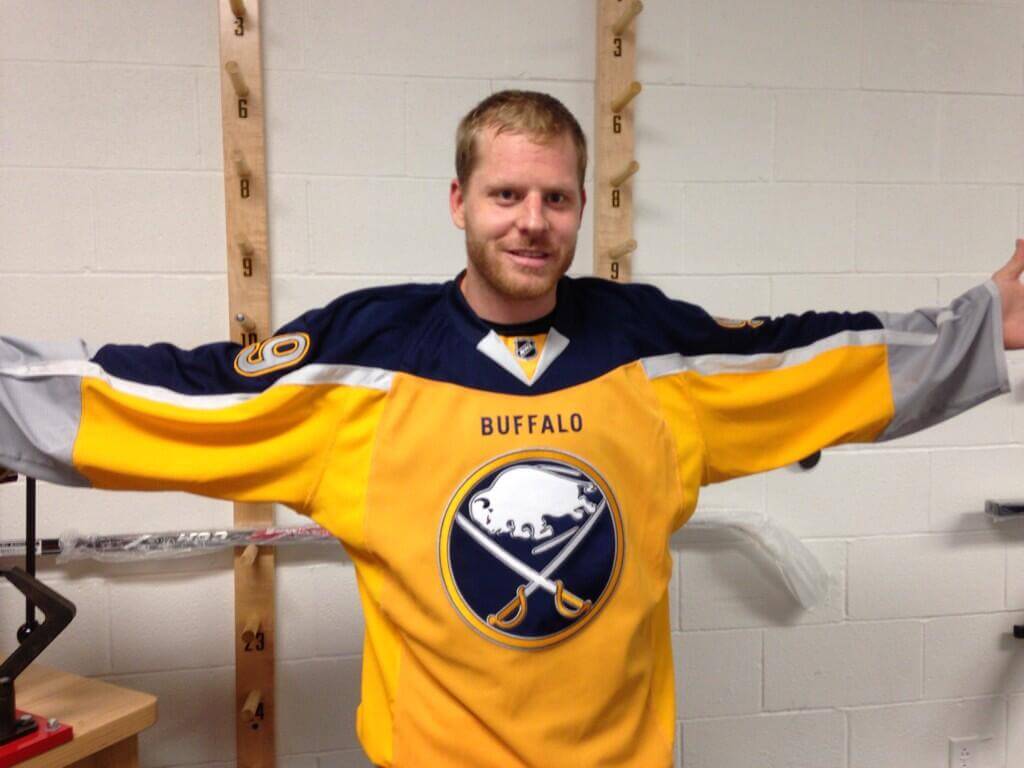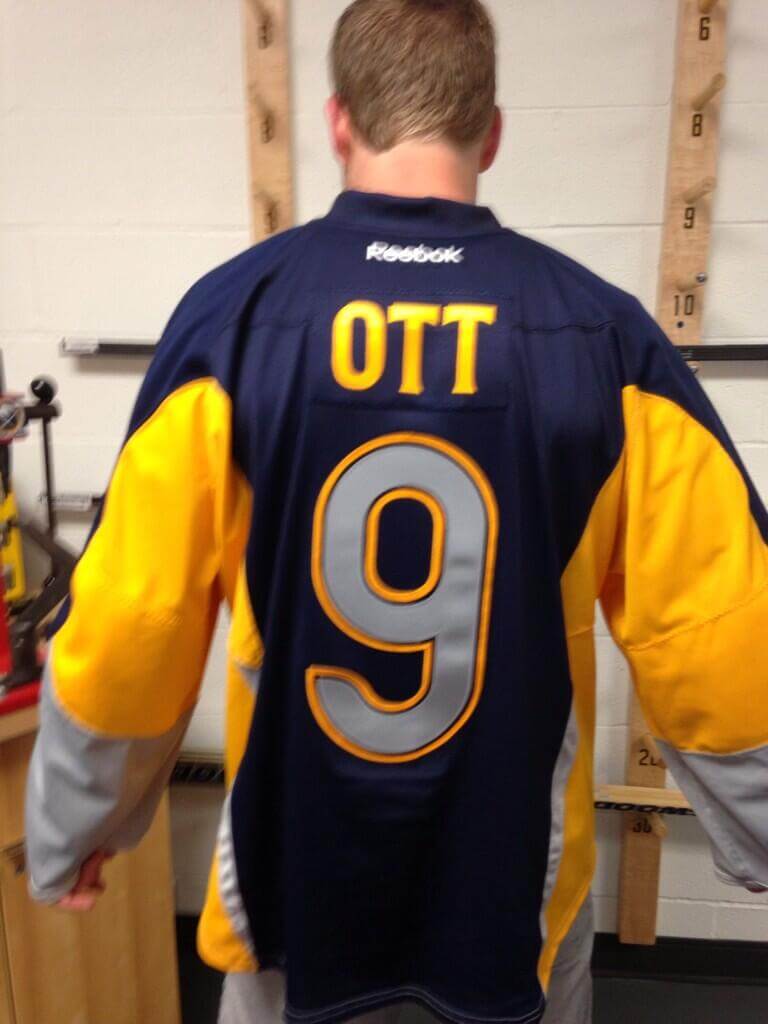 Click photos to enlarge
Sabres forward Steve Ott, unable to contain his revulsion excitement, posted photos of the team's new third jersey design on Twitter yesterday. Some folks are saying Ott jumped the gun by leaking the design; others say he it was a carefully coordinated maneuver that was supposed to look like a leak. But really, who cares? Any way you slice it, that's one ugly jersey.
Mostly gold in the front, mostly blue in the back, with the latter having sort of a cape effect — that's the most obvious problem. But it's hardly the only one:
• Why put that pointless "Buffalo" lettering on the front?
• Why use a gold outline for a crest on a gold jersey?
• Why use a collar design that sort of mimics the wing collar on a tuxedo shirt? And why have the collar look like its entire function is to play peek-a-boo with the NHL logo?
• Why use super-gigantic NOB lettering?
• Why use gray numerals, instead of white or gold?
The answer to each of these questions, of course, is the same: Because they can. Unfortunately, that's what passes for a rationale in much of today's uni-verse.
Remember, we've already seen the pants and captaincy letters that will go with these, but not the socks. So maybe the socks will help a bit. But it's hard to imagine even the coolest socks rescuing this design. The Sabres have pretty much put the puck in their own net here.
And to think they scrapped this design in order to make room for this new thing. What a waste.
+ + + + +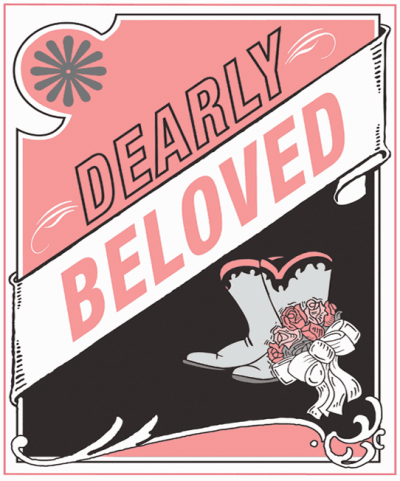 Not-so-dearly "beloved": I've noticed a trend lately. It involves the word "beloved," which is showing up in all sorts of articles across the media world.
I first picked up on this a few months ago, in this article about the New York Times food writer Melissa Clark, which appeared in the magazine Edible Brooklyn. The article begins by describing Clark as "one of the country's most beloved food writers." Just in case anyone might be missing the point, a few grafs later the article refers to Clark's "beloved six-year-old column" in the Times.
Since then, I've noticed the following:
• When the longtime Hoboken indie-rock club Maxwell's announced that it would be closing at the end of July, news reports routinely described it as "beloved."
• Another Hoboken institution, the band Yo La Tengo, is commonly described as "beloved."
• In a recent New York Magazine article about the Brooklyn pizza restaurant Franny's getting a makeover, the restaurant's oven was described as "the beloved pizza oven." (As an aside, Franny's itself is often described as "beloved.")
• The Times recently ran an article about the band the Pixies, whose now-departed bassist, Kim Deal, was described as "perhaps [the band's] most beloved member." (Or, one presumes, perhaps not. Bad writing right there.)
• The kicker came when I saw a certain uniform columnist named Paul Lukas being described as "beloved and lovingly berated" in the lead-in to an interview I recently did.
I didn't go looking for any of these examples — I just happened to notice them. Granted, they could just be isolated instances, and maybe one could identify a similar trendlet for other words just by doing some creative Googling.
Still, there's something irksome about the term "beloved." For starters, it's too sentimental, too squishy. More importantly, it falsely implies the existence of a social consensus — "everybody loves this person or thing or whatever" — and that's a bit manipulative. Like, what if you don't love Melissa Clark, or Maxwell's (or me)? Seeing that person or thing described as "beloved" carries the implicit suggestion that you're isolated, out of step, or just wrong.
I'm pretty sure I've never described a uniform or logo as "beloved." I plan to keep it that way. ("Accursed," however, is still fair game.)
+ + + + +
ESPN reminder: In case you missed it yesterday, my latest ESPN column is my annual NFL season preview.
+ + + + +

Baseball News: Here are some shots of John Wayne appearing in an old 1950s TV series, wearing a Yankees uniform — with Lou Gehrig's number (from Mitchell Hadley). "¦ Mike Monaghan just visited the Braves Hall of Fame, where he saw two classic items: a satin uni for night games and Andy Messersmith's infamous "Channel 17" jersey.

NFL News: Mike Ditka's likeness is the inspiration behind Ditka Kids Gridiron Clothing, a collection that does not carry polyester jerseys or licensed NFL products, but rather targets parents who desire boutique-quality garb for their active child. "No, really," says an incredulous Phil. "¦ Interesting point by Steve Gronauer, who says the new Dolphins unis, with the de-emphasis on the orange trim, reminds him of the team from Playmakers.

College Football News: Sports business reporter Matthew Kish did something all the rest of us in the sports media world were too lazy to do: He filed public records requests for the shoe and apparel contracts of every FBS school, and then he scrutinized them. He found some real eye-openers. Highly, highly recommended (thanks, Phil). … Reprinted from yesterday's comments: New merit decal system for Tennessee (from Jim McGee). "¦ The Longhorns have voted to keep the TV numbers on their helmets. … Speaking of the Longhorns, they're using masks that simulate high-elevation conditions in preparation for their game against BYU (from Ken Tobler). … A little birdie informs me that Ohio's Oct. 26 game against Miami will be a "Ghost Out": "They will be giving away replica white jerseys and the team will be wearing a new jersey. It will be similar to the current whites with the shoulder stripes and all. In addition they will have 'Ohio' arched across the front above the numbers and the numbers themselves will be green but with a brick pattern on them." "¦ Another birdie says Temple will be wearing a different uni combo for every game of the season, including a throwback design this weekend to honor former head coach Wyane Hardin. He coached in the 1970s and early '80s, so that's presumably the era that the throwback will be based on. … New uniforms for Central College (from Cody Dannen). … ECU's blackout game tonight will include black-painted end zones (thanks, Phil). … Notre Dame is fixing its misspelled beverage cups (from Warren Junium). … Bryan Stevens wonders if the Wyoming helmet shown in the background of this shot will make it onto the field. He also notes that the team has a new brown jersey. "They wore something similar to that in the last home game last season, and it looks like it's the full-time brown jersey this year," says Bryan. "Also, you can see that the nose bumper now says, 'Locked In.'" … Colorado will wear pink-accented gear on Oct. 26, against Arizona. … When Rice played Texas A&M last weekend, Rice's pep band decided to needle the A&M fans by wearing shirts with Johnny Manziel's autograph (from Sam Jurgens).

Hockey News: This coming season will feature lots of minor league hockey team anniversaries. "It's particularly interesting to see a team celebrating its five-year anniversary," says Anthony Nuccio. "¦ New logo for the Mississippi Surge of the SPHL (from Ryan Bohannon).

NBA News: Paul Kos found some more photos from that unusual-looking 1968 Bullets/Celtics game. Meanwhile, the explanation for the color-vs.-color and the mismatched Celts shorts comes from Steve Ceruolo, who thinks he attended that very game: "I remember attending a Celts/Bullets game on a Sunday afternoon which also happened to be St. Patrick's day. The Celts wore green jerseys on that day with their white shorts to celebrate the holiday (I was into unis way back then!). This picture may have come from that game."

College Hoops News: New uniforms for Louisiana Tech (from James Poisso). … New uniforms for Iowa State, too (thanks, Phil).
Soccer News: A Seattle Sounders player was missing part of his Adidas logo last night (thanks, Phil).

Grab Bag: Yahoo has finally unveiled its new logo. Good analysis here (thanks, Brinke). "¦ Great story about the Brooklyn seamstress who makes on-the-spot clothing repairs at the U.S. Open. "¦ New rugby kits in the works for Ireland and South Africa (from Josh Jacobs). … Ryan Connelly DIY'd himself a set of Pittsburgh-themed cornhole boards. "¦ New logo for Westwood One (from Tom Mulgrew). … A Pennsylvania high school is installing black football turf (from Art S.). "¦ Bishop Alemany High School in California uses Alabama's "A" logo. "No word on whether Nike has confiscated their sideline apparel to ensure highest-profile logo placement," says Hugh McBride. "¦ If you think the whole G.I. Joe thing has gotten out of hand in the sports world, you'll be thrilled to learn that it has now spread to the realm of military-themed titty bars (from Cort McMurray).