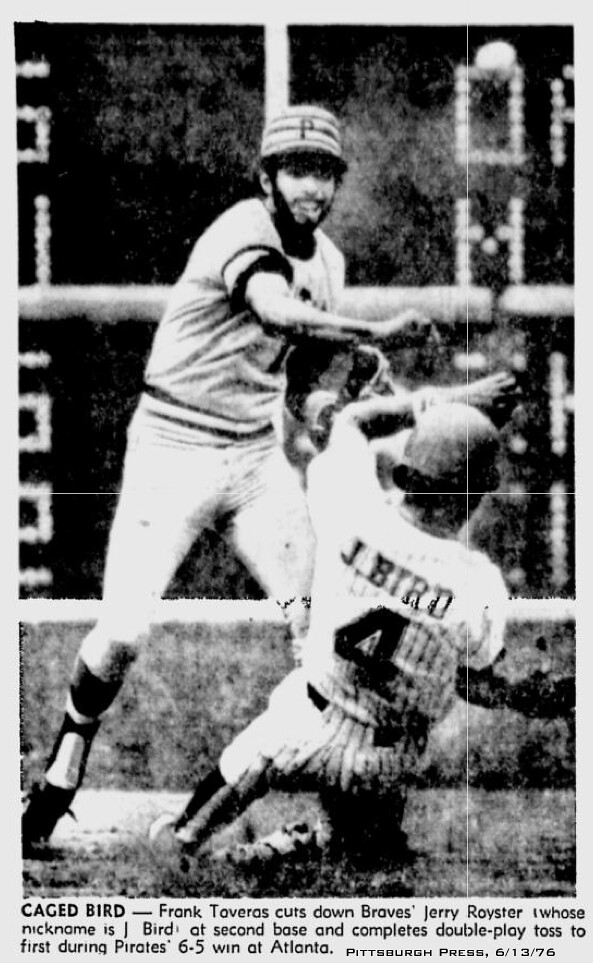 .
One of my recent ESPN columns, which was about RNOBs and nickNOBs, included a table that listed a selection of nickNOBs from the past 45 years or so. One player on the list was Braves infielder Jerry Royster, who wore "Rooster" in 1976. Or at least that's what I've always thought — that nickNOB shows up on lots of lists, and "Rooster" seems like a obvious nickname for Royster, so I've always accepted it as being true.
I've never seen a "Rooster" photo, however, and a lot of those lists floating around the web are just copied and pasted from each other, which makes it easy for erroneous information to take on a false sense of authority simply via repetition. And I'm thinking that might be the case with "Rooster," now that reader Jerry Wolper has found the photo shown above. As you can see, that's Jerry Royster wearing a "J.Bird" nickNOB, which I'd never seen or even heard about before. It shows up again in this photo. Now, this doesn't necessarily mean that Royster never wore "Rooster" — maybe he wore two different nickNOBs. I doubt that, though. Either way, it's a pointed reminder that we (that I) shouldn't take this stuff as gospel without supporting evidence.
Speaking of which, another thing I've always accepted is that the Braves wore nickNOBs because team owner Ted Turner liked to push the envelope, just as Charlie Finley had done in Oakland. But Jerry did some additional research and found this 7/19/76 Sports Illustrated article, which paints a different picture of how nickNOBs came to Atlanta. Here's the relevant section:
Early in the season a fan complimented Turner on the team's new uniforms but deplored the omission of the players' names above the numbers on the backs of the shirts. Turner, new to baseball and its ways, was thunderstruck by this oversight. Most teams, he learned, do have the names of the players on the shirts. After the game he hurried into the clubhouse and announced that from now on the players would have their names sewn on like everyone else. The reaction to this news was virtually imperceptible, save by [Andy] Messersmith. The pitcher, acquired a few days earlier for a million dollars or so, explained that his name was too long for his shirt. The "M" and the "H" would appear on the sleeves, possibly impeding his pitching motion. What to do? Messersmith proposed an alternative. Instead of surnames, why not use nicknames?

Within the week, the Braves took the field with such sobriquets as "Wimpy," "Gallo," "Prof," "Heavy," "Bird Dog" and "Mo" on their shirts. Messersmith appeared with "Channel" above his number. Andy (Channel) Messersmith? Can that be a nickname? No, the pitcher wears number 17 and Turner, by the merest coincidence, owns the Channel 17 TV station in Atlanta. The owner was delighted by his star's show of affection for him. The league president was not. By appearing with Channel 17 on his back, Messersmith was acting as a kind of ambulatory billboard, said [N.L. president Chub] Feeney, and baseball does not approve of such blatant advertising. The "Channel" was out, Messersmith replacing it with "Bluto," which he insists is his nickname, although it is also the name of Olive Oyl's perennial abductor in the Popeye cartoon.

The issue was rendered academic a few weeks later when Messersmith, once again taking the lead, suggested to his teammates that maybe wearing nicknames on their backs had jinxed them. Their record at home with nicknames was an appalling 3-13. The players, forever superstitious, agreed. Off went the lettering. Since that day in mid-June the Braves have won 11 and lost eight at home.
Faaaaascinating. I had never heard that the nickNOBs were Messersmith's idea. Not only that, but it appears that "Channel 17" was Messersmith's idea too (although the skeptic in me wonders if that part of the story was sugar-coated for public consumption). It's also good to learn that the Braves only wore the nickNOBs for "a few weeks," although a more precise time frame would have been helpful. (It's worth noting that the two Royster/J.Bird photos were published on May 17 and June 13 — a span of 27 days. So the Braves apparently wore the nickNOBs for at least that long. They had apparently gone back to NNOB by early July.)
But wait — Jerry also found a 5/22/76 article from the St. Petersburg Times, which offers a similar but slightly different description (the relevant bit is down below the photo):
Turner had ordered new uniforms for the Braves before the season and, most thoughtlessly, ordered the standard jerseys with numbers but no names.

The moment they arrived he knew something was wrong. So he junked them, turning them into warm-up jerseys, and ordered the modern variety with names stitched on the back. But he didn't want last names. He wanted nicknames.

Marty Perez would be "Taco." Tom Paciorek would be "Wimpy." Lee Lacy would be "Lace," Roland Office "Row," Biff Pocoroba "Poco," Andy Messersmith "Channel"¦"

Andy Messersmith wha? Wait a minute, mused the commissioner. Isn't Messersmith's number 17? So doesn't that read "Channel 17?" And isn't WTCG in Atlanta Channel 17? And doesn't Ted Turner own WTCG?

The commissioner has said such advertising is frowned upon by major league baseball. Maybe Messersmith should be called just plain "Andy" or "Half-Million Dollar Pitcher." Not "Channel 17."

Thus, Ted Turner has met with the commissioner of baseball.
So according to this version of the story, the nickNOBs were Turner's idea, not Messersmith's. And it was the commissioner who put the kibosh on "Channel 17," not the National League president. Which version to believe? I'm inclined to trust SI as a more reputable source than a local newspaper sportswriter, but we may never know for sure. (Tiebreaker: This AP story says it was the N.L. president who put an end to "Channel 17," not the commissioner.)
Note, incidentally, that the SI piece and the St. Pete Times article do not mention either "Rooster" or "J.Bird." They do, however, mention several other Braves nickNOBs that I've never seen photographs of, so that adds a few more pieces to the puzzle.
And wait — there's more. According to this discussion thread on GameUsedUniverse.com, the Summer 2004 issue of Memories and Dreams (that's the magazine published by the Hall of Fame) included an article entitled "What's in a Name and a Number?" It mentioned many of the Braves' nickNOBs and appears to be the root source of many of the copied/pasted nickNOB lists that are floating around the web. (This is the same issue of the magazine that I described in yesterday's blog post.)
I asked Hall of Fame curator Tom Shieber if he could send me a copy of the article, and he readily obliged. A list of nickNOBs and other non-standard NOBs can be found on the third page of the document — that's the list that's been copied/pasted all over the web. The Memories and Dreams article also has a discussion of the Braves' nickNOBs, as follows:
At the suggestion of pitcher Andy Messersmith, Turner arranged for many of his regular players to wear their nicknames on their home uniforms. Burly catcher Earl Williams wore the word "HEAVY" on his back, an interesting choice given the constant criticism of his weight. "¦ Outfielder Jimmy Wynn, known as "The Toy Cannon" "¦ featured the single word "CANNON" "¦

Turner's nickname game reached unparalleled lengths with Messersmith. Turner assigned Messersmith uniform No. 17 — instead of the No. 47 he preferrsed. He also gave him the strange nickname "Channel." With the name over the number, the back of Messertsmith's shirt served as a commercial for Turner's television station — Channel 17 on the local cable system. When National League president Charles "Chub" Feeney learned about Turner's not-so-subtle attempt at free advertising, he ordered Messersmith to dispense with the "CHANNEL" jersey and revert to the tradition of using his last name on the back of his uniform. Instead, Messersmith opted for what he insisted was his real nickname, "BLUTO."
So in this version of the story, the nickNOBs were Messersmith's idea, but "Channel" was Turner's idea. And this account matches the SI article's claim that it was the N.L. prexy, not the commish, who laid down the law. Of course, the author of this article may have used the SI article as one of his reference sources in the course of his research, in which case we could once again have repetition masquerading as confirmation.
The list of non-standard NOBs in the Memories and Dreams article includes a mention of Jerry Royster wearing "Rooster." It does not mention Royster wearing "J.Bird." Depending on your point of view, this either (a) supports the notion that Royster wore two different nickNOBs, since the Hall of Fame is a reputable source, or (b) calls the whole Memories and Dreams article into question.
I contacted the article's author, Bruce Markusen, to ask him about all this. He apparently didn't keep his research notes (not all that surprising for an eight-year-old article) but said he thought his source for the Royster/Rooster nickNOB was an old Sporting News article. He said he'd try to find that article but then got back to me a few days later and said he couldn't find it. Hmmmmm.
But wait — there's still more. Ted Turner's autobiography, Call Me Ted, includes the following (click to enlarge):
So according to Turner, the nickNOBs were Bob Hope's idea (this guy, not the entertainer), "Channel 17" was Messersmith's idea, and it was Kuhn, not Feeney, who vetoed "Channel 17." If nothing else, these differing accounts clearly illustrate the gap that can develop between the past (which is what actually happened) and history (which is the account of what happened) — they don't always match up, and it's hard to know which version of history to believe. In any case, no mention of Royster or "Rooster" in Turner's autobio. (It's odd that Turner mentions "Jonesy" as a nickNOB example — the '76 Braves didn't have a player named Jones. I realize he's just giving a hypothetical example, but it still seems odd that he wouldn't refer to a real nickNOB instead of a fictitious one.)
There's one other place where the Royster/Rooster nickNOB was mentioned: in an ESPN column that I wrote in 2004. My source was reader Steve Kraljic, who had sent me a list of nickNOBs (I still have that e-mail from him). He didn't explain how he'd compiled them, and I didn't ask.
I'll be blunt: It was irresponsible of me to have published something and treated it as settled fact based solely on a reader's say-so. If a reader came to me with something similar today, I'd post it here on the blog and say something like, "Interesting info, but we need some visual confirmation or other supporting evidence. Anyone know more?" But my uni-historical standards were more lax in those days. (I recently e-mailed Steve to ask him more about how he compiled his nickNOB list but didn't hear back from him. He's probably changed his e-mail address. Steve, if you're reading this, get in touch!)
So where does this leave us? Putting together Jerry Wolper's findings with my own notes and some additional research on my part, I created the following chart of reputed Braves nickNOBs that have been reported over the years and my feelings as to their legitimacy:
.
[table id=14 /]
So that's how things stand now. One additional question that remains unanswered is whether the entire Braves team wore nickNOBs. I'm inclined to think they probably did (if there were holdouts who didn't want to play along, I'd think they would have been mentioned in the SI and/or St. Pete Times articles). If so, that means there are several nickNOBs still unaccounted for. Everyone who played for the Braves in 1976 is listed here, although we'd need to know exactly who was on the roster from mid-May to mid-June. Looks like some of the likely suspects would be Rod Gilbreath, Ken Henderson, Dick Ruthven, Carl Morton, possibly Cito Gaston, Adrian Devine, and a few others.
Another question that I find rather confounding is how so few photos of these nickNOBs have surfaced. We know the Braves wore them for at least 27 days — why isn't there more documentation? I've looked through all the obvious wire photo archives (Getty, Corbis, US Presswire, AP) and come up empty. I've also queried some sources that I thought might have some additional photos (Todd Radom, the SABR-L listserv, etc.) — again, no dice. Kinda surprising, no?
One thing I still plan to do is to get in touch with the sports desk at the Atlanta Journal-Constitution. I suspect they may have some photos in their morgue. Fingers crossed.
Major, major thanks to Jerry Wolper for doing the heavy lifting on this one. We haven't quite completed the puzzle yet, but we're a lot closer now because of his efforts. Take a bow, Jerry — great work.
+ + + + +
Uni Watch News Ticker: Interesting team-building exercise by Bill Belichick, who eliminated uniform numbers from practice jerseys so everyone would have to learn everyone else's name instead of saying, "Hey, 99" or whatever (from Joe Giza). … The Giants and Nats will be playing a throwback game on July 5. Both teams will be wearing 1924 uniforms — New York Giants vs. Washington Sens. "¦ Another high school — this time one in Maine — has replaced its Native American-themed mascot (from Paul O. Dillon). … New "pride" uniforms supposedly in the works for Maryland basketball. … The Saskatchewan Roughriders wore helmets with TV numbers, instead of their usual helmet logo, for their first preseason game (from Tom Pachuta). … More info about Nike's dimpled track uniforms, which supposedly result in faster sprint times, here (from Patrick Runge). … "This past weekend I ran into one of the Occupy protesters who dress up as 'Tax Dodger,'" says Ed Westfield Jr.. "He told me that they were recently contacted by the Baseball Hall of Fame in Cooperstown who wanted one of their Dodgers-inspired uniform sets due to its historic and social significance." Further info on the Tax Dodgers here. … In last weekend's Ireland vs. New Zealand rugby match, Ireland's uni numbers were peeling off (from Josh Jacobs). … The Danish soccer player who pulled that stunt with his underwear has been banned for one match. "¦ "I'm interning with the New York Red Bulls this summer," writes Chester Baker. "On Monday some members of the New York Giants (Victor Cruz, Lawrence Tynes, and Chris Snee) were filming an ad for Campbell's Soup. There were also several extras dressed to look like Giants players. All of the actual Giants had their official Nike jerseys, but all the extras wore jerseys with no logo creep from any brand. Also, they all had original names on back. I wonder who makes the jerseys that extras wear in commercials like those." I wonder if they were left over from that weird little period after the Super Bowl, when retail jerseys (and the Pro Bowl jerseys) were logo-free. "¦ Reprinted from yesterday's comments: Fun ranking of ridiculous Olympics opening ceremony outfits. "¦ Love this 1967 Giants/Eagles shot. "You don't often see a color shot of the Giants in white from this time period," says Ronnie Poore. "I really like the matching stripes on jersey, pants, and socks, and Philadelphia's unis from this era are classic, my all-time favorite look for the them." "¦ Interesting find by Kenn Tomasch, who writes: "Apparently the North American Soccer League keeps track of the standings of its eight teams by arranging each team's jersey in a display at the NASL offices." "¦ Dave Grob recently acquired a bunch of old game-used Boston Braves uniforms. The 1948 satin is nice, but I'm most intrigued by this 1933 road jersey, because of the two-tone headspoon. Never seen a design like that before. "¦ Absolutely spectacular slideshow of old Comiskey Park. Have fun clicking through that one, and then thank Cary O'Reilly. "¦ Some track and field athletes want to wear temporary tattoos with sponsors' logos, but they're not allowed to (from Aaron Rich). "¦ No photo, but Michael Augsberger says England's keeper, Joe Hart, had a different uni number font than the rest of the team for the recent match against Sweden. "¦ Domenico Delgado says Josh Reddick of the A's has the same lower-leg protocol as David Wright: pajamist for night games, high-cuffed for day games. "¦ Check out the crazy underbrim design for this year's MLB ASG BP caps (from Alec Jokubaitis). "¦ New football helmet for Mississippi State. Same as last year, but they've added a gray outline to the logo and changed the facemask to white. "¦ New bat knob decals on tap for the Orioles (big thanks to David Sulecki). "¦ Rams exec Kevin Demoff has floated the idea that the team might wear white for one home game this season (from Mike Dean). "¦ Looks like Astros pitcher Mike Scott was wearing an adjusta-strap cap during a 1985 game against the Braves. "The rest of the team was wearing ordinary fitted caps," says John English.