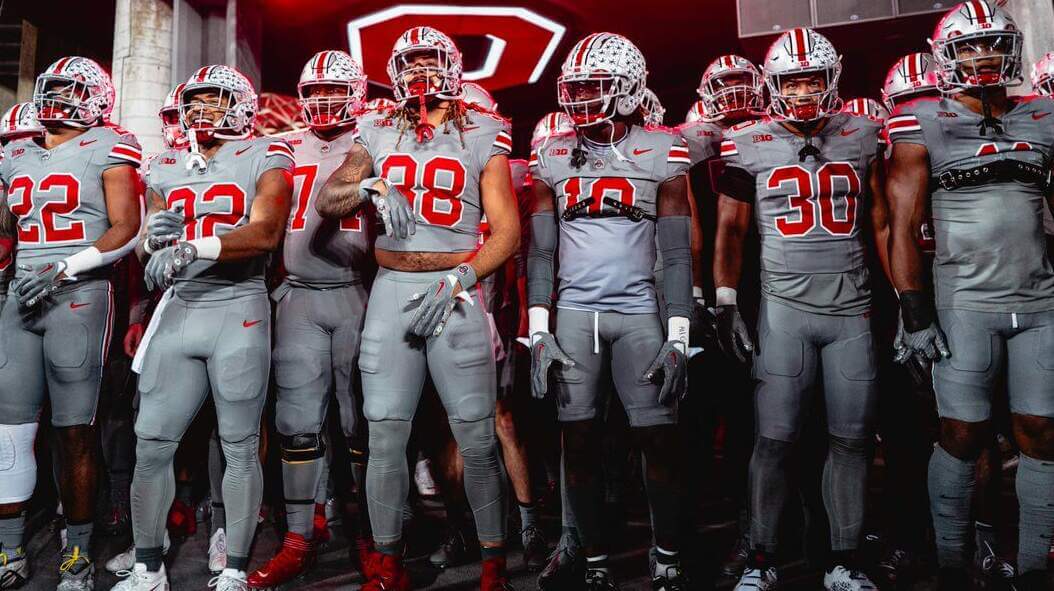 Good Sunday morning Uni Watchers. It's time for your Sunday Morning Uni Watch. We're already up to Week 11, which means the Conference Championships and Bowls are just around the corner. Time for the contenders for the CFP to separate from the pretenders. Pretty much everyone held serve yesterday, so don't look for much change atop the CFP standings come Tuesday.
After a relatively quiet couple of weeks on the college football costume front, we had a bunch of different looks yesterday, including venerable THE #1 ranked Ohio State University, who debuted a new mono-gray look yesterday. We knew this was coming for a while, and Paul had all the details way back in July.
Most times, when a new uniform (or jersey, helmet, etc.) is unveiled, we often couch our criticisms by saying, "I'll need to see it on the field before I render a final opinion" — but this uniform was one of those you pretty much knew how they'd look. And yeah, the Scarlet and gray — head to toe in almost all cases — dominated the uniform. If you re-read Paul's article you'll notice he included a photo of the one other time OSU went mono-gray. At the time, I didn't particularly like that look as it was completely void of any scarlet. This time around, the team basically did a white for gray color swap on their normal road whites. Unfortunately, this didn't nearly look as good since (especially on long shots) the red numbers faded into the gray jerseys. The red NOBs were almost unreadable. Up close, the numbers were fine, but with the shadows in some spots, they were a bit tough to make out.
Make that 3️⃣ TDs for Marvin Harrison Jr ‼️@MarvHarrisonJr x @OhioStateFB

📺: NBC pic.twitter.com/5difzahYG4

— Big Ten Network (@BigTenNetwork) November 12, 2023
The other problem — as least to me — was the fact that almost every player went full mono-gray. Full mono-anything (except perhaps all black) never looks quite right.
Just like the alternate all scarlet uniforms would have looked better with gray socks, so too would last night's have looked with some scarlet socks. Fortunately, Cade Stover gave us a look at that.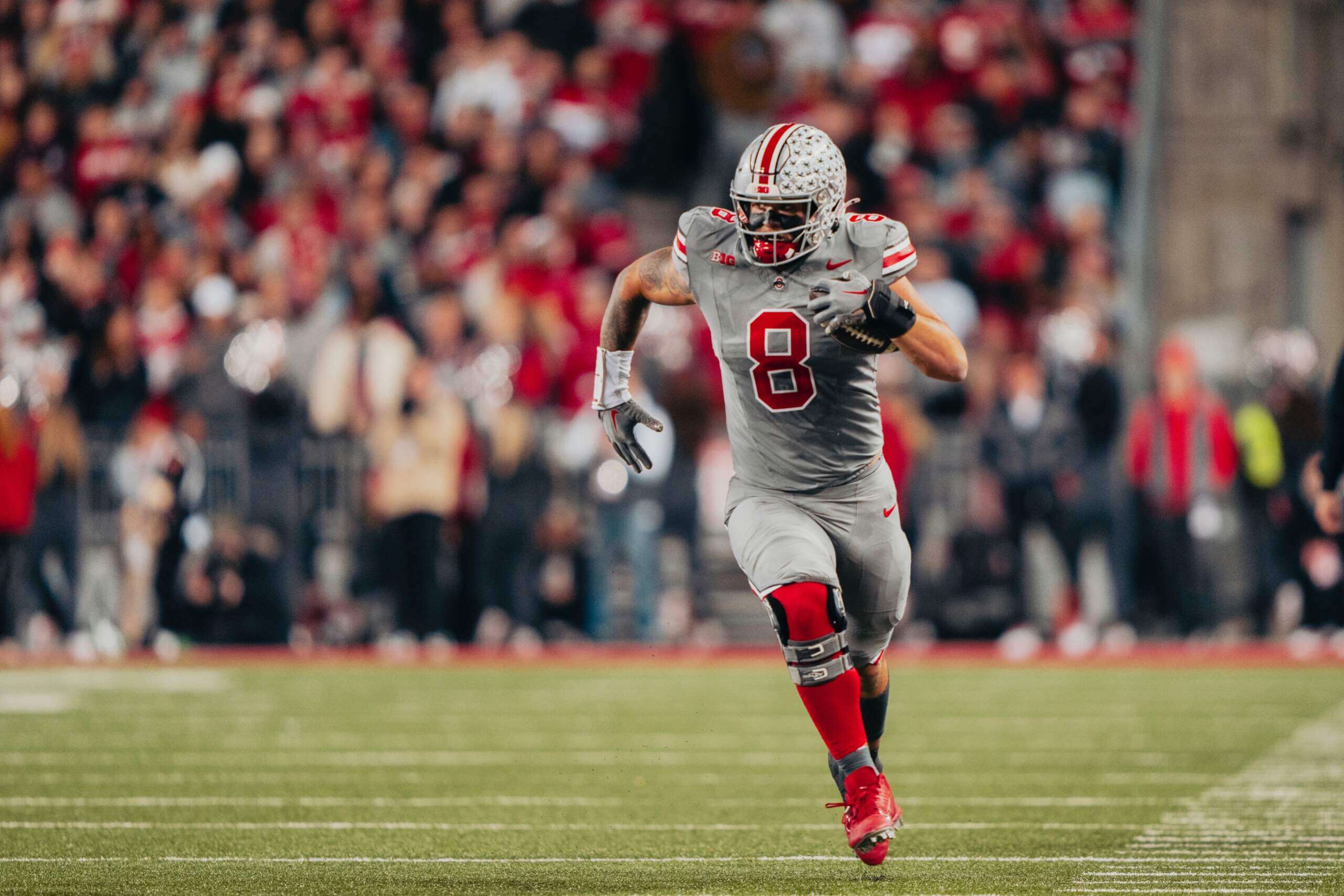 Much better. But the "bodysuit" look is now a thing — both in college and in the pros — so we'll just have to wait until this fashion statement itself becomes passé.
You can see lots more pictures here.
OK — that's enough from me. Here's TJ with the rest of your …
• • • • •
Sunday Morning Uni Watch
by Terry Duroncelet, Jr.
I was somehow convinced to participate in my work's fashion show on Saturday, and I hope that video of me walking the runway never surfaces. Also, Week 11 on the 11th day of the 11th month! Wow! How 'bout that!
From Tuesday:
• Western Michigan/Central Michigan: G.I.Joevember decals for the Broncos (closer look).
__________
From Wednesday:
• Miami (OH)/Akron: Mono-grey togs for the RedHawks (and of course, here's a closer look at those helmets).
• Kent State/Bowling Green: Remember last week, when the Golden Flashes lived up to their name? Looks like the light bulb burned out this week. Also note the second of MANY (and I mean many) demonstrations for Veterans Day weekend (the actual holiday falling on a Saturday this time).
• Toledo/Eastern Michigan: It's not super-apparent from this shot, but Toledo wore these helmets on Wednesday night.
__________
From Thursday:
• Louisville/Virginia: WELP. Maybe Alabama should drop "Bama" and start using "The Loosa" (…actually, I take that back, that sounds incredibly unfortunate). Here's that helmet close-up, by the way.
__________
From Friday:
• SMU/North Texas: Here comes the BFBS train, and SMU's on-board.
__________
From Satursday:
• Oregon State/Stanford: Camo numbers for the Beavers.
• There were several demonstrations for Veterans Day, including (but definitely not limited to): Iowa, Illinois, South Florida, Liberty (why am I not surprised?), Appalachian State, Middle Tennessee, UAB (who ironically wore this against Navy), South Alabama (the only good one, since there's actual lore behind this), and LSU. I know FOR SURE there were more teams, but I think you guys get the point here.
• Army/Holy Cross: Army West Point broke out the Cadet greys against Holy Cross.
• Nebraska/Maryland: Correct me if I'm wrong, but is this the first time this season that the Terps have worn a white helmet?
• Clemson/Georgia Tech: Per their usual tradition, Clemson wore their military appreciation purple alts against Georgia Tech.
• WKU/New Mexico State: Fun stacked letter decals for WKU (closer look).
• Syracuse/Pitt: Ignoring the whole "AKTUALLY, the current Yankee Stadium is a mere 14 years-old, NOT 100 like the original Yankee Stadium would be if it were still standing" voice playing in the back of all of our heads, Syracuse and Pitt played yesterday's game at Yankee Stadium, and the Orange wore a decal for the occasion.
• FAU/East Carolina: BROOTAL BFBS alts for the Owls. Like, HOLY SHIT, these are bad.
• Oklahoma/West Virginia: EVEN MORE BROOTAL GFGS alts for Oklahoma. They remind me of pencil lead, except the difference is that pencil lead is actually useful!
• BYU/Iowa State: Appropriate funeral attire (heh) for BYU.
• Central Arkansas/EKU: The rare FCS mention! Leo Strawn Jr. writes: "Central Arkansas beat EKU on a Hail Mary. This is the eyesore they play on. There ought to be a law." I concur (and one more S&S helmet decal for good measure).
• • • • •
Thanks, Terry! Now onto the rest of today's features.