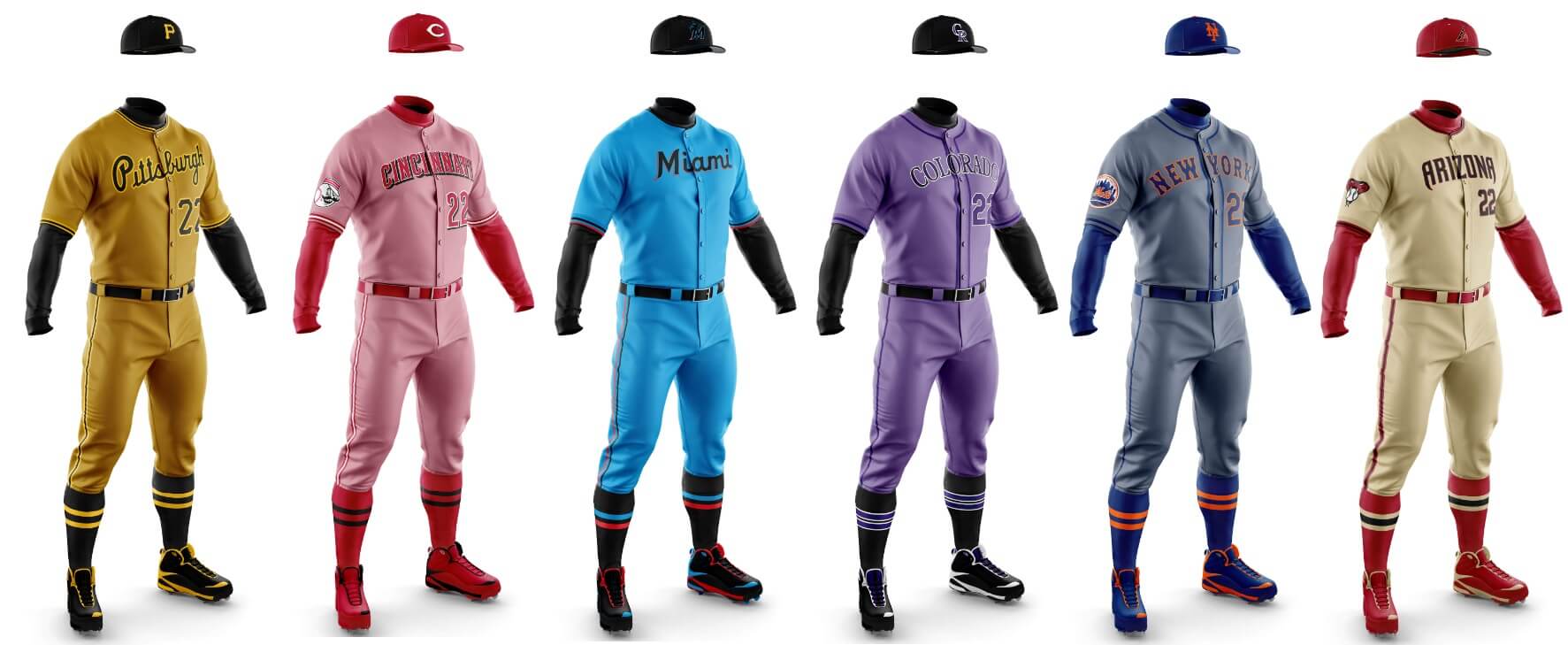 Good Saturday morning, Uni Watchers. I hope that everyone had a pleasant week.
I'm pleased to once again return with Chris Diamond, who you may recall had been working with me on a project that has taken up several exploratory phases. To refresh your memory, I'm going to rehash the project so far.
When this began (Phase I), we wanted to see how every team who wears a dark colored alternate jersey would look if we paired them with same-color pants. There's a lot more to it, of course, and if you missed it or forgot, that encompassed Phase I (Part I, Part II and Part III). For Phase II, we took it up a notch, creating mono-dark unis for teams who currently don't wear any alternates, and tweaked some unis from Phase I to address some issues we had with those (Part I and Part II).
Phase III is a little different. For years now, almost every MLB team has a light gray road uni. It didn't used to be that way. Back in the day, teams had a variety of colorful roadies — in both leagues. Powder blue abounded. Even the gray uniforms didn't all seem to be the same light shade. So Phase III is a concept where we try to see how teams would look in "lighter dark" colors, based on each team's primary color. So, if a team's primary color is red, the road uniform might take on a reddish hue. Blue teams would have a bluish (but not powder) tone.
Now, there are some teams that have really good road uniforms right now, and should be kept as is. But we thought a few teams might really look sharp if we changed their current gray away unis to something else. I think some of what you're about to see are really great concepts, while others — well, you'll see.
Back at the end of August, we completed the first part of Phase III, which looked at the American League. We now conclude this project today with the National League. Please note there will be no concepts for the Cardinals and Padres, as both already have a non-gray road uniform (blue and tan, respectively).
++++++++++
EAST DIVISION
Atlanta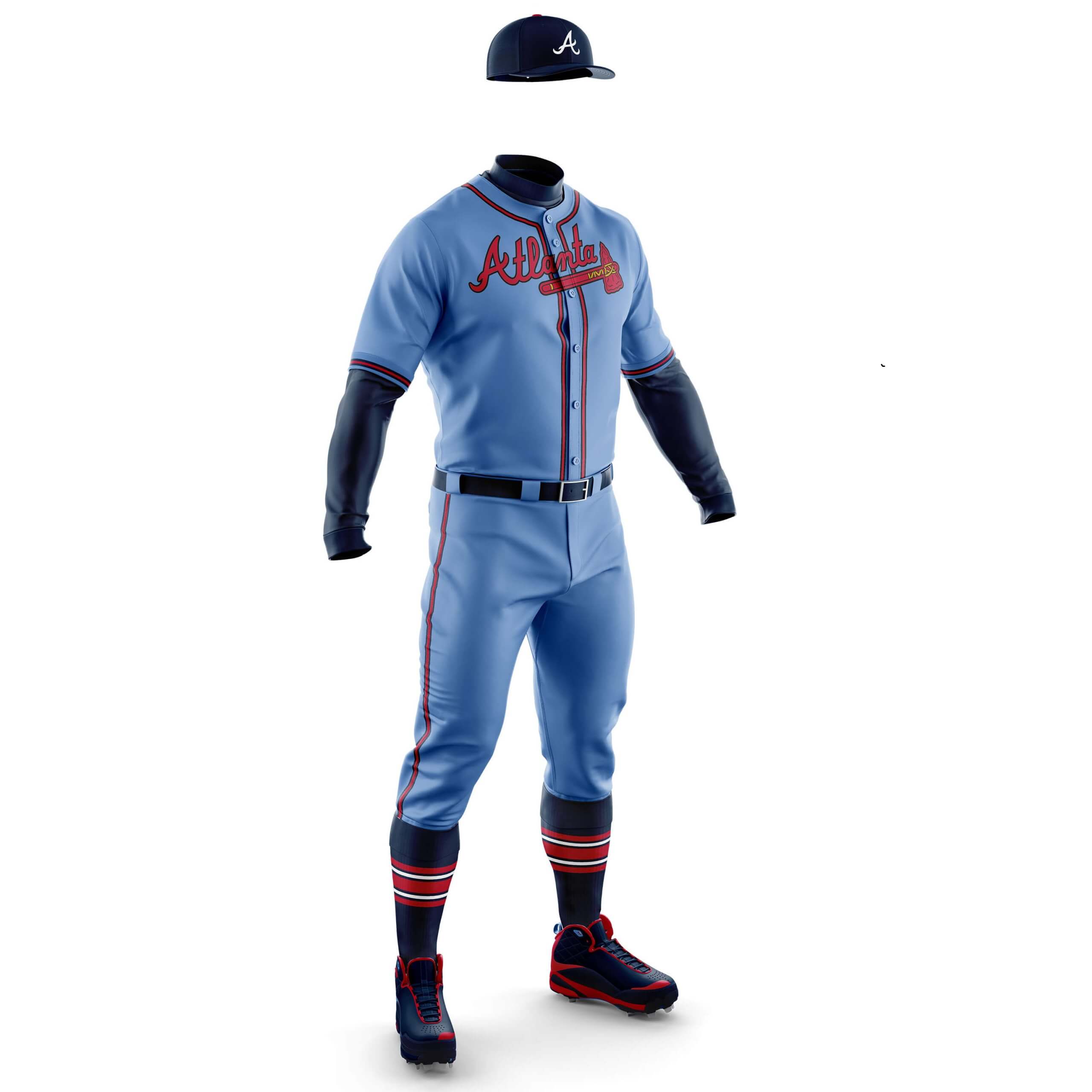 Chris Diamond: Powder blue almost always works with red and navy and that's the case here. Here I've gone for a slightly cooler shade of blue than classic powder.
Phil Hecken: For those of a certain vintage, seeing Atlanta in powder blue isn't out of the ordinary at all. Other than the imagery, I actually think Atlanta has a perfectly fine roadie now, but I like the full powder too!
__________
Miami Marlins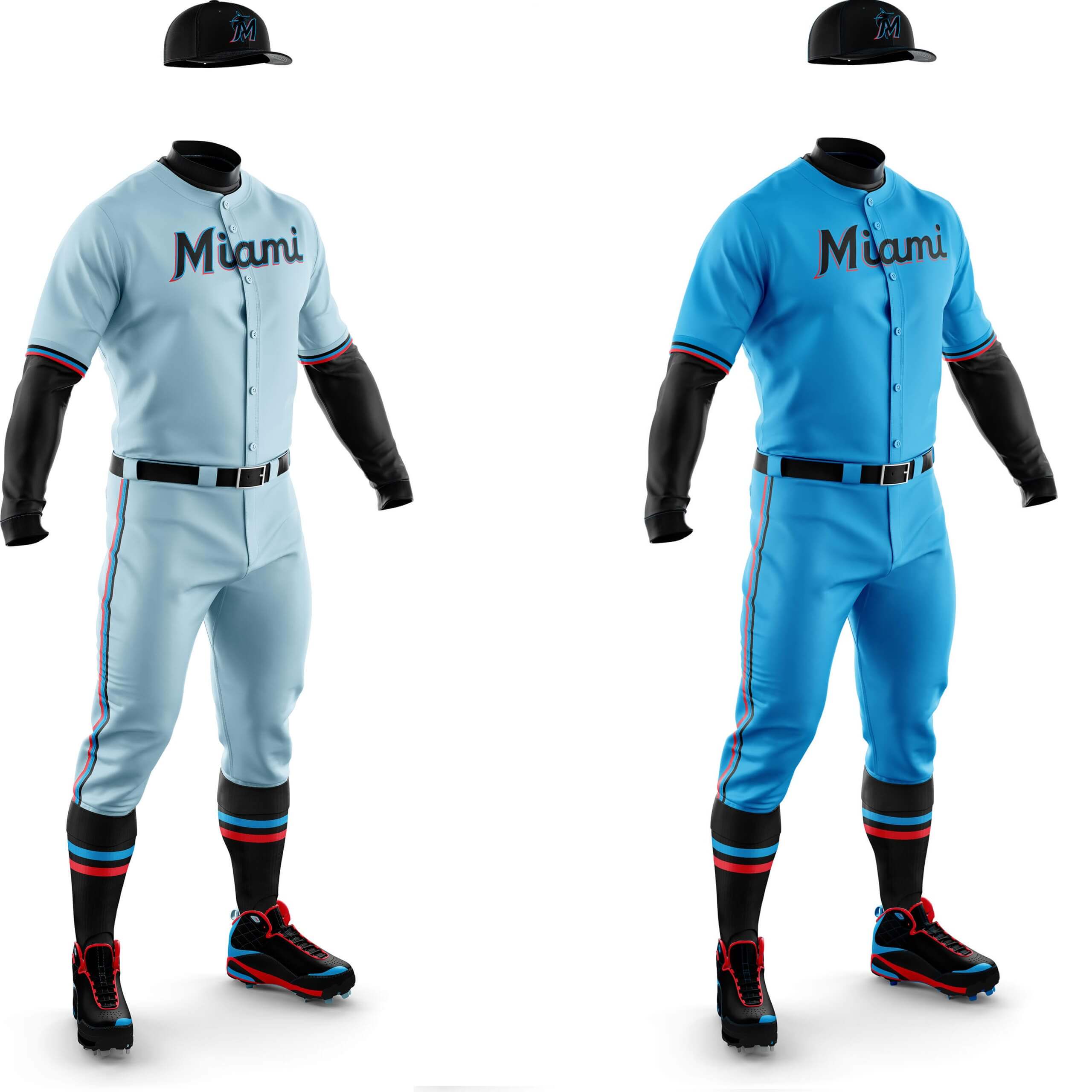 CD: I know the Miami Vice pastels thing has been done to death, but it needed to be tried! It feels a bit peely-wally to me though. The alternate is using Marlins blue as the base. I think it barely counts as a pastel, but I really like the look.
PH: I've been saying for years the Marlins need to ditch the black, and the deeper blue screams Miami! Two thumbs up from me here.
__________
New York Mets
CD: I've gone for a darker steel grey for the Mets because it makes the orange outlined wordmark really pop. A thing of beauty.
PH: I've also said I'd love to see the Mets in a darker gray, even though I think they also have one of the best roadies in the bigs. This works!
__________
Philadelphia Phillies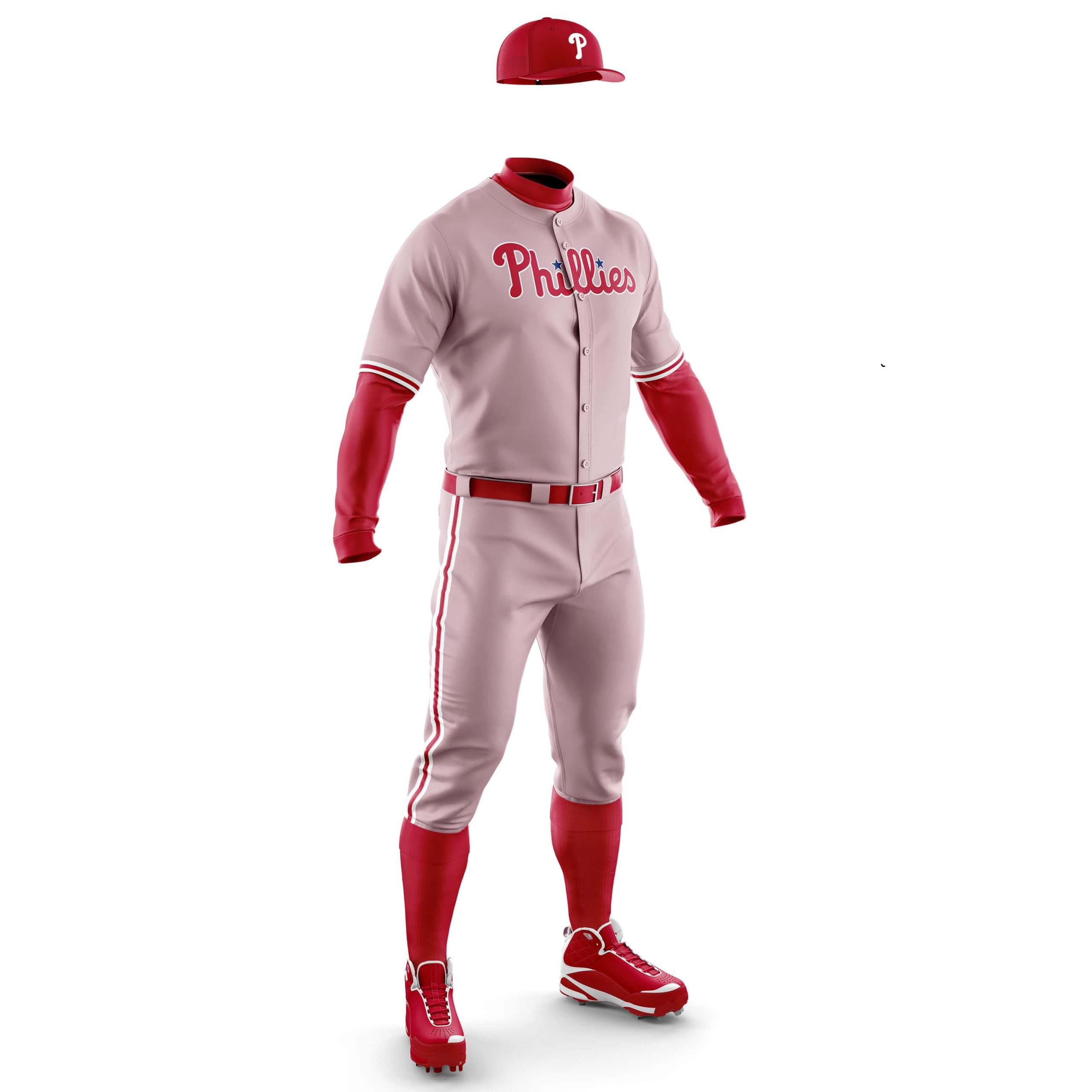 CD: Pink is always going to be tricky to pull off, but the limited Phillies colour palette means it works for me.
PH: I do think there is a National League club that can go with "powder red," but the Phillies ain't it.
__________
Washington Nationals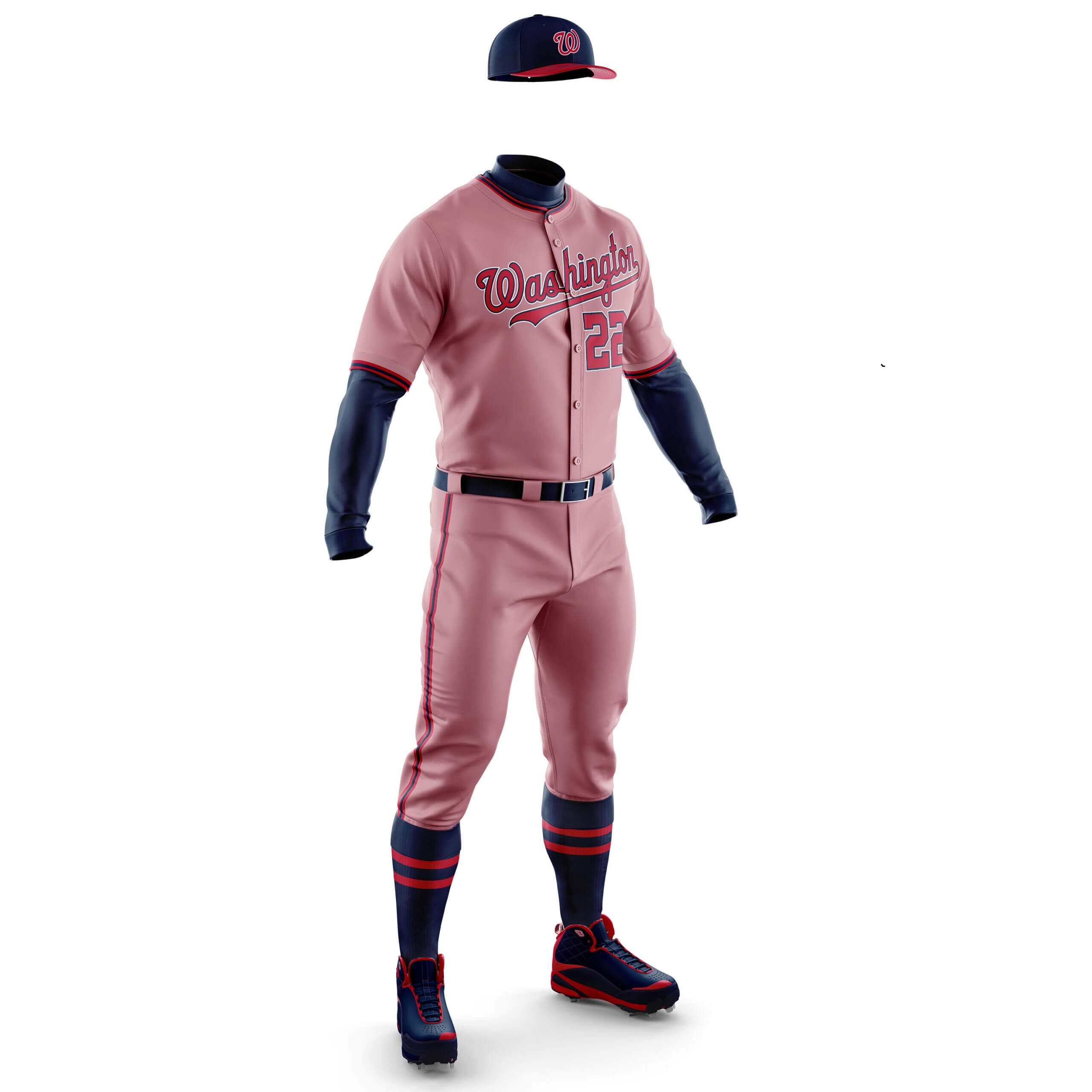 CD: Another pink team, but here the shade is from their City Connect unis. I'm not sure I like it as much as the Phillies but I think it works.
PH: See the Phillies above re: pastel red. However, I'd love for the Nats to use either the dark gray or cream found on the CC for a roadie.
++++++++++
CENTRAL DIVISION
Chicago Cubs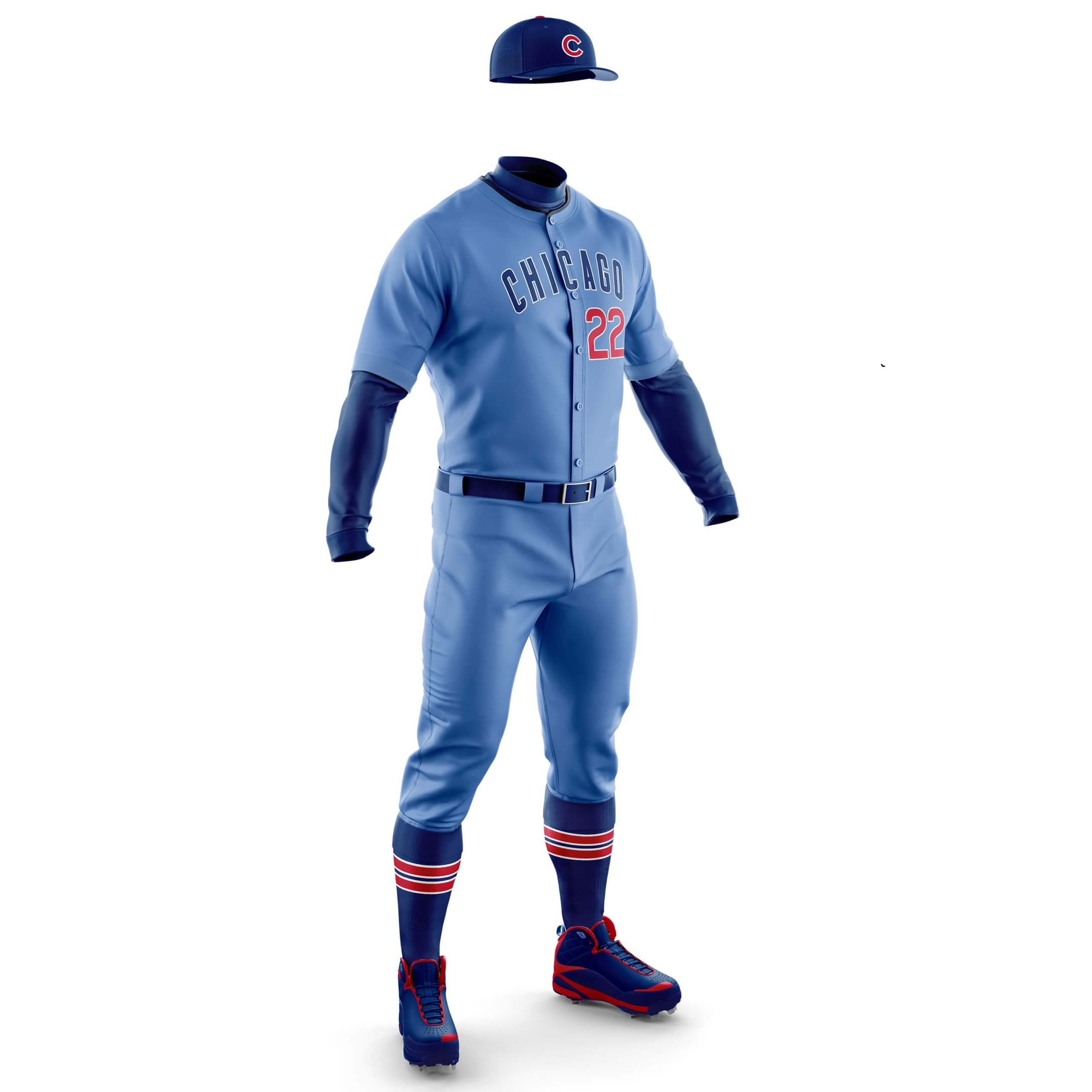 CD: The Cubbies road uni is about as simple as you can get, but I think it looks smarter in blue than the standard grey.
PH: The Cubs are another team for whom powder blue roadies have historical precedent. Hell, the Cubs invented powder blue as a road option in 1941! So this gets two thumbs up from me!
__________
Cincinnati Reds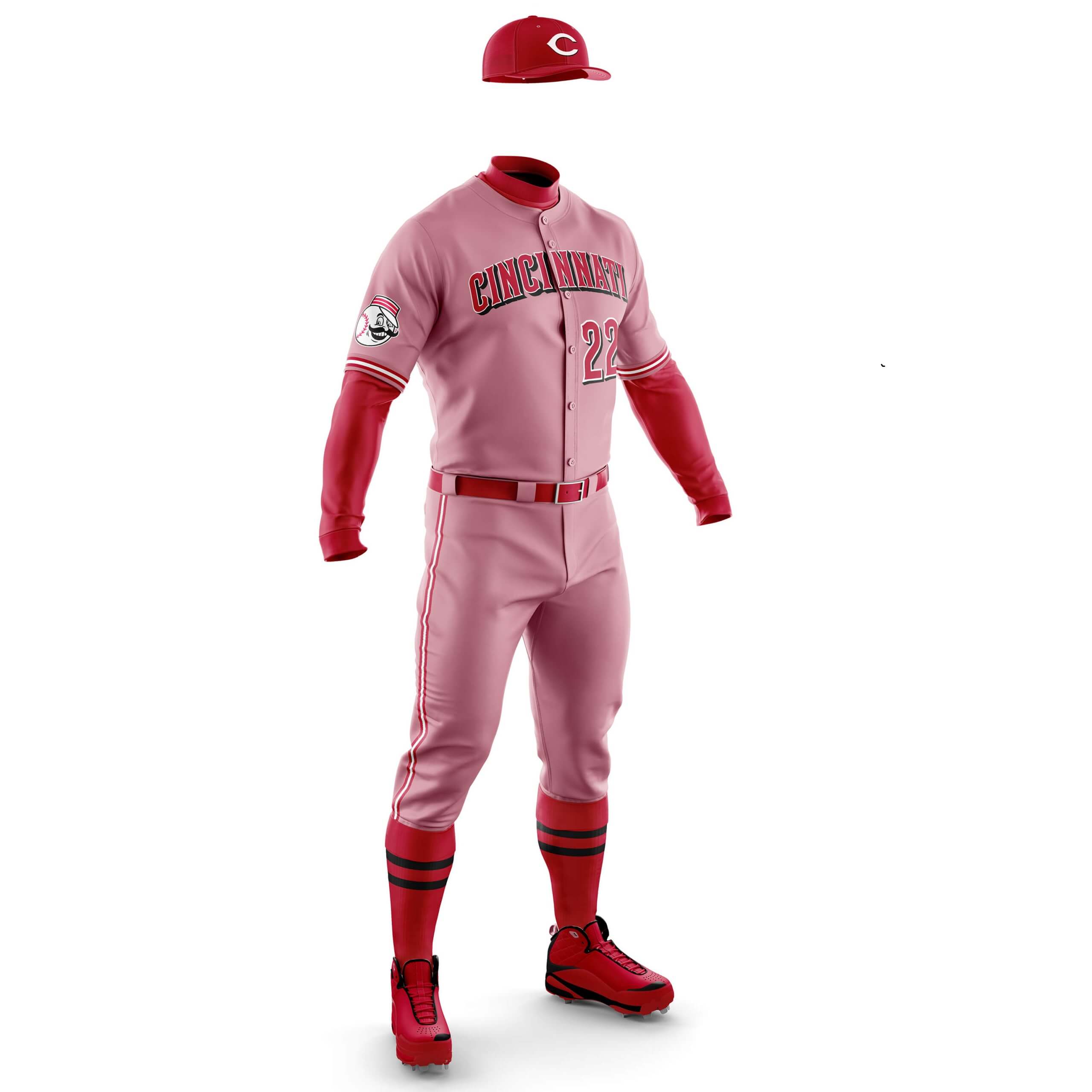 CD: I think without the black highlights this would look good, but with them it makes it look a bit too busy for me.
PH: Unlike the Phillies and Nats (and Angels), THIS is the team that needs to make "powder red" their road uni.
__________
Milwaukee Brewers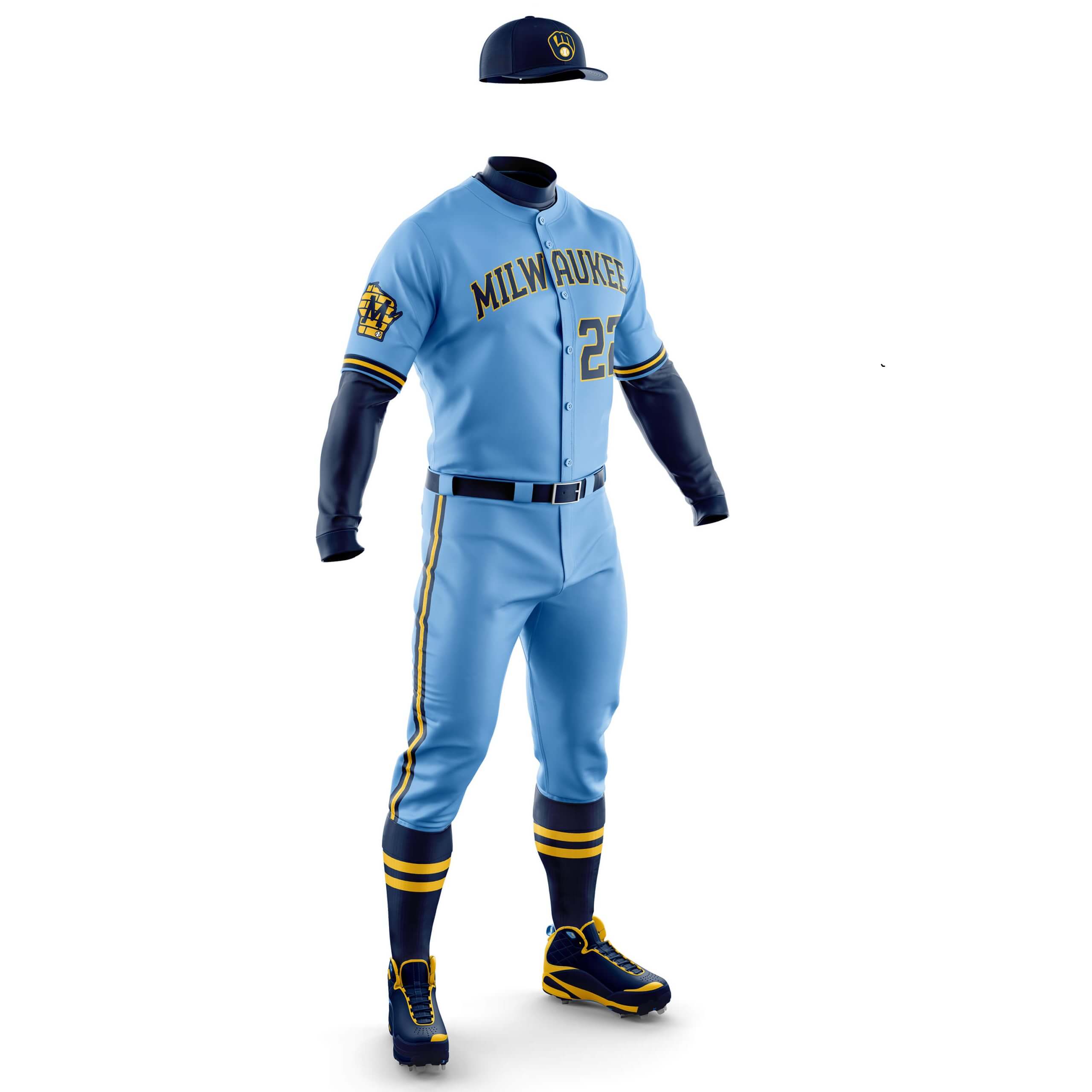 CD: This is simply a case of using the blue from their BrewCrew City Connects with the road uni and I think it's a real doozy! It shows the colours for the City Connect are good and it's the lame design that is the problem there.
PH: Like the Cubs, the Brewers have a history in powder blue, and some have argued that their script Milwaukee blues were some of the best ever. I was actually more partial to their previous set, which featured gold sanis. But there is no doubt the Crew look great in powder, especially with the great gold accents. Make this happen!
__________
Pittsburgh Pirates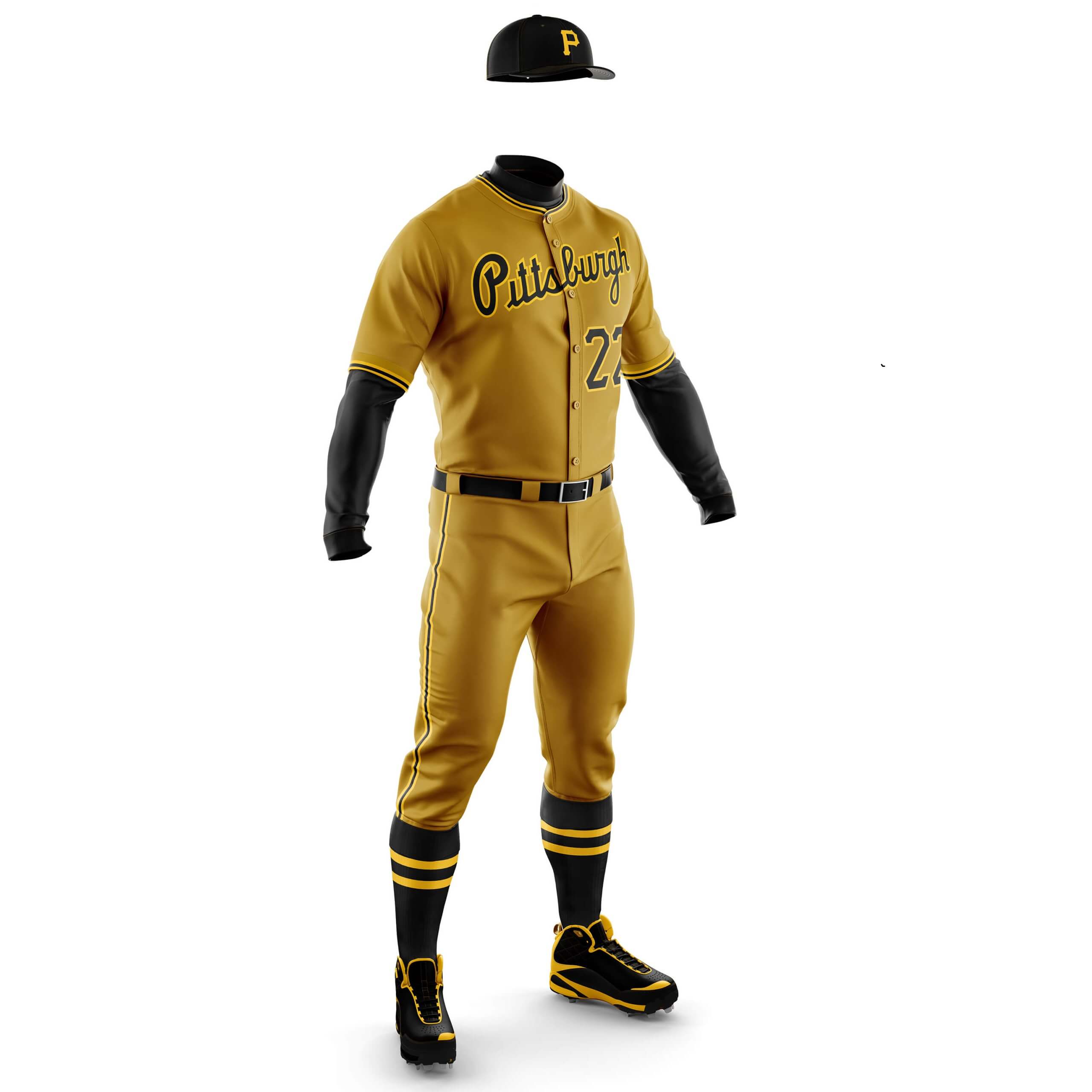 CD: Back in the mid-70s the Pirates used Old Gold (sometimes called mustard) instead of the athletic gold they do now. I've just used that shade as the uni colour and I really love it!
PH: I love the effort, but I think the Pirates should go with the athletic gold Chris did in an earlier concept. But this concept is growing on me.
__________
++++++++++
WESTERN DIVISION
Arizona DiamondBacks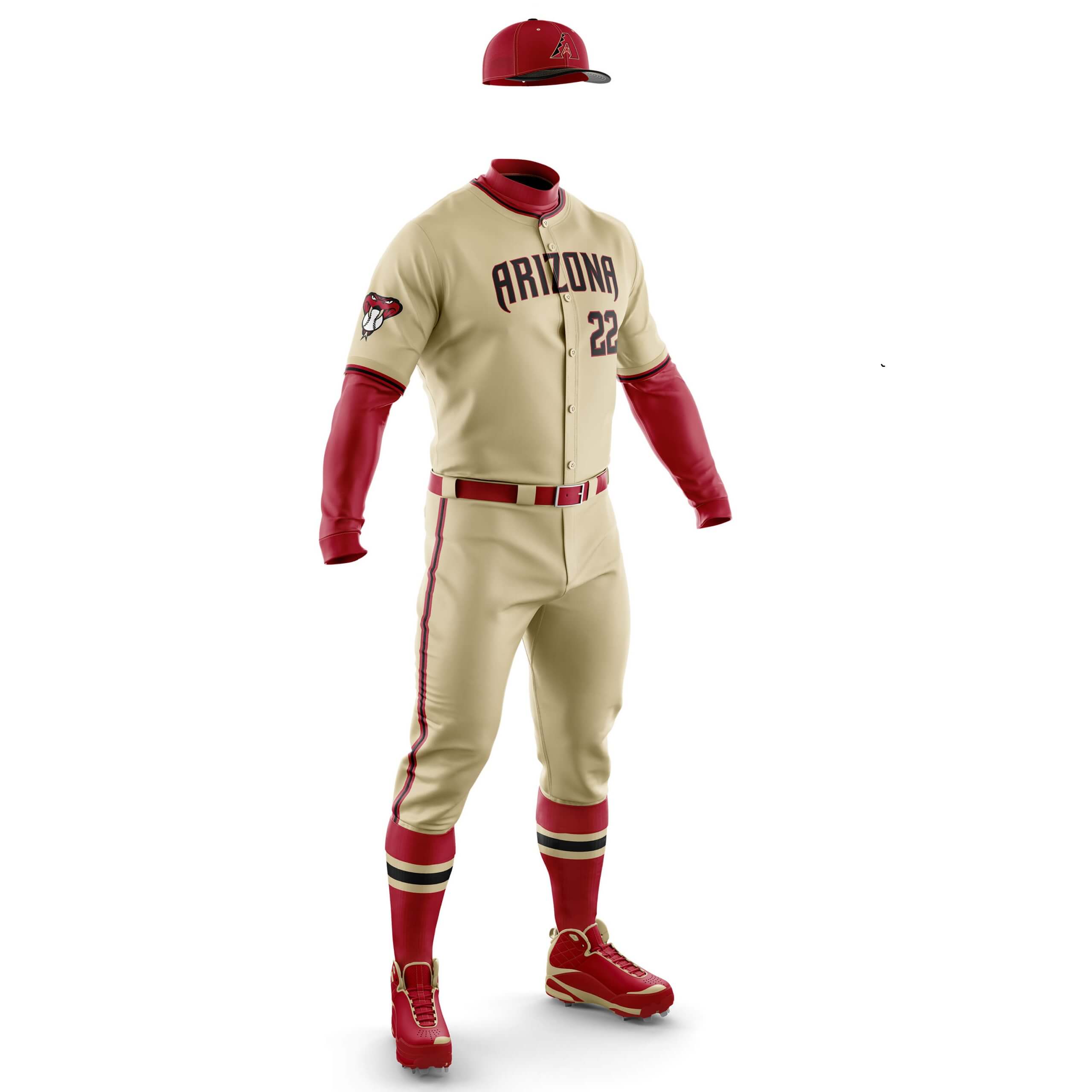 CD: The D-Backs already have a pastel uni in their Serpientes City Connect. I've just taken the desert sand shade and used it on the road. I think it looks really smart and shows how well those colours work together. I still have no idea why they added teal to this palette for the home unis as the only thing that goes with it is the sleeve ad!
PH: Ever since they ditched the white pants they originally wore with their CCs for full sand, I've wanted them to use this look for a road uni. Chris' concept is fantastic and these would be fantastic away kits.
__________
Colorado Rockies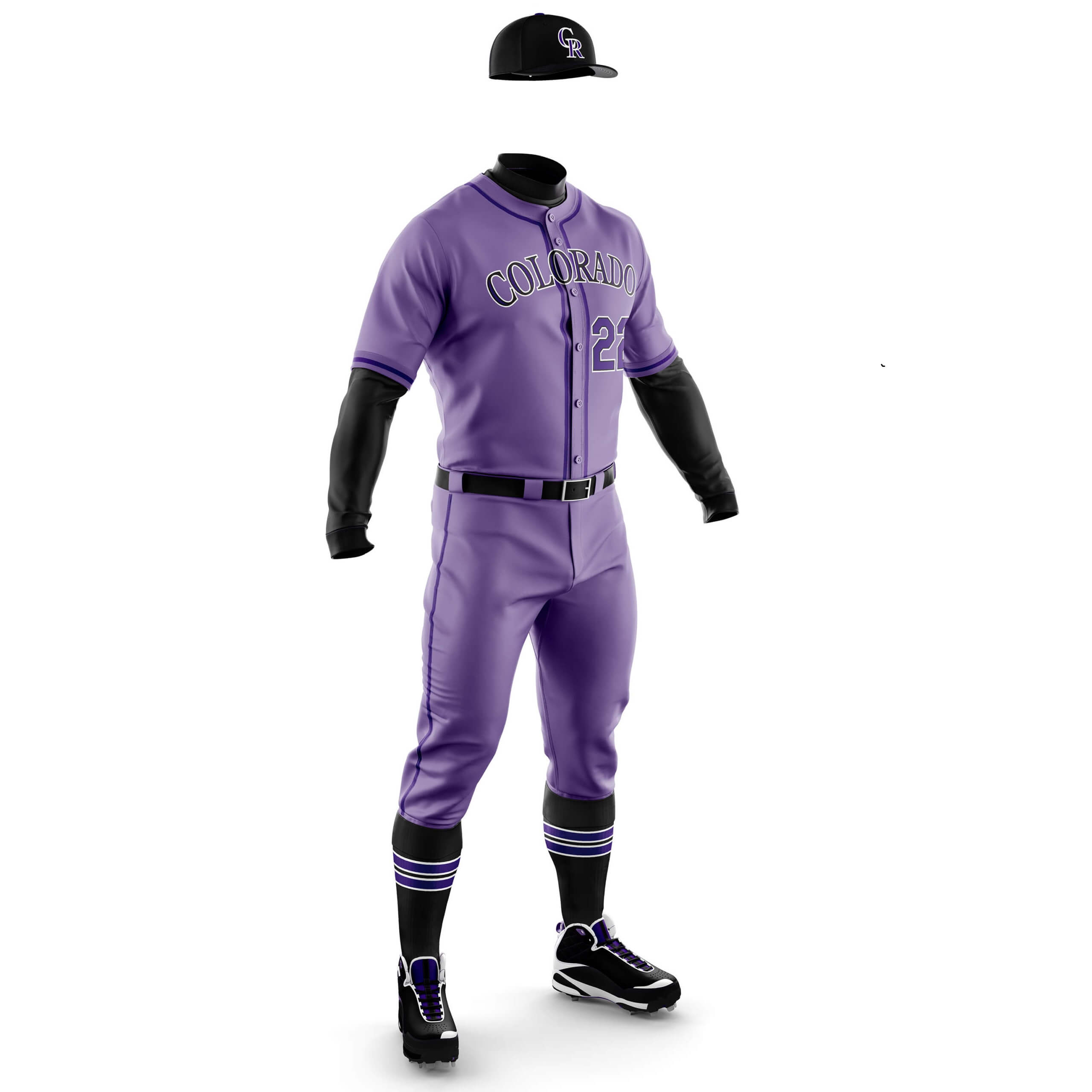 CD: I wanted to avoid a blueberry yoghurt vibe so chose a deeper shade of purple. I think it would look better with white spoon and pants trim but I wanted to stay true to using the standard road unis.
PH: THIS! I've been waiting months to see this concept and it's as perfect as I had envisioned it. A certain uniform scribe may be revulsed by these, but I would kill to see these on the field.
__________
Los Angeles Dodgers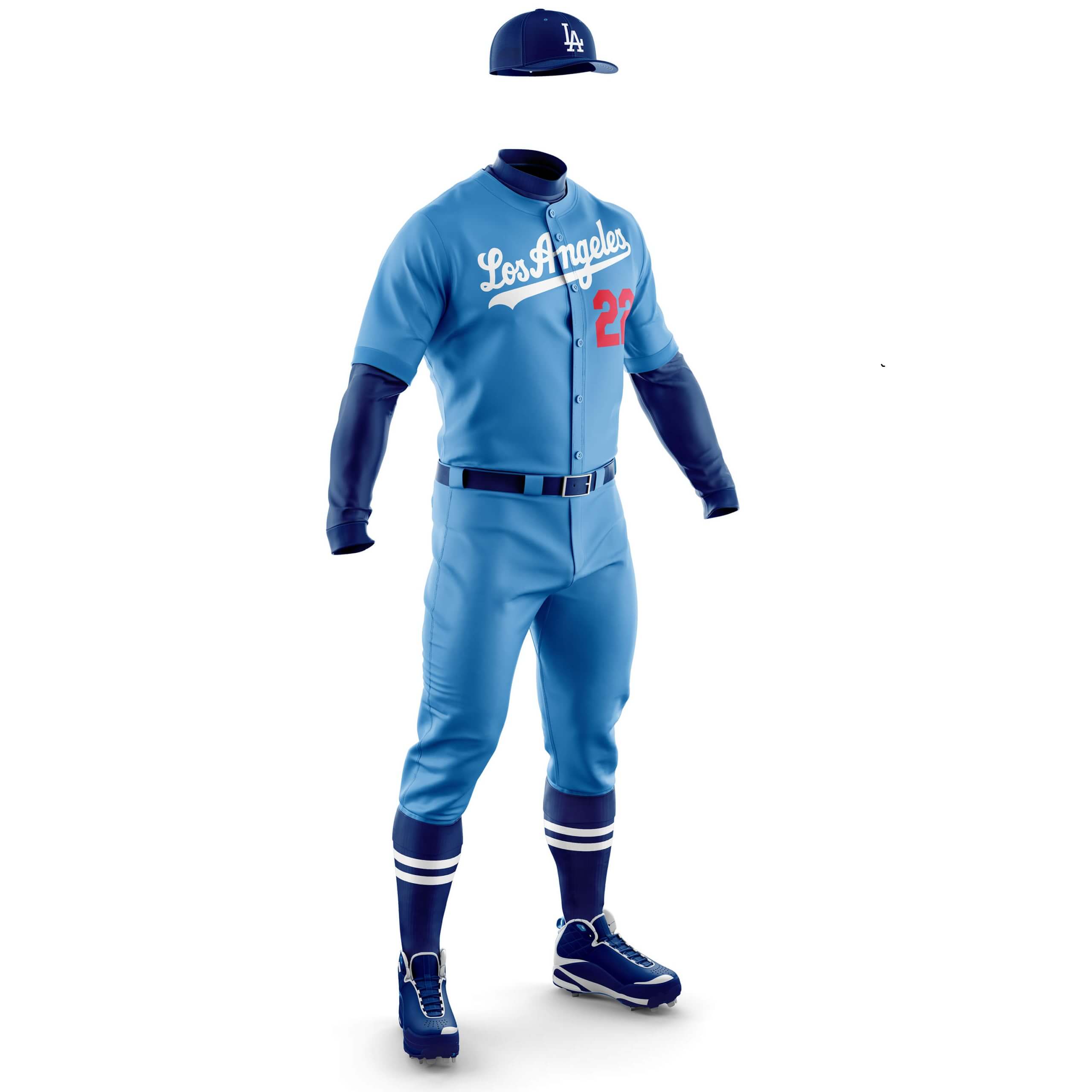 CD: Back in their Brooklyn Days the Dodgers had a powder blue set of this shade so I've just re-used it. Looks really smart and the red numbers pop nicely and stop it looking too much like the Royals.
PH: While there is historical precedent for light blue (the team even threw back to this look) in the Dodgers past, and I do really like Chris' concept, I also think their current gray roadie is quite nice. So I'll pass on this one.
__________
San Franciso Giants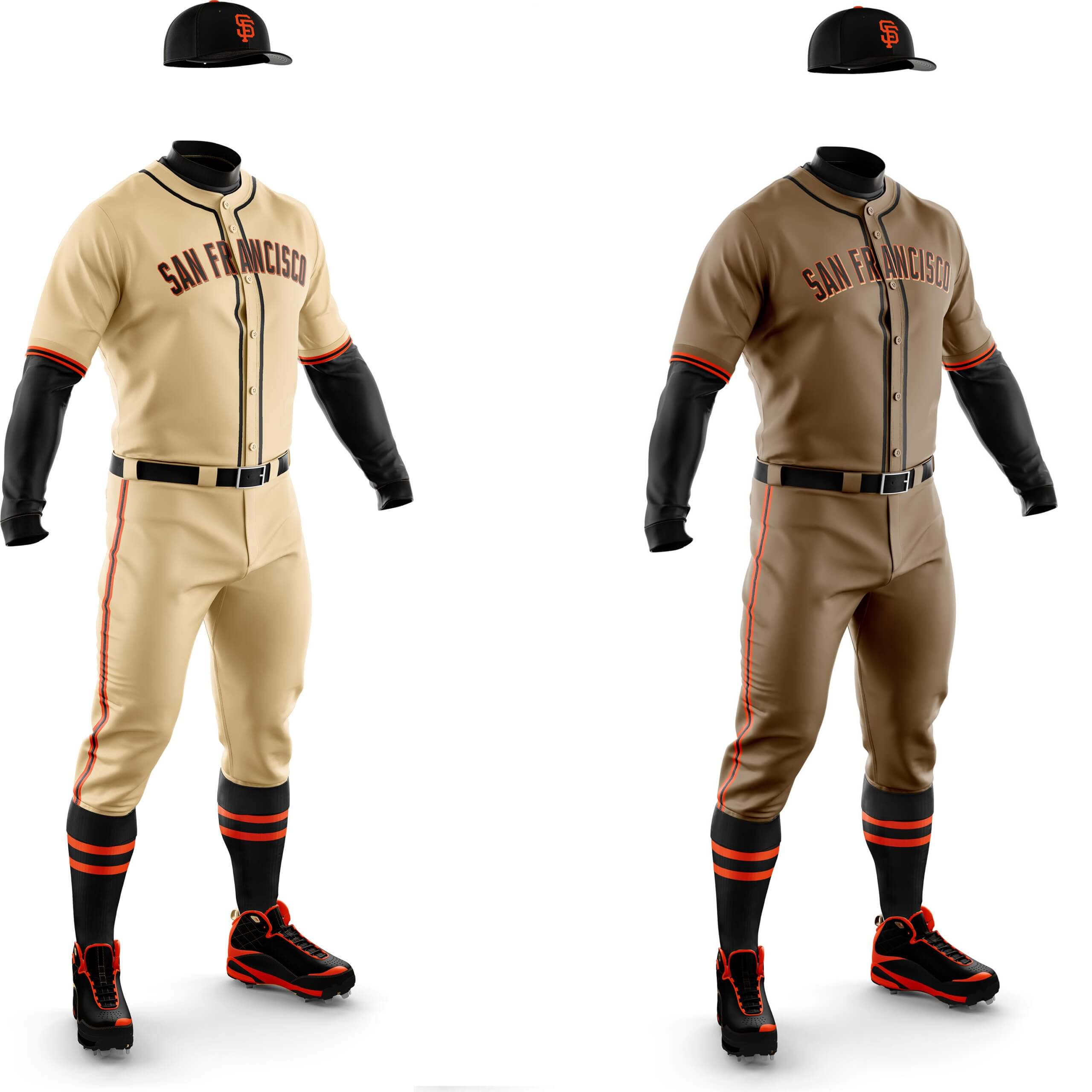 CD: The Giants introduced gold and beige highlighting in 2000 and I've tried both these shades for uni colours. I'm not sure I really like either, but I think the beige works better as a uni.
PH: The lighter one isn't that dissimilar to their current home cream uniform, so I'm not really feeling this in a road version. The darker one, however, has possibilities. It's not quite there, but it's interesting.
• • • • •
And there you have it. A look at some possible alternate road uniforms that aren't gray and also don't include the mono-dark concepts we explored in Phases I and II. Fantastic job of turning my "visions" into concrete concepts by Chris — I like more of the NL than the previous concepts for the AL.
What do you guys think? Please let us know in the comments below, and please give Chris a giant thanks and shout out for all his great work on this monochrome exploration project.