Hi there. Remember me?
It's good to be back! I have lots of fun stuff to share with you, but first things first: Please join me in giving a big standing O to the great Phil Hecken, who went above and beyond during the past month, providing sooooo much great August content (including some posts on weekends, when he was supposed to be taking a break!). Phil, I think I speak for everyone here when I say that you really outdid yourself this time around. Thanks so much for doing such an outstanding job during my August absence.
———
As for me, it was an eventful month. Let's start with this: Earlier this year I began spending some time with a woman who we'll call E. E and I recently decided that it was time for us to take a trip together, and August was the time frame that worked best for both of us. After looking at maps and discussing possibilities, we settled on the state of Washington, because neither of us had spent much time there. Also, considering my color preferences, how could I not love a place whose nickname is the Evergreen State?
We gave ourselves 10 days. We figured we'd fly to Seattle, explore the Olympic Peninsula (that's the northwest region of the state, to the west of Puget Sound), and then venture into other parts of the state if time allowed.
This was my first real vacation (i.e., not just a glorified long weekend) since Mary and I went to Ireland in 2019. And that means it's time to revive a long-dormant Uni Watch feature: the road-trip travelogue!
Here are the basics: We flew to Seattle on Aug. 7 and flew back home from Seattle on a red-eye on the night of Aug. 16. In between, we drove about 1,400 miles in a wobbly counter-clockwise route that took us through the Olympic Peninsula and then through the east-central part of the state. Here's a rough depiction of our route (the numbered dots indicate where we ended up at the conclusion of the first day, the second day, and so on):
Before I get to the day-by-day travelogue, here are some preliminary notes:
Our car was a silver Toyota Corolla with Washington plates. Reliable and unremarkable, which is all I want from a rental car.
We stayed in motels — mostly mom-and-pops, although a few times we had to go with the chains (Quality Inn, Rodeway) because there were no other options. We booked the first, third, and fifth nights of the trip in advance, just to provide a bit of initial structure for our itinerary, and made up the rest as we went along. Prices were mostly around $100-$130/night, although one was $200 — a huge splurge by my standards, but it was the only option at the time.
For the most part, we were extremely lucky with the weather — no rain at all! The last couple of days were extremely hot, but we figured out how to adapt to it. (More on that later.)
The vast majority of our driving was on two-lane highways, and we quickly noticed that the double-yellow "No passing" lines are more widely spaced apart in Washington than what we're used to seeing in other parts of the country (maybe because Washington presses a little rumble strip in between the yellow lines):
Our meals were mostly okay but unremarkable. While we did have one extremely memorable oyster experience (more on that soon), there was much less fresh seafood available than we expected. Just about every eatery offered fish and chips, but there's only so much fried food a person can eat, so we maxed out on that pretty quickly.
Washington is famous for its apples, pears, peaches, and cherries, and it was fun to see all the fruit farms and their vast orchards. Instead of grain co-ops, which are common in other parts of the country, we saw fruit co-ops — interesting! Lots of apple-based signage, too. I really enjoyed seeing this aspect of the local culture. (And yes, we ate a lot of apples.)
We also saw lots of logging trucks, lumber-processing facilities, and so on. It was all very Twin Peaks and Blue Velvet:
A large percentage of Washington appears to be closed on Mondays and, especially, Tuesdays (even during the summer tourist season, which I found surprising). As a result, there were several cool-seeming places that we weren't able to visit, like the Seattle Pinball Museum, America's Car Museum in Tacoma, and a few eateries. Next time!
Okay, enough preliminaries — here's the day-by-day travelogue. Most of the photos were taken by me, with a few taken by E (including, obviously, those of me).
Day 1: Monday, August 7
We arrived in Seattle in the early afternoon, rented a car, and drove into the city, where we hit a few oddball shops and then went to the Sloop Tavern for some beers and fish and chips: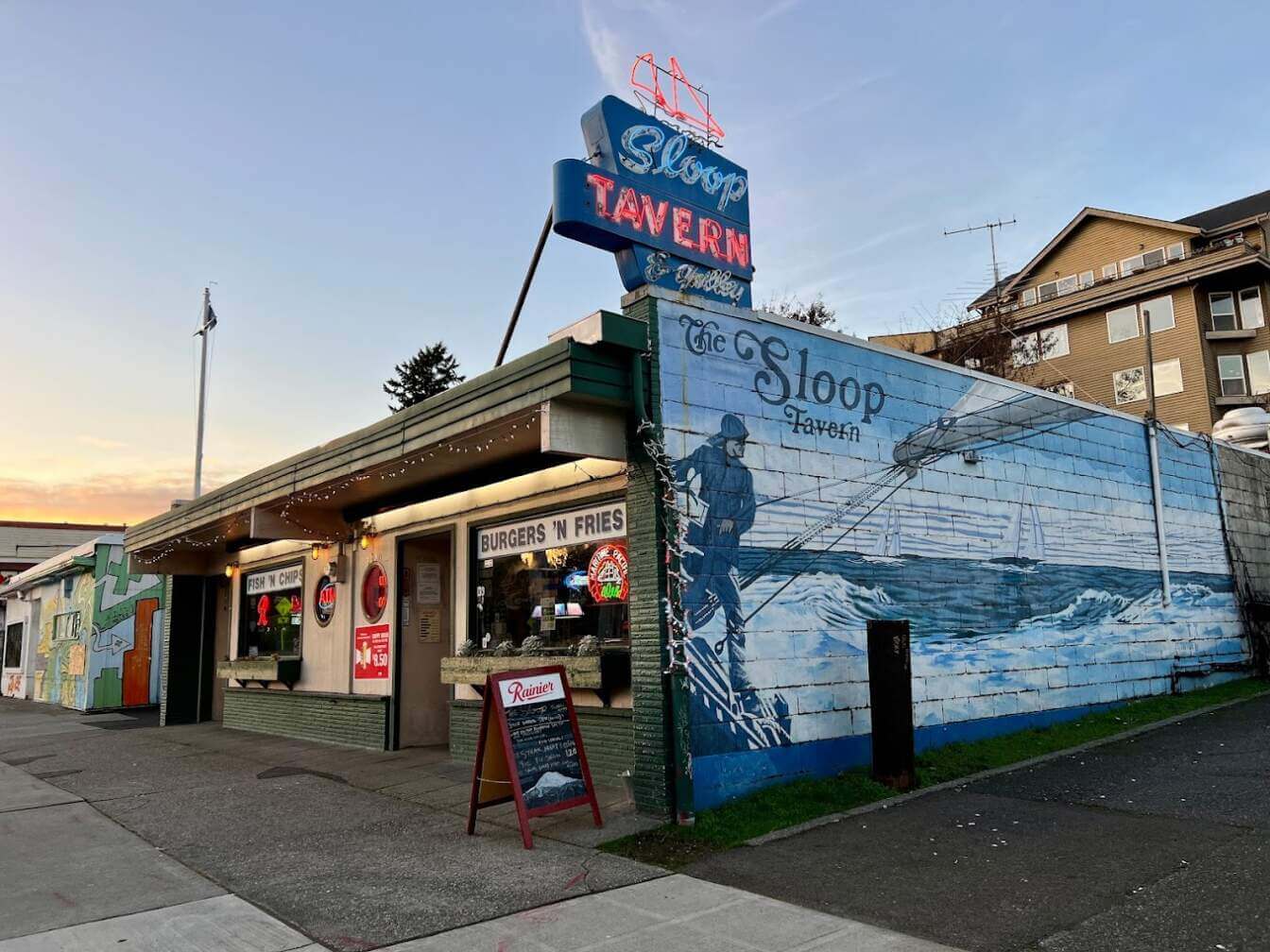 While we were at the Sloop, E glanced at the TV and noticed that one of the local TV news broadcasts has either a really good sense of humor or a really bad proofreading department:
After that, we figured we should look at the Space Needle, which really is a remarkable structure. Uni Watch membership card designer Scott M.X. Turner, who used to live in Seattle, had warned me that going up inside of the Needle is basically just a "really expensive elevator ride," so we skipped that, but we had fun checking out the visitors' center and then hanging out for a bit in the Needle's accompanying park.
Incredibly, neither of us took any photos of the Space Needle. Perhaps not coincidentally, it was right around this time that we realized we were really tired (from the long flight, jet lag, etc.), so we went to our hotel and crashed.
Day 2: Tuesday, August 8
Our plan for the day was to loop down beneath Seattle and then head up into the Olympic Peninsula. Along the way, there were several oddball roadside attractions we wanted to see, beginning with the bizarre "Big Catch" sculpture in Des Moines (yes, there's a Des Moines in Washington, but it's pronounced with a "z" at the end — "Des Moynz"), which shows a man embracing and sort of groping a fish that has breasts:
A plaque on the site explained the backstory:
"Legend of the 'Big Catch': Long ago, a beautiful young maiden fell in love with a handsome fisherman. To her dismay, the Wicked Witch of Puget Sound fell in love with him too. The Wicked Witch cast a spell and turned the maiden into a fish. For years, the sad fisherman searched all the waters of the Sound looking for his maiden, to no avail. One day, while fishing at the Des Moines fishing pier, he saw a big fish in his net. He knew it was his love. He pulled her up, kissed her, and she was transformed back into his beautiful maiden. They were married and lived happily ever after."
In the same town, we visited a roadside mural depicting a locally famous UFO visitation that supposedly happened in 1947:
From there we went to the town of Auburn, which recently erected a sculpture of a giant crow eating French fries (because it's located on the site of a now-defunct burger joint that was apparently very popular with the local bird population). I have to say, this one was pretty amazing:
We had known about the crow in advance. But while we photographed it, we saw something we hadn't known about: The trees planted in an adjacent plot of grass had been fitted with metal shields that looked like carrots, so the leaves of the trees looked like carrot greens — brilliant!
From there we looped down through Tacoma and began a gorgeous, leisurely drive along the shores of Hood Canal and Dabob Bay. Driving along a body of water is always a good thing:
That star in the middle of the route is the small but beautiful Twanoh State Park, which we stumbled upon during the drive. It had a little beach and swimming area, where we waded in for a bit:
We eventually made it to our destination for the night: Port Townsend, which is at the northeast tip of the Olympic Peninsula. We walked around a bit and found a waterside eatery where we could split a batch of fish and chips that was the very definition of golden brown: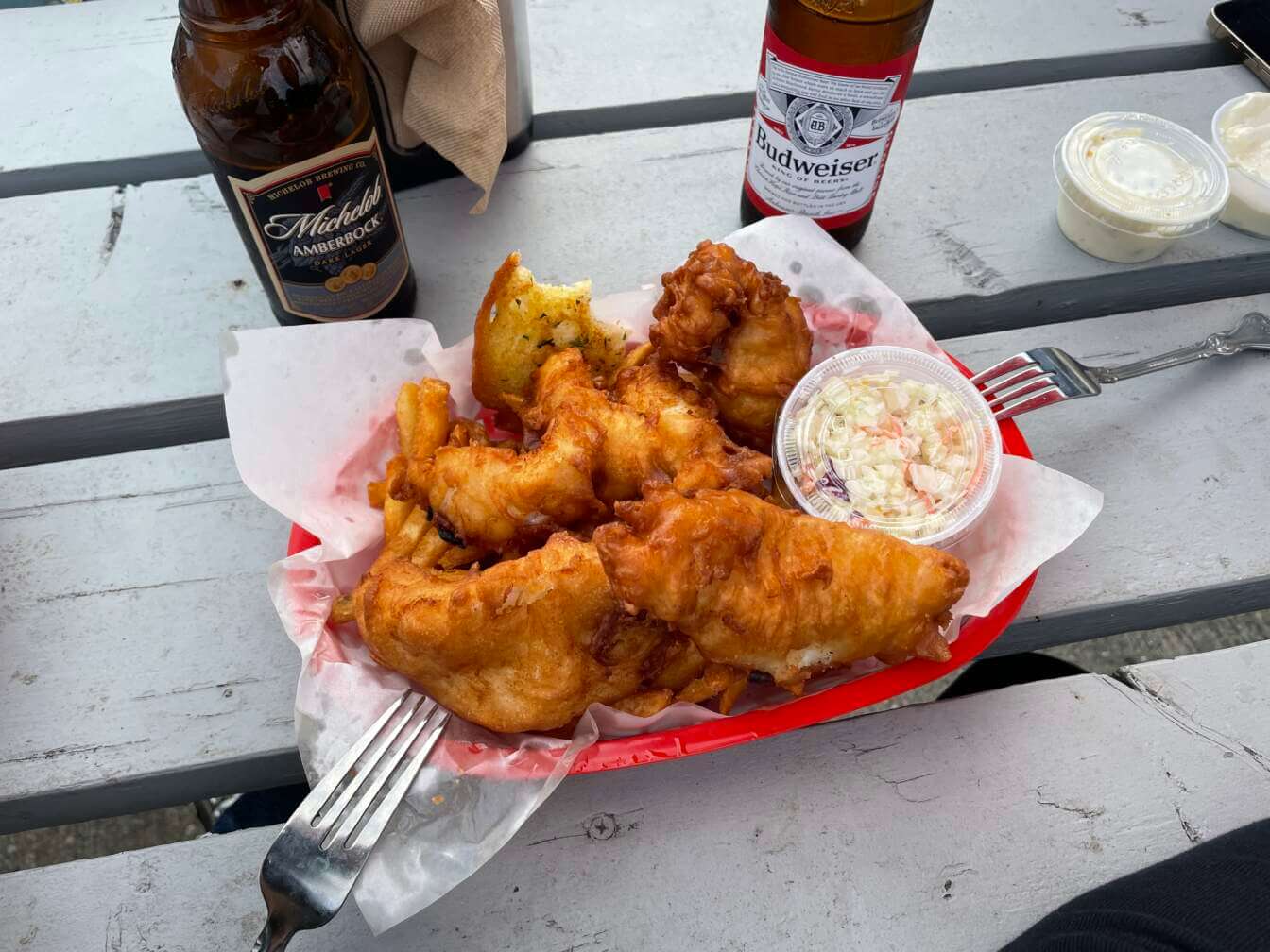 Day 3: Wednesday, August 9
While walking to the fish/chips place the previous evening, we noticed a peculiar-looking shop that had closed for the day but appeared to specialize in selling vintage glass bottles. We went back to it after breakfast and met the owner, Russ West, a very endearing weirdo who's been digging for old bottles since he was a kid and has hundreds or maybe thousands of them displayed in his shop:
Russ also collects and sells old glass insulators (plus a few ceramic ones). He had tons of them displayed in his shop's bathroom:
We did a few more things in Port Townsend, including a visit to a beach where E got a really nice photo of me skipping a stone:
We eventually moved on and headed west. Our first stop was at Eaglemount Rockery, a motel whose original owners filled the property with a sprawling assortment of miniature sculptures depicting various scenes from around the world. Most of the sculptures are in pretty rough shape at this point, but it's still a really interesting example of roadside kitsch, and the current owners don't mind if you explore the grounds and take photos. Our pics don't fully capture the charm of it all, but hopefully they give you at least a vague sense of the place:
From there we continued west to the Dungeness National Wildlife Refuge, which is located on Dungeness Spit — the longest sand spit in the United States (and growing, at the rate of about 15 feet per year). We didn't see any notable wildlife while exploring the site, but the spit itself was fascinating — raw and windy on the ocean side, more tranquil and noticeably warmer on the bay side, just a few dozen yards away: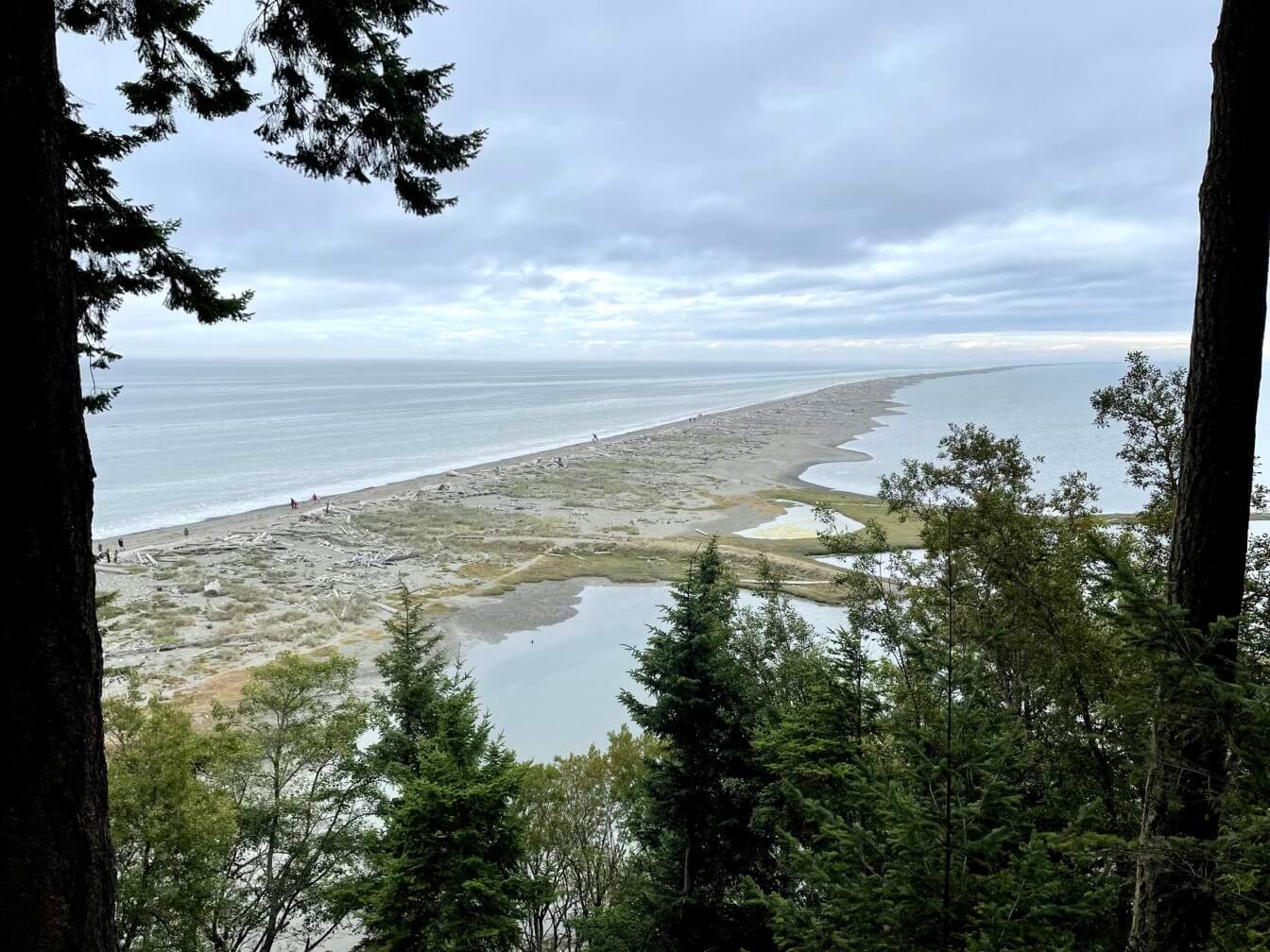 The ocean side, like almost all of the beaches we visited during the trip, was filled with sooooo much driftwood, including lots of really big logs:
We eventually pushed on and made our way to Port Angeles, where we walked around a bit, had dinner, and prepared for a more physical day on Thursday.
Day 4: Thursday, August 10
Today we entered Olympic National Park, where we planned to go hiking. E has somewhat balky knees, so we chose a moderate trail: Hurricane Hill, which is a tidy 3.2 miles but entails a significant elevation gain along the way. The scenery was great, plus we saw a couple of deer and a slew of marmots along the way. We lingered for a while at the summit, which offered spectacular views of the surrounding mountains:
After returning from that hike, we briefly left the park and drove to another hiking spot. Along the way, we encountered this really interesting-looking round diner (where I got a good-but-not-great chocolate milkshake):
After the diner stop, we moved on, re-entered the park, and went on a hike to Marymere Falls. The hiking trail took us past this amazing tree: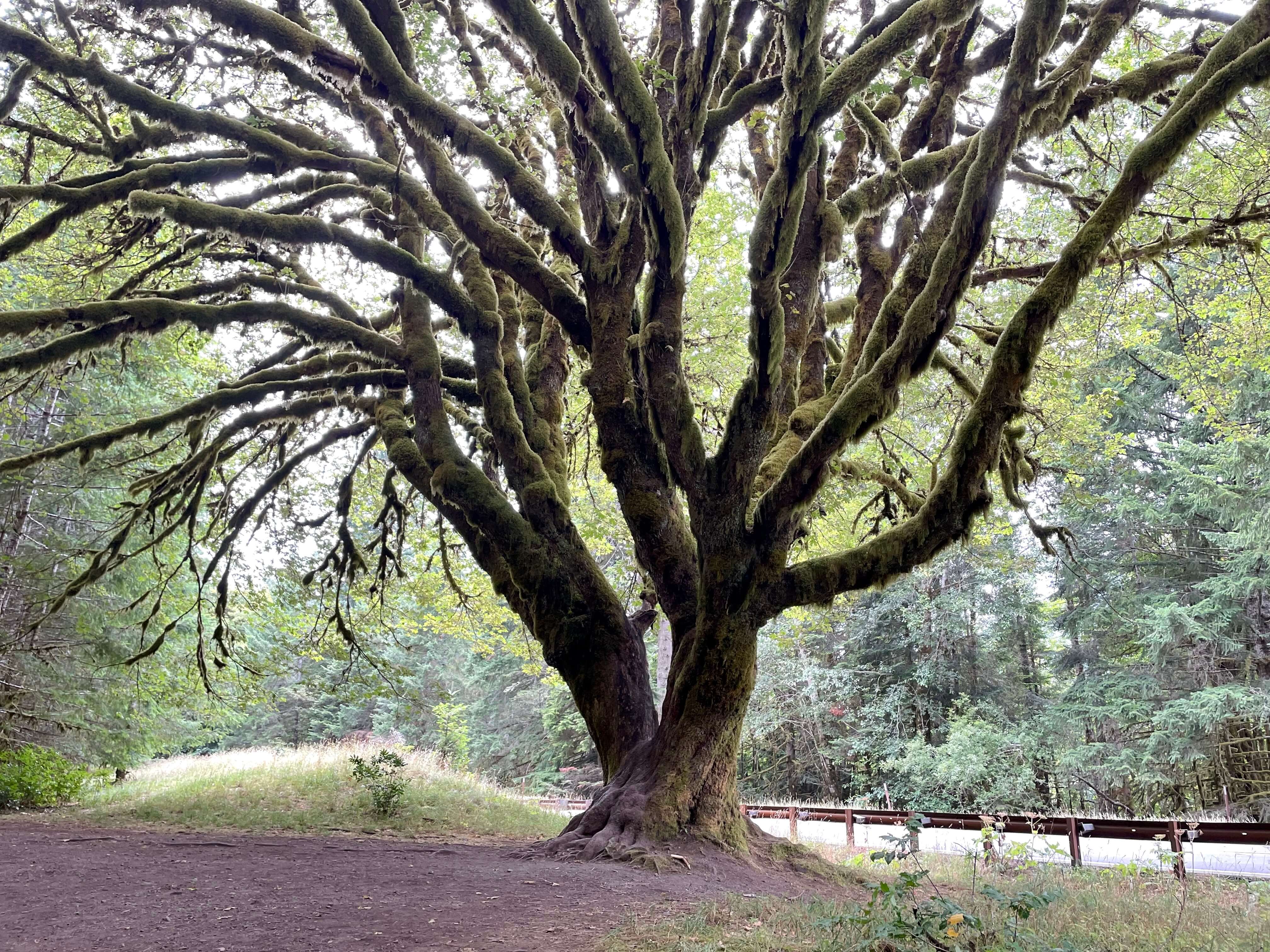 We eventually reached the falls, which were really, really nice: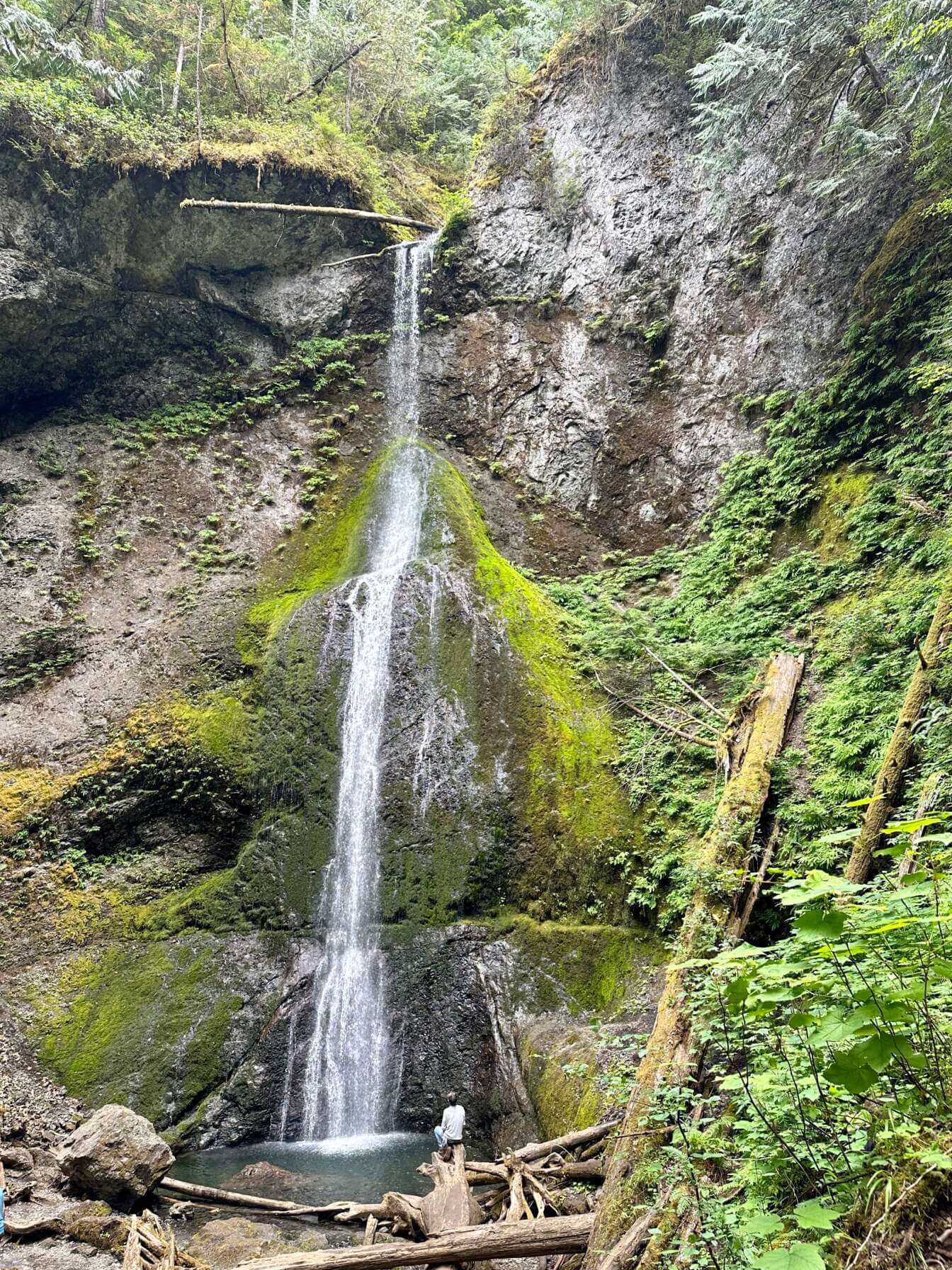 After that, it was time to head to the town of Sekiu, where we'd booked a room. Along the way, we passed a herd of elk. We pulled over to take a look, and another observer said it was a wild herd that is often seen in the area: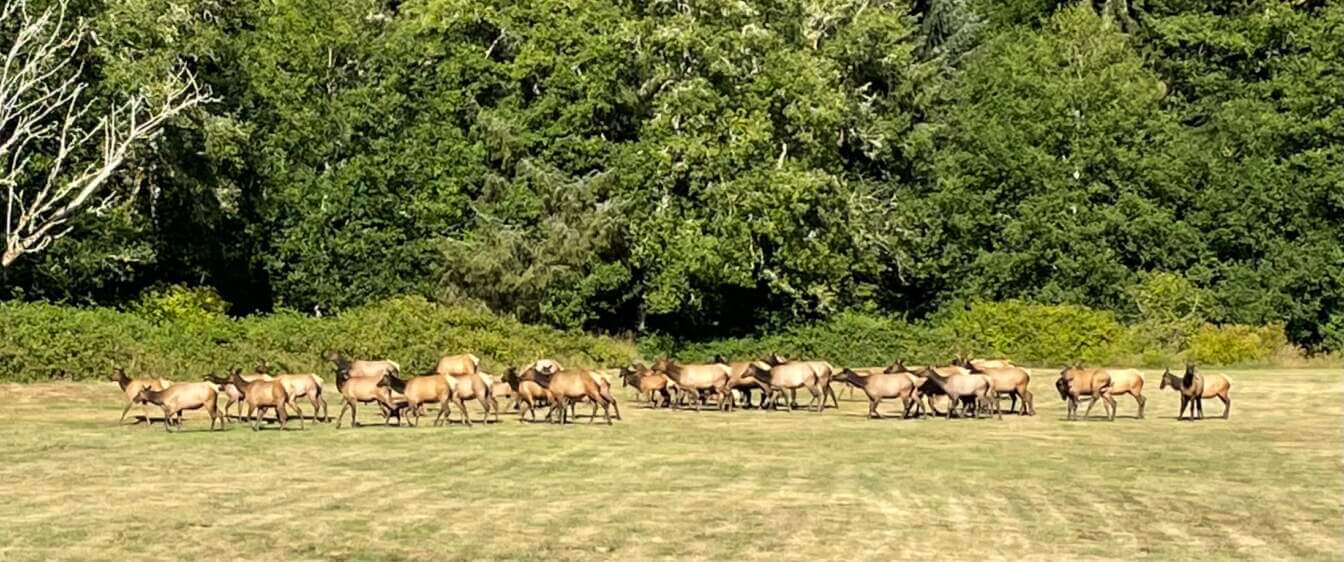 We eventually arrived at the very wonderful Bay Motel, which is situated on a beautiful sea cove and has some chairs out front, which made for a very picturesque cocktail hour.
Day 5: Friday, August 11
I'm a sucker for points of intriguing but largely meaningless geographic distinction (the geographic center of the United States, the geodetic center of North America, that type of thing), so of course I wanted to visit Cape Flattery — the northwesternmost point in the contiguous lower 48 states. It's located on the Makah Indian Reservation, so we had to purchase a $20 visitor's license along the way. It was totally worth it — the hike to the Cape turned out to be spectacularly beautiful, filled with great views of the ocean swirling around the rocky shore:
Because of Cape Flattery's name, it seemed appropriate to give each other lots of compliments during the hike: "You have the nicest eyes." "I really love your voice." "You smell good." "You're an excellent card player." Good thing it wasn't called Cape Disparagement.
At the end of the hike is Cape Flattery itself. It has a viewing deck with a railing, which is where most people have their northwesternmost moment. But you can also climb down around the deck and go right up to the edge of the cliff overlooking the sea, which is what E and I did. At the moment this photo was taken, we were the northwesternmost people in the contiguous United States: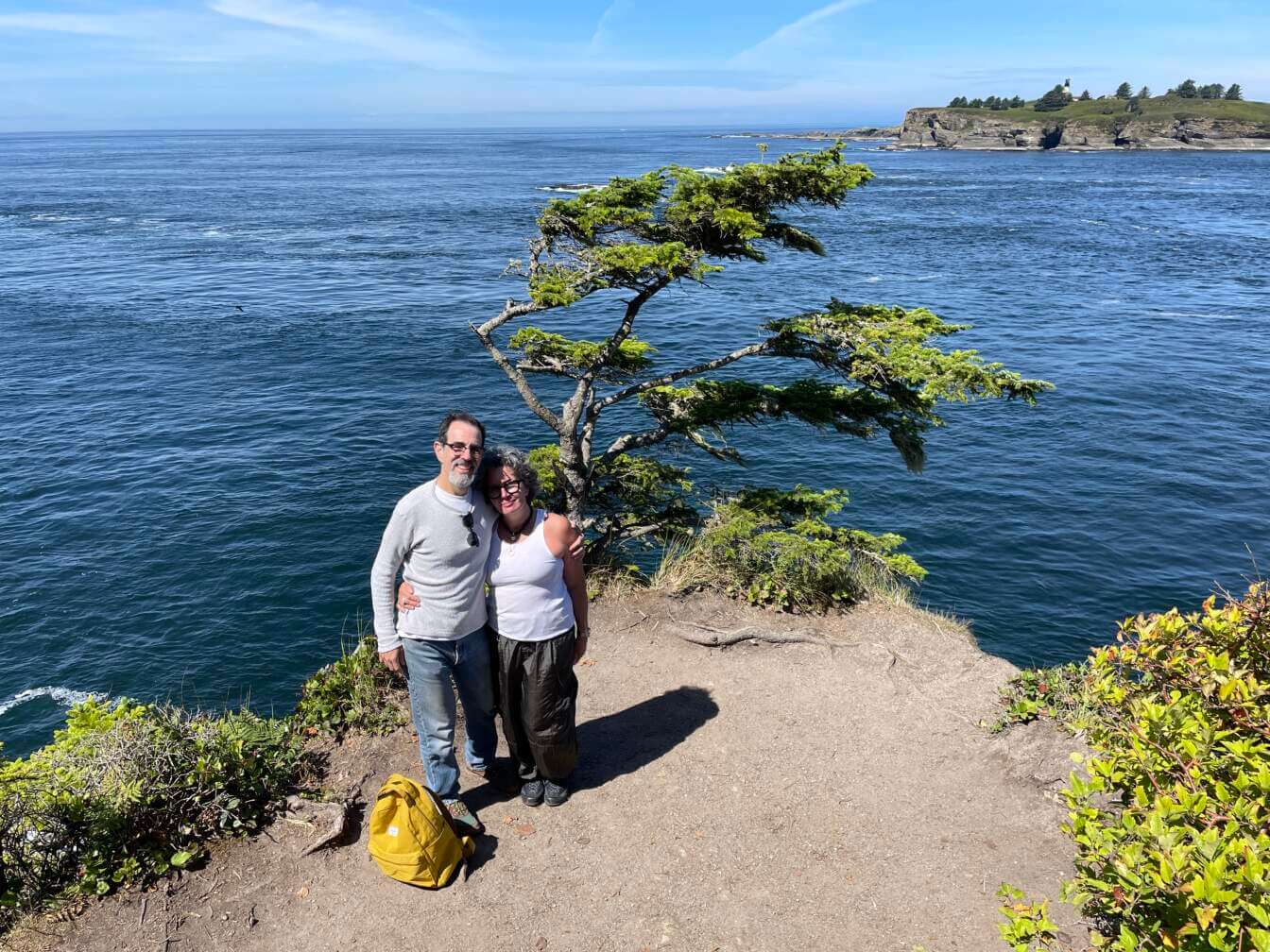 On the hike back to the parking lot, we saw a tree with branches that looked a lot like an elephant's tusks:
When I posted that photo on Facebook, longtime Uni Watch reader/contributor Kenny Ocker, who lives in Oregon, posted the following comment:
That's a western red cedar. The Makah, and many other Northwest tribes, harvest the bark to make baskets, hats, and clothing. The Makah also modify them as they grow to create waypoints along their traditional trails. As weird as this one looks, and given how close you were to a culturally important place, it wouldn't surprise me if this were a culturally modified tree.
Faaascinating!
With no more northern or western territory left to explore, we turned south and drove to another hiking spot. This time the trail led us to Second Beach, one of the most dramatic-looking beaches I've ever seen. Dig:
We hung out for a bit on the beach and then headed to our motel in the town of Forks, which bills itself as the Logging Capitol of the World and has the lumber to prove it:
Day 6: Saturday, August 12
Forks has two museums that we wanted to check out. We began at the Forks Timber Museum, a small but informative facility packed with info on the area's logging heritage:
Next up was the completely amazing John's Beachcombing Museum, a testament to one man's lifelong obsession with collecting flotsam that's washed up on local beaches. It's a truly astounding collection — or, rather, it's a collection of collections, because there are hundreds of bottles, hundreds of buoys, hundreds of sneakers, and a lot more (including a surprising amount of stuff that showed up on Washington beaches after the 2011 Japan tsunami). Unfortunately, the titular John was out for the day, but his wife was a very friendly and informative host. We really enjoyed this one!
We had planned to spend the afternoon hiking through the Hoh Rainforest, but the guy running the Timber Museum told us that it would be impossible to get in during the afternoon because they limit the number of cars that go in each day. So instead we went a bit farther down the coast and checked out the Tree of Life, a Sitka spruce whose underlying ground has eroded away, leaving the tree's roots exposed and the tree seemingly suspended in midair:
Our next stop was another Sitka spruce — this one billed as the world's largest:
It had already been a great day, but the best part was still to come. When we got to our motel in Aberdeen, we noticed that there was an Elks Lodge next door:
Fraternal organizations (Elks, Masons, VFWs, American Legions, etc.) are among my favorite travel stops. They're usually members-only, but there's usually a member who'll be willing to sign you in as a guest as long as you ask politely and behave respectfully. Once you're in, you become something of a curiosity, so some of the other members will inevitably want to talk with you ("Wait, you're from where? How'd you end up coming here tonight?"), and as a result you end up chatting with interesting folks who can tell you a lot more about the town than you'll ever learn at the local tourism bureau. Plus you have the fun of being in a secret spot that would normally be off-limits!
That's exactly what happened with us at the Elks. Even better, it was karaoke night, which was quite a trip with this mostly elderly crowd, so we settled in at the bar and enjoyed the scene. Several hours, beers, and chicken wings later, we walked back to our motel very happy.
Day 7: Sunday, August 13
While driving west out of Aberdeen, we spotted an old, battered neon sign on the side of the road. It featured an 8-ball and the word "Tavern," even though there was no longer any tavern on the site:
See that yellow shed in the last photo? While we were taking photos of the sign, a big, biker-looking dude came out of the shed and approached us. I thought he was going to shoo us away, but instead he said hi and began talking with us about the history of the sign. We introduced ourselves, and he said, "Everyone calls me Moose."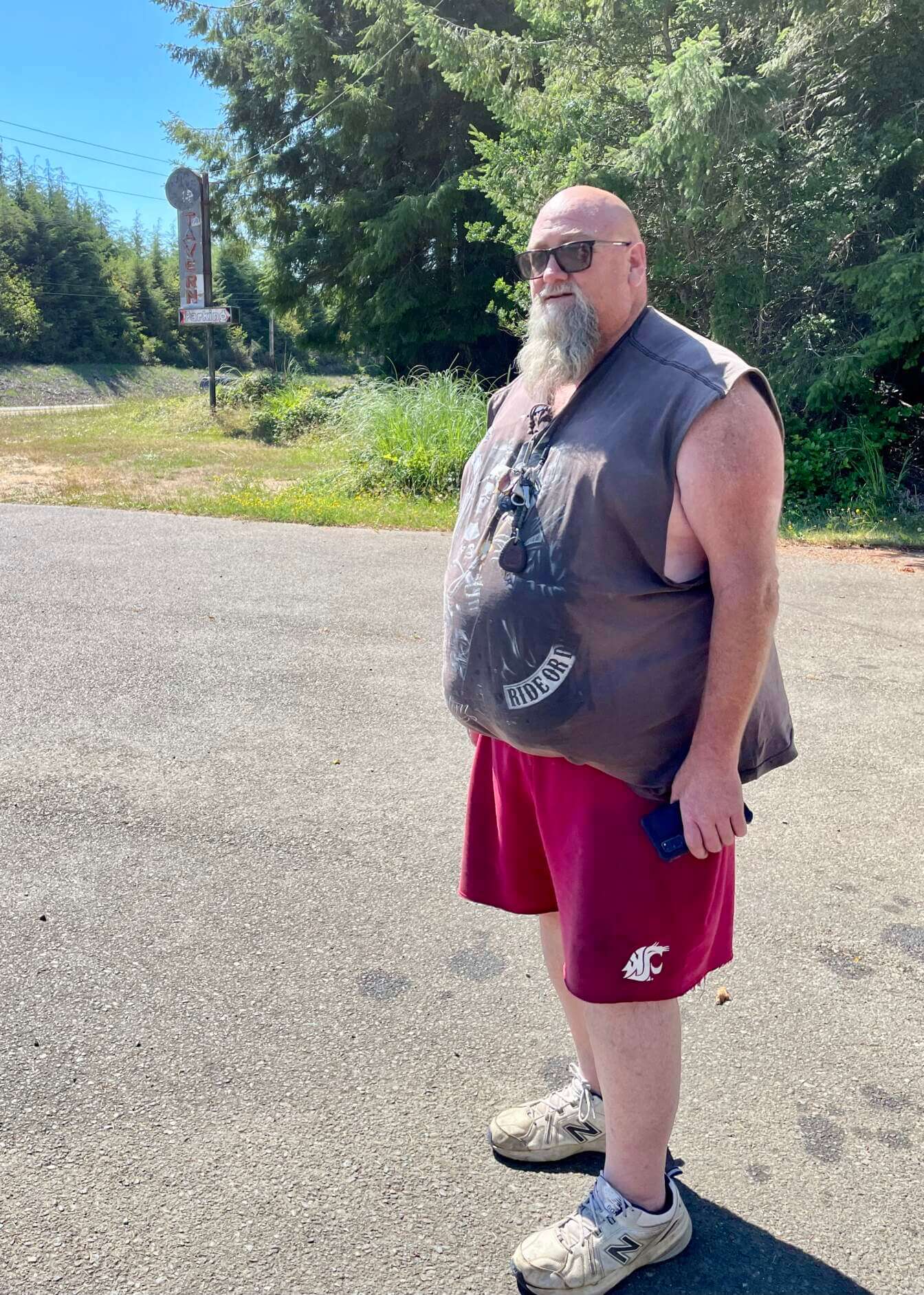 After a few minutes of chitchat, Moose played his trump card: "You two were at the Elks last night." Turns out he had been there when we arrived but left soon after that. (Once he brought it up, E remembered seeing him, although I didn't.) Is that crazy coincidence or what? One of those magical road trip moments.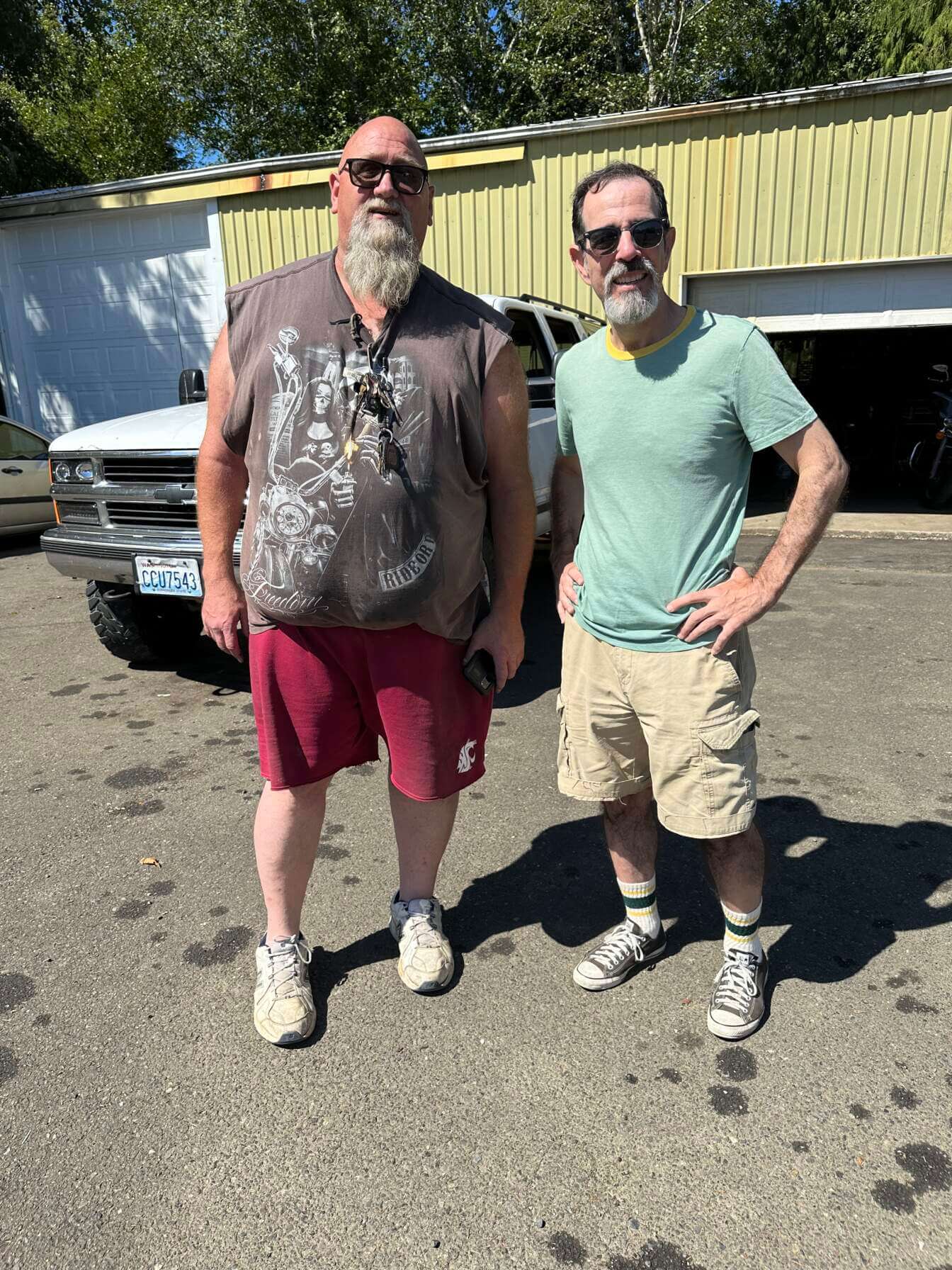 We pushed on toward the town of Bay City, where we had an important stop to make at a seafood shop. But just before we got there, we passed an intriguing-looking sausage shop, so we decided to investigate. It did not disappoint:
As you can see in that last photo, the place was a carnivore's delight! But it wasn't even noon yet and we already had other eating plans in the works, so we just got some beef jerky and moved on.
A few minutes later, we arrived at our primary destination: a waterside establishment called Brady's Oysters.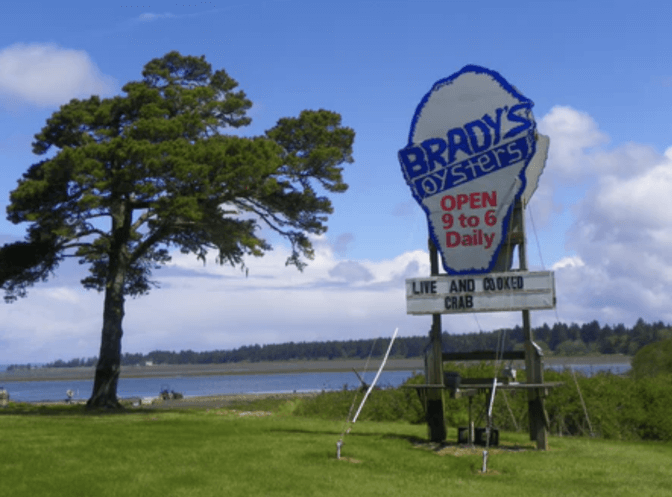 Brady's is a fishmonger, not an eatery, which presented a conundrum: We wanted oysters, but we didn't have proper shucking accoutrements. Luckily for us, the incredibly friendly staff was happy to loan us an oyster knife and a rag (the latter is necessary for holding the oysters while shucking). They even gave us a bottle of Tabasco and invited us to enjoy our oysters in their backyard. So we bought a half-dozen oysters and a lemon, grabbed some beers from our back-seat cooler, pitched a towel under a shady tree right by the water, and settled in for a very satisfying oyster picnic (plus a bit of the beef jerky to create a surf 'n' turf effect).
I can't fully express how idyllic this was. It was one of those situations where the rest of the world melts away and there is no other place but right there where you are. After finishing the oysters, we kept sitting for a spell under that tree, enjoying the perfection of the moment.
We eventually moved on and pushed inland to the town of Chehalis, which was once the home of a now-defunct discount chain called Yard Birds. Although the chain went belly-up in 1995, the Chehalis location lived on as a shopping mall. The mall was shuttered last year and is now abandoned, but a giant statue of the Yard Birds mascot — a huge black bird that for some reason appears to have ears — remains on the site, an absurdist monument offering mute testimony to market failure.
With that, we retired to our motel and prepared for a serious change in the weather.
Day 8: Wednesday, August 14
Our original plan for this day had been to go hiking in Mount Rainier National Park. The bad news was that the temperatures through much of the park were forecast to be around 100º; the good news was that we were able to locate a hike — the Naches Peak Loop Trail — that takes place mostly at a high elevation and was thus not so hot.
So off we went! The hike passed by two lakes and offered kickass views of Mount Rainier:
Along the way we came upon a group of park employees who were sledgehammering rocks and sawing wood to shore up a portion of the trail (sorry, no photos). We talked a bit with them about the process of trail upkeep, which was really interesting. (Several days later, when we got home, I found that the great design podcast 99% Invisible had just posted an episode about trail formation and maintenance. Another crazy coincidence!)
Even with the higher elevation, temps were still in the mid-80s, plus this was a particularly dry and dusty trail, so we felt pretty beat when we got back to our car. I found myself thinking of what Mr. Spock said about vacations in the "Shore Leave" episode of Star Trek: "On my planet, to rest is to rest — to cease using energy. To me, it is quite illogical to run up and down on green grass using energy instead of saving it." (This analysis presumably also applies to dusty hiking trails.)
With that in mind, we decided to shut down any further outdoor physical activities for the day and instead began meandering our way to our next motel town, figuring we'd stop at any interesting bars or sights that we encountered along the way. We had fun chatting with a nice retired couple at a roadside lodge, and also spotted this spectacular motel sign:
Unfortunately, we had already booked a room at another spot a bit farther down the road, so we checked in there, found a place to eat, and made plans for the next hot day.
Day 9: Tuesday, August 15
We decided to have breakfast the Waffles Caffe in Yakima, which seemed like it could be either really good or really bad. On the one hand, it's open only from 6am to 1:30pm, which is usually the sign of a first-rate breakfast joint. On the other hand, the unusual spelling of "Caffe" (with two "f"s) plus the logo's unusually shaped "C" makes it look like the place is called Waffles Gaffe:
Despite this potentially bad omen, this was a great stop. I really enjoyed my blueberry pecan waffle, and E enjoyed her waffle with bananas:
In addition, Waffles Caffe offers something called the "Iron Man Challenge," which is one of those gutbuster eatery dares:
No way were we going to order the Iron Man, but we wanted to see what all that food looked like. Unfortunately, nobody was taking the challenge while we were there, but here's an annotated screen shot of a guy who did it just a few days before we stopped in (you can see his full video report here):
Our waitress said that they get about one Iron Man attempt per week, with maybe one in 10 being successful. Those people get their names up on a bulletin board:
As for the rest of the day, temperatures were already in the 90s and were expected to go into the triple digits, so outdoor activities were pretty much out of the question. Instead, we looked at our road atlas for scenic highways and charted a course toward the Grand Coulee Dam, which we figured would be interesting.
Along the way, we passed a big "MOTEL" sign with an arrow pointing to the left:
We dutifully looked to the left and gazed upon the appealingly named Ala Cozy Motel, which had a pretty great sign of its own:
I tried to get a panoramic shot showing both signs, but it was tricky because of the considerable distance between them:
Just before we got to the dam, we spotted an interesting-looking art installation in the town of Grand Coulee. It turned out to be a really fun "windmill garden," with all of the windmills made out of scrap material by a now-deceased local resident. Unfortunately, it wasn't windy, but the windmills were still really cool to see:
At about 3pm we made it to the Grand Coulee Dam. I've been to the Hoover Dam twice, but Grand Coulee is much larger. The tours that they usually offer had been cancelled due to the heat, but there was still plenty to see in the visitors' center. We watched a good movie about the dam's construction and checked out the various exhibits, including this one:
But the main pleasure was just gawking at the dam itself, with water tracing slow, mesmerizing paths down its spillway. None of the photos we took even come close to capturing its monolithic scope, so this one will have to do:
As we prepared to move on, I noticed that the dam's parking lot included some spaces marked with curved lines. Never seen anything like that before:
Grand Coulee marked the easternmost point of our travels. With only one more day remaining, we turned west and drove an hour or so to Okanogan. We wanted to stay at this place, but it was closed for renovations:
We found another motel nearby. On the way there, I noticed an Eagles lodge: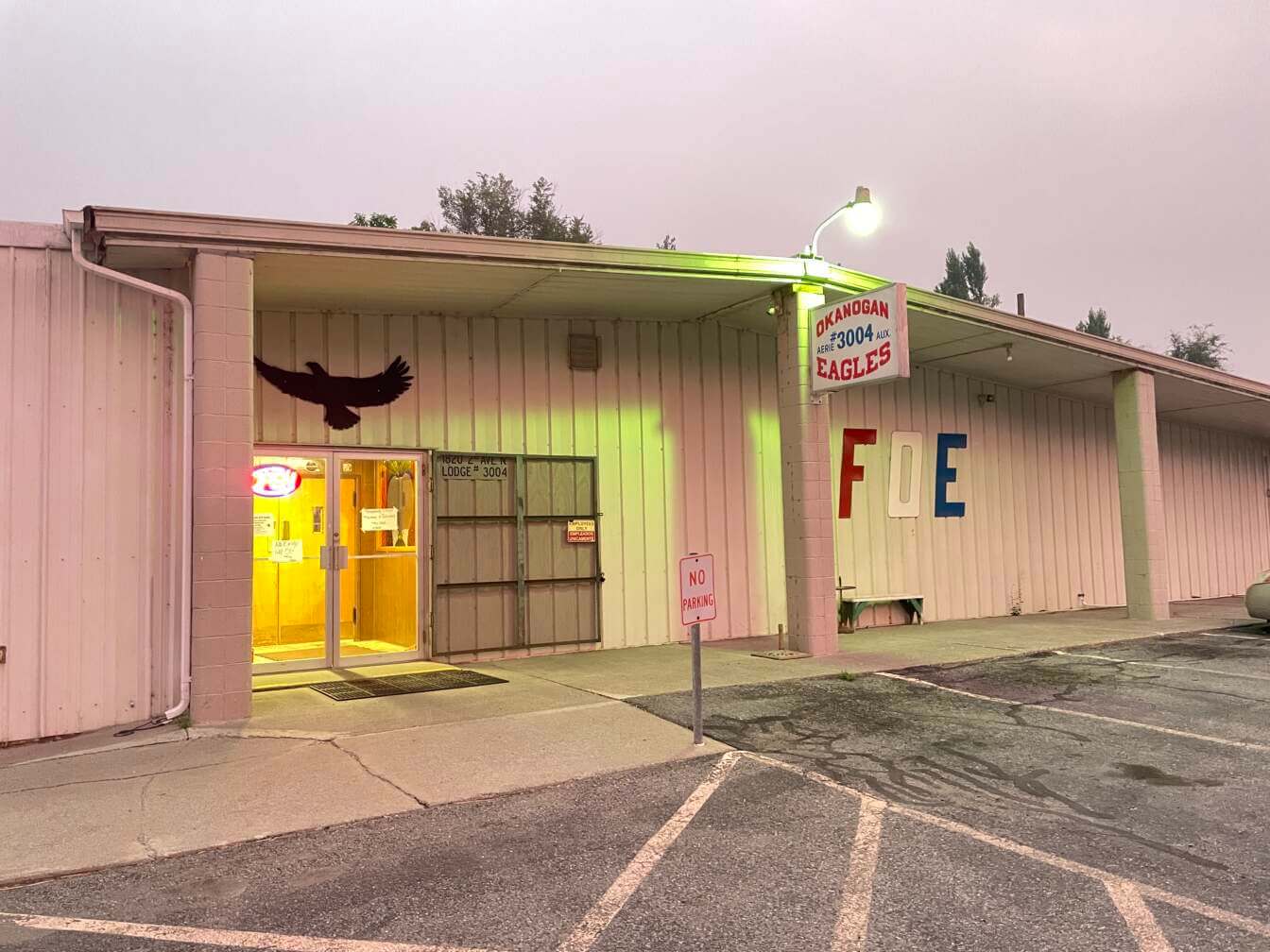 I'd never been to an Eagles lodge (or "aerie," as they're called), but we'd had a good time with the Elks, so we decided to try out the Eagles. It was a much smaller, quieter scene — just two members plus us — but sure enough, they signed us in and we had swell time talking with those two members (whose names, remarkably, were Dave and Misty, which should resonate with anyone familiar with Clint Eastwood's directorial debut). A very nice way to end a long day.
Misty also gave us a valuable piece of advice: The scenic road we'd been planning to take back to Seattle the next day was closed due to wildfire smoke. So when we got back to our motel, we planned an alternate route that we figured wouldn't be quite as scenic but would still offer some fun stops along the way.
Day 10: Wednesday, August 15
Our first stop after hitting the road was the Washington Apple Commission visitors' center, where we anticipated being bombarded with fun apple propaganda. Unfortunately, although there were several cars with the parking lot with Washington Apple Commission license plates, the visitors' center was closed. Booooo!
From there we pushed on to the town of Cashmere, where we got lunch at Rusty's Drive-In, a roadside staple since the 1940s. We particularly enjoyed seeing that their menu was posted over a graphic of a giant apple:
Although it was another hot day, Rusty's has a comfortably tree-shaded backyard, where we sat down with our hot dogs (unremarkable) and a coffee shake (excellent).
Our next stop in Cashmere was Liberty Orchards, a small candy company best known for making Aplets & Cotlets (made from apples and apricots, get it?), which are Turkish-style fruit candies invented by a pair of Armenian immigrants back in the 1930s.
We tried some free samples in the gift shop and, honestly, didn't care for them — too gooey-sweet. But we were still interested in taking the factory tour, which turned out to be short but enjoyable. I captured most of it in this video (you can hear our tour guide in the background):
We kept driving west on a state highway and were about to get on the Interstate, which would take us the rest of the way to Seattle. But we still had several hours before we needed to be at the airport (we were taking a red-eye back to NYC), so we stopped in Cle Elum — the last available town before the Interstate — and looked around for something interesting. Here's what we found: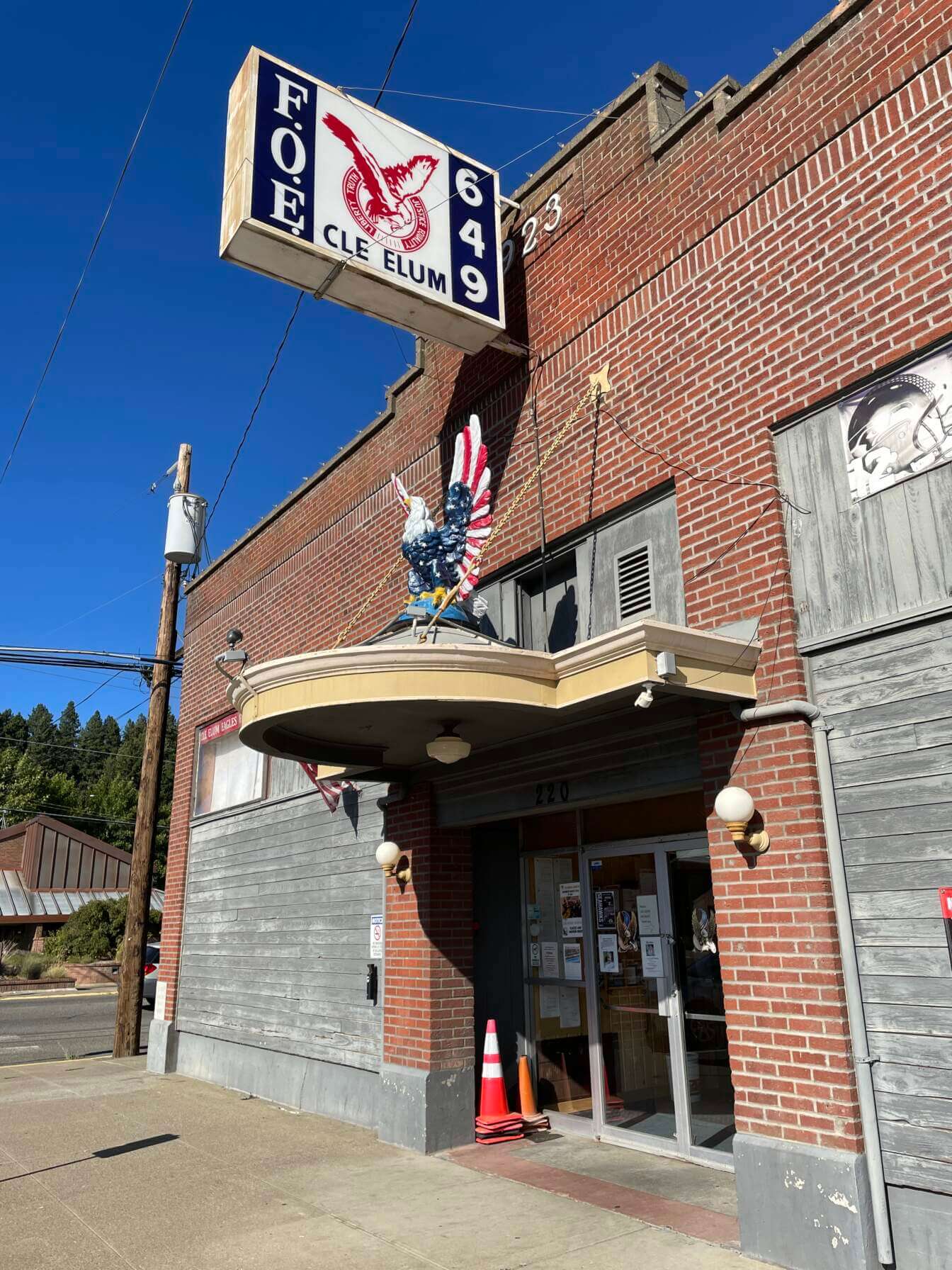 Yes, another Eagles lodge aerie. And this one was hopping — big crowd, lots of people eating as well as drinking. Several people offered to sign us in, but bartender Jessica wasn't having it. "Nobody who's already here is allowed to sign you in," she told us. "You can only be signed in by a member if you come in with them as their guest. Sorry, those are the rules."
So we slinked outside, wallowing in our rejection. "Hey," I said, half-jokingly, "if we stand out here long enough, maybe another member will show up and be willing to take us in." Literally about 20 seconds later, a woman walked up the sidewalk and reached for the door to go in. We quickly introduced ourselves and explained our situation. She said, "No problem," brought us in with her, and signed us in on the guest registry. Bartender Jessica was sort of grudgingly amused but didn't give us any more trouble.
We ended up sitting for a while with a guy named Dean (one of the ones who'd offered to sign us in), who told us about how he liked to go camping, his frustrations with the local dating scene ("The women here are all either rich and stuck up or poor and wantin' you buy drugs for 'em!"), and other weighty topics.
If you look at that last photo, behind me you can just barely see a guy sitting at the bar. His name was Vern, and we had the following conversation:
Vern: Where y'all from?

Me: New York.

Vern: Oooh, sorry to hear that.

Me: Why?

Vern: Seems like a bad place. All that crime. So much crime.

Me: I've lived there for over 35 years and never had any problem with crime.

E: Me neither.

Vern: Well, you must be two of the lucky ones.

Me: Have you ever been there, to New York?

Vern: Nope. Don't plan to, either. Wouldn't feel safe.

Me: It's not that bad, honest.

Vern: Well, whatever works for you, I guess.
Sticking up for NYC like that seemed like a good cue for us to head to the airport and fly home to New York (where I've continued to have no issues with crime). Vern, if you're reading this, come on out sometime — first round's on me.
———
So that was our trip! But here's an additional thing that was going on in the background: E and I like to play cards. On the first night of the trip, we played a few hands of rummy 500 in our motel room before going to bed and decided we would keep the game going for the entire trip. We'd play a few hands every night, and the winner would be whoever was winning at the end of the trip (instead of the first person to reach 500 points, which is how it usually works). At one point, E was winning by about 700; at another, I was up by 500-ish. But at the end of Day 9, we were almost tied, with E holding a slight lead — 6,065 to 5,980:
We thought we might play a few more hands at the airport and/or on the plane ride home, but that didn't happen, so E won this game of what turned out to be rummy 6,000.
Thanks for letting me share all of this with you. I did a few other interesting things last month, which I'll be telling you about in the near-ish future. However you spent your August, hope it was as much fun for you as this trip was for us!