Farranfore, County Kerry, Aug. 3, 2019; click to enlarge
At the end of July the Tugboat Captain and I went off on a trip to Ireland — our first real vacation since the Utah trip more than a year earlier, and boy did we need it.
Why Ireland? In part because neither of us had ever been there. Also, we were both dealing with fairly frantic work-related situations and didn't feel like we had enough time to properly plan a trip to a more exotic (read: non-English-speaking) locale, so Ireland seemed like a fairly simple option. As it turned out, we didn't even have enough time to properly plan for Ireland — we did very little advance research, and I felt woefully underprepared as we headed off for the airport at the start of the trip. If we had planned better, our itinerary would probably have been very different. As it turned out, it was still a good trip, but I kept having the nagging feeling that it could have been better if we'd been better prepared.
We flew to Dublin and then spent 10 days going counterclockwise — or as the Irish say, anti-clockwise — around the perimeter of the island, roughly like this (ignore the "19 hours bit; also, if you click on "More Options" near the upper-left corner, you can see the entire map on a separate tab and zoom in/out to your heart's content):
Before I get to the day-by-day travelogue, here are some preliminary notes:
Driving
• Our rental car was a small BMW (thanks, SixT!).
• For reasons not worth explaining here, I ended up having to do all of the driving on this trip. I've driven on the left side of the road a few times before, in Scotland and New Zealand, so that was no problem. But Irish roads are notoriously narrow, most of them have no shoulder, and many of them are flanked on both sides by very high hedges:
All this makes for a fairly demanding and high-maintenance motoring experience. I managed it without too much difficulty, but for the first few days I found that it took a lot out of me, leaving me wiped out by day's end. After a few days, though, I adjusted to it and felt fine.
• Irish roads and highways appear to have very few billboards. Also very few cops.
Lodging
• Our first night, in Dublin, was booked long in advance (at a student dorm that was being used as tourist lodging in the summer — a great deal for only $54). For the rest of the trip, we pretty much looked at the map each night before going to bed, decided where we wanted to end up the next day, and tried to book a place in that region. This method landed us in a few legit B&Bs, but we mostly relied on AirBnB (our first time using it), which turned out to be a lifesaver. Except for one night when we spent $137 (it was the only option in the area we wanted to be in), we ended up averaging about $70 per night — not bad at all.
•  With one exception, none of our beds had top sheets. There'd be a blanket and/or a comforter, and of course a fitted sheet on the mattress, but nothing in between. This didn't bother me (I've always felt top sheets are somewhere between overrated and unnecessary), but the Tugboat Captain likes a good top sheet, so she was mildly annoyed. In any case, it was an interesting country-specific trope.
Weather
• The good news is that we didn't get caught in too much of Ireland's famously rainy weather. The bad news is that the one seriously rainy day we dealt with ended up wiping out our planned drive around the very scenic Ring of Kerry. Still, our alternate plan for that day wasn't bad. More on that soon.
• Temperatures usually topped out in the high 60s during the day and dipped into the mid-50s at night — so much cooler than our hot New York summer.
• Because Ireland is so far north, summer days are very long. Sunsets were around 9:30pm during our trip.
Drinking
• Early on I decided that I liked Smithwick's Red Ale very much. It was available everywhere we went, so I kept on drinking it for the rest of the trip. I know, I know — it would have been more adventurous to try lots of different brews. But I preferred to stick with what I liked.
• We saw many, many pubs that were reputed to have "the best pint of Guinness in town" or "the finest pint of Guinness in all of Ireland," which we tended to view rather skeptically. I mean, isn't a pint of Guinness a pint of Guinness? Yes, I realize there's a certain multi-step technique to properly drawing a Guinness pint, but it's not exactly rocket science. We found all of the "best" hyperbole to be a bit much.
• Interestingly, every pub had lots of Irish whiskey (as you'd expect) but no Scotch or bourbon. I'm trying to remember if the pubs I visited in Scotland back in 2010 had Irish whiskey, but I can't recall. (Obviously, American bars have all three varieties, along with rye, Canadian whisky, and more.)
• Back here in the States, I have very sharp bar radar and am good at spotting a worthwhile watering hole. But my radar was useless in Ireland because most Irish pubs look largely the same from the outside. The vast majority of them have black signs with painted gold/brass lettering, and almost none of them have any neon in the windows.
In general, of course, a pub/bar experience depends mostly on the people you encounter, not on the signage or the look of the place. But in Ireland it was harder to figure out beforehand what kind of people we'd encounter at a given bar. So each pub venture was a bit more of a crapshoot.
Eating
• Most of the meals we ate were not memorable. This wasn't a complete surprise, as Ireland is not known for its food, but it was still a bit disappointing. There were a few highlights — an outstanding bowl of seafood chowder here, a very nice piece of pan-fried cod there, a good Pakistani meal on our final night — but they were few and far between. Perhaps as a result, we found ourselves filling up on way too many snacks while in the car (I may have personally caused a spike in the Irish peanut-consumption rate, and a certain biscuit company may also see a boost in this year's profits), which is a stupid way to eat but I kept doing it anyway. By the end of the trip my body was feeling very sluggish and I was looking forward to getting back to my usual diet.
• Speaking of snacks: Irish potato chips — or crisps, as they call them — come in a dizzying range of off-putting artificial flavo(u)rs. It's difficult, but not impossible, to find them with just salt.
• Even harder to find: pretzels. Seriously, there's a lot of money waiting to be made by whoever starts selling pretzels in Ireland (although I suppose the potato chip crisp industry would lobby against that).
Animals
• A huge percentage of Ireland's land mass appears to be occupied by cattle and, especially, sheep. They were everywhere we went, usually grazing in large, hilly, rectangular fields that are partitioned from adjacent fields by hedges and/or stone walls. These rectangles of varying shades of green form gorgeous patchworks on the landscape, like someone had draped giant, verdant quilts across the hills. Magnificent! (And the cows and sheep were adorable.)
• We saw lots of these gorgeous birds that we eventually learned are called Eurasian magpies. I loved them and got excited every time we saw one (which was roughly every 10 minutes).
• We didn't see any of what I like to call the scampering fauna: No squirrels, field mice, chipmunks, voles, etc. Disappointing!
• We saw lots of dogs but only a few cats. Obviously, dogs are more visible because they get taken out out for walkies, but the disparity still seemed noteworthy. We asked a few people, who confirmed that cats, while not unheard of in Ireland, aren't that popular.
• We also saw a whale. Sort of. I'll get to that soon.
Miscellaneous
• We stopped at about half a dozen beaches, and I noticed that almost none of them had any jetties. This allowed the waves to come ashore in wide, long lines that I found very satisfying to watch. By coincidence, we always seemed to show up at low tide, so the waves were also slow and gentle. Very, very nice.
• As you'd expect in a European country, there were lots of people wearing soccer jerseys. Obviously, I'm aware that soccer uniforms in this part of the world are plastered with huge jersey advertisements, but it still seemed very weird to see people — including young children — serving as walking billboards for airlines, investment banks, and telecom companies. Ick.
• Almost every town, no matter how small, had several very tacky-looking sports betting parlors. If this is the future of legalized sports gambling in America, I want no part of it.
Okay, enough preliminaries. Here's the day-by-day rundown of what we did. Some of the photos were taken by me, and some by the Captain. All can be clicked to enlarge:
Day 1 — Monday, July 29: We took a red-eye from New York on Sunday night and arrived in Dublin, where we picked up our rental car. It was a little past noon — too early to check in at our hotel, but they let us drop off our bags, so we did that, stuck the car in a lot, and then went off to explore a bit of the city by foot.
There were a few things within walking distance that we knew we wanted to check out, beginning with an amazing neon sign for a hair-replacement clinic:
We also visited Trinity College, home of the Book of Kells, an illuminated manuscript containing the four Gospels of the New Testament, believed to date back to 800 AD. I enjoyed the educational exhibit leading up to the room where they keep the book — lots of really interesting info and graphics — but I have to admit that I wasn't all that wowed by the book itself. I mean, it was nice and all, but I didn't find it mind-blowing. They have it open to a different pair of pages each day, so maybe we just got an uninspired spread. (No photos allowed, so I can't show you what we saw.)
On the plus side, Trinity College also has a library with a famous room called the Long Room, and we loved that. Check this amazing barrel-vaulted ceiling:
We exited through the gift shop, where I was amused to see a rack of ballcaps, each featuring a different letter of the alphabet rendered in Book of Kells-style calligraphy:
So even on the other side of the Atlantic Ocean, it turns out that you can merchandize anything into a baseball cap. Even a 1,200-year-old book.
After that we knocked around Dublin for a bit. We were pretty jet-lagged, so we weren't at our best, but Dublin didn't do much for us. In a lot of ways, it reminded us of Manhattan — too many people, too many tourists, too many Starbucks and other chains (you wouldn't believe the Papa John's presence in Dublin and elsewhere in Ireland), too many shop windows filled with useless crap, etc. I'm sure there are more interesting parts of Dublin, but we didn't find them.
We ate at a pub, checked into our room, took a nap, and then went back out to make a crucial evening stop before crashing for the night:
Day 2 — Tuesday, July 30: We drove north out of Dublin, staying close to the east coast. Along the way, we passed a lawn tennis school:
I had never seen tennis on grass before except at Wimbledon (on TV). Were they using real grass? No, it was synthetic turf. But it was still interesting!
We made a few more stops as we kept going north — a beach here, a pub there. At one point a guy in a pub chatted with us a bit and asked where we were going next, where we were spending the night, and so on. We said we had no idea and were pretty much making it up as we went. He looked at us like we were nuts and said, "That's some foockin' plan you got there!"
Our most interesting stop was at something called Proleek Dolmen, which was sort of a mini-Stonehenge located just off of a golf course. The sign in the first photo explains it better than I can:
We decided to take a ferry across the Carlingford Lough. It was only about a 20-minute ride, but we both love car ferries, so it was a fun ride. Gorgeous views, too, although it's hard to tell from these pics:
The ferry deposited us in Northern Ireland — part of the UK, and a separate country from the Republic of Ireland — where we were surprised to find that there was no border authority of any kind. Didn't have to show our passports or anything like that. There wasn't even a "Welcome to Northern Ireland" sign — interesting! We drove on to a B&B just outside of Belfast, where we had called to book a room while we were waiting for the ferry. As we walked into town so we could get a bite to eat, we saw this bit of graffiti:
It's 2019 and this is still the default insult — sigh. Still, I can't fully explain why, but the use of "hooker," instead of the more common "whore" or "slut," struck me as amusing. But I felt bad for Debra. Here's hoping someone covers up that graffiti soon.
Day 3 — Wednesday, July 31: Today we went north out of Belfast along the Causeway Coastal Route, which hugs the coastline and leads to the Giant's Causeway (more on that in a minute). Along the way, there was supposedly another rock formation/tomb like the one we had seen the previous day, so we wanted to check that out. We followed a v-e-r-y rough dirt/mud road to a spot where we had to hop a fence and then climb around on a very muddy hill. An adventure! We never did find the tomb (maybe we went to the wrong spot?), but the views from the hill were incredible:
We made a few other stops before arriving at the Giant's Causeway, an amazing assortment of tens of thousands of interlocking basalt columns, most of them hexagonal. There's something really strange and amazing about finding geometry in nature — honeycombs, spider webs, concentric tree rings — and the Causeway definitely fits into that category:
We eventually arrived in Derry (or Londonderry, if you're a unionist), where we had booked a B&B. Our hosts were excellent ambassadors of their town and insisted on taking us on a short walking tour, which we quite enjoyed.
We hadn't yet eaten at a real restaurant (most of our meals had been at pubs, or in the car, or in one instance sitting on a guard rail in a kebab shop's parking lot, which was kind of sad), so we decided to have dinner at Browns, which looked good. We both ordered the same thing: seafood chowder to start followed by pan-fried monkfish with a scattering of tiny shrimps:
The chowder was sensational — smoky, earthy, one of the best things we ate on the entire trip. But the monkfish, despite looking wonderful, was oddly flavorless and disappointing. The staff was super-nice, though, and we enjoyed being in a more civilized setting.
Uni Watch membership card designer Scott M.X. Turner, who's spent a lot of time in Ireland, had recommended that we check out a bar called Peadar O'Donnell's, so that's what we did next:
It was sensational — great ramshackle vibe, raucous but warm crowd, and a small band playing old-school Irish music. Sorry, no photos, so you'll have to take my word for it. A very, very good night.
As we headed back to our B&B, we noted that the wall adornments in Derry were very different from the graffiti we'd seen in Belfast:
More on that tomorrow.
Day 4 — Thursday, Aug. 1: Derry's inner city is surrounded by walls, which were built in the early 1600s. They're still intact, and they have walkways along the top that you can stroll along, so that's how we started our morning. Unfortunately, we only took a few photos, which don't really convey how cool the walls actually are:
Derry is also the site of the Bloody Sunday massacre, which is now commemorated by a memorial. We went there and found it very moving:
The memorial is right near Free Derry Corner, an important site in the nationalist movement. The signature mural has been repainted many times over the years — here's how it looked on the day we were there:
The area near Free Derry Corner is filled with political murals. Leaving aside the political content, much of the artwork is beautiful and powerful — a very interesting-looking neighborhood!
My biggest regret of the trip is that we didn't stick around longer in Derry to explore more of the nationalist history. There's a museum, walking tours, and more. But our travel style is to keep moving, and we had a lot of ground we wanted to cover, so we got back in the car and pushed onward. In retrospect, that was a mistake, but whaddaya gonna do.
We headed southwest, back into the Republic of Ireland. Once again, the border was completely unmarked. The only way we knew we'd left Northern Ireland was when we saw a speed limit sign in kilometers per hour (Northern Ireland still uses miles per hour). Here's the Captain literally straddling the border, with her right foot in Northern Ireland and her left foot in the Republic of Ireland. You can see the pavement pattern change right at the dividing line:
Our next stop was the Grianan of Aileach, an amazing stone ringfort that's believed to date back to the sixth or seventh century. We really enjoyed our time here:
As we moved toward Ireland's west coast, we visited the Slieve League Cliff Walk, a spectacular hike up some of the country's highest cliffs — which are populated by, of course, lots of sheep. The route was gorgeous and the views at the top were magnificent:
Our next stop was a small beach, where the Captain went in for a swim but I just walked a bit in the surf:
We ended up at a B&B in a small-ish town. Found a grocery store, bought beers and some provisions for sandwiches, and enjoyed them on the B&B's patio, where the owner came out and talked our ears off until sunset. A good day, even though I still felt bad about not having stayed longer in Derry.
Day 5 — Friday, Aug. 2: Today we thought we'd try to drive a bit less. The plan was to drive to the city of Galway and spend the day exploring the town (Scott Turner had told me that the pedestrian mall was fun), and then we thought we'd take in a soccer match in the evening.
The first part of that plan didn't work out so well. We didn't realize that we were arriving the middle of Galway Race Week, which is sort of the Galway version of Kentucky Derby Weekend. There's no polite way to say this: The town was crawling with douchebags — overgrown frat boys (or whatever the Irish equivalent would be) and bimbos, all of them getting drunk out of their minds before heading out to the horse track.
The pedestrian mall was a nightmare, so we checked out a bunch of thrift/vintage shops but didn't find anything interesting. The frustration of the day, combined with a few long-simmering tensions and conflicts, led us to have a heated squabble in the middle of a Galway sidewalk.
Hey, it happens.
We regrouped over a pint at a pub and decided to stick with our plan to go see the local soccer team, Galway United, which was hosting Drogheda United. They play in the League of Ireland First Division, which is the second tier of Irish soccer (and which our own Jamie Rathjen tells me is roughly equivalent to the fourth or fifth tier of English soccer). As most of you know by now, I've never followed soccer, so this was going to be a new experience for me — I had literally never attended a soccer match before.
The team plays at Eamonn Deacy Park, a small stadium that opened in 1935 and looks every bit of it (I mean that as a compliment). The experience was a lot like attending a low-level minor league baseball game, beginning with the parking situation, which entailed everyone putting their cars partially on the sidewalk:
All seats were general admission. We got our ticket (only needed one, because it was "Ladies Appreciation Night," so the Captain got in gratis) and went inside. At one end of the pitch, there was a wall covered with various soccer-themed murals, which I quite liked:
Everything was endearingly rinky-dink. There was no scoreboard; the crowd was sparse ("Six hundred and foive," according to the P.A. announcer) but enthusiastic; the managers looked like high school gym teachers. Most incredibly, at least to me, the entirety of the food concessions consisted of two small wagons, and the pro shop was a sad little trailer:
I didn't mind any of that, of course — like I said, it was very minor league baseball. And the field was beautiful. Galway lost, but nobody really seemed to mind that much. I'm in no position to assess how good the level of play was, but it was definitely a pleasant way to spend a summer evening:
We ended up at an AirBnB about half an hour east of Galway and went to bed looking forward to something special we'd booked for the next day.
Day 6 — Saturday, Aug. 3: A day or two earlier I had stumbled upon a web listing for an oyster-farming company run by a marine biologist named Gerry O'Halloran. He offered tours of his operation, followed by all the oysters you can shuck. It sounded like exactly the sort of thing we love.
Just one catch: Gerry wasn't offering any tours this weekend. Just in case he might be willing to change his mind, I had emailed him and asked if he'd be willing to make an exception for us. (I also noted that I grew up in Blue Point, Long Island, namesake of the famous bluepoint oyster, figuring that my oyster pedigree might help our cause.) To our surprise, he wrote back and said sure. So not only would we get to take the oyster tour after all, but we'd also get Gerry all to ourselves.
We drove about an hour and a half to Flaggy Shore Oysters and met Gerry, who turned out to be this wisecracking post-hippie scientist who was equal parts smartypants and smart aleck:
The "tour" mainly consisted of Gerry showing us various tanks of water filled with this type of oyster or that type of sea creature, all drawn from the local bay: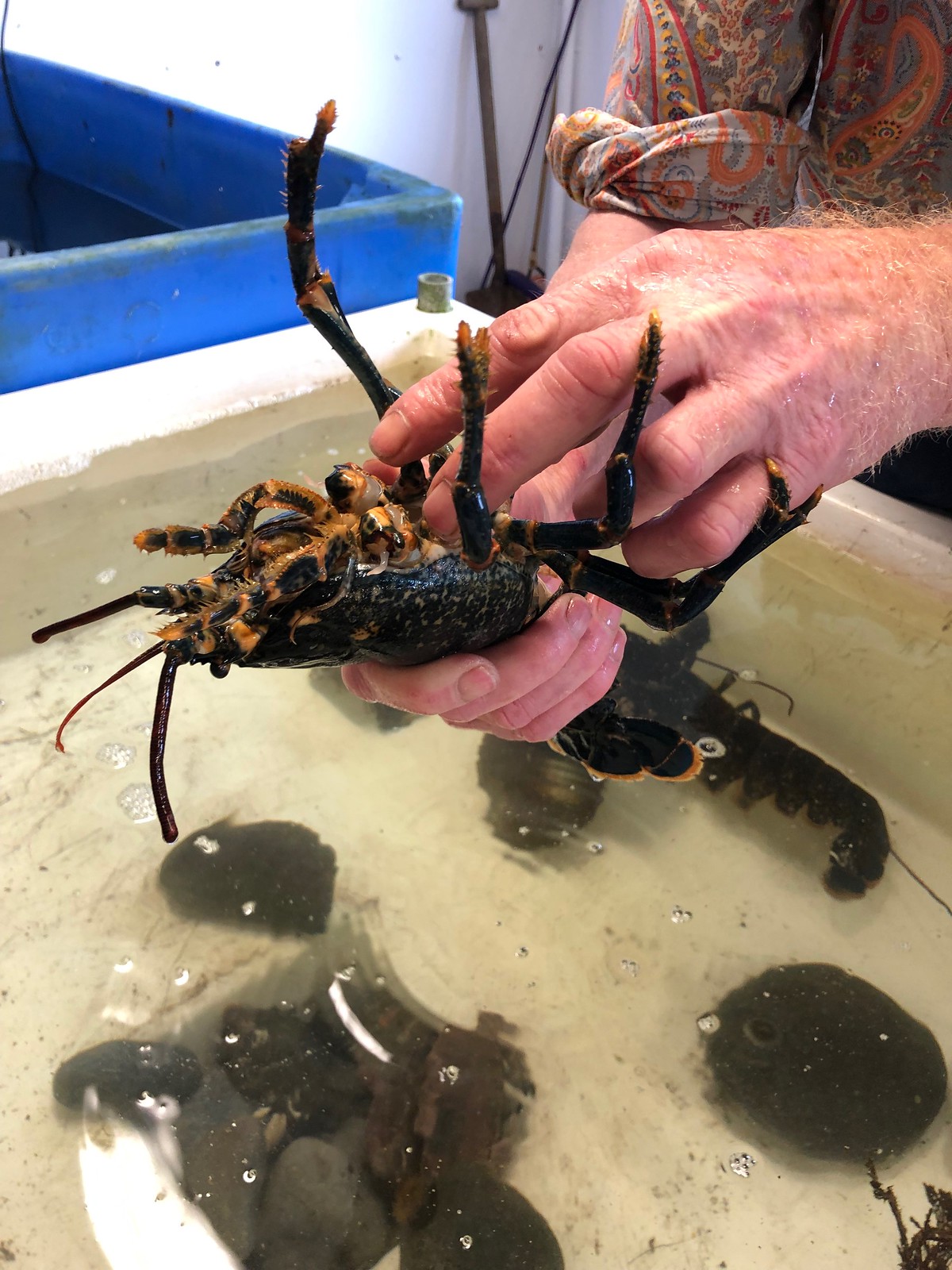 I had hoped to see more of his oyster-farming operation, but Gerry was a very entertaining host and patiently answered all of our many questions, plus it was raining outside anyway, so I was happy.
Soon it was time to eat oysters, so Gerry sat us down at a table, poured us some wine, gave us a bunch of oysters to work on, and told us to get shuckin'. When I asked if his company also dealt in clams, he said yes and then gave us some clams to eat as well — nice!
After spending a little more than two hours with Gerry, it was time to say goodbye. But we weren't going far — his operation was located directly behind a seafood restaurant called Linanne's Lobster Bar, which several people (including Gerry himself) had recommended to us. Also, the rain had gotten worse, so there didn't seem to be much sense in pushing onward. Even though we had just eaten oysters, why not kill some time in the restaurant?
We sat at the bar. It turned out to be our best restaurant experience of the trip. We chatted with the bar staff and with people sitting next to us, had a few pints, and shared an excellent dish of cod with clams, mussels, and cubed chorizo:
It was one of those interludes where time stands still, the outside world disappears, and everything feels Just Right. We were having such a good time, I kinda hoped it would keep raining so we'd have an excuse to stay longer.
Eventually we moved on. Another stop at another beach. And then we arrived at our latest AirBnB, which was in the middle of a rural farming area. There was a bit of daylight left, so we went off for a sunset stroll and made two new friends along the way.
Day 7 — Sunday, Aug. 4: Today we had to choose whether we were going to explore the Ring of Kerry (a famous driving loop with magnificent views and vistas — one of Ireland's top travel draws) or the Dingle Peninsula (a smaller, less spectacular loop with some interesting attractions along the way). Our first choice was Kerry, but the forecast had called for more rain, and most people we had spoken with agreed that Dingle would be the better choice if it was raining. We had chosen the rural AirBnB because it put us in a good position to choose either option: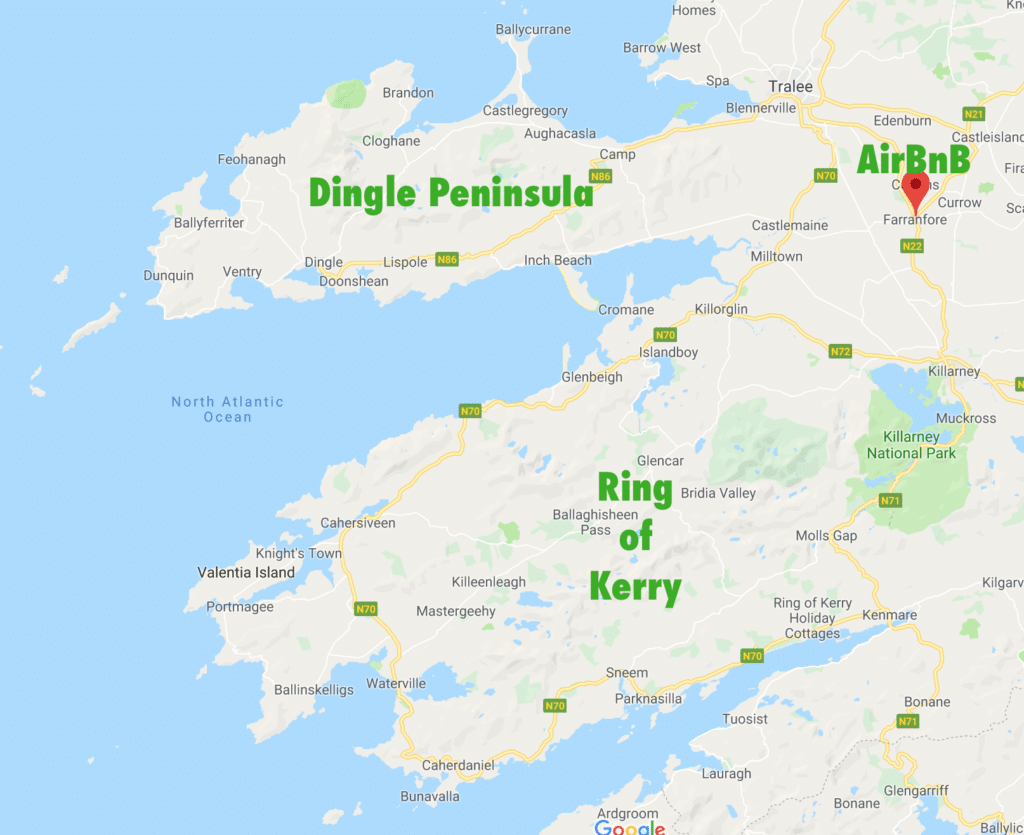 Unfortunately, the forecast proved to be accurate — there were showers in the morning, with heavier rain expected as the day progressed — so we headed off to Dingle.
During a break in the showers, we stopped to check out some beehive huts — really interesting stone structures that are thought to be at least 1,000 years old. There are several sites where you can see them; we chose the one with the most endearingly tourist trap-y signage:
The huts themselves were really interesting. They felt like cousins to the stone ringfort we had seen a few days earlier:
Soon it started raining harder — like, a lot harder. There wasn't much point in driving onward, so we took shelter in another seafood restaurant that we hoped would be like Linanne's Lobster Bar from the day before. It wasn't quite as good, but it was close enough. We shared some chowder and a shrimp salad while waiting out the storm:
I think we were there for about two hours. When the rain finally let up, we got back in the car and stopped at Inch Beach, a popular surfing spot. The tide was out (again), so everyone was parking on the beach sand, and the whole scene felt austere and surreal:
Later in the day, after we had left Dingle and pushed farther south, the sun came out, so we stopped to hike around the Torc Waterfall in Killarney National Park. It was oddly brown — sort of looked like a root beer waterfall:
Day 8 — Monday, Aug. 5: This was the best day of the trip. So many good things! One at a time:
1. We drove south to the Baltimore Beacon, a white, conical structure perched on a cliff to serve as a marker and warning for sailors (like a lighthouse, only without a light). It looks, well, sort of like a big dildo sticking out of the ground:
It was a really interesting piece of architecture, and surrounding cliffs were amazing — we stayed there for a while, enjoying the scene, before moving on.
2. Our next stop was the Drobeg Stone Circle, another Stonehenge-ish site that we really liked:
3. Another beach stop, this time at Owenahincha Beach. Sorry, no photos, but we had a very nice extended walk in the surf and met many nice dogs and their people.
4. In 2009, a whale beached itself and died near the town of Kilbrittain. In a brilliant bit of tourist trappery, its skeleton is now on public display near a town park. Of course we had to go see:
5. We had somehow gotten this far in the trip without having a truly outstanding Irish pub experience. We'd been a few pubs that were fine, and we'd enjoyed sitting at the bar at some restaurants, but we hadn't really bonded with a proper Irish pub.
That changed when we stopped at O'Shea's in the town of Waterfall (which, as we soon learned, does not have a waterfall). I didn't get any good photos except for this generic pint shot, so you'll have to take my word for it when I say that we had a stupendous time yakking with a large crew of regulars, trading stories, meeting a very friendly dog, and generally having the exact pub experience I'd been waiting to have. The owner, Brendan O'Shea, even insisted on giving us a pair of pint glasses as souvenirs — so nice of him!
6. We had also somehow gotten this far without eating fish 'n' chips. I mean, we'd eaten fish, and we'd eaten chips, but not fish 'n' chips. So we went to Cork and stopped at Jackie Lennox's Chipper, a venerable fry house institution that fixed us up with some proper fish 'n' chips (and, in the Captain's case, mushy peas, ewww):
6. Our latest AirBnB was this excellent little cottage! Dig:
Day 9 — Tuesday, Aug. 6: Our final full day on the road. We began at Hore Abbey — the ruins of an ancient monestary:
Another stop, another ruin: Dunamase Castle, which dates back to the 12th century. I really, really liked this one:
Okay, no more fun and games. We had to get to the town of Bray, a little outside of Dublin, where we were meeting up with Michael O'Donnell, the father of our friend Nora, who was going to let us stay at his place for our final night in Ireland.
After so much time mainly talking to each other and the occasional stranger in a bar, it was a pleasure to spend some quality time with Michael, who was super-smart and super-nice. He showed us around Bray and then joined us for a pint and a great dinner at a local Pakistani restaurant:
Not a bad capper to our trip. Tomorrow: To the airport and back to Brooklyn. Or so we thought.
Day 10 — Wednesday, Aug. 7: This was supposed to be the day we flew home, but British Airways had other plans for us. Their computer system had a meltdown, resulting in a huge number of cancelled and delayed flights, and the net effect was that we spent nearly the whole day and most of the night at the airport before finally being shuttled off to a nearby hotel.
I realize that tech problems happen — we all get hit by them at some point, in some way — but I can't stress enough how poorly British Airways handled this situation. It was one fiasco after another, and an astonishing amount of what they told us as the day unfolded turned out to be either grossly erroneous or flat-out lies. It all feels like a day in my life that I'll never get back.
Side note: If you're stuck at an airport for hours upon hours, shouldn't they have a place where you can just go and have sex or something like that?
Day 11 — Thursday, Aug. 8: After awaking to one last bit of British Airways incompetence (the hotel breakfast, which we'd been told would be complimentary, was not), we headed back to the airport, boarded a rescheduled flight, and came home.
Once we'd gotten unpacked, we decided to break in the souvenir pint glasses that Brendan O'Shea had given us a few days earlier. Granted, the beer we used was a lot paler than what the glasses had been intended to hold, but it's what we had on hand, and it tasted just fine as we toasted the completion of our adventures out of on the front porch:
We printed out that photo and mailed it to Brendan, hoping he'd get a kick out of it (we didn't have an email address for him or for the bar). Never heard back, alas. Maybe seeing that pale lager in his stout glasses pissed him off!
That's it. My thanks, as always, for listening. Doubleplusthanks to the Captain for being such a great navigatrix and travel partner, and also for her many fine photos and also-also for creating the digital map of our route. We'll get back to more conventional Uni Watch content tomorrow.
• • • • •
• • • • •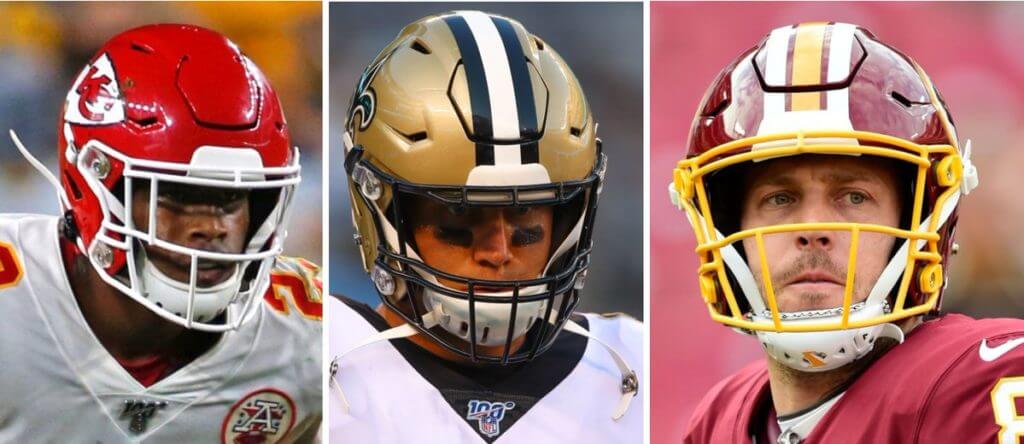 Drawing a blank: I've noted several times in recent years that there are only three NFL teams — the Chiefs, Saints, and Washington — that opt to leave their nose bumpers blank. The other 29 clubs put a team logo or wordmark in that spot. (The Saints used to have a wordmark there themselves, but they removed it last season and have left it blank this season as well. Riddell helmets used to have the Riddell wordmark in that spot, but that stopped after the 2013 season, when Riddell's marketing deal with the league expired.)
Yesterday morning I did something I should have done a while ago: I contacted these three teams and asked why they've chosen to go with blank bumpers. I also asked to speak with their equipment managers, since I figured they could give more background on this topic.
Here are the responses I received:
• The Chiefs declined to make their equipment manager available to me but said that the organization prefers the "clean look" of blank bumpers, at least for now. It could conceivably change in the future. Or not.
• A Saints spokesman simply responded, "We'll pass." In other words, they declined to comment.
• Washington did not respond to my inquiry, at least so far.
Not the most satisfying investigation. Hmmmmm.
• • • • •
• • • • •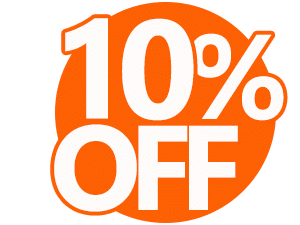 ITEM! New Teespring sale: Teespring has been running a lot of these site-wide 10%-off sales lately. Their latest one began today and runs through the end of Friday.
To get the savings, order anything from the Uni Watch Shop and/or the Naming Wrongs Shop and use the checkout code S3PT3MB3R (yes, Teespring seems to have a knack for cringe-inducing codes). You'll save 10% but Uni Watch will still receive our full profit — a win-win.
• • • • •
• • • • •
Click to enlarge
Cap reminder: In case you missed it on Monday, we have a new cap! If our wool Uni Watch Classic Cap is either too expensive or too warm for you, this new cap might be more to your liking. It's made of really nice cotton twill, and we're selling it for $24.99. It's a strapback, so one size fits all.
We're only planning to keep this one available for a month or two, so move fast. Additional photos and ordering info here.
• • • • •
• • • • •
Membership update: We often get membership card requests from people who want an NOB for uniform design that didn't include NOBs, and I have to explain to the person that we can't do that — we try to be historically accurate.
But Finlay J. Boyle wanted the opposite — a card based on the Dolphins' current home whites, but without an NOB. I was willing to do that, since every football jersey is NNOB until the nameplate is added. Interesting choice by Finlay!
Finlay's card is one of several that have been added to the membership card gallery. I'll be sending the latest batch of cards to the printer at the end of this week, so you can get your card with a very short wait time if you sign up now.
Ordering a membership card is a good way to support this website. And remember, a Uni Watch membership card entitles you to a 15% discount on any of the merchandise in our Teespring shop and our Naming Wrongs shop. (If you're an existing member and would like to have the discount code, email me and I'll hook you up.) As always, you can sign up for your own custom-designed card here, you can see all the cards we've designed so far here, and you can see how we produce the cards here.
• • • • •
• • • • •
Raffle reminder: The folks at our longtime advertiser Vintage Brand are generously running another raffle. The lucky winner will get to choose any product from the VB website.
To enter, send an email to the raffle address by 7pm Eastern tomorrow, Sept. 12. One entry per person. I'll announce the winner on Friday.
In addition, Vintage Brand is currently giving away a $100 gift card every day to a random person on their mailing list. To sign up for their list and be eligible for this daily giveaway, look here.
• • • • •
• • • • •
The Ticker
By Lloyd Alaban

Baseball News: Braves IF Johan Camargo wore his belt upside-down last night. You can tell because the number is upside-down (from T. Phillips). … His teammate, OF Rafael Ortega, had some trouble with his helmet logo (from multiple readers). … Here's the Reds' ballpark, Great American Ballpark, drawn with the names of every Red in team history — the latest from artist Dan Duffy's great Art of Words series. You may recall that Paul interviewed Duffy last fall. (from @JasonRL78).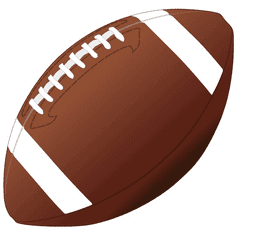 Football News: The Raiders have another "first family" besides the Davis family: their equipment managers (from Jeremy Glenn). … A kiosk inside AT&T Stadium lets you "take pictures" with Cowboys of your choice. But for some odd reason, the players don't have the NFL patch on their jerseys (from @flowfosho601). … We knew we said we'd never speak about Browns WR Odell Beckham's watch thing ever again, but… (from Josh Claywell). … Left over from Sunday: Newly-un-retired Cowboys WR Jason Witten and Giants CB Antonio Hamilton got their cleats tied up together during a play. According to Witten, Hamilton's right shoestring interlocked with Witten's left shoe when Witten incidentally stepped on Hamilton while running a route (from Bud Brooks).

College Football News: Paul recently showed us Cincinnati's new alternates to celebrate the program's 150th anniversary in his college football preview. Here's a brief from Under Armour giving a bit more detail on the alternates (from multiple readers). … Orange helmets for Virginia Tech on Saturday (from Andrew Cosentino). … Here's a hype video for Colorado's grey alternates (from Lonny Gorham). … DePauw's equipment staff is busy getting the stripes just right on the team's helmets (from David J. Ziemba). … Here's how Boise State's blue turf gets made. Interesting tidbit: A lot of the field markings are installed by hand (from Griffin Smith). … It's a small feat that SMU was able to keep its "Dallas" uniform under wraps before it was officially revealed (from @gimmethewooby). … Blaise D'Sylva is back with another massive helmet collection. This time it's for Louisville. … 1965 Michigan-style winged throwback helmets this weekend for Maine (from Heath Carignan). … Ball State's field now has a corporate-advertised name and a big, unsightly ad on the turf (from Kyle Martinek).

Hockey News: New masks for Panthers G Sergei Bobrovsky and Hurricanes G Petr Mrazek (from Nathan Hogue).
.
.

Basketball News: New home whites for Alabama men's. Here's a side-by-side comparison with last year's design (from multiple readers). … The Lakers' purple uniforms are falling into disuse (from @HitTheGlass). … New uniforms for Middle Tennessee men's (from @ZackTN). … Latest NCAA teams to get Nike's gold tab treatment: UNC and Arizona (from @UNCDrew). … New uniforms for Loyola Marymount (from Matt Felt). … For the latest on new NBA number assignments, check out Etienne Catalan's Twitter feed.

Soccer News: China PR (the official name of the People's Republic of China when it comes to FIFA) didn't wear the Chinese Football Association crest in their World Cup qualifier against the Maldives. Instead, the team wore the country's flag, (from @_Panda1991). …Harry Kane, who plays for England and Tottenham Hotspur, wears white tape on his left ring finger after getting married a few months ago (from Trayton Miller). … "The sleeve patches worn by teams in Scotland's top four tiers are now ad-free," says our own Jamie Rathjen. "The advertiser for the Scottish Professional Football League is a gambling company that was going to end its advertising at the end of this season. It's already removed its name from the sleeve patches, leaving just the league name (in this case 'League 1'), though the patch still uses the advertiser's colors of red and black instead of the SPFL's colors of blue and gold." … Here's what Kosovo wore yesterday for their European Championship qualifier against England (from Josh Hinton). … Ukraine debuted their white third kit in their friendly against Nigeria (from Ed Zelaski). … The USL Championship revealed their Culture Collection shirts (from David Craske). … For a more in-depth look at all the Culture Collection shirts — plus tons more kit content — check out Josh's Twitter feed and Ed's Twitter feed.

Grab Bag: University of Rochester's field hockey team wore orange wristbands yesterday for World Suicide Prevention Day (from our own Jamie Rathjen). … Former Mitchell & Ness prexy Peter Capolino will be inducted into the Sporting Goods Industry Hall of Fame (from our own Phil Hecken). … An Alaskan high school swimmer was disqualified after winning an event after officials deemed her "suit wedgie" violated a "rule about bathing suit modesty (from multiple readers)." … From Mike Chamernik: New logo for Volkswagen. Here's how their logo has evolved. … New dynamic video board for the Wells Fargo Center in Philadelphia (from Michael Barkann). … Paul was interviewed on the Jeff Allen SportsTalk podcast. The show is based in Florida, so they talked a lot about uniforms for Florida teams, but also about other things.
• • • • •
• • • • •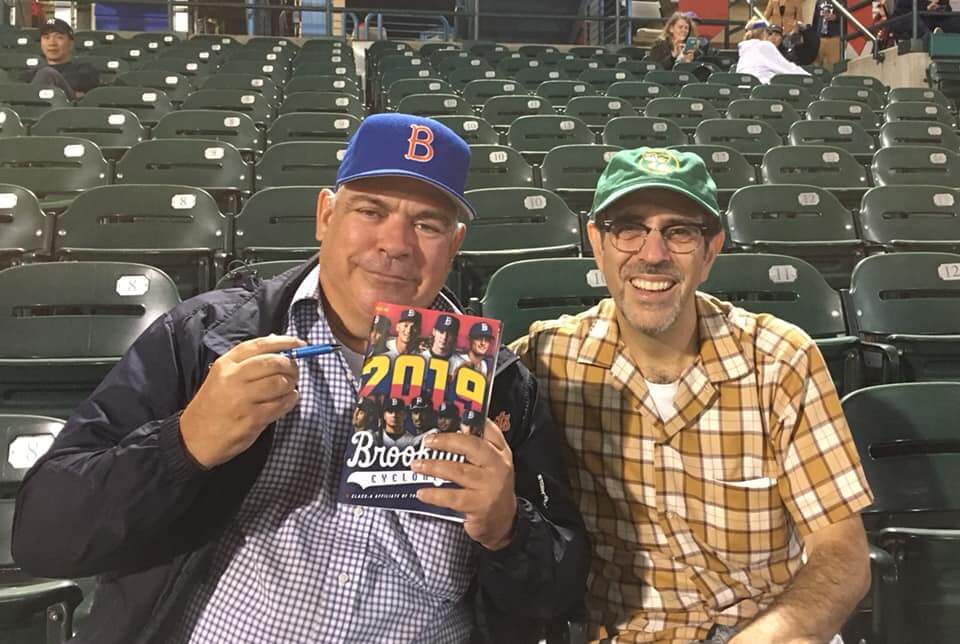 Click to enlarge

What Paul did last night: My hometown Brooklyn Cyclones were playing last night against the Lowell Spinners in the third and deciding game for the New York-Penn League (Single-A) Championship Series, so I joined my friend Rex (host of the awesome Fool's Paradise show on WFMU, don'tcha know) to root-root-root for the home team.
The Cyclones won, securing Brooklyn's first outright professional baseball championship (they shared the NY-Penn title in 2001, when the playoffs were called off due to the Sept. 11 attacks) since the Dodgers in 1955!
It was a fine time at the ballpark. But the best part of our night was still to come. I'll have more to say about that tomorrow.