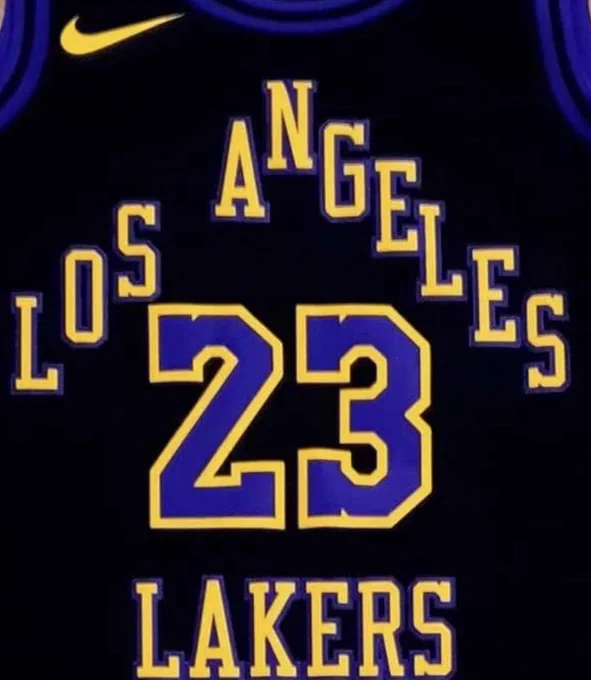 [Editor's Note: Paul is on his annual August break from site (although he's still writing his weekly Substack column). Deputy editor Phil Hecken is in charge from now through the end of the month.]
Good Monday morning, Uni Watch. I hope everyone had a pleasant summer weekend.
In case you missed it, there was a bit of a buzz over the weekend with the possible leak of a new City edition jersey for the Los Angeles Lakers (and also possibly for the Indianapolis Pacers, but we'll get to that in a sec).
As many of you are aware, a gentleman who posts on twitter as @camisasdanba (which translates to "Shirts of the NBA") has been notorious for several years for accurately leaking new NBA jerseys — in fact, Paul had an excellent interview with him back in late 2020. If you haven't read that, I heartily recommend so doing. But the tl;dr version is he is almost always spot on accurate when he posts leaks, and this weekend he dropped a few tweets that purport to show the 2023 Los Angeles Lakers "City" edition jersey.
🚨 VAZOU (2X)

Aqui está a imagem completa da nova camisa City Edition do LOS ANGELES LAKERS.

Vocês gostaram?

🖼️ via @chadearnbatime pic.twitter.com/UKnuDJ8qiH

— Camisas da NBA (@camisasdanba) August 19, 2023
That was followed up by the following:
O uniforme resgata um logotipo antigo dos Lakers. Esse modelo em forma de triângulo foi adotado na década de 60, logo após a mudança de Minneapolis para Los Angeles.

🖼️ via @chadearnbatime pic.twitter.com/sHC06uxm02

— Camisas da NBA (@camisasdanba) August 19, 2023
My Spanish isn't very good, so I put his tweet text into google translate, which came up with the following: "The uniform regatta with an old logo of the two Lakers. This triangle-shaped model was adopted in the 1960s, after moving from Minneapolis to Los Angeles."
My Portugese isn't very good, so I put the tweet into Google translate, which gave the following: "The uniform rescues an old Lakers logo. This triangle-shaped model was adopted in the 1960s, shortly after moving from Minneapolis to Los Angeles."
Indeed, that logo was in use from 1960-1967, so it's quite possible it will serve as the basis for the Lakers' new City edition jersey.
The purported leak shows a black Lakers jersey, with the "Los Angeles" portion in a chevron shape above the uniform number, while "Lakers" is below. The neck and sleeves appear to show two purple stripes, with Los Angeles and Lakers rendered in gold, with purple outlines, while the number is shown in purple, with a gold outline. The back of the jersey shows a radially arched NOB in gold, with the same number treatment as on the front.
The jersey itself appears to be a replica — or at least not in the same template as current NBA jerseys, although similar leaks from Camisas da NBA have also shown replica versions. That should not necessarily detract from its possible authenticity.
Again, we have no confirmation this is indeed a legitimate leak, but Camisas da NBA has in the past been very thoughtful and very careful in what he tweets out. Based on his credentials, many outlets have picked up on these tweets as legitimate, which they may indeed be, but for now we're simply going to put this out there as a purported leak. I'm sure we'll find out soon enough whether this is legit.
__________
Mere hours before his spate of Lakers "leak" tweets, Camisas da NBA also tweeted this, purporting to be the Indiana Pacers new City edition uniform:
🚨 VAZOU!

Aqui está a primeira imagem do novo uniforme City Edition do INDIANA PACERS!

O que você achou?

🖼️ via @FieldhouseFiles pic.twitter.com/KQZt8luxKP

— Camisas da NBA (@camisasdanba) August 19, 2023
You'll note in that tweet he acknowledges he is posting that via @FieldhouseFiles, which posted this story (unfortunately that article is for "Paid Subscribers" only, so we can't see the design, but it's safe to say the graphic Camisas posted is the same as the one in that article).
While the Lakers "leak" is entirely believable, based on colors and the fact that the design is a harkback to one from the 1960s. The Pacers purported design is…um, different. If that graphic is correct, the jersey and pants will be gray, with "Indy" in a white, almost Comic Sans-esque font, with light blue blockshadow. Front number is a bright yellow. Side stripes on the jersey are solid yellow at the hem, transitioning up to a paint-splatter fade. That pattern is reversed on the shorts, which have a bright blue stripe on the hem.
This isn't to say the Pacers "leak" isn't legitimate, but I'd take that with more of a grain of salt than the Lakers' leak. Still, the fact that Camisas has tweeted both — based on his track record — lends a bit more credence to them than other leaks from less reputable sources.
Will either or both of these turn out to, in fact, become the Lakers or Pacers new City uniforms? We'll just have to wait and see.