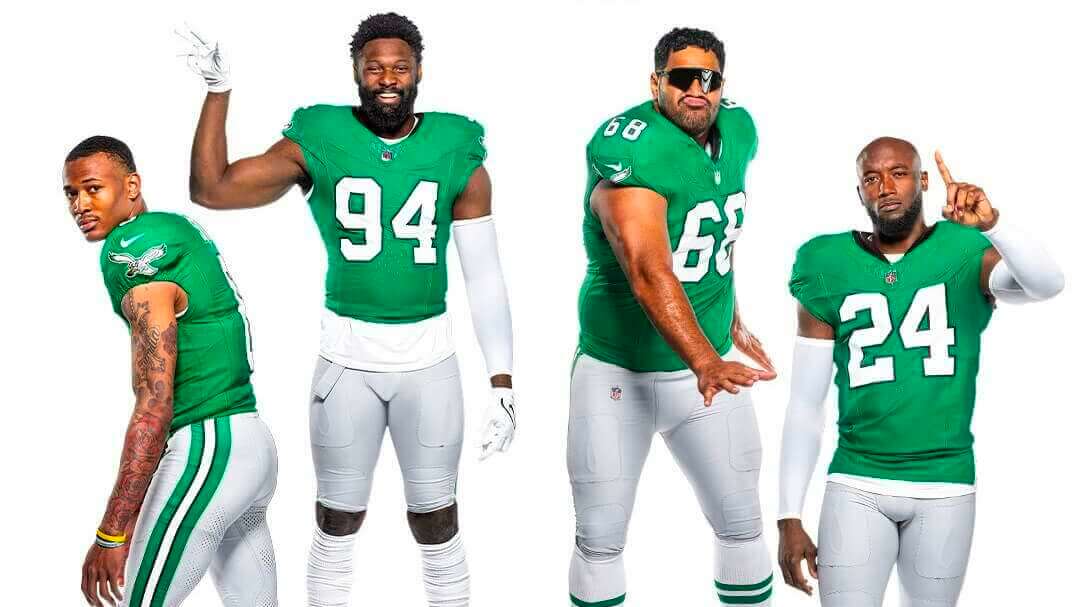 It wasn't just Uni Watchers who are thrilled with the Philadelphia Eagles finally debuting their new kelly green throwbacks this season, they were pretty much universally praised. Of course, no one was more thrilled about this development than Eagles fans. So excited were they, in fact, that the NFL/Nike totally misread how popular retail sales of the throwbacks would be, leaving many fans disappointed and unable to have their order for a throwback jersey fulfilled — some fans will have to wait until the end of October to get their gear.
But it wasn't just fans, uniform aficionadoes and well, people with eyes, who love the unis. The players do as well.
One Eagle, Defensive End Josh Sweat, was particularly impressed with the new unforms, and he'd like to make them their full-time home unis. Clearly he GetsIt™. But in almost the same breath, Sweat pivots to wanting to keep the BFBS uniform as their alternate.
I'll be honest — I wasn't a fan of the darker "midnight" green unforms when they were introduced in 1996. But for a mid-90s design, they retained an air of tradition (nothing too crazy) and a bit of modernity (custom font, for example) that has aged pretty well. But the Eagles belong in kelly green. I know there are more than a few (not necessarily Uni Watch readers) who like the midnight green jerseys because the team has seen the most post-season success in them, and while they may love kelly green as an alternate, they attach winning to the midnight green era.
Today's NFLers are all around 30 years (or more) younger than I and clearly grew up in a time when different fashion trends were popular (and I've given up screaming at clouds before yelling "GET OFF MY LAWN"), so I can understand why the BFBS uni may appeal to Sweat (and undoubtedly many of his teammates and those born in the 1990s). But c'mon — BFBS (which I would assume would be paired with a black helmet in Sweat's suggestion — since the kelly green jersey would probably be paired with a retro-white from the same era, hence needing only a kelly green helmet)?
Given the popularity of the midnight green amongst a good number in the fan base, and the obvious overwhelmingly positive reaction to the new kelly green throwbacks, I'd like to second Sweat's motion of making the kelly's the home (and one would assume road), but rather than keep the BFBS, designate the midnight green the alternate, so fans can see it a couple times a season — it's a win/win: we all get the gorgeous kelly jerseys back full-time (and again, hopefully a white jersey from the same era), and fans of the "successful" midnight can still see them on the gridiron.