Cereal aisle mainstay Cap'n Crunch is turning 60, and parent company Quaker Oats is celebrating by finally bringing his uniform up to spec. As you can see above, the Cap'n now has four bars or rings on his sleeve cuffs — the proper sleeve insignia for a naval captain. The previous three-bar design denotes a commander, not a captain, which has apparently been a bone of contention among Cap'n fans for many years.
But it used to be even worse! According to Wikipedia, "While typically an American naval captain wears four bars on his sleeves, the mascot has been variously depicted over the years wearing only one bar (ensign), two bars (lieutenant), or three bars (commander)." And sure enough, here are some old cereal boxes showing the Cap'n with one and two bars: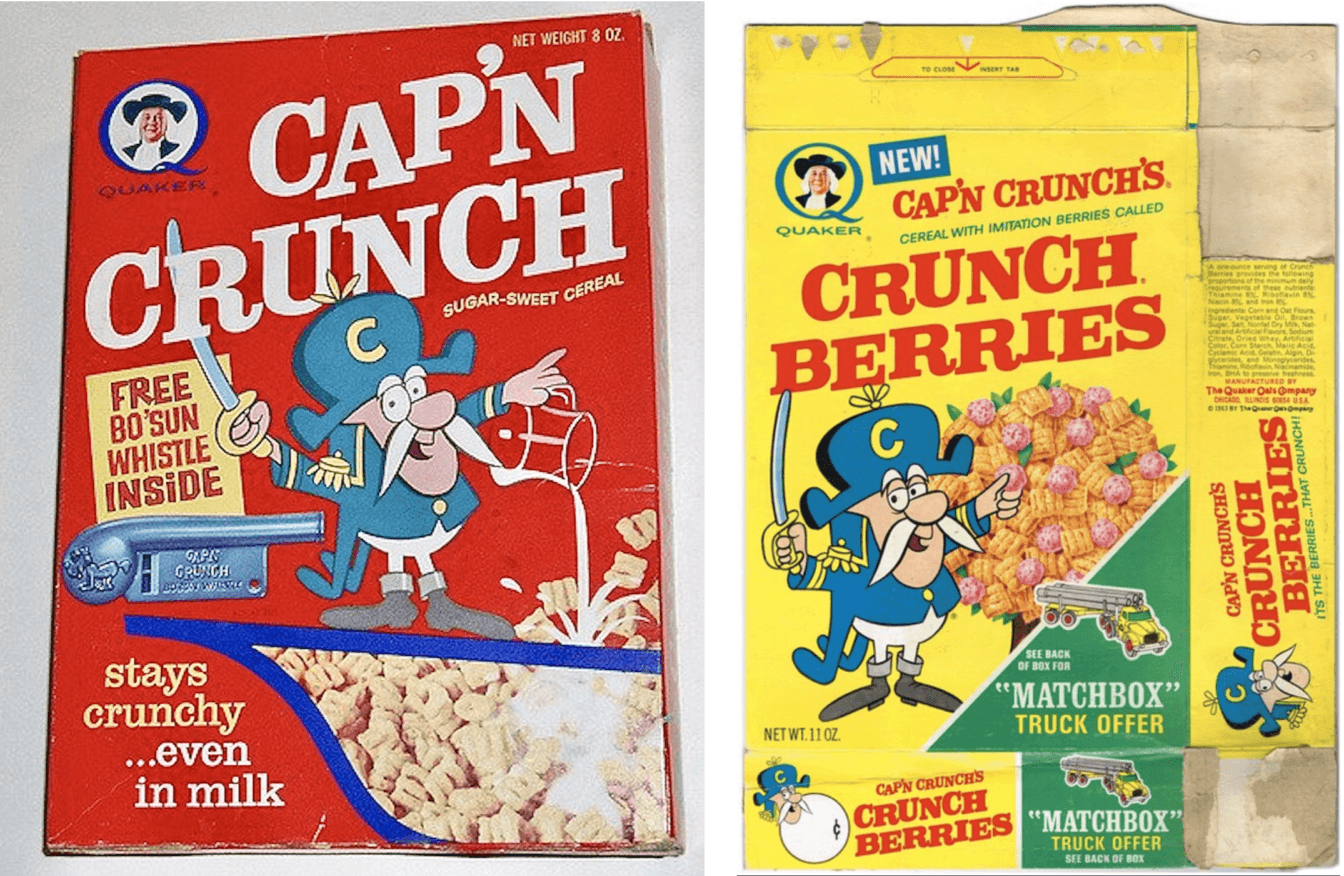 (Incidentally, that giveaway bo'sun whistle shown on the first box went on to have some cultural significance.)
The Cap'n's animated TV commercials were no better. Here's the cereal's very first commercial, showing him with three bars:
Here's a 1971 spot with two bars:
I couldn't find a commercial showing him with one bar, but you get the idea. These people could've used a style guide! (If those commercials look and sound familiar, it's because the early Cap'n spots were produced by Jay Ward, the same genius who did Rocky & Bullwinkle, Fractured Fairytales, Peabody and Sherman, Dudley Do-Right, and other classic cartoons.)
It's nice that the Cap'n will finally have a uniform that properly reflects his rank going forward, but it seems to me that the Quaker Oats folks have made another, arguably more significant adjustment to him: If you scroll back up to the old/new comparison at the top of this page, you'll see that he now has five fingers on each hand. This is completely unacceptable because one of the immutable laws of the universe, as we all know, is that cartoon characters must be four-fingered and that's all there is to it. If left unchecked, I worry that this may cause a rift in the space/time whatisis!
Fun fact: I have never eaten Cap'n Crunch.
(My thanks to Joe Werner for bringing this important development to my attention, and to our own Jerry Wolper for letting me know about the bo'sun whistle.)