The Titans, as expected, unveiled their Oilers throwback uniforms last night. The design, which confirms an earlier leak, pays homage to the franchise's time in Houston, and also to 1997 and '98, when the team played as the Tennessee Oilers.
As you can see in the photo above, the uniform has been rendered in Nike's latest uniform template. Here's a rear view: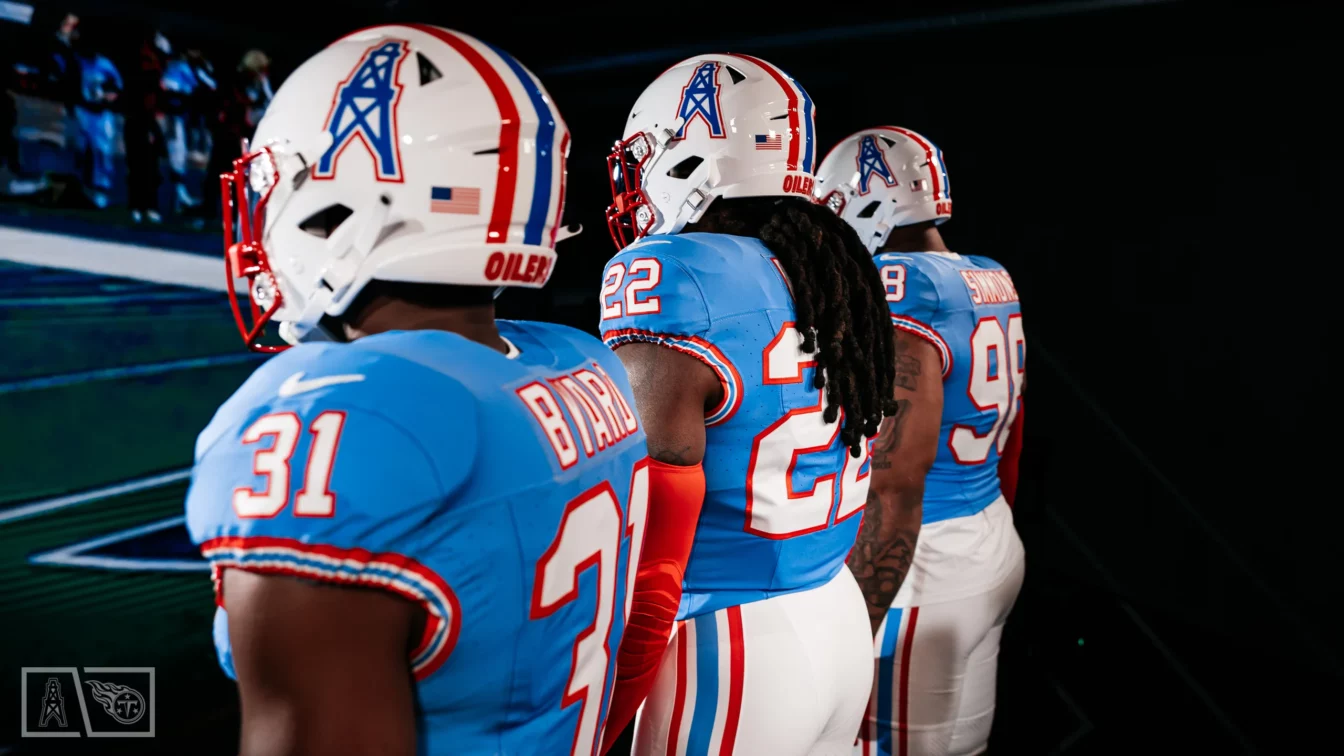 And here's a view of the excellent striped socks: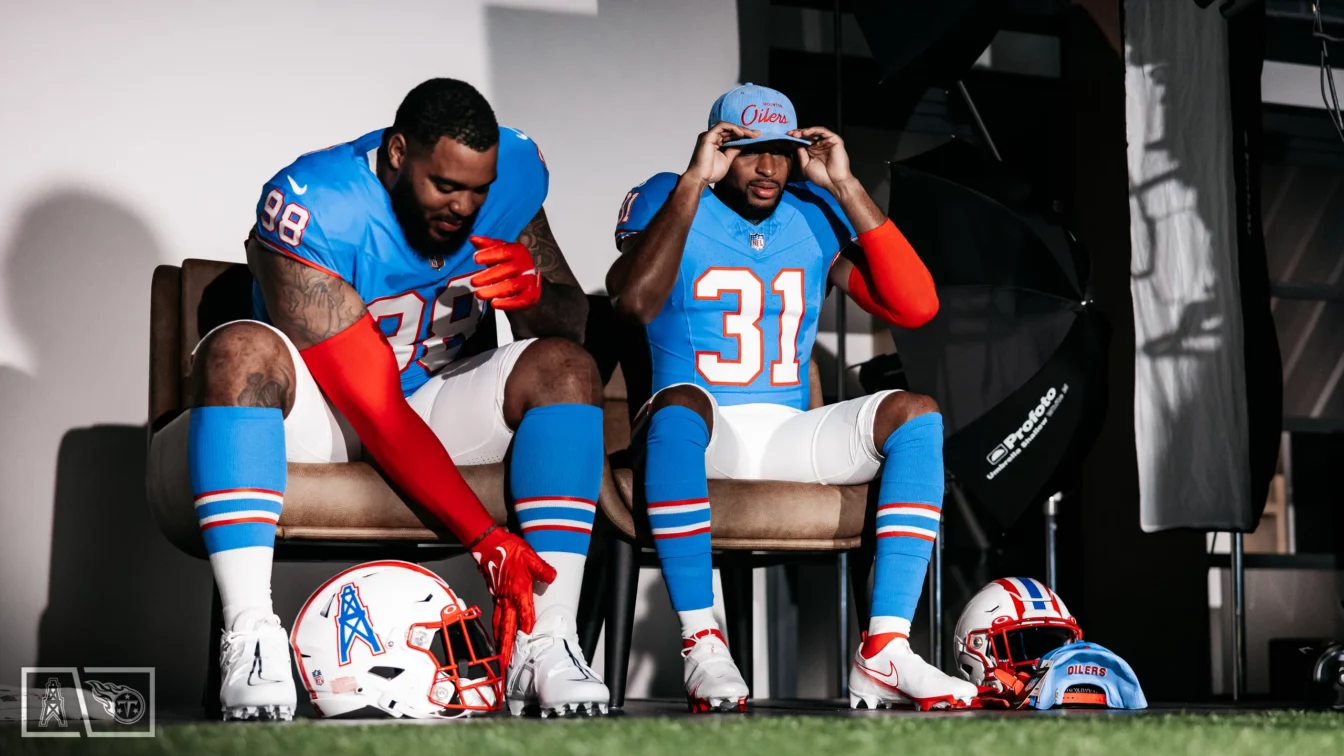 The team's announcement didn't tie the throwbacks to a particular year or era, but the thin sleeve stripes on the throwback jersey recall what the team wore from 1990 through 1997. Here's a comparison, showing how the striping changed in 1990 and how that aligns with the throwback:

As you can see from those photos, they did a good job of matching the colors, typography, and so on. This appears to be a very accurate throwback. Here are some additional photos:
It's not yet clear when this uniform will be worn, although it's been assumed for a while now that the Dec. 17 home game against the Texans would be a prime candidate. Per the team's announcement, "The Titans will wear the uniforms in two games this fall, both at home. The organization inquired about wearing them for a road game in Miami as well, but it doesn't appear that will come to fruition" (which appears to mean, "We thought the Dolphins might wear white at home on Dec. 11, but apparently not"). The team plans to announce the throwback dates this Thursday morning, so we'll find out then.
Another noteworthy passage from the team's announcement: "The light blue Oilers throwbacks will replace the light blue 'Titans' jerseys as the third jersey, joining the navy and the white uniforms." In other words, this jersey has now been mothballed — an interesting decision, since teams are now allowed to have a throwback and an alternate, so they didn't need to scrap the light-blue Titans design but chose to do so anyway.
I know some people think these throwback uniforms are basically a big middle finger extended toward Houston and that the Texans should be the only team allowed to wear Oilers throwbacks. I'm sympathetic to that argument — like I've always said, sports teams aren't just business entities, they're also civic entities. Moreover, I live in Brooklyn, where a few old-timers are still pissed off about the Dodgers leaving, so I understand that point of view. But at the same time, I like how throwback uniforms can serve as history lessons, and the Oilers moving to Tennessee and eventually becoming the Titans is part of NFL history. It's interesting to see the throughlines of franchises that move and/or change their names. Mostly, I'm just glad to see these uniforms back on the field, regardless of which team is doing it.
Want to brush up on your Oilers uniform history? I recently took an in-depth look at that topic, filled with obscure fun facts and great old photos. You can check it out here.
Next up on our very active NFL uni docket: Word through the grapevine is that the Jets will unveil their "New York Sack Exchange" throwbacks at some point today (owner Woody Johnson was even wearing a throwback logo cap yesterday), and the Broncos are scheduled to reveal their new alternate helmet tomorrow. Stay tuned!