Good morning! It should be another NFL-centric day here at Uni Watch, as the Colts will be unveiling something new at 10am Eastern. I'll have full coverage shortly thereafter.
But while we're waiting for that: Who was that at last night's Mets/Chisox game in Queens? None other than Uni Watch deputy editor Phil Hecken and myself, as we settled in for a v-e-r-y nice time at the ballpark. Perfect weather, great company, the home team won in a tidy two hours and six minutes, and I had the fun of watching the Yankees' loss unfold on the scoreboard. A near-perfect evening.
As you might expect, there's a lot of uni chatter when Phil and I get together to watch a game: Dang, why are the Mets wearing their blue softball tops? If Jeff McNeil won the batting title while wearing stirrups last season, why isn't he wearing them this year? Hey, the White Sox pitcher is wearing TruSox! Can the Mets please get rid of Daniel Vogelbach already? (Okay, so that one isn't uni-related.) Hey, check out the videoboard — you can see that the home plate ump's belt is uni-numbered! Ugh, why would anyone wear those awful-looking fake stirrups? Hey, there's Luis Robert Jr. with "Jr." on his back, like I just wrote about! Isn't it surprising that more players don't wear their eye-black as Christian crosses like Francisco Alvarez does?
And so on. But there are some things you can't see when you're at the ballpark. While we were attending the game in person, longtime Uni Watch reader Clint Wrede was watching on TV and saw that White Sox outfielder Andrew Benintendi's batting helmet logo was looking a bit off: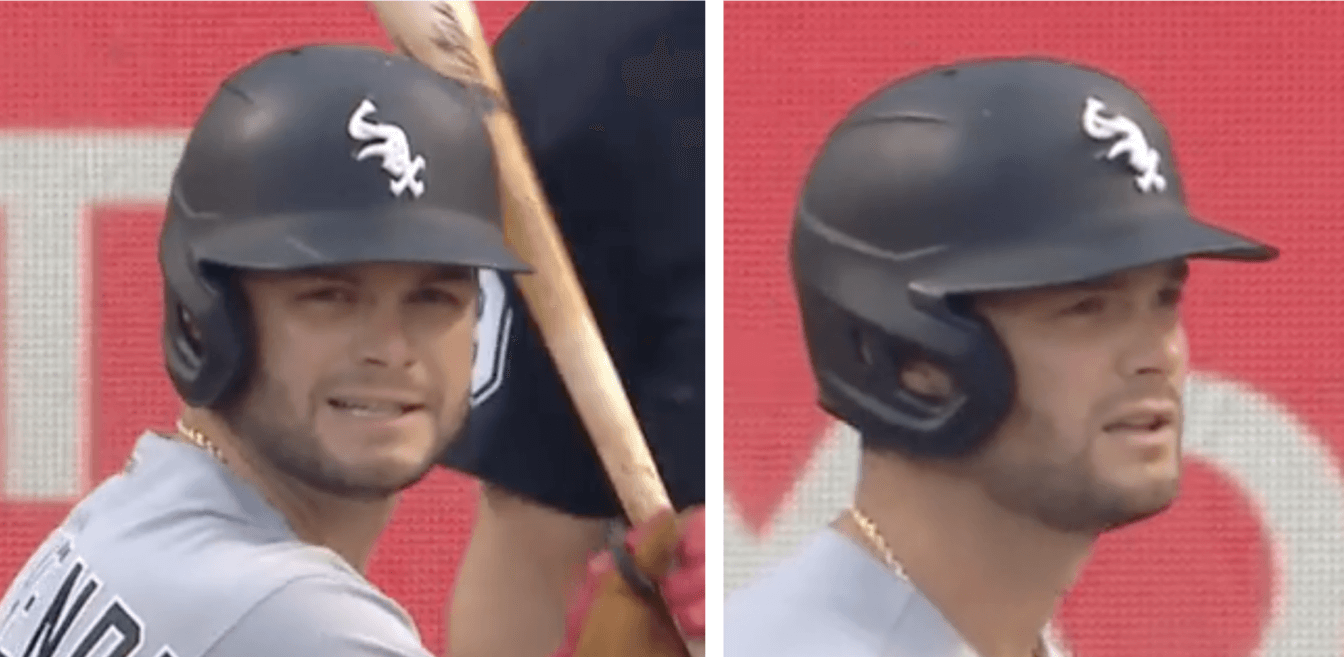 Also: While riding the subway to the ballpark, I was recognized and approached by longtime Uni Watch reader Benjamin Bonnet, who ordered one of the very first Uni Watch membership cards way back in 2007! In those days, he would email me from Alaska and then from Antarctica (he was a contractor at McMurdo Station) — I'm pretty sure he was Uni Watch's first and maybe only Antarctic correspondent, and definitely the only person in Antarctica to have a "Meats" T-shirt. He now lives in New York and was going to the ballgame, just like me, so he introduced himself and said hi. Such a treat to meet him! My bad for not getting a photo.