Dave Martinez and the Nationals had umpires check @Reds rookie Elly De La Cruz's bat before his plate appearance in a confusing start to the second inning. pic.twitter.com/f4AZdZxpGi

— Bally Sports Cincinnati (@BallySportsCIN) July 5, 2023
Reds rookie sensation Elly De La Cruz, who's been tearing up the league since his call-up a month ago, has a little plastic attachment on the knob of his bat. I hadn't noticed it, but it caught the attention of Nationals manager Dave Martinez, who asked the umps to inspect De La Cruz's bat during the second inning of last night's Reds/Nats game in DC.
After a five-minute delay (all of which is shown in the video embedded above), the umps ruled that De La Cruz had to remove the attachment, and he then proceeded to strike out. But they later learned that the attachment had been approved by MLB, so the attachment was back on the bat in the fifth inning, when De La Cruz did this:
Wanna see it again?@ellylacocoa18 pic.twitter.com/KUokmWJAlt

— Cincinnati Reds (@Reds) July 6, 2023
Here's a closer look at the attachment in question: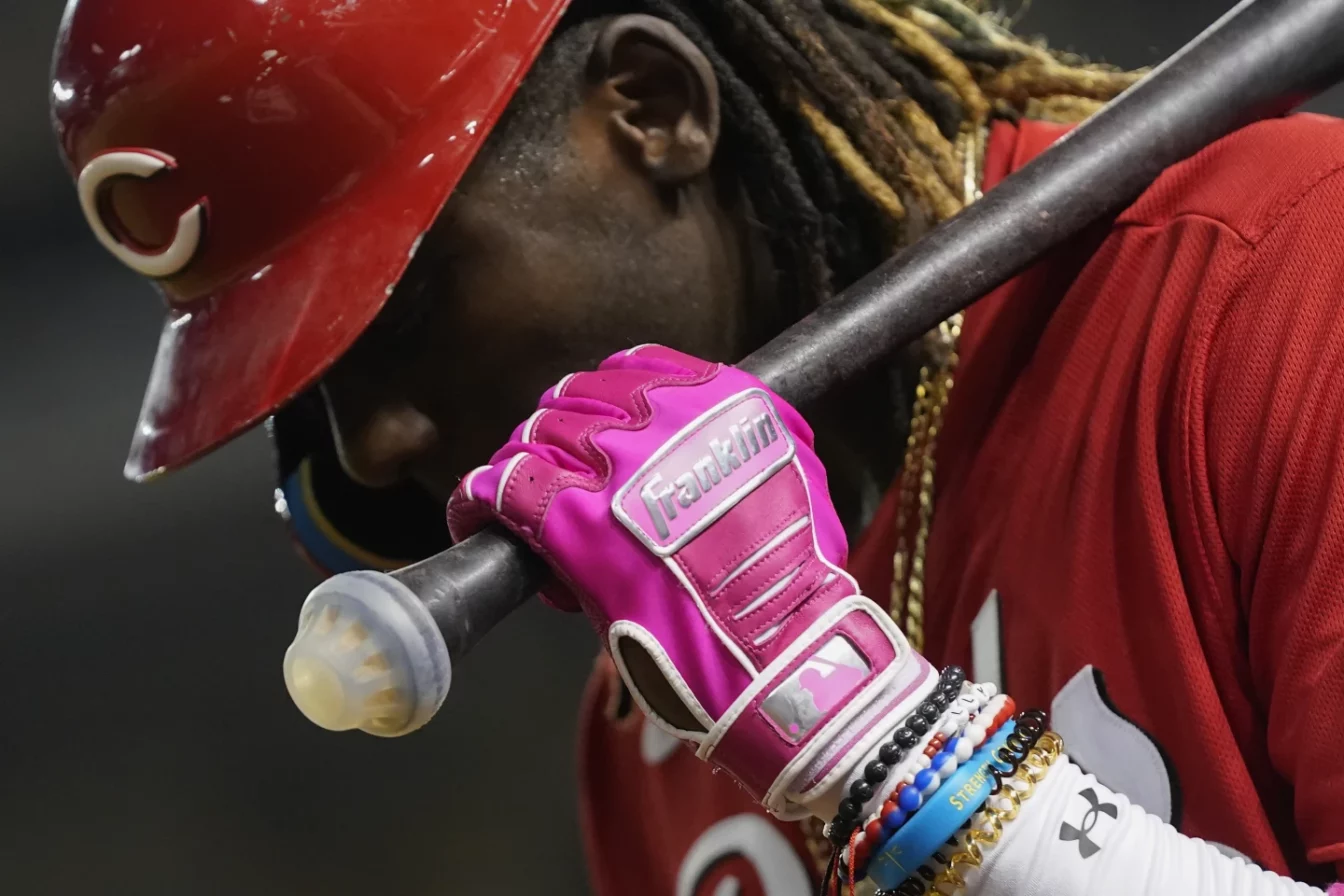 Speaking through a translator after the game, De La Cruz explained what the knob accessory is for:
"It's something that we use in spring training. It's just a sensor that we use, but there it's just the plastic that covers the bat. There's nothing else besides that. I started using it back in 2021. It just felt more comfortable using that and from there on out I asked for more of those plastic shells."
The sensor, which is made by a company called Blast Motion, helps to analyze a player's swing. As De La Cruz explained, he's no longer using the sensor, but he got used to having the protective plastic knob cap, so he's continued to use it, with full MLB approval.
The umpires' crew chief, Adrian Johnson, gave this explanation after the game:
"Davey [Martinez] brought up the issue with the attachment on the bat. It's something we hadn't dealt with before. So, we used the tool we have, the rules check, to contact replay, which is in the league office, asking about the attachment. It took quite a while for them to get back to us. We had to continue to play, to keep the game going. They finally got back to us before his next at-bat and said that the attachment was approved. So, he played the rest of the game with the attachment on the bat."
Finally, as long as we're talking about De La Cruz, it's worth noting that he wears a necklace whose pendant has a very uni-centric photo of himself and his parents: