Good Saturday morning, Uni Watchers. I hope everyone has had a good week.
Tomorrow afternoon, at 1:00 Eastern, the Chicago Bears and Dallas Cowboys will play a color vs. color game — a relative rarity in the NFL since 1957, when the NFL made it mandatory for teams to have at least one white uniform. The rule was enacted to benefit TV audiences, most of whom were viewing on small, black-and-white TV sets, to distinguish teams. Since then, there have been only a handful of color vs. color games, a good portion of which have taken place on Thanksgiving. Today's splash photo features the Bears and Cowboys during one of those Thanksgiving games (and in which both teams wore throwbacks); tomorrow's game between those same two clubs will have the Cowboys in their regular blue jersey, while the Bears will be wearing their alternate orange helmet and jersey.
According to the awesome @GridironUniform database, this weekend's Cowboys vs. Bears tilt will be color vs. color, with the Bears sporting their new orange helmets and the Cowboys in navy. @UniWatch @alexhider pic.twitter.com/m4tzAMEpde

— Phil Hecken (@PhilHecken) October 24, 2022
The Cowboys will actually be wearing their silver pants (not the white as pictured in the original GUD graphic above) tomorrow.
One of the more interesting aspects of tomorrow's game is that the Cowboys, who famously (and almost annoyingly) wear their white jerseys almost exclusively at home, and despite this quirk, have been involved in many color vs. color games over the years. For a team who almost always wears white, that's quite a feat. And also interesting is the Broncos and Patriots also make up a big chunk of those games.
While some of us undoubtedly enjoy (and welcome) color vs. color games, there's a reason — besides the dated black-and-white TV thingy — that many color vs. color games don't really work: they're not always that attractive a uniform matchup. Probably the best and most famous color vs. color matchup in football is the annual USC vs. UCLA tilt, which is often played in the bright Southern California sun and between a light blue jerseyed squad versus a cardinal shirted team. None of the uniform elements (helmet/jersey/pants) matches nor clashes, and it's often held as the raison d'être of color vs. color. Unfortunately, almost all the NFL matchups aren't nearly as good.
Below is a rundown of NFL color vs. color games since 1957 — with a couple exceptions: not included are any of the ridiculous forced color vs. color matchups created by the Color Rush (CR) program (remember this, this, this and this?), nor are repeat games for teams who introduced a "light" color alternate which wasn't white, so games would be considered color vs. color.
__________
1994: NFL 75th Anniversary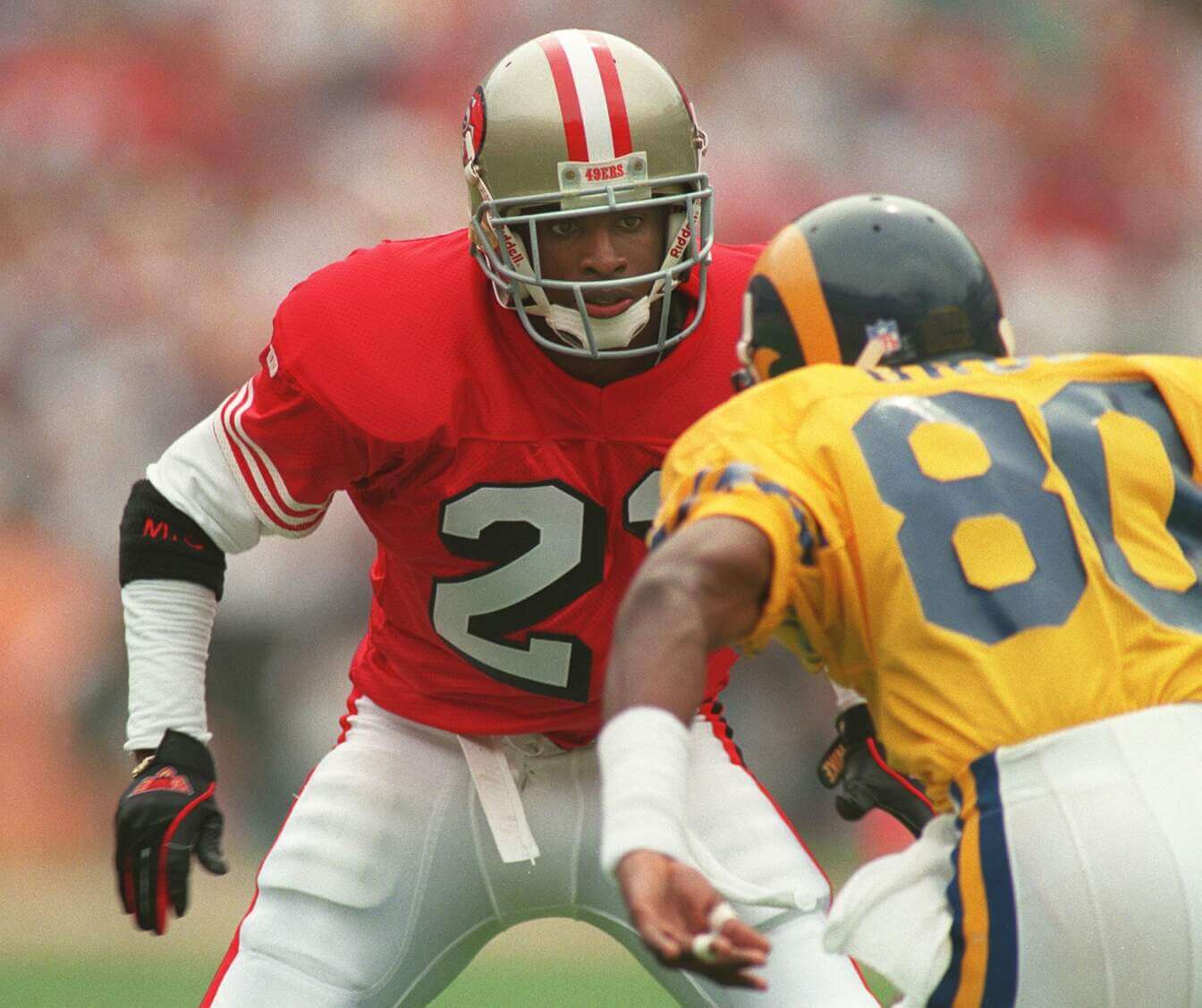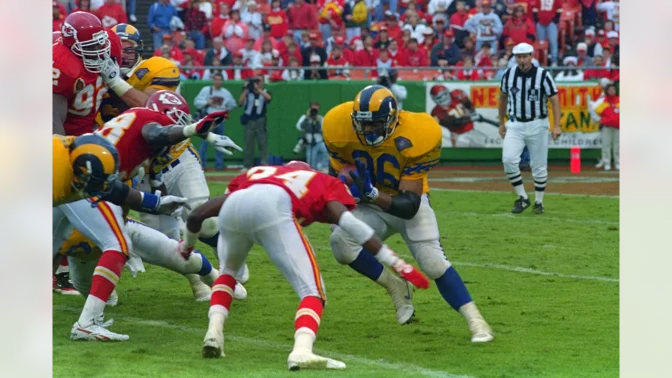 In 1994, the NFL celebrated its 75th Anniversary, and many teams wore throwbacks (or fauxbacks) throughout the course of the season. The LA Rams were throwing back to the 1950s with their uniforms, when they wore gold jerseys over white pants, and in two games they played versus red-shirted opponents. The contrast between the gold and red was great, and both these games looked good. The only strike against these games was that both teams were wearing white pants, but the matchups were still outstanding.
__________
2001: Cowboys vs. Broncos, the First Thanksgiving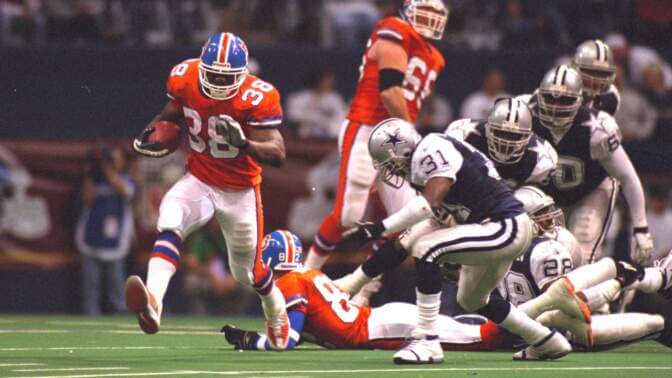 The NFL would wait another seven years before a color vs. color game would take place, and this one began the "modern" Thanksgiving tradition of the throwback color vs. color game. For the first time, it featured the Cowboys (throwing back to the early 1960s jersey, albeit with then-modern helmets and pants) vs. the Broncos, who only a few years prior had jettisoned these gorgeous uniforms for the current dated template they still wear. With five distinct different colors (royal blue, navy blue, white, silver, orange), this one was another good looking game. The bright orange pairs well with the predominately navy of the Cowboys.
__________
2002: Three Color vs. Color Games
Fresh off the success of their 2001 Thanksgiving Throwback, the NFL decided to do it again in 2002, and both games that Thursday featured color vs. color throwbacks: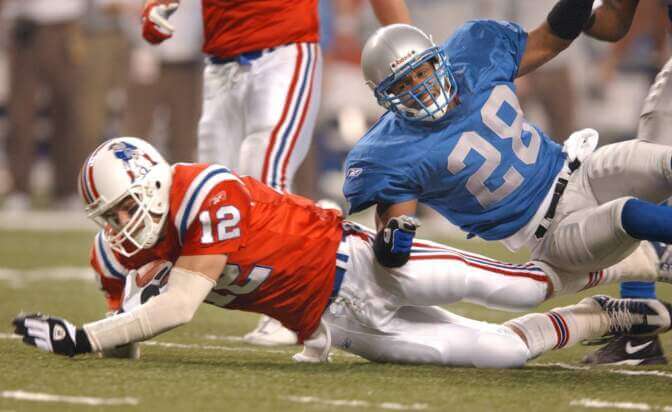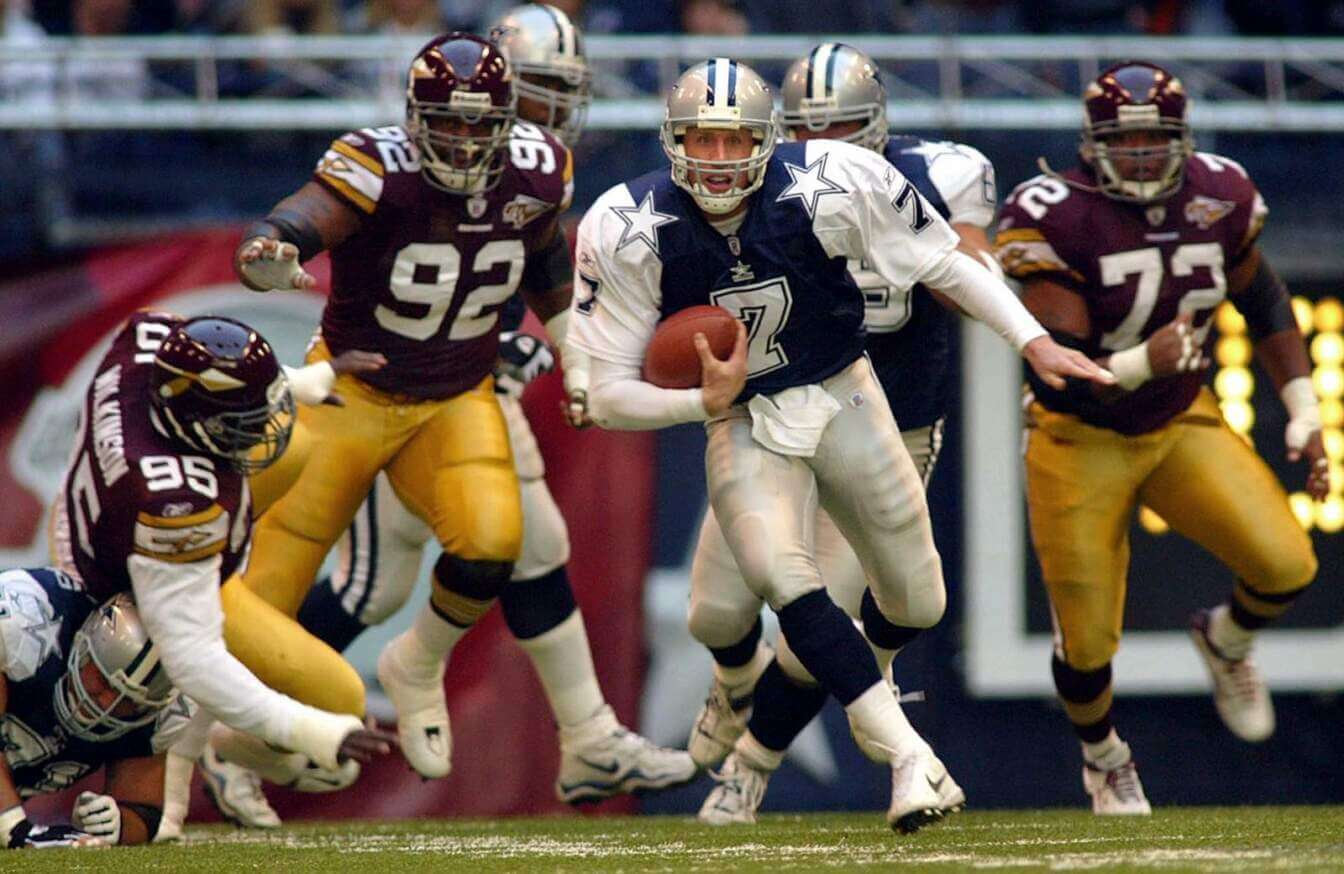 The Lions and Patriots, going Honolulu blue vs. red, met up in the early game, with the Lions wearing what we now consider their "traditional" throwbacks: plain (blank) silver helmet, blue jersey, silver/gray pants, while the Patriots wore their (now) traditional "Pat Patriot" look of white/red/white. This was another pretty good looking game (despite the dreary Ford Field dome lighting), and both throwback looks would later become staples for both teams — with the Patriots finally being able to re-adopt the look this year with the lifting of the single-shell rule.
The Cowboys and Washington also wore modified throwbacks — the Cowboys again wearing their 1960s jersey with modern helmet/pants, while Washington went with their 1965-68 uniforms. While the contrast was fine, both teams in "dark" dark jerseys (navy and deep burgundy) under the Texas Stadium lights wasn't the greatest looking game. The previous color vs. color games all "worked" because at least one team wore a light/brighter jersey (a la USC/UCLA). This featured two teams with two hues on the darker end of the color scale.
The third color vs. color game that year featured a surprise one-off. The New Orleans Saints, for some reason, wore a gold-hued jersey and matched up with the purple-clad Vikings: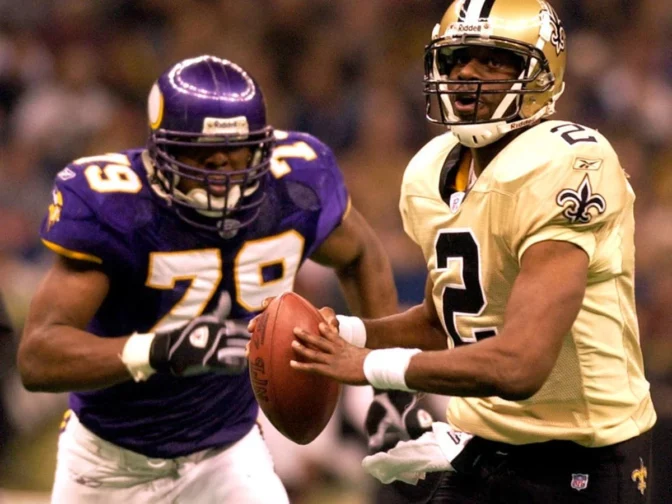 Not a terrible looking game by any means (plenty of good contrast), but some questioned why the Saints would wear a gold jersey at all (and notice even then, the team couldn't match the helmet color to the jersey color). The Vikings eked out a 32-31 victory, perhaps squashing any chance for the team to wear the jersey ever again.
__________
2003 (and beyond): Patriots wear silver alternate jersey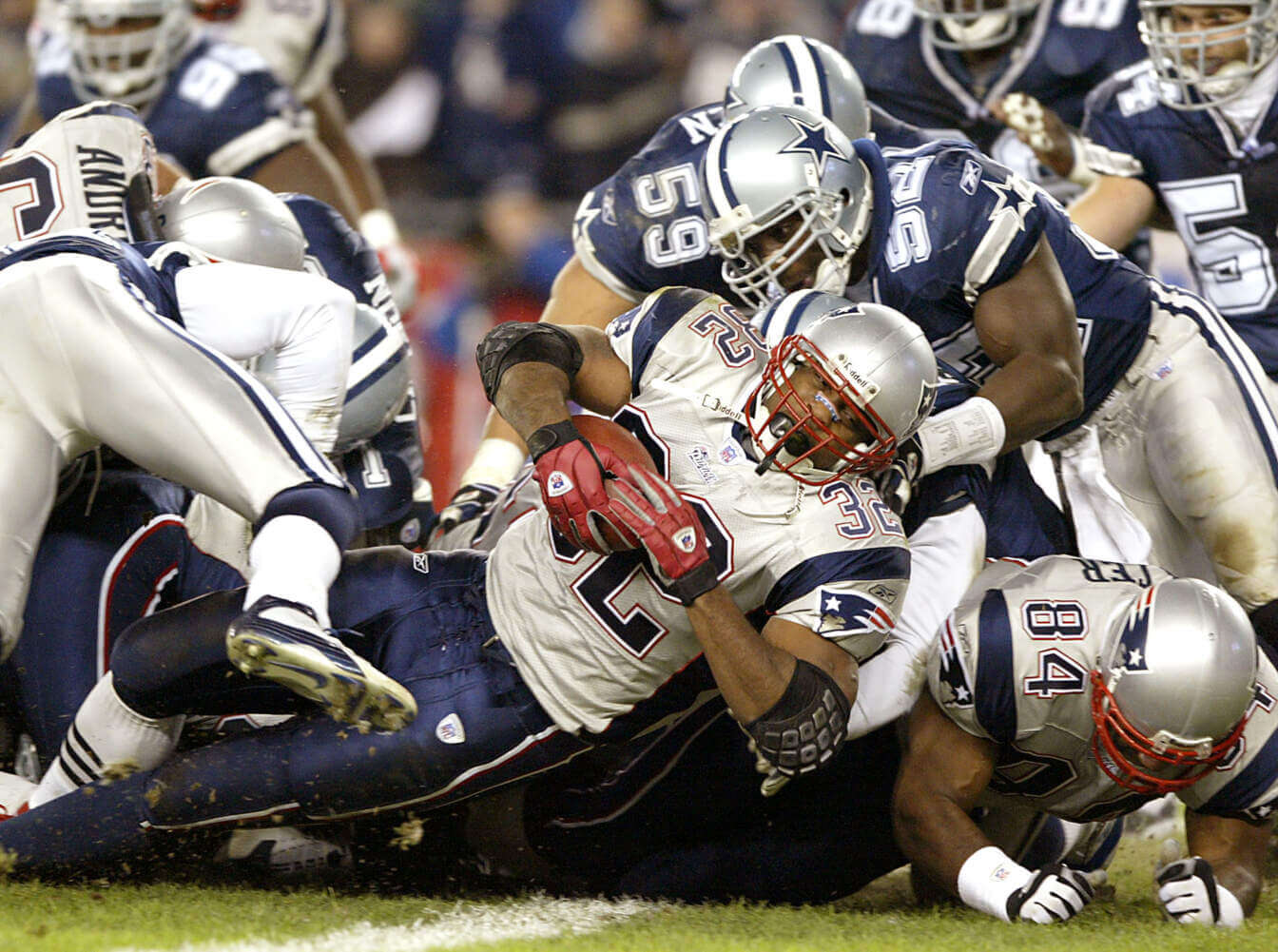 This would be the first of several times the Patriots would wear an alternate silver jersey — and because it's not white it qualifies the game for "color vs. color." There's probably no legitimate reason for the silver alternate to exist (other than to move merch — even back then), and this particular game against the Cowboys ended up looking like a scrimmage: both teams in silver helmets, with navy vs. silver jerseys and pants for each team. There would be better contrast against other teams, but the silver jerseys never looked good nor made much sense. They should have taken a cue from the Saints and made these a one-hit-wonder.
__________
2004: More Thanksgiving Throwbacks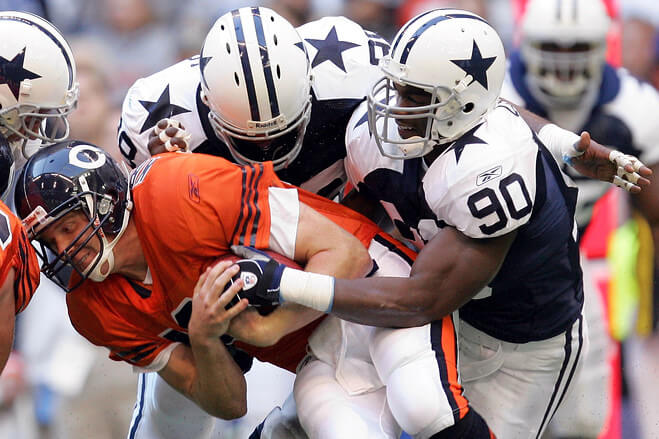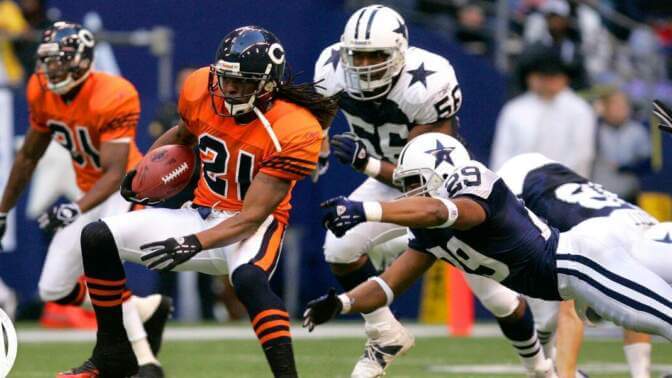 For the 2004 Thanksgiving game, the Bears wore 1950s throwbacks while the Cowboys finally got a full throwback — this time with the early 1960s white helmet (and non-outlined star) and white pants. While the two teams won't be wearing the same uniforms tomorrow, the orange vs. navy blue will be the same.
__________
2009: AFL's 60th Anniversary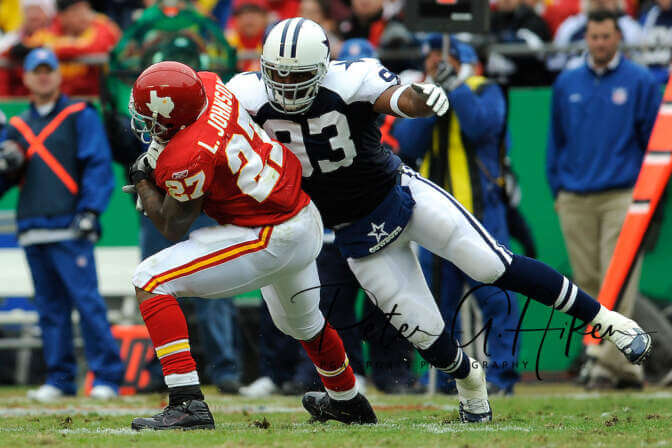 The eight original AFL teams all wore throwbacks throughout the 2009 season, but only one game — and it featured only one AFL team — was color vs. color that year. The game was the "Dallas Showdown" game, featuring Kansas City throwing back to their Dallas Texans uniforms matched up against the Dallas Cowboys. Once again, the Cowboys wore their "proper" 1960s throwback uniform, while Kansas City's uniform — save for the helmet logo — is almost identical to what the team wore (and still wears). While the navy vs. red isn't a great color vs. color tilt, the contrast was fine (even if both teams wore white pants).
__________
2010: One last Turkey Day color vs. color throwback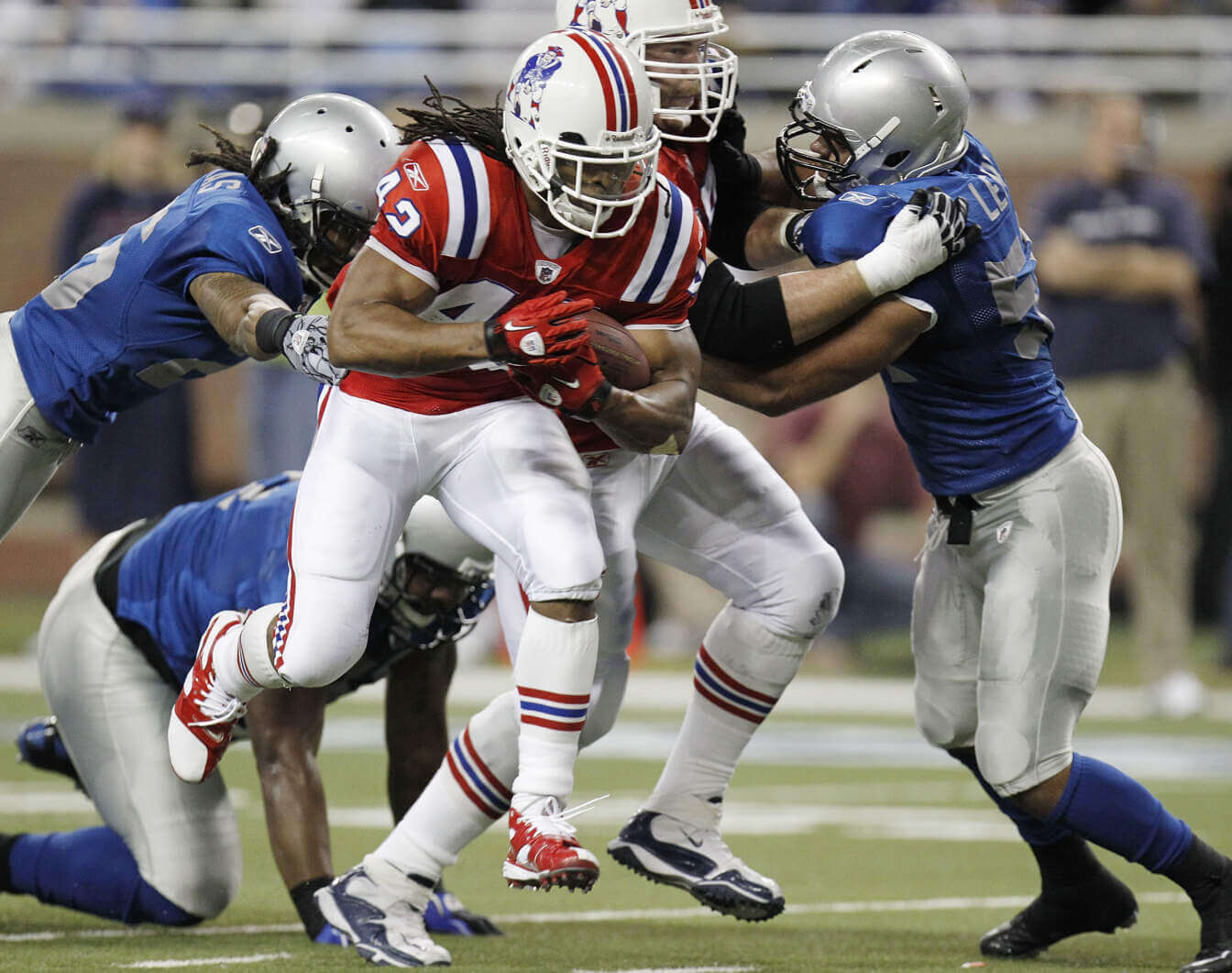 Reprising their matchup from 2002, the Lions and Patriots again wore color vs. color throwback uniforms. Sadly, this would be the last color vs. color Thanksgiving Day game for both teams.
__________
2012 (and beyond): GFGS color vs. color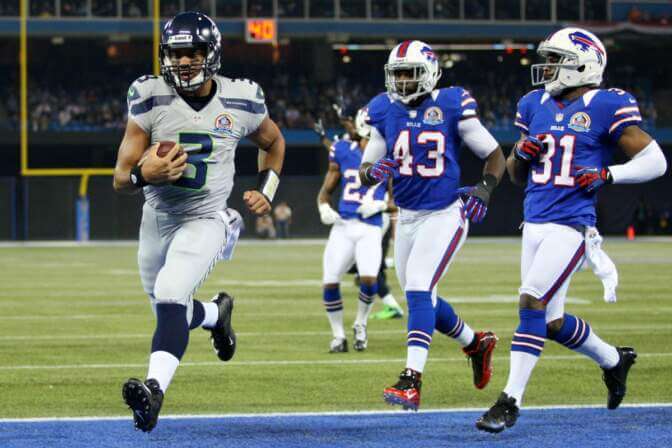 Like the Patriots with their silver alternates before them, the Seattle Seahawks introduced a gray alternate jersey, and since it's not white, games played in these jerseys count as color vs. color games. The team still has the gray jersey in their line up. Like the Patriots before them, there's not much reason for this jersey to exist (however, the gray pants they wear should be worn more often).
__________
2017: Cowboys Thanksgiving color vs. color, again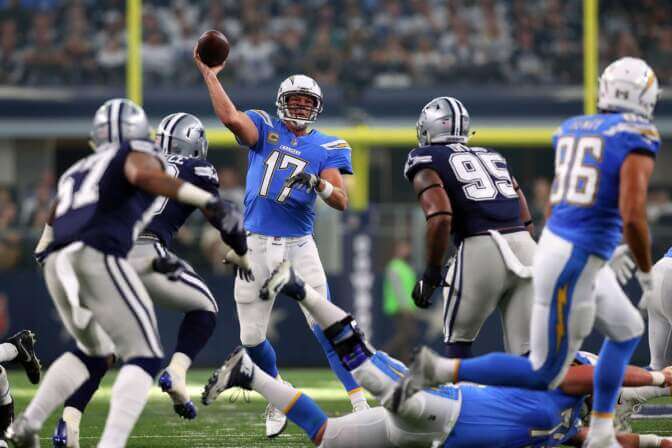 The Cowboys and Chargers hooked up on Thanksgiving in 2017 — both in their regular uniforms (although technically the Chargers powder blue jersey was an alternate). This was one of the better color vs. color games, with the Chargers gorgeous powder blue pairing nicely with the Cowboys' navy. Honestly, the NFL should consider allowing (or encouraging) the Chargers to wear their current powder blue jerseys against (very) dark jerseyed teams. Like UCLA, this would be a good use of color vs. color.
__________
2017 (and beyond): More GFGS color vs. color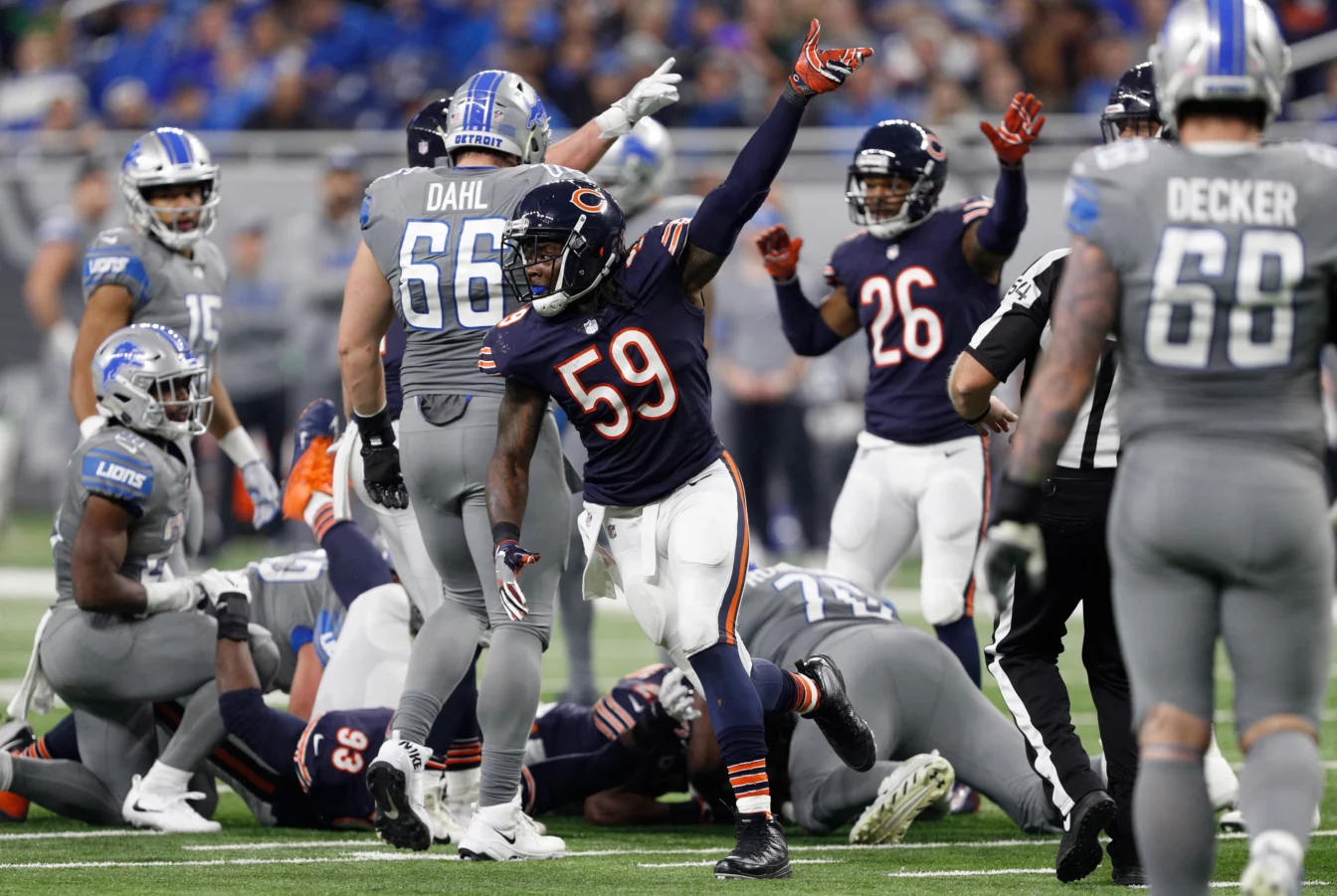 This certainly counts as color vs. color but really, there is even less reason for this Lions jersey to exist. This is, I suppose, technically the Lions CR uniform, but they have worn it every season (2017-2021, but not yet in 2022) since in non-CR games. Let's hope 2021 was the last we've seen of it. Perhaps if they paired it with non-gray pants, it wouldn't look so awful. But that's not saying much.
__________
2019: What Were They Thinking?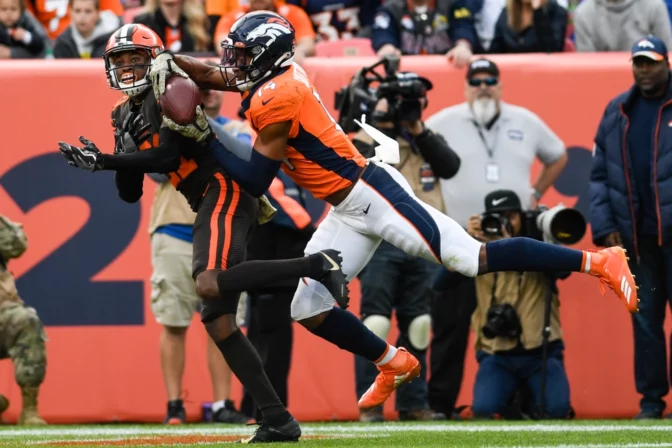 By 2019, the Cleveland Browns were in the final year of their five-year commitment to wearing possibly the worst NFL uniforms of all time, and the one uniform that wasn't in that awful chassis was their Color Rush kit. Just how bad were their 2015-2019 uniforms? So bad that they petitioned the NFL (and were given special dispensation) to wear the CR outfit seven times. So while I suppose this technically counts as a CR game, I don't consider it as such. For some reason, the mono-brown was paired with a dark jersey — the Broncos' orange — in what will no doubt be considered the worst looking color vs. color game in NFL history (non CR edition). Seriously. What could be worse…
__________
2020: It's worse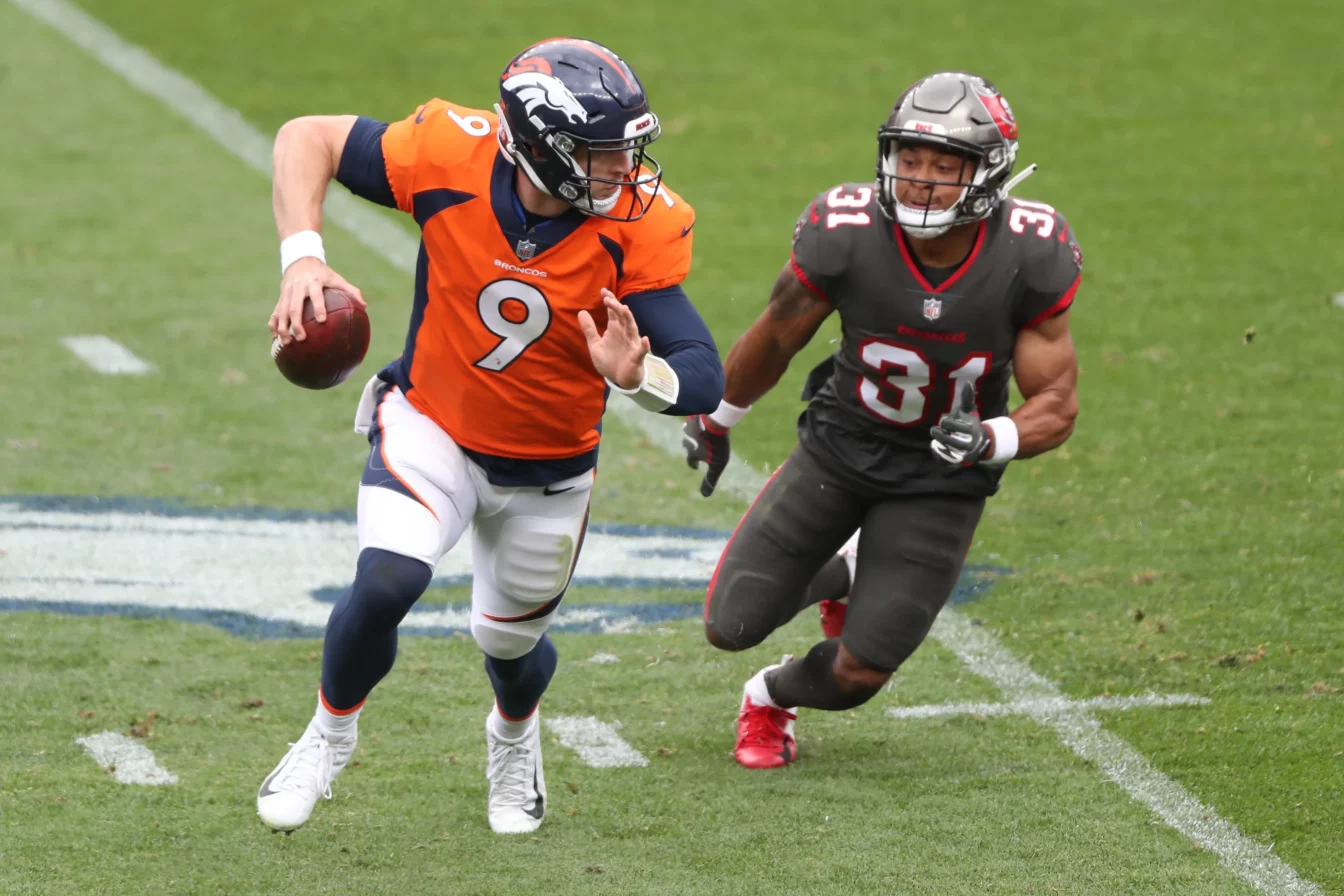 Those poor Broncos — involved in some of the best color vs. color games in the relatively short 1957-present history, they've also been involved in the worst two. If you thought their 2019 tilt vs. the Browns was bad, their 2020 game against the Buccaneers jumped up and said, "Hold My Beer." Yikes. Brown and orange look great on one uniform — not against each other — but pewter and orange…don't. Actually, what the Bucs wear probably is closer to brown than "pewter" — but at least the Browns broke up their look with a different color helmet. The head-to-toe pewter offered us no such relief.
____________________________
And there you have it — the (almost) complete history of color vs. color games in the color TV era. One team I didn't include (although you could technically consider playing color vs. color games) is the 2020-current LA Rams. That season they added their "bone" (aka dishwater) jerseys (and often pants) to their new uniform palette, as their designated "road" uniform. Because it's basically gray, it has the same problems as the Patriots, Seahawks and Lions before them (i.e. no reason to exist), but fortunately is considered a "light" jersey, so any opponents wear their dark jersey against them.
I don't have a problem with teams going color vs. color, per se, but as you can see, not every color vs. color game actually looks good. Teams who wear a light blue jersey (Chargers, Titans, Dolphins) or orange (Browns alternate, Bengals alternate, Broncos) would make the best candidates for color vs. color games. I'd also love to see a team introduce an athletic gold or yellow jersey (Rams, Packers, Steelers) if an alternate has to be part of a team's uni scheme as well, and in that instance, those teams would be good candidates for color vs. color. But you can also see, now that 99+% of the country owns a color TV (and more than half own a high-def TV), color vs. color would work. That doesn't mean it would work well, but there shouldn't be any issues with differentiating teams.
With that being all said…I'm looking forward to tomorrow's Bears/Cowboys game. It won't be the best color vs. color game ever, but it'll be up there.
Your thoughts?
---