[Editor's Note: Paul is on his annual August break from site (although he's still writing his weekly Bulletin column and may pop up here on the blog occasionally). Deputy editor Phil Hecken is in charge from now through the end of the month.]
Good morning Uni Watchers. I hope everyone is doing well and having a good week.
One of the things — despite living less than five hours away — I have never done in my life is to visit the Baseball Hall of Fame. It was actually a trip I had planned to take with my (then) wife, which we were going to combine with visits to our respective alma maters (both located in upstate NY). Alas, that trip never came to fruition, but I still hope to visit some day! From what I understand, to really see everything (and hopefully to see some stuff that's "in the vault"), one needs to budget more than a full day.
Anyway, I tell you this because today we have a guest article from Louis Griffel, who will be taking us on a deep dive into several of the player plaques found inside Cooperstown's hallowed halls. I think you guys will really enjoy this — I know it's just made my HOF jones even stronger!
• • • • •
Baseball Hall of Fame Plaques
by Louis Griffel
If you are a baseball fan, visiting the Hall of Fame in Cooperstown, NY is probably on your bucket list. Living in the general NYC area, I have been fortunate that I have been able to visit Cooperstown many times, 18 times in total, since my first visit in 1984.
Having been to the Hall of Fame so many times, you start to notice things, and I have noticed a few that even the HOF employees who lead the tours don't seem to know about. For example, you have likely seen at least pictures of several of the HOF plaques. They generally follow a standard format, which has evolved slightly over the years. Here is a picture of Sandy Koufax's plaque as an example.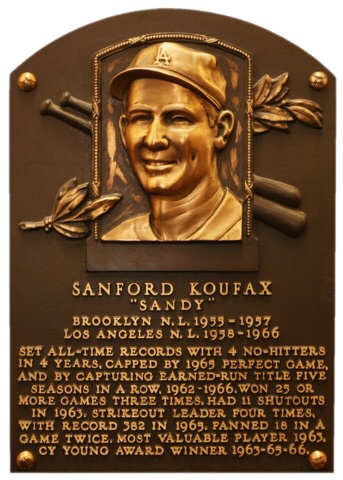 As with most plaques it has his name, followed by nickname(s), team(s) he played for, and then a summary of his career highlights, all written in upper case letters. Every plaque is written in all upper case letters, except for one. Do you know whose?
On Ozzie Smith's plaque his nicknames are written in mixed case. His is the only plaque in the entire plaque gallery that contains any lower case letters at all. How did it happen? Who knows; but none before or since contain any lower case letters.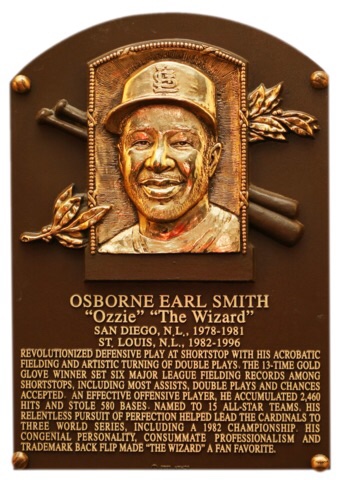 Another standard feature of the plaques is that players (and managers) are typically depicted wearing a cap of the team they are most associated with. Well sort of. Until about 2000 players (and managers) were given great discretion in choosing what cap they wanted represented on their plaque. Even in cases where a player had played a large portion of their career with one team, if they had a good reason to choose another they were allowed to. In fact, the HOF keeps a separate designation of each HOFer's primary team in its' online database. For example:
Interestingly, in almost all cases, they depict a photo of the player in the uniform of the team whose cap is shown on the plaque, but they list the name of the team that they historically consider to be the player's primary team. There is an interesting fact that I noticed on Rollie Fingers plaque. He is appropriately depicted with an Oakland A's logo on his cap, and Oakland is indeed denoted as his primary team. However, do you notice anything unusual about the cap on his plaque?
Let's zoom in a little bit.
When choosing an image to use as the model for his plaque, it appears that even though there are innumerable images available of him as an A, an image from when Rollie was playing for the San Diego Padres was chosen. The artist changed the front logo, but either forgot to, or did not notice the bell panel lines from the Padres cap and left them. Also interestingly, his nickname, "Rollie" is not noted on the plaque.
Allowing players the deference to choose which team is depicted on their cap came to an end after Wade Boggs signed with Tampa Bay and allegedly allowed the inclusion of a clause that stated that if elected to the Hall of Fame his plaque would depict a Tampa Bay cap. Boggs has denied the story, but due to the reporting, and a few controversial choices in the previous decade (Reggie Jackson, Dave Winfield, Nolan Ryan) the Hall of Fame decided to take matters into their own hands and decided that while they would seek the input of inductees, the Hall would have final say over which cap would be depicted on the plaques.
This decision soon thereafter had an impact on the plaque of Gary Carter. Although Carter played the bulk of his career as a member of the Montreal Expos, and even had a final hurrah season with them in 1992, he wanted to have a Mets cap on his plaque, as he appeared in and won his only World Series with the Mets, and was an employee of the Mets at the time of his induction. With the Montreal Expos' status in peril, though, the Hall seemed to want to have a player depicted as an Expo in the Hall and decided to depict Carter with an Expos logo on his cap. Now, in retrospect, if they had just been a little more patient, it would not have been an issue, as Andre Dawson and Tim Raines were both subsequently inducted as Expos.
Interestingly, Carter's Hall of Fame page is one of the only ones (maybe the only, as I did not check every single HOFer's page) that shows a picture of the player in a uniform different than the one depicted on their plaque.
Now, one thing about Carter's case that always bothered me, was that there could have been an easy compromise as he could have been depicted wearing a backwards helmet, as he was frequently photographed as a catcher that way.
In fact, although they allowed no compromise for Carter, Greg Maddux, Mike Mussina, and Roy Halladay were all subsequently allowed to be depicted without a logo.
Several players from before this became a controversial issue are also depicted with no visible logo, including Yogi Berra and Catfish Hunter. The last point that I would like to touch on is the issue of missed time due to service in the armed forces and how that is or is not noted. Every Hall of Famer who served during a war has a medallion below their plaque that notes which war(s) they served in. This includes Morgan Bulkeley, who is the only member to serve during the Civil War.
As well as Ted Williams, who served in both WWII and the Korean War.
Now, as you can see, Ted Williams served during both WWII and the Korean War, missing nearly 5 full years of his career, yet his plaque merely notes that he played for the Boston Red Sox from 1939-1960.
Hank Greenberg missed nearly 4½ years, signing up to serve in WWII even though he didn't have to, as he had just completed service in the reserves, yet here is his plaque.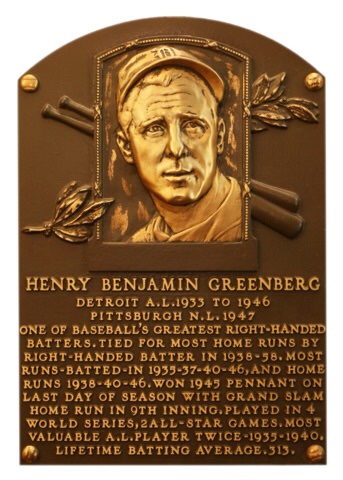 And though he mainly played Army baseball, Joe DiMaggio missed all of the 1943, 1944, and 1945 season; here is his plaque.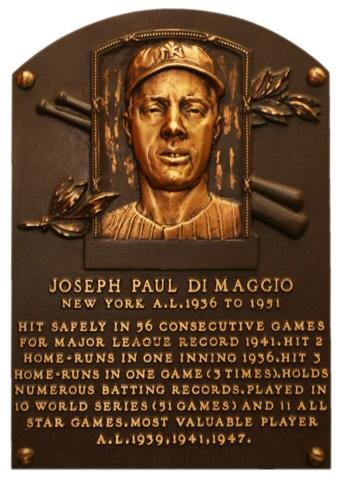 However, the most celebrated Hall of Famer who served was Bob Feller, during WWII. His plaque is a bit of a cause celebre, due to the years that he served during WWII being missing from his plaque.
The story is that Feller signed up to serve the day after the attack on Pearl Harbor, and that he was very proud of his service. Now, his actions are very commendable and he certainly provided a great service to our country. Is his service more commendable than that of Williams, Greenberg, and others? I am not going to debate that, but I will discuss the issues surrounding his plaque. Here is a picture of Bob Feller's original plaque.
Here is a picture of his plaque circa 1991.
And here is a picture of his plaque that is hanging in the Hall of Fame today.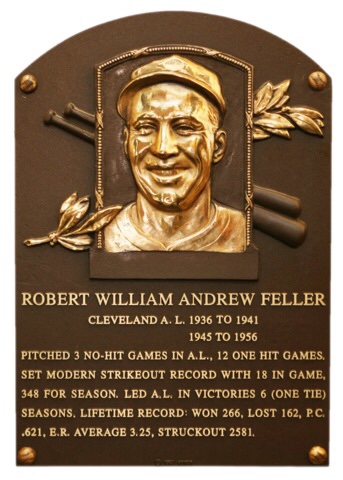 Now, the question is why was his original plaque changed in the first place?
In an effort to find out, when I visited the Hall of Fame in 2017, I made an appointment to view Feller's file in the Hall of Fame library. I was given two thick folders of news articles and photos to review. I spent a couple of hours going through everything with my son, but found absolutely nothing about the issue with his HOF plaque. At that point I approached the receptionist and told her that I was looking for information about why Bob Feller's plaque had been changed twice, specifically around the war years issue. She told me that she didn't know, but would call the library director and ask for me. Within 5 minutes the response that I received was that "it is a private matter between Mr. Feller and the Hall of Fame and that they would not comment further".
While I completely support Mr. Feller and the Hall's decision, from the point of view of a fan, transparency is always nice. I am sure that Feller's teammate Bob Lemon is proud of his service, and I am sure the same of Enos Slaughter and Bill Dickey. Here are their plaques.
Most recently Gil Hodges was inducted on July 24th, and his plaque does show the gap for his military service.
While researching this piece I found the following blog post that discusses changed plaques in more detail, including more information about Feller, changes to Ted Williams' plaque that I had not been aware of, as well as the changes to the plaques of Roberto Clemente and other Latin American Hall of Famers to more accurately depict their last names as they are traditionally done in their culture.
Many thanks to Phil for allowing me to write this piece, and to all of you for reading it. I hope you enjoyed it.
• • • • •
Thank you Louis! Fun stuff. I (still) definitely have Cooperstown on my bucket list!