Last week I wrote a short post about a graphic that CHGO Sports had created to show the best Chicago athlete at every uni number. At the end of that piece, I wrote, "I hope someone out there is already planning similar graphics for other sports towns."
And now my hopes have been answered! CHGO Sports's sister outlet DNVR Sports has created a corresponding graphic for Denver (above left), and Uni Watch reader Marc Mayntz — who you may recall as the guy who recently created flag designs for all the Big Four pro teams — has created something similar for Detroit.
I'm not concerned about the individual player choices — other people can debate that. I'm more interested in the aesthetic aspects of the two graphics. Let's look at them one at a time.
Denver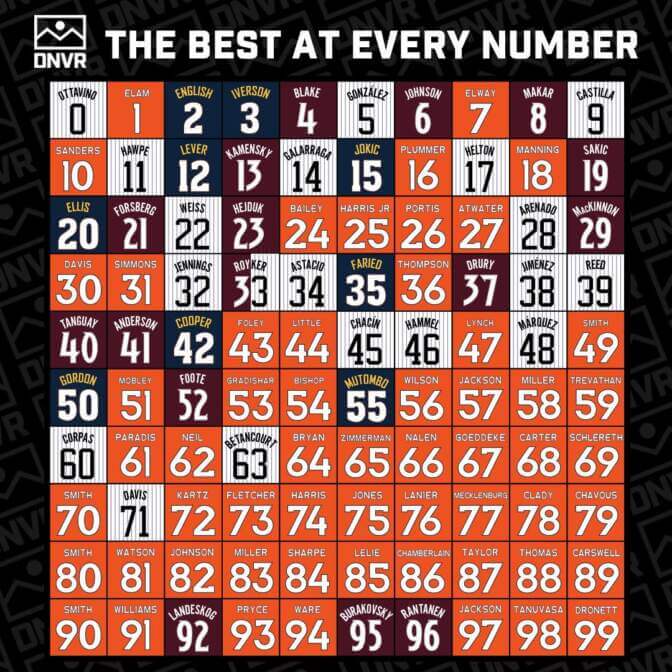 Right off the bat, the first thing that jumps out at me (well, aside from all that orange) is that they didn't use vertically arched lettering for the Avalanche NOBs, which is soooooo disappointing. Really makes the whole thing feel less authentic, less professional. Also, the Rockies' number font doesn't look right (at least for certain numerals), and some of the NOBs don't seem properly centered over their numbers (look at Alex English at No. 2, for example).
On the plus side, creating a franken-graphic for Patrick Roy and Larry Walker at No. 33 is an inspired move — nicely done!
Detroit
Some interesting choices here by Mayntz. For example:
He's done a mix of home and road jerseys, which adds visual interest. (The Denver graphic would have benefitted from this, especially with all those orange Broncos squares.) As he explained when emailing this graphic to me, "I made it so no two identical colors touched. I almost didn't make it, but thankfully I could use a Megatron BFBS jersey, which made the 80s row line up."
Good job of making all the typography era-appropriate.
Relatedly, here we have our first NNOB squares. Satisfying from an authenticity standpoint but not as informative. I mean, I know No. 9 is for Gordie Howe, but I had to look up who wore No. 37 years ago for the Lions. (It was Doak Walker.)
We also have our first graphic to include a pick for No. 00.
Vertically arched NOBs for the Red Wings!
My only gripe: The whole thing feels a bit too crowded. Might've been better to make the typography smaller and allow more breathing room around the border of each square.
I'm hoping we'll keep seeing more of these for other cities, and that the people creating them will continue to refine and improve the format. Lots of fun to be had with these!
Update: Just a few minutes after I published this post, I was informed that PHNX Sports has created a "Best by Number" graphic for Phoenix: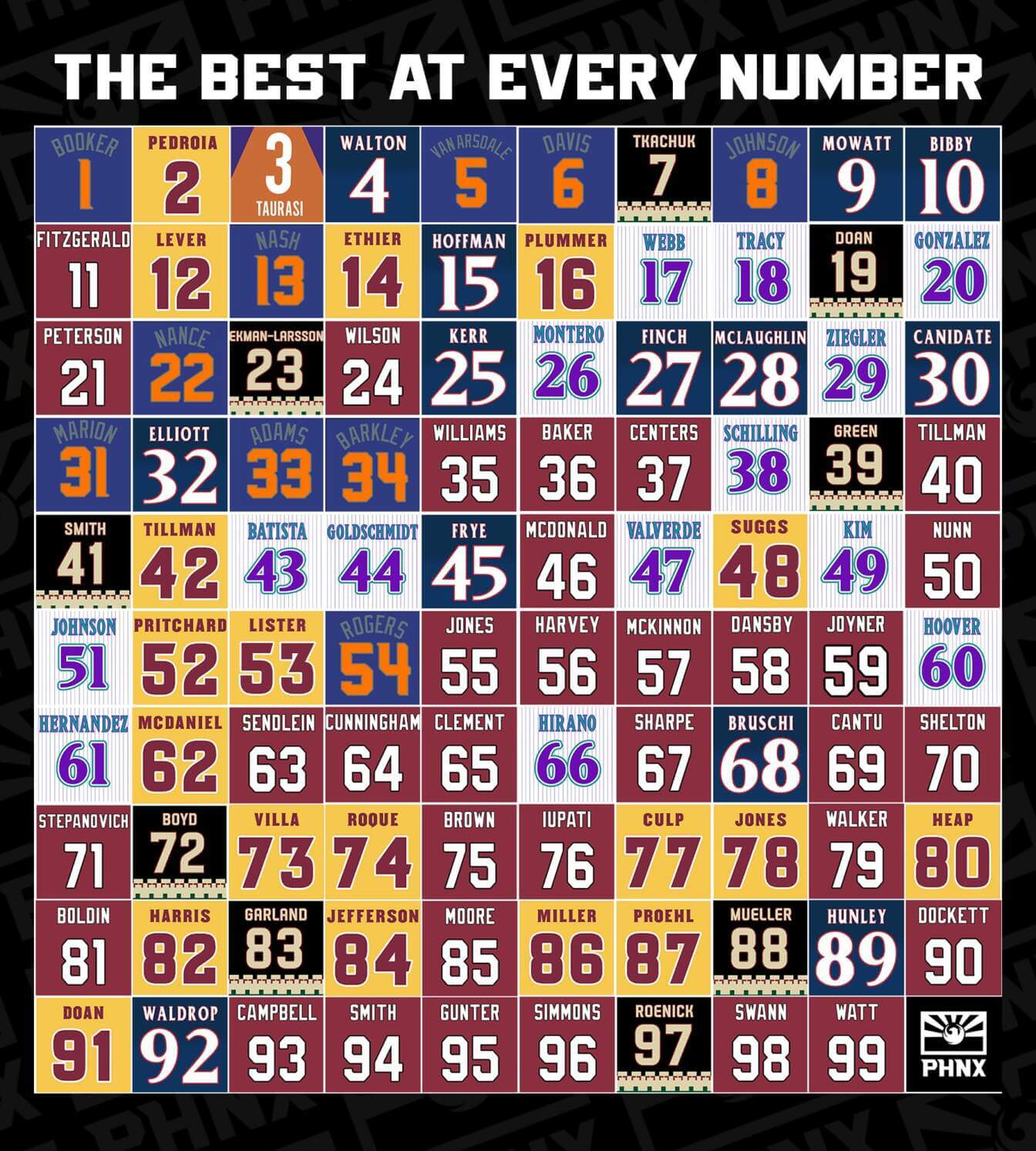 I'll let other people critique this one. Keep 'em coming!