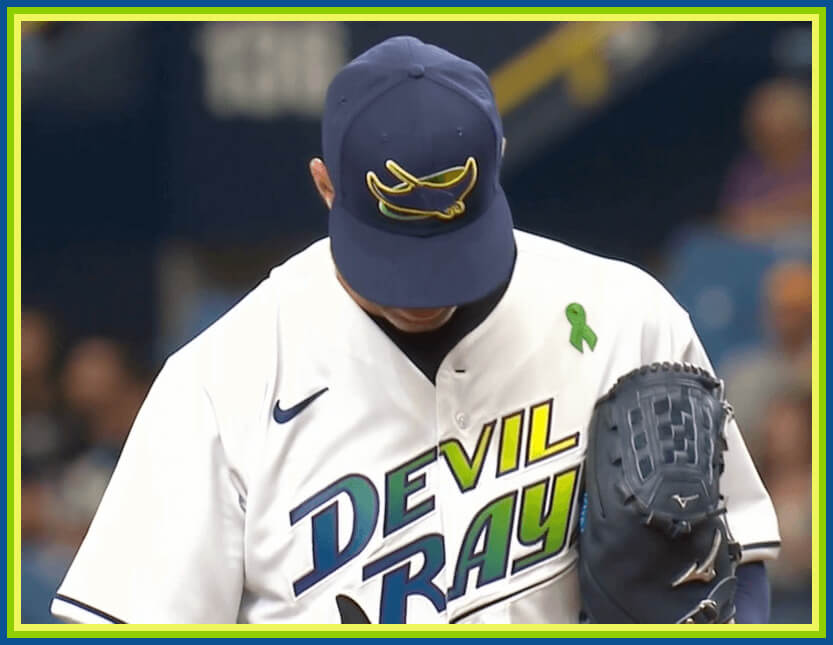 By Phil Hecken
Follow @PhilHecken

Good Sunday morning folks. Hope everyone had a good Saturday and you're enjoying — at least if you live in the States — a long weekend. Tomorrow is Memorial Day, which was originally known as "Decoration Day." While several locations have claimed origins, nationally the day became a day for decorating the graves of Civil War soldiers. Following the World Wars, the day of remembrance has morphed into Memorial Day, as a way of honoring all fallen soldiers. If any of you have loved ones who made the ultimate sacrifice (and who we honor tomorrow), my condolences, and you have my deepest respect. Please keep that spirit in mind on Monday.
Anyhoo.
Yesterday afternoon the New York Yankees played the Tampa Bay Devil Rays in a game in which Tampa wore their throwback uniforms.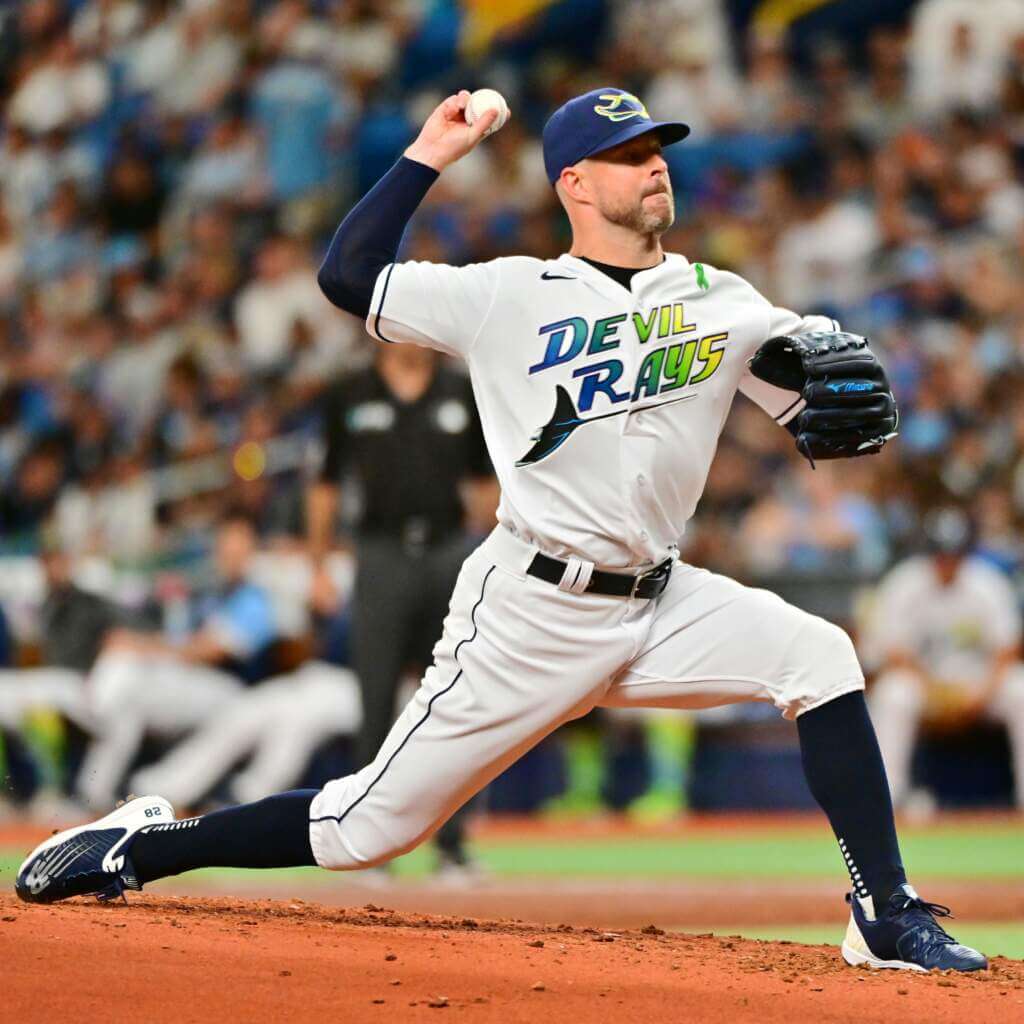 Unfortunately, the weather was spotty, so I found myself inside during the afternoon when the game between New York and Tampa was on. I hadn't realized beforehand the Rays would be throwing back, but I heard it on the radio in my car just as the game was about to start and I was headed home. At first, I thought to myself, "oh great, those awful unis against the mono gray Yanks inside the gloomiest ballpark in America. Think I'll pass." I hated them when they debuted in 1998; and even though they've been throwing back to these uniforms since 2018 (and they also wore them in 2009), I never really warmed to them.
But once I got home, I turned on the game and thought…maybe I'll give the unis one more chance to impress me. Believe it or not — they did!
I don't watch much AL baseball until the playoffs, and I rarely, if ever, watch the Yankees (it was only because I knew Tampa was wearing throwbacks that I put yesterday's game on at all).
I'm not going to tell you I love the throwbacks, but they've really grown on me after seeing them in action for almost the full game, a snoozefest great pitcher's duel with some terrible umpiring.
I think part of my dislike for the original uniforms was due to the terrible lighting and fake grass at the Trop, which often made the atmosphere dreary — so I transposed that dislike onto the uniforms. But the turf (still fake, but it looks like actual grass) is much more realistic and the lighting is much better now, and I have to say, it seems like a nice enough place to watch a game. Certainly on TV the game looks fine.
I was pleasantly surprised at how much the colors popped off the jersey…where I once hated the blue/green/yellow gradient, I found the blast of color refreshing.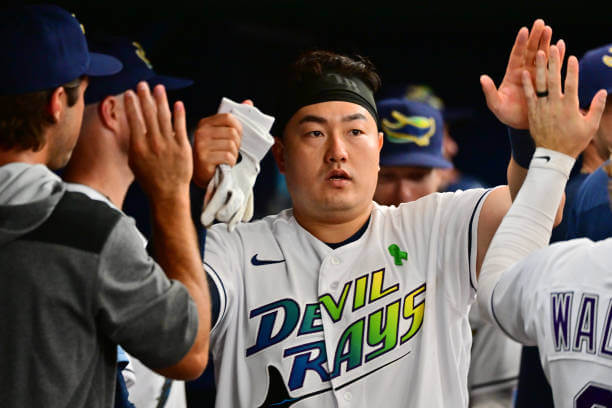 Somewhere in the depths of my brain, I must have pictured the original jersey as this garish multicolor color splotch, when in reality the rainbow effect is solely concentrated in the wordmark. They didn't overdo it with rainbow soutache or piping (when they probably easily could have), and the solid color cap nicely mutes the gradient, stacked "DEVIL RAYS" on the jersey. With the exception of that, the entire uni — with solid blue sleeve piping and the same piping down the pants legs — looks like a major league uniform.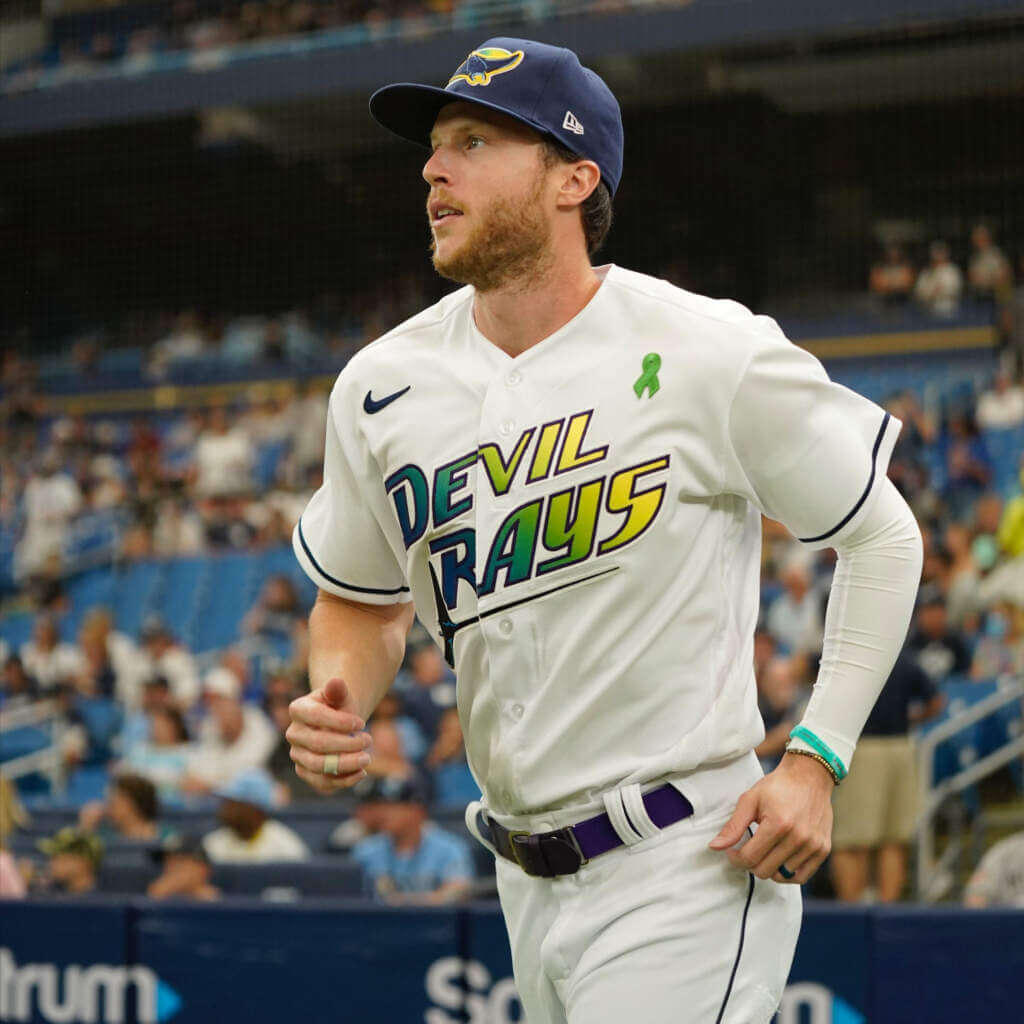 Low cut pants were de rigueur back when these unis debuted, and remained so for the three seasons the team wore them. And while guys today still wear them pajama style…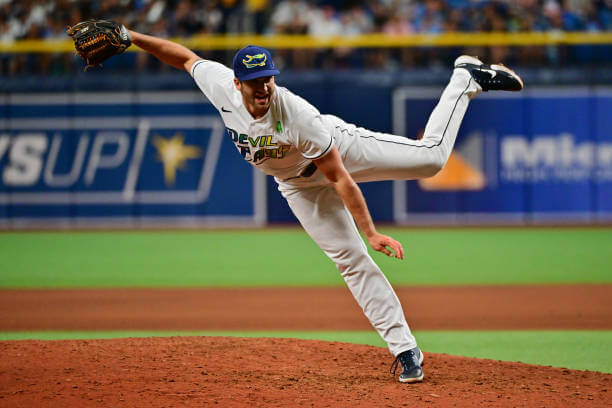 …the unis actually look pretty good when worn with solid blue socks…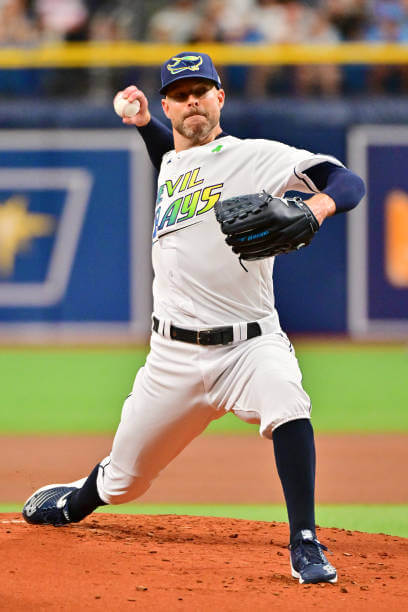 … and not awful with rainbow hose (though those pants need to be properly cuffed and higher up on the calf):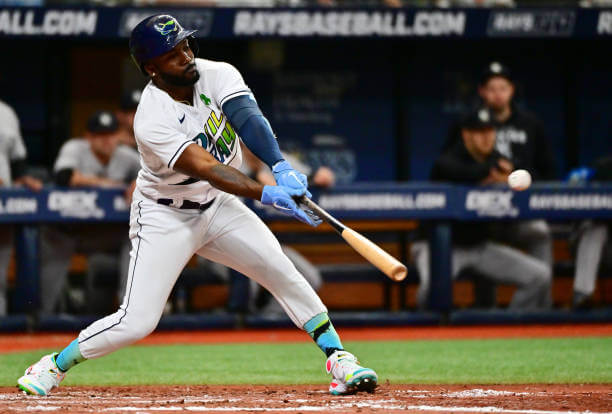 For a jersey that was admittedly as bold and daring as the Houston Astros' tequila sunrise jersey or the Chicago White Sox winning ugly uniforms, the Rays gradients seem to meet with much more derision and much less approbation than either the 'stros or Sox. Perhaps in a few years these will become as beloved among die hard fans as Houston's and Chicago's seem to be today. The look is certainly a LOT better than some of the City Connect uniforms.
In researching a bit for this, I came across this really good article which provides a bit of a backstory on how the team originally came to wear these uniforms — while the author thinks they're the "greatest uniform in sports history," the uniform origins do shed some light on their unique look.
I'm not advocating the team return to this look, but I will now enjoy it in small doses. It was certainly a uniform "of its time," but now the years seem much kinder to it than they once did. Or maybe I'm just getting softer in my advanced age. Either way, this is one more uniform I can slide over from the "stupid" column to the "good" one.


And now for something Across the Pond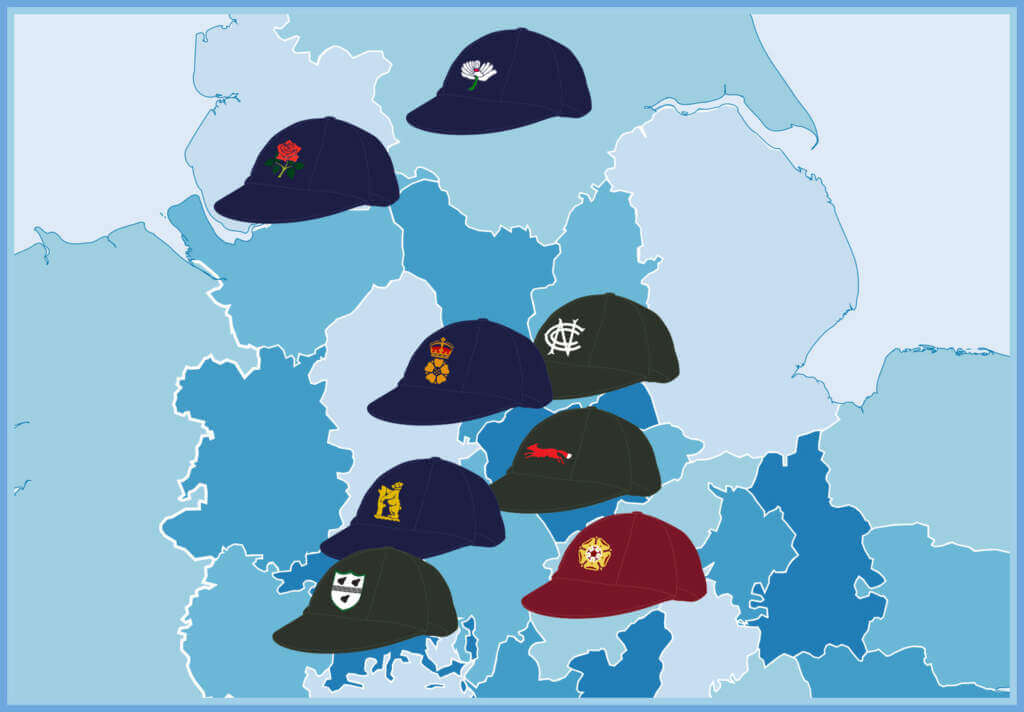 A couple days ago, I got an e-mail from Chris Diamond, who you may remember for his tremendous work last summer on helmet maps, and more recently, for his four-part think piece series on what might have happened if the NFL and USFL had merged in 1987 (all four parts are linked there).
In his latest e-mail, Chris wrote, "I do a lot of graphics work on Wikipedia — mostly maps, but also some Uni-related stuff, in this case Cricket! So I've put some of those together to create three graphics for the First Class Cricket Counties. First is the caps, second is the caps with jumpers and finally is a cap map (like my other helmet maps)."
We obviously don't cover a lot of non-North American sports on Uni Watch, and I realize Cricket is probably "foreign" to most UW readers. Chris even admits as much: "Now I know anything that isn't about one of the 'Big Four' North American sports tends to not get the love it deserves, but I know Jimmer Vilk at least likes cricket and it is kind of similar to baseball in the conservative style and long history so maybe others may take to it?"
I told Chris I'd be thrilled to include his graphics and writeup, so I'll now turn the rest of this portion over to him.
• • •
First Class Cricket Counties
by Chris Diamond
Cricket isn't covered a whole lot on Uni Watch and when it is, it tends to be one of different World Cups. I felt the First Class British domestic game could do with some love and of course that means cricket whites! Note, all the images below come from the work I do on Wikipedia. Like Baseball, Cricket Unis are primarily white (or cream in fact). But unlike Baseball, the shirt (jersey) and trousers (pants) are normally plain with only a tiny amount of trim, if any. The main source of colour is the cap and jumper. Yes people do still play in jumpers (although some teams have stopped making these out of wool). Each team has a jumper design that rarely changes, although minor tweaks to colour and stripe width do occur. The last was Gloucestershire who this year changed from their slightly quirky design (which was itself an update of an older design) to the one below.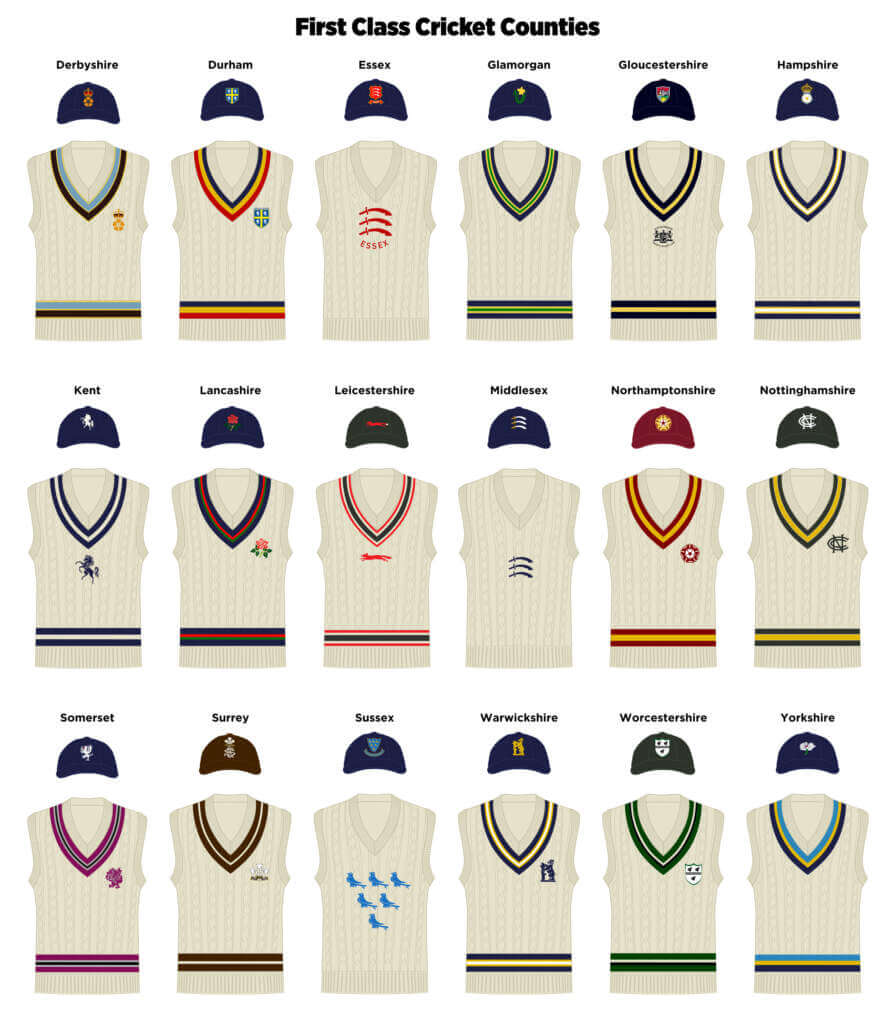 As well as jumpers, each team has a traditional (baggy) wool cap. Unlike Baseball though, wearing them in the field isn't compulsory and some teams also have baseball style models too. There is no league-wide merchandising deal and each team sells their own replicas. Most don't sell the wool caps or jumpers though, so quite often the only way to get one is if one goes to auction.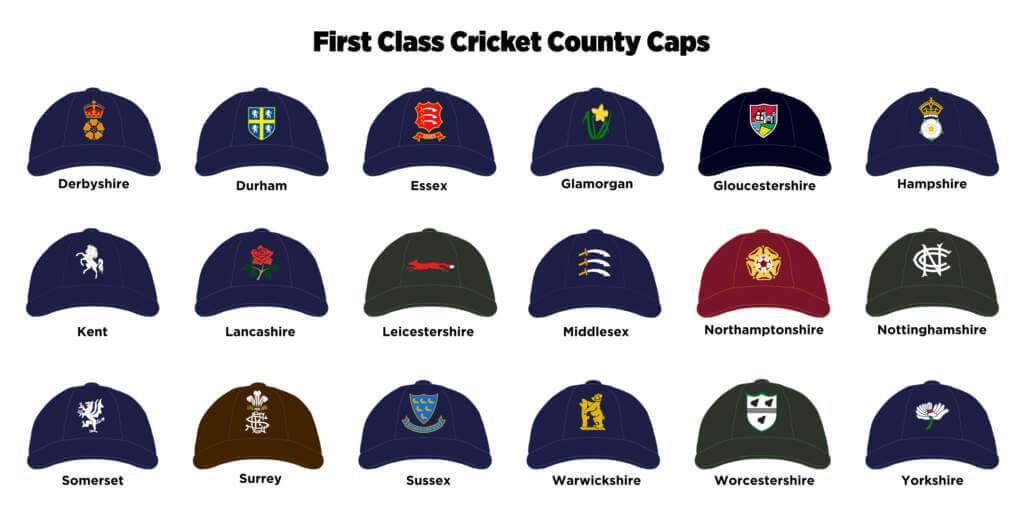 The British domestic league is based on Counties rather than cities, but the counties as they were in the mid 19C. So you get oddities like Gloucestershire actually playing in Bristol, because in the intervening years Bristol grew to encompass their Cricket Ground! Anyway, geographic oddities aside, each of the 18 teams has a primary base within the county where they play most games. But they also play the odd one or two at other towns within the county. And what about the other counties you ask? Well they form a sort of Minor League, but not in the baseball sense — none are affiliated with the First Class Teams or used to farm players. Minor Counties very rarely get First Class Status — the last was Durham in 1992. They do all have their own jumpers and caps too of course!
• • •
Thanks, Chris! Great graphics and another wonderful map. Appreciate your sharing!


Still More Caps of the Friendly Skies…
A couple weeks ago, reader Samuel Barrett shared with us a 1969 ad for United Airlines, showing 20 of 24 MLB teams' ball caps. That was followed up in short order by a similar ad featuring football helmets.
Samuel followed up with two additional ads he found.
I just found another United Airlines poster with MLB caps on it, this one being from 1970, as evident from the Indians cap being navy, Phillies cap having a different P on it, and what I can only assume is a Brewers cap from when that was a minor league team. Perhaps they weren't able to get an actual MLB Brewers cap for this advertisement. I also noticed the red button on the United Airlines cap, which I don't believe the cap in the 1969 ad had.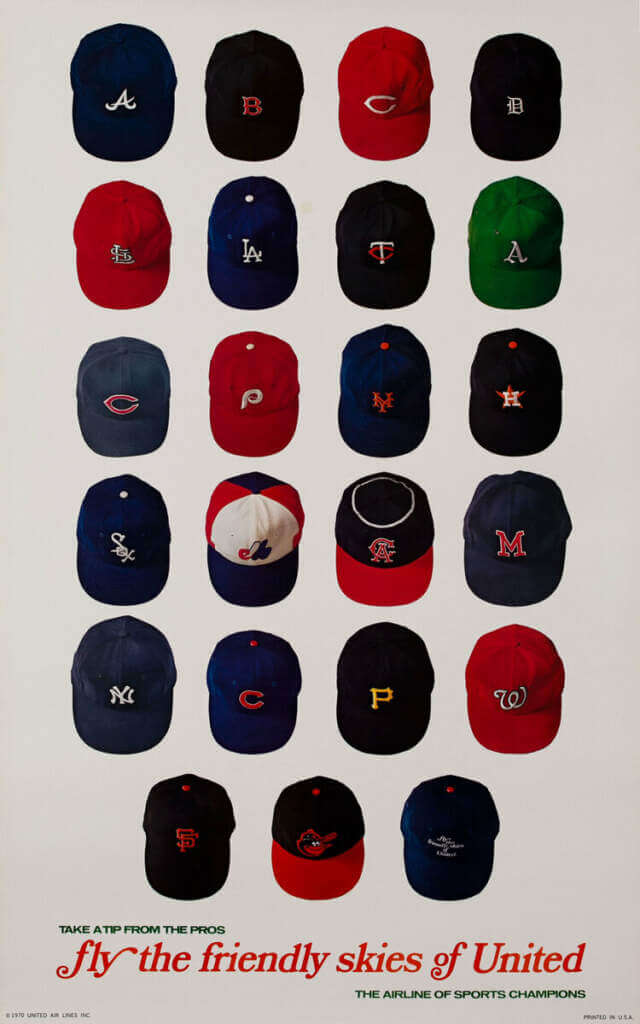 I should've waited a minute before I sent the last one, because I found yet another one! This one I'm not sure about the year, but I think mid-late 60s is probably the range that this advertisement appeared in, judging by the caps.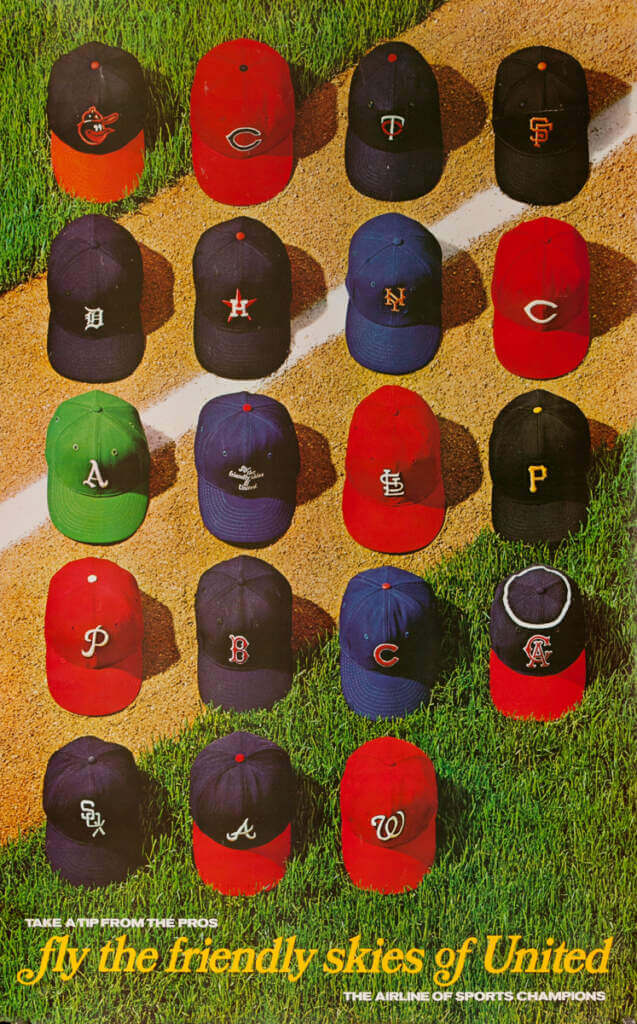 Pretty cool. I vaguely remember these advertisements from when I was a kid (I think they may have continued the campaign into the early 1970s). If anyone can find any other baseball (or football) ads, send them my way!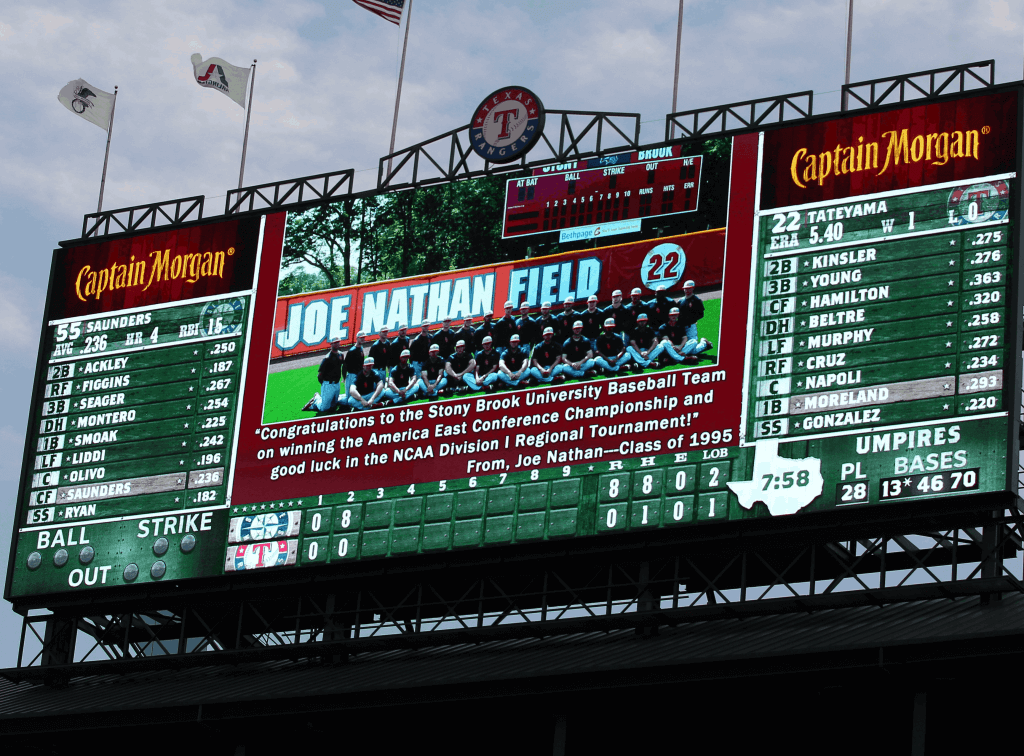 Guess The Game…
from the scoreboard
Today's scoreboard comes from Alfred Nugent.
The premise of the game (GTGFTS) is simple: I'll post a scoreboard and you guys simply identify the game depicted. In the past, I don't know if I've ever completely stumped you (some are easier than others).
Here's the Scoreboard. In the comments below, try to identify the game (date & location, as well as final score). If anything noteworthy occurred during the game, please add that in (and if you were AT the game, well bonus points for you!):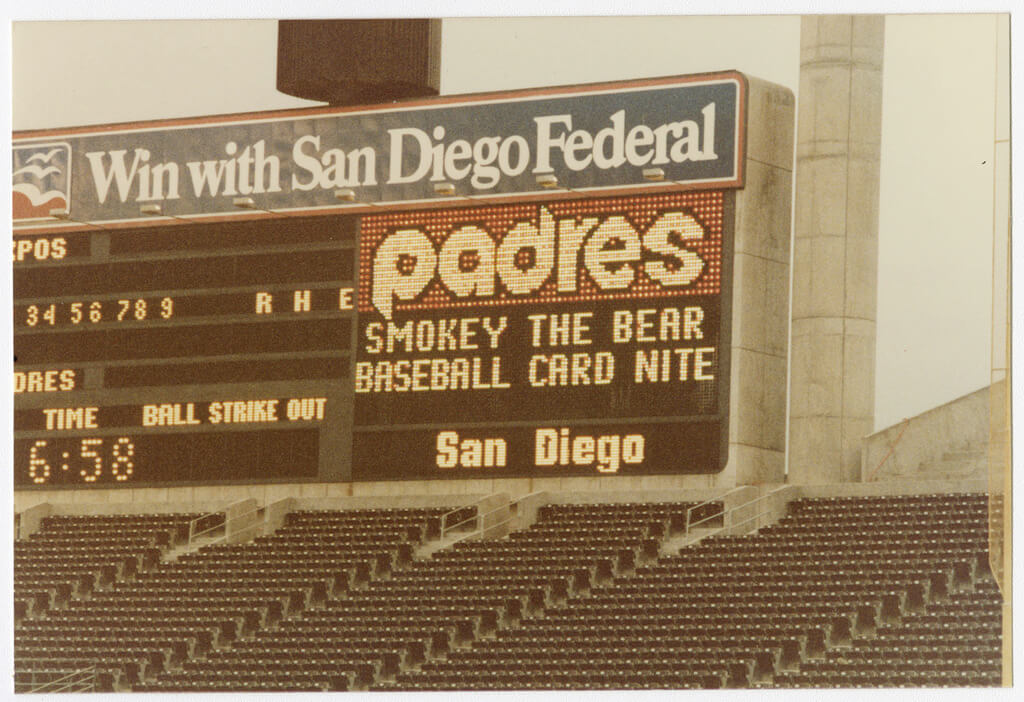 Please continue sending these in! You're welcome to send me any scoreboard photos (with answers please), and I'll keep running them.


Uni Watch News Ticker
By Phil

Baseball News: On this Memorial Day weekend, the Lexington County Blowfish honored the memory of those lost in the August, 2021 terrorist attack in Kabul, by wearing special jerseys. … I still haven't seen any confirmation of the reported LA Angels City Connect uniform leak other than this tweet I posted yesterday, but that hasn't stopped fans (and non-fans alike) from ripping on the unis. … The Corpus Christi Hooks took batting practice yesterday on the flight deck of the USS Lexington Museum on the Bay as part of Blue Ghosts Weekend. Here are a bunch of photos from the event (from Michael Coffin). … Reader Max Weintraub asks, "Did a bat design cause a strike three call?" He continues, "In the bottom of the first inning of the Nationals game against the Rockies tonight, Juan Soto thought he checked his swing on a two-strike slider, but the third base coach said he went around. Nats TV color commentator Kevin Frandsen suggested the third base ump may have made the call because he could see the cup of Soto's bat, which is a different color than the barrel." … If you're curious, here's the uniform breakdown for the Red Sox this year (from Freedman). … The NC Dinos are a South Korean professional baseball team based in Changwon. Yesterday, they wore special 'Doguri' character uniforms for their game (from Dan Kurtz). … Gotta love college baseball: Kennesaw State in white as the designated visitor in yesterday's ASUN championship final (from Chris Mycoskie).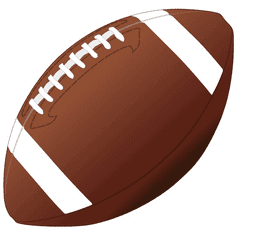 Football News: I'm pretty sure we had this before in the ticker, but just in case: Illinois football will be getting new uniforms for the 2023 season. … Reader Andrew J. visited Fleet Week exhibitions on the west side of New York on Friday, and noticed that some sailors and Marines making their way on shore were wearing New York Jets replica jerseys. "I could only get photos of the sailors, but the Marines wore the home green jerseys and the sailors wore the black alternate jerseys." … Brooks County High School in Georgia has received their rings for winning the state championship in December (from Kary Klismet). … The University of Colorado is conducting an online poll to choose a new personal nickname for Ralphie IV, their latest live buffalo mascot (also from Kary Klismet). … In the CFL, the Calgary Stampeders were wearing a new uni combo in yesterday's preseason game (red pants with regular helmet). Submitter Wade Heidt also includes additional photos here.

Hoops News: Here's a look at the CEBL (Canadian Elite Basketball League) championship rings presented to the Edmonton Stingers the other night (from Wade Heidt).


Soccer News: FC Isloch Minsk Raion is a Belarusian football club based in Minsk, although it officially represents Minsk Raion and is named after the Islach River. Yesterday, they debuted new shirts (from Ed Żelaski). … Real Salt Lake wore a remembrance patch on their jerseys last night to honor the 21 victims in the Robb Elementary School shooting earlier this week. … Yesterday, Real Madrid's Vinicius Jr. was wearing NEXT seasons jersey with this seasons "FINAL PARIS 2022" embroidery (from Johnny Jatt. … Check out the 2022 Women's European Federation kits (thanks, Brinke).

Grab Bag: Reader Michael Barrett writes, "I know you have had a lot of content this week about multiple Australian efforts to recognize aboriginal origins, but I haven't seen anything about the AFL Melbourne Demons changing their names for this week to Narrm. (This would be roughly equivalent to the Boston Bruins becoming the Shawmut Bruins for a week.)" … The Indianapolis 500 is today, and a lot of the drivers are going all out on the helmet art. … Calaveras High School in California has unveiled a new costumed mascot after recently changing their team name to the Red Hawks (from Kary Klismet). … Moses Lake High School in Washington has chosen Mavericks as a new team name (Kary Klismet again). … Also from Kary: Pentucket Regional School District in Massachusetts has announced its middle and high school sports teams will now be called "Panthers." … One more from Kary: New helmet for Mercedes driver Lewis Hamilton ahead of Formula One's Monaco Grand Prix. … Brinke says "Check this article from 2015; I –loved — these Nike Air Trainer 1s. (The gray McEnroe one.)


Uni Tweet of the Day
Please let these be the throwbacks for the Falcons alternate helmet…
Not a baseball tweet, but man those early 1980s @AtlantaFalcons uniforms were awesome! pic.twitter.com/pEp0BaJPYc

— Vintage Jerseys & Hats (@PolyesterUnis) May 27, 2022


Space Force Updates Uni Guidelines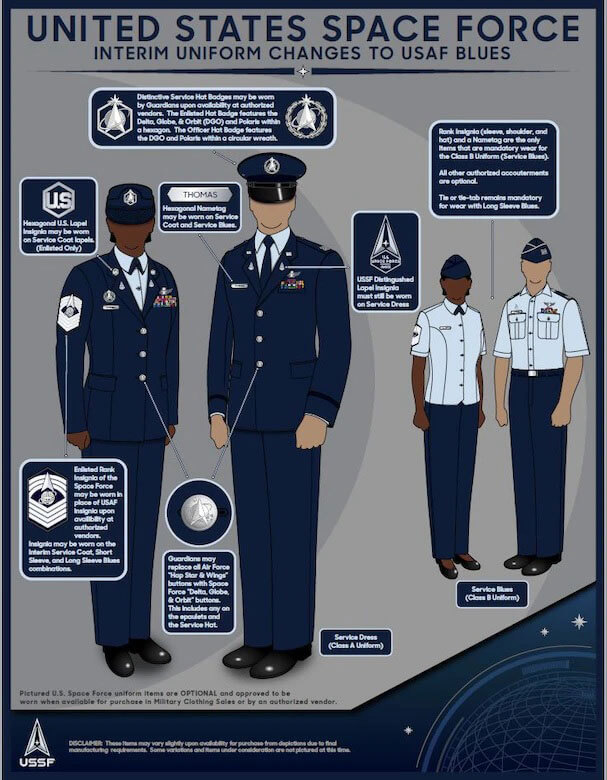 In non-sports uni news, the United States Space Force, now the sixth branch of the military, announced updates to grooming and uniform policy.


And finally… that's all for today. Everyone have a good Sunday, a safe Memorial Day tomorrow, and a great week. See you next Saturday.
Peace,
PH