[Editor's Note: Paul is on his annual August break from the site. Deputy editor Phil Hecken is in charge from now through the end of the month, although Paul may be popping up here occasionally.]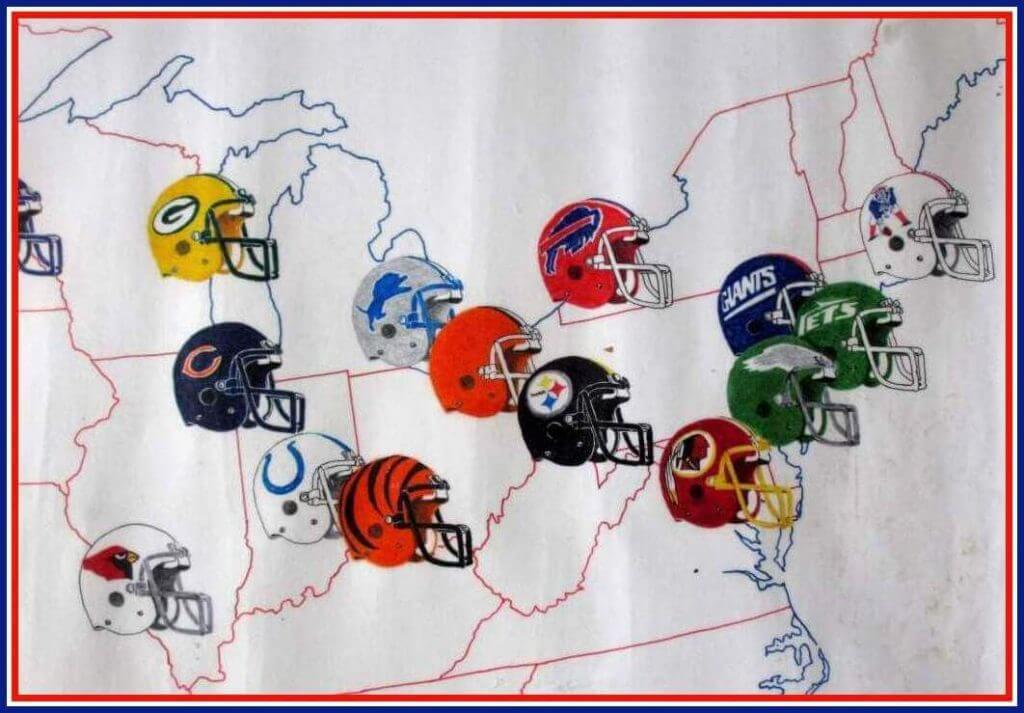 By Phil Hecken
Follow @PhilHecken

Good morning Uni Watchers, and a good Wednesday to you all!
I have a very special post for you today, and it's really a story of uni watching, childhood "artwork," DIY projects and more — all rolled into one! Longtime reader Chris Diamond contacted me and wrote, "I've been fascinated by uniforms and helmets in particular since I was a child. I am also fascinated by maps so I decided to combine the two! I did my first NFL helmet map in 1985. This was all hand drawn using Rotring pens, pencil crayons and felt tips on cartridge paper – size is about A2. I also did ones for the USFL and MLB and NHL. This was tricky for me at the time as being in the UK, before the internet access to pictures or graphics to work from was hard work." There was more to it than that, and Chris also sent me a few examples of his work. I was immediately smitten and asked if he could create an article to share with the readership. It's somewhat long (but thorough!) so I'll stop right here and let Chris take it away. Enjoy!
• • • • •
Helmet Maps
by Chris Diamond
Monday September 3rd 1984, not a day most remember. Except for us it was the day that our family was finally able to receive Channel 4 TV. Most of the rest of the UK got it in 1982, but living in a remote coastal town surrounded by hills, it took another two years for us to get it. What has this got to do with unis you wonder? Well, Channel 4 showed (American) Football every Sunday at 6pm — the first regular coverage on British free-to-air TV. I had heard about it at school from those kids who lived the other side of the hills and was dying to see it. But not for the reasons they watched — the hard hitting, the razmatazz. No, I wanted to watch to check out the uniforms! I'd always been interested in sports kits (British for uniforms) because of my love of colour and graphics (and sets of things). So the football uniforms held promise of a potential new set I'd not seen before!
So the following Sunday night I tuned in to watch. The show was an hour long (and was a week behind – like the old NFL Game of the Week + highlights from the 60s you can see on YT). I *think* it was the Patriots and the Dolphins – I remember being confused by the logo guy on the Patriots helmet wearing blue but the team wearing red! I loved the uniforms – the simplicity of the designs and fact that most teams used the same block style of numbers. But what caught my eye the most were the helmets!
Apart from the helmets themselves, the thing from the show that jumped out was a part of the studio set. Behind the presenters was a HUGE map display of the USA, with a full-size helmet of each team on a pole above each city. I guess the idea was to give us Brits an idea of where each team was because (apart from me) most Brits couldn't then (and still can't) tell you even where New York is!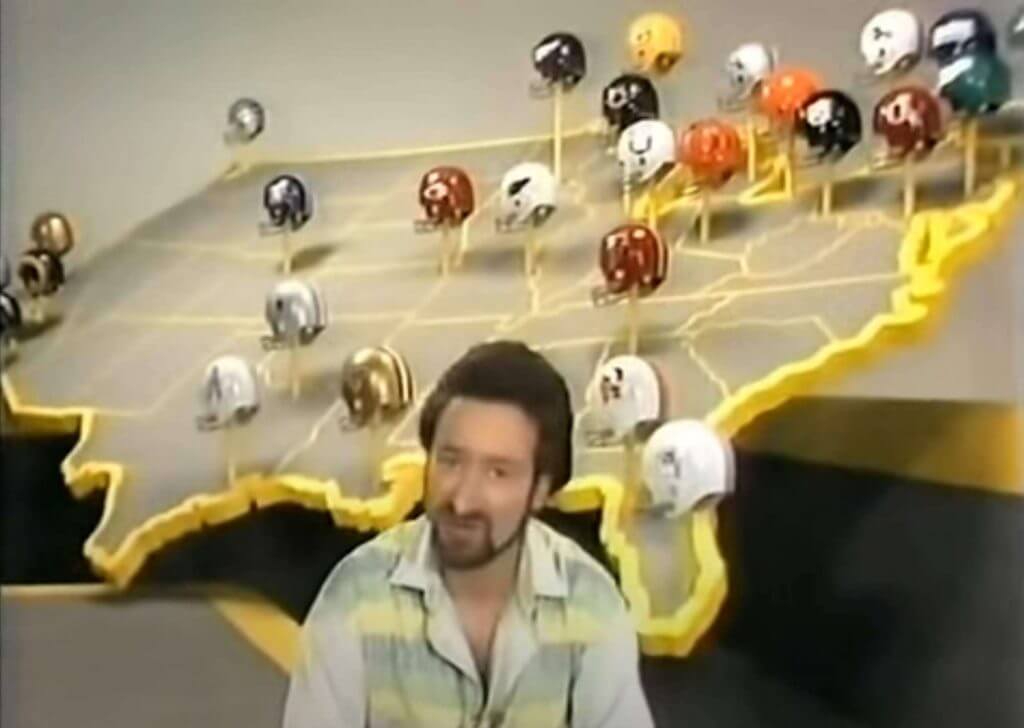 I knew where New York was because as well as graphics, I'd been fascinated by maps ever since I got a Philips Atlas as a birthday present. So here were two cool graphical things combined in one! I just had to have my own version somehow. Obviously what was in the show was impossible — even if we'd been rich enough to buy and get all those helmets shipped to the UK, where would it go? So I would have to use my own artistic skills to draw something instead. My first effort sadly hasn't survived. But fast forward to 1985, now armed with the Official NFL Record and Fact Book 1985 (amazingly found in the local WHSmiths) plus two A1 sheets of cartridge paper, a pad of tracing paper, my Rotring pens, felt tips and pencil crayons and my atlas I made my first proper 3D helmet map. I even covered it in clear Fablon to protect it! To give a sense of scale, each helmet is about 2″ wide and whole map is 33″x20″.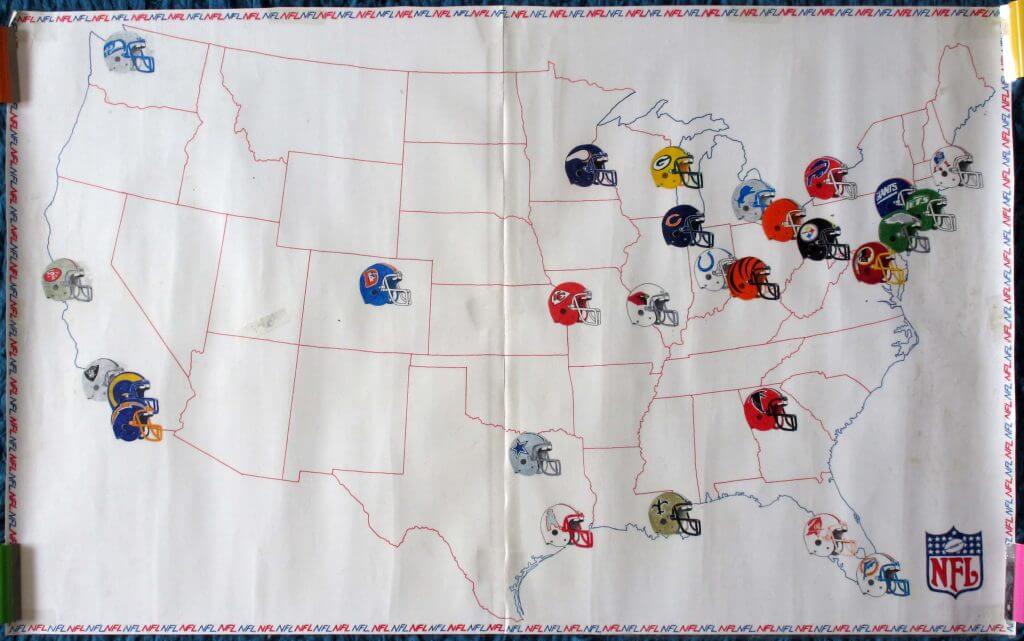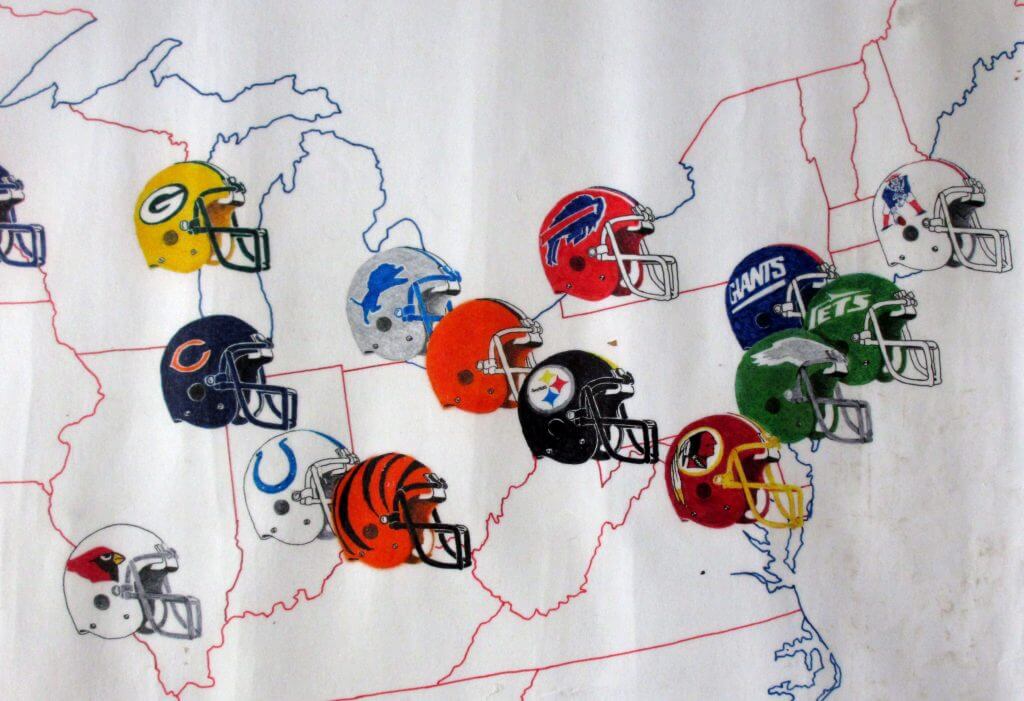 Then in Summer 85 I happened to see a copy of Gridiron UK Magazine in WHSmiths. On the cover was a player called Doug Flutie, wearing a uniform I had never seen. "What the heck is this?", I thought. "Who are the New Jersey Generals and what is the USFL?" Well following a bit of research including sending off for USFL Championship Game Programmes from the publisher in the US, I eventually managed to make a USFL 85 helmet map. Unlike the NFL though I didn't have the 3D helmet graphics so had to improvise the best I could.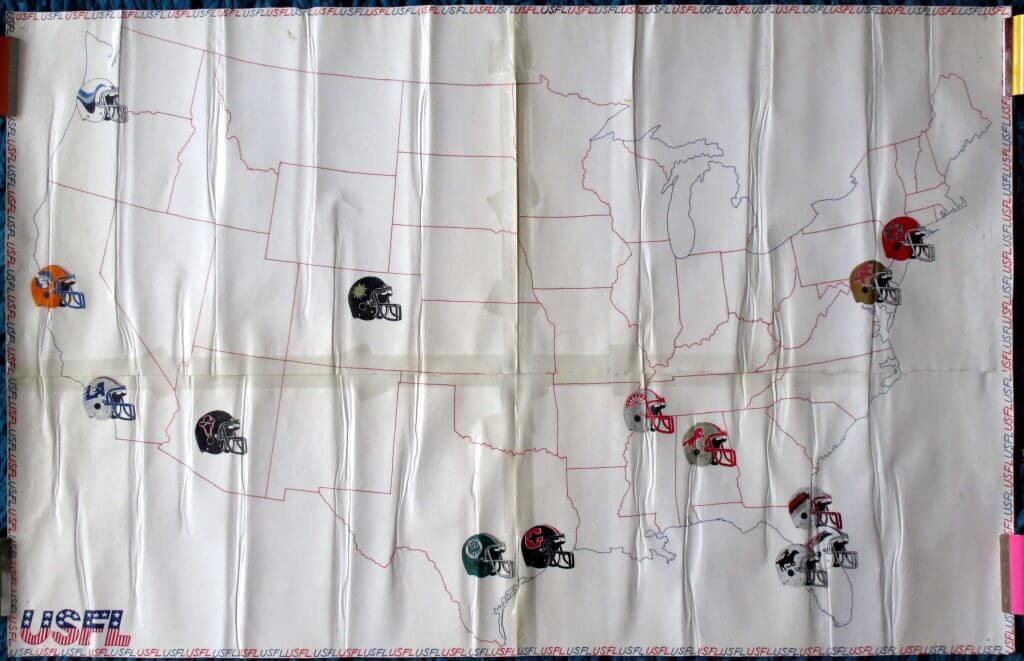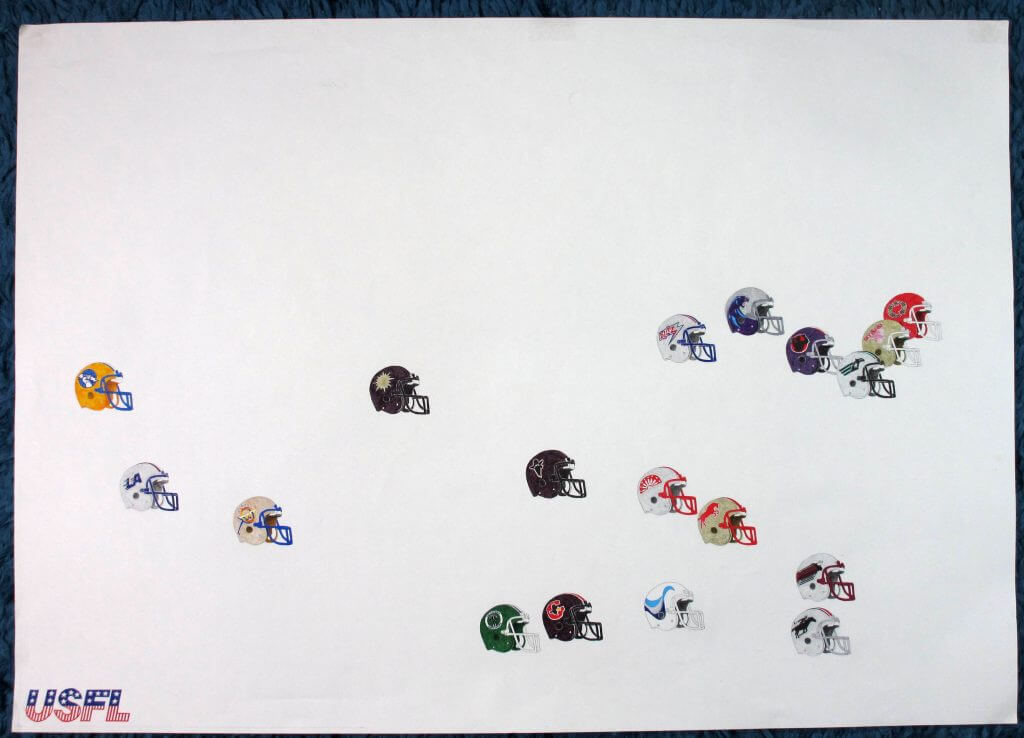 As can be seen by the unfinished USFL 84 map, by this time I had started to drift away from sports and the next year I went off to University. I then entered a ten year uni-free void…
Then in the mid-90s after I had finally left uni with my PhD (not in uniformology sadly), when I moved into my first apartment I was going through some boxes my parents had sent me and found my old maps! By now the world wide web was a thing and so it wasn't quite so impossible to get information about US Sports here in the UK. It got me interested again and so I decided to do a new map. Perplexingly to me, some teams seemed to have moved and there were two new ones! This sort of thing is almost unheard of in soccer here – wherever a team would move to, there is already a team with fans there! It made the new map more interesting though. I also discovered there was a CFL and they had just expanded to the US.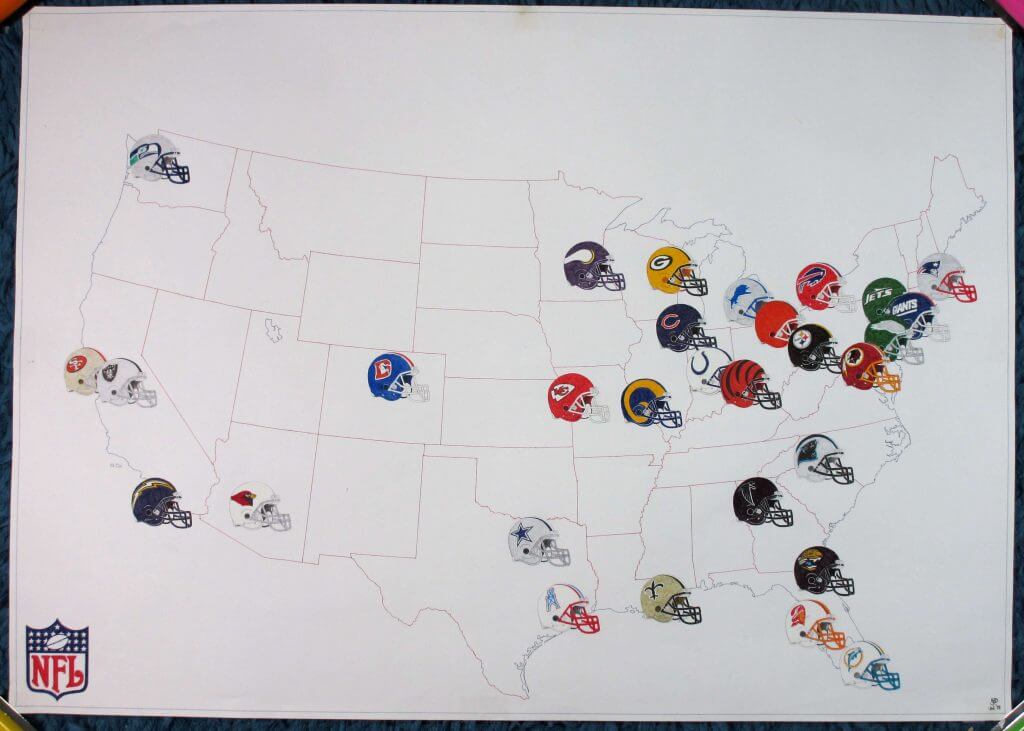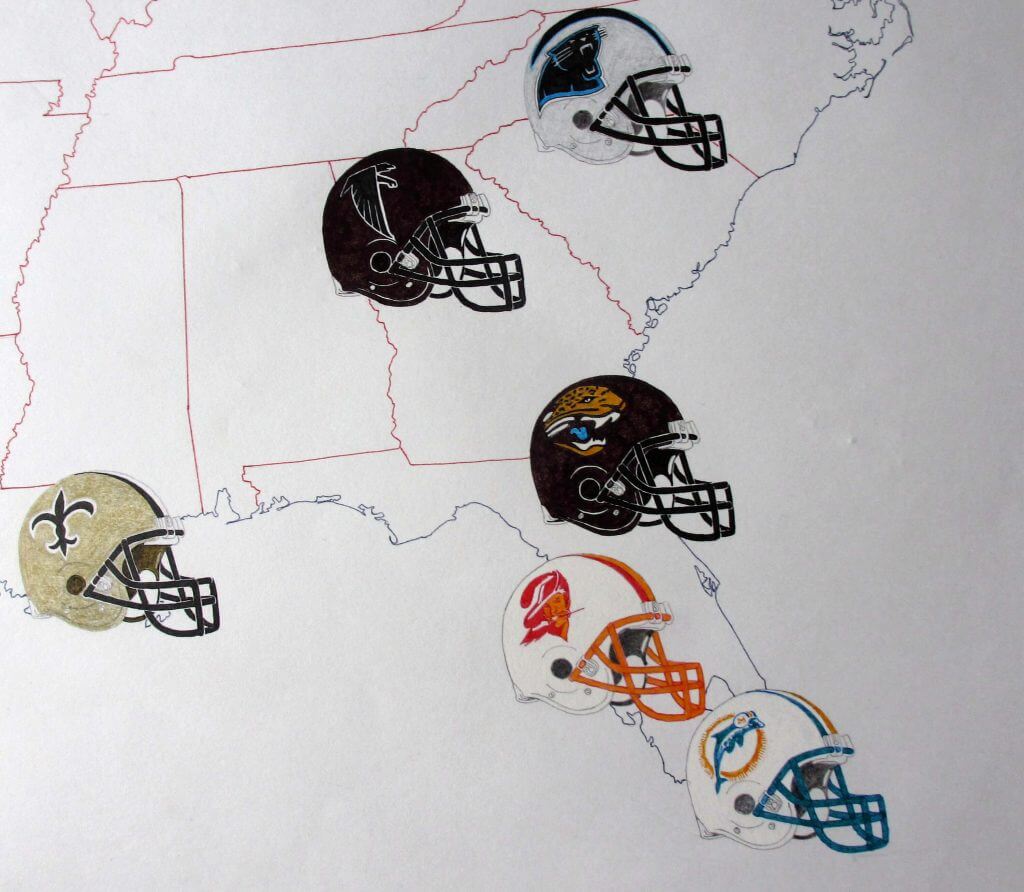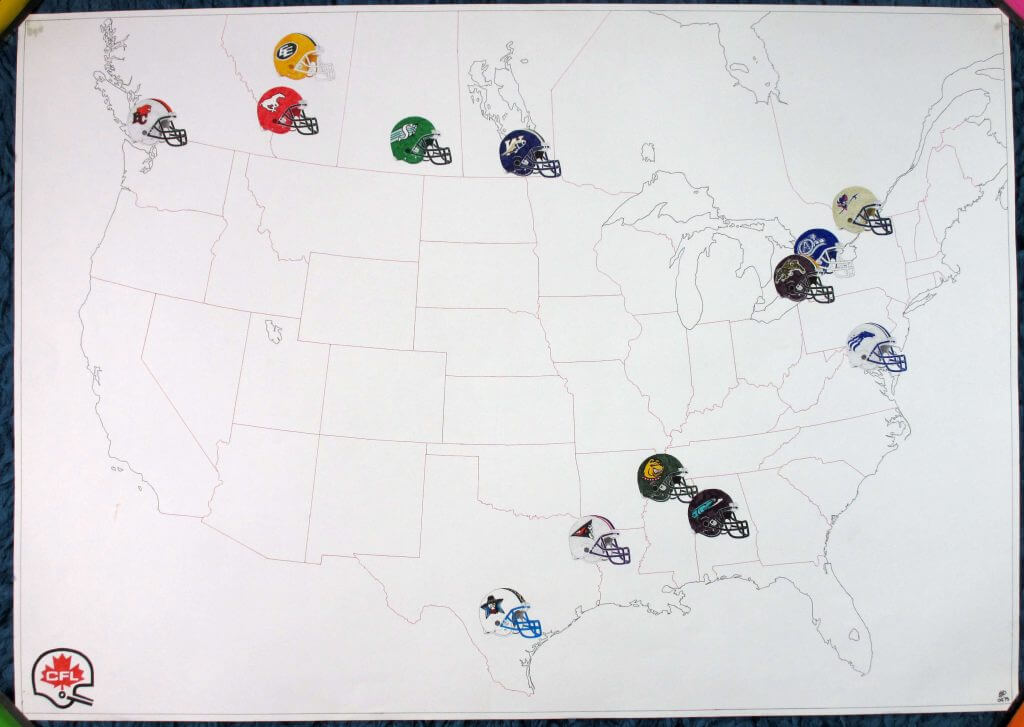 As well as football, on the web I discovered baseball, although at first I showed caps rather than helmets.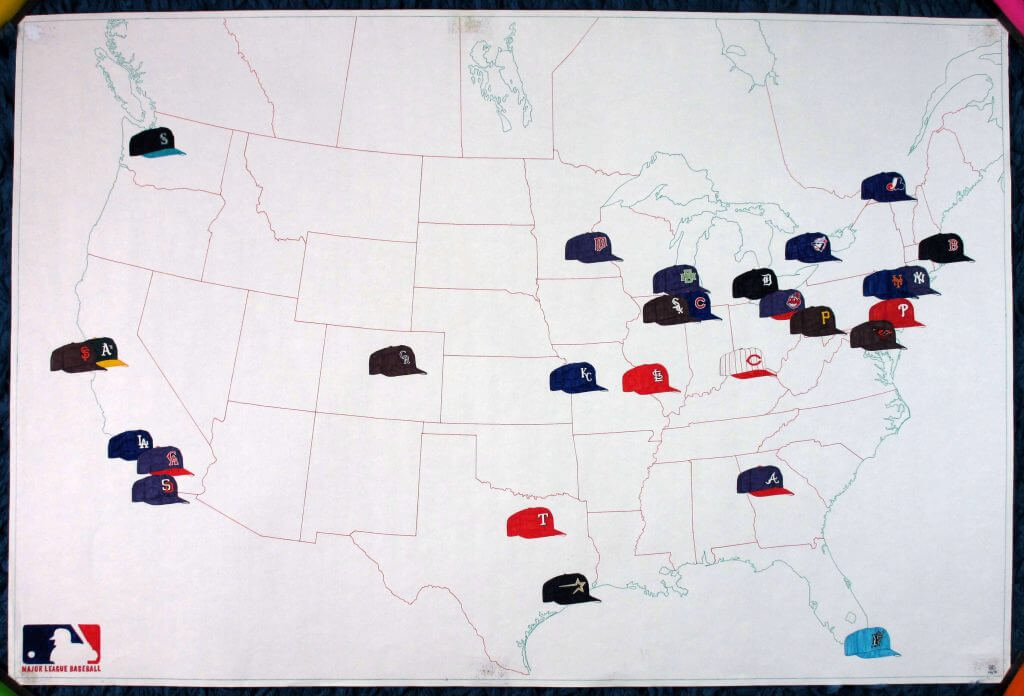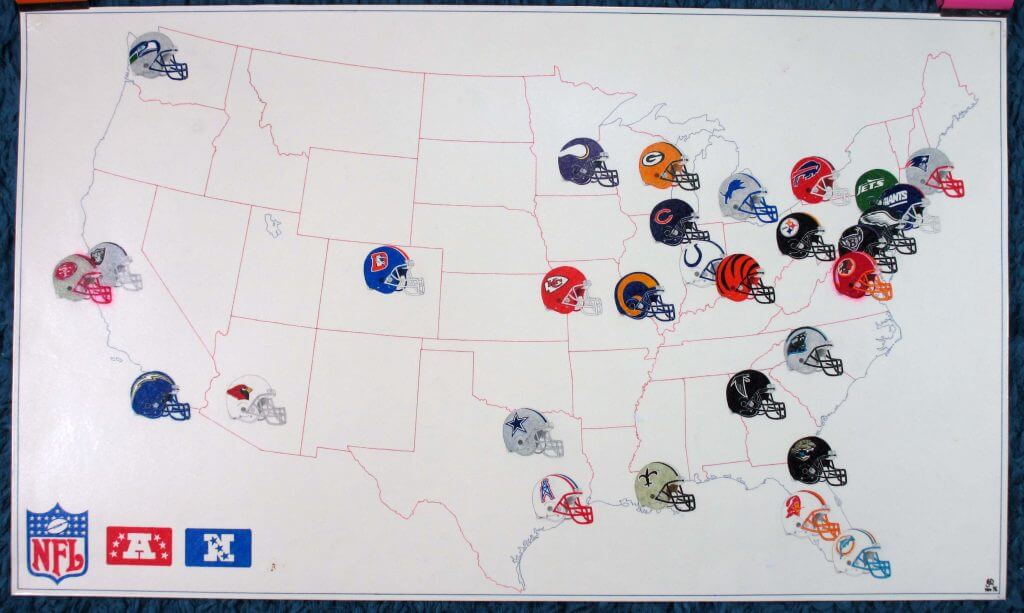 Finally I got on to the NHL as well, but by this time affordable computer graphics software had got to the point where it was possible for me to actually create decent digital versions of my maps, so I never finished the paper NHL one.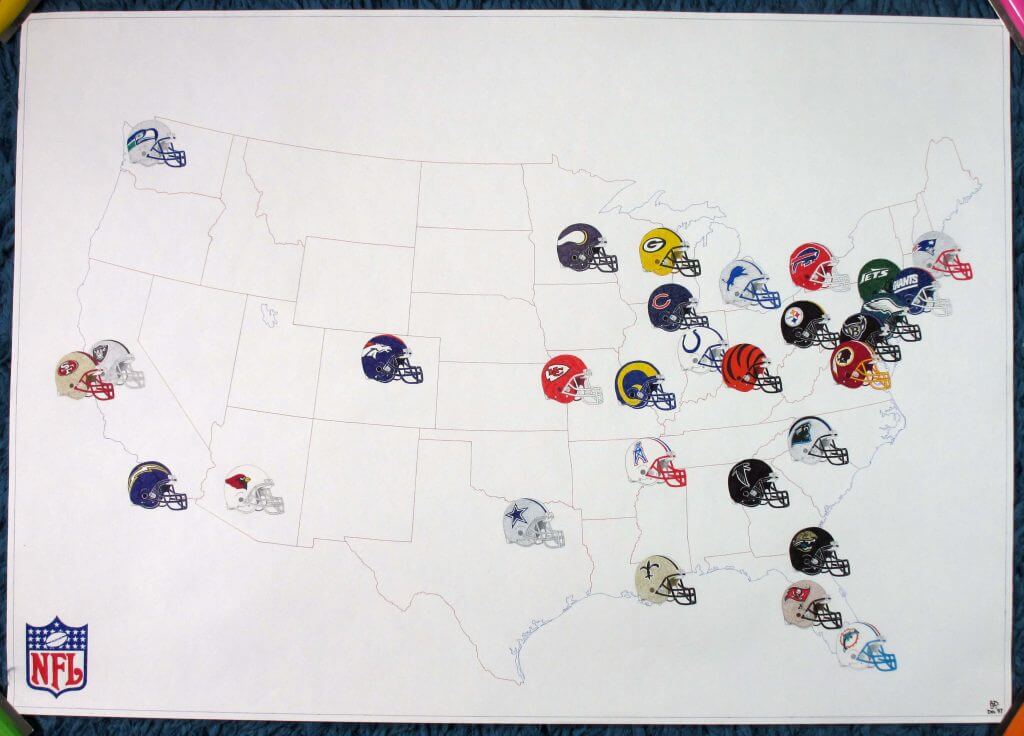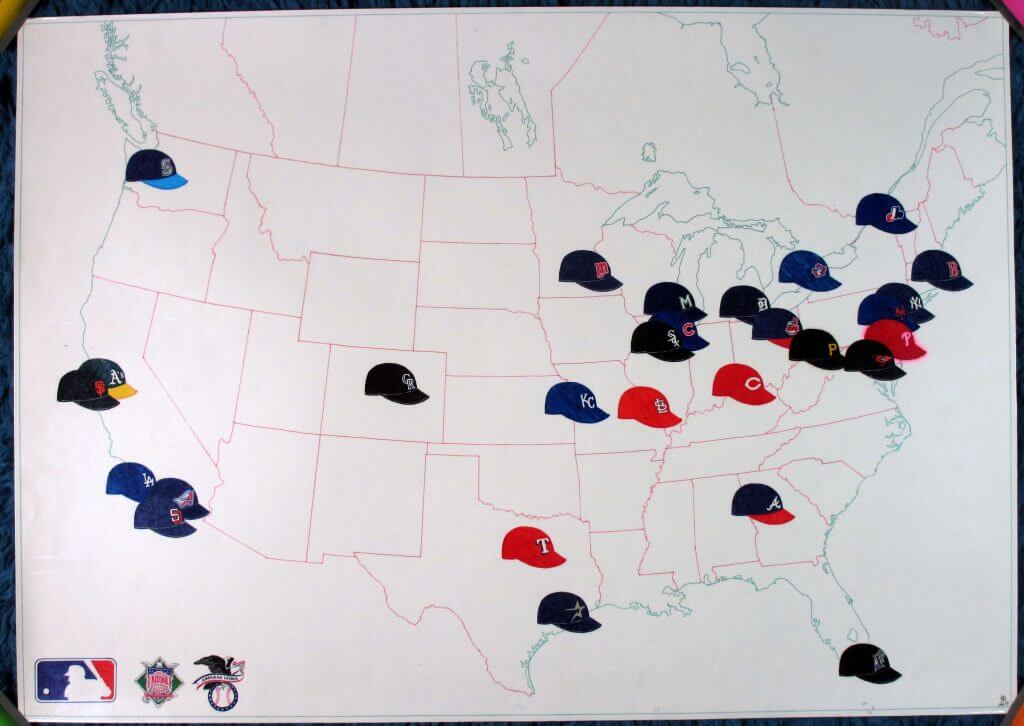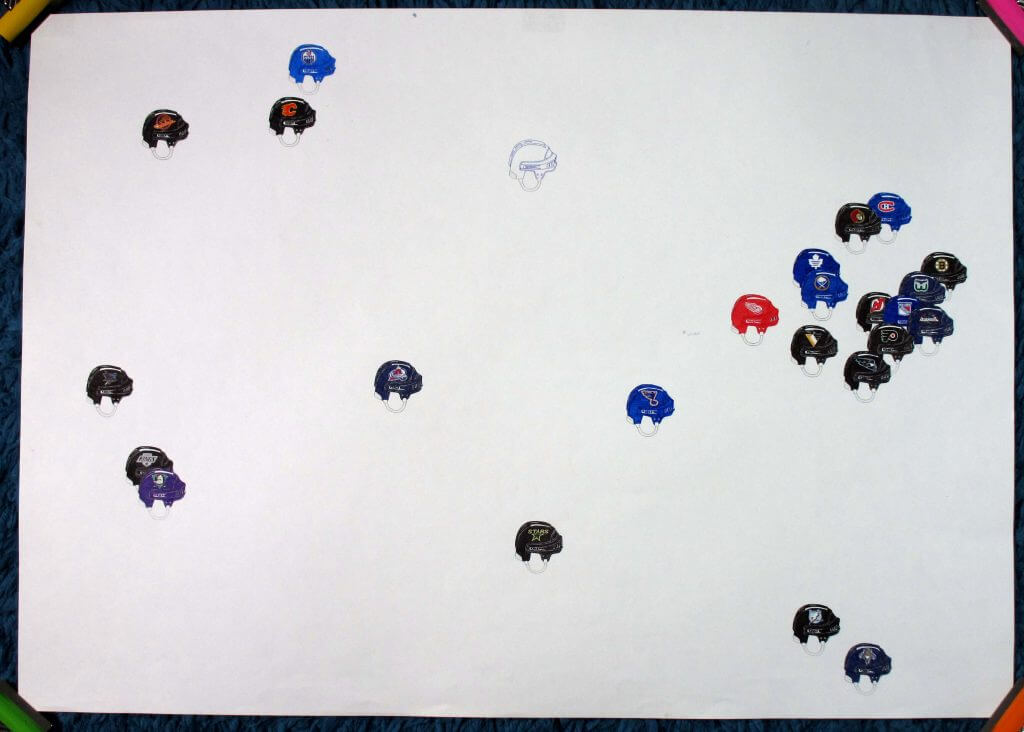 For 1998, I took the different line drawing helmet graphics, scanned them into Photoshop and then created smooth shaded versions. For the NHL one, I experimented with using a helmet photo as a base graphic, then putting the logos on top. These I would then print out to make the full size paper maps.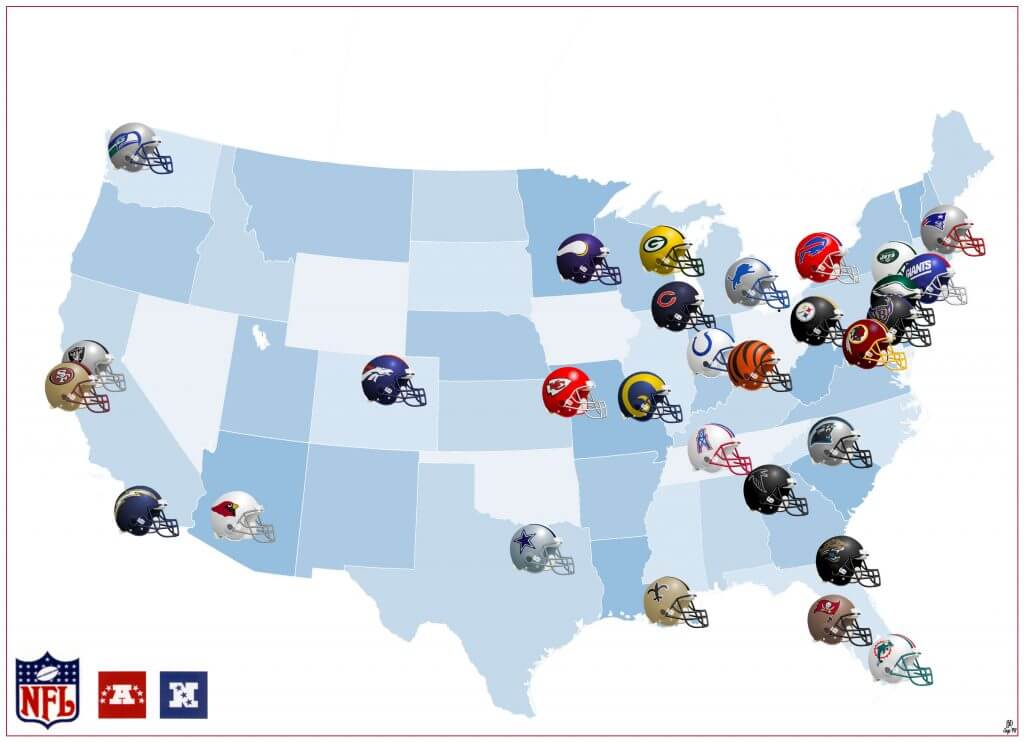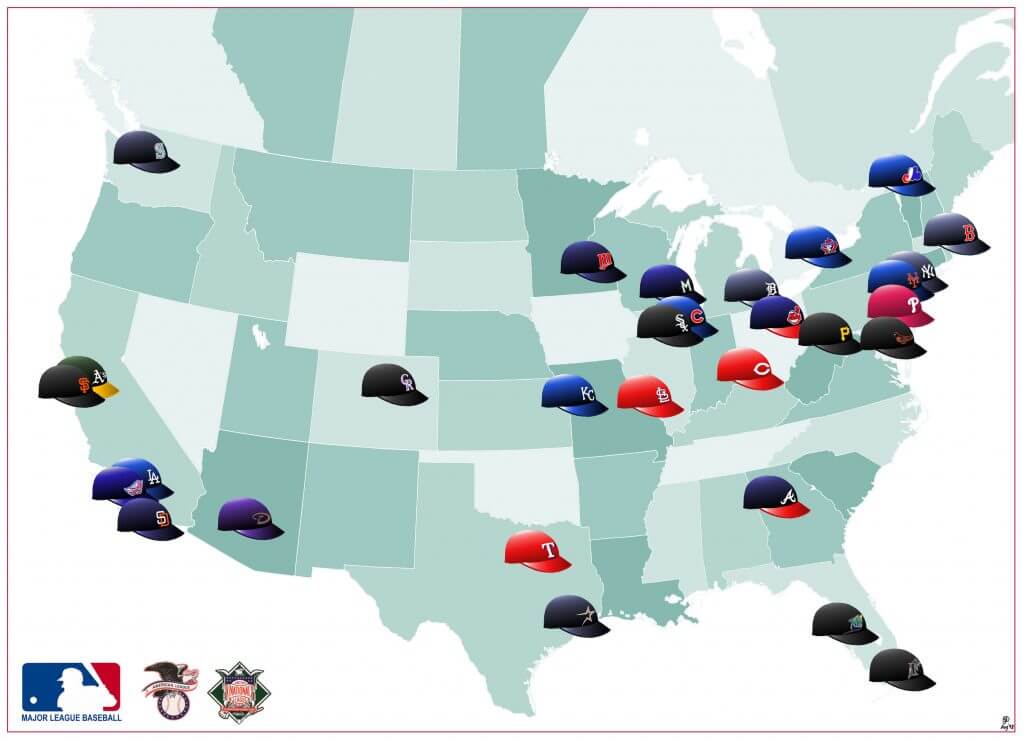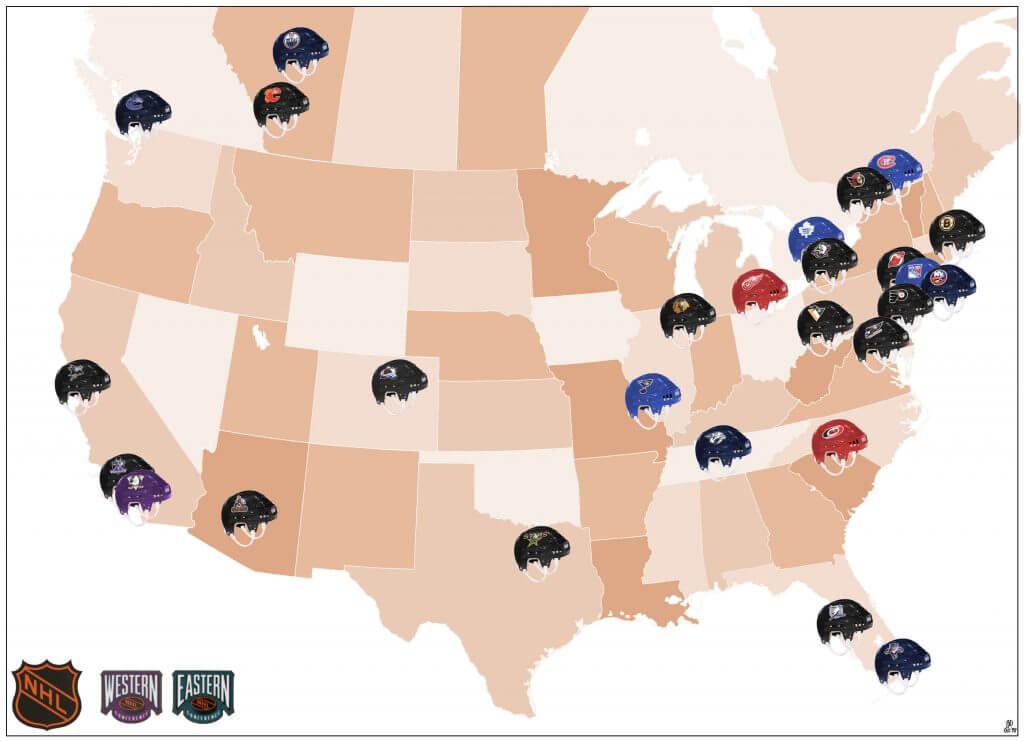 For the next four years I carried on with ad-hoc digital versions, but my fickleness with sports was kicking in again and 2002 was the last I did before disappearing into another ten year uni-free void…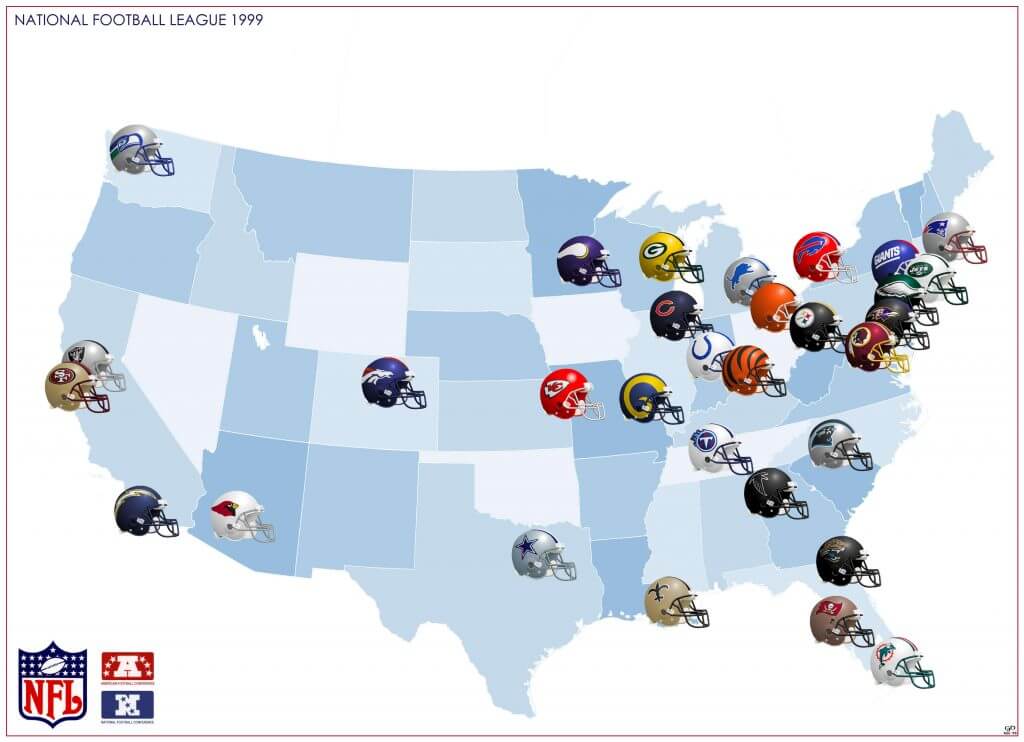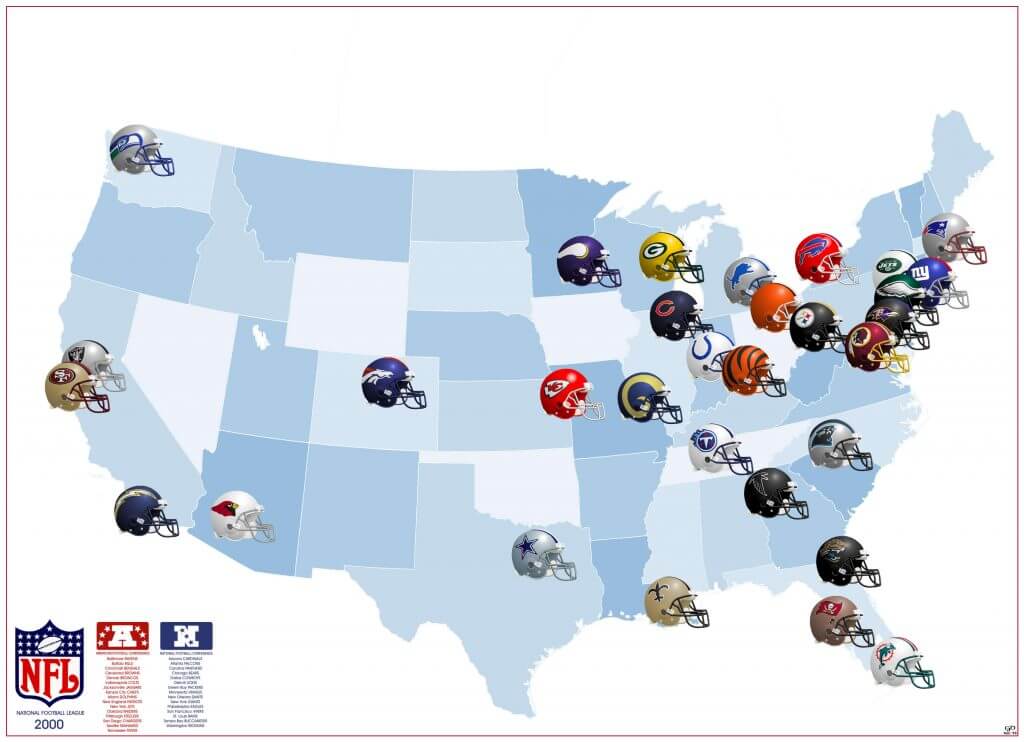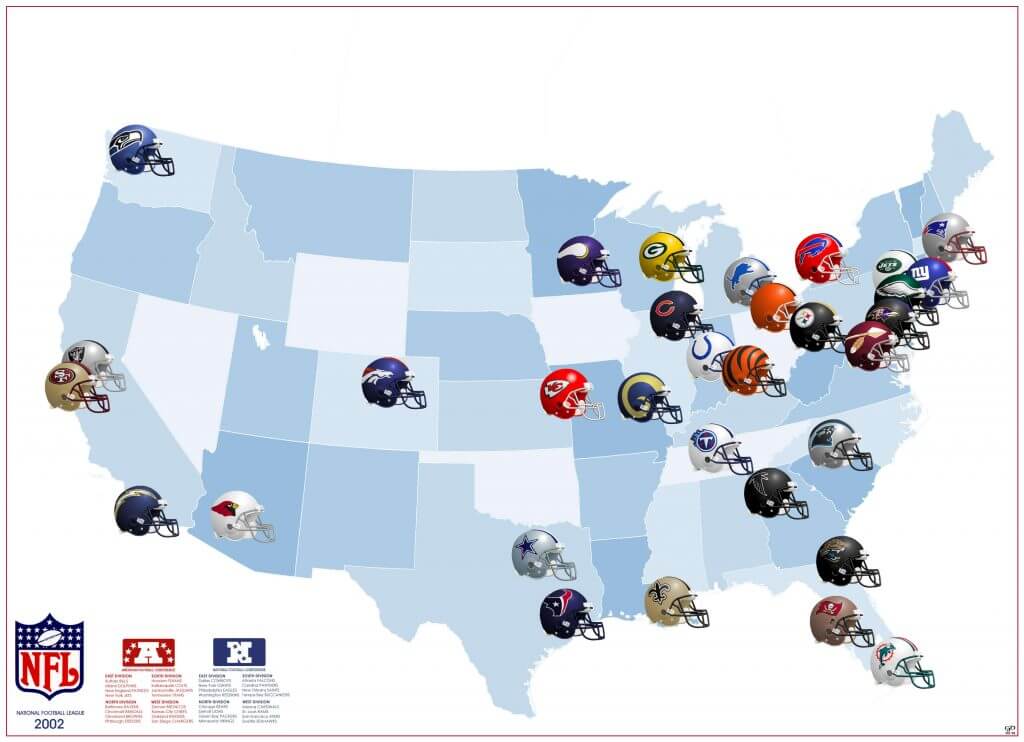 Eventually in late 2011 I returned from my sojourn and rejoined the unisphere. Despite loving my 2D helmet maps, underneath I still wished I had something more tangible, something truly three dimensional. By now the world of US Sports collectibles was available to me, including helmet replicas. But these were still out of my league for the same reasons as before. I kept looking and then one day I came across the Riddell Pocket Pros. Finally, here were helmets small enough and within my finances. And in fact they were almost exactly the same size as I had drawn them on my maps!
After a lot of eBaying to find a US seller prepared to ship them over here (this was 2011) I got the NFC and AFC conference sets. So that solved the helmets part, but what would I display them on? The paper maps would be too thin and how would I attach the helmets? I initially thought about using different wood-effect Fablons for each state, stuck on a piece of hardboard. But experiments hand cutting the states from vinyl with an X-Acto weren't accurate enough. What could I do? Well I could sew! So I made a trip down to the local department store and returned with a large cream linen tablecloth and a selection of cotton pillowcases in various shades. Using tracing paper and prick-and-pounce, I transferred the map design to the tablecloth. Then I cut out individual states/provinces from the pillowcases and stuck them to the tablecloth.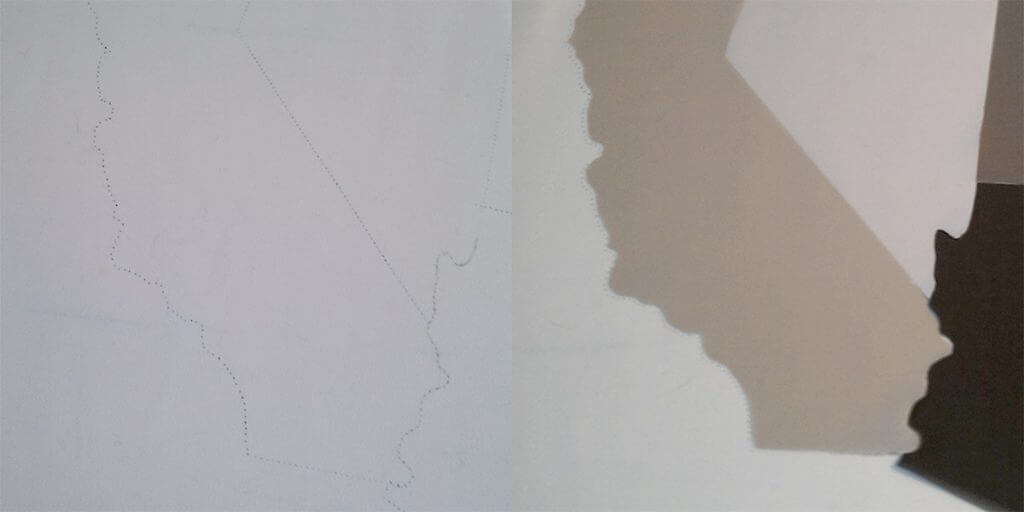 Finally using my sewing machine, I ran satin stich down all the borders to cover the seams. All I needed then was to attach the helmets and came up with the idea of using drawing pins stuck through the earholes. Sticking the cloth map to a large piece of corrugated cardboard, finally after 27 years I had my 3D map. As a final touch I added NFL, NFC and AFC patches.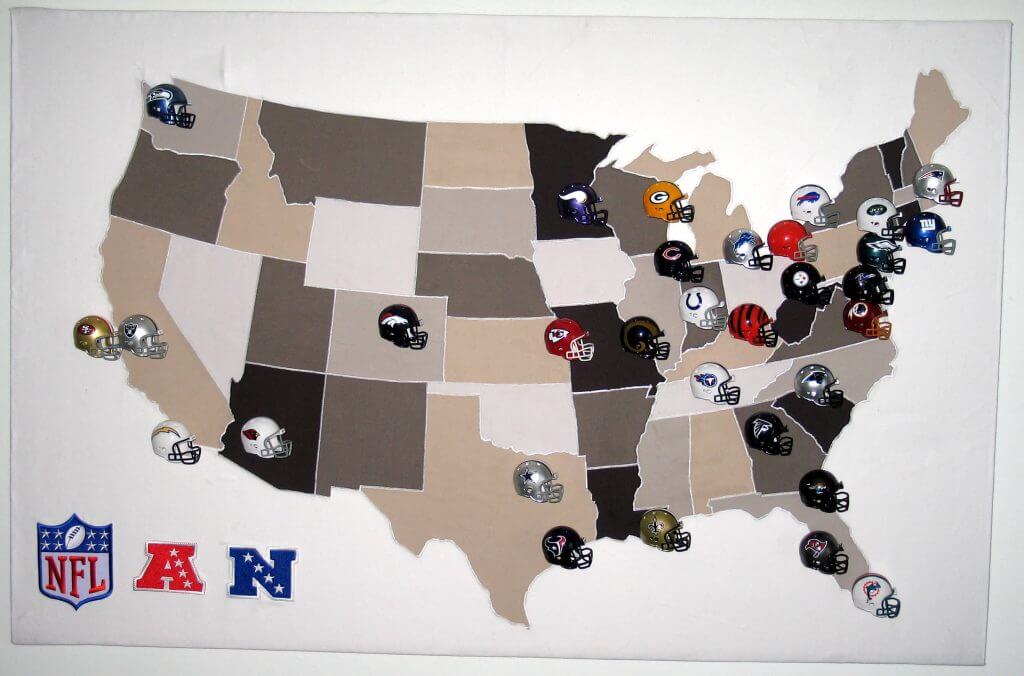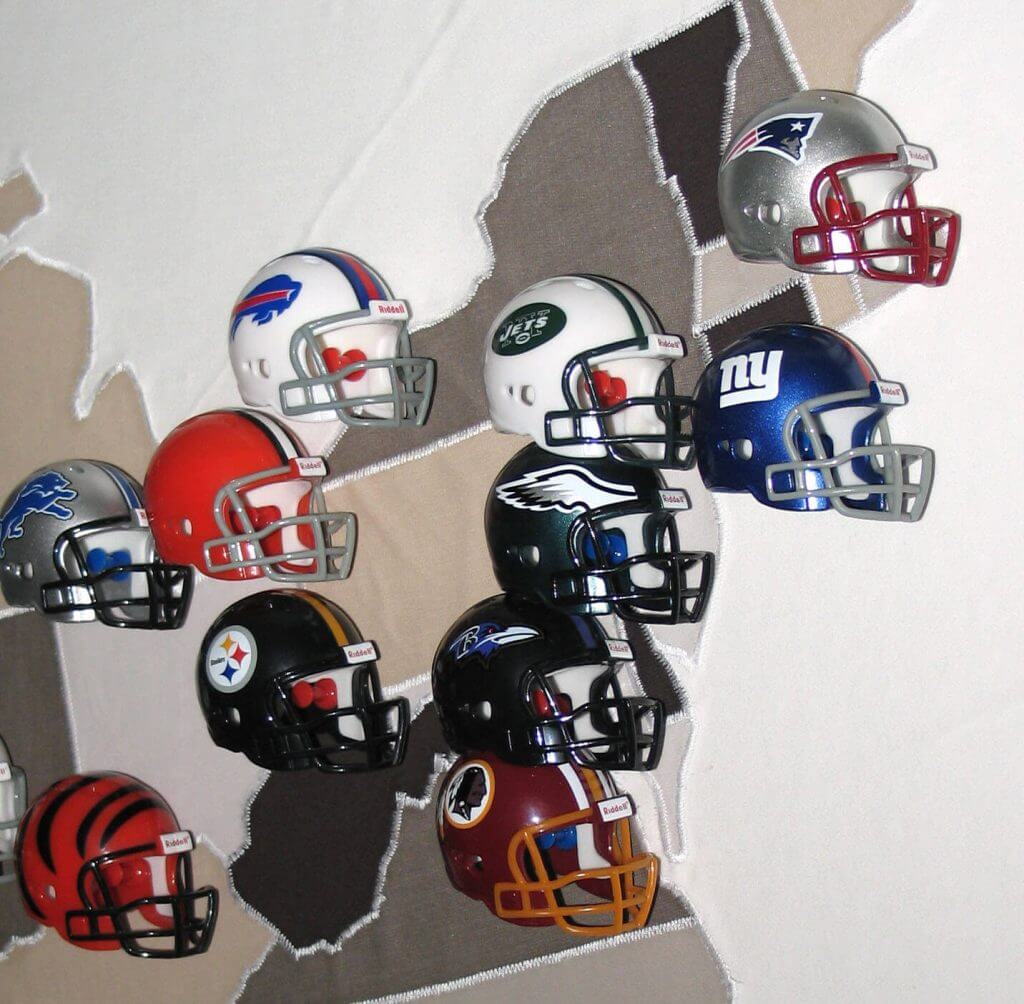 Emboldened by my success I thought can I go bigger? I knew now that Riddell also made NCAA Pocket Pros and I longed for a display of those too. But the NCAA had more than 100 teams even at the top level so the cloth method wouldn't work as easily for the size of map that would be needed. After a bit of trial and error, I landed on using cork floor tiles. Not as pretty, but you could pin directly to them. So a bit of time on the PC scaling up the map and a few pots of varnish later I had my NCAA sized map. Although Riddell made NCAA Pocket Pros, they didn't do *all* the teams. So I grabbed a load of spares off eBay and proceeded to make my own customs using inkjet decal paper. Finally I had my NCAA map. For a size comparison it filled a whole wall in my flat!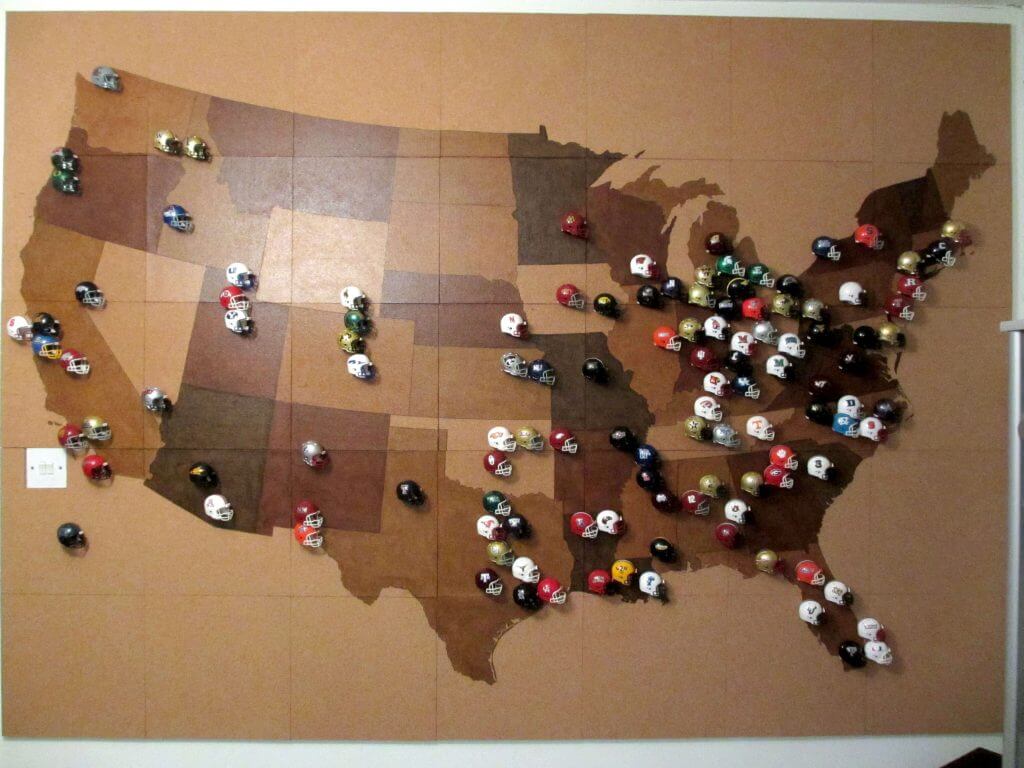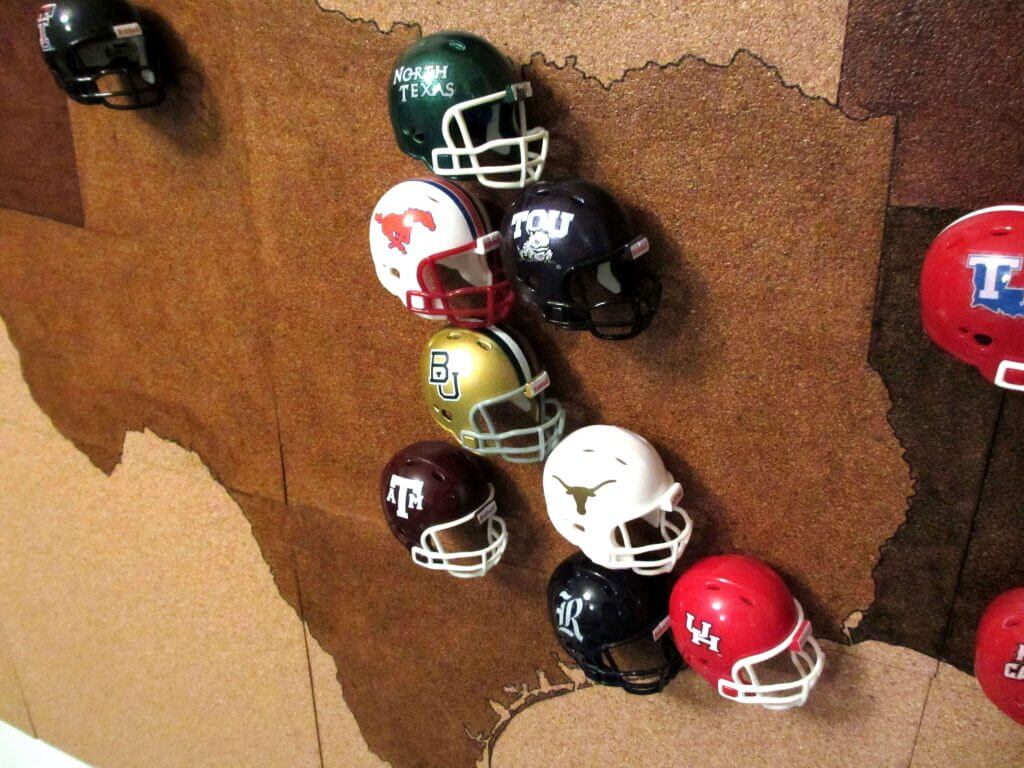 Over the following years I found the Riddell MLB pocket pros which meant I could do a baseball one too. And every year I would update the helmets as teams changed them. But then in 2021 after ten years of doing this, the map was the worse for wear from all the re-pinning. So I needed to make a new one. In the ten years since the first map, technology and computers had moved on so could I now try another way? Earlier this year I had bought a Cricut Maker. This is a computer controlled cutting machine and I got it to make my own T-Shirt and jersey designs using heat transfer vinyl (but that is another story!) As it cuts vinyl with ease I thought maybe I can revisit the Fablon idea? A quick test run showed it could cut accurately enough and so I got it to cut out the states and provinces in shades of grey Fablon. Rather than stick it to carboard again though, I got a flash of inspiration and bought an A2 magnetic white board to which I carefully stuck the Fablon pieces. To stick the MLB pocket pros to it I glued small neodymium magnets to them. As the MLB pocket pros are no longer made, many of these are custom – here I used the Cricut to cut new logos for these (rather than decals). I also made magnetic MLB, NL and AL logos to stick to the board.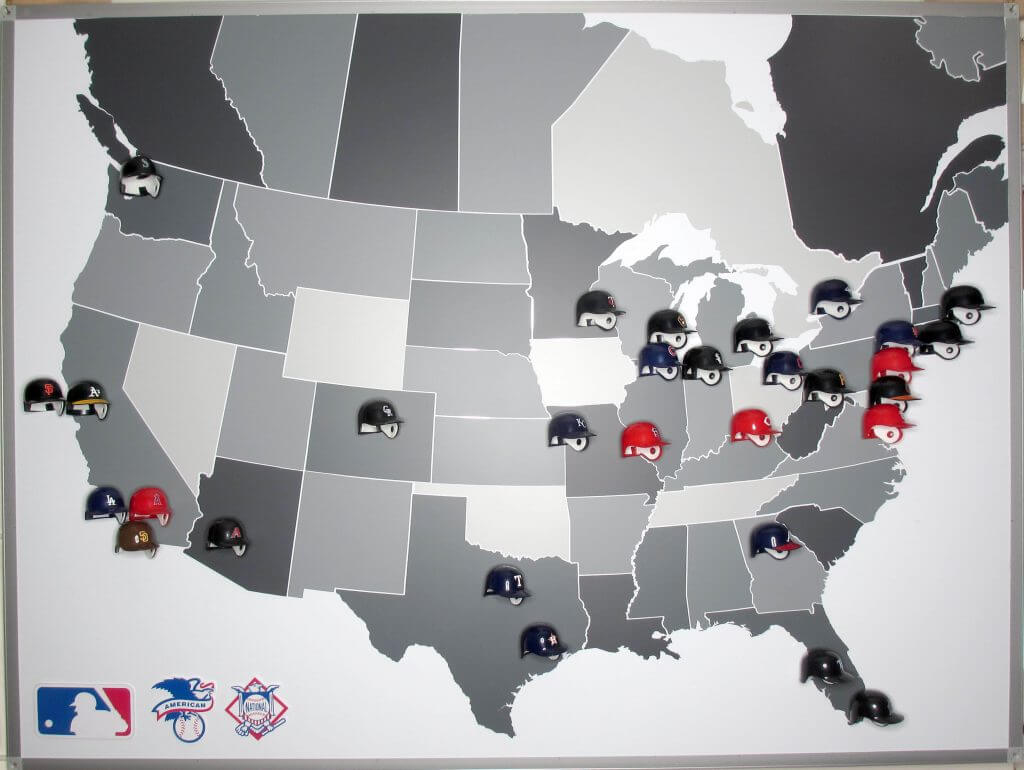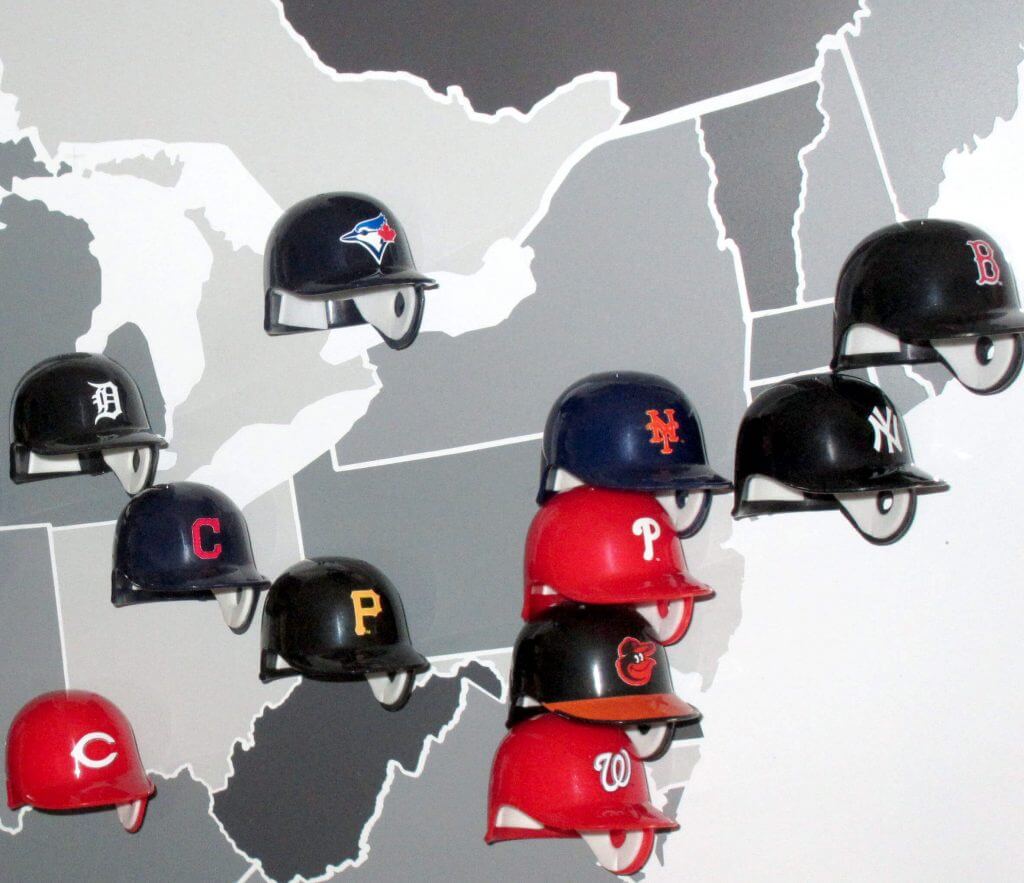 Going forward this will hopefully keep me in business for the NFL and MLB for years to come. I am still working on the NHL :)
• • • • •
Wow! Chris, thank you so much for sharing! Over the years Paul (and I) have had the pleasure of showing off many readers' childhood artwork, DIY Project and other projects, and this one really combines many of those passions we had as kids. Great stuff!
Readers, what do you say?
• • • • •
• • • • •
Utah Utes Unveil Special "USS Salt Lake City" Unis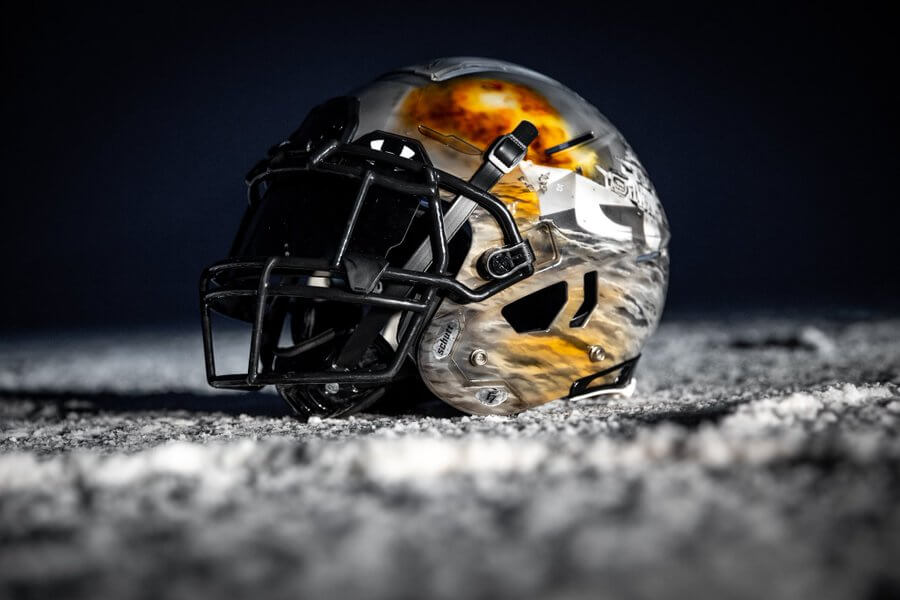 Yesterday, the Utah Utes football team unveiled special uniforms they will wear later this season (November 20) at home against the Oregon Ducks, inspired by the naval ship USS Salt Lake City, which saw extensive action during World War II. That date was chosen because it will be the school's military appreciation day. As you can see above, the unis will feature a pretty amazing hand-painted helmet.
Of course, the uniforms were accompanied by a hype video, but unlike most, this one was long on facts and low on hyperbole, and narrated by U.S. Navy veteran YN2(AW) Ryan (@RynBrkr), who is also on the Utes Equipment staff. In fact, I'll actually use the hype video text to describe the uniforms and their rationale):
The USS Salt Lake City was a heavy cruiser during World War II. The ship can be identified for having three, eight inch guns on the bow. We chose to feature number 25 as it is the hull number of the ship. She fought in more combat engagements than any other ship in the WWII Pacific Fleet, earning the nickname 'One Ship Fleet,' which is featured on the back neckline.

The base color of this uniform is dark grey and features dazzle-camo accents on the shoulders and sides of the pants. The patterns on the left and right sides are in accordance with the patterns on the port and starboard side of the original vessel. This is also featured on the gloves. Each uniform features a single battle star on the right shoulder. When the ball is in play, there will be 11 stars on the field, signifying the 11 battle stars earned by the USS Salt Lake City. One of those battles is depicted on the helmets, each of which was hand painted by a single artist. Finally, the interlocking 'U' is on the pant leg tying the University and our team with the ship. We are proud to represent the USS Salt Lake City, her crew and their accomplishments. Go Utes.
Here's the video:
Details on the USS Salt Lake City uniforms.

Narrated by YN2(AW) @RynBrkr @SolomonEnis @Utah_Football | #USSSLC pic.twitter.com/uV6t7sDtVx

— UtesEquipment (@UtesEquipment) August 24, 2021
"
And here are a few additional looks at the uniforms: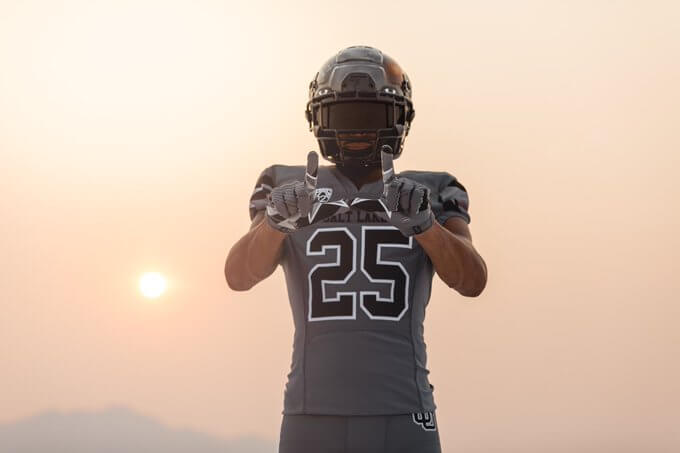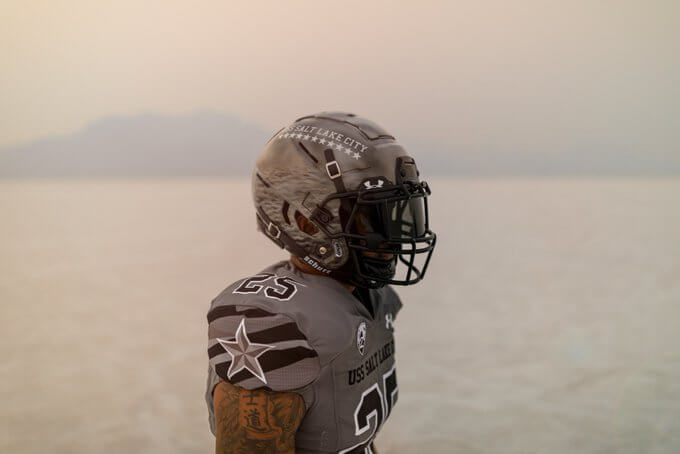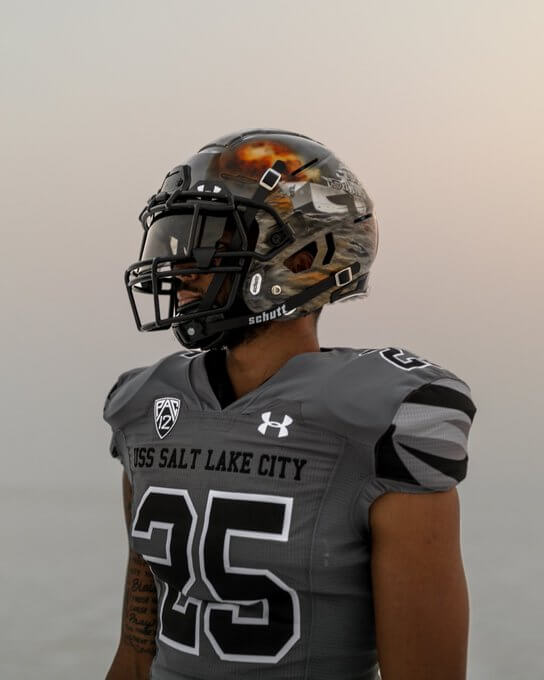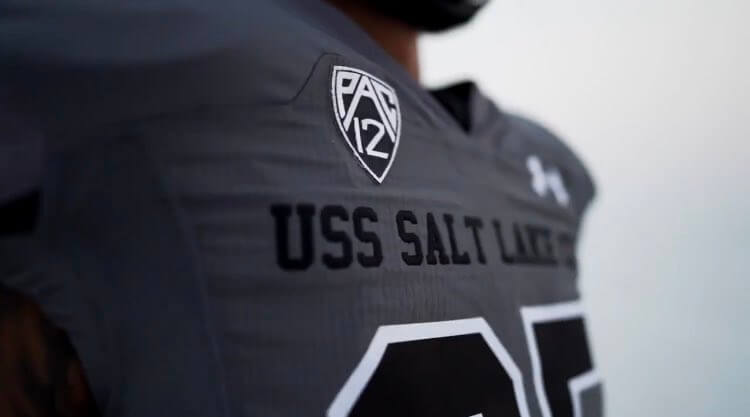 I'm generally not a fan of special occasion uniforms, or gray unis in general, but I think this one is pretty solid — the team could have gone quite crazy with their use of the ship's dazzle camo graphics, but this is pretty restrained. Yeah, there's that new "slogan on the neck" thing (which looks like it's becoming a thing now), but all in all, a nice job. And those handpainted helmets look pretty sweet. I'm definitely looking forward to seeing this one on the field.
• • • • •
• • • • •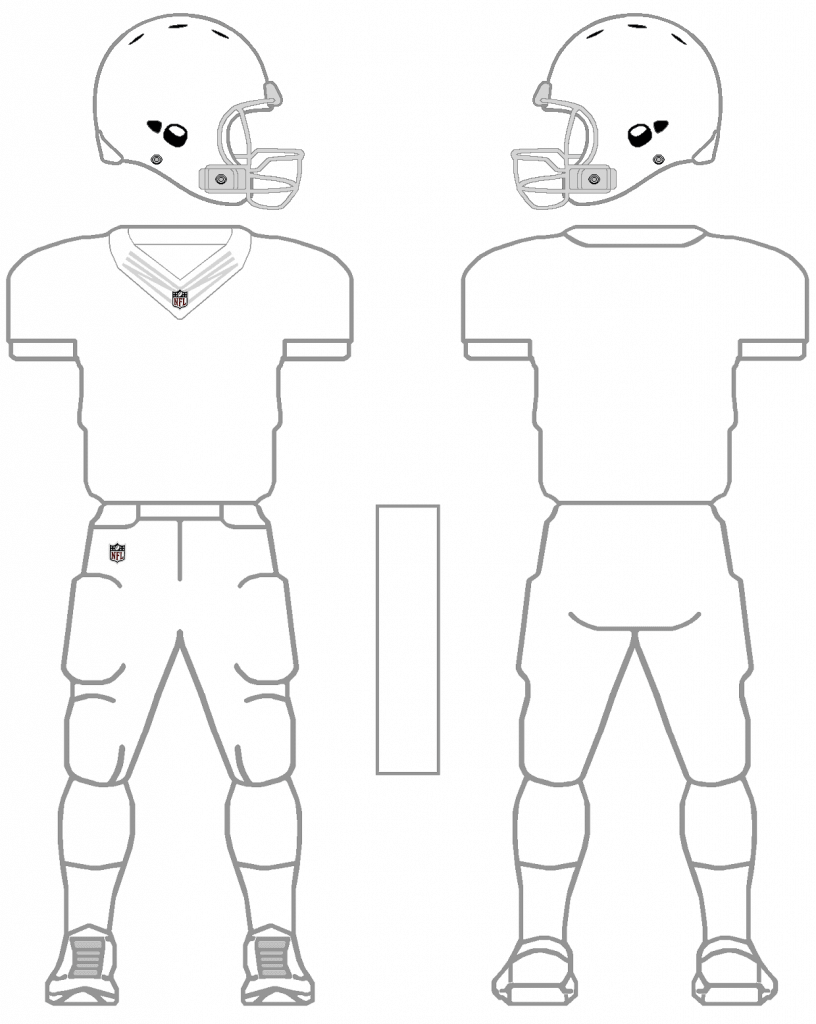 Uni Concepts & Tweaks
Time for more Uni Tweaks from the UW readership.
I hope you guys like this feature and will want to continue to submit your concepts and tweaks to me. If you do, Shoot me an E-mail (Phil (dot) Hecken (at) gmail (dot) com).
• • •
Today's concepts come from John Woods:
Hey Phil,

Back in 1975, the New York Giants came out with their "Disco Giants" logo that lasted one season.

Soon after, the New York Rangers came out with a modern jersey with their shield logo and vertical sleeve stripe that lasted two seasons.

Here is a concept the Red Wings would've tried in the same era.

Minimalist logo features a D, R and W in lower case outlined in chrome (silver).

To emphasize the jersey having red wings (sleeves), a chrome version is created.

And, just like the Giants and Rangers, the Red Wings would drop these in a few years for a more traditional version.

Also attached: a mono red logo without the chrome outline.

John J. Woods
And here are his concepts: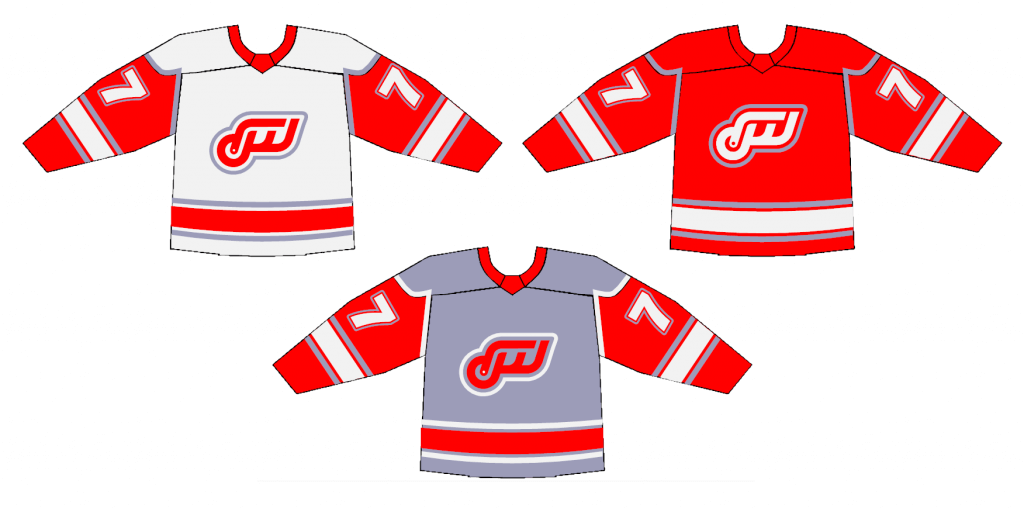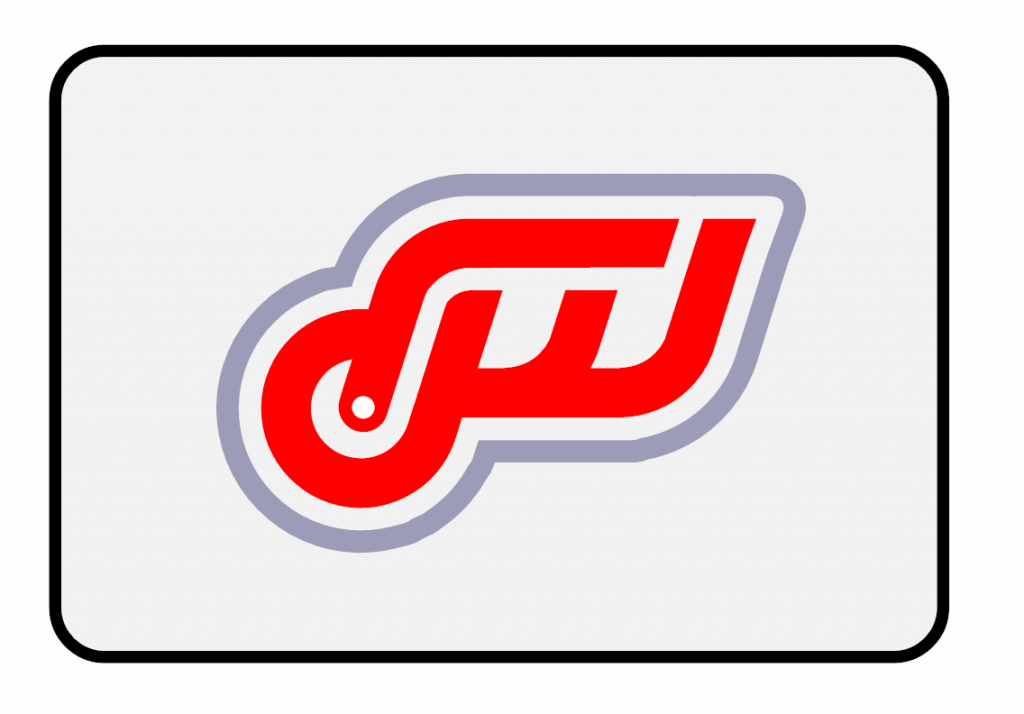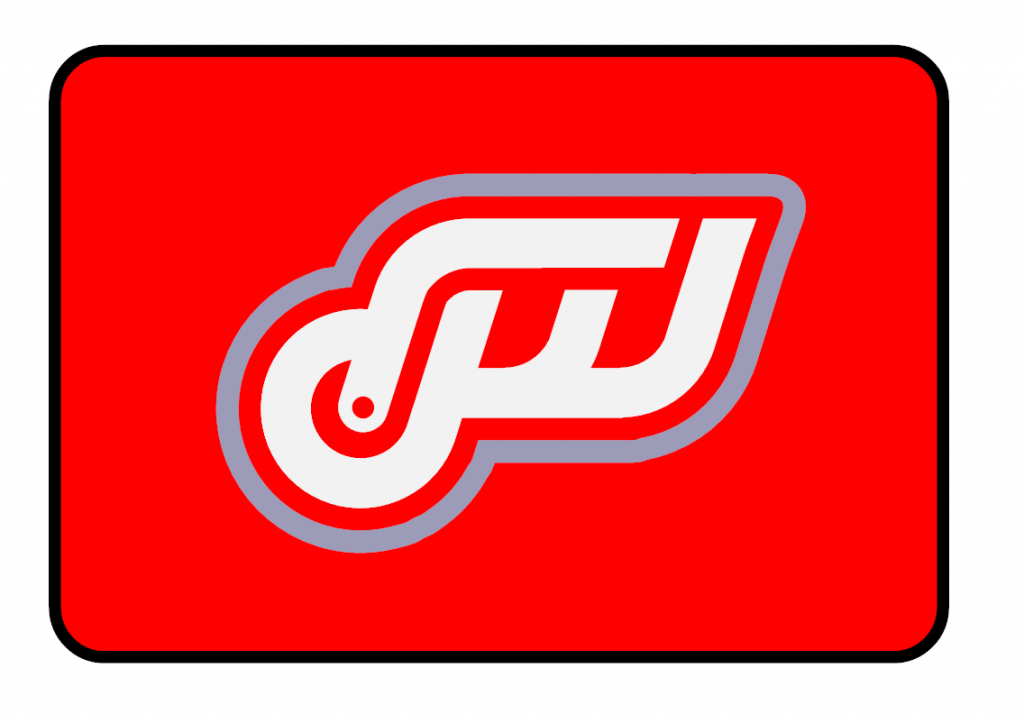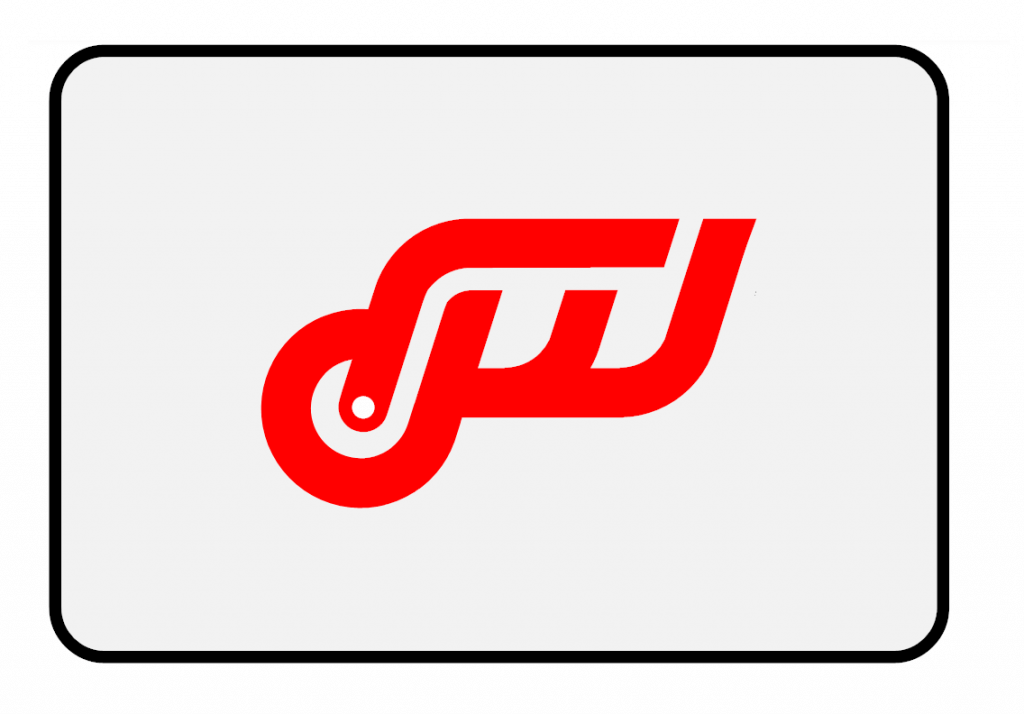 • • • • •
OK readers (and concepters). If you have some tweaks or concepts, shoot 'em my way with a brief description of your creation and I'll run 'em here.
• • • • •
• • • • •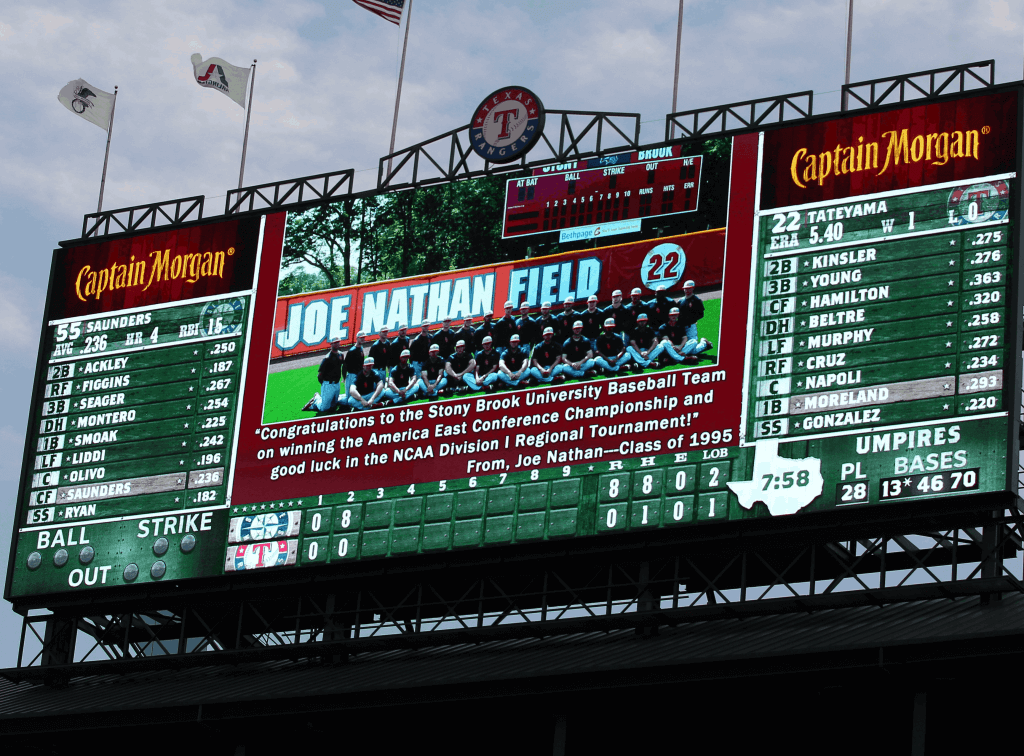 Guess The Game…
from the scoreboard
Today's scoreboard comes from Gary Chanko.
The premise of the game (GTGFTS) is simple: I'll post a scoreboard and you guys simply identify the game depicted. In the past, I don't know if I've ever completely stumped you (some are easier than others).
Here's the Scoreboard. In the comments below, try to identify the game (date & location, as well as final score). If anything noteworthy occurred during the game, please add that in (and if you were AT the game, well bonus points for you!):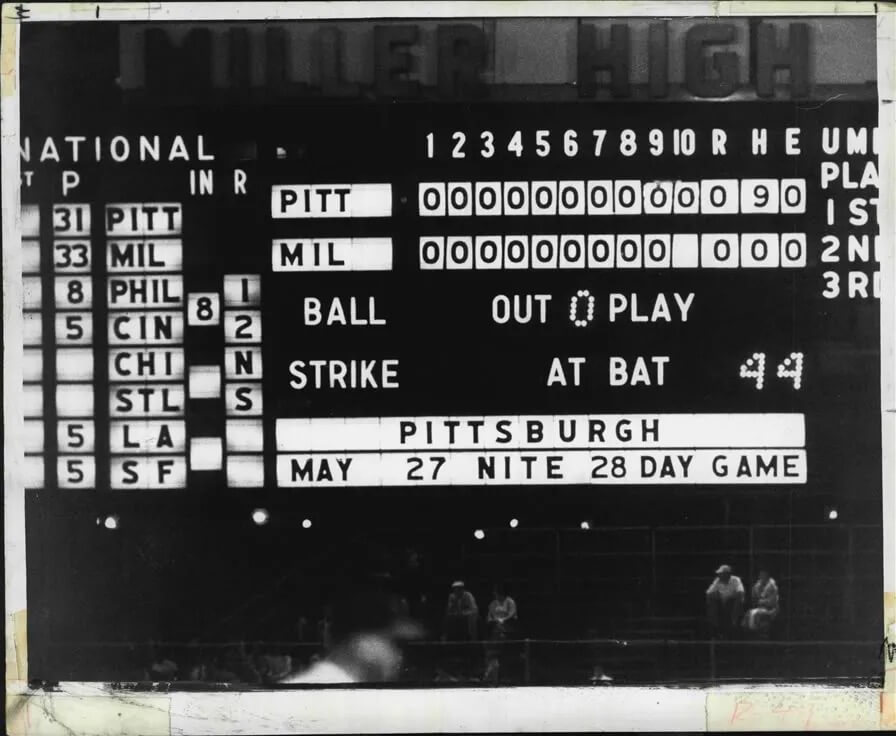 Please continue sending these in! You're welcome to send me any scoreboard photos (with answers please), and I'll keep running them.
• • • • •
• • • • •
The Ticker
By Lloyd Alaban

Baseball News: The Braves held Phil Niekro Night at Truist Park last night, celebrating the life and legacy of the Hall of Fame knuckleballer. He wore lots of uni combinations (from our own Phil Hecken). … New Pirates IF Michael Chavis is still using a Red Sox duffel bag, but he taped over it with "Pirates Arrgh" to fit his new team (from Charles Sherrange).


NFL & NCAA Football News: New rear bumpers for the Saints. Previously, they went with blank rear bumpers (from Patrick Wieboldt). … At least one sportswriter believes that ads on Florida uniforms are coming (from our own Phil Hecken). … Reader Nate Mueller 3D printed a 15.5" resin BIG10 trophy.

Hockey News: New mask for Sharks G Adin Hill (from Wade Heidt). … Also from Wade: New center ice logo for the Golden Knights.


Basketball News: Reader Etienne Catalan has the latest NBA uni assignments. … New court for Valparaiso (from Scott Held).


Soccer News: New kits for the University of Winnipeg with 1970s logo on away shirts (from David Larkins).


Grab Bag: Afghanistan's flag made it into the Paralympics opening ceremony even though their two athletes had to withdraw (from our own Jamie Rathjen). … American University field hockey has new white shirts. The text is blue instead of red (from our own Jamie Rathjen). … Apparently half of all Delta flight attendants are wearing their own clothes to work (from Mario M. Carr).
• • • • •
• • • • •
Uni Tweet of the Day
Almost worthy of a GTGFTS…
Polo Grounds, New York, 1963. That's Duke Snider (in a Mets uniform) at the plate. pic.twitter.com/2hXNrXQ0vx

— Lost Ballparks (@lost_ballparks) August 24, 2021
• • • • •
• • • • •
And finally… that'll do it for today. Big thanks to Chris for sharing (and saving all these years!) those helmet maps. Just wonderful stuff there.
Everyone have a good Wednesday, and I'll catch ya tomorrow.
Peace,
PH