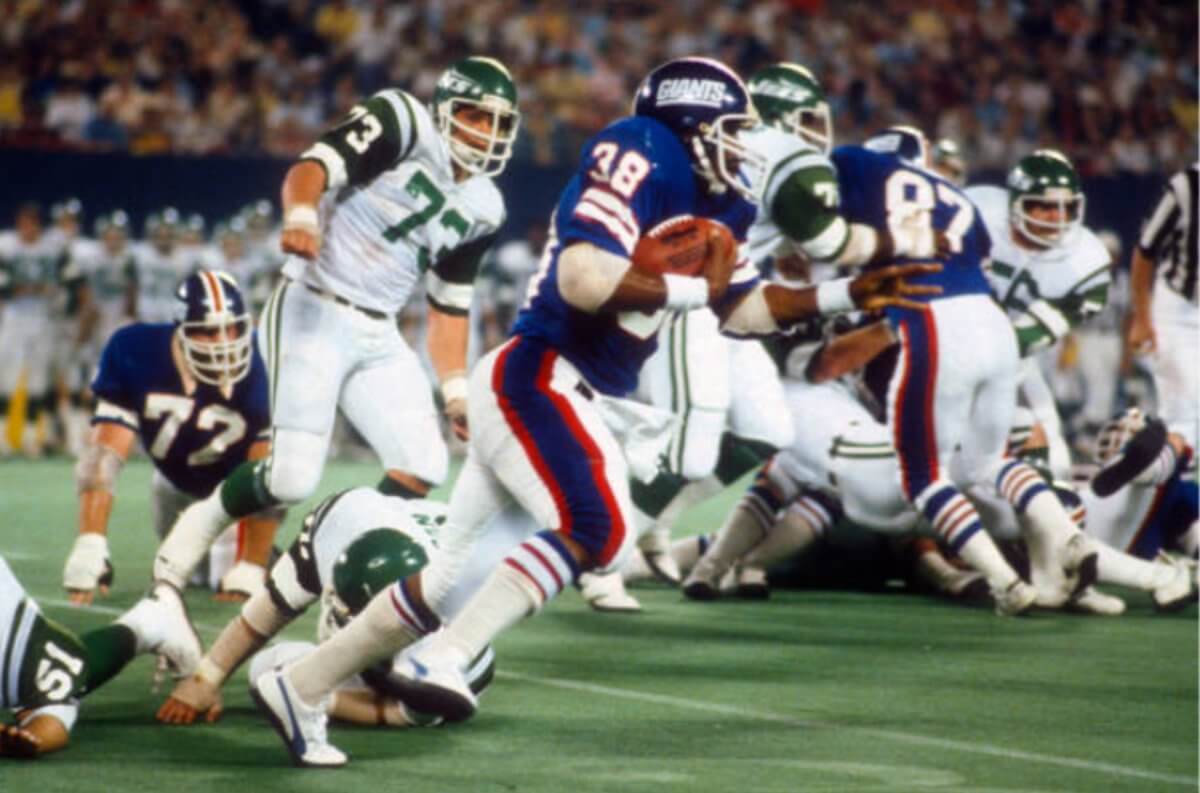 Click to enlarge
1978 was the year that the Jets changed from their Namath-era uniforms to the New York Sack Exchange design. But during the '78 preseason, they wore a strange hybrid uni combo featuring the new helmet with the old jersey and pants. The mighty Gridiron Uniform Database shows this combo (one of the many great things about the GUD is that it shows preseason-only unis like this one), but I don't recall seeing a photo of it until reader Adam Kanter pointed me toward the photo shown above. You can see more pics from this game — all black-and-white, unfortunately — here.
I went looking for pics from other '78 preseason games and found these: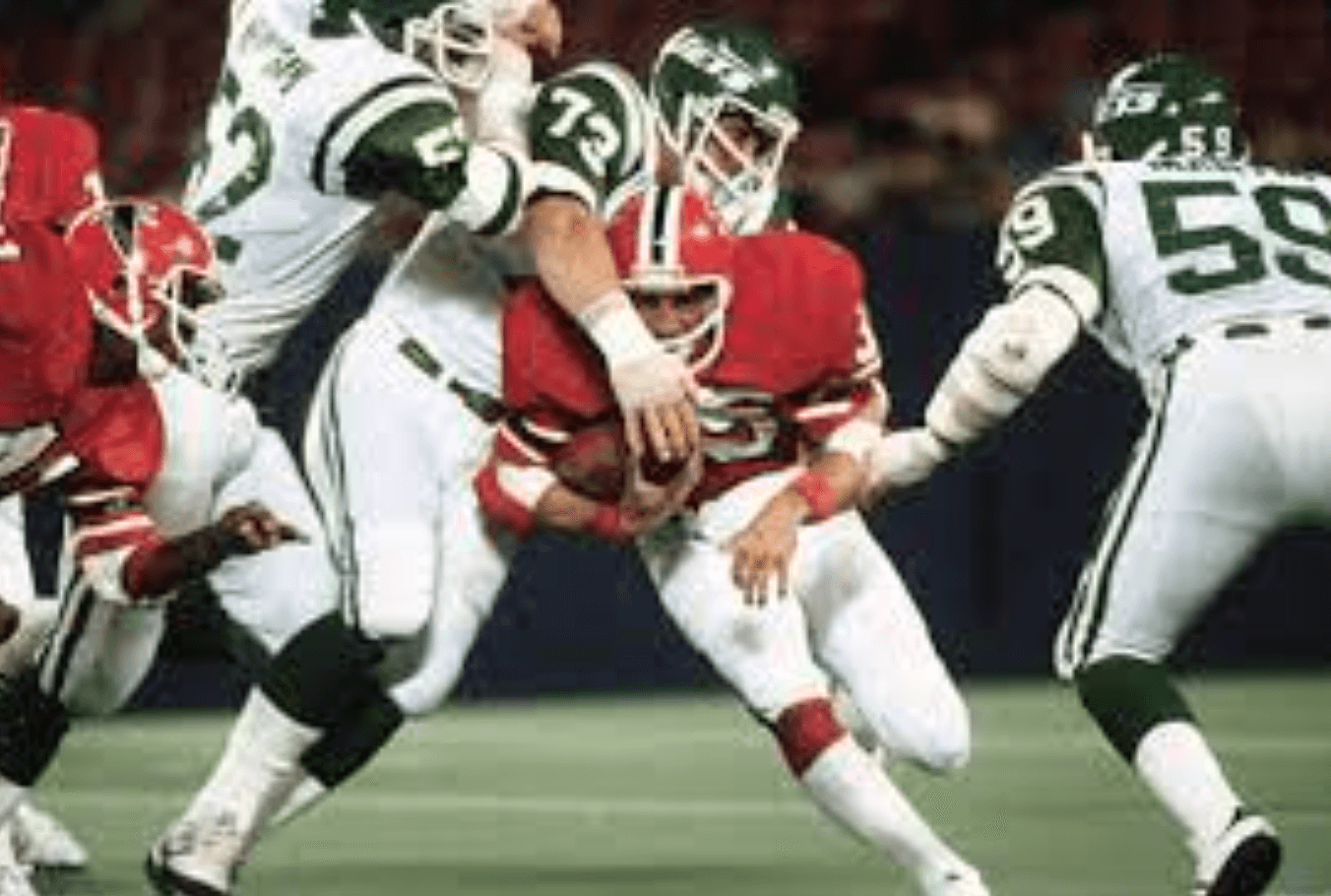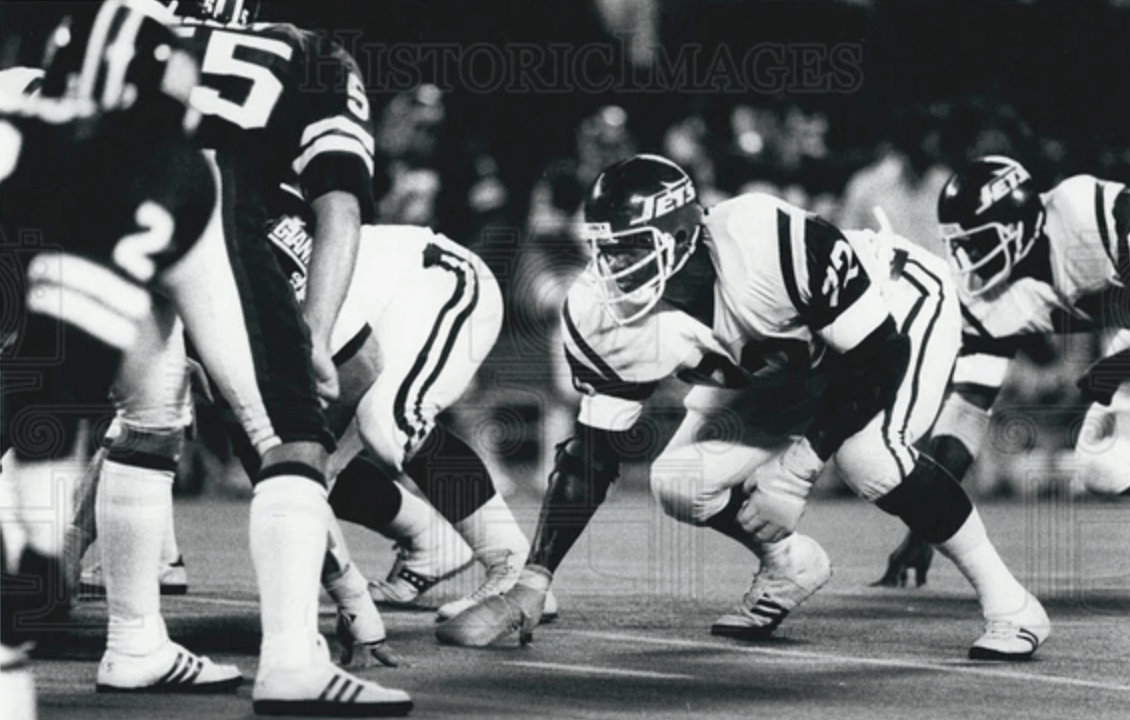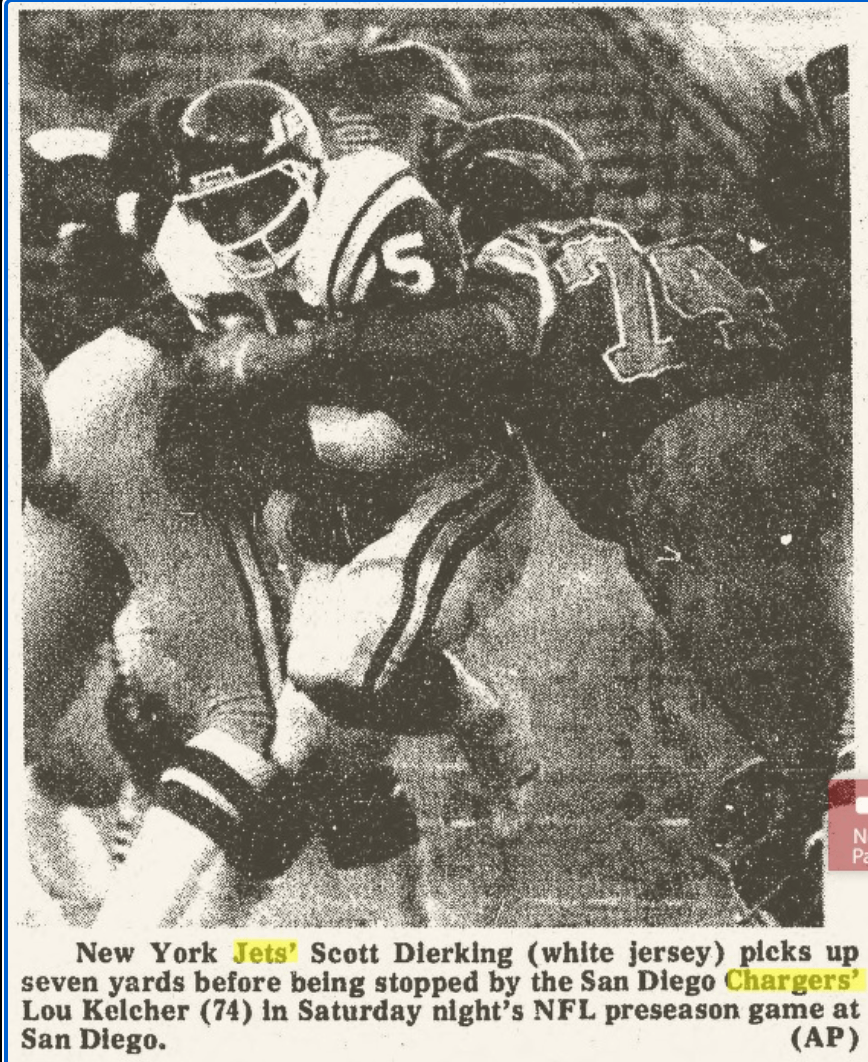 An interesting look!
• • • • •
• • • • •

Click to enlarge
ITEM! New Bulletin column: What you see above is a small sampling of the stirrup designs that pitcher Chris Paddack has worn during his short MLB career. For my latest Bulletin column, I have a really fun interview with him about his hosiery habits, including info on the high-cuffed role model from his childhood, how he obtains his stirrups, his plans for this year's designs, and even a stirrups-based charity initiative. He definitely Gets It™!
My premium subscribers can read the article here. If you haven't yet subscribed, you can do that here (you'll need a Facebook account in order to pay). Don't have or want a Facebook account? Email me for workaround info. Thanks!
• • • • •
• • • • •
That's a mouthful: If you watch closely in the first few seconds of the video embedded above, you can see that something popped out of Mets reliever Edwin Díaz's mouth as he celebrated getting the final out against the Phils last night.
That was Díaz's gum. Here's a closer look: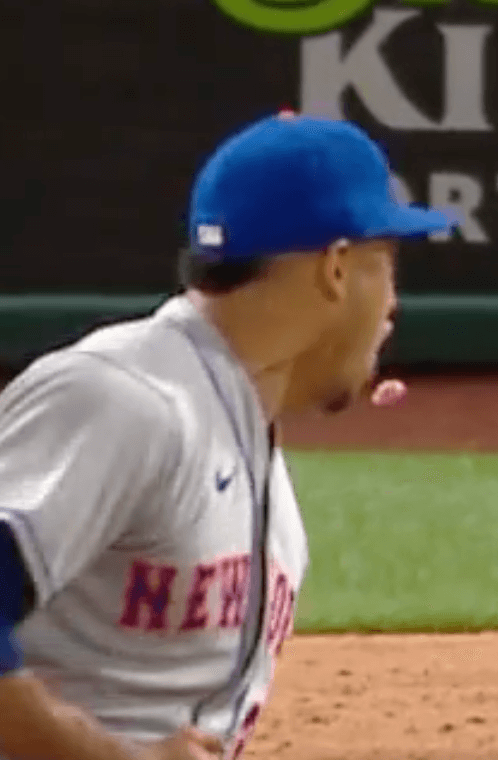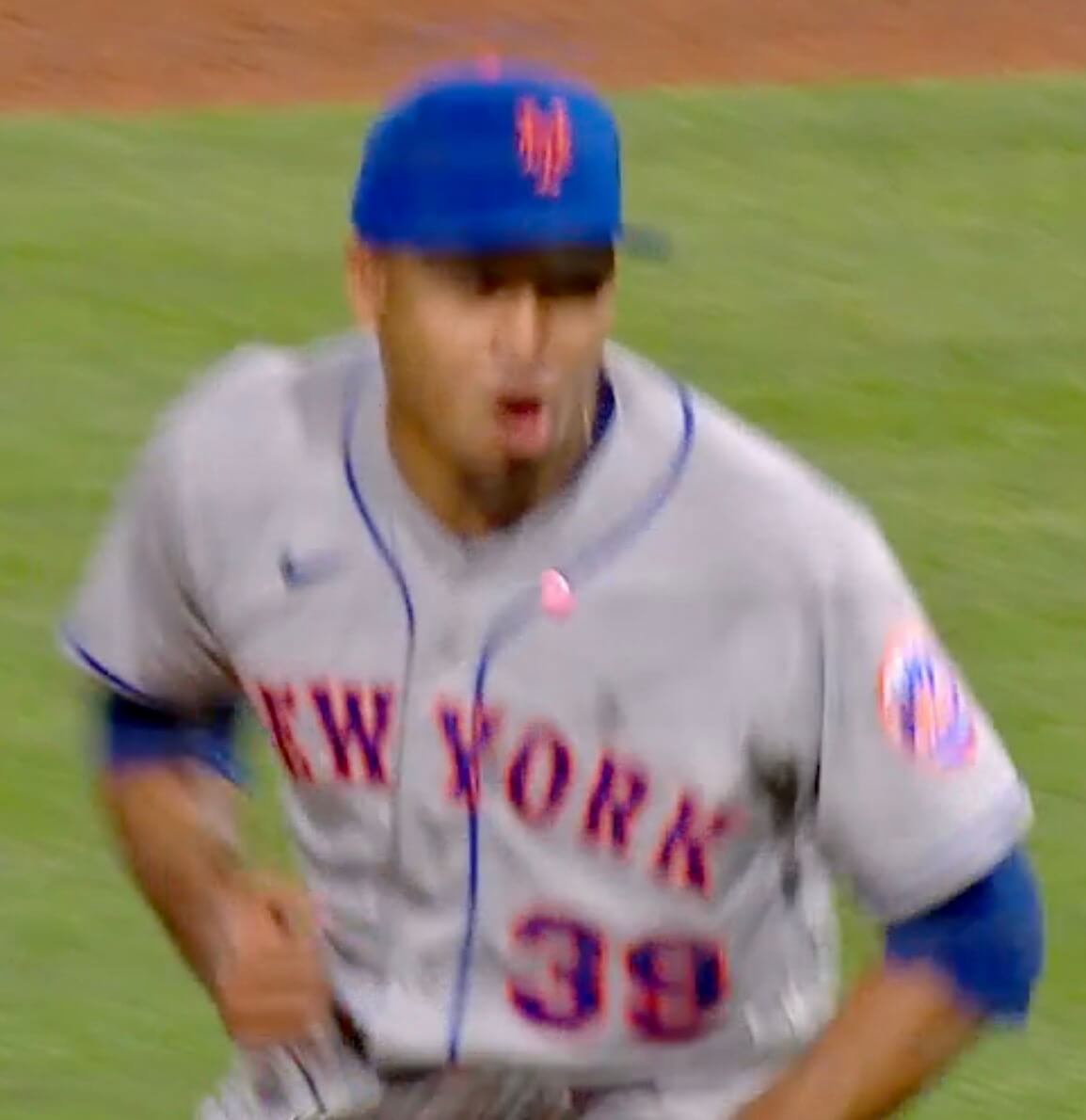 I don't recall ever seeing anything quite like that before!
• • • • •
• • • • •
Culinary Corner: Tomorrow is the first Saturday of May, which means it's time for the Kentucky Derby. And that means I'll be making the dish I always make for the Derby: a derby pie, which is a lot like a pecan pie but made with walnuts and chocolate chips.
Derby pie is super-delicious and easy to make. Here's how to do it:
1. If you know how to make pie crust, make some dough and position it in a 9-inch pie pan; if you don't know how or just can't be bothered, get yourself a frozen 9-inch pie shell.
2. Set your oven to 350º. While it's heating up, get a big mixing bowl and beat together four eggs, a cup of light corn syrup, 3/4 cup of light brown sugar, and 1/3 cup of melted butter. Then add 3 tablespoons of bourbon (or maybe a smidge more than that, if you're so inclined), a tablespoon of vanilla extract, a tablespoon of flour, 6 ounces of chocolate chips, and a cup of chopped walnuts.
3. Mix all of that together, pour it into the pie dough or frozen shell, and pop it into the oven for an hour. It'll puff up high like a soufflé, but it'll settle back down while it cools, which you should allow it to do for an hour or so. This up/down motion usually results in some cracks in the top of the pie, which used to annoy me, but now I've grown to like it: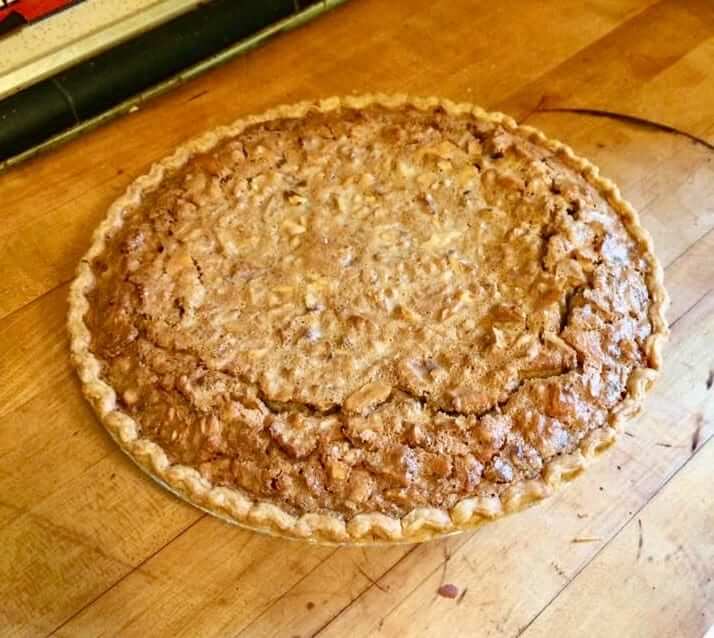 For reasons that aren't entirely clear to me, the chocolate chips always sink to the bottom (I guess they're less buoyant than the walnuts), resulting in a nice two-tone effect: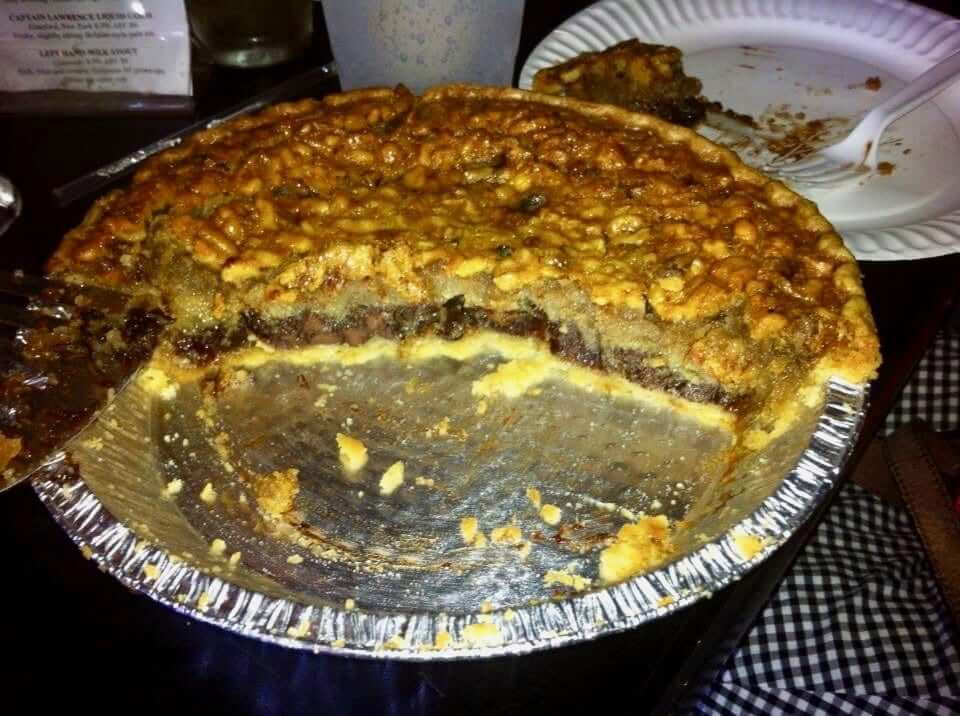 It's traditional to serve each slice with a dollop of whipped cream, although I don't bother with that — the pie is rich enough on its own. Less traditional and even less necessary, but nonetheless delicious, is this bourbon sauce, which is pretty much the bomb.
Trust me, there won't be any leftovers.
• • • • •
[adrotate group="2″]
• • • • •
Uni Watch News Ticker
By Anthony Emerson

Baseball News: The Giants wore their "Gigantes" jersey last night for Cinco de Mayo (thanks, Brinke). … During yesterday afternoon's Angels/Red Sox game at Fenway, Shohei Ohtani lined a base hit off of the Green Monster's scoreboard, causing his own uni number slab to fall down (from @TJMtoWit). … The Pensacola Blue Wahoos, Double-A affiliates of the Marlins, are offering fans a chance to design a jersey, provided they drop $200 on an official entry form. Each Blue Wahoos player will wear a different, fan-designed jersey for the game on Aug. 13 (thanks, Phil). … It's fairly common to see teams in amateur and semi-pro levels poaching logos from pro teams. But the Alaska-based North Pole Patriots baseball team combined the Columbus Blue Jackets logo and New England Patriots logo into their mark!

NBA News: Next season marks the Spurs' 50th anniversary, and rumor has it that throwbacks and a one-off game at the Alamodome are in the works (thanks, Phil).

Soccer News: In 1986, Argentina had to scramble to come up with a new alternate kit after the ones they brought to Mexico for the World Cup were inadequate (from @texastrevor). … USL League 2 side Springfield ASC have unveiled their new, fan-designed alternate kit (from @sportsball_420).

Grab Bag: McLaren F1 driver Lando Norris is going with a really cool basketball-themed helmet for this weekend's Miami Grand Prix (from multiple readers). … Alpine F1 driver Fernando Alonso is also going with a one-off helmet design that's much more Miami Vice than Miami Heat.
• • • • •
That'll do it for this week. Stay well, enjoy Phil's weekend content, and I'll see you back here on Monday. Peace — Paul