By Phil Hecken
Follow @PhilHecken

Greetings and Happy Saturday, folks! We made it to the weekend. Hope everyone had a good week.
As you may have heard by now, there was a major uni screwup in OKC last night, as the visiting Atlanta Hawks, wearing their "icon" (red) uniforms took the court against the Oklahoma City Thunder, who were dressed in their "statement" (orange) uniforms. The lack of contrast was, predictably, awful: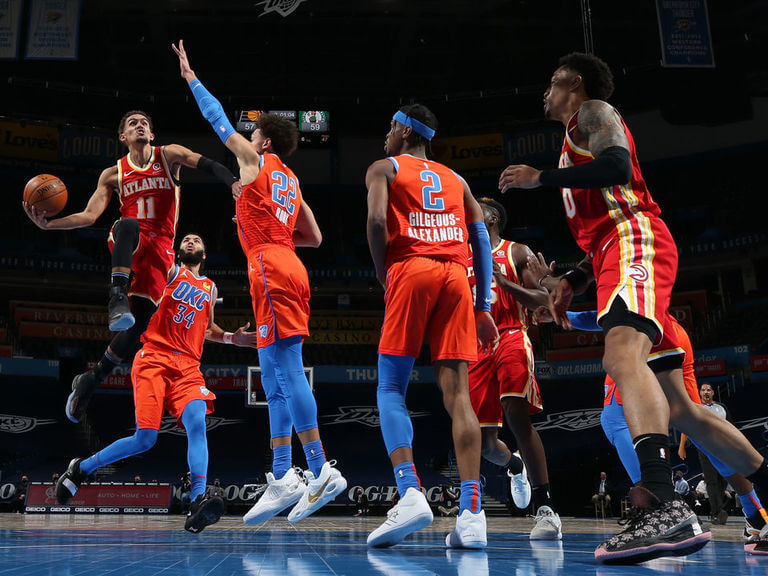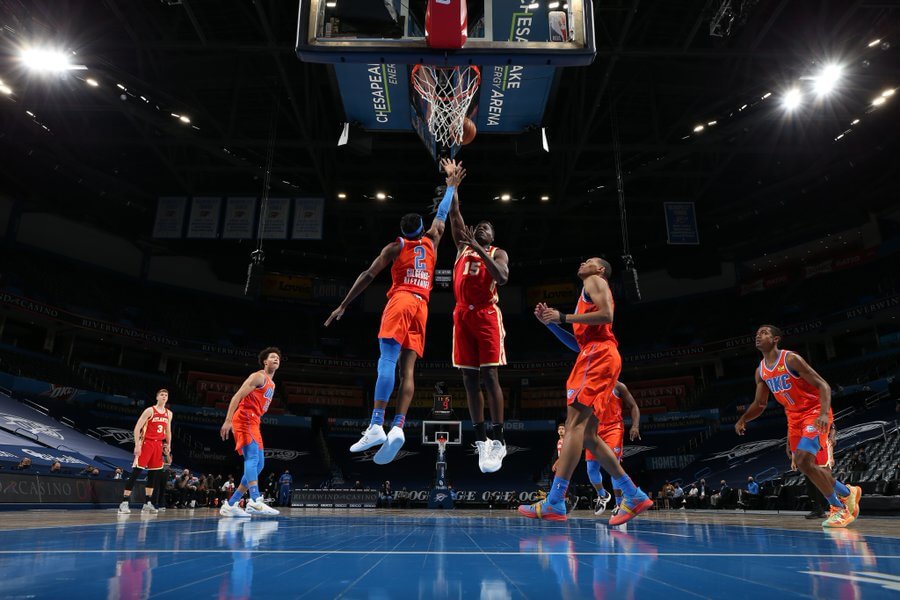 From a distance it was tough to tell which team was which. It wasn't much better in close: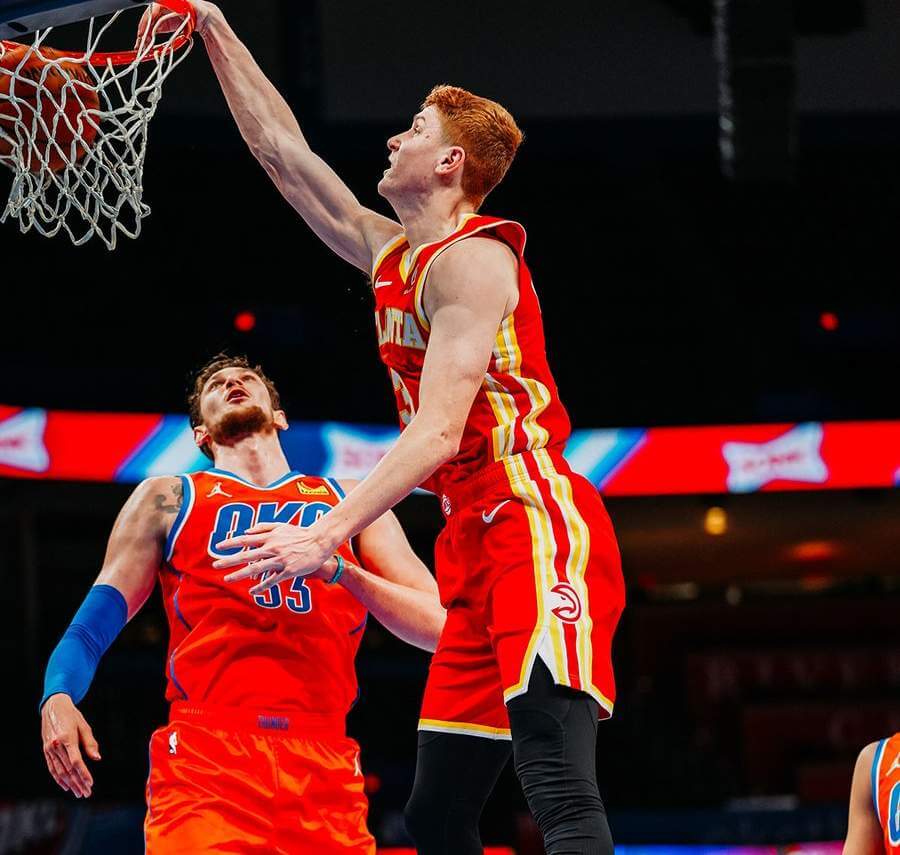 For those watching on television, it was pretty brutal:
JC went to work in the first half! He leads the squad with 15 points and 6 rebounds.

📹 Presented by @Verizon pic.twitter.com/vyoIZ44yV8

— Atlanta Hawks (@ATLHawks) February 27, 2021
The matchup was so comically bad, even the NBA on ESPN's twitter account had some fun with it:
The red vs. orange jerseys 😅😅😅 pic.twitter.com/by73UAz2KL

— NBA on ESPN (@ESPNNBA) February 27, 2021
…which did not go unnoticed by the road team…
.@okcthunder maybe y'all should change? 🤷‍♂️ https://t.co/Wf4KrQ5gxJ

— Atlanta Hawks (@ATLHawks) February 27, 2021
Now, the red vs. orange, in and of itself, was particularly uni-noteworthy. The question is how did this even get on the court? I was reminded of a very similar situation, which happened in 2013, between the New York Knicks and those same Atlanta Hawks: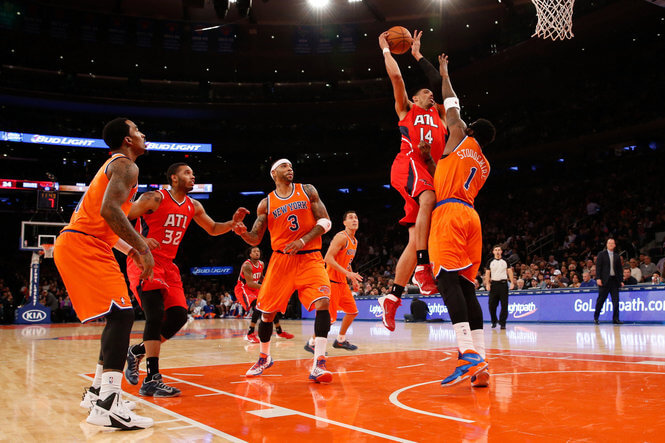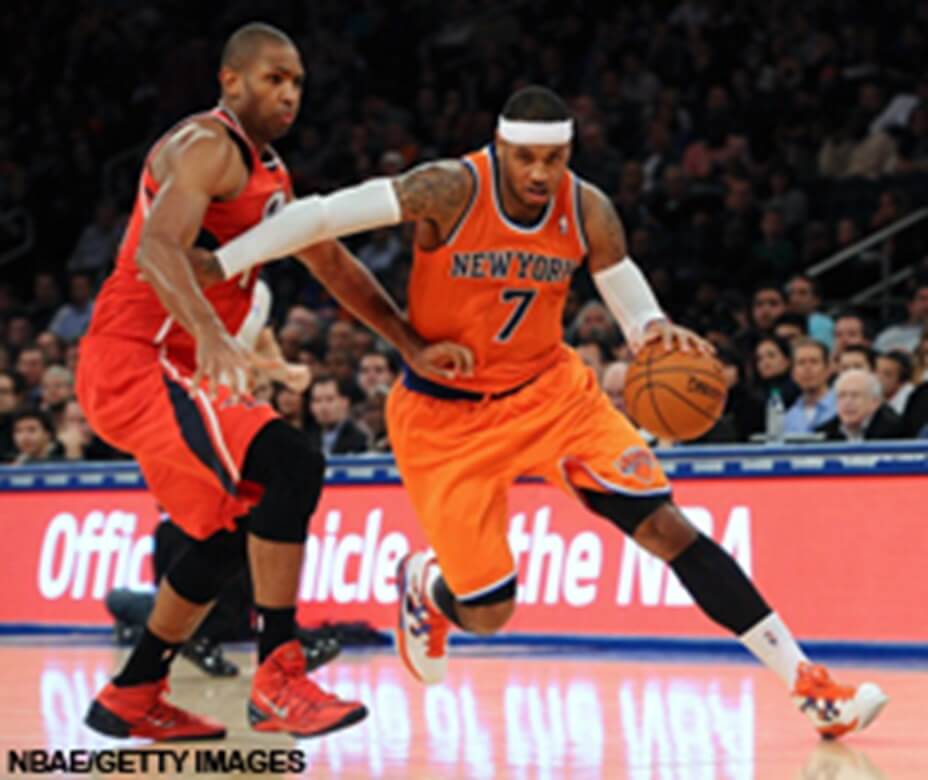 So, red vs. orange isn't even unprecedented in the NBA. But this wasn't supposed to happen under Nike — every game has the uniforms scripted, and if the colors are too close, then the matchups are rejected. Back in 2013, the protocol was different, and (I'm doing this from memory but I'm pretty sure) back then color uniforms were designated as "light" and "dark" — so you couldn't have a dark vs. dark or light vs. light matchup. The Knicks orange alternates were actually designated as "light," so the red/orange pairing was deemed acceptable. Obviously, it wasn't and the NBA vowed never to let something like this happen again. But yet, it did.
Someone obviously screwed up, but who? Early reports were blaming the Hawks:
Per an OKC spokesperson: "The Hawks are wearing the incorrect uniform color for the game. The league process of inputting uniform colors should have caught the orange/red combo, but because the Hawks only have red uniforms on the trip, the Thunder will switch to white…"

— Royce Young (@royceyoung) February 27, 2021
Since the Hawks were on the road, they had only brought along their red uniforms. So should they have brought along another of the half dozen or so they could wear?
Not so fast. According to "LockerVision," which lists all the matchups, it was the Thunder who were at fault: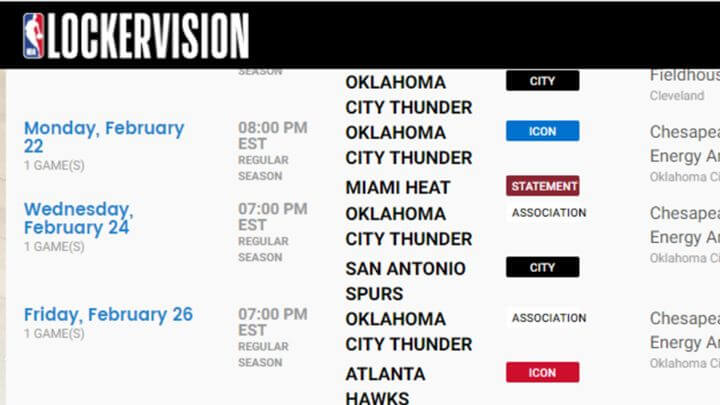 The Thunder's "association" uniform is white (it's the "statement" uniform that is orange), so they should have been in their white unis for last night's game. But…was it?
Here's a listing of the OKC Thunder uniforms for 2020-21.
OK, so it was a simple screwup, right? Not so fast. Somehow the uniform matchup had to have been listed as the Hawks in their red (icon) uniforms, vs. the Thunder in their orange (statement) uniforms, because the great uni tracking site, OKC Tracker, noticed the potential snafu the day before this game (February 25):
Tomorrow's uniform matchup is scheduled to be the Thunder in orange vs the Hawks in red.

What did we do to deserve this? 😳 pic.twitter.com/0VW9xM7rBG

— OKC ⚡️ Tracker (@OKCTracker) February 25, 2021
UPDATE:
Turns out LockerVision originally had the matchup scheduled to be orange vs. red:
Thunder PR threw Atlanta under the bus but they wore the correct uniforms. @UniWatch pic.twitter.com/uO7f3EtJu5

— Patrick (@PatrickCahiII) February 27, 2021
Turns out it was retroactively "updated" to show the Thunder as wearing white, but that one slipped through the cracks. So who's at fault? If the Thunder were supposed to wear orange, then it's just one of those things (the once in 4,000 as described in the ESPN piece below). Maybe it wasn't the Thunder — but it definitely wasn't the Hawks.
So clearly, somehow, this game was destined to have a uni snafu. If you're not familiar with NBA uniform matchup protocol, this ESPN article offers a good bit of instruction:
With teams having multiple combinations and alternates to wear, and no longer observing the traditional standard of home white and road color, the uniform-selection process is done before the season for the entire schedule using an input system called LockerVision. The home team picks first, then the road team.

The league double-checks all combinations and approves them, but the Thunder and Hawks mistakenly slipped through the approval process, according to a league spokesperson.

Typically, when there are close contrasts, such as the red-orange issue with OKC and Atlanta, the league catches it and corrects it before it happens. According to a league source, this is the first time in more than 4,000 games since the system was introduced that this has happened.
So, how did this become an NBA first (especially if the Knicks and Hawks had basically made this same mistake about eight years earlier)? Well, in that Knicks/Hawks game, both teams played the entire game in red/orange. What was a first (at least as far as I can tell) was the fact that the NBA put the kibosh on the matchup, telling the Thunder to switch to their white uniforms. They made the switch at halftime, and it's believed this is the first time an NBA team has ever switched uniforms at halftime.
The twitter account for the NBA on ESPN had some more fun with that switch:
OKC changed to white uniforms at the half 😅 pic.twitter.com/RBfMTK1KJ1

— NBA on ESPN (@ESPNNBA) February 27, 2021
Obviously the game looked much better with OKC in white:
The hands. The eyes. The feet. #SGA | #ThunderUp pic.twitter.com/TGBMrdhC1S

— OKC THUNDER (@okcthunder) February 27, 2021
We've had teams bring the "wrong" uniforms to games before, and sometimes they've brought along different jerseys to switch into, teams have had uniforms lost or stolen, forcing them to wear their opponents' contrasting jerseys (or unis), so the bad color vs. color matchup isn't unprecedented. In fact, one of the more epic uns snafus occured way back in 1964, when the Minnesota Vikings played the Detroit Lions. The Vikings had introduced purple pants that season, and wanted to show them off for their home fans. So they wore white over purple vs. the Lions. The Lions, however, brought only their white jerseys (expecting the Vikings to be in purple jerseys). The two teams played a quarter of football in white vs. white jerseys, before the Vikings switched to their purple jerseys at the end of the first 15 minutes. This also resulted in the first mono-purple game for the Vikes, even though it wasn't intentional.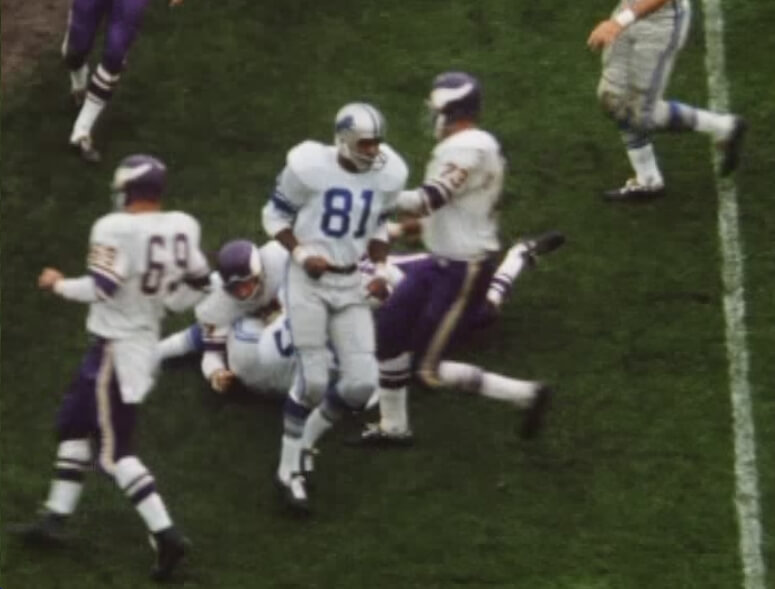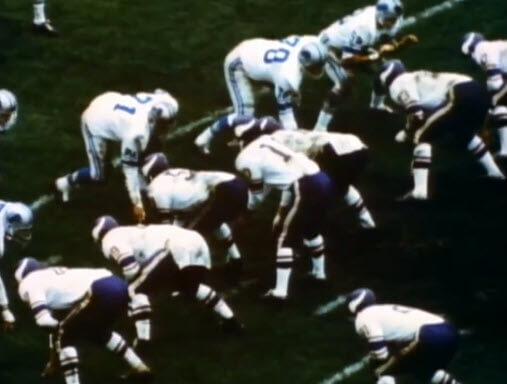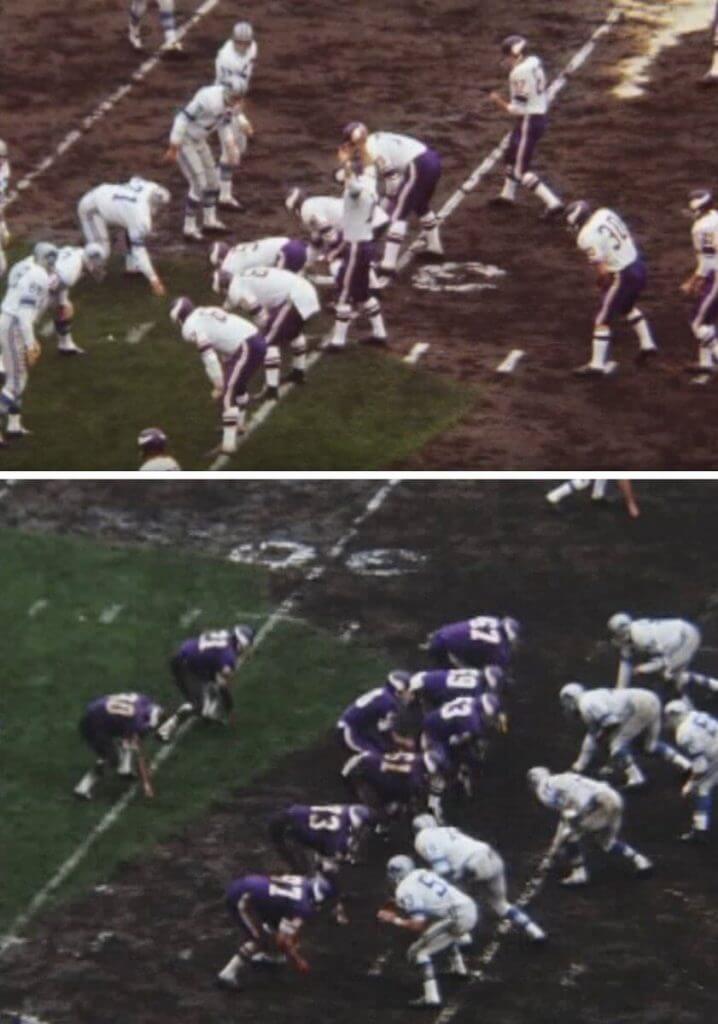 The Thunder ended up winning the game, which is also likely an NBA first: the first team to win a game wearing two different uniforms in the same game.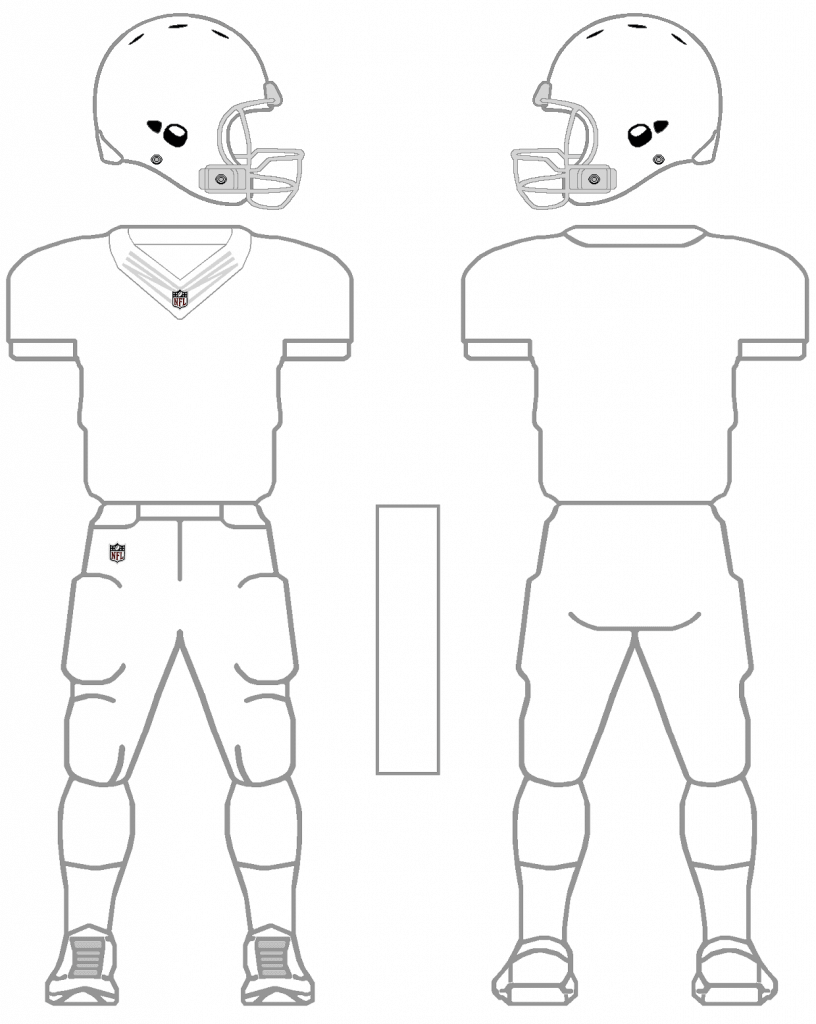 Uni Concepts & Tweaks
Time for more Uni Tweaks from the UW readership.
I hope you guys like this feature and will want to continue to submit your concepts and tweaks to me. If you do, Shoot me an E-mail (Phil (dot) Hecken (at) gmail (dot) com).
• • •
Today's concept come from Chad Buley, who, in what I believe is a Uni Watch tweaks/concepts first, included a video presentation of his concepts along with the concepts themselves. We'll start with the video, and then his redesigns/rebranding for the Washington Football Team.
Hey Phil!

Here's a Washington Football Team rebrand I've been working on. The logo & shoulder stripes are based on the Tuskegee Airmen's 99th Fighter Squadron patch, and the number font comes from WWII fuselage codes.

Thank you for your time!

Best,
Chad B.
And here are Chad's concepts: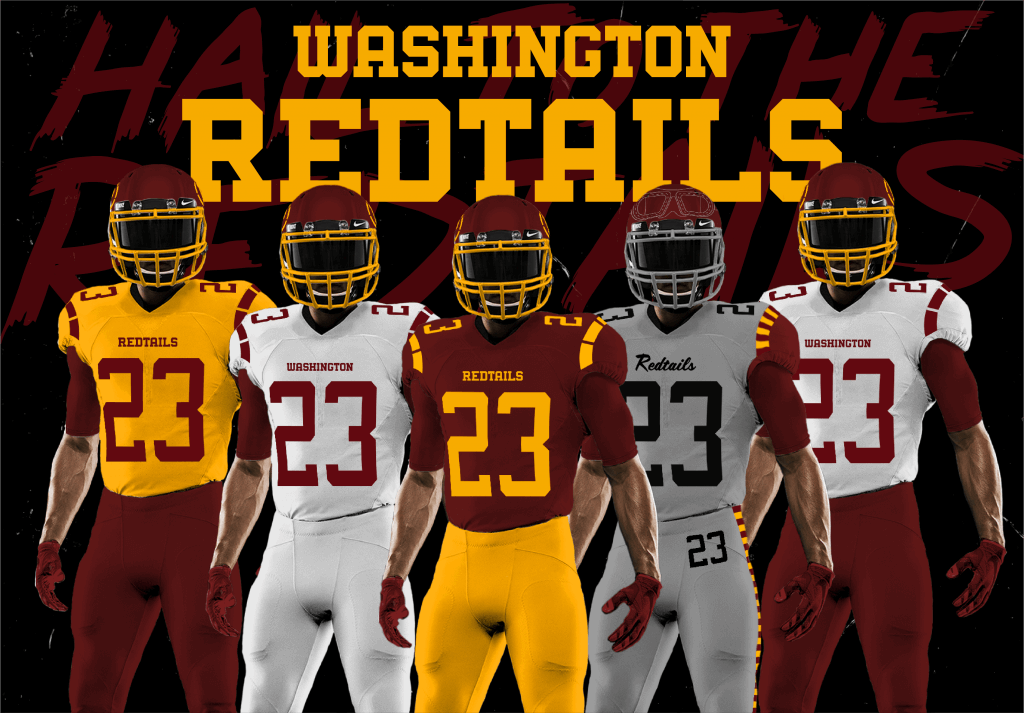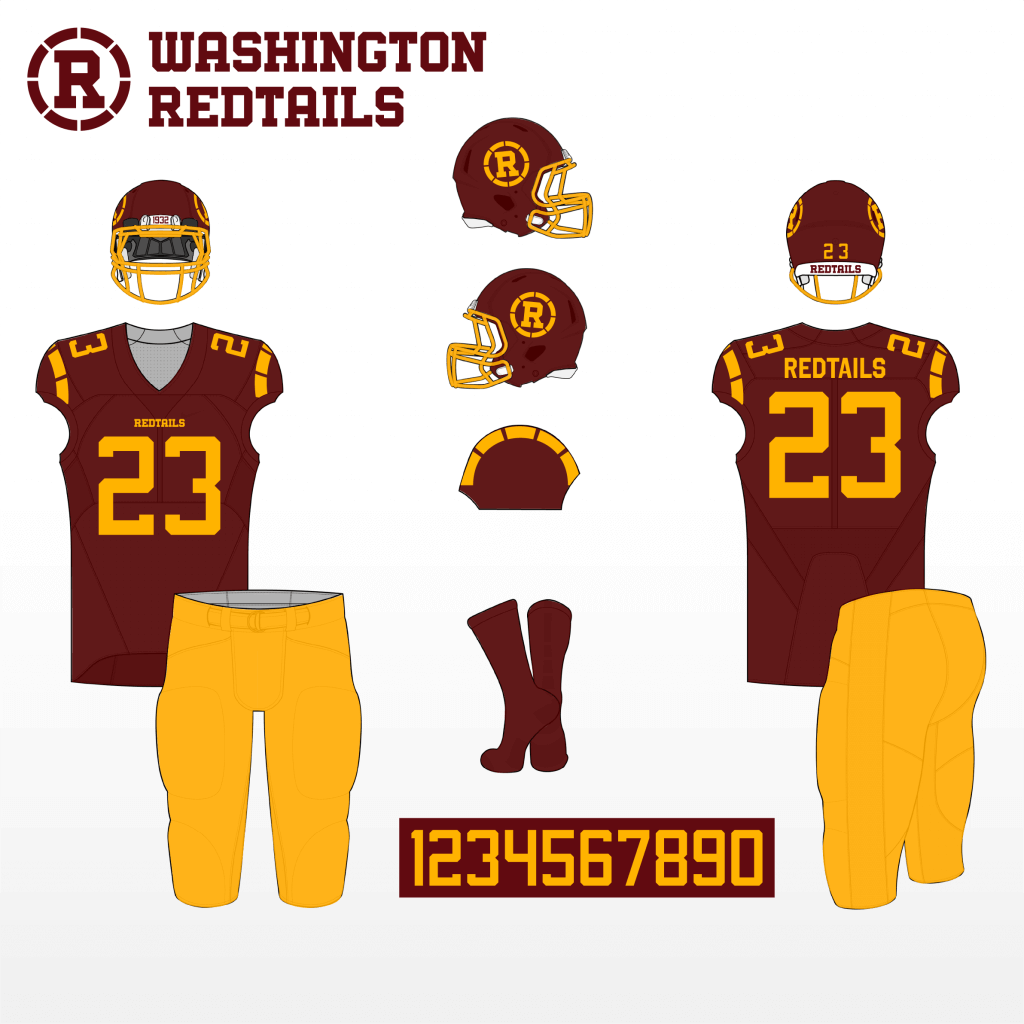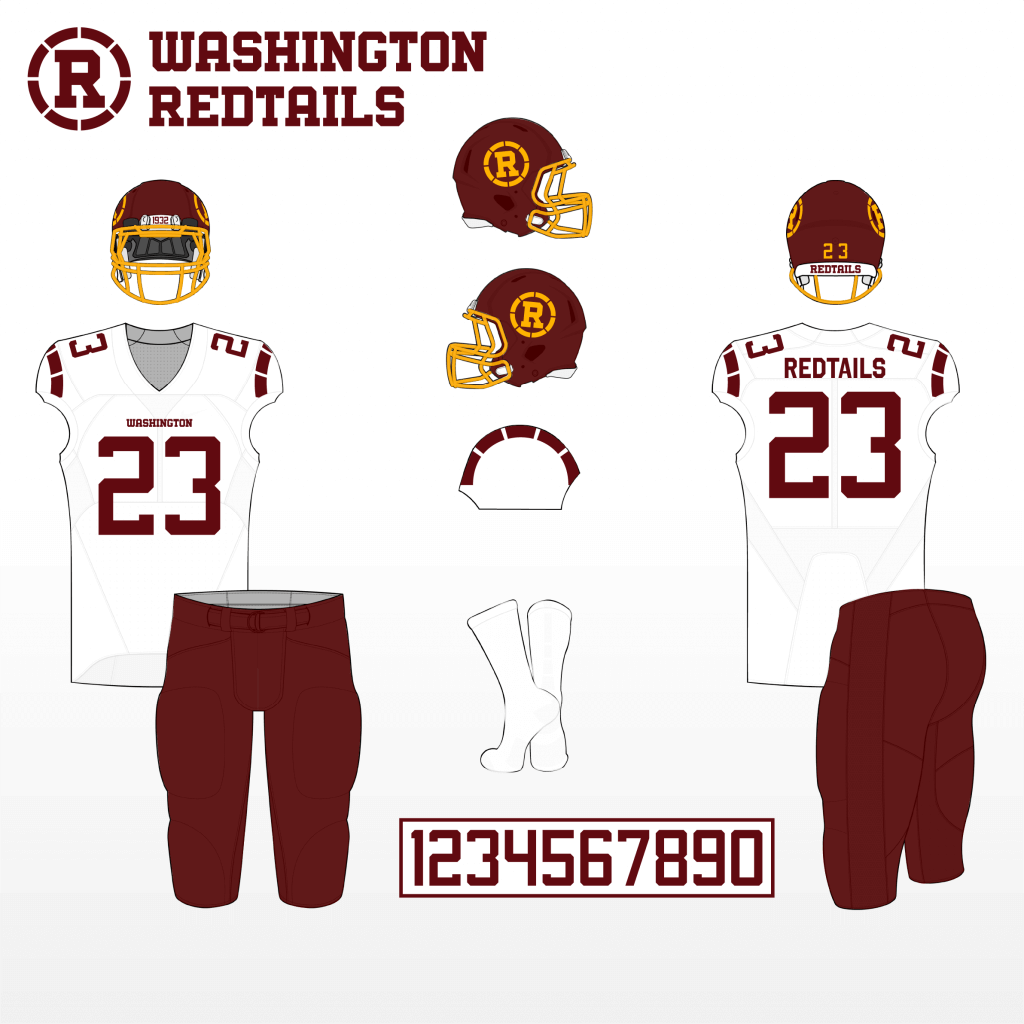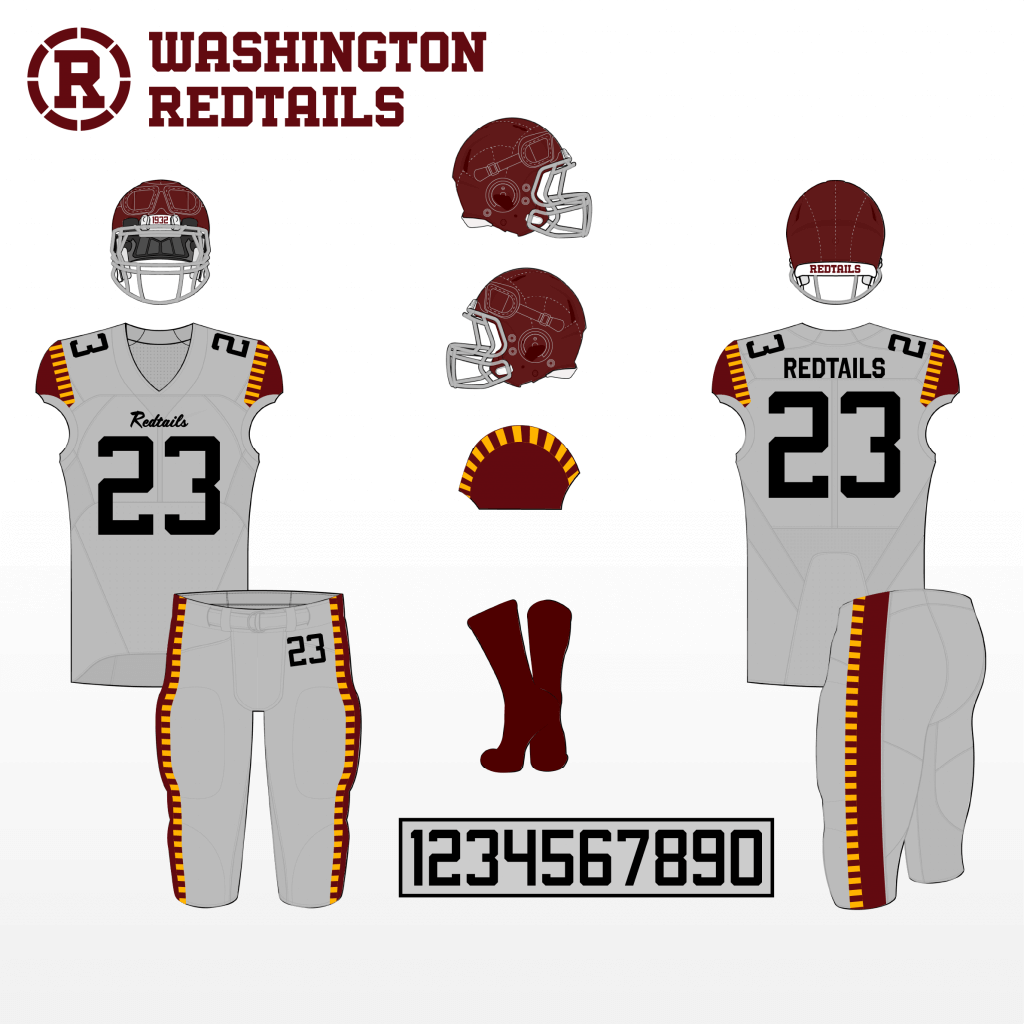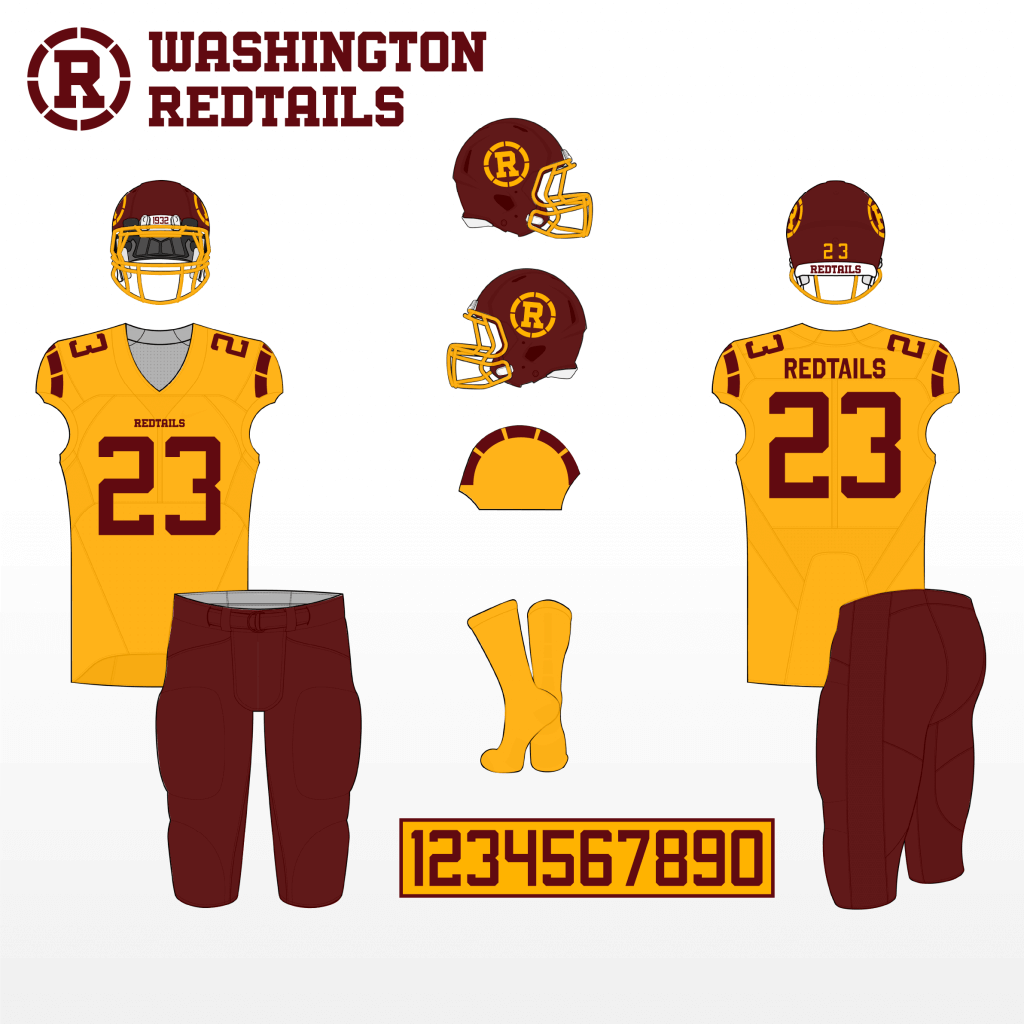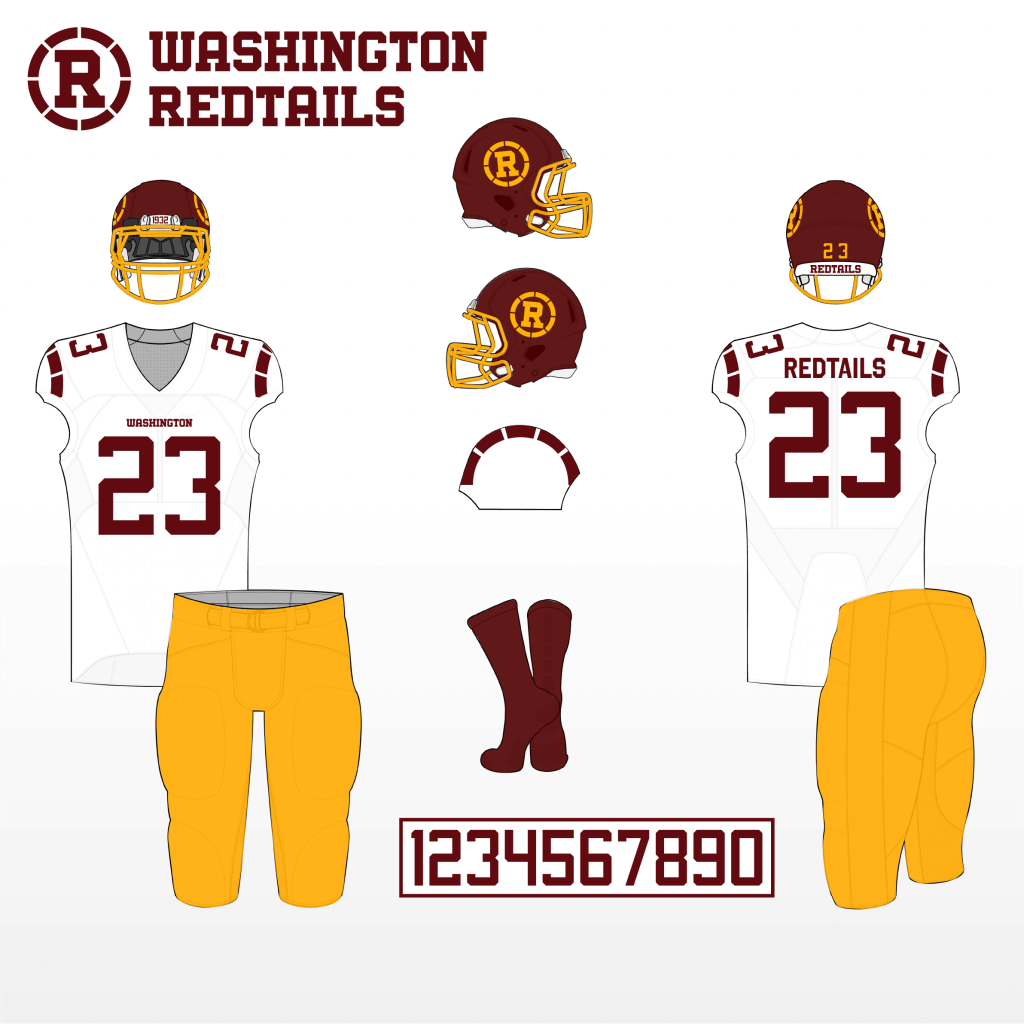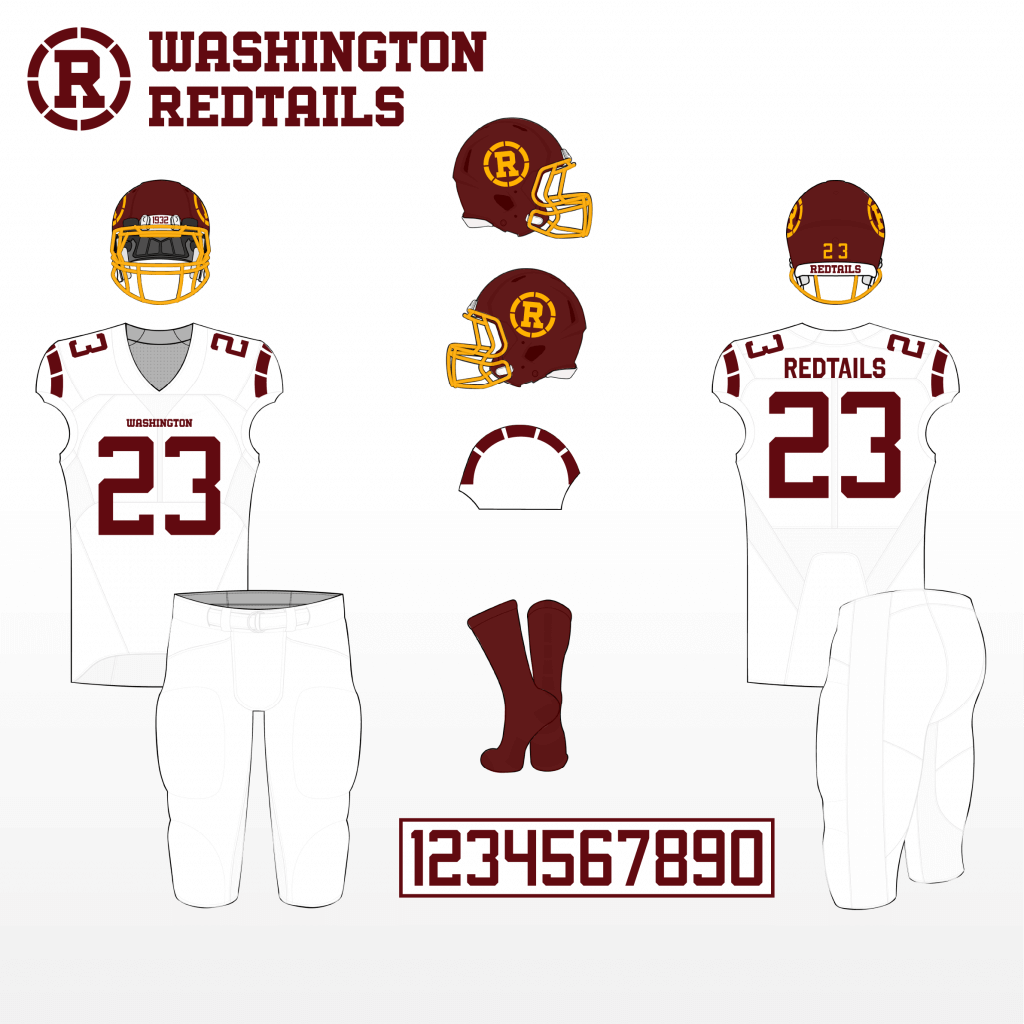 • • •
Thanks Chad!
OK readers (and concepters). If you have some tweaks or concepts, shoot 'em my way with a brief description of your creation and I'll run 'em here.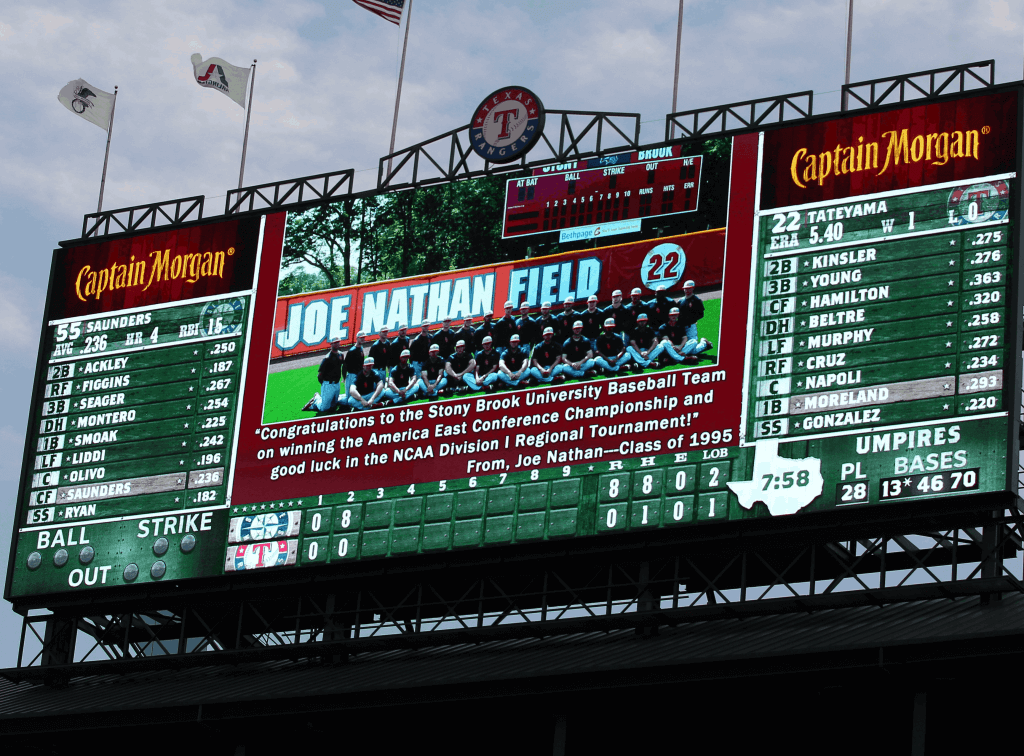 Guess The Game…
from the scoreboard
Today's scoreboard comes from Nick East.
The premise of the game (GTGFTS) is simple: I'll post a scoreboard and you guys simply identify the game depicted. In the past, I don't know if I've ever completely stumped you (some are easier than others).
Here's the Scoreboard. In the comments below, try to identify the game (date & location, as well as final score). If anything noteworthy occurred during the game, please add that in (and if you were AT the game, well bonus points for you!):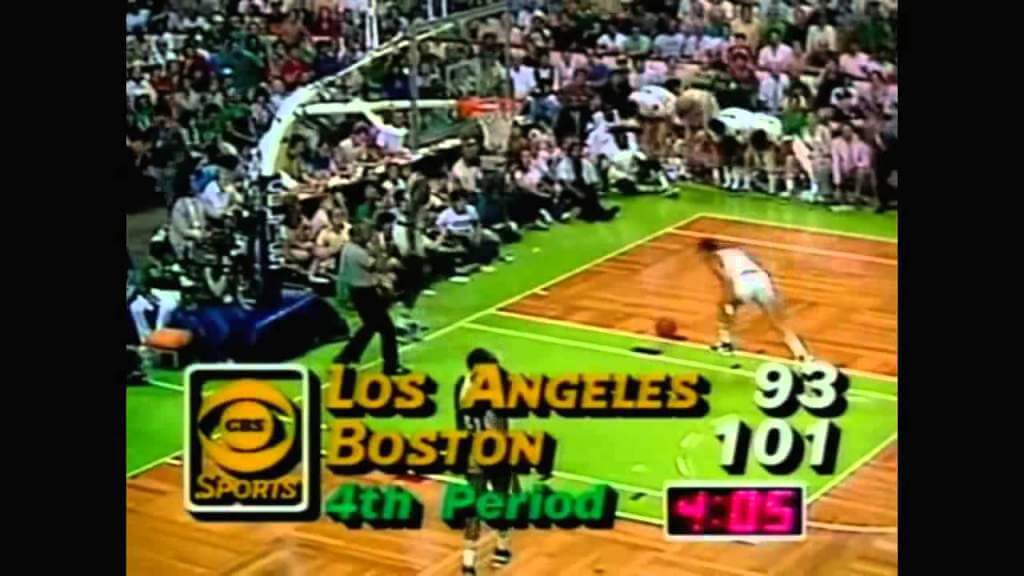 Please continue sending these in! You're welcome to send me any scoreboard photos (with answers please), and I'll keep running them.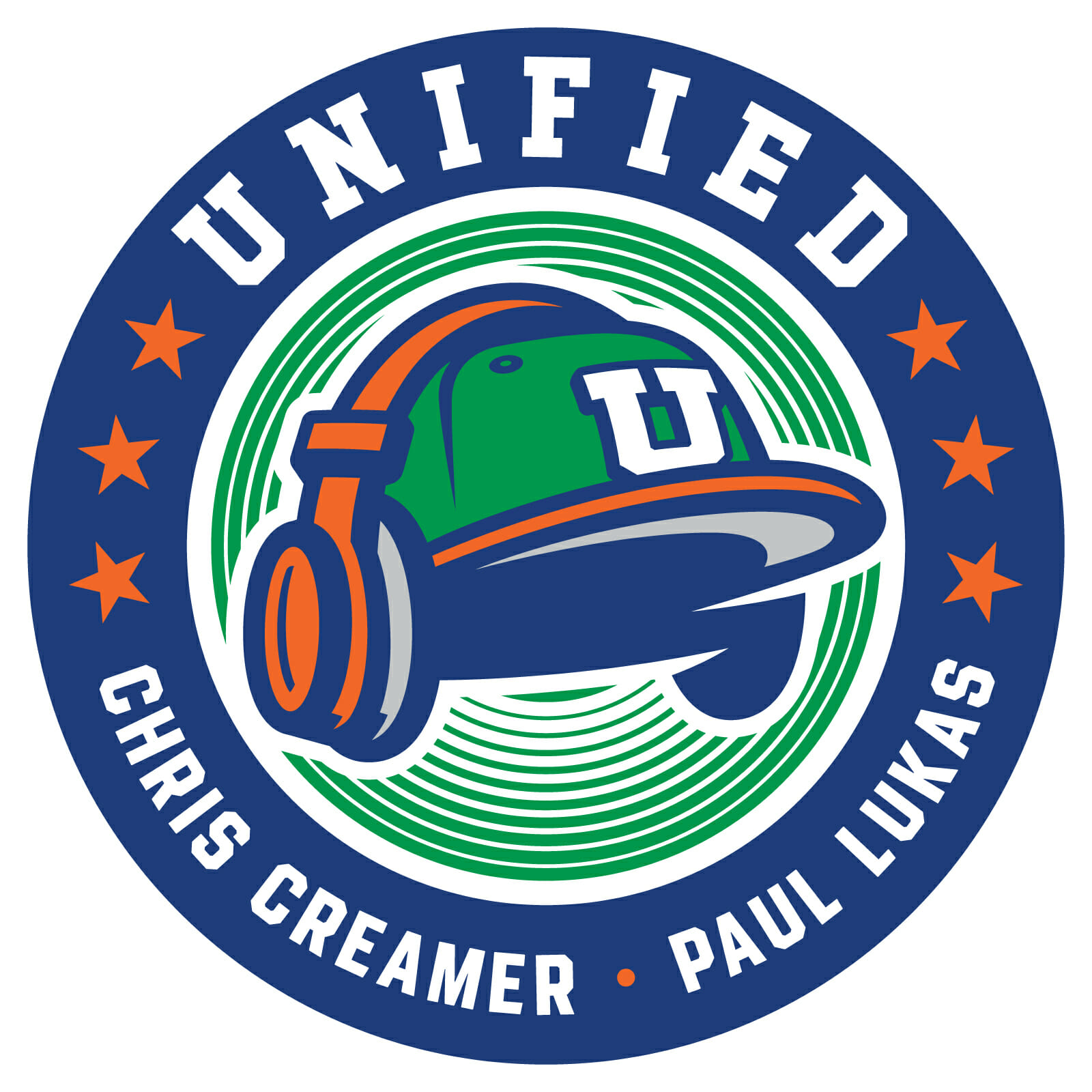 Podcast reminder: Paul here. In case you missed it, for this week's episode of Unified, the recent scenario in which the Mets' starting rotation could have featured both a No. 0 and a No. 00, which I wrote about on Monday, led us to explore various situations featuring zero and double-zero (including, as shown above, such famously zero-clad players as Benito Santiago, Jim Otto, and John Davidson). It was a really fun discussion, in part because Chris isn't usually that into uniform numbers, but he still ended up having a lot to say!
We also talked about the Jags' new emphasis on teal, the news that the Washington Football Team's placeholder identity will be extended for another year, the ЯR uniforms that we think deserve to be upgraded to full-time status, and more.
You can listen to this episode, and subscribe to future ones, on Apple, Google, Stitcher, TuneIn, and Spotify, or just use the player below:
The show notes from this episode, which include photos of most of the things we discussed, are here. Those photos also appear in the video version of this episode, which you can watch here:
Enjoy the episode, and thanks for all the enthusiasm and positive feedback on this project.
Also of note: Today is longtime Uni Watch pal/ally Todd Radom's birthday. Enjoy your special day, buddy!


The Ticker
By Anthony Emerson


Baseball News: The Giants wore two different versions of their black alternate jersey in 1981 — one with vertically arched NOBs and one with radially arched NOBs. The ones with radially-arched NOBs are mesh created by a local company (from @jessir717). … Mets 1B Pete Alonso wants the black jerseys to return, and wants to turn it into a routine Friday promotion (from @ColHapablap). … Dodgers P Trevor Bauer wore the team's Spring Training cap in his official headshot (from Josh Claywell). … New jersey for Georgia Tech (from Timmy Donahue). … New jerseys for Oklahoma State (from Sam Kissel). … The Blue Jays posted a video about their new player development facility in Dunedin, Fl. (from Andreas Papadopoulos). … Thursday night's Oregon State/Grand Canyon matchup featured a pitcher wearing stirrups facing a batter wearing stirrups. The kids are alright! (from Eric Fisk). … This great footage of Michael Jordan in the Arizona Fall League unfortunately features two uni ads on Jordan's jersey (from Eric S.)

Hockey News: The Sabres wore their ЯR unis at home against the Devils on Thursday night, which means they went white at home (from Daniel Estabrooks). … The Golden Knights wore their regular black helmets on Thursday night, shifting away from the metallic gold helmets they wore with their black jerseys a few times earlier this season. Their AHL affiliates, the Henderson Silver Knights, are still wearing their metallic lids (from Thomas Juettner). … The Maple Leafs have a giant Ford logo at center ice of their practice arena (from Moe Khan).

NBA News: New Nets PF Tyler Cook will wear No. 2 (from Etienne Catalan). … Also from Etienne: New Kings C Norvel Pelle will wear No. 31.
.

Soccer News: Newport County AFC is celebrating the 40th anniversary of the European Cup Winners' Cup quarter-final against FC Carl Zeiss Jena with a reissue of the kit from that match (from Ed Żelaski). … Also from Ed: Last night's 2. Bundesliga match between SSV Jahn Regensburg and SC Paderborn featured Paderborn keeper Leopold Zingerle in a new bright yellow keeper's kit based on the template of their 2014 home kit. … Minnesota United posted some teaser images of a new kit yesterday (from Tim Nieman).

Grab Bag: A study has found that women in the military pay twice as much for uniforms as men (from Timmy Donahue).


And finally… that's all for today, folks. Big Happy Birthday shout out to the one and only Todd Radom. Enjoy another trip around the sun, buddy!
Everyone have a good Saturday, and I'll catch you guys back here again tomorrow.
Peace,
PH