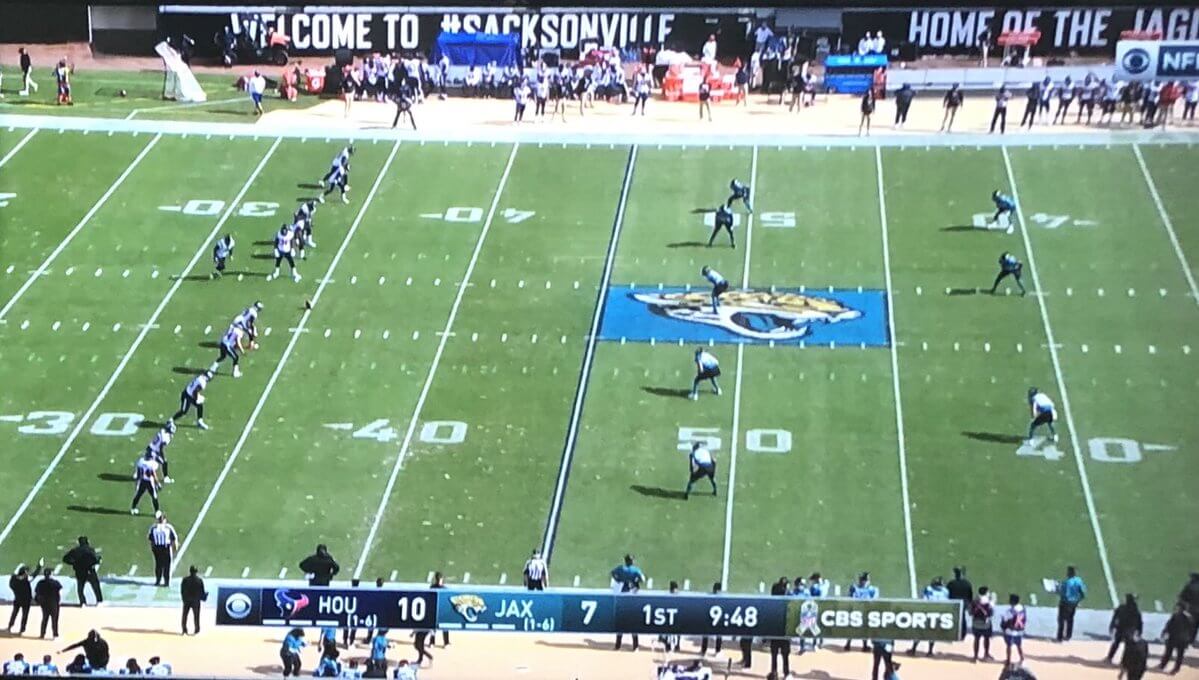 Click to enlarge
Unusual sight yesterday in Jacksonville, as the Jags' midfield logo had a teal box around it. Why? Because the Florida/Georgia game was played in that same stadium on Saturday, and the teal box was needed to cover up parts of that game's midfield logo that wouldn't have been covered by the jag's head alone.
Also, see the SEC logos on the field in that last linked photo? Those were covered up yesterday by fairly large NFL logos.
In that same game, Jags quarterback Jake Luton's nameplate was coming loose: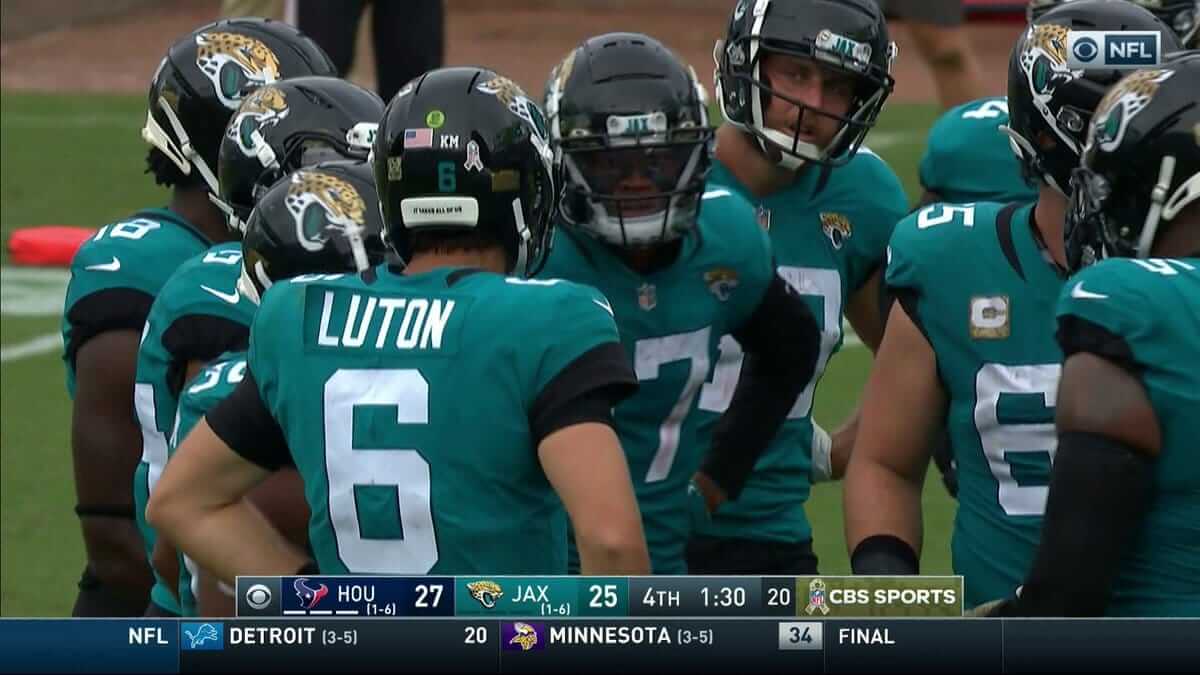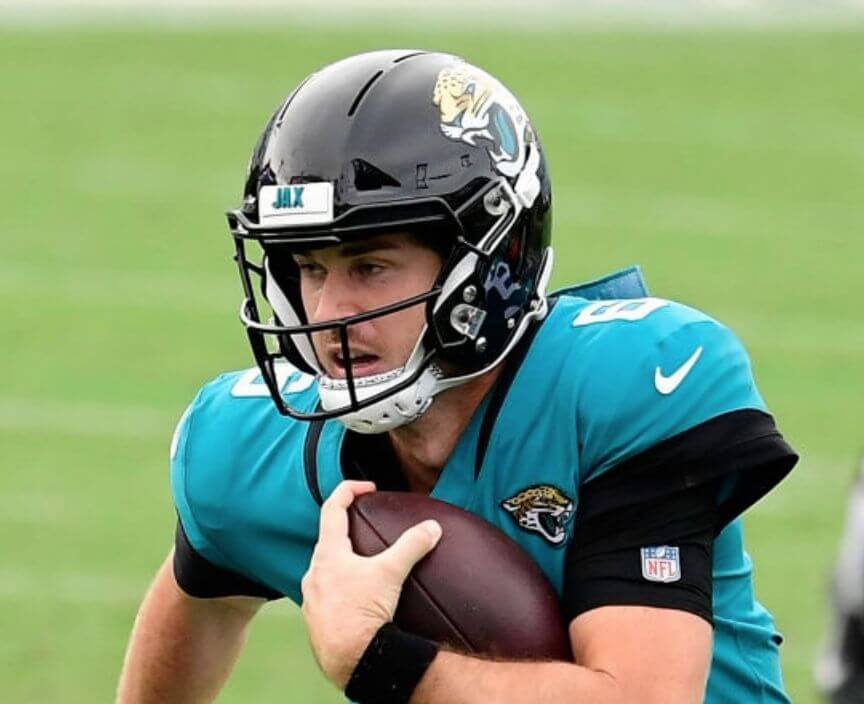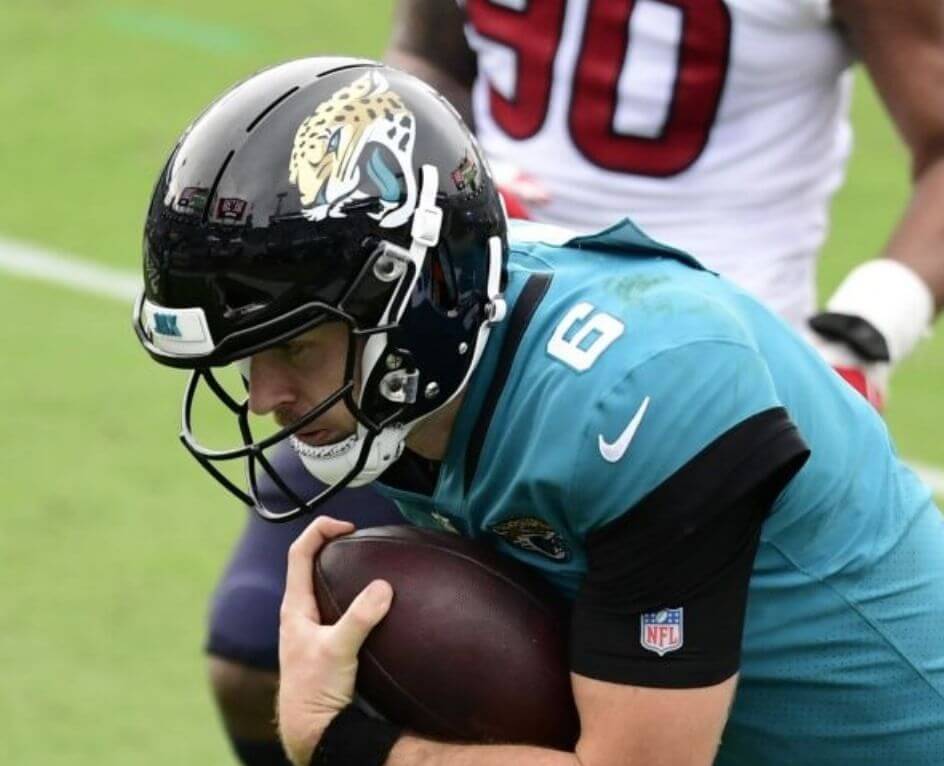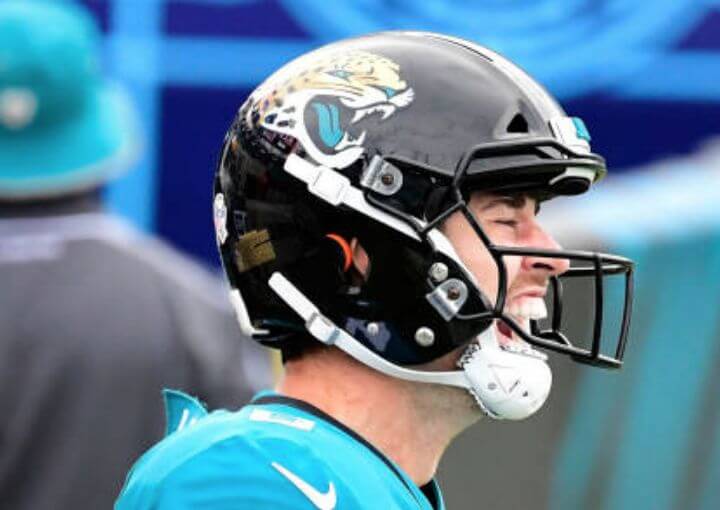 And, obviously, the Jags wore their teal alternates.
In other news from around the league yesterday:
• As I previewed last Wednesday, the Cardinals' Kyler Murray and the Dolphins' Tua Tagovailoa made history by becoming the first pair of starting NFL quarterbacks to wear No. 1 in the same game: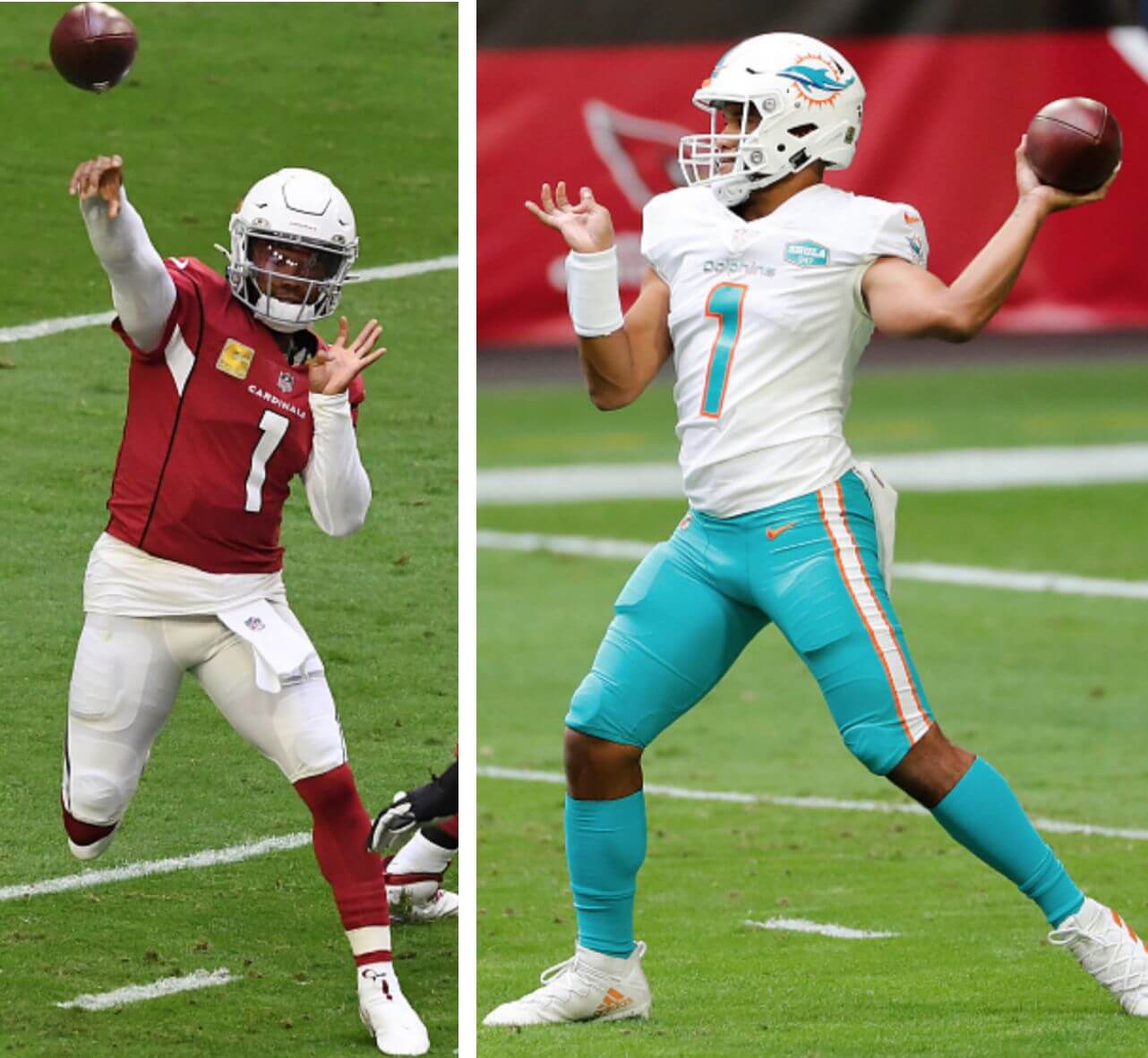 Obviously, the two of them were never on the field at the same time during the game. I was hoping they might meet at midfield after the game or something like that, but I don't think that happened. Too bad.
• In L.A., the Chargers wore their mono-navy alternates for the first time (complete with navy helmet bolts and helmet numbers), while the Raiders wore their magnificent silver-numbered throwbacks:
Too bad the Chargers didn't wear their standard powder blues, since that would've created a nice AFL vibe with the Raiders' throwbacks (plus it just would have looked better).
• In that same game, the vent in Chargers wide receiver Joe Reed's mouthguard was shaped like a lightning bolt: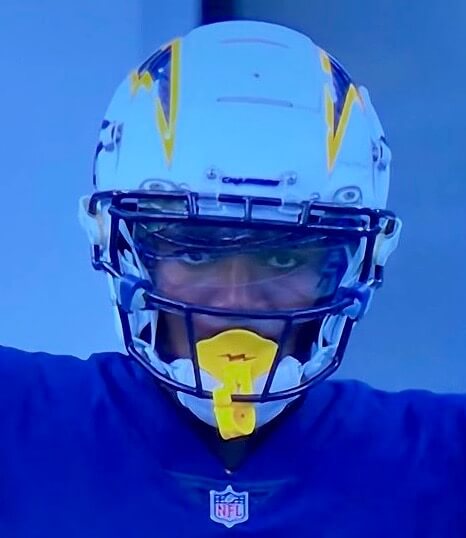 • Also from that game, at one point Chargers quarterback Justin Herbert's play-calling wristband popped open, right in the face of Raiders defensive lineman Clelin Ferrell: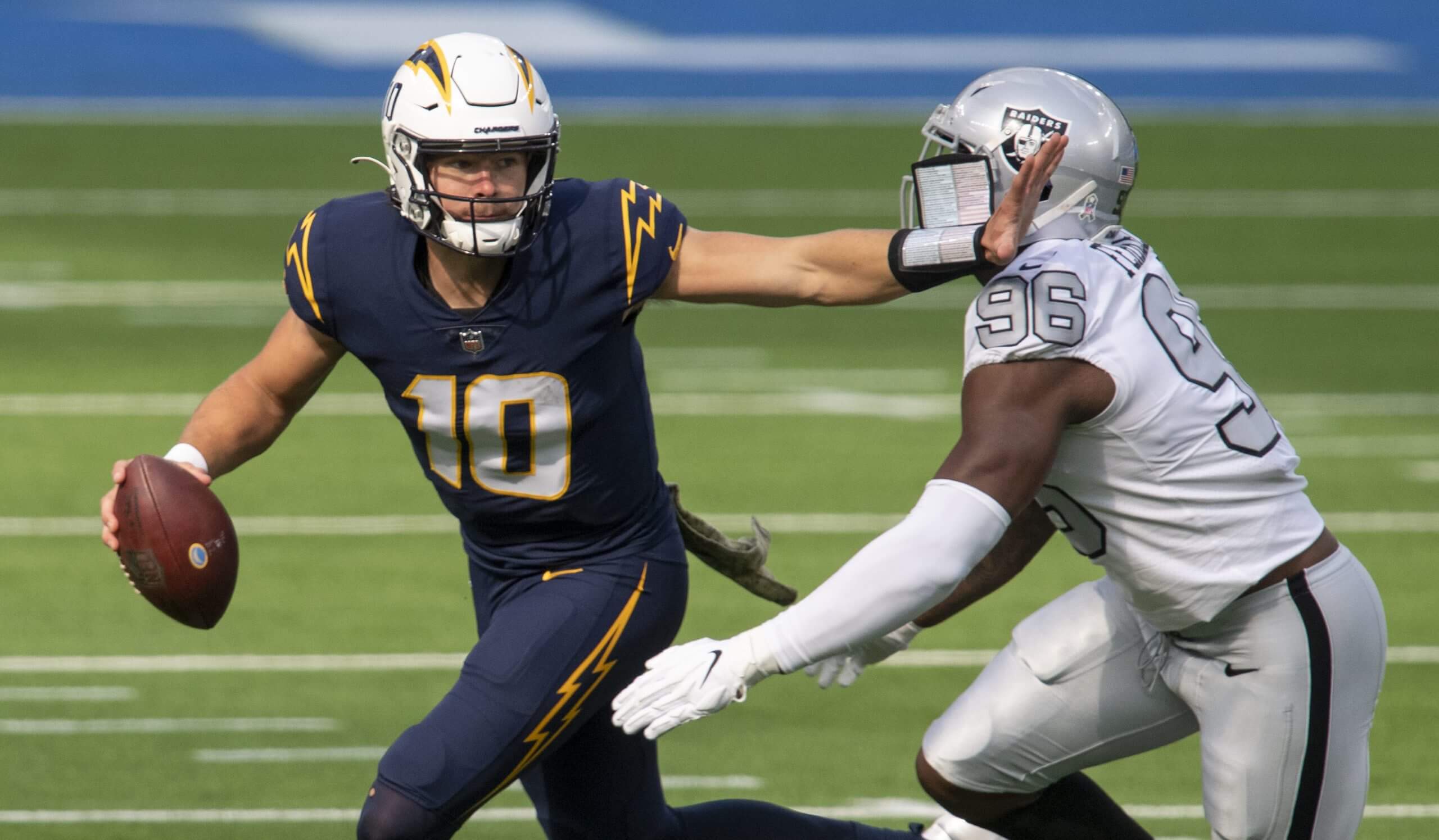 • And in yet another item from that game, Chargers assistant special teams coach Keith Burns was apparently wearing a pair of shorts as a mask:
We have a Chargers coach wearing shorts as a mask pic.twitter.com/At6lz8DuAp

— Barstool Sports (@barstoolsports) November 8, 2020
• Odd-looking game in Buffalo, as the Bills went mono-blue (always a huge mistake for them) and the visiting Seahawks wore white over grey: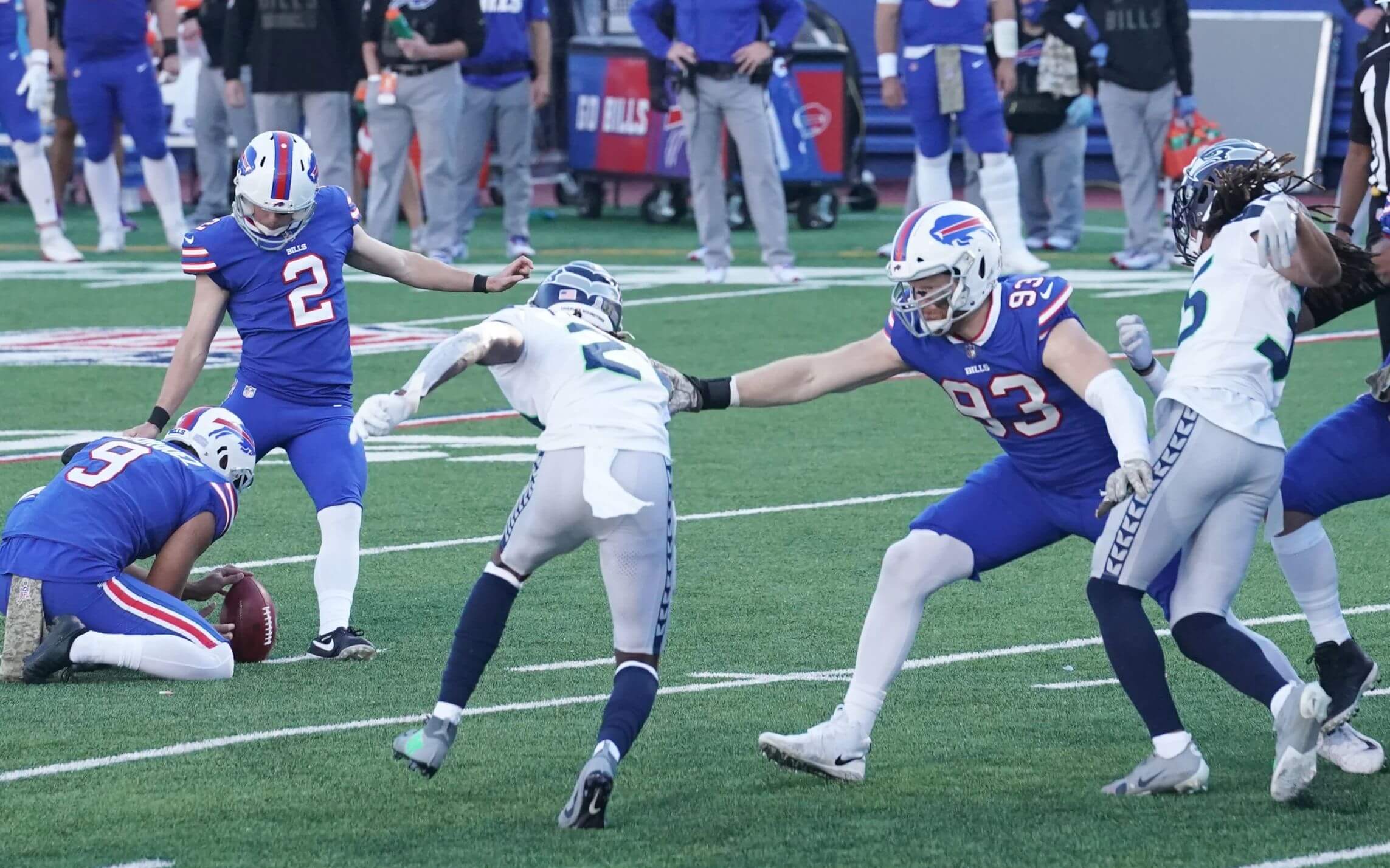 • The Titans wore their powder blue alternate jerseys: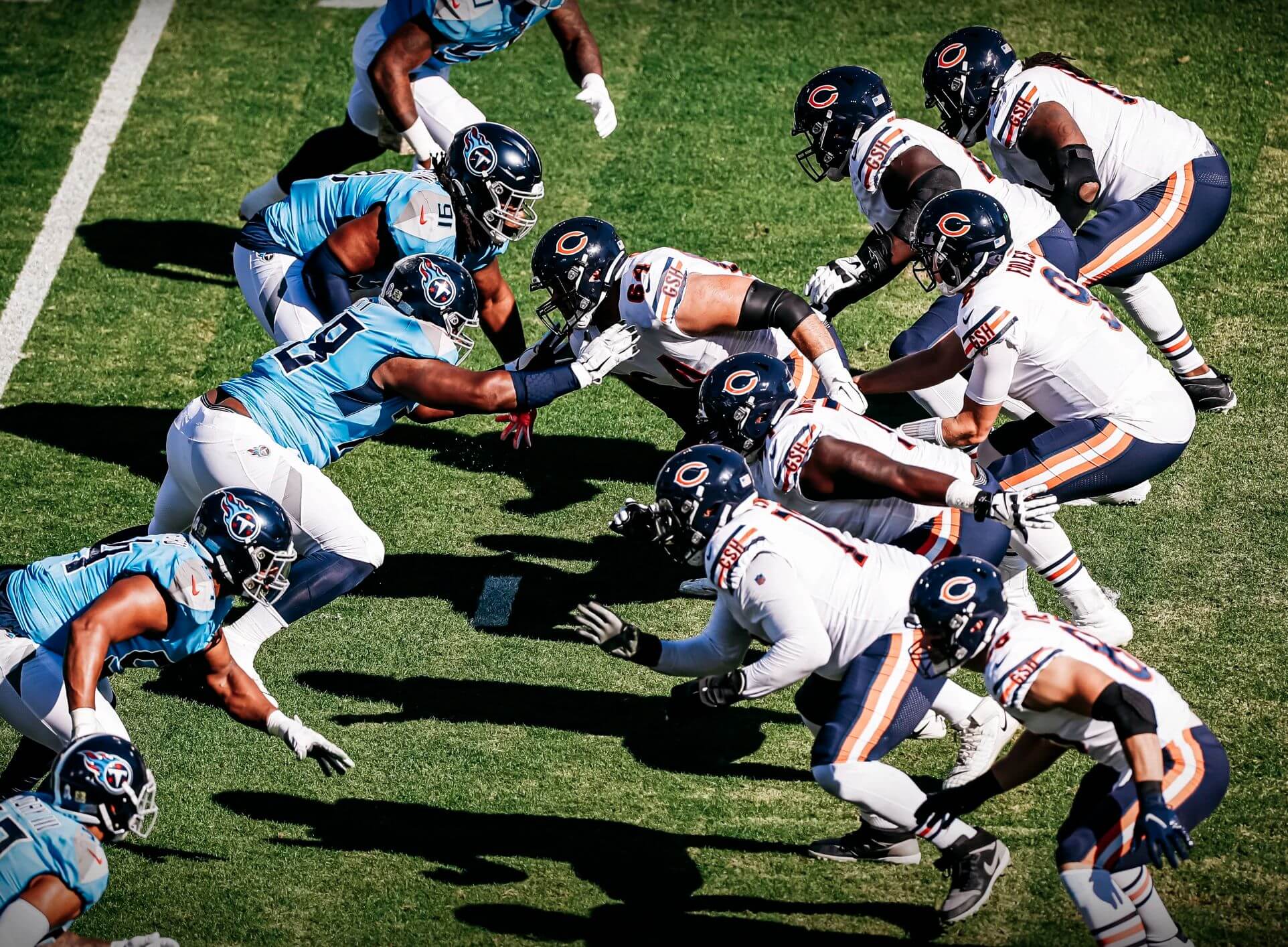 • The Saints wore the mono-white alternates that everyone loves (myself included):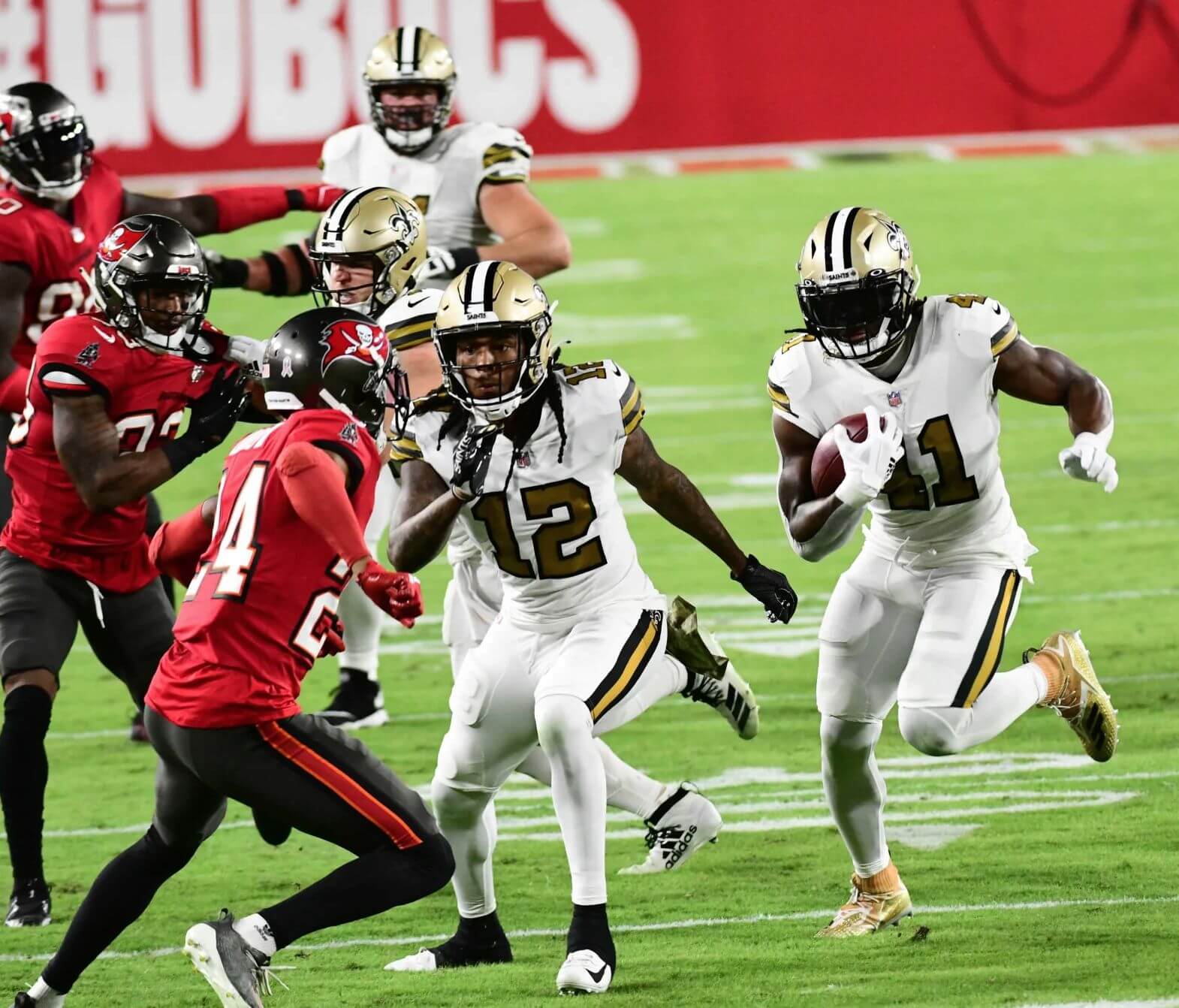 • The Lions wore white over blue, which isn't particularly notable, but I'm mentioning it because it's one of my favorite road uni combos in the league. They should stick with this for every road game:
• The Broncos wore their mono-navy alternates (woof!) in Atlanta against the Falcons, who wore white at home: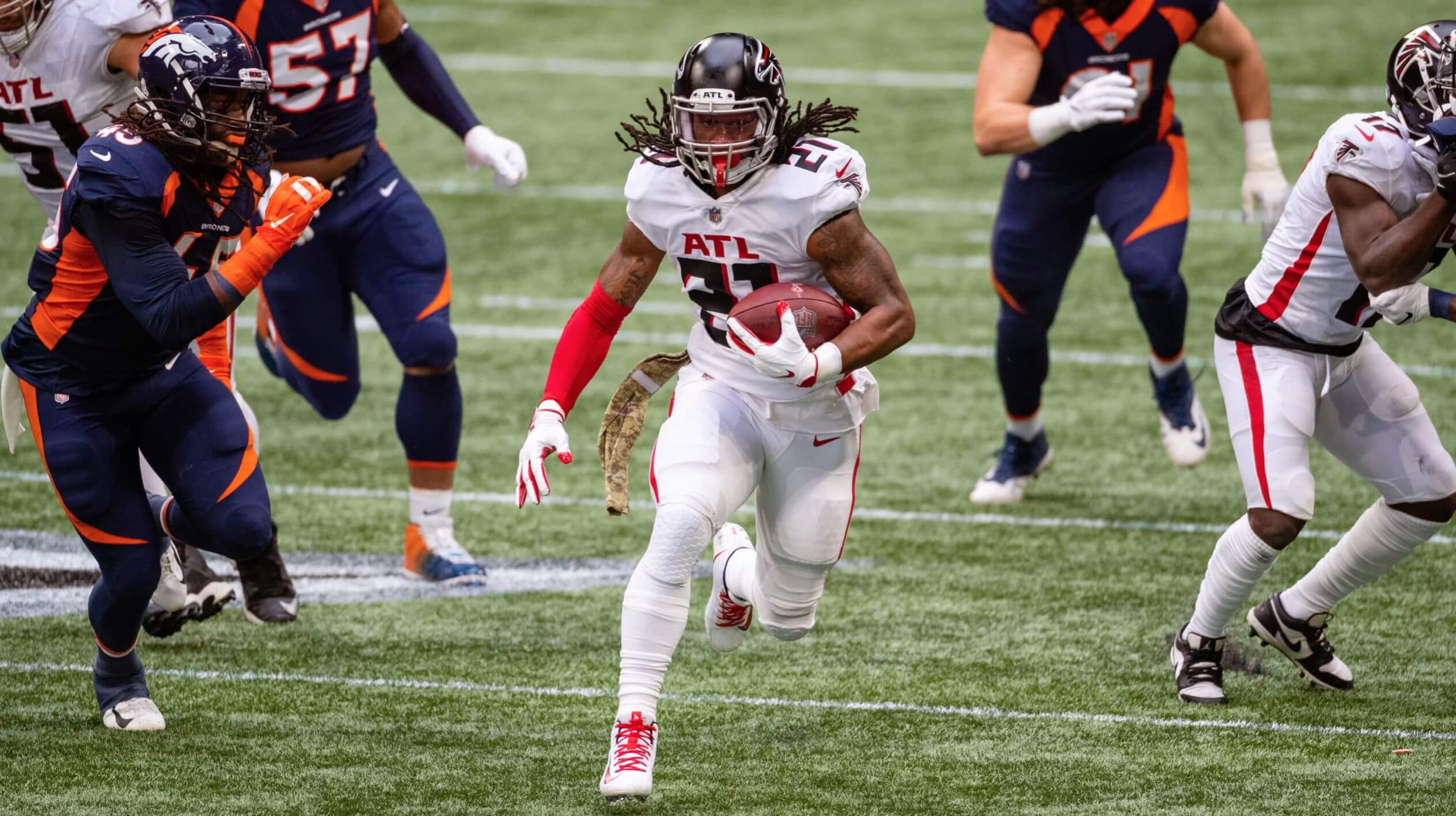 According to the Gridiron Uniform Database
, this was the first time since 2003 that the Falcons wore white at home.
Also: If you look at that last photo, you can see how the idea of having the jersey side panel align with the pants piping (which tends to look silly when when the two elements actually align properly) is rendered moot by the current trend of players wearing untucked base layers.
• Cowboys owner Jerry Jones, apparently taking no chances, wore two masks: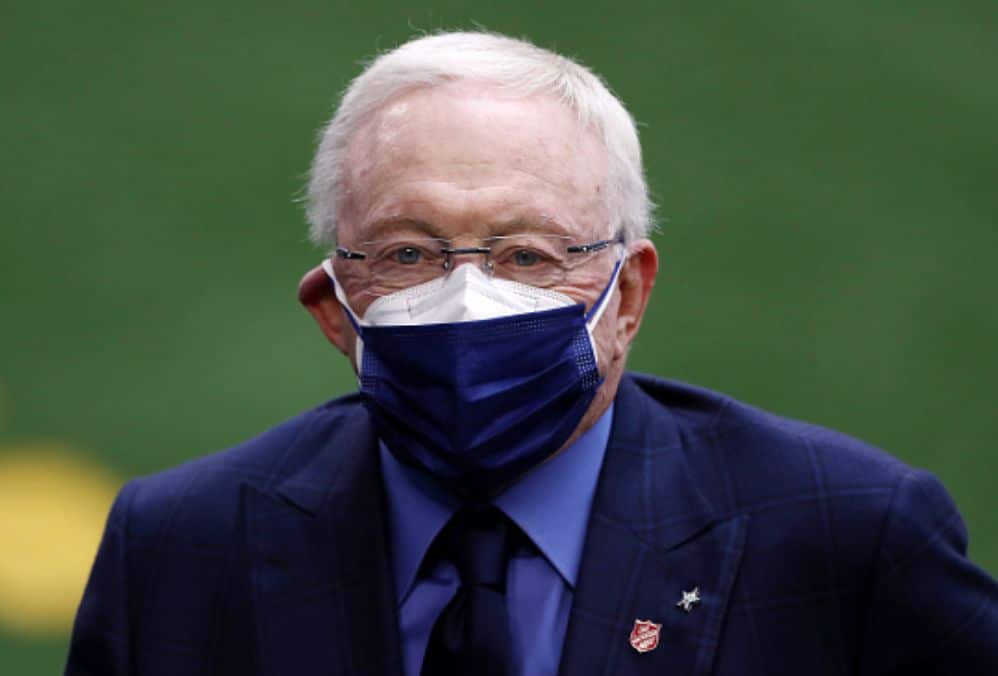 • Speaking of pandemic protocols, I don't know if other teams are doing this, but the social distancing graphics at the Cowboys' stadium are designed with little first down sticks: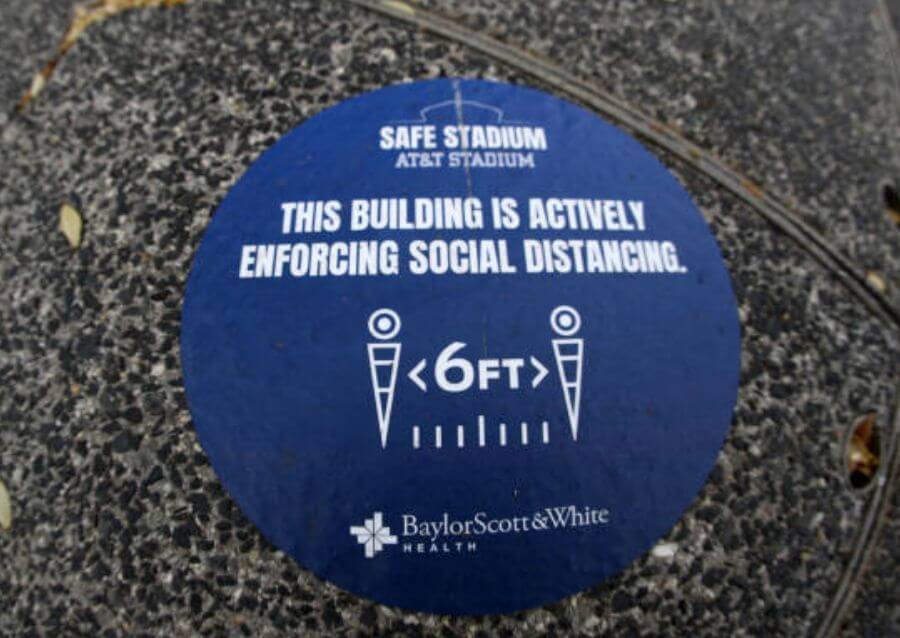 • Aside from the aforementioned Falcons, one other team wore white at home: the
Cowboys
, of course.
(My thanks to all contributors, including Daniel E, Curtis Galvin, Pro Football Journal, David Tra, @JaguarsUniforms, and @MNH25.)
• • • • •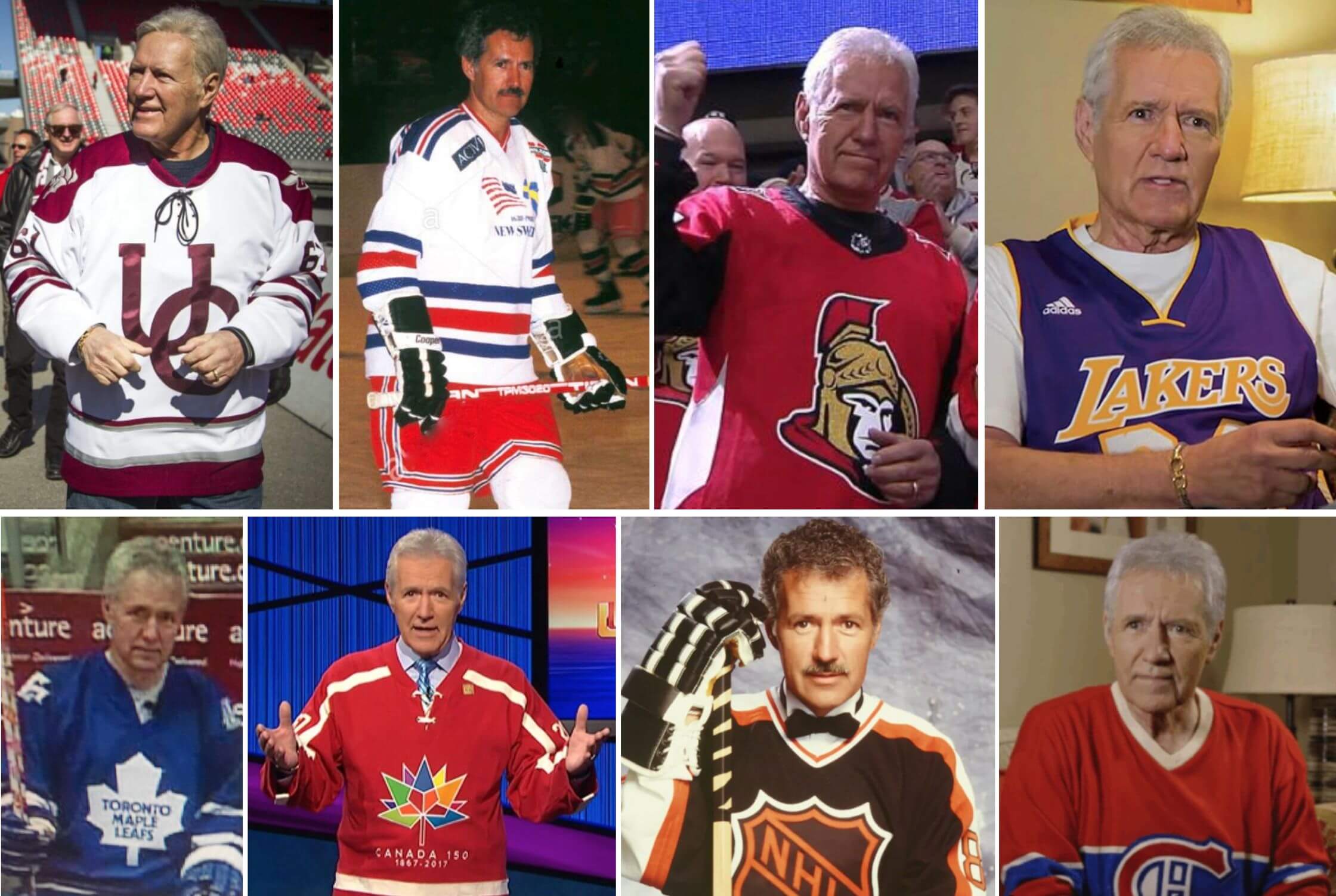 • • • • •
Click to enlarge
I'll take "Uniforms" for a thousand, Alex: By now you've probably heard that longtime Jeopardy! host Alex Trebek died yesterday. A native of Canada, he was a big hockey fan (and occasional player), so there are several photos out there showing him wearing hockey jerseys.
As for the one non-hockey jersey shown above, Trebek was a big Lakers fan (Jeopardy! was shot in L.A.), which I didn't know until yesterday.
Speaking of which: I also didn't know until yesterday that Trebek announced curling tournaments for the CBC back in the 1960s. Here he is on the sheet, second from the left: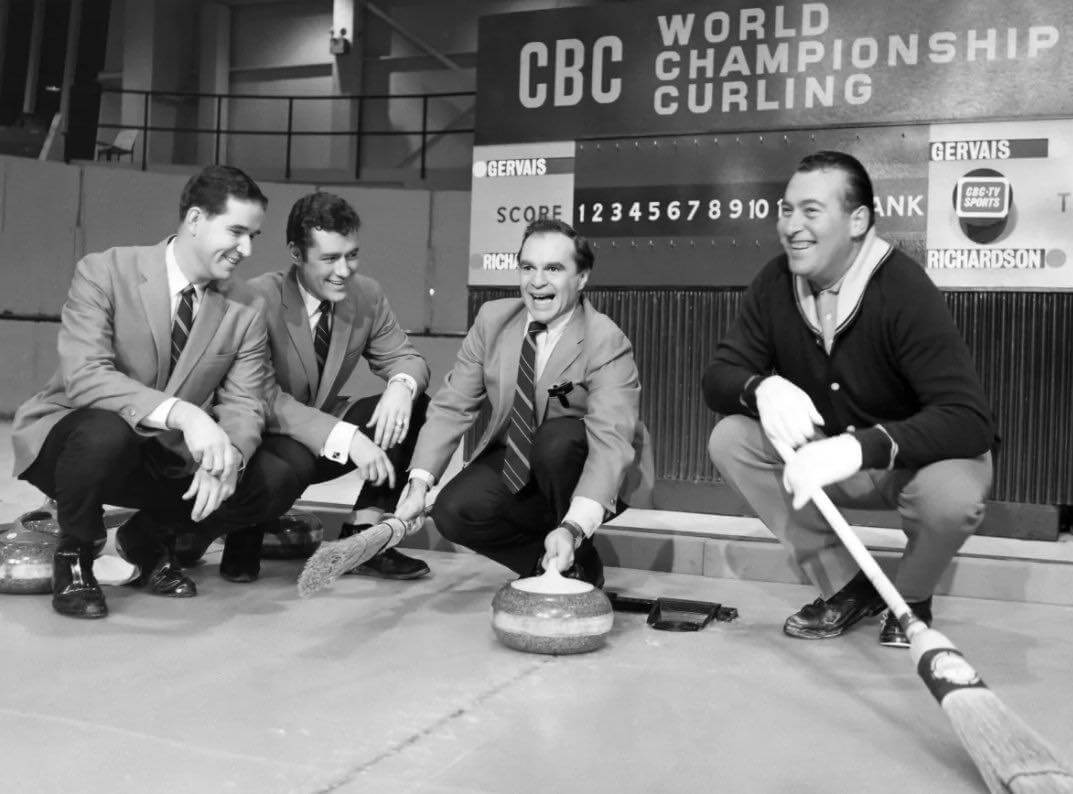 I poached that curling photo from the Facebook feed of longtime Uni Watch reader R. Scott Rogers, who is not only an avid curler himself but also — get this — was a one-day
Jeopardy!
champion back in 2000! I've known and communicated with Scott for many years but didn't know he'd been on the show. Here he is with Trebek 20 years ago: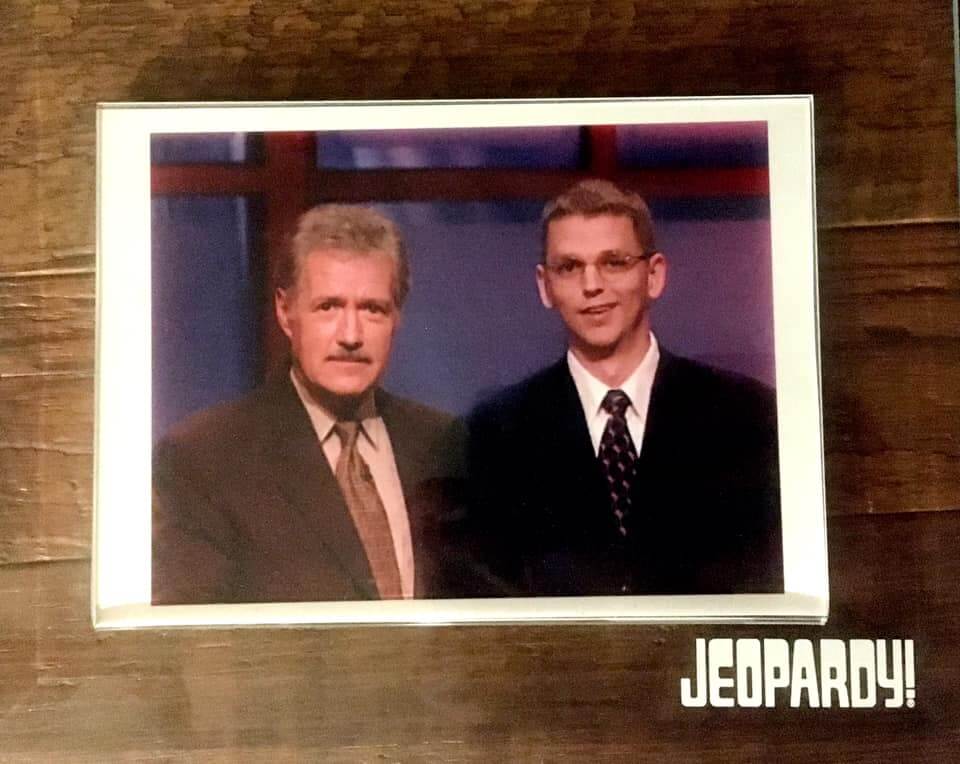 Look at all these things I didn't know until yesterday! That's such a perfect send-off for Trebek — still teaching us little tidbits of knowledge we didn't know about, right to the end. R.I.P.
• • • • •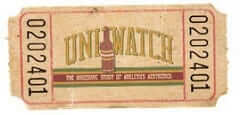 • • • • •
ITEM! A special membership raffle: I received a $20 payment yesterday from reader Ian Lee, along with the following note:
I would like to purchase a membership for you to raffle off to a fellow Uni Watch reader. I would like the raffle to run on Monday if possible, as it will be the one-year anniversary of the death of a friend, Zach Winston, who inspired my own card. I want to honor Zach in this way because it's what he would always do — be incredibly kind to all, even when he was going through some of his own issues.

The only thing that I ask is that this membership goes to someone who couldn't afford to pay for one themself, just like I couldn't when I got mine.
I will, of course, honor Ian's request.
This will be a one-day raffle. Per Ian's wishes, let's please restrict this to people who are a little light in the wallet these days. To enter, send an email to the raffle address by 8pm Eastern tonight. I'll announce the winner tomorrow.
• • • • •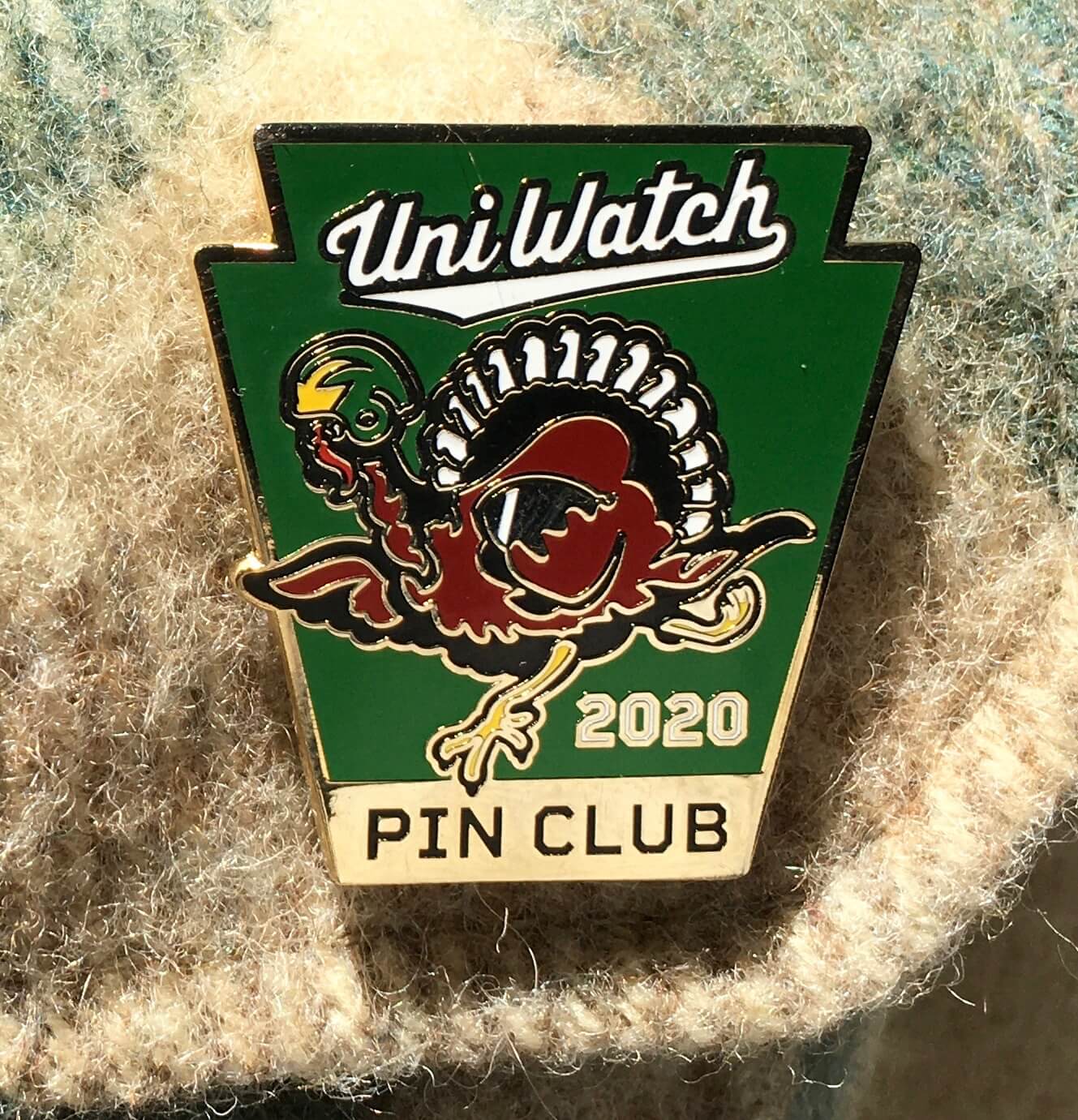 • • • • •
One last Pin Club reminder: After one week of availability, we're now down to only 26 of the Uni Watch Pin Club's November design. It's available here while supplies last.
Need to get caught up? Here are the January, February, March, May, June, July, August, September, and October pins (sorry, April sold out!), along with our 2020 Press Pin and our basic winged stirrup pin.
• • • • •
• • • • •
The Ticker
By Jamie Rathjen

Baseball News: The Yankees are ending their New York-Penn League team in Staten Island. Among the reasons why were that they really didn't like the team's "Staten Island Pizza Rats" name, which was one of the finalists for a rename-the-team contest in 2016, but didn't end up replacing "Staten Island Yankees" except as an occasional promotion and on some merchandise. The team also had reused the same uniform set since 2012 (from reader John F.).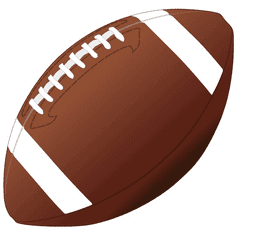 Football News: Washington State QB Jayden de Laura's NOB had a "de" that was only half-lowercase, and also appeared to use an upside-down "P" as a lowercase "d" (from multiple readers). … Reprinted from yesterday's comments: UCLA's Black Lives Matter patch covers the jersey's maker's mark (from Joel Kindle and Erick Kriewaldt). … Mississippi's new flag, which was approved by voters last week, appeared at Mississippi State's game on Saturday (from Timmy Donahue).


Hockey News: A senior team in Jackson Hole, Wyo., the Jackson Hole Moose, wore their 20th-anniversary patch in three different places in 2017-18: both sleeves and the upper chest (from John Muir).

Soccer News: Poppy patches appeared in Scotland this weekend, except Ross County wore armbands instead. Northern Ireland's Linfield always wear a patch as well. Some English women's teams also participated after not playing last weekend, with Aston Villa also wearing armbands. … Meanwhile, France's version of the poppy, the bleuet, was worn both as a sleeve patch and on the shirt front like the poppy. The bleuet has its own Twitter account which has been collecting other examples from throughout French men's soccer. … Atlanta United manager Stephen Glass, who is Scottish, was responsible for a rare non-NHL poppy appearance in the U.S. yesterday (from my brother Nate Rathjen). … Goalie cap sighting: Inter Miami goalie John McCarthy was wearing a team-branded one yesterday (from multiple readers).

Grab Bag: Australian Twenty20 cricket's ongoing Women's Big Bash League has been proving good for uni-watching every weekend. This time, the Sydney Sixers held a pride game and painted a rainbow pattern around the 30-yard line separating the infield from the outfield. … Wade Heidt caught a British Columbia drilling company using a logo derived from that of the National Lacrosse League's Calgary Roughnecks. … Wade also tells us that a Vancouver Island school district has a new logo designed by a local Indigenous artist.
• • • • •
• • • • •