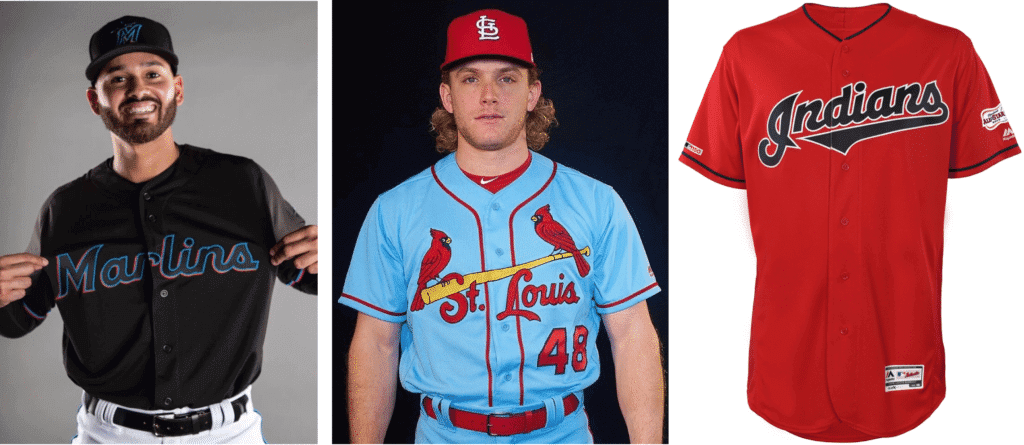 Click to enlarge
It's that time of year again: The 21st annual Uni Watch MLB Season Preview will be available this morning, featuring all of the new uni designs that you can expect to see on the diamond this season (including the three shown above). The MLB Preview is appearing on the Sports Illustrated website this year, and I for one couldn't be happier. Check it out here.
I want to thank everyone at SI, including Mark McClusky, Ryan Hunt, Ben Eagle, and, especially, Connor Grossman, who did a great job of handling all the photos, dealing with all my last-minute additions, and more. Thanks, guys — proud to be working with you, and here's hoping there's more where that came from.
• • • • •
• • • • •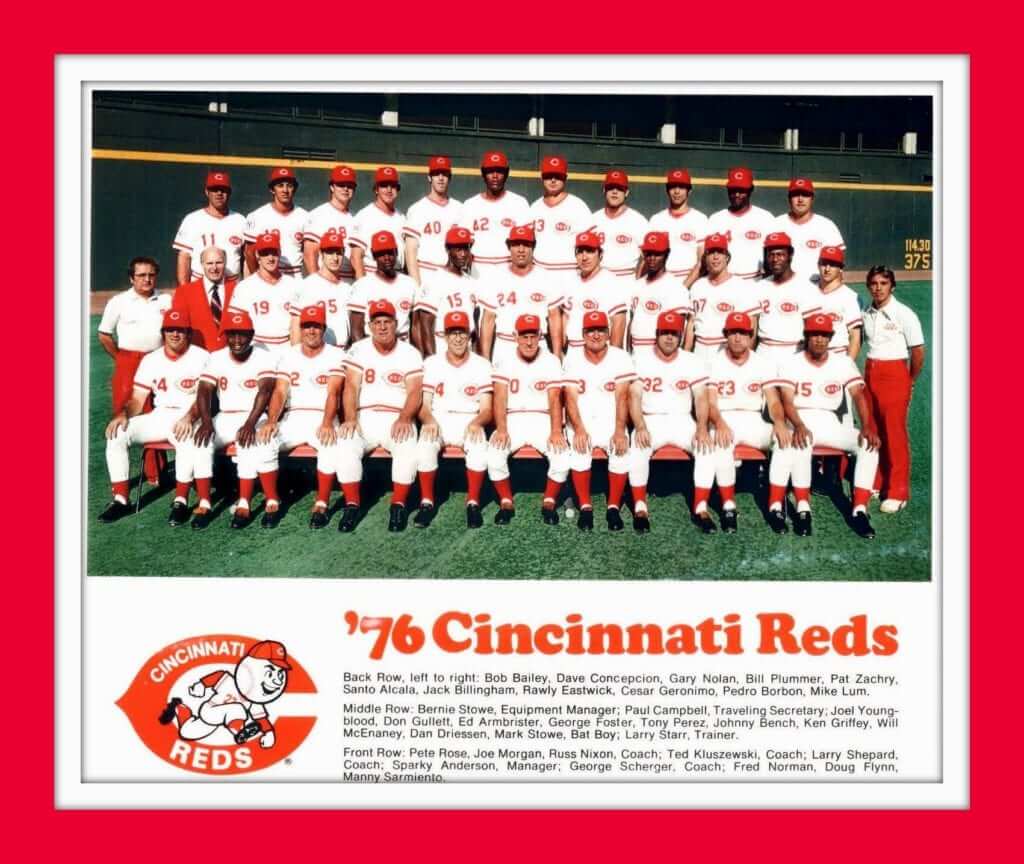 Click to enlarge
Collector's Corner
By Brinke Guthrie
Opening Day is the day after tomorrow, so let's kick things off with some great Cincinnati Reds items. For many years, the Reds were synonymous with Opening Day — being the first professional team, they had the honor of opening the season on a Monday, while everyone else followed the next day. As I recall, once MLB and ESPN began doing Sunday-night season openers, that was the end of the Reds' exclusivity. As someone who was in the Findlay Market Opening Day parade for many years, I can attest to the fact that Opening Day is a very big deal in Cincinnati, so it's shame that they've robbed the team of its annual special status.
We'll start with this 1976 Reds team photo. The '76 Big Red Machine is rightly considered to be one of the greatest teams of all time. Look at the names on here — Bench, Rose, Morgan, Perez, Concepcion, Foster, Geronimo, Gullett, Griffey. These days, there's no way a team could afford to have all these guys on the roster at the same time! Next, this 1963 Reds bobblehead. He is in totally excellent shape (and he better be, considering what the seller is asking). Moving along, see these Fleer Reds stickers? I wore the one on the right for the very first game I ever attended at Riverfront, April of 1971. And one more from the Reds: This thermal cup was made to commemorate their back-to-back World Series titles in 1975 and '76.
I could go on, but there are other teams out there besides the Reds, so here are the rest of this week's picks:
• Last week's Collector's Corner included a game program for the 1969 NBA All-Star Game in Baltimore, a mod-looking game cover if there ever was one. This week, we move up the calendar 13 years for the 1982 game at Byrne Meadowlands Arena in New Jersey. This star-spangled blue program cover was obviously heavily influenced by the hometown New Jersey Nets.
• This 1970s Pirates pennant showcases their spiffy, then-new Three Rivers Stadium.
• Golfers back in 2008 could tee off with these official Opening Day golf balls. (But…you wouldn't play golf on Opening Day — you'd be at the game, right?)
• Look at the art on this 1975-76 Topps hockey card display box. Kinda looks like a Chicago Blackhawk is sticking his skate right into the goalie's chest, and that's gonna leave a mark!
• Here's a trio of 1960s heavy-duty glass beer mugs bearing the logo of the Washington Senators, later to become the Texas Rangers in 1972.
• This 1960s Major League Baseball from Sears & Roebuck Company was "certified and approved by Ted Williams" for "active Americans." No word on whether slovenly and/or non-American people could purchase it.
• This 1970s-1980s Buffalo Bills helmet plaque is in fine shape.
• Well into the 1990s, Nike had no presence on NFL fields except for shoes, until Jerry Jones got involved and signed his own deal. (The league would follow shortly.) Meanwhile, multiple companies like Champion, Starter, Russell, Apex, Wilson, and Pro Player all had involvement in NFL gear for players and fans alike. Pro Player came up with this look for sideline jackets, as shown here for the Packers. This would've been a 1994 jacket, with the NFL 75 patch on the sleeve. This was when the league knew how to design an anniversary patch, as opposed to now.
• Speaking of Apex, here's a very nice, clean-looking 1990s Miami Dolphins jacket. Got some BFBS on there, and the seller calls this the "Sharktooth" design. That was in fact the name for a design by Logo Athletic around the same time (as shown on this Chiefs cap) — this Dolphins jacket uses a style known as the "Dart," if I remember correctly. Also from 1990s Apex: this Cowboys cap with a rather prominent star. This one was paired with their famous "Double Star" jacket.
• Why have a NY Giants mug with a helmet pictured on the side when you can have a mug that is a helmet!
• And from reader Will Scheibler, here are some nice CFL jackets for the Calgary Stampeders and Saskatchewan Roughriders.
Seen an item on eBay that would be good for Collector's Corner? Send any submissions here.
• • • • •
• • • • •
Click to enlarge
Tequila sunrise reminder: In case you missed it on Monday, we have a new version of the sublimated Uni Watch Tequila Sunrise T-Shirt — a big improvement over the version we originally offered as part of the Uni Watch T-Shirt Club in 2015. Here's the rear view, along with a look at how the front and back stripes align:
I'm really happy with this one, and I'm excited to have it in the Uni Watch shop. Sublimation is a pricey process, so the shirt ain't cheap — $35.99 — but I think it's pretty special. You can order it here.
• • • • •
• • • • •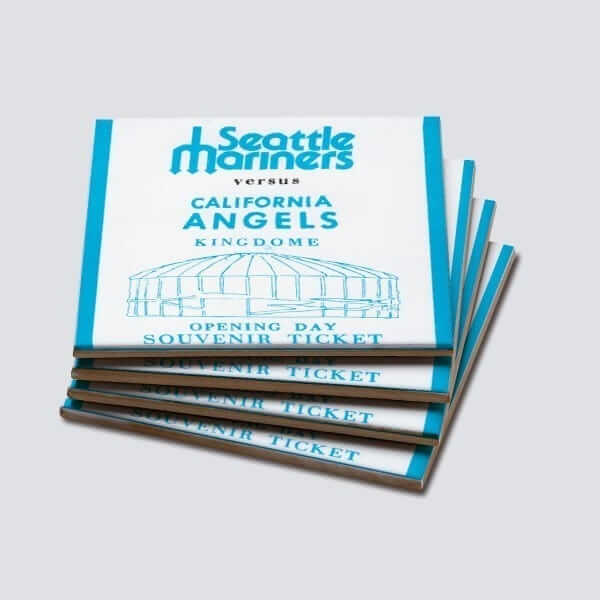 Click to enlarge
Raffle reminder: We're once again partnering with Vintage Brand for a raffle. The winner will get to choose any single item from the Vintage Brand website (like the nifty coasters shown above, which are based on a ticket stub from the first game in Mariners history).
To enter, send an email to the raffle address by this Thursday, March 28, 7pm Eastern. One entry per person. I'll announce the winner on Friday.
• • • • •
• • • • •
Click to enlarge
GOING FAST — sock update: In less than I week, I've already sold through more than 85 of the 100 pairs of Uni Watch socks. So if you want a pair for yourself, move fast! Full details on how to order can be found here. Thanks.
• • • • •
• • • • •
The Ticker
By Alex Hider

Baseball News: Nats P Sean Doolittle tweeted yesterday that he will be changing his number to No. 63, saying the number "carries a special significance for me and my family." He also added he'll be doing some giveaways this season to help out fans who had purchased his jersey with the old number (from JC Crawford and Ted Bloss). … Speaking of the Nats: The squatchee on the cap of the bullpen cart doubles as a beacon light (from Matt Shevin). … Both the Grapefruit and Cactus League logos were painted on the field during a game between the Cubs (Cactus) and Red Sox (Grapefruit) faced off in Mesa, Ariz., last night (from Steve Sher). … The Indians signed INF Brad Miller Sunday after he was told he wouldn't make the Dodgers' big league squad. Yesterday, he wore his Dodger blue cleats in his first game with the Tribe (from Rocky Krsnich). … The White Sox will be giving away a "Sox" soccer jersey this season (from Michael Clair). … Jordan Mayblum was at spring training in Sarasota, Fla., and spotted a fan wearing a fish market's T-shirt that was pretty clearly inspired by Fenway Park's 100th Anniversary logo. … Ignacio Salazar got a look at the Astros' new Hall of Fame at Minute Maid Park. He also spotted a T-shirt with a very cool Astros logo. … The Iowa Cubs will wear Scouting jerseys in April (thanks to all who shared). … The Fort Wayne TinCaps will wear Dwight Schrute's signature mustard shirt as a tribute to The Office (thanks to all who shared). … The Double-A Mississippi Braves will wear Jackson Generals throwbacks on June 28. The Generals played throughout the 1990s. … The Delmarva Shorebirds announced they'll wear Maryland flag-inspired uniforms for Thursday home games this season (from Marcus Hall). … The Cardinals wore safari hats for a spring training photo in 1935 (from BSmile). … Get this catcher a new pair of pants! That photo was taken in 1961 at George Washington High School in Manhattan (from Paul Friedmann). … The Seibu Lions of Japan's Pacific League have introduced an alternate cap with 13 stars to represent their league championships (from Graveyard Baseball). … Southern broke out baby blue uniforms yesterday. Lookin' sharp (from  @CaliGlowin). … Auburn has made a slight alteration to its camo hats, as the logo is now outlined in white (from Clint Richardson). … D-Backs OF Steven Souza Jr. suffered an apparently serious knee injury last night when his cleats skidded on home plate as he was scoring a run. … Odd situation last night in Memphis, as the Cardinals played an exhibition against their Triple-A farm team, the Memphis Redbirds. The Cards wore white, except for P Adam Wainwright, who wore red (from Tyler Oehman). … Speaking of the Cards, the NHL's St. Louis Blues wore Cards-themed warmup jerseys last night (from Luke Kernell). … New uniforms for UTPB (from Jonathan Shaw).

NFL News: Former Washington LB Jack Pardee wore two different fonts on his jersey at some point between 1978 and 1980 (from Pro Football Journal). … Both the Watertown and Foxborough fire departments in Massachusetts are using Pat Patriot in department logos (from Ilana Hardesty). … In a deviation from recent protocol, the NFL's season-opening Thursday-night game will not feature defending Super Bowl champs.

Hockey News: White breezers alert! The Cleveland Monsters of the AHL wore them as part of their astronaut uniforms, celebrating the upcoming 50th anniversary of the moon landing (from Dennis W. Alpert). … Cross-listed from the baseball section: The Blues wore St. Louis Cardinals-themed warmup jerseys last night (from Luke Kernell).

Basketball News: Michigan managers make a basketball court out of tape for the Wolverines' walk-throughs before games (from Ryan Parrill). … An Iowa beat writer for The Des Moines Register did some investigative reporting prior to the Hawkeyes' game Sunday to find out what color they'd wear (from Josh Sandin). … Alex Gerwitz has updated his NCAA Tournament color bracket through rounds one and two. … Newly acquired Thunder PG Jawun Evans will wear No. 8 after the team claimed him off waivers (from Etienne Catalan).

Soccer News: Adidas is once again debuting new uniforms made from recycled ocean plastic for all MLS teams. Last year, the jerseys were black and white. This year, they're navy and teal (thanks to all who shared). … Also from Josh, Dutch club PSV Eindhoven has a new jersey advertiser. … Manchester City is selling a limited edition "mashup" jersey featuring multiple design elements from years past. … Disappointing development from FC Cincinnati, where Sunday's captain Gregory Garza did not wear the city flag-inspired captaincy armband that Kendall Waston wore two weeks ago and instead wore an orange and blue plaid band. Could it be that the flag armband is reserved for home games? (From @labflyer.) … Cross-listed from the baseball section: The Chicago White Sox are giving away a "Sox" soccer jersey this season (from Michael Clair). … Bit of a kerfuffle regarding Venezuela's kits, as their outfitter, Givova, didn't have enough uniforms on hand and had to buy another brand's kits and modify them with their own logo (from Ed Zelaski).

Grab Bag: We've got some cricket news (!) from Doug Brei: Last year, Indian club Rajasthan Royals wore pink jerseys for breast cancer awareness. The jerseys were a hit among the fans — Jaipur, the club's home city, is known as the "The Pink City" because of the city's architecture. So this season, the Royals have made pink their primary uniform color. … New uniforms for German handball club Magdeburg that feature the Magdeburg Cathedral (from Ed Zelaski). … This shipping container was repurposed into stands for a park athletic field. Could make for a good dugout, IMO (from @jason3thousand and @OlegKvasha). … A car tire inspired by Air Force 1 sneakers for New York Fashion Week? As Darren Rusakiewicz says, "I don't even know where to begin." … Mizzou teams across several sports are wearing the slogan "Make It Right" as a protest against what they feel are unjust NCAA sanctions (from Chris Mycoskie).