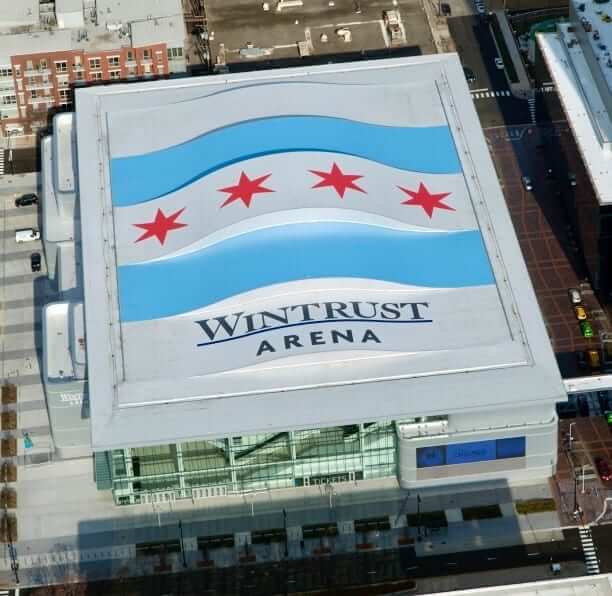 On Wednesday afternoon I was yakking on the phone with Chicago Tribune sportswriter Phil Thompson, who was interviewing me for this story about the Bulls' new alternate uniform. The uni design is based on the Chicago flag, and I mentioned to Thompson that the Chicago flag is a particularly strong design that really seems to have caught on with people. He agreed.
The next morning, as if on cue, Uni Watch reader Ryan Lindemann sent me a link to this Chicago Sun-Times story about a giant Chicago flag that's been added to the roof of DePaul's new basketball arena (see photo above; click to enlarge). Of course, it would be nice if this civic symbol didn't have to share space with a noxious corporate advertisement, but it's still pretty cool.
It's interesting how some flag designs catch on and others don't. I've now lived in New York City for over 30 years, and the NYC flag has virtually no presence here. Well, that's not entirely true — the flag itself can be found in all sorts of municipal settings (there's one flying at a city playground a block from my house, for example). But it hasn't caught on as a symbol of urban pride. In Chicago, there's all sorts of city flag-based merchandise, and people even get city flag tattoos. Hell, the Chicago Red Stars — a women's soccer team that plays in the NWSL — are named after the city's flag design.
There's none of that here in NYC. In fact, I'd be willing to bet that most New Yorkers couldn't even identify our city flag from lineup of similar flags. That's probably due in part to the NYC flag featuring an ornate seal in the center (click to enlarge):
A seal looks nice on stationery, but nobody can make out the details on a flag that's flying way up high. (New York's state flag suffers from this same problem.)
The Chicago flag, by contrast has readily visible graphic symbols: two stripes, four stars — done and done. I think it helps that the stars have a distinctive six-pointed shape. (Note that the stars aren't shaped like two overlaid triangles like a Star of David. The Chicago stars are more like two overlays of this shape, which is called an isotaxal star triangle. The stars themselves are called isotaxal star hexagons.)

Each stripe and star — and each point on each star — has a meaning. It's a bit much (seems like Nike-style "storytelling"), and I'm pretty sure most Chicago residents couldn't recite the significance of each element, but it's still interesting (click to enlarge; additional info here):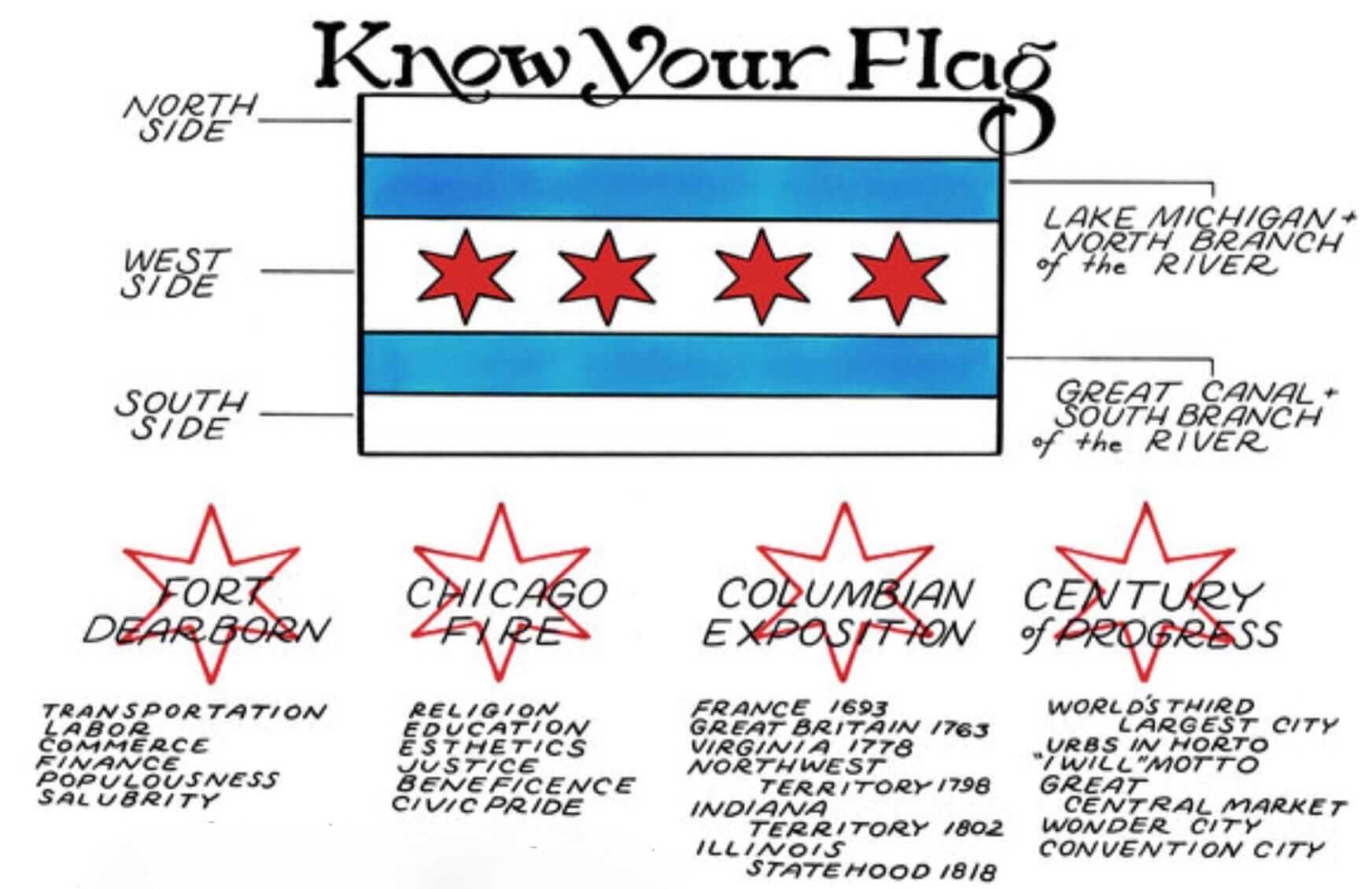 There's also this wiseacre version.
City flags have been getting more attention lately. The great design podcast 99% Invisible devoted an episode to city flags in 2016, which in turn led some cities to reconsider their flag designs. I can think of at least one sports uniform outside of Chicago that features a city flag (MLS's Portland Timbers have a small Portland flag patch on their jersey), and I assume there are others I don't know about.
The overlap of uniforms and city flags is not a new topic for Uni Watch. Back in 2009, Phil imagined what it would be like if MLB teams in the American and National Leagues wore their respective cities' flag colors — good stuff, and worth revisiting.
• • • • •
The Ticker
By Paul

NFL News: Check it out: Joe Namath in a generic "NFL" uniform. … Check out the amazing sideline apparel worn by these Houston Oilers coaches. Looks like one of them was smoking, too (big thanks to Tris Wykes). … Good story on the Cowboys' mismatched uni colors (thanks, Brinke). … Also from Brinke: Saints RB Alvin Kamara was fined $6,000 for wearing those Xmas-themed cleats last Sunday. … The Rams will be wearing their throwbacks this weekend.

College and High School Football News: For the Cotton Bowl, Goodyear made statues of USC's and Ohio State's mascots out of tires (from Jason Hillyer). … Here are the uniforms for the upcoming Army All American Bowl. … Here are the end zone designs for the Rose Bowl (from @Bigj52). … Here's a quiz — can you spot the fake bowl names? (From David Firestone.) … "Virginia Tech QB Chase Mummau usually wears No. 18, but he changed his number to 95 for the Camping World Bowl," says Andrew Cosentino. "Virginia Tech used it to their advantage — they tricked Oklahoma State with a fake punt by putting in Mummau instead of their normal punter, Oscar Bradburn, who wears No. 91. OKST must have not noticed the change."

Hockey News: The on-ice officials for the Spengler Cup have truly hideous uniforms (from Nick Maibroda). … The Maple Leafs have added a memorial patch and a memorial decal for Johnny Bower. Note how the negative space in the "B" forms a "1" — Bower's uni number (from Adam Gignac).

Basketball News: For reason that aren't entirely clear to me (but I'm sure someone will enlighten me), the Pistons gave UConn women's coach Geno Auriemma a 1,000th-win jersey (from @TJMtoWit). … The Museum of Modern Art here in NYC currently has an exhibit about modern fashion. There's a section about sports jerseys, and It includes a photo of a Texas/Oklahoma State game, but the accompanying caption placard inaccurately lists the home team as Ohio State (from Andy Shain).

Grab Bag: Love the manufacturers' names and label designs for these two vintage curling sweaters: Bonspiel-King and Curl-Rite. … There's an Italian apparel company called Steve Jobs, and Apple can't do anything about it. … Adidas has released a line of shark-themed golf shoes (from Zach Loesl).
• • • • •
Phil will have his usual weekend content, and then I'll be back on New Year's Day. Everyone have a safe and happy holiday weekend, and I'll see you in 2018. — Paul