[Editor's Note: Paul is on vacation and will return to the site on March 9. Today's content is by assistant editor Mike Chamernik.]
By Mike Chamernik
As expected, the Los Angeles Rams revealed dark blue helmets with white horns for the upcoming season. Fans get to vote on which facemask color they prefer, white or blue.
Along with a Color Rush game last season, the Rams last wore white-horned helmets from 1964 through 1972, during the era of the Fearsome Foursome. Both back then and in the Color Rush game, the Rams had gray facemasks.
On Tuesday, the Rams announced that they were changing their pant design. The team said that the full uniform set will be unveiled today, but that a complete redesign with new uniforms won't come until 2019. Paul had much more information on this in yesterday's post.
#Rams Uni Update: The white horns are back!

Our primary helmets will have white horns in 2017. pic.twitter.com/hkQZr6b7ff

— Los Angeles Rams (@RamsNFL) March 1, 2017
While I think gray facemasks look the best, I would pick blue facemasks over the white ones. It's tough to base an opinion off that one promotional image, but the white pops a little too much and draws attention away from the horns. Plus, the Rams wore blue facemasks in the past.
It's interesting to me that the Rams chose the white-and-blue color scheme over the blue-and-yellow. The blue and white is nice and simple but could be a little drab. The yellow gives a burst of energy, which is something this Rams franchise could use right now.
• • • • •
T-shirt reminder: Today is the next-to-last day to order our latest T-shirt, designed by the great Todd Radom. Check it out (click to enlarge):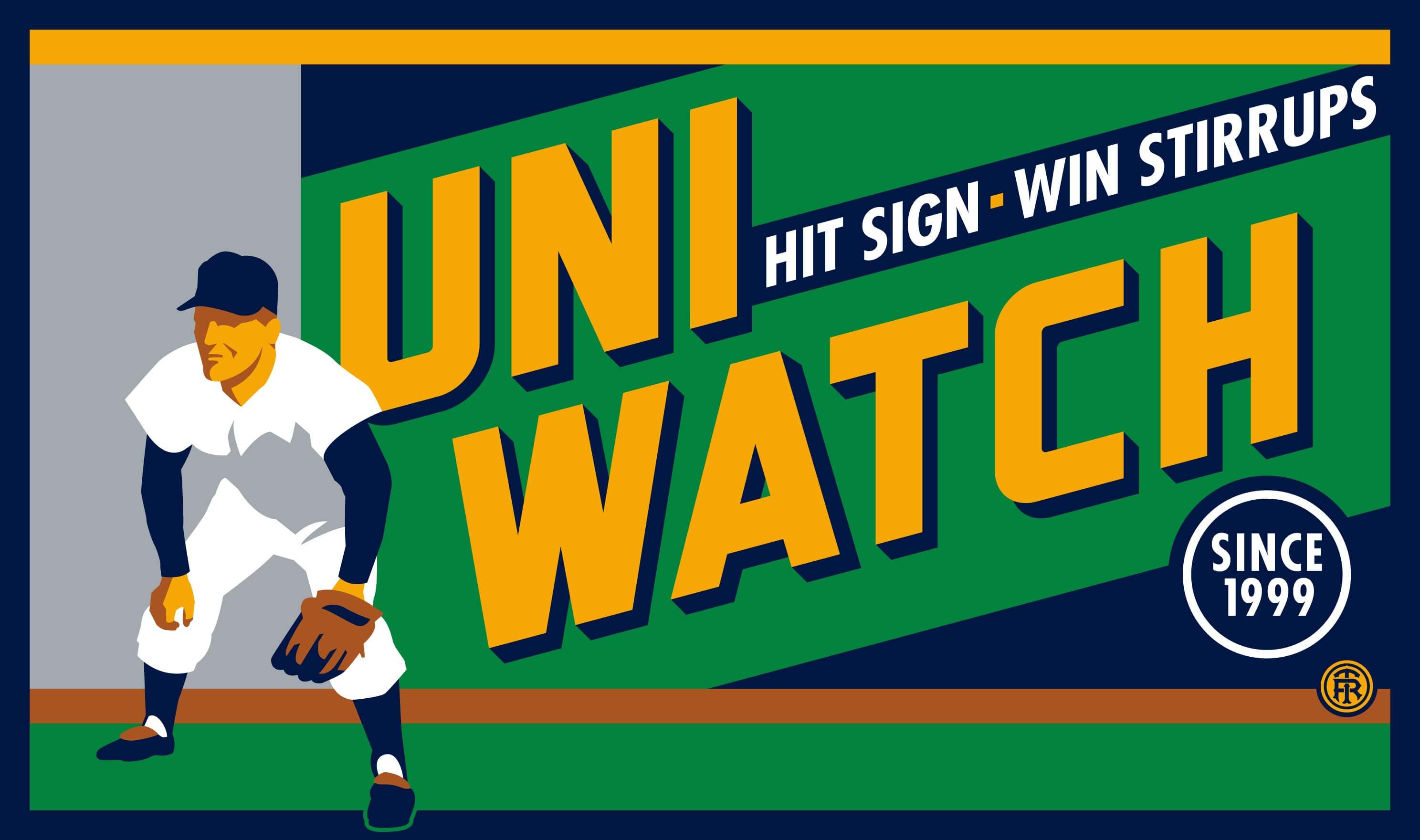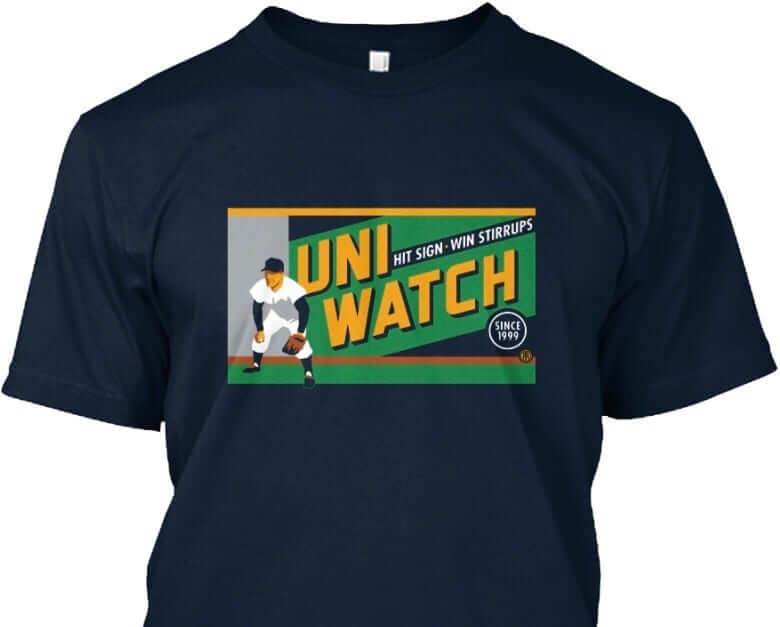 The design takes inspiration from the old Abe Stark sign at Ebbets Field, which read, "Hit Sign, Win Suit." Please note that we're using the shirt fabric color to fill in the dark portions of the design — the outfielder's cap, sleeves, stirrups, and shoes, and also the dark part of the sign behind him. We think it looks best on Teespring's dark navy shirt, which is the version shown above. But you can also order the shirt in black (yes, go ahead and make all your BFBS jokes), in which case the design will look like this: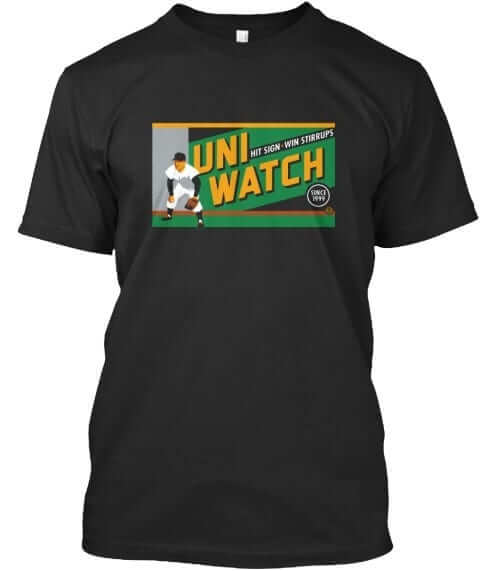 There's also an American Apparel short-sleeved version and a long-sleeved version, both of which come in a slightly lighter shade of navy. You'll be able to see all of this on the ordering page. Just make sure you choose the shirt and color you like best.
The shirt is available here through tomorrow, March 3. My thanks, as always, for your consideration.
• • • • •
Mike's Question of the Week
Last summer, I went to a White Sox game with a friend and we did what we always do: We purchased upper deck tickets for $7 each and snuck down to the lower level. Normally we don't have any problems, but that day, maybe within 45 seconds of sitting down, an usher approached us, checked our tickets, and booted us back to our seats in the nose bleeds. Oh well, at least we didn't get kicked out entirely.
What's the farthest you've been able to go with sneaking around at a sporting event? What's the best seat you've worked your way down to? Were you ever able to get into the clubhouse, locker room, or media room? Ever crash the gate and get in for free? Have you gotten into a stadium or arena after closing and just wander around? Ever swipe a souvenir to remember your escapades? Share your stories in the comment section. If you did something serious, try not to incriminate yourself.
• • • • •
The Ticker
By Mike Chamernik

Baseball News: The Angels have two guys who wear No. 97 on their Spring Training roster. Both of them were on the basepaths at the same time during Tuesday's game (from Chris Flinn). … Joba Chamberlain wore a retro Brewers pinstripe robe at camp the other day. It's unclear if the robe was customized for him: Chamberlain wears No. 62, and the robe had 52 on it. Another hefty pitcher once wore No. 52 with Milwaukee, however (from Tyler Kepner). … The Braves and Yankees went navy-vs.-navy yesterday (from T.K. Smith). … Braves outfielder Rufino Linares had "Cobra" written on his spikes during the early 1980s (from Pro Football Journal). … North Carolina wore powder blue uniforms yesterday (from Jason Collins). … New uniforms for Wisconsin Lutheran (from Alex Raver).

College Football News: Here's a newspaper clipping from when Notre Dame adopted gold helmets (from Mark Aubrey). … "I work at a New Jersey elementary school," says a reader who wishes to remain anonymous. "One of my coworkers had a fellow teacher create a Notre Dame poster for his bulletin board. The teacher specifically asked the artist to put the Under Armour logo on various parts of the Irish character logo. When I saw this happening, I said 'The mascot doesn't wear an Under Armour logo.' Sadly, his reply was 'I own stock in Under Armor so it's good advertising.' Sigh. Logo creep has invaded our schools."

Hockey News: Newly acquired center Steve Ott will wear No. 92 for the Canadiens. Ott has worn 9 and 29 throughout his career, but Montreal retired those numbers for Maurice Richard and Ken Dryden. … The Toledo Walleye will wear pink on Saturday. … Matt Brown thinks new Kings goalie Ben Bishop is wearing the pads he used to wear with the Lightning, only with the blue lines blacked out with some sort of marker.

Basketball News: Check it out: A Marcin Gortat action figure (from Ryan Keberly). … Another new Big3 team, named Tri-State, has been announced. Aside from the Ghost Ballers, every team in the league has a "three"-themed name. … Even Rockets coaches sported fantastic red-and-yellow striped socks in the 1978-79 team photo (from Super 70s Sports via Al Kreit). … A bill was introduced in the House this week to commission a commemorative coin for the 60th anniversary of the Basketball Hall of Fame (from Dane Drutis). … Christoph Niemann, an illustrator and graphic designer, sketched the Mavericks logo in one of his books (from Terence Kearns).

College Hoops News: Illinois and Michigan State went orange-vs.-green last night (from Andrew Cosentino). … A player on VCU wore his shorts backwards last night (from Michael Geddes). … Incarnate Word has inconsistent NOB styles (from Corey Patterson).

Soccer News: New kits and uniform advertiser for the Charlotte Independence of the USL. … Mikey Traynor ranked the new MLS jerseys for this season. Toronto FC got the top spot.

Grab Bag: Here's the story behind the design of Quebec's famous maple syrup cans (from Matthew Walthert). … Georgia is allowing private property owners to remove "no trespassing" signs and instead paint trees and fence posts purple. Purple is the preferred color for trespassing warnings because it shows well in the outdoors and can be identified by people who are color blind (from David Kendrick). … A 7-year-old Canadian bowler was disqualified from a recent tournament for not wearing black slacks (from Tommy Turner).