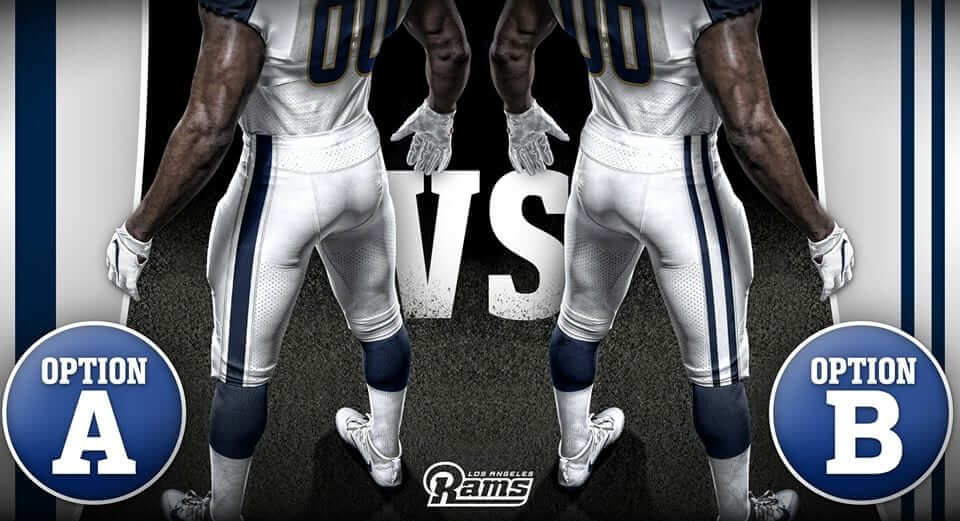 Click to enlarge
The evolution of the Rams' identity continues. Last night the team announced several changes, beginning with the news that there will be a new pant design for 2017. The design will be blue and white — no more gold — with either single or double striping. Fans are being invited to vote on which striping option they prefer on Facebook and Twitter. (For what it's worth: I prefer the single stripe, mainly because I think the double stripe would be too Colts-ish.)
There's a lot of other information floating around out there, but I got the following info straight from a team spokesperson last night:
Last year, we wore white uniforms at home as a modern nod back to the days of the Fearsome Foursome and our history in the Coliseum and Los Angeles. We received great reception from fans to these changes so we are looking to build on what we did last year.

Our pants will be white with one or two blue stripes, and we are letting the fans decide which ones we should wear by a social media vote. (Note: This removes the gold from our pants, following the blue and white logo that we started using last season and will continue to use moving forward.)

More to come later this week about further modifications to our uniform for 2017. (Note: Due to league rules, we are unable to make any tweaks to our jersey. We will continue to wear the white jerseys we wore last year which contain navy and hints of gold.)

We are continuing to explore a full rebrand, including new uniforms, that will be unveiled in 2019.
Okay, let's shift into Q&A mode here:
So they're scrapping the gold from their pants but not from their jerseys? Won't that create a weird-looking mismatch?
Maybe. Longtime reader/contributor Terry Duroncelet Jr. did a quick Photoshop mock-up of how both of the prospective new pant designs would look with the current white jersey. It's not terrible:
@UniWatch pic.twitter.com/PbmxiV3f92

— Terry Duroncelet Jr. (@SimplyMoono) March 1, 2017
Isn't it a little weird to do a uniform change via social media?
Yes. As I like to remind people, there are lots of fans out there who don't use Twitter or Facebook. Those fans, of course, are mostly older fans, which means this is another instance of older fans being marginalized. On the other hand, it's still a nice outreach attempt by the team to at least a portion of its fan base, and I'm not sure there's a better way to do it, especially in the off-season.
What are these "league rules" that prevent them from changing their jerseys?
"¨"¨I asked the team spokesperson to clarify that. The response: "It's the rule that restricts teams from changing more than once in every five years, since we are planning for 2019." In other words, they definitely going to have new unis in 2019 (presumably to coincide with the opening of their new stadium, which is what I've been predicting all along), so they can't monkey with their jersey any further until then.
If they can't change the jerseys, how come they can change the pants?"¨"¨
For one thing, nobody has ever given me a straight answer as to whether the five-year rule applies to pants. But moreover, it's entirely possible that the new 2019 uniforms will include the 2017 pants. If that happened, the pants and jerseys would be on separate five-year tracks.
What are these "further modifications" to their uniform that will be coming later this week?
I don't know for sure, although I have reason to believe that they may be going back to the old 1960s-style blue/white helmet (but with blue facemasks this time, not grey). I want to stress that I have not confirmed that, but I wouldn't mention it here if I didn't feel at least semi-confident about it. We'll all see soon enough.
So they might have gold only on the jerseys "" but not on the pants or on the helmets?
Right. But again, that is not confirmed. Let's wait and see.
When will they be making that announcement?
All I know for sure is that it'll be sometime this week — which means I'll be on vacation when it happens, unfortunately (more on that at the bottom of today's post). But don't worry, steps have already been taken to ensure that Uni Watch will be on top of this story as it develops, even though I'll be away.
When will the results of the pants voting be announced?
I believe this week's announcement will have more info on that.
•  •  •  •  •
T-shirt reminder: Just a few days left to order our latest T-shirt, designed by the great Todd Radom. Check it out (click to enlarge):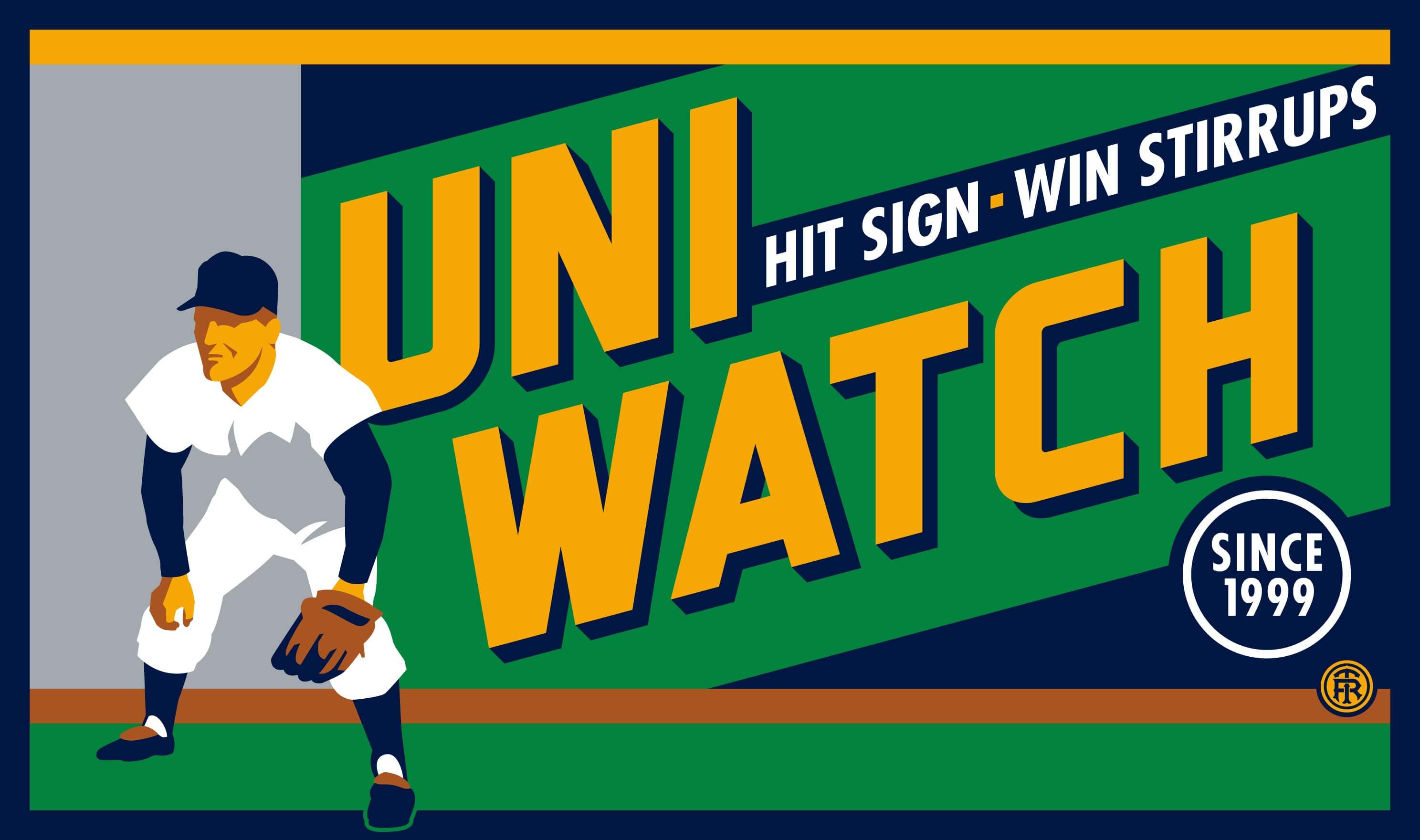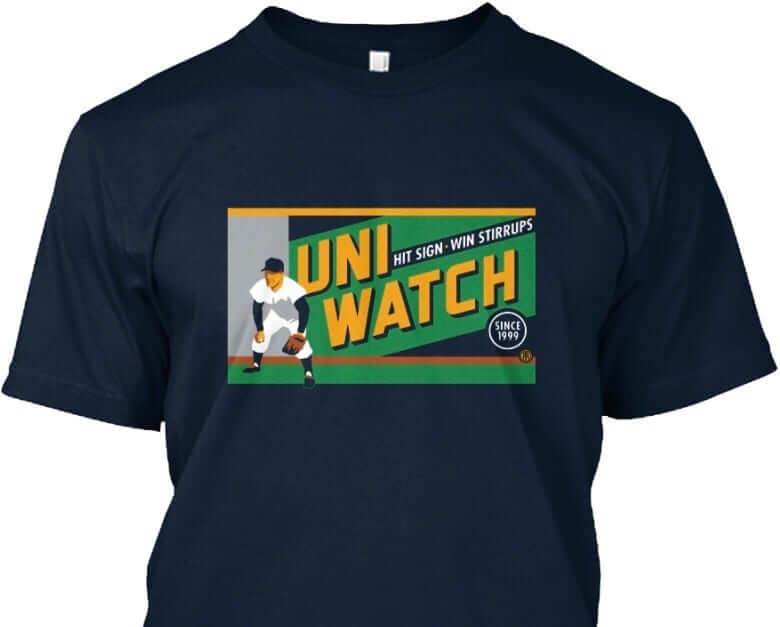 The design takes inspiration from the old Abe Stark sign at Ebbets Field, which read, "Hit Sign, Win Suit." Please note that we're using the shirt fabric color to fill in the dark portions of the design — the outfielder's cap, sleeves, stirrups, and shoes, and also the dark part of the sign behind him. We think it looks best on Teespring's dark navy shirt, which is the version shown above. But you can also order the shirt in black (yes, go ahead and make all your BFBS jokes), in which case the design will look like this: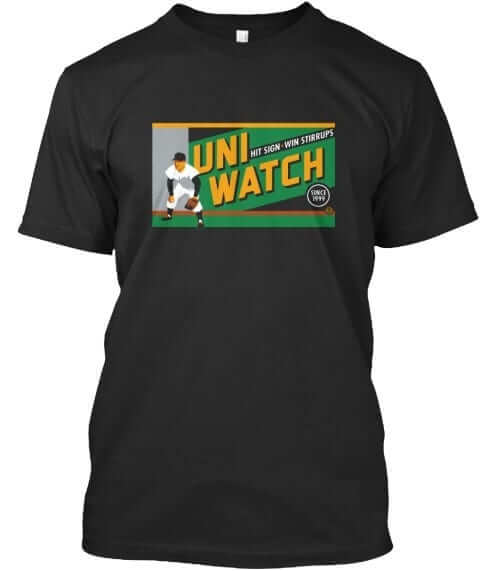 There's also an American Apparel short-sleeved version and a long-sleeved version, both of which come in a slightly lighter shade of navy. You'll be able to see all of this on the ordering page. Just make sure you choose the shirt and color you like best.
The shirt is available here through this Friday, March 3. My thanks, as always, for your consideration.
•  •  •  •  •
The Ticker
By Alex Hider

Baseball News:  Javy Baez inked a Cubs 2016 World Champs logo onto his arm "" but it's not the right logo. Whoops. … The  O's and Phils looked particularly good in Spring Training  color-on-color  yesterday (from  Andrew Consentino). …   Steve Delabar of the Indians has been painting cleats for himself and his teammates (from Josh Claywell). … Indians guest instructor Jason Giambi didn't have a New Era logo on his cap. He played for the team in recent years, could be he was wearing an old cap (from Kevin J. Chmura). …  Having minor leaguers and non-roster invitees in camp can lead to uni inconsistencies among Indians players (from Adam Vitcavage). …  A few Red Sox players explained why they chose their numbers: Jackie Bradley Jr., Matt Barnes, Drew Pomeranz, Brock Holt, Xander Bogaerts, and Blake Swihart (from Joe Giza). … Here's a good reminder that the Padres' Swingin' Friar can do more than swing (from Tony Losoya). …  Check out the business card for Tim Grubbs, the voice of the New Orleans Baby Cakes (from Michael). …  The Minnesota Golden Gophers will play home games at US Bank Stadium "" home of the Minnesota Vikings. It's set up to resemble the Metrodome (from  Mike).  …  Virginia Tech wore their "Hokie on bat" maroon jerseys "" and some sweet stirrups "" yesterday (from  Andrew Cosentino). … North Carolina broke out navy unis for the first time this year. Extra points for the argyle trim (from J Huck). …  Why do people in the UK love brightly-colored baseball caps? (From  Greg Franklin.) … Interesting story on New Era and their ties to Buffalo, New York. They may be ruining MLB caps this season, but their commitment to their hometown  is commendable. (from Dave Goodfriend). … Very cool Jackie Robinson Day throwbacks for the Biloxi Shuckers (from Wil Bailey).


NFL and College Football News:  All NFL footballs will have microchips next season in order to track "next gen stats" (from  Phil). … If you saw the story about Adidas potentially giving away a free island to a combine participant and thought, "Wow, that's too good to be true," you were right (from Mets Police). … Wisconsin has released a 100th-anniversary logo for Camp Randall Stadium (from  Shawn Nissen).

Hockey News: New Kings G  Ben Bishop wore his Lightning mask in the  first game with his new team last night (from Stefanie Marie). …  New Ranger Brendan Smith will wear No. 42. Extra points for the photo frame (from  Alan Kreit). …  Hockey nerds will love this: Meet the historian behind HockeyDB (from Ted Arnold). … This clip from a 1990 Kings/Oilers game shows a Edmonton player with NNOB "" No. 27. Even stranger is that there doesn't appear to be a No. 27 on the Oilers' roster from that year. A replacement jersey, perhaps? … New mask for Matt Murray of the Fargo Force of the USHL (from  Patrick Thomas). … The Canucks wore rainbow-striped warm-up jerseys for a pride night promotion.

Basketball News: Very nice color-on-color game last night for Wyoming and Colorado State (from Rob Montoya). … DePaul, Mike's  alma mater, dressed up a statue on campus in a Blue Demon jersey last week. … Five schools — Michigan, UNC, Georgetown, Cal, and Marquette — have gotten new Air Jordans for March Madness (from @ZanerzasNJ). … More color/color action: last night's Grizzlies/Suns game.

Grab Bag: Mardi Gras means it's time for your yearly reminder that the Pelicans have one of the most terrifying mascots in the history of the sport. …    Tons of issues all around with SI.com's scoreboard yesterday. "I do think it's funny that the Thunder logo is the Avalanche," said James Hayes.  "They are kinda weather-related." … The Gold Coast Suns and the Port Adelaide Power are set to play the first Australian Rules Football Game in China this season. The Suns want to wear their red and gold home jerseys "" get it, Chinese flag colors "" but the Power are the home team. Both teams are bickering, but I say just go color-on-color! … Rugby players will wear these special cleats for the Las Vegas Sevens this weekend (from Josh Gardner). … Muskingum University lacrosse will wear this combo for their home opener tomorrow. …  CleanWell is the newest partner advertiser with the ownership group of the Wizards, Capitals, Mystics and Washington's Verizon Center (from  Robert Anderson). … Democratic Party women attending last night's speech by President Trump wore white — a symbol of women's suffrage — to indicate their ongoing fight to achieve equal rights for all women.
•  •  •  •  •
Click to enlarge
My little stowaway: This was the scene yesterday afternoon at Uni Watch HQ, as I was packing for a week-long vacation and Uni Watch boy mascot Tucker wanted to come along. Such a cutie — I'll miss him, along with Uni Watch girl mascot Caitlin, while I'm away.
That vacation will already have commenced by the time you read this, as I'll be on a 7am flight to warmer climes. I'll be spending the next week road-tripping around the Deep South and visiting friends in New Orleans. Looking forward to lots of great food, some nice beaches, and lots of road-tripping enjoyments. Full report to follow after I'm back.
I'll return to the site next Thursday. Mike, Alex, and Phil will keep things running while I'm away. Treat them nice, and I'll see you late next week. "" Paul