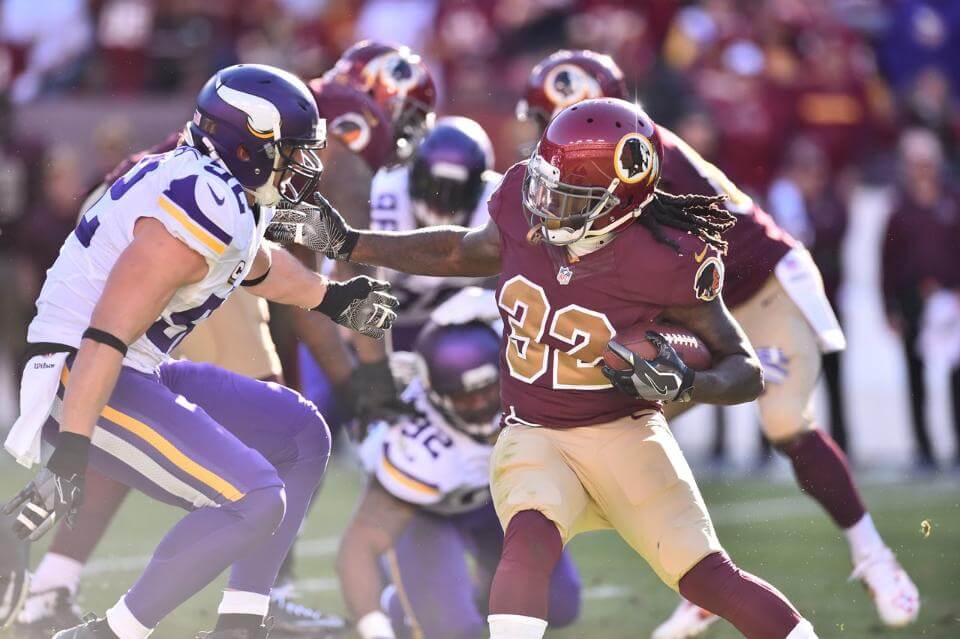 Click to enlarge
Washington wore their 1930s throwbacks yesterday against the Vikings. We've seen this uniform before, but this time around there was a subtle alteration: In the past they stuck with their regular yellow facemasks, but yesterday, as you can see above, they went with grey. Additional photos here.
In other news from around the league yesterday:
•  Big day for monochromatic uniforms, as the Jaguars went mono-black, the
Titans went mono-blue, and the Saints went mono-black. Not a good look for any of those teams.
•  Chiefs quarterback Alex Smith wore a Speedflex helmet for the first time. He had previously been wearing this non-Speedflex model. And no, that doesn't violate the league's one-shell rule, because players can always swap up to a newer/safer model.
•  Another new Speedflex convert: Cowboys wideout Dez Bryant.
•  Speaking of Cowboys helmets, running back Ezekiel Elliott had some trouble with his striping tape.
•  Here's a great catch: The star was missing from Patriots cornerback Malcolm Butler's Flying Elvis sleeve patch.
•  Only one team wore white at home: the Buccaneers.
•  Players participating in postgame jerseys swaps included Zach Ertz (Eagles) and Levine Tollolo (Falcons); Tony Lippett (Dolphins) and Melvin Gordon (Chargers); Michael Thomas (Dolphins) and Griff Whalen (Chargers); Dez Bryant (Cowboys) and Antonio Brown (Steelers); Kelvin Benjamin (Panthers) and Terrance Smith (Chiefs); and Tedd Ginn Jr. (Panthers) and Travis Kelce (Chiefs).
•  Here's a list of players who protested during the national anthem. One notable addition to the list was Buccaneers wide receiver Mike Evans — the first Tampa Bay player to protest during the anthem this season. He said he did it specifically as a protest against president-elect Donald Trump, not as a statement regarding racial equality.
(My thanks to all contributors, including Gabe Cornwall, @kingstudog, Alex Liggett, and of course Phil.)
•  •  •  •  •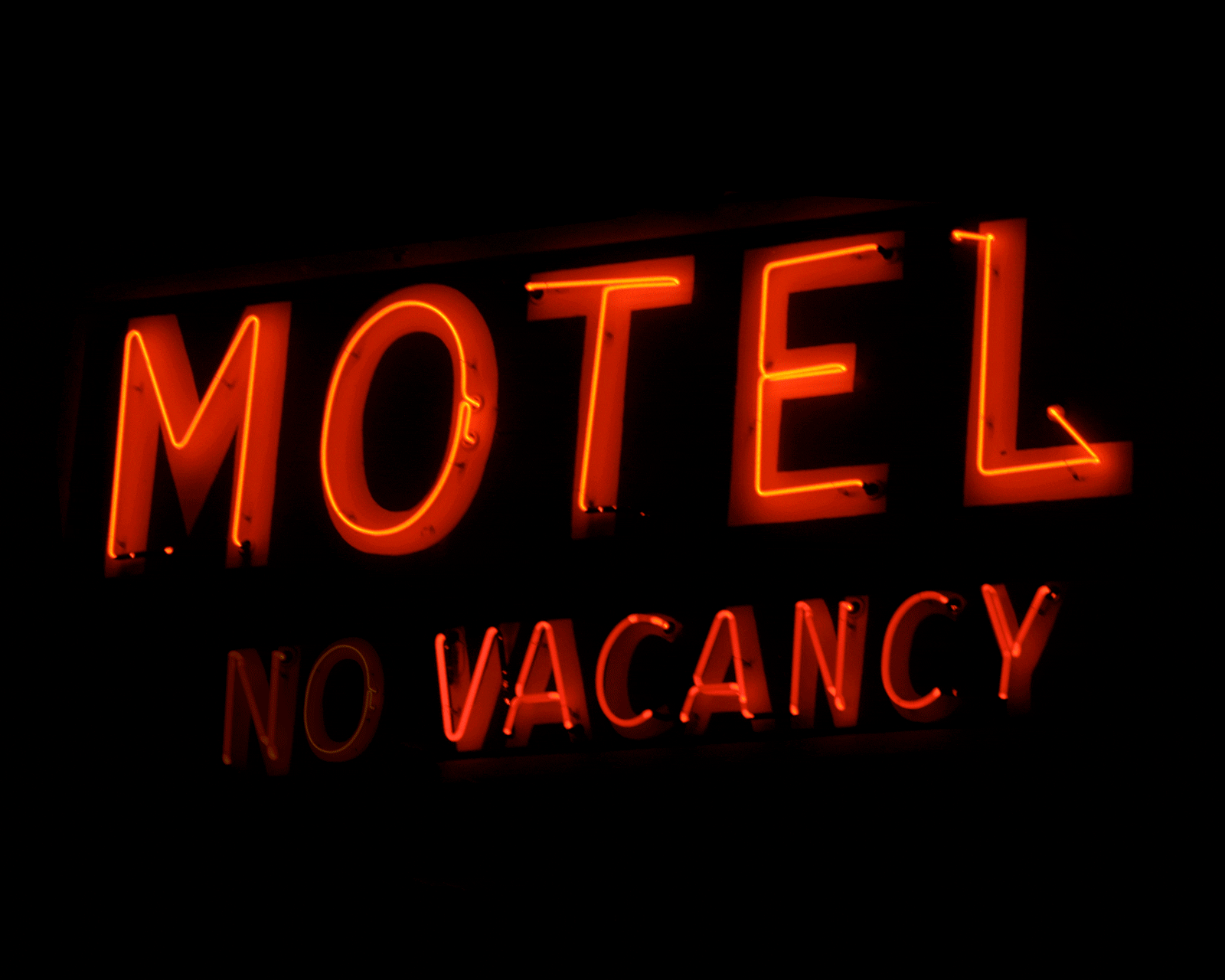 Pretty Vacant: I've been fascinated by "(No) Vacancy" signs since I was a kid, and now I've finally written an article about them. The piece, which I wrote for Bloomberg Businessweek, is available here. I hope you'll give it a look. Thanks.
• • • • •
Membership update: Longtime reader Omar Jalife recently came up with an interesting membership card request: He wanted his card to be based on the soccer jersey shown on the Uni Watch T-Shirt Club's soccer design. Of course, we didn't show the back of that jersey, so membership card design Scott Turner had to imagine how the rear design would look. You can see the results at right — pretty cool!
As always, you can order your own custom-designed membership card here, you can see all the cards we've designed so far here, and you can see how we produce the cards here.
•  •  •  •  •
Click to enlarge
Two games, two wins: Our curling team won again last night, making us 2-0. From left, that's Omoy, Phil, yours truly, and Doug, moments after Phil delivered a killer shot that sealed our 4-3. victory. Nice shot, Skip!
• • • • •
The Ticker
By Alex Hider

Baseball News: The Cardinals are selling two books perfectly suited for Uni Watchers: a new illustrated history of the team's uniforms and logos, and a book that came out last year about some of the items in the team's Hall of Fame (from Marcus DePew). … Apparently, Johnny Cueto likes to wear his shirt in the pool.

College Football News: According to Kenny Kaplan, there's been uni-quirk under our noses all season long: Iowa quarterback C.J. Beathard and punter Ron Coluzzi both wear No. 16, meaning it's common to see two different players wearing the same number take back-to-back snaps. … More number fun: Michigan State got flagged because two players were both wearing No. 22 on the same play on Saturday (from Tim Dunn).

Hockey News: There's some great stuff in this story about the Blues' Winter Classic sweaters. Apparently, the team only had 45 days to submit a design and was considering basing the design on this late-'60s prototype. … B.Q. sends along this shot of this gorgeous Edmonton Mercurys sweater from 1952.

Basketball News: The Thunder wore their orange "OKC" alts last night, and the Warriors wore their "Run TMC" fauxbacks (thanks, Mike). … Anyone know the story behind the three stripes on some of the Kentucky basketball player's shoes? (From Nate Hargis). … Speaking of Kentucky, their practice floor still has the school's old logo (from WC).

Grab Bag: The Hamilton Tiger-Cats wore white at home during a playoff game this weekend. "It is extremely rare that a CFL team wears white for a home playoff game," says Uni Watch CFL expert Wade Heidt. … Felippe Massa drove in his final Brazilian Grand Prix race yesterday. His sponsor, Martini, put his name in their logo on his car as a tribute (from David Firestone). … Is Dora the Explorer using the Cleveland skyline in its closing credits? Sure looks like it (from Chris Spisak). … Adidas and Under Armour are battling it out to see which one will be Nike's primary American competitor. According to that article, Adidas "has all the momentum" for now (from Brinke). … At the NHRA Finals, Jack Beckman and John Force raced BFBS cars, John Hale had a throwback car painted onto his car, and Bo Butner brougt back the General Lee (from David Firestone).