Disappointing outcome for my favorite team last night, but protocol dictates that I should provide some coverage of the uni-notable news, so here we go:
•  The Giants, like all of the playoff teams, had the Postseason logo patch added to their right sleeve. The thing is, they already had two memorial patches on that sleeve — one for Monte Irvin and another for Jim Davenport — so the sleeve was looking a bit crowded last night: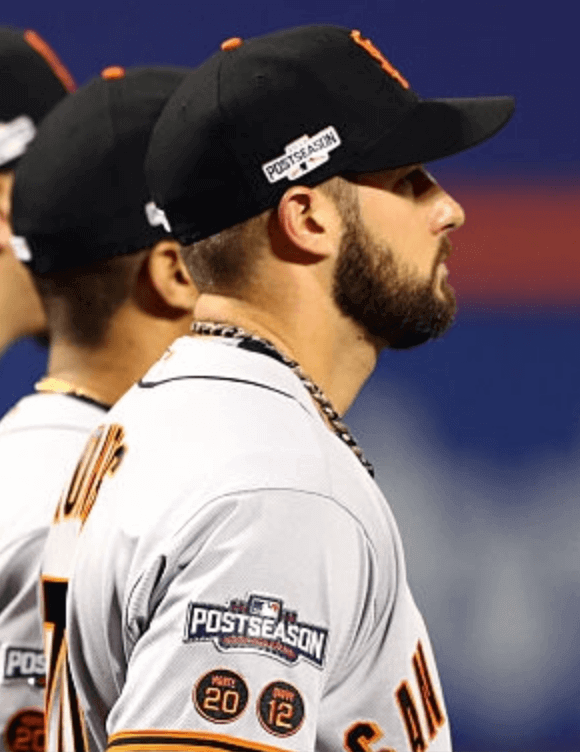 This arrangement, with the memorial patches underneath the Postseason patch, is the opposite of how things were handled in the All-Star Game, when the memorial patches were positioned above the All-Star patch.
•  Remember my interview last week with Pittsburgh Steelers safety Mike Mitchell, who wears a hand-warmer pouch even in warm weather? That's nothing compared to Mets outfielder Yoenis Céspedes, who wore a hoodie last night even though the temperature at gametime was 62 º. Yeah, I know Yo's from Cuba and all, but come on (click to enlarge):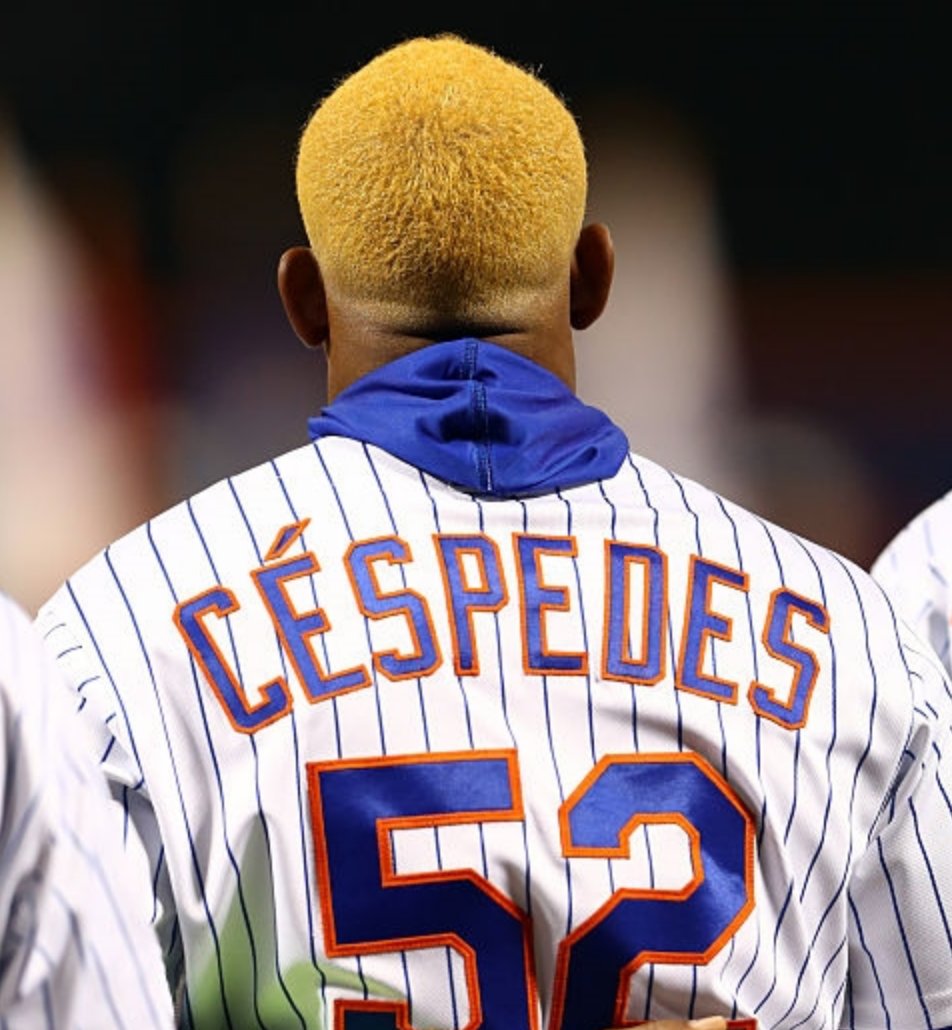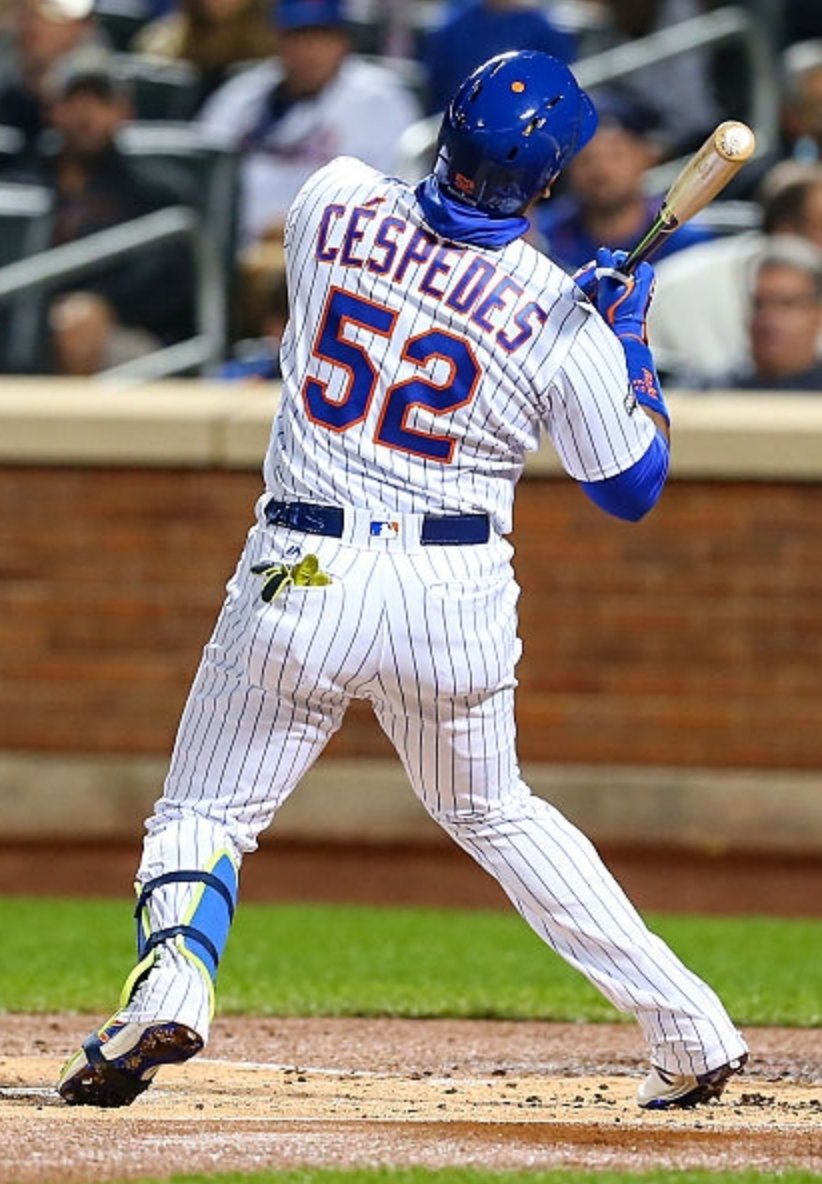 •  Giants outfielder Angel Pagán had a memorial to José Fernández inscribed on one of his jersey numerals. I know it's the thought that counts, but it would have been better if he had included the missing period: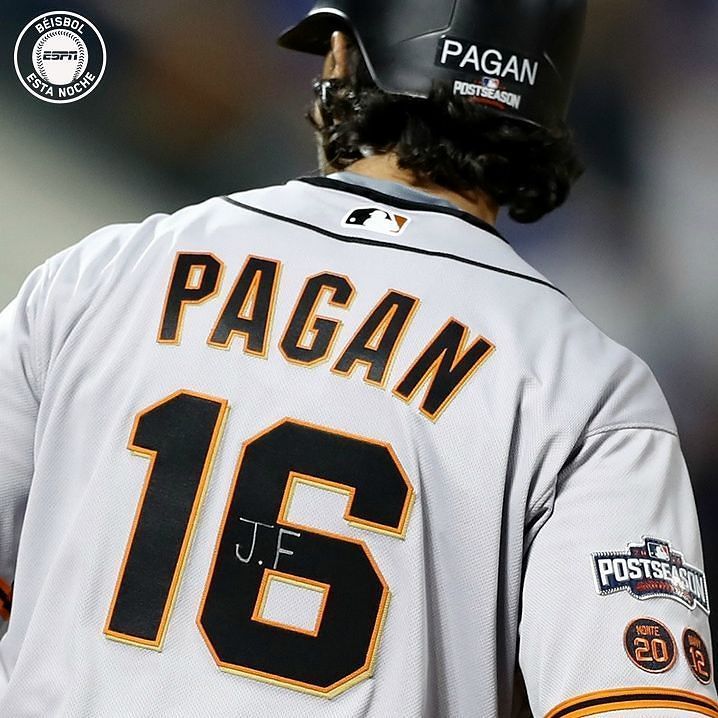 •  For reasons that aren't clear (at least to me), Mets second baseman T.J. Rivera had "714" written inside his batting helmet. For my generation, that number says, "Babe Ruth," but I have no idea what it signifies for a guy like Rivera, who grew up with Aaron's 755 as the magic number: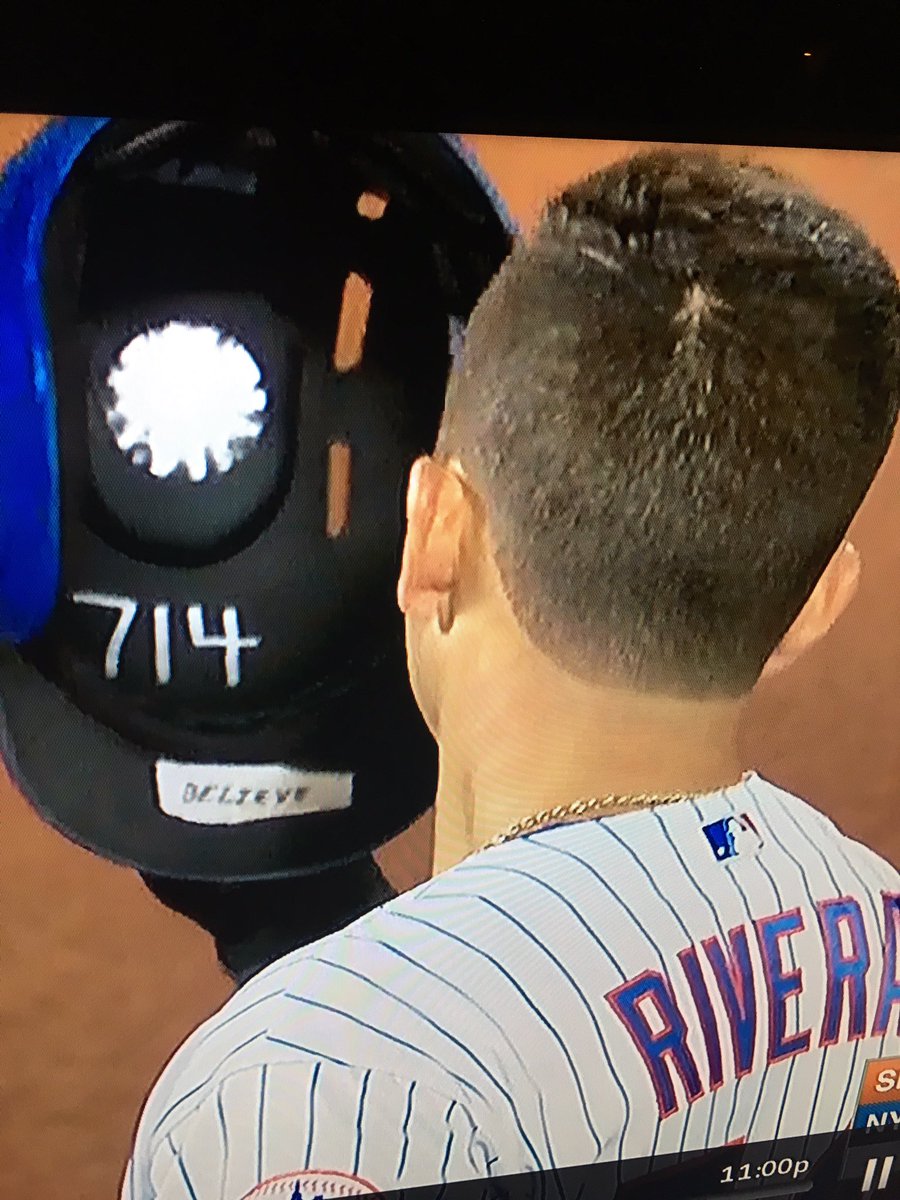 And yes, Rivera's helmet also had a strip of tape with "Believe" written on it, but that's a word steeped in Mets history — not so hard to figure out.
•  The maker's marks on the caps looked brutal. The only good thing about the Mets' loss is that I won't have to see their logo-crept game cap on the field again for the next six months.
With the Mets out of the running, I'm now rooting for a Cubs/Bosox series. Two great-looking uniform sets, two beautiful old ballparks, the whole "We broke our curse, now can you break your curse?" thing, the Theo Epstein connection — here's hoping the baseball gods make it happen.
(My thanks to @Coach_KT for the T.J. Rivera item)
•  •  •  • •
Click to enlarge
PermaRec update: You'd expect a letterhead manufacturer to use really nice letterhead for its correspondence — and you'd be right! Get the full story over on Permanent Record.
• • • • •
The Ticker
By Mike Chamernik

Baseball News: The Blue Jays' postgame celebration after Tuesday night's Wild Card win included a "2016 East Division Champions" logo in background. The Jays, of course, did not win the division — the Red Sox did (from Mike Guterman). … MLB released some special hashtags and emojis for the postseason (from Ted Arnold). … Check out the unis that this Swiss baseball team used to wear. The country is celebrating 35 years of organized baseball. To get around the paywall, just Google the headline (from Douglas Keklak). … Miller Park in Milwaukee uses a wolf decoy to scare away pigeons (from @JohnnyOeleven). … A writer argues that MLB teams should stop hazing rookies by having them dress up as women. … The Braves apparently used a mix of vertical and radial arching on their NOBs back in 2000 (from Scott Turner). … TBS ran a promo for Friday's ALDS game in Texas, only the network showed an Orioles logo instead of a Blue Jays logo. "Really twisting the dagger on us O's fans," says Zach Spencer.

NFL News: NFL players will be permitted to wear cleats with personal messages in Week 13 — the first weekend in December. The idea is to allow the players to draw attention to charitable causes. … Riddell introduced a line of collectible white/silver helmets. They are meant for autographs and will not be worn on the field. More info here.

College Football News: Indiana unveiled a new alternate uniform with candy-striped sleeves. More photos here, more information here. The unis are a homage to the pants the basketball team wears. … Vanderbilt QB Kyle Shurmur was poked in the eye during last Saturday's game, so he'll wear an eye shield this weekend. … New Mexico will wear all-red with white helmets on Saturday (from Frank Mercogliano). … Washington State is letting fans vote on which uniform the team will wear for the homecoming game against UCLA on Oct. 15 (from Kenny Ocker).

Hockey News: Sounds like the name, logo, and colors of the NHL's new Las Vegas team will be unveiled on November 18th. … Colgate's men's hockey team wore maroon at home in its season opener against Army (from Joe Makowiec). … The Islanders are holding a T-shirt design contest. The winning shirt will be distributed to fans at the home opener (from Uni Watch alumnus Garrett McGrath). … The Penguins' new strength and conditioning shirts feature the new black-and-yellow color scheme (from @redbuppy). … The Pens even updated the logo on their bubble hockey game in the team facility (from David Shucosky). … Lots of good shots of the captain's C being applied to an Oilers jersey in this video (from Steven Schapansky). … Speaking of the Oilers, they're adding a patch for their new arena. … New mask for Wisconsin goalie Matt Jurusik (from Chad Jorgenson).

NBA News: The Clippers' Jamal Crawford lost his shoe during the middle of a play last night. Blake Griffin tried to clear the sneaker, but instead tossed it at Cory Joseph's face. … The Lakers' Metta World Peace said he wanted to change his number to 60 to honor Kobe Bryant, who scored 60 points in his final game. … The Jazz will have a new floor design this year. More photos here. … Kristaps Porzingis reached a multiyear shoe and apparel deal with Adidas. Nike is not expected to match. … Great question from Reddit: Do Jaylen Brown and Dee Brown, who both wore No. 7 for the Celtics, mark the first time an NBA fan can recycle an old jersey? It is not.

College Hoops News: New home unis for Iowa State. The previous version had "Iowa State" in cardinal (from Phillip Santos and Taylor Atkinson). … SMU's new uniforms feature the Dallas skyline (from Phil).

Grab Bag: New logo for the Bulgarian soccer team. Here it is on the uniforms (from Ed Å»elaski). … An underground UK firefighting station, including uniforms, went untouched and forgotten for nearly 60 years before recently being rediscovered (from Chris Weber). … Formula One driver Daniel Ricciardo drank champagne from his racing shoe after winning the Malaysian Grand Prix this past Sunday (from David Firestone). … Also from David: Some spectators wore Union Jack suits at the Ryder Cup.
•  •  •  •  •
Special shout-out to Uni Watch readers in Florida and Georgia. Hope you get through the hurricane okay — be safe!